Today is a special day.  Why, you ask?  Well…today is Becky's one year blogiversary!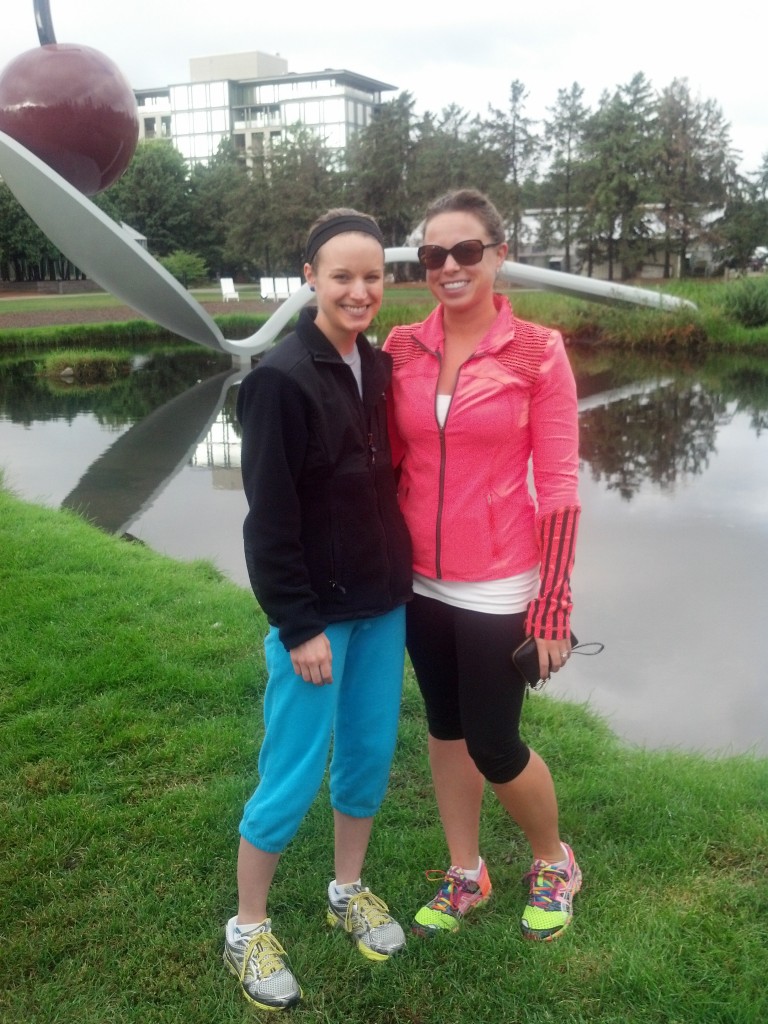 Every one say hi to Becky!  This girlie is awesome!  I have been following her blog for quite some time now and was lucky enough to finally meet her this past September at the Healthy Living Summit.  She is sweet and fun, and certainly has a passion for healthy living and blogging.  But I am sure that many of you probably already know this and are avid reader's of her blog, Olives 'n Wine.  And for those of you who don't know her, well you really need to hightail it over to her blog and start following her.  Becky writes great posts about living a healthy lifestyle, and most importantly, she posts some delicious recipes.  She always especially blows me away with her super creative desserts.  Often times, I find myself almost drooling just looking at them! 😉
Not only does Becky post some delicious recipes and share great healthy living advice, but she has a fabulous looking blog, is incredibly active in the social media aspect of the healthy living world (hellllo Twitter and Instagram), has created a successful link-up with her Treat Yourself Tuesday concept, and has really established herself in the healthy living blogging community.  And what is most amazing about all of this is that she has only been blogging for a year.  When I found out that this would only be the first anniversary of her blog, I was honestly surprised.  I was under the impression that she had been blogging for much longer.  Becky certainly has something special going on with Olives 'n Wine and I cannot wait to see what great things happen for her in the future!
In celebration of Becky, her amazing recipes, and all that she has accomplished in the healthy living and blogging communities in just one short year, Erica and Katie invited me to participate in a virtual surprise potluck party for Becky.  So cool, huh?  Obviously I had to say yes!  I have a feeling that Becky is going to be quite shocked, yet excited, when she learns of this potluck  I certainly can't wait to see and read about her reaction ;)!  Erica and Katie asked all bloggers who wanted to participate to choose one of Becky's fabulous recipes to cook, take pictures of, and then share on their own personal blog.  I was tempted by many of her recipes and found it pretty difficult to decide…at first.  But then I spotted a recipe that was totally calling my name.  It was a recipe for Jalapeno-Spiced Black Bean Burgers.  Sounds perfect the mostly plant-based eater that I am, am I right?
I cooked up Becky's recipe for the burgers about two weeks ago.  Throughout the whole process I was a bit worried that I would somehow slip up and ruin the surprise.  I had to be extra careful not to post any pictures on my Instagram or Twitter feeds, and not to share my thoughts on the burgers here on the blog.  They easily could have been included in my most recent Friday Foodie Favorites post but that, of course, would have ruined the surprise.  I sure did not want to be the person to do that!  Luckily, however, the secret was kept safe and sound.  Now that the secret is out, though, it is time to share Becky's bean burger recipe!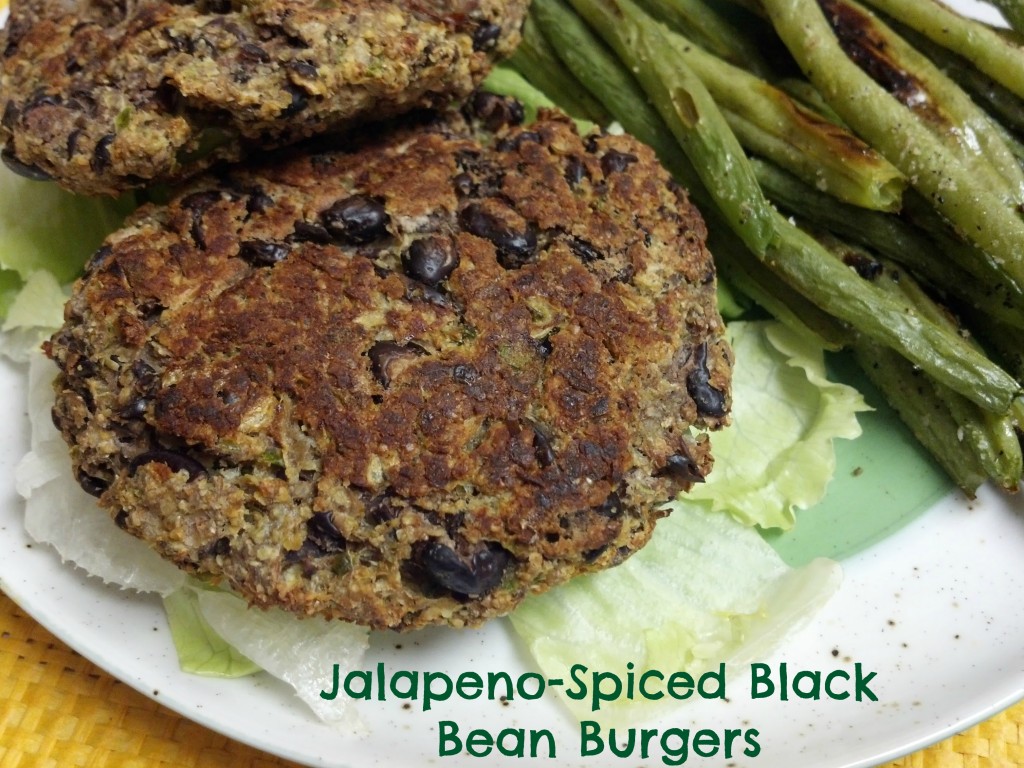 Jalapeno-Spiced Black Bean Burgers
*You can find Becky's original recipe post here.
Servings: Makes 8 burgers
Ingredients
2 15 oz cans of black beans, drained and rinsed
4 TB chia seeds
2 medium onions
3 jalapenos
1 cup Kretschmer Wheat Germ* (how did Becky know that I had a free product coupon for this from HLS that I had no clue what to make with!? ;))
Directions
Roughly chop onions and jalapenos and place in food processor. Blend until mixture is composed of small pieces but not yet liquid. In a large bowl combine beans, chia seeds, onion-jalapeno mixture and wheat germ and mix until all ingredients are evenly distributed. Make 8 patties and place onto tin foil. Grill for approximately 20 minutes, turning halfway through. Serve atop a bed of greens with tomatoes and avocado or on a bun with the traditional mustard and ketchup! Enjoy!
*For those following a gluten-free diet, you can sub GF oatmeal for the wheat germ.
Because it was almost November when I cooked these and I don't own a grill, I actually baked these in the oven at 400 degrees F for about 35-40 minutes (flipping halfway through) and they turned out fab!  Clearly, these are quite versatile…my kind of burger!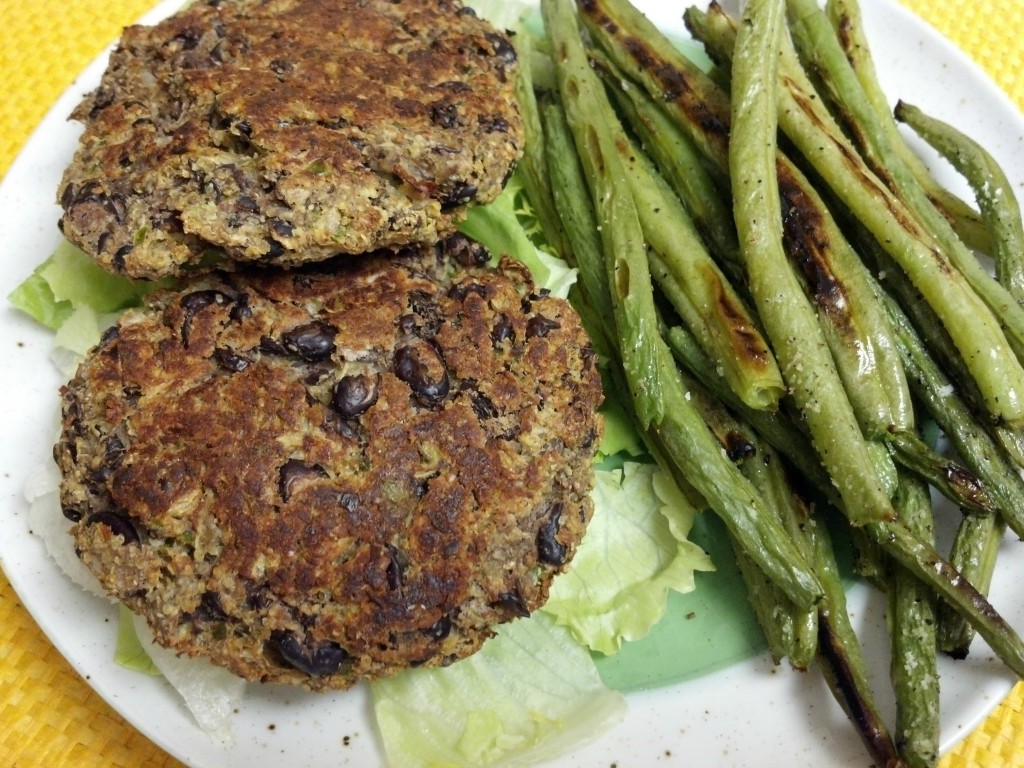 I prepped some roasted green beans to accompany my burgers…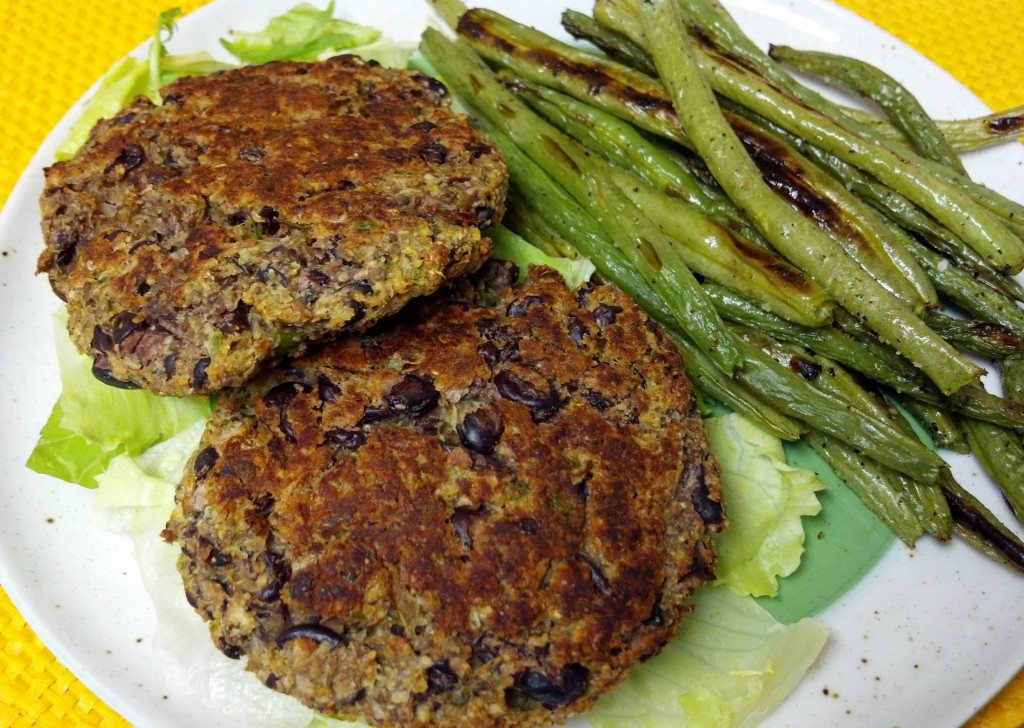 …served the burgers over a bed of lettuce…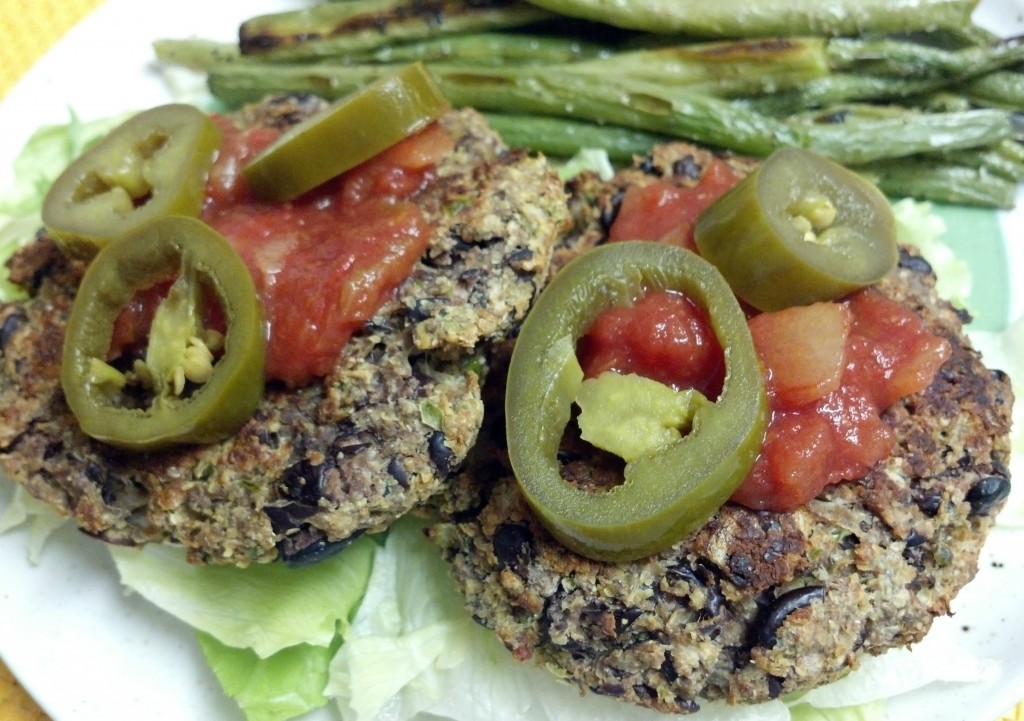 …and topped them off with salsa and sliced jalapenos.  You can never have too many jalapenos, right? 😉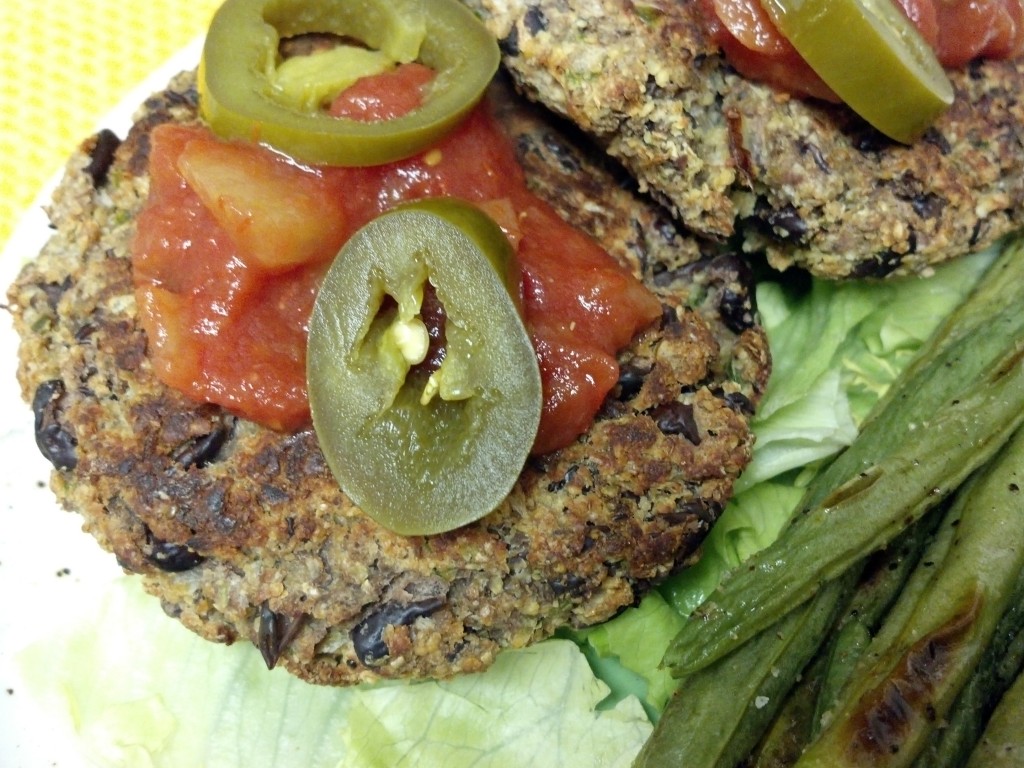 As soon as I took my first bite into these burgers, I was so glad that this was the recipe that I picked to make.  I loved these burgers for several reasons.  First, they were delicious, flavorful, and spicy (but not too spicy!).  They were also SO easy to make, which is exactly the kind of recipe that I like to make on a busy week night.  I mean seriously, who can't handle a recipe that only contains five ingredients?  Trust me, you can do it!  And finally, I was so happy that these burgers were vegan.  Becky did a great way of helping to show that vegan food is taaasty!  Nice job with this one, Becky!  I can finally tell you how much I enjoyed these :).
Want to check out two of my other favorite recipes from Becky?  I highly recommend that you try her Butternut Squash and Lentil Curry Stew and her Barbecue Tofu Pizza!
And now for the sappy part…
Becky,
You are an awesome cook, baker, recipe-creator, healthy living ambassador, blogger, and blend!  I hope you have an absolutely fantastic blogiversary and that you feel extra special on this momentous day.  You SO deserve it!!  I cannot wait to see what you have in store for the coming year, and I cannot wait to spend time with you in person again in the near future :).
Finally, do you want to check out the other recipes that are a part of Becky's virtual surprise potluck?  You can find them here:
Erica
Katie
Jan
Jackie
Katie
Holly
Amanda
Dana
Katie
Carly
Amy
Sam
Davida
Sarah
Alisha
Emily
Brittany
Heather
Chelsea
Ashlee
Erin
Melanie
Elise
Jennifer
Sara
Taryn
Caroline
Natalie
Clearly, Becky is very loved! 🙂