Happy Friday blends!  Today is a very special post.  My best friend Amanda is taking over the blog to share her experiences with eating a mostly plant-based diet.  Let's see what happens when a meat-eater switches it up for a week!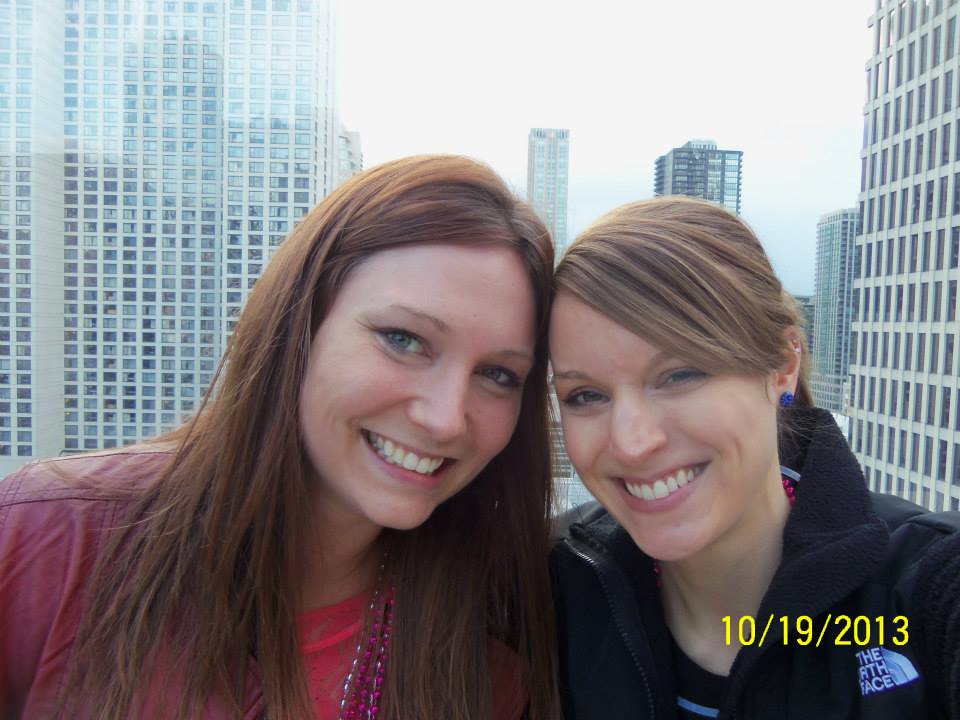 Take it away, Amanda!:
A few weeks ago I was sitting around and thinking about how, for lack of a better word, yucky I felt. It was then that I asked Hannah if she would consider writing me a meal plan so that I could experience the things she tends to eat on a daily basis. I wasn't too worried about making the change to a vegetarian lifestyle, after all it was just going to be a week trial and I really don't eat meat much anyway, I do like chicken now and then but I knew I could do without for a week. I was very excited when I got the meal plan and pleasantly surprised. Many of the dishes had components of which we already had or already purchased regularly, there were of course a few  things I had never heard of, tempeh for one which turned out amazing! I was anxious to get started and I was off to the grocery store ASAP!
The first day was great! I had a lot of fun prepping my foods for the week, it's weird but I've never done that before.  I've never actually thought about what I wanted to eat that week and sat down to think about what I could prepare ahead of time and eat all week long. I'm usually just a go to the fridge and grab want you see kind of person and I'm hoping to change that. The first day was my first experience with the pumpkin spice oatmeal pancakes and let me tell you I will be making these things until the day I die haha!  They are awesome! Throw a little syrup or peanut butter on them or get crazy and do both, either way I loved them and will be having them again very soon!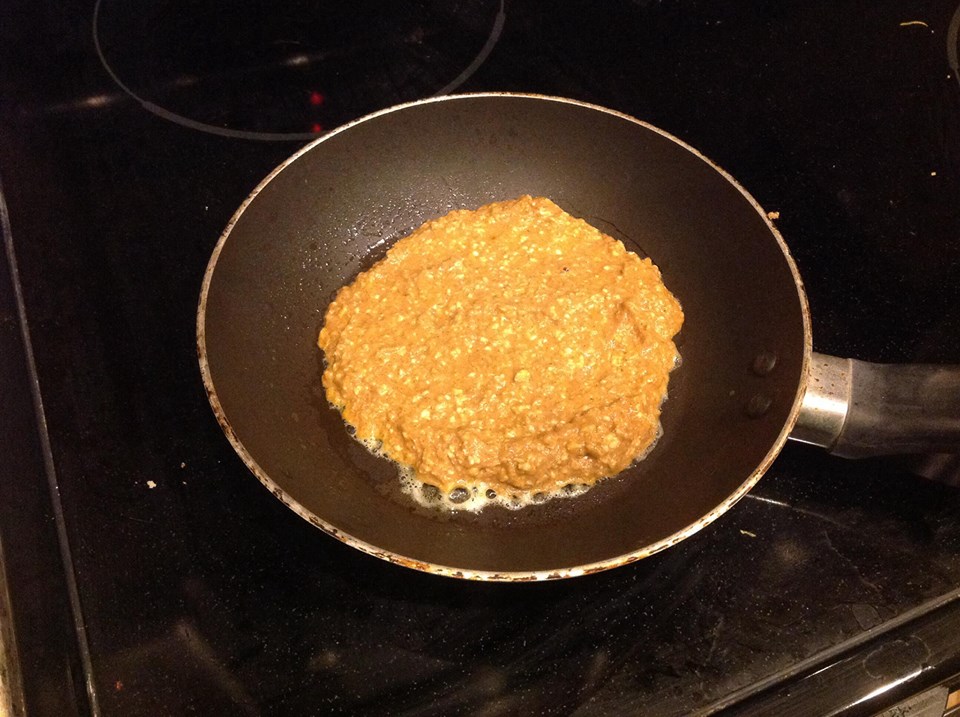 I also discovered on my first day that I absolutely LOVE hummus!!! I thought hummus was a weird substance that was rather blah, I have no idea why I felt this way but I did, and boy was I wrong. It's all I want to eat anymore and it's given me a new love for carrots. Move over ranch the hummus is taking your place! With veggies at least, let's not get too crazy, sometimes you need a little ranch in your life. Anyway I also made a huge pot of soup that day and had it for dinner. I did Hannah's "chicken" tortilla soup because I wanted something similar to chili and once again I loved it! I still have some left as a matter of fact and I may cry when I eat the last bowl. I have decided that every Sunday as often as possible I will be making a big pot of soup from Hannah's blog because it was such a great quick, easy, wonderful and cost effective meal and it lasted me over a week! I've added a picture below of all my stuff before I mixed it all in! 🙂 There is also a photo of the pancakes (above), this was later in the week, my first batch was not near as pretty!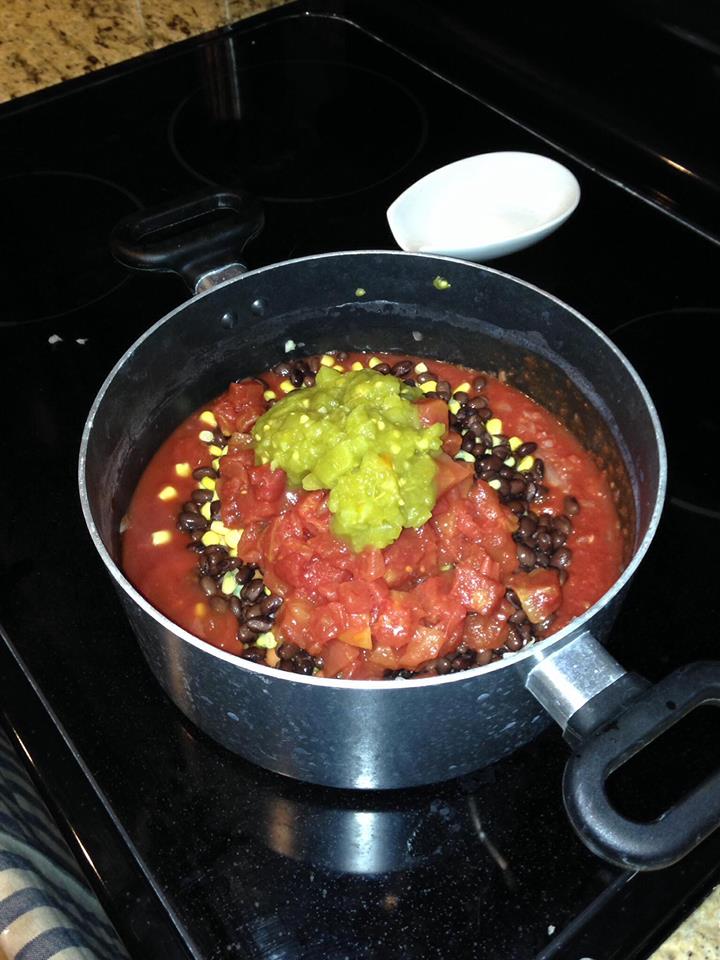 The next day I made my smoothie which was amazing as well and the pumpkin oats were also a delicious surprise, it was a pretty great morning and a nice change from the boring granola bar I usually have.   I had my soup again and a side salad with my homemade tomato basil dressing!! I have never even thought to make my own dressing but this recipe will also be sticking with me.  It was again delicious and so quick and easy to make!  I was really excited to get home and make the spaghetti squash pad Thai! I love spaghetti squash, it's something I recently started making and I'm addicted!  This pad Thai did not disappoint it was sooooo good!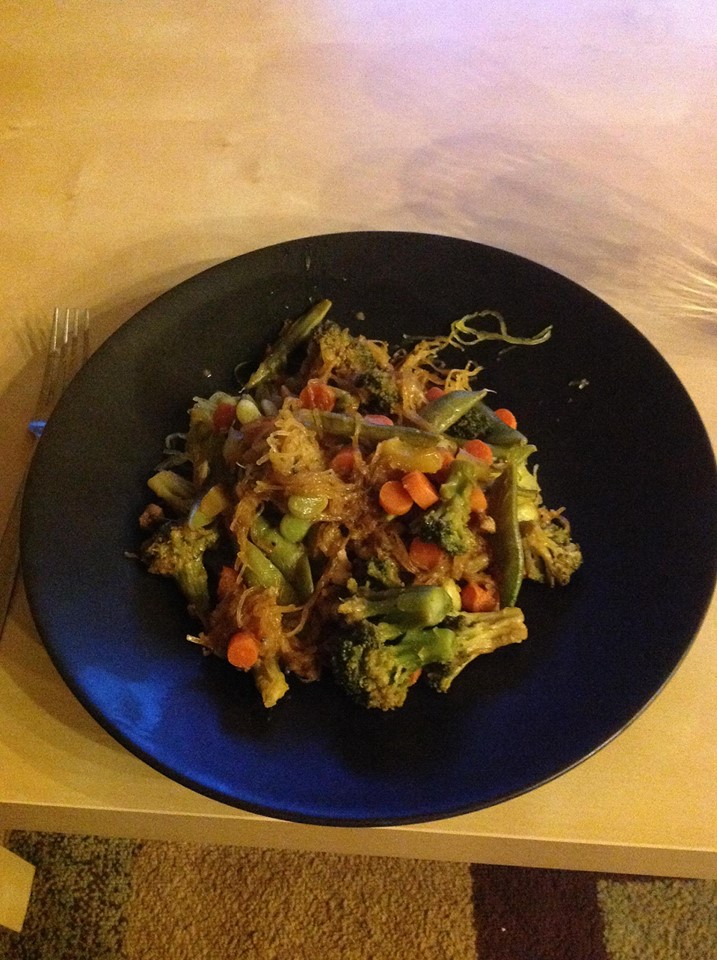 The next day consisted of leftovers with a delicious sweet potato thrown in there and some cashews! It was a good day! Breakfast all week was so much nicer than what I usually do, egg whites and veggies….delicious and those smoothies continued to get better and better. I added a little less spinach and a little more fruit for my own preference. I was a little nervous to try the tempeh but I could not  believe how good the burritos were. Another thing I am going to start doing is making a dish with tempeh once a week, I really loved the stuff!! I was out of salsa so my trusty ranch made an appearance briefly until I restocked my salsa supply.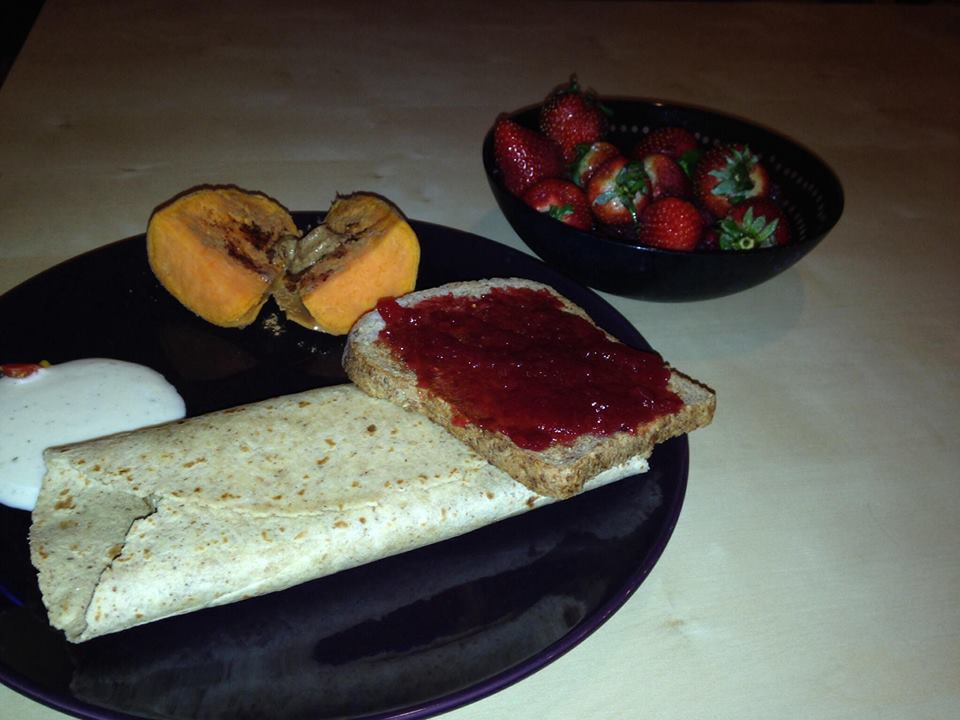 I was a little nervous about going out to eat but looking back I don't know why. The health factor was not as high, I had some cheese sticks and they were delicious(it was happy hour) but the other time I had a wonderful Greek salad and loved every bite! I even had some vegetarian sushi…..it was OK haha, I did miss my seafood during that particular meal.
Overall I think I can incorporate a lot of these foods and this lifestyle in a way that works for me! And if I wasn't sure of this on Friday I was certainly sure Saturday!  Hannah definitely saved one of the best recipes for last. Maybe it's because I just ate them prior to writing this but the roasted eggplant/tomato feta cheese snacks are one of the most delicious things I have ever had. There are many many many more of those in my future I can promise you that!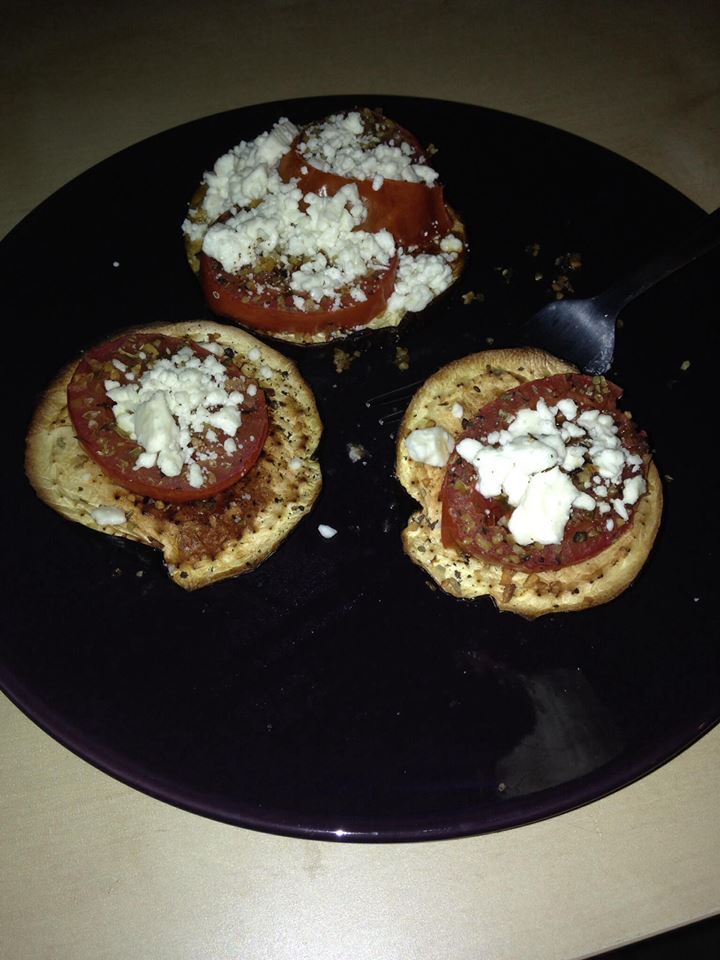 All in all this was an experience that I wouldn't take back for anything. Remember that yucky feeling I mentioned at the beginning?! We'll I just don't feel that way now and I haven't all week. I feel better and it's weird to describe. I just feel like my body is functioning better. I couldn't be completely vegetarian, Hannah hates everything in the ocean but I will continue to love my shrimp and fish!  But meat, eh, I think I can do without. As stated I've never liked red meat that's for sure. I do not ever crave a burger, I hate steak and don't get me started on turkey, disgusting! Chicken yes I do like it but I have it maybe once a week and I think I'd rather have tempeh to be honest! Lol I can't  believe how much I liked that stuff!  This week has helped me put some things in perspective and I will definitely be making some dietary changes!
Thank you Hannah for taking the time to put this all together for me! I truly enjoyed it and  I learned a lot!
***************************************************************
See??  Vegetarian food is tasty!! 😉  Maybe Amanda will become a mostly pescatarian since she LOVES her seafood! 😉  If I had to choose one type of animal product to eat based on health-factor, seafood would definitely be the way to go.  Amanda was super willing to try new foods (which I really appreciated), and it sounds like it paid off.  We have a newly found lover of tempeh.  If you didn't believe me before about how delicious tempeh is, maybe you will now!  Check out my search bar to find some tasty tempeh recipes.
A big thanks to Amanda for taking over the blog for a day and for giving her all to this experience.  I think we both had fun with it! 🙂