I am always excited when Fridays roll around, but lately I have been extra excited about my Fridays.  Last Friday I worked a half day and headed right into a fabulous weekend at my best friend's bachelorette party in Chicago.  This Friday is a great one, too, because I am off of work at 3 and heading home to my family, friends, and puppy dogs tomorrow. I seriously cannot wait to spend quality relaxation time with my parents and puppy dogs, and to eat dinner at one of my favorite restaurants and go to a hayrack ride with some of my favorite friends.  Ahh, there really is no place like home.  Here's to a good weekend ahead (knock on wood…please tell me that I am not the only superstitious person ;)).
Now I do not want to be the only person who has a good weekend.  So, I am going to share with you some delicious eats from around the blogging world for you to cook up in order to help make your weekend even better than it will hopefully already be!
Friday Foodie Favorites: October 25, 2013
Spaghetti Squash with Mushroom Sauce
I know what you are thinking…MORE spaghetti squash?  For awhile there I was really hooked on cauliflower rice.  Now, it appears that spaghetti squash is my new favorite thing.  I have made squash topped with the more traditional Italian red sauce, but I decided to mix it up a bit this time.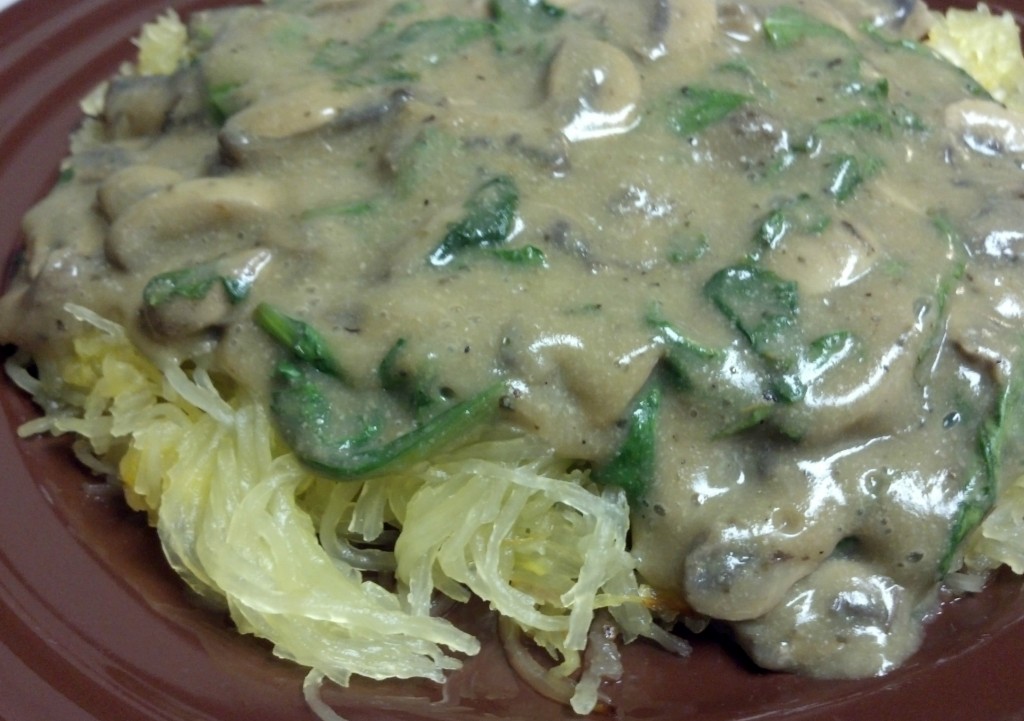 I topped roasted spaghetti squash with the mushroom gravy recipe that I found in the Everyday Happy Herbivore cookbook.  I followed the recipe but added in some spinach in order to up the veggies and to make it more colorful ;).  Plus, I just really love spinach, especially cooked spinach.  I really enjoyed this mushroom sauce and will likely make it again both for spaghetti squash pastsa and real pasta.

Jamaican Jerk Tempeh
I know that I have been sharing a lot of Robyn's recipes lately, but let's be real people…they are awesome and SO worth sharing!  You can definitely expect to see more from one of my new favorite bloggers.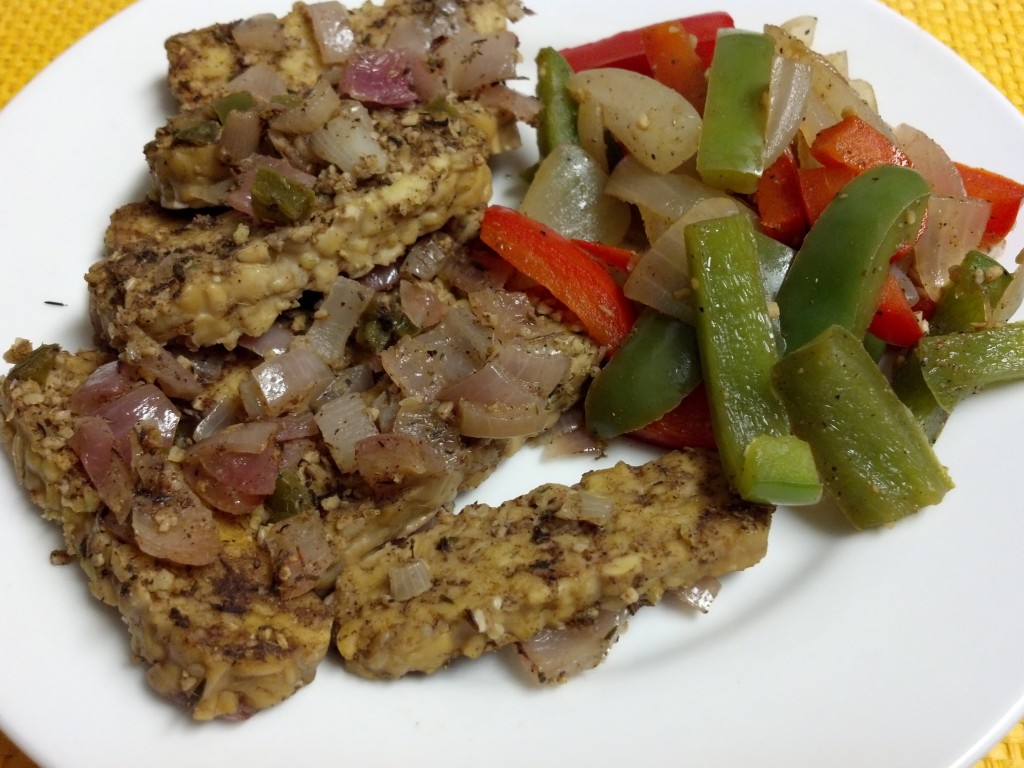 I made Robyn's Jamaican Jerk Tempeh a couple of weekends ago in preparation for a busy work week.  I ate this for lunch two days and for dinner the other days.  It was super easy to prep and prepare, it reheated beautifully, and it (most importantly) tasted amazing.  I am a big-time tempeh lover and to discover a new way to prepare it was absolutely exciting to me.  I will definitely make this again.
Mustardy Kale and Butternut Squash
Mustard, kale, and butternut squash?  I was instantly sold when I saw the title of  Ashley's recipe for this tasty dish.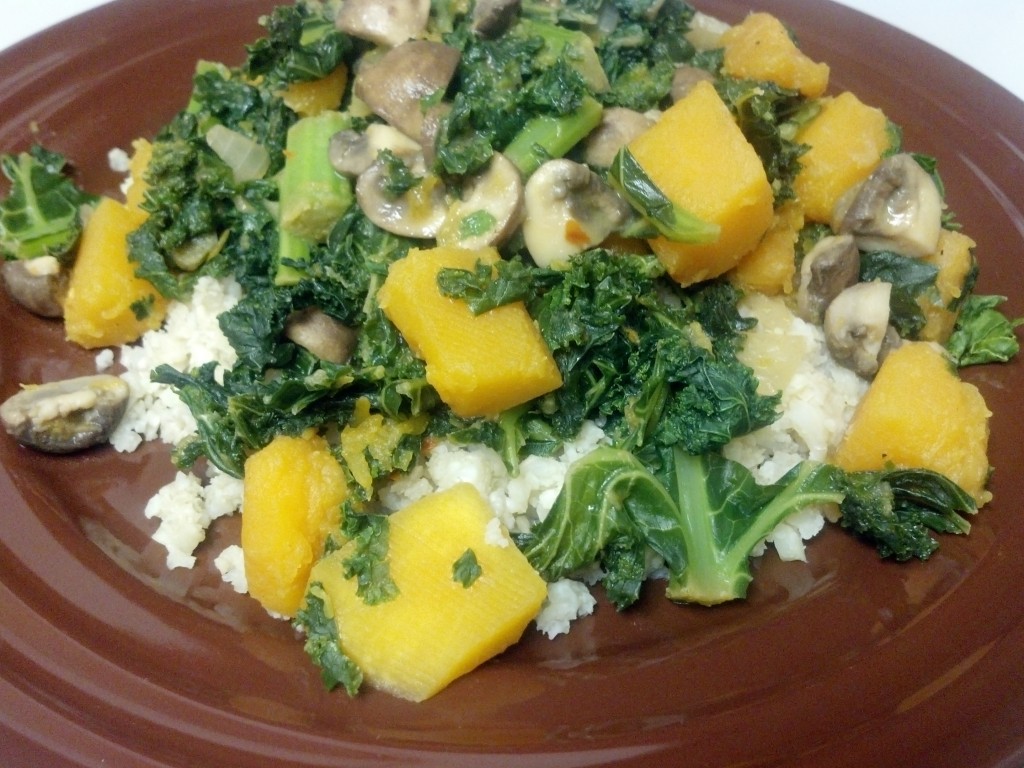 I made Ashley's Mustardy Kale and Butternut Squash on a chilly Fall night and it was the perfect comfort food!  I followed Ashley's recipe exactly, except I left out the walnuts (I did not have any) and I omitted the cheese in order to make it vegan.  I also decided to serve my dish over a serving of cauliflower "rice" (okay, so apparently I am still hooked on it…).  It was a wise decision.  I really enjoyed this dish.  It was super easy to make  and was stuffed full of Fall-themed veggies..my favorite kind of meal right now.
Roasted Spaghetti Squash + Runny Eggs + Ketchup + Sriracha Sauce
That's right.  This is recipe number two involving spaghetti squash in this post (and the third one involving squash…helllllo Fall!).  This dinner creation came about with inspiration from Allison.  Around a month ago, Allison posted a picture on Instagram of one of her meals.  It consisted of roasted spaghetti squash, runny eggs, ketchup, salt, and pepper.  The instant that I saw the picture, I knew I would be recreating it in my own kitchen.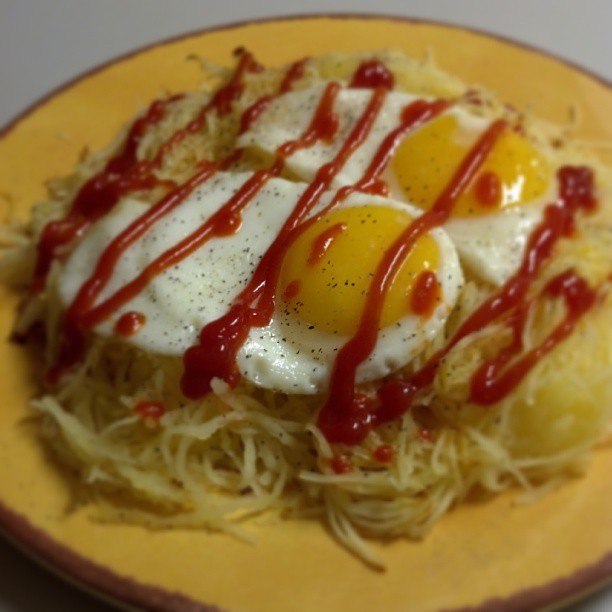 And here she is: Roasted spaghetti squash topped with two runny eggs (the best kind!), sea salt, pepper, ketchup, and sriracha sauce.  I just had to add some sriracha sauce to mine.  I like that stuff on pretty much everything ;).  If you are a spaghetti squash lover like myself (as if that isn't extremely obvious by now) and you want a simple way to incorporate it into lunch or dinner, then this is the way to go!
Split Pea Soup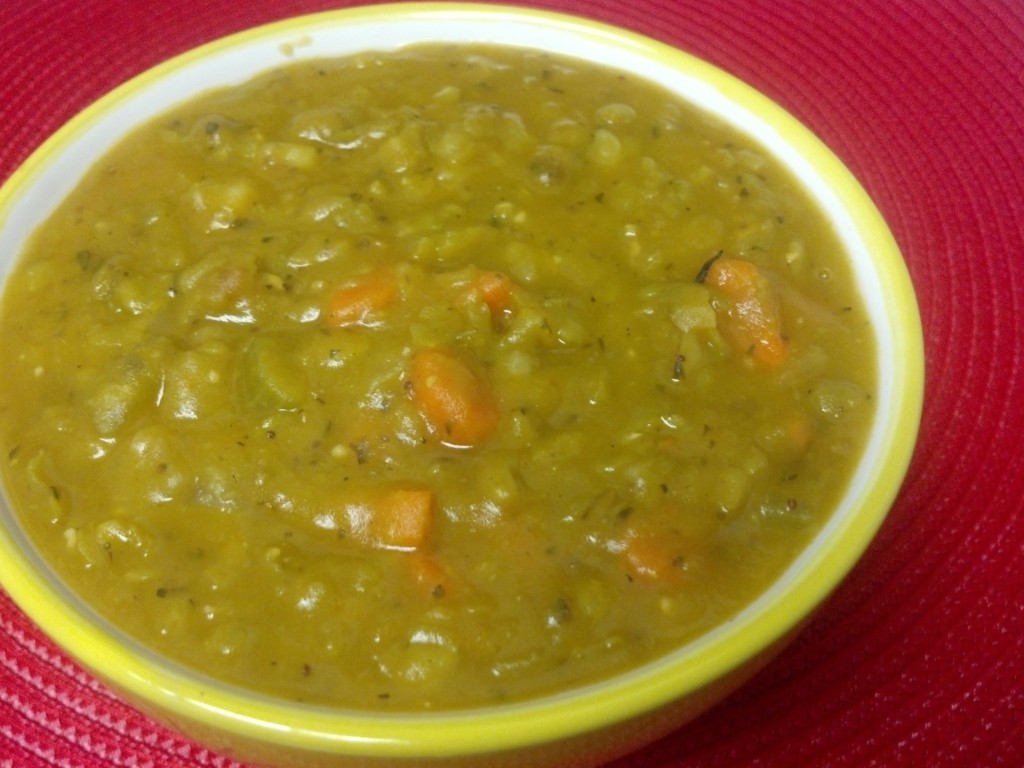 Ahh…another fantastic recipe from Robyn.  Seriously, you are missing out if you haven't stopped by her blog yet.  I prepped this soup last Friday evening so that I would have soup to eat for several lunches and dinners throughout the week.  Boy am I glad that I did.  It has made meal prepping super easy.  Plus, letting the soup sit in the fridge for a few days always produces tasty results.  Everyone knows that soup is always better as leftovers, am I right?  I have confessed several times that I have a strange love for frozen peas (cooked, of course).  I eat them as snacks and with my main meals.  Well, now I can say that I am a huge fan of split peas, too!  This soup was delicious, thick, perfectly seasoned, and just chunky enough (from the vegetables) to make my stomach super happy.  This is a staple recipe for everyone's upcoming Winter!
And finally…sticking with the Friday favorite theme, here are some of my favorite pictures from my weekend in Chicago last Saturday.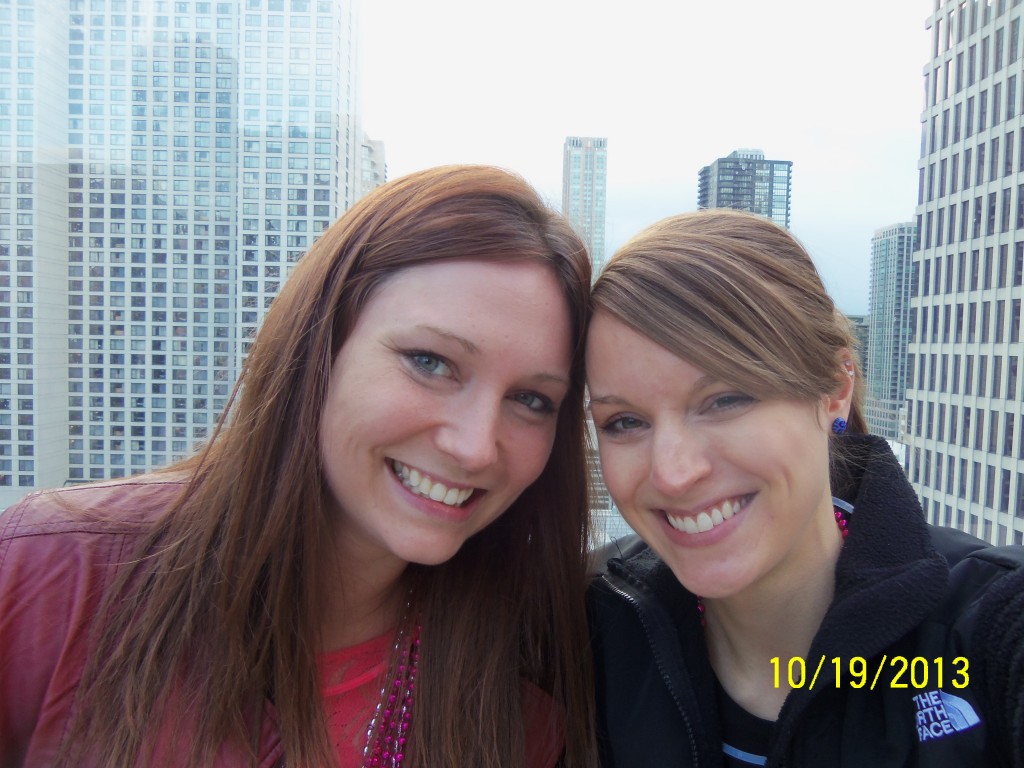 The bachelorette, Amanda, and me!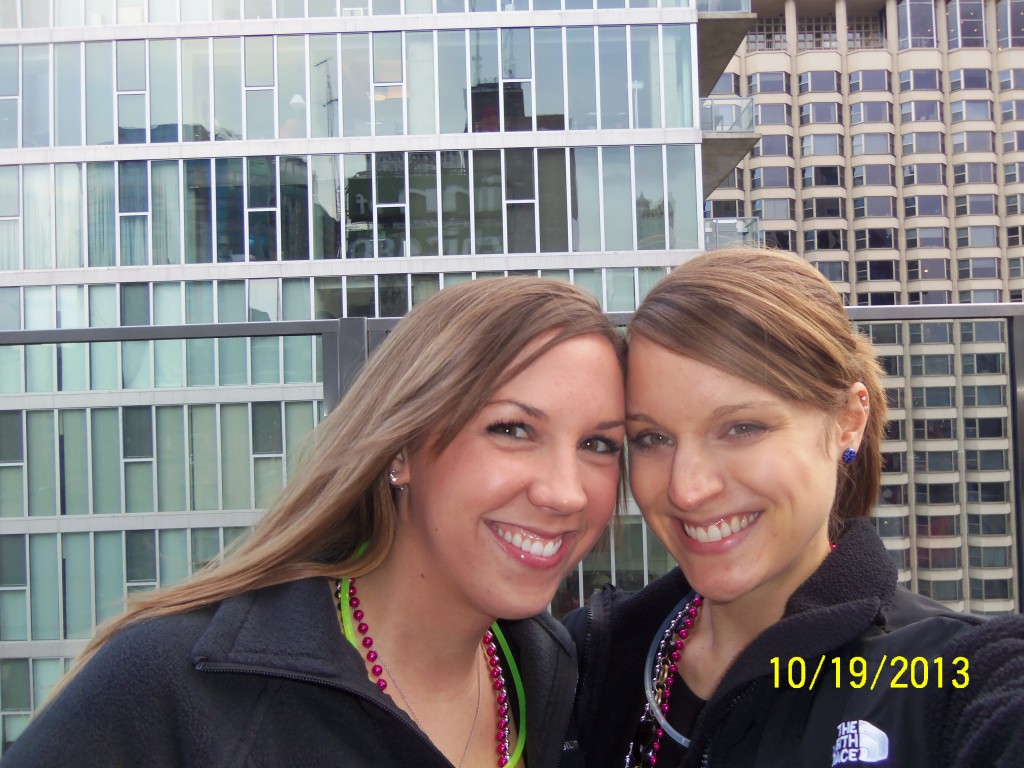 My friend, Stacy, and me!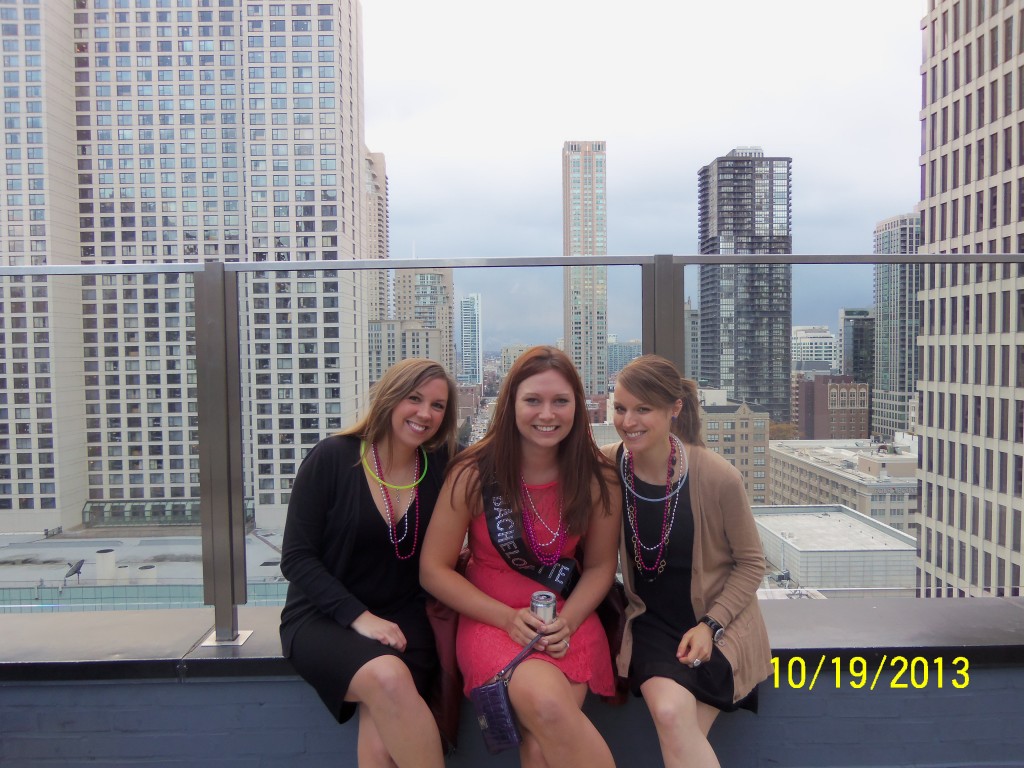 It was a tad bit chilly, but we were happy to be together in Chi-town!
And finally, I have to share a picture of my dinner from the night.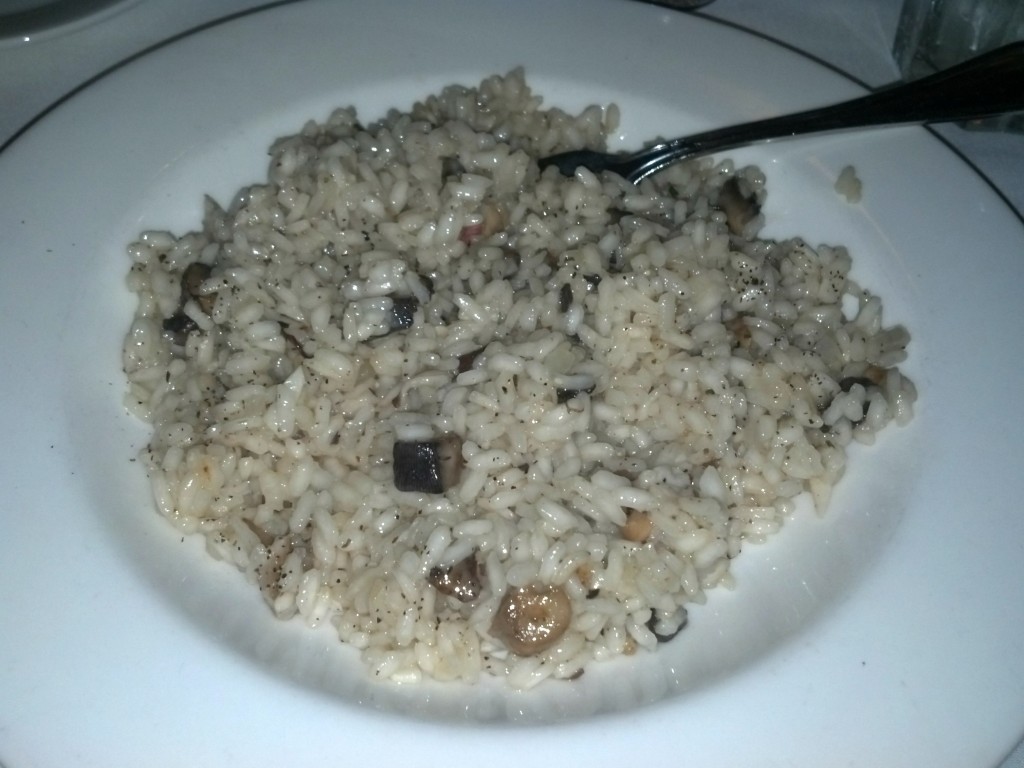 While it may not photograph very well, this was a super tasty mushroom risotto.  And it was made just for me…literally.  We ate at Harry Caray's Italian Steakhouse before heading out to celebrate.  When I first viewed the menu online a few days before, I noticed that it wasn't particularly vegan-friendly.  I contacted them via e-mail and the general manager and chef came up with a dish to make for me that evening.  Now that is some fabulous accommodation right there.  I was beyond impressed with their service and was extremely pleased and satisfied with my meal.  If you are ever in Chicago you should absolutely check it out!
Now go have a fantastic Friday and an absolutely wonderful and fun weekend! 🙂
Related articles