This week is an exciting week here in Clean Eating Veggie Girl land.  I cannot even believe that I am saying this, but today marks my two year blogging anniversary- or "blogiversary" as I like to refer to it!  Two years ago today I posted my first recipe for a delicious Spinach, Tomato, Onion, Artichoke, Basil Pizza (my how my posts and recipe names have changed!).  When I look back at my posts from my first year of blogging a lot of thoughts cross my mind.
"What was I thinking when I posted that?"
"Why are my pictures so tiny?"
"Why does the spacing of my posts looks so horrific?"
"Gosh, could I have used any more smiley faces in my posts?" 😉 <– I had to do it!
But mostly, I have good thoughts crossing my mind about how far I have come and about how many recipes I have created, enjoyed, shared, and been proud of over these past two years.
If I am being honest, my blog would be nothing without all of you.   Of course I blog for myself, but I also blog for others and hope that each day I can provide you with a little bit of goodness (mostly through food!).  So to celebrate everything that Clean Eating Veggie Girl is and has developed into, I have four fabulous giveaways set up for this week.  I will likely not be getting too wordy with these giveaway posts since this is the busiest time of the year for me at work and I just started a nutrition class this week.  But please know that I am featuring giveaways for products from companies and brands that I truly love and use in my day-to-day life.  Of course you probably already know that because I have talked about all of these companies on numerous occasions.
So let's get to the goods, shall we?
Since today is theee big day, I figured I should hook one of my lucky readers up with an absolutely awesome prize.  We are talking about a prize valued at $260.  Not too shabby, right?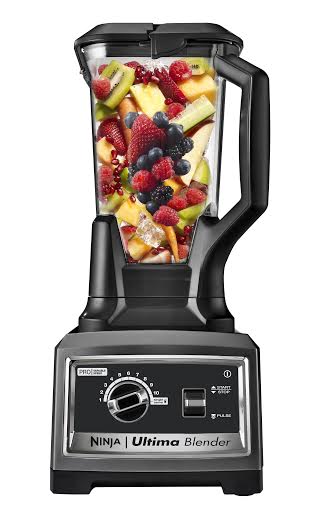 The absolutely wonderful people over at Ninja Kitchen have graciously offered to giveaway a Ninja Ultima blender.  This is the exact blender that I use every single day for my green smoothies and frequently use to make soups, sauces, salsa, french toast batter, and nut butters.  I seriously love this blender and am so excited that one of you will be getting one of your own!
You can read more about my experience with the Ninja Ultima here.
Giveaway Details:
To enter to win the Ninja Ultima blender, please complete one or all of the following and leave a separate comment for each entry.
1. Tell me what you would make first in your Ninja Ultima blender
2. Follow me on Instagram
3. Follow Ninja Kitchen on Instagram
4. Follow me on Pinterest
5. Follow Ninja Kitchen on Pinterest
The giveaway will be open until Sunday, August 31st at 11:59 p.m. CST and is open to residents of the United States and Canada.  Good luck!
This is not a sponsored post.