The next edition of Iowa City Eats Gluten-Free: Big Grove Brewery & Taproom.
I am really liking these posts, you guys.  I mean, how could I not?  Who doesn't love eating out and checking out new restaurants in their city?  Funny joke, right?  Everybody loves doing that!
Iowa City Eats Gluten-Free: Big Grove Brewery & Taproom
Today's rundown on eating gluten-free in the Iowa City area features a hip, new-to-me (and to the area) restaurant, brewery, and taproom.
Big Grove Brewery & Taproom
Jeremy and I celebrated our one year wedding anniversary on Sunday, April 9th.  Generally, our big life celebrations involve food in some way.  So naturally we decided to gift ourselves a nice meal out as a one year married couple.  Some say paper is the anniversary gift, but I guess for us it was just food!
If you are familiar with the Iowa City area, you may have heard of Big Grove in Solon, Iowa.  Jeremy has checked out their beer, but neither of us have eaten there.  We'll just have to add that to our bucket list!  But for now, we'll talk about their new sister restaurant that just opened in Iowa City, the Big Grove Brewery & Taproom.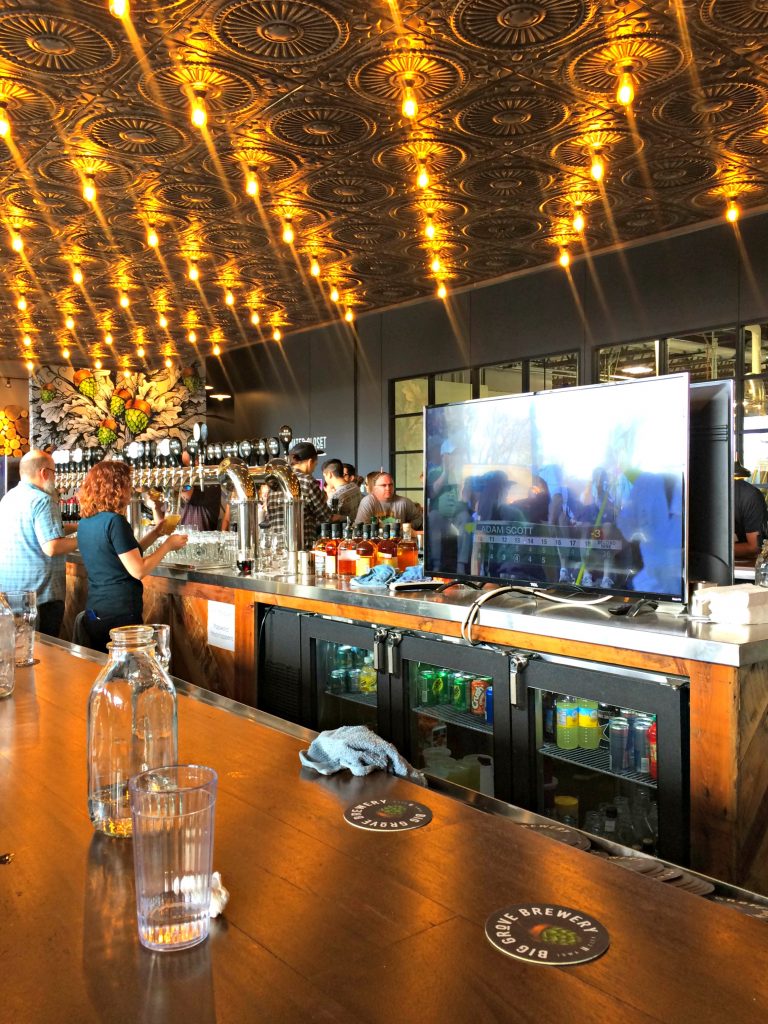 The restaurant/brewery is located in southern Iowa City in an old warehouse building.  When we arrived, the place was PACKED.  We had to hunt for parking and were amazed by how many people they fit into both the taproom and outdoor space.  I'm sure it did not help that it was the first nice weekend since they opened a few weekends ago, but it was literally nuts how busy they were.  We hunted around for about five minutes once inside and then settled for two seats at the bar.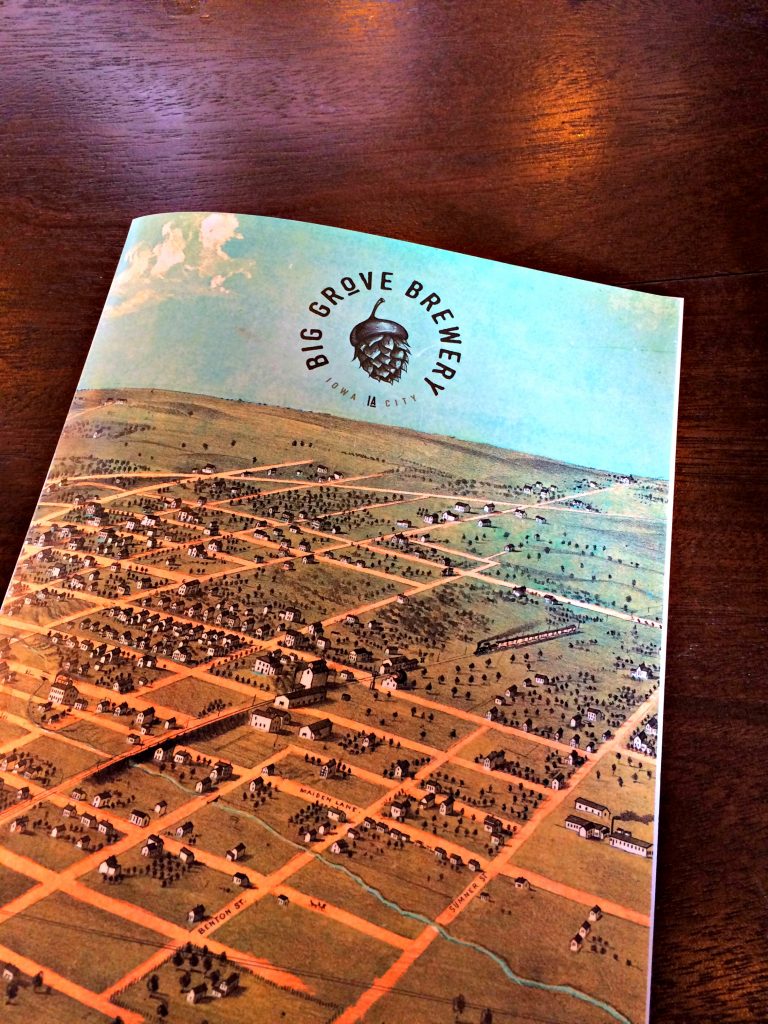 They have a somewhat interesting concept when it comes to their beverage and food service.  The taproom is seat yourself, and they have bar tenders/waiters/waitresses (depending on where you are sitting) to collect drink orders.  If you want to order food, you will be left to serve yourself, as they offer a "cafeteria style" restaurant model.  There are definitely pros and cons to this model.  On the one hand, when the taproom is as busy as it was, I cannot imagine that the traditional concept of being waited on would be very effective.  On the other hand, if you are planning to grab food during peak meal hours, be prepared to wait in line.  When we ordered our appetizer around 4:30, the concept was great.  When we ordered dinner around 6:00, I stood in line for about 15 minutes.  Regardless of the wait time to order, they are super quick about getting the food ready (we're talking five minutes tops)!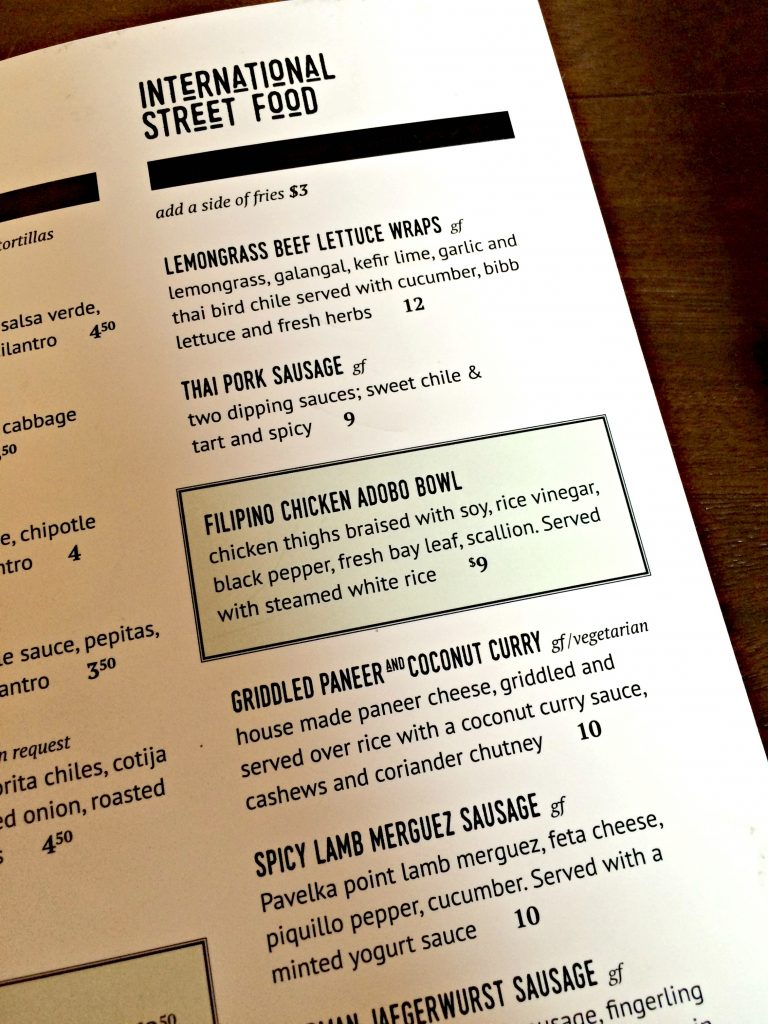 One thing I really appreciated about the menu was that they had gluten-free (and vegetarian/vegan) menu items marked.  I just love it when restaurants do that.  It makes things so much easier for us folks!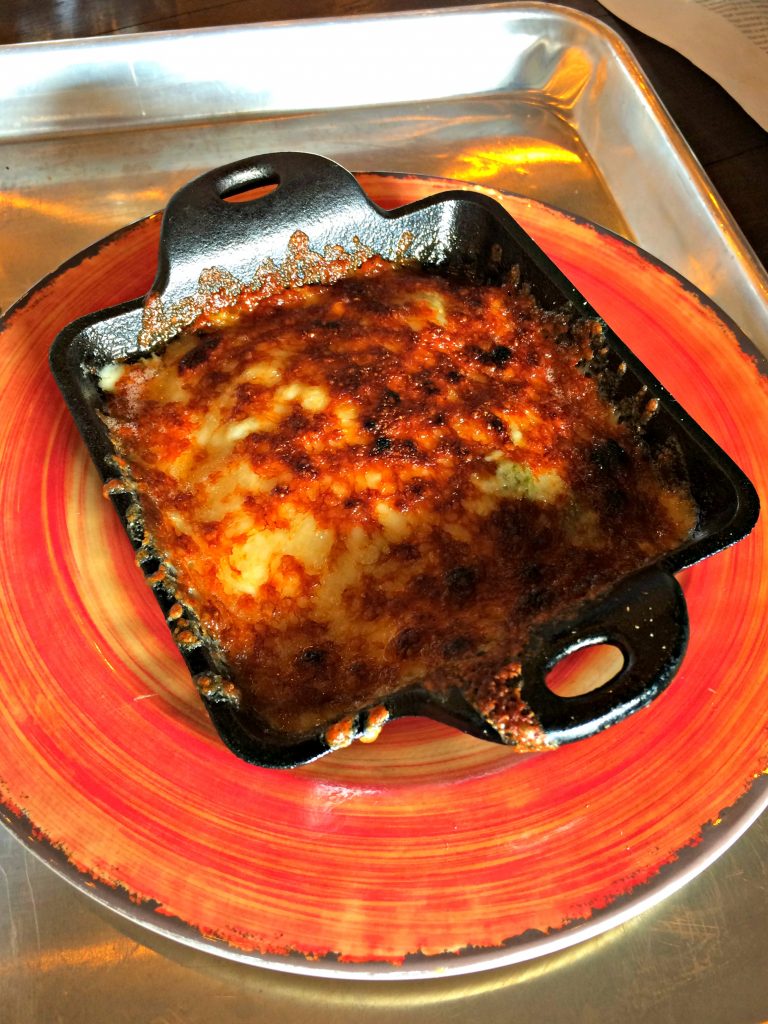 Shortly after we arrived and Jeremy ordered a beer, we decided on the Queso Fundido appetizer to share.  It consisted of melted Chihuahua cheese, poblano rajas, and chorizo rojo all broiled into a perfectly warm and flavorful dish.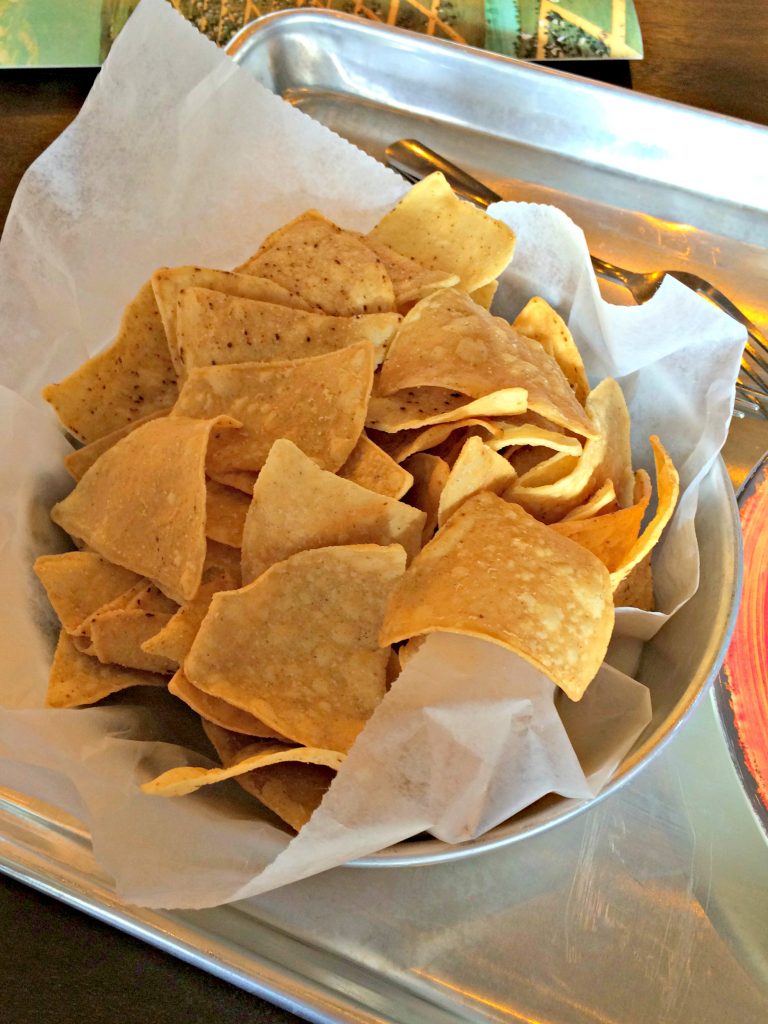 We chose the corn tortilla chips for dipping, but fresh corn tortillas were also an option.
I had the hardest time deciding what to order for my main meal.  I went back and forth and back and forth, but ultimately chose their House Salad and one of their Pork Belly Al Pastor tacos.  The two combined generally would not be enough for a full meal, but with the appetizer it was the perfect amount.  Plus, I snuck some of Jeremy's french fries!
I was really impressed by their house salad.  Generally, house salads consist of iceburg lettuce, croutons, and dressing.  Instead, their salad was made with butter lettuce and topped with toasted pumpkin seeds, queso fresco, avocado, radish, and a green chile dressing.  I really liked that they didn't skimp on the avocado and gave me about four to five slices!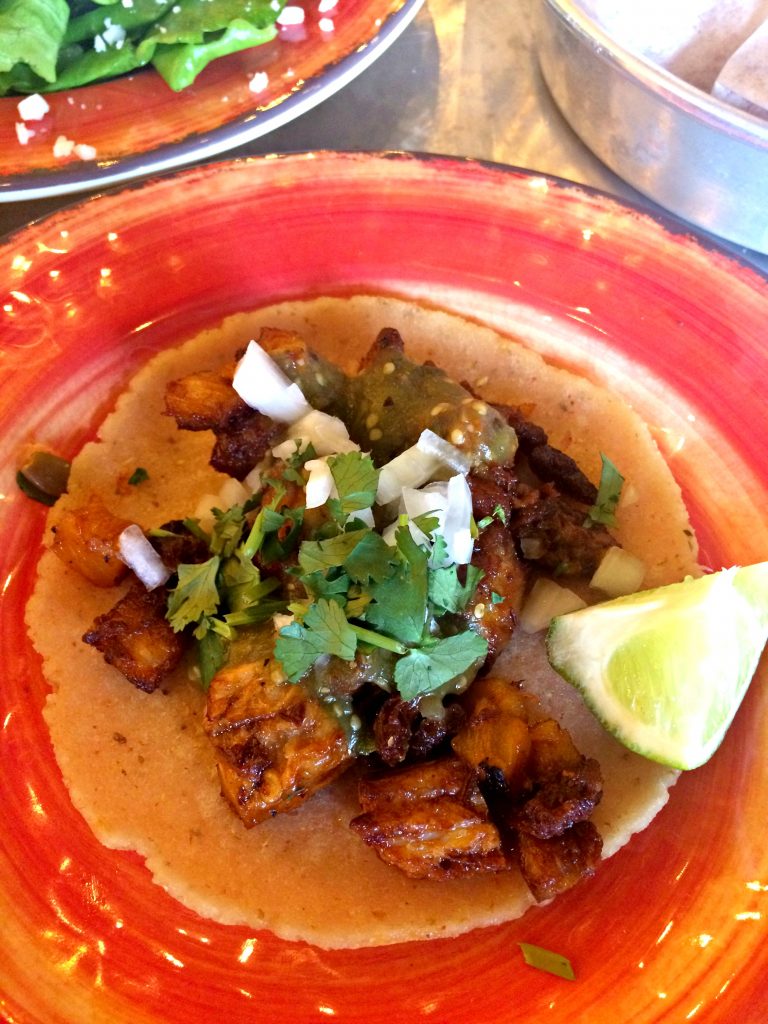 The taco I selected was made up of crispy pork belly, adobo, slow simmered salsa verde, grilled pineapple, white onion, and cilantro.  I was a little disappointed in the size of the taco (especially when I saw others eating the fish tacos- which are not GF), but the flavor definitely won me over.  I loved the addition of pineapple for the perfect sweet and spicy combo.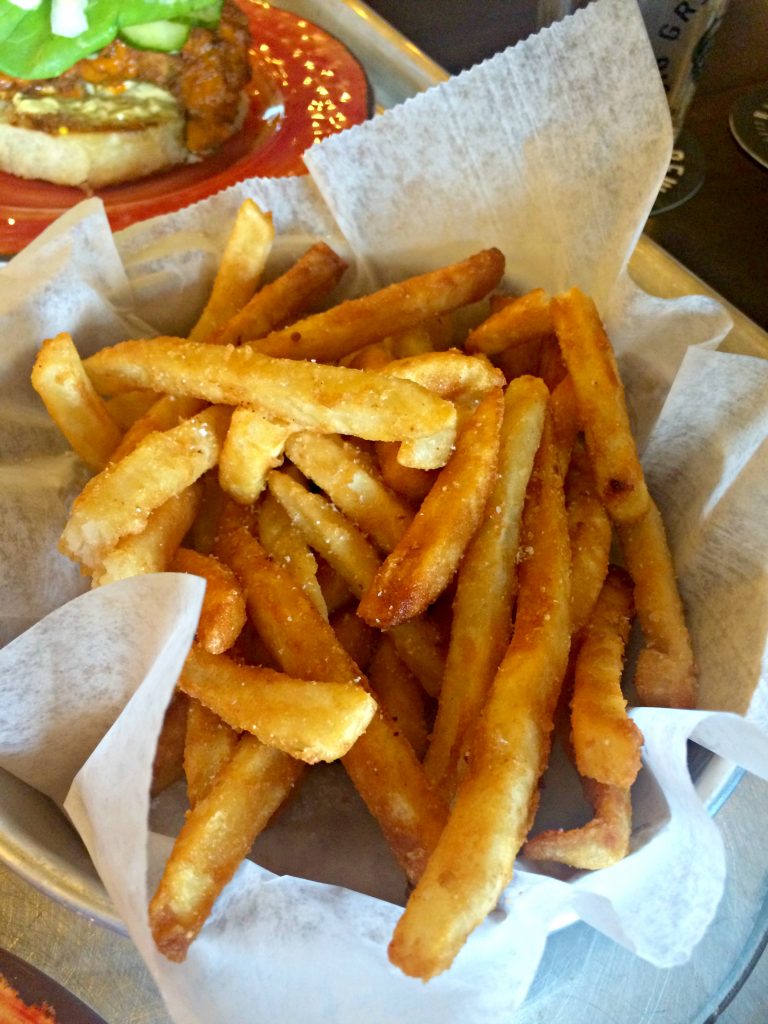 P.S. Their french fries were perfectly crispy and delicious, but they were not fried in a separate fryer.  You'll want to avoid these if you have Celiacs or are highly sensitive to gluten.
Overall, we enjoyed the vibe of the place, thought the customer service was great (especially for how busy they were), and found the food to be delicious.  Some of it is a bit on the pricey side, though, so do not go in expecting to get out of there for under $10 per person.  We'll definitely be back, and I cannot wait to try some of their international street food next!
A word to the wise: always check with this establishment about their current gluten-free offerings, as changes could have been made after this post was published.
Iowa City Eats Gluten-Free: Big Grove Brewery & Taproom #Iowa #IowaCity #glutenfree
Click To Tweet