Proof that sweet potatoes are most definitely for breakfast.  But nobody wants a boring tator.  Top 'er off with things like butters, fruits, nuts, and seeds.  I've got you covered with tons of topping ideas!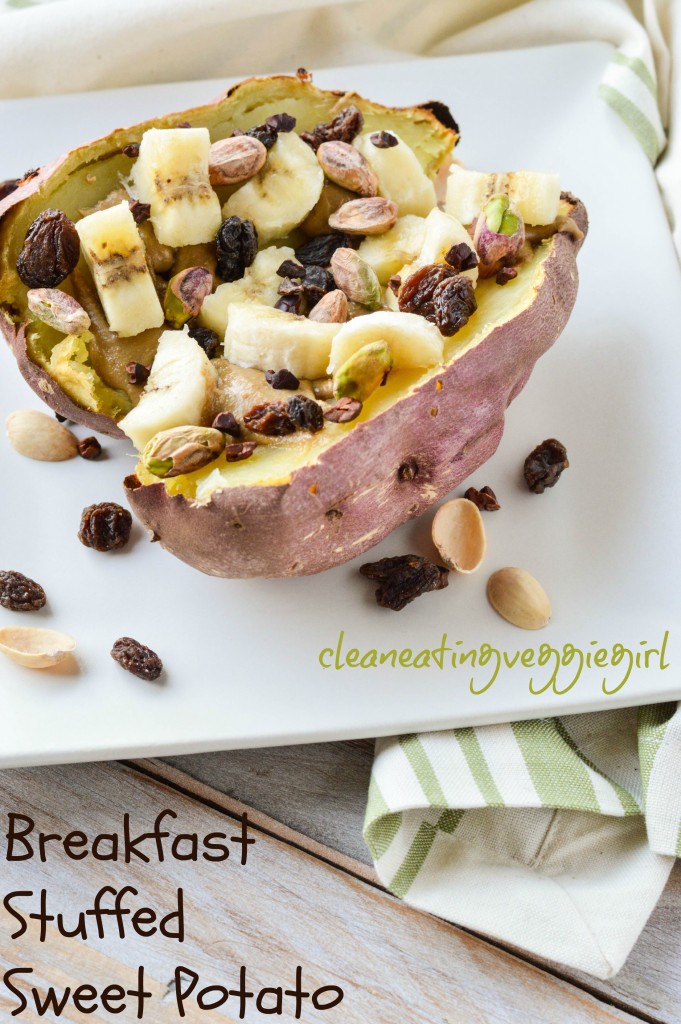 White potatoes are a classic in the morning.
Hashbrowns?  Check!
Hash with potatoes?  Absolutely!
Diced breakfast potatoes?  Always!
Potatoes in breakfast burritos?  Yes, please!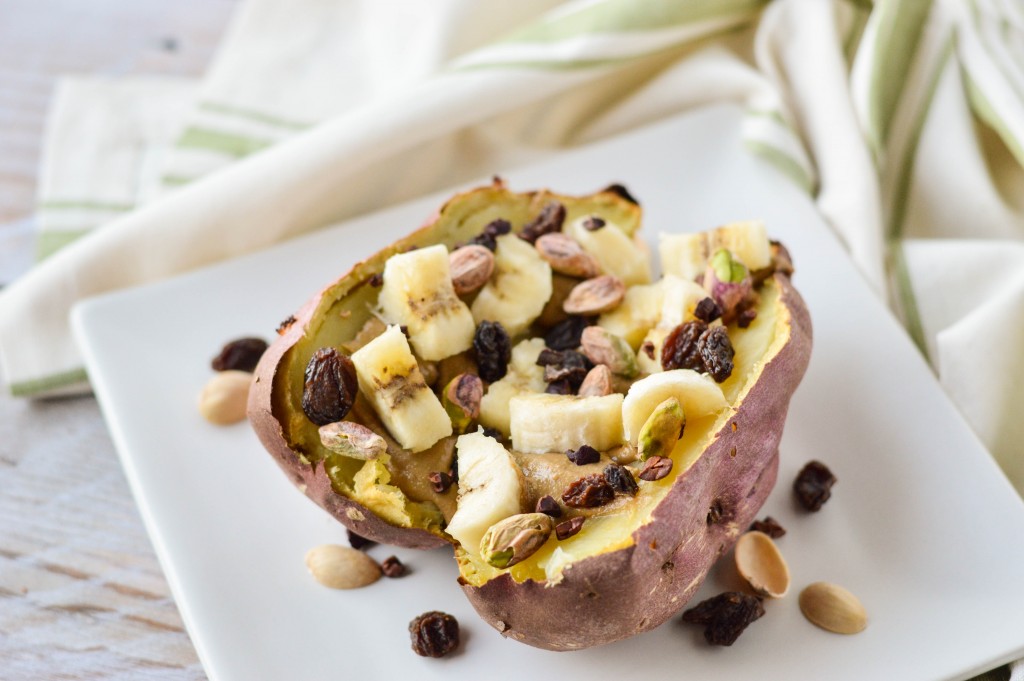 While all of those are equally delicious, we cannot be leaving sweet potatoes out of the mix.  That would just be wrong.  And since I am currently eating nightshade-free, I am all about the sweet potatoes right now.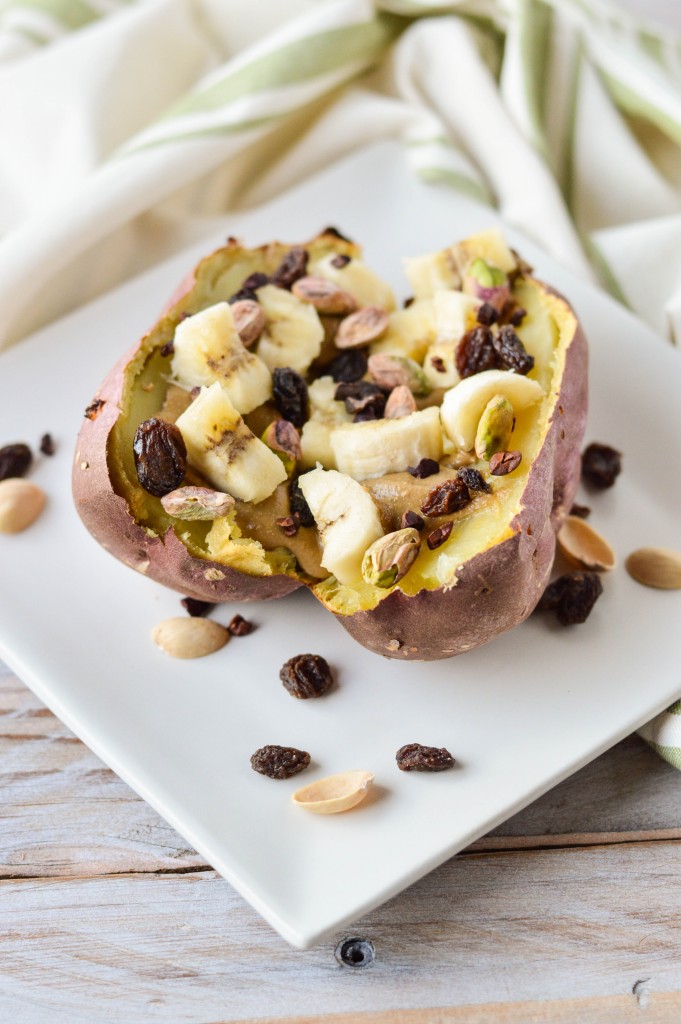 I have been eating sweet potatoes for breakfast for the past several years.  I love them in pancakes, I love them in hashes, and I absolutely adore eating baked sweet potatoes topped off with nut butter.  And despite having several people think that I am weird for doing so, I think they are weird for not trying it!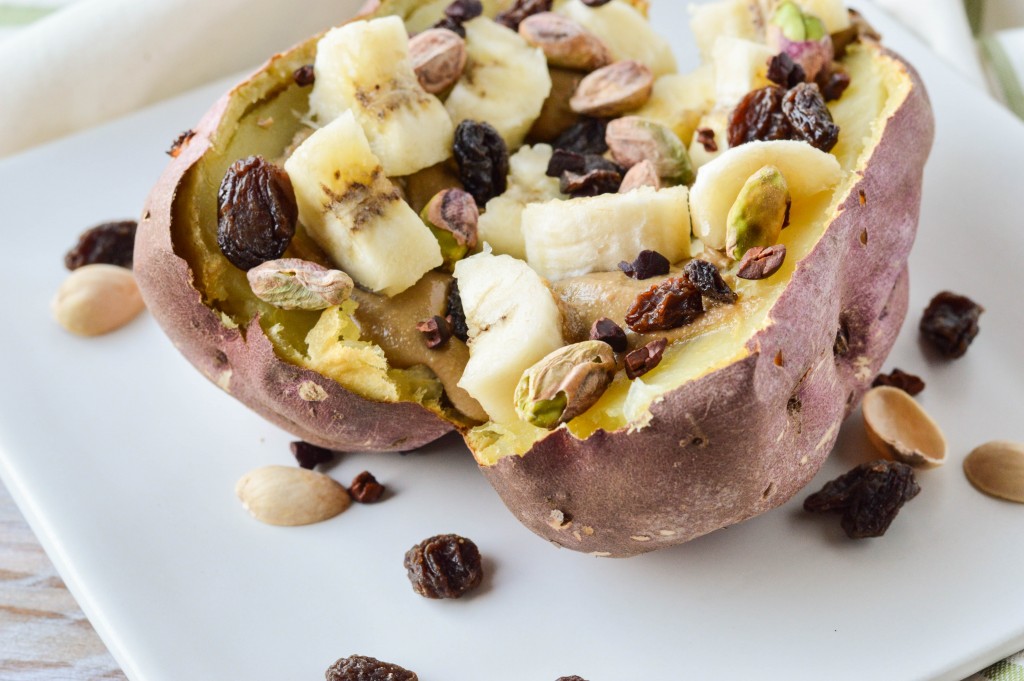 I ate a lot of eggs during the Whole 30.  A lot.  And while I never got completely bored with them, I sure did not mind mixing things up a bit.  One of my go-to ways for doing that was by making baked sweet potatoes topped off with all sorts of goodness.  Yes, sweet potatoes are totally a breakfast food.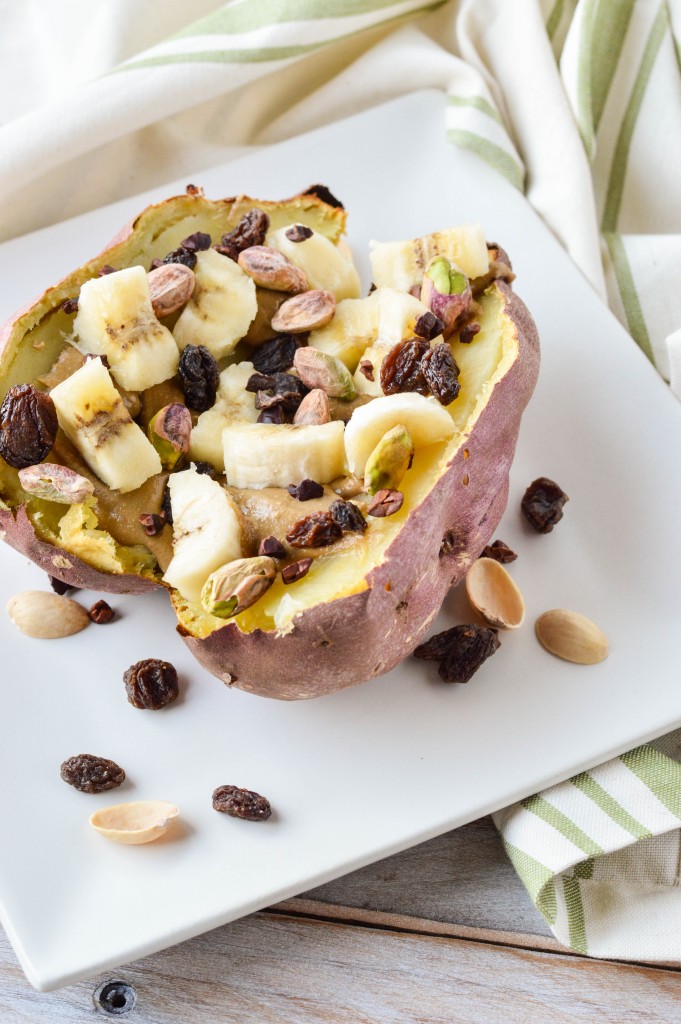 Lately, my favorite breakfast stuffed sweet potato toppings have been sunflower seed butter or almond butter, banana slices, nuts, cacao nibs, and raisins.  But following is an entire list of topping ideas: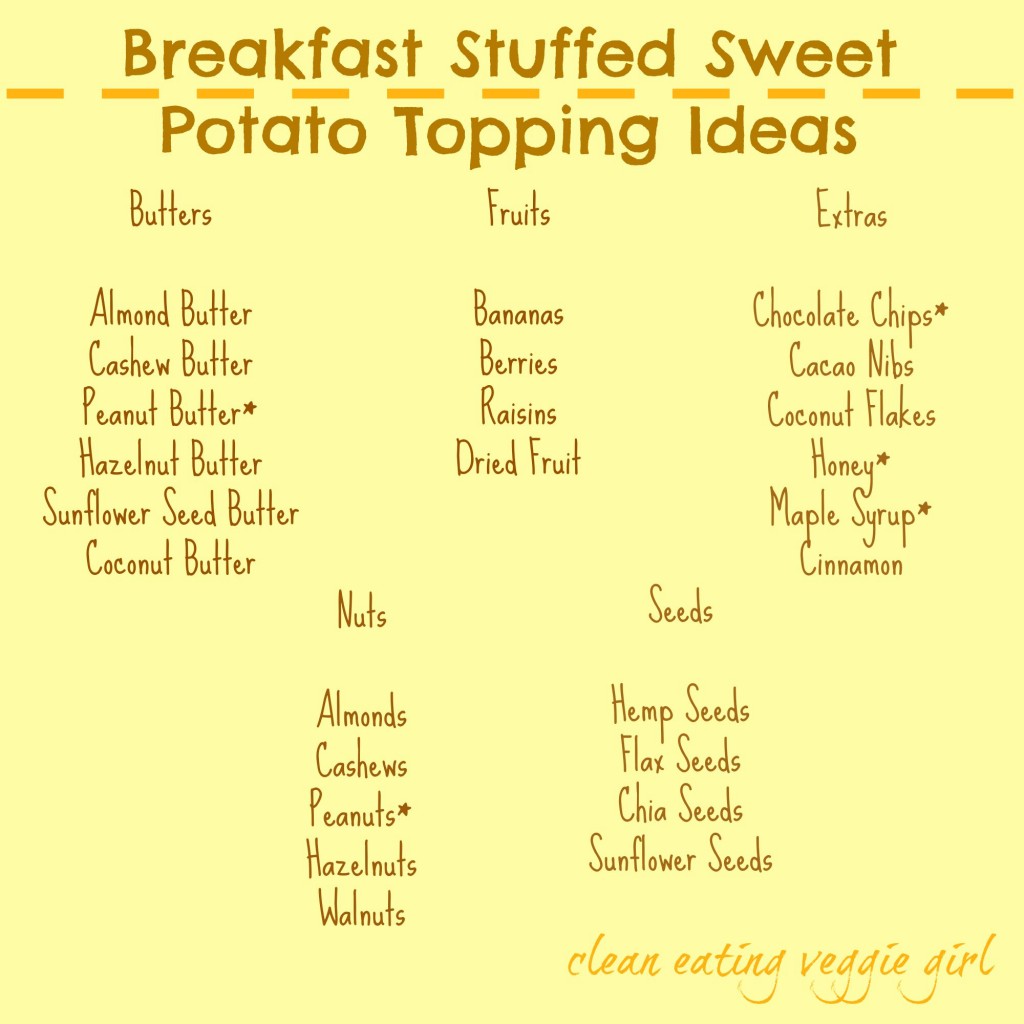 *These ingredients are not Whole 30-compliant.  If you are doing the Whole 30, please also be sure to check the ingredient lists on every item listed above.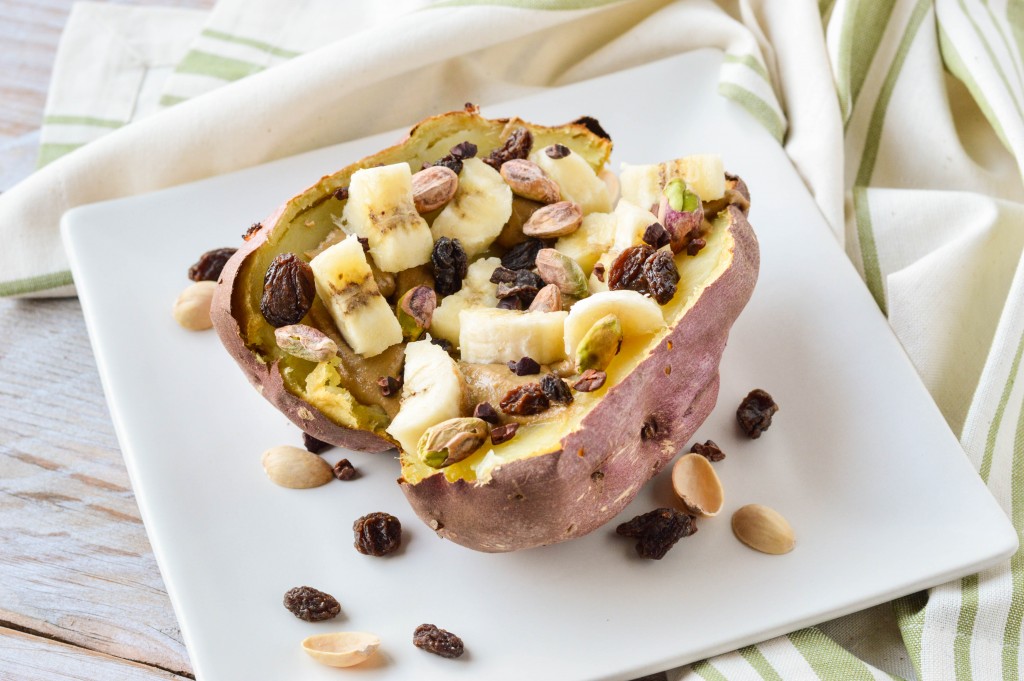 These toppings not only work great for breakfast, but they would also result in a mighty tasty snack or dessert!
I selected a Japanese sweet potato on this particular day.  If you have not tried them yet, you definitely need to.  Talk about perfectly sweet!  I baked my potato in a 425 degree F oven for approximately 45 minutes.  But in case you do not feel like actually baking your sweet potato, check out my tutorial on how to "bake" it in the microwave: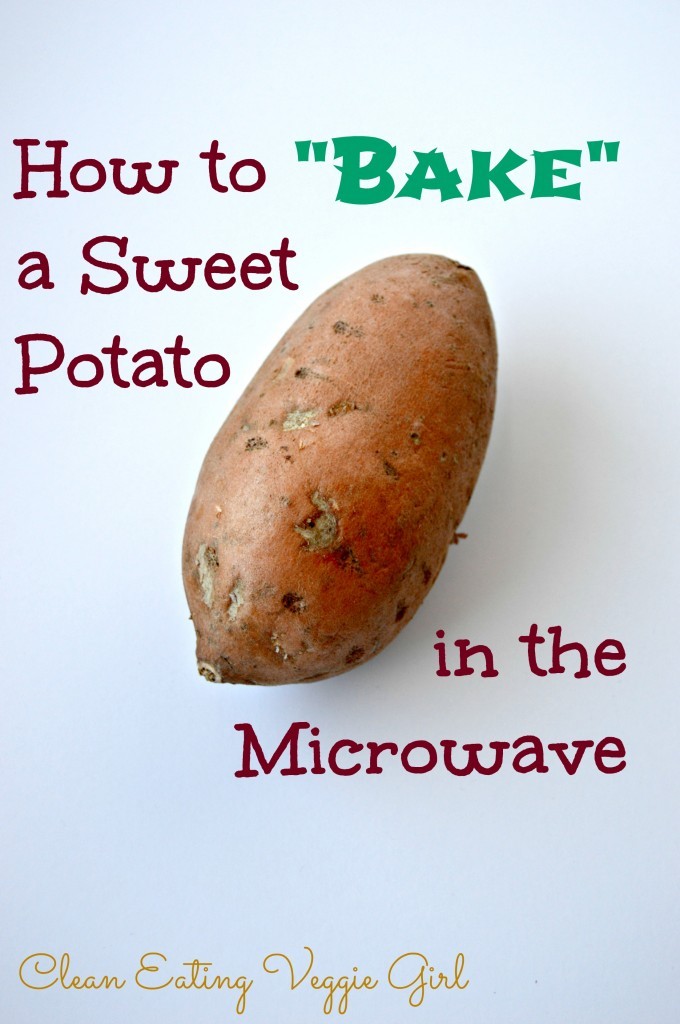 How to "Bake" a Sweet Potato in the Microwave
Creative Topping Ideas for a Breakfast Stuffed Sweet Potato #Whole30 #glutenfree #breakfast
Click To Tweet
Have you ever eaten a sweet potato for breakfast?
What do you love stuffing your sweet potato with?