A simple and easy way to prepare fresh radishes.  These Roasted Radish Chips are vegan, gluten-free, and paleo!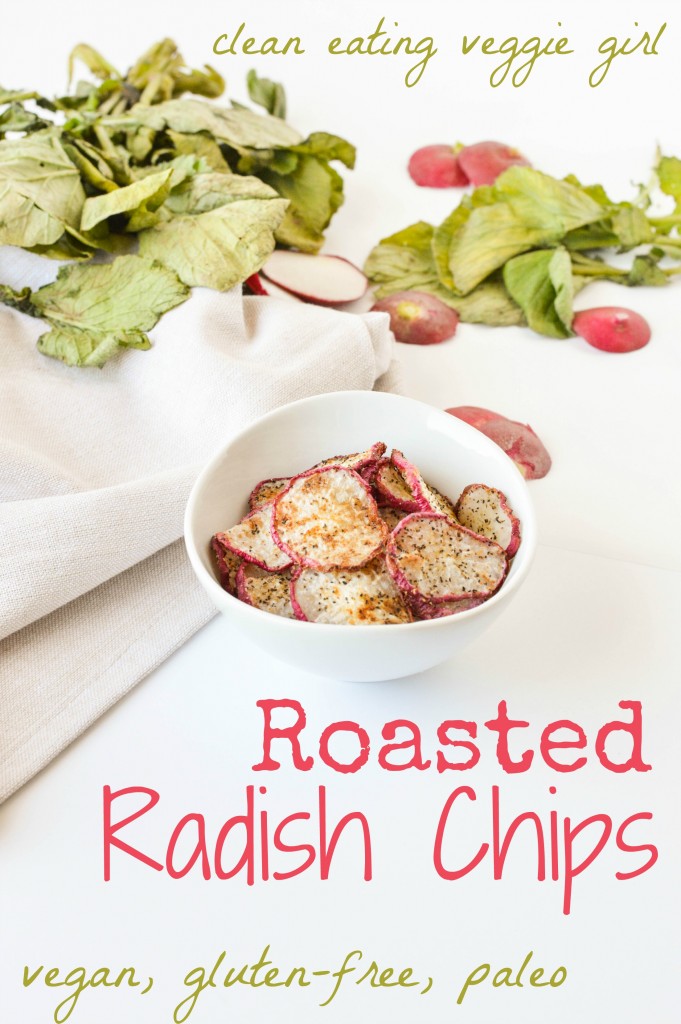 Radishes = comfort, happiness, and joy.
Weird?  Maybe.  After all, most people do not tend to have strongly positive feelings toward this slightly bitter vegetable.  But for me, radishes bring back fond memories of home and make me think of a very important person in my life: my dad.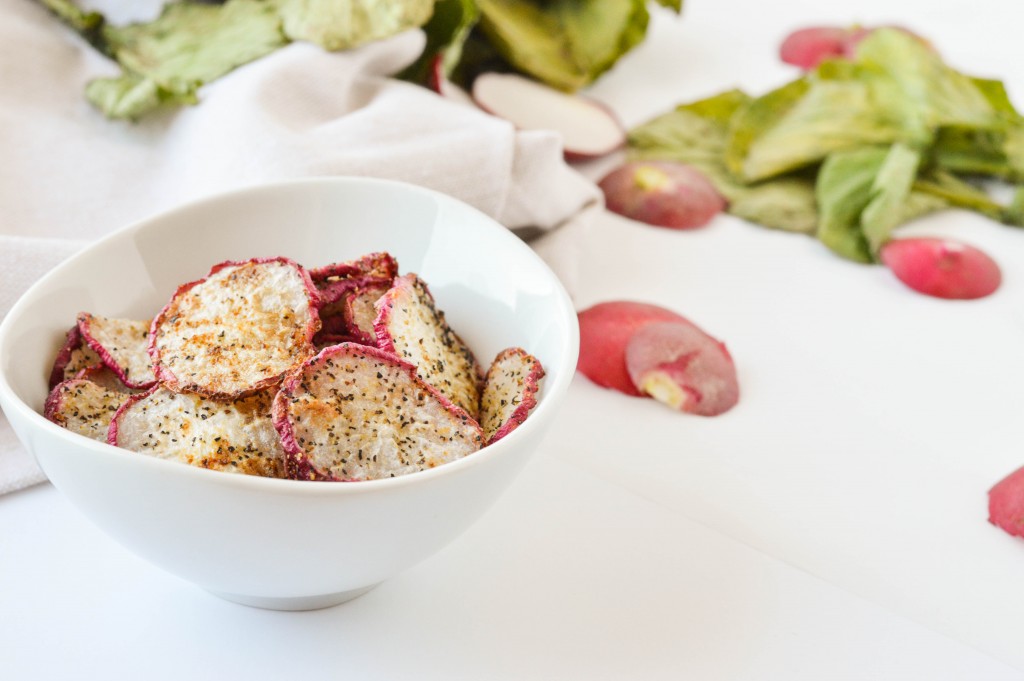 For as long as I can remember, my dad has always grown a garden in our backyard full of tons of delicious fruits and vegetables.  From green peppers, to tomatoes, to radishes, and good 'ole Iowa sweet corn, it has always been one of my most favorite things about the spring and summer seasons.  To this day, I still get excited when I make the five-hour trip home and my dad sends me back to Omaha with a box of fresh goodies straight from the ground.
I have my dad to thank for my love of radishes.  Ever since my younger years he would pick them from the garden, wash them, cut them up, and stick them in a bowl of cold water in the fridge.  I can still picture it now.  Every time I would open the refrigerator door, I'd snag one or two to munch on.  Nowadays since I do not have my dad to keep my fridge stocked with radishes, I tend to eat them salted, throw them in salads, and make them into one of my favorite snacks: roasted radish chips.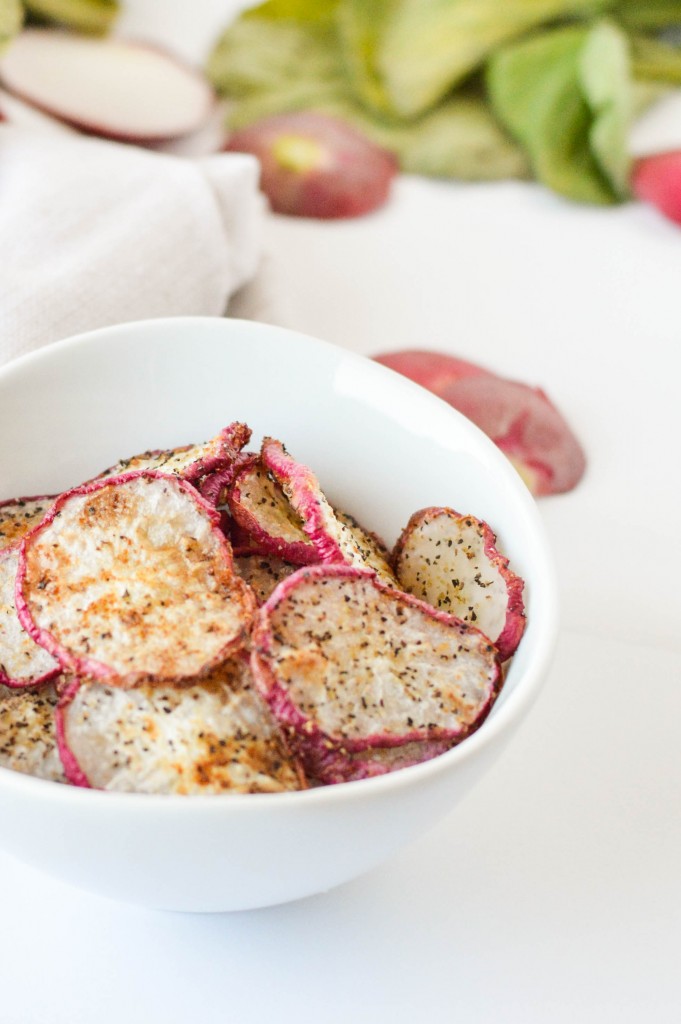 When I first shared my recipe for these Roasted Radish Chips over two years ago, I had no idea they would be so popular.  But to this day, they consistently remain as one of my most popular and searched-for recipes here on Clean Eating Veggie Girl.  Obviously I am not the only radish lover.  Either that, or people are just desperate to find unique ways to use up the plethora of radishes in their CSA boxes come spring and early summer.  Regardless of the reason, I think we need to give radishes a bit more credit.  Sure, they can be a bit bitter.  But with a sprinkling of basic seasonings and a little heat, they are darn delicious!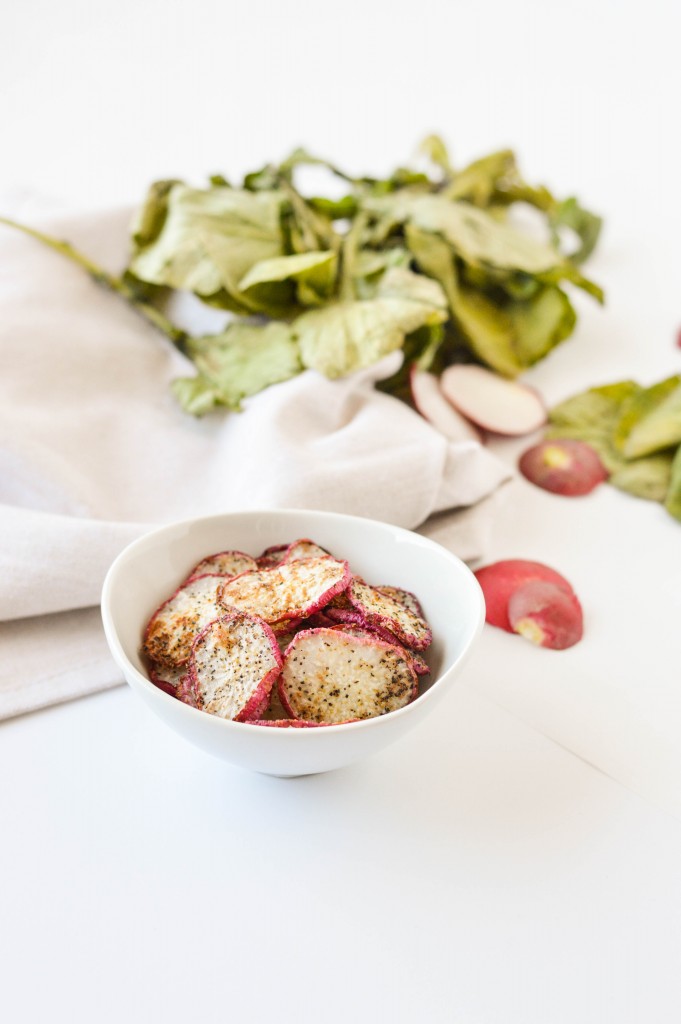 Due to the popularity of these radish chips and the sincere need for some new, prettier pictures, I am sharing this two-year old recipe again with you today.  Radishes generally are not used to being the "stars" of the show in the vegetable department, but today they deserve their very own post.  Let's turn radishes into a tasty and healthy snack, or your new favorite way to top a spring or summer salad!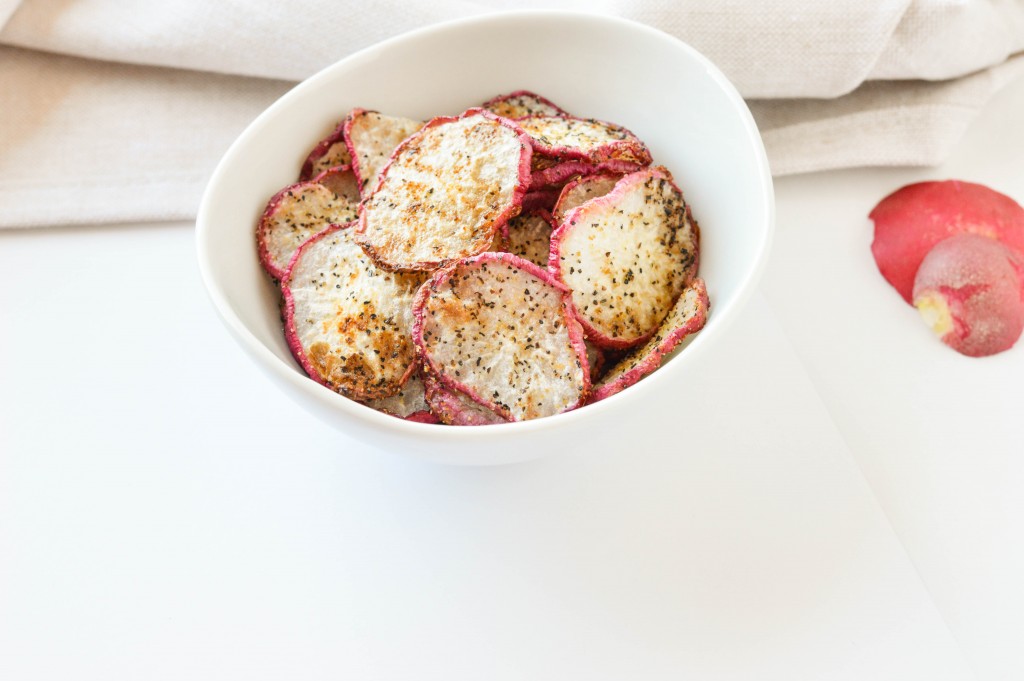 Roasted Radish Chips
Vegan, Gluten-Free, Paleo
Serves 2
Ingredients
8 to 10 whole radishes, washed and dried
coconut oil or extra virgin olive oil cooking spray
1/2 tsp fine sea salt
1/2 tsp black pepper
1/2 tsp garlic powder
1/2 tsp onion powder
Directions
1. Preheat oven to 425 degrees F.
2. Slice radishes into 1/4-inch thick pieces using a mandoline slicer or knife.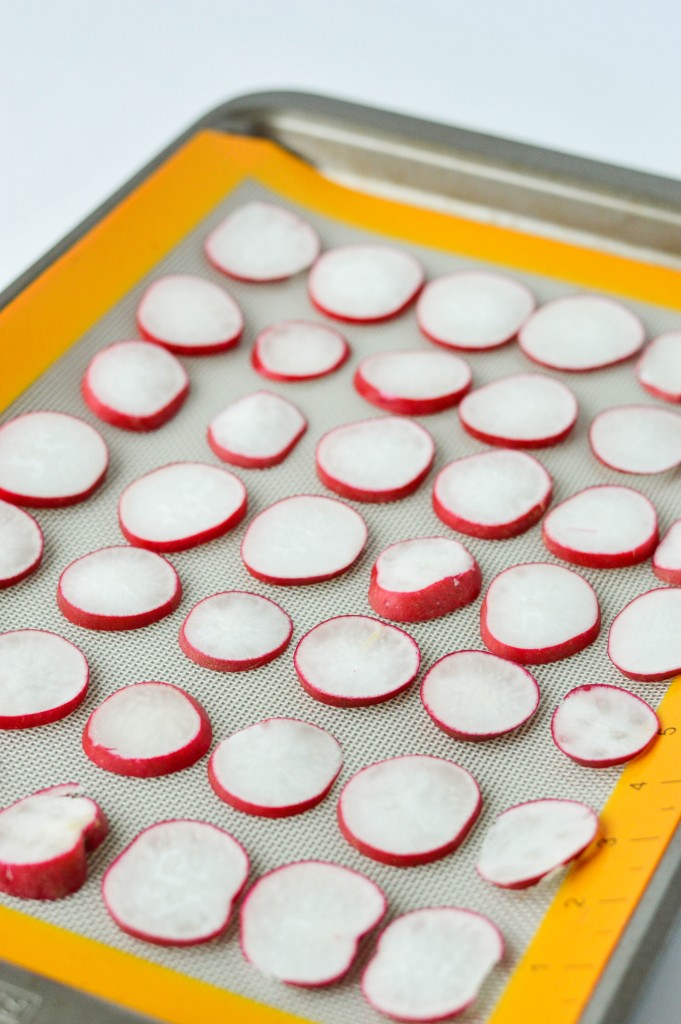 3. Place the radish slices on a baking sheet that has been lined with a silicone mat, parchment paper, or foil.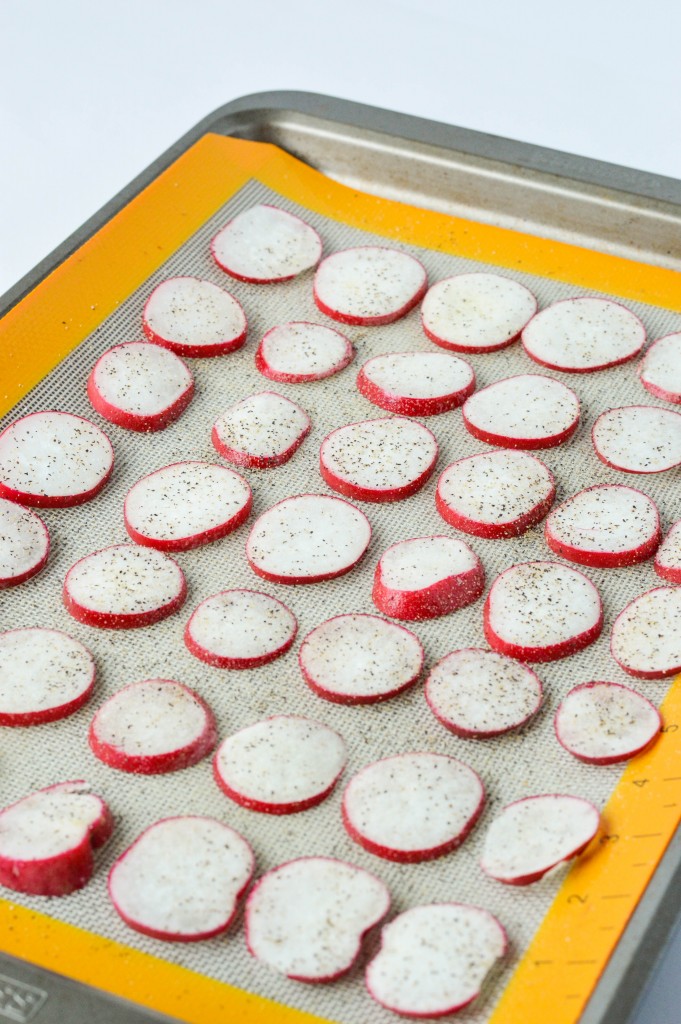 4. Spray the radish slices with your oil of choice and sprinkle with half of the seasonings.
5. Place the radish slices into the oven and roast for approximately 15 minutes.
6. Remove the radishes from the oven, flip, spray with additional oil, and sprinkle with remaining seasonings.
7. Roast for an additional 10 to 15 minutes, or until golden brown.  Be sure to watch them carefully toward the end, as they can burn quickly.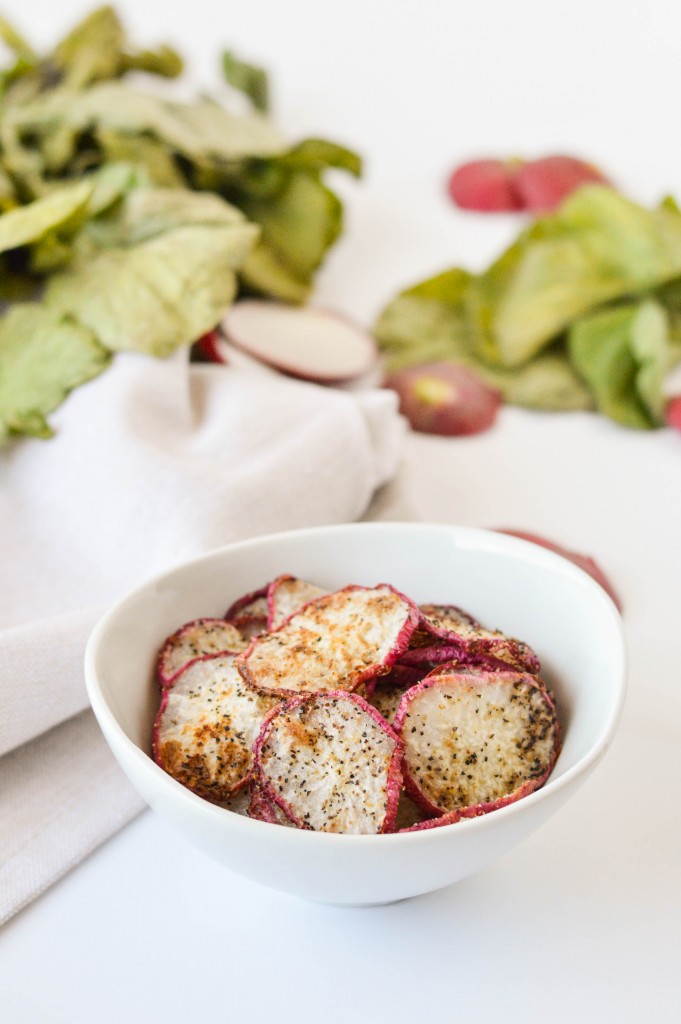 I highly recommend dipping these radish chips into your favorite hummus, or dressing your next salad with them.  Go on!  Give radishes a try.  They may not bring you comfort and joy like they do to me, but I bet you will still like 'em.  Maybe you'll even love them!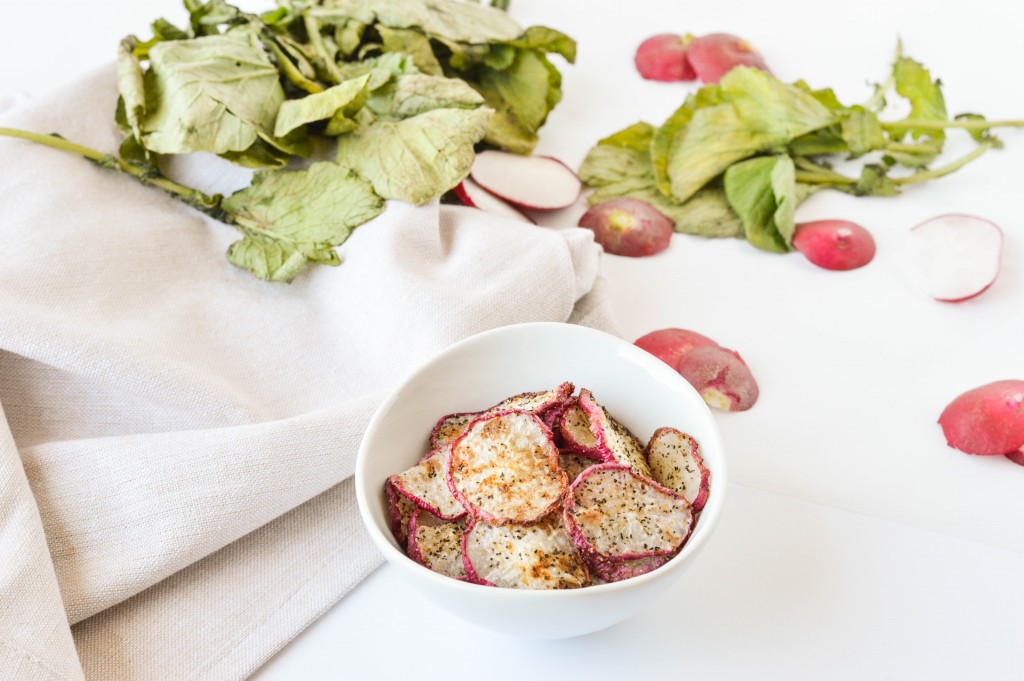 Roasted Radish Chips are perfect for snacking! #paleo #vegan #glutenfree Click To Tweet
Do you like radishes?
What is your favorite way to prepare and eat them?