Intuitive Eating.  It turns out it is a lot more difficult than it sounds.  At least for me it is!  I have found that staying true to my cravings is pretty easy, but eating without distractions and stopping when I'm full are both aspects of intuitive eating that I really need to work on.
Check out my second day of documenting my intuitive eating journey… positives, challenges, and all!  If you missed the first day, head on over here.
A Day of Intuitive Eating (#2)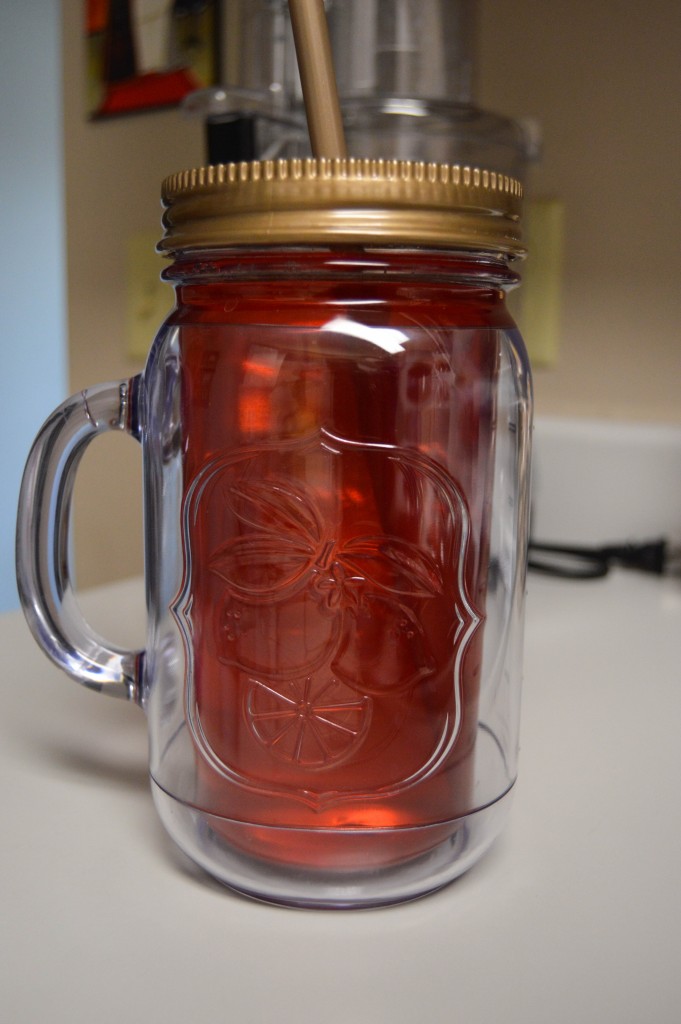 My morning started out with the usual: 32 ounces of water with about 1/4 cup of 100% cranberry juice mixed in.  Pure cranberry juice is a bit too harsh for me, so this is one thing that I actually prefer to drink watered-down.  I sipped on this throughout the morning.  No matter how hard I try, I simply cannot down tons and tons of water first thing in the a.m.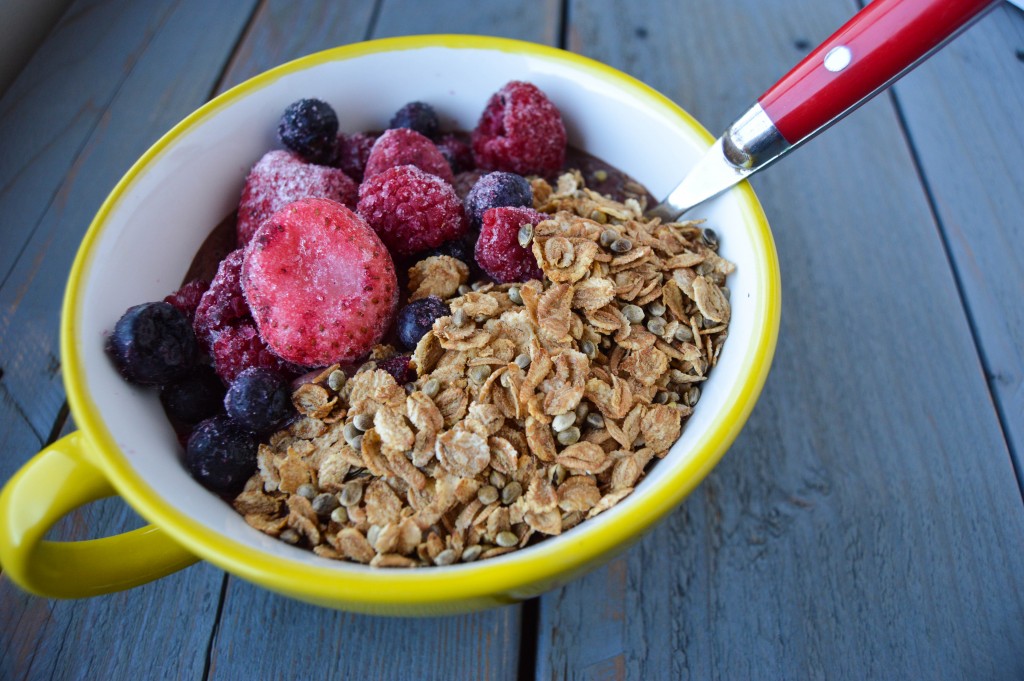 It did not take me long to figure out what I was craving for breakfast.  I have been loving acai bowls lately, and with the return of warmer weather, nothing sounded better.  Unfortunately, I did not eat it as quickly as I should have.  I was halfway through making homemade kale chips when I realized I was starving.  If I had truly been intuitive, I would have eaten before I even started the kale chips.  Instead, I finished the kale chips and was extra extra hungry at that point.  Next time I will do a better job at listening to my hunger cues.  I also ate this while reading blogs, so I definitely was not giving it the full attention it deserved.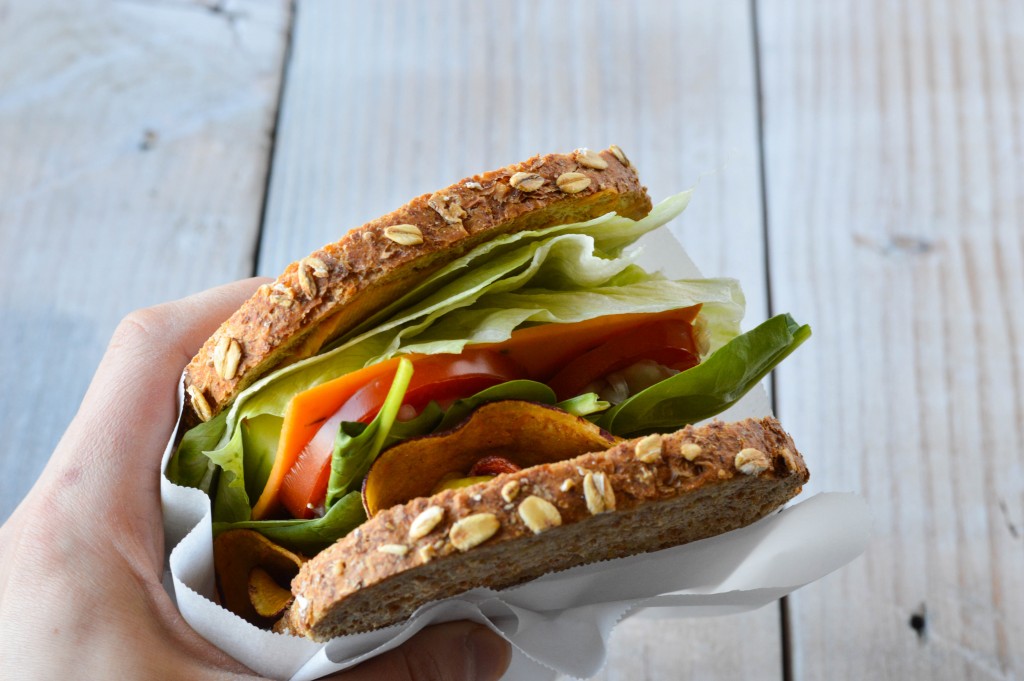 I have been majorly craving sandwiches lately and there was nothing I wanted more for lunch.  I listened to my cravings, prepped all of the ingredients a bit early (I was planning to photograph it for the blog and wanted to be finished when my hunger struck), and sat down to this deliciousness a little after 1:00.  I ate every bite, was completely satisfied, and was full for hours.  Who knew a sandwich could be so filling?  I also ate it without any distractions, which I was pretty proud of.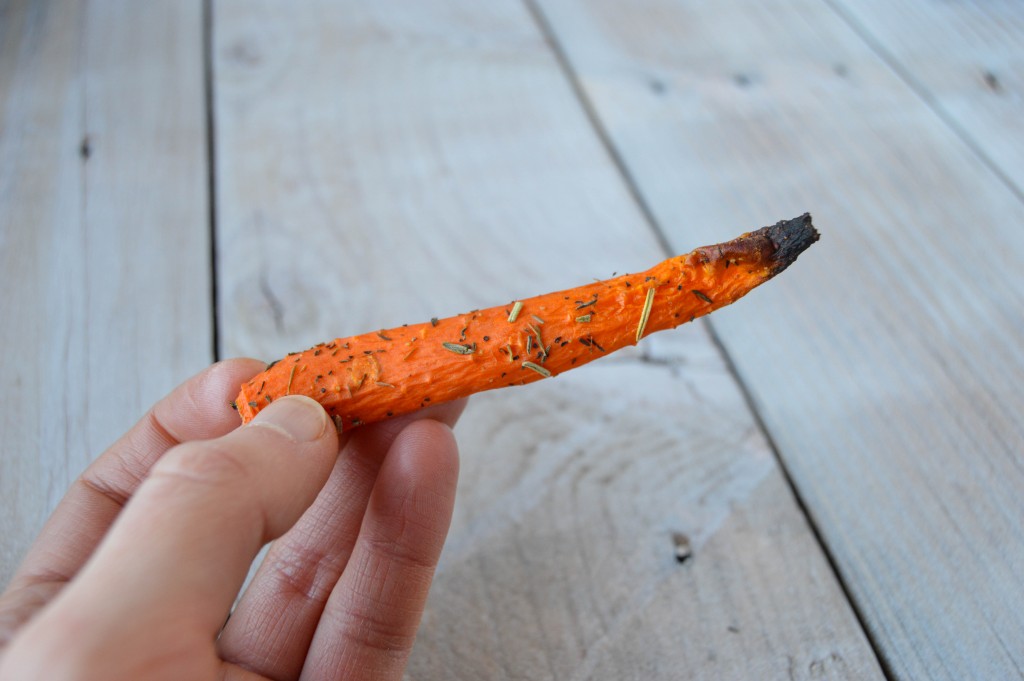 Later on in the afternoon, I roasted up some whole carrots (more on this tomorrow).  I had to snag one for taste testing purposes 😉  I wasn't necessarily hungry for it, but it was delicious!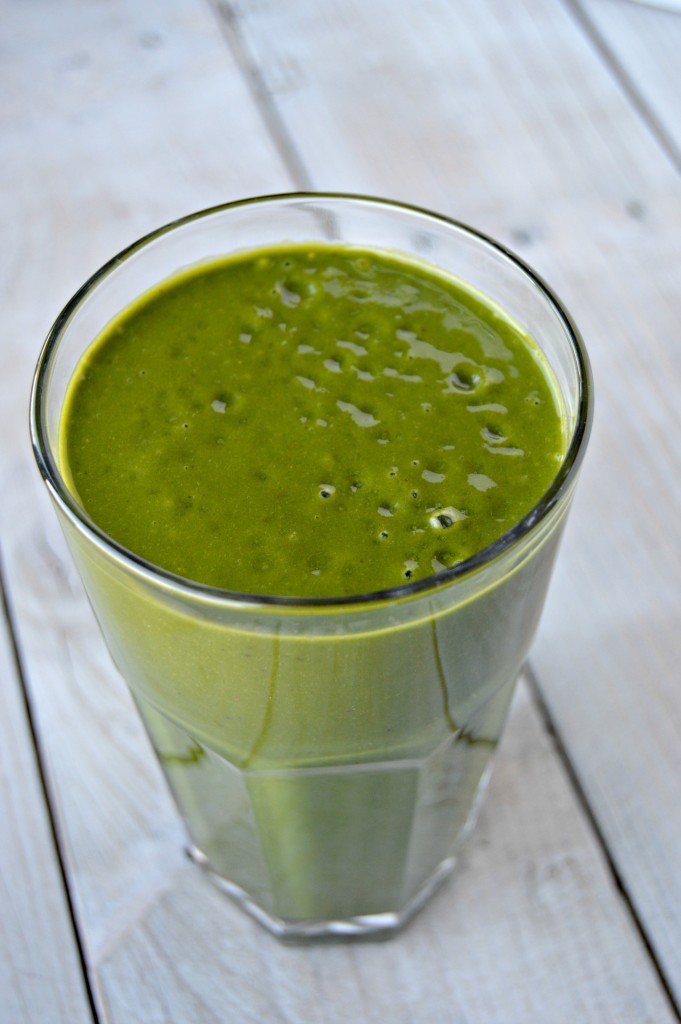 About 30 minutes after the carrot, I was finally hungry for a full snack.  I had a craving for something cold, creamy, and delicious.  I decided on a green smoothie, which tasted more like a healthified chocolate milkshake to me.  I have a difficult time with the idea of spending 30 minutes sitting by myself in order to drink the smoothie without distractions.  As a result, I drank it while working on my blogging "to do" list.  In all reality, I could probably benefit from 30 minutes of quiet time.  Next time I'll have to remind myself of that!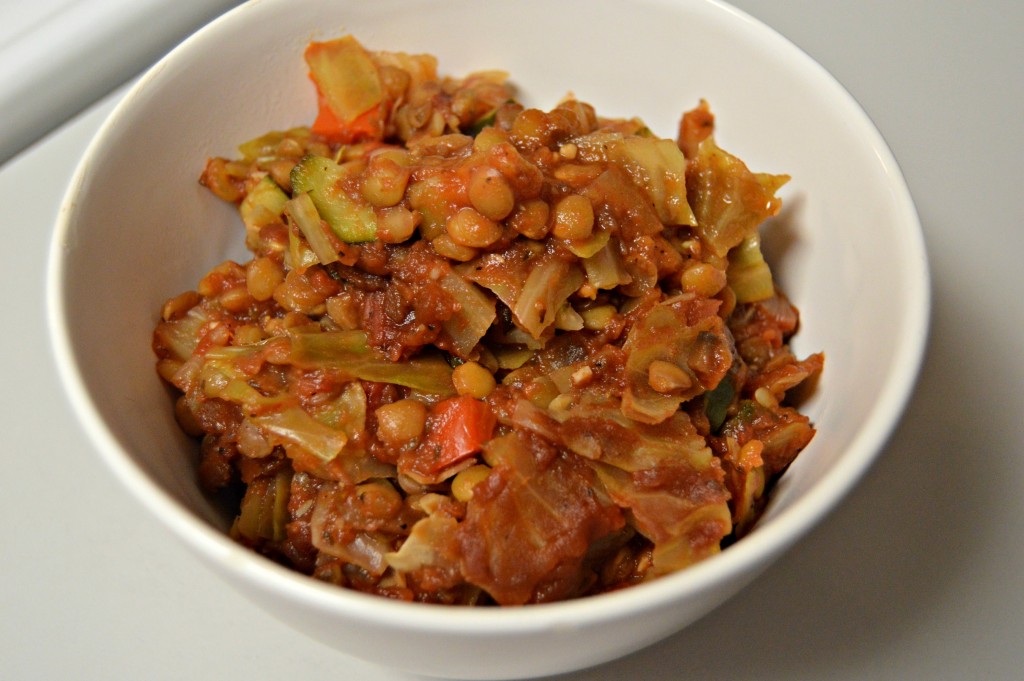 I did not drink my smoothie until closer to 5:00, so I was not hungry for dinner until much later than usual.  In fact, I didn't sit down to eat this Lentil and Cabbage Casserole until about 7:45 or 8:00.  It was a late dinner for me, but I stayed true to my hunger cues and did not eat when I wasn't hungry.  I also made up a smaller bowl than I normally would have, and found that I was satisfied with just that amount.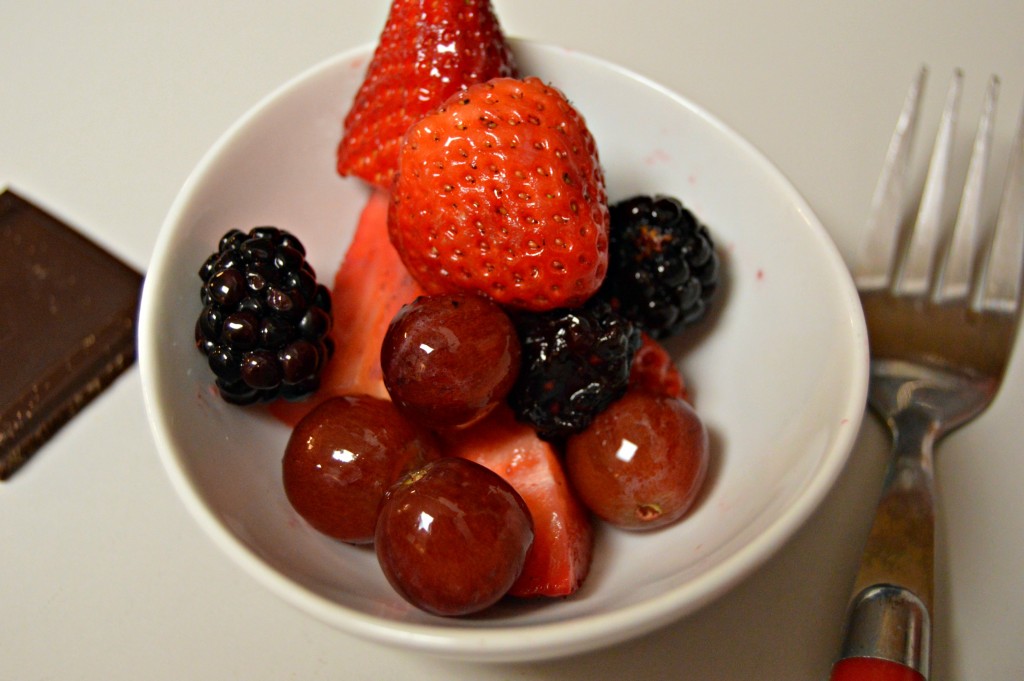 Since I ate dinner so late, I was not hungry for my normal full-on snack of popcorn and fruit.  I did still have a craving for something sweet, though.  I decided on a very small bowl of mixed fruit leftover from The Sprinkle.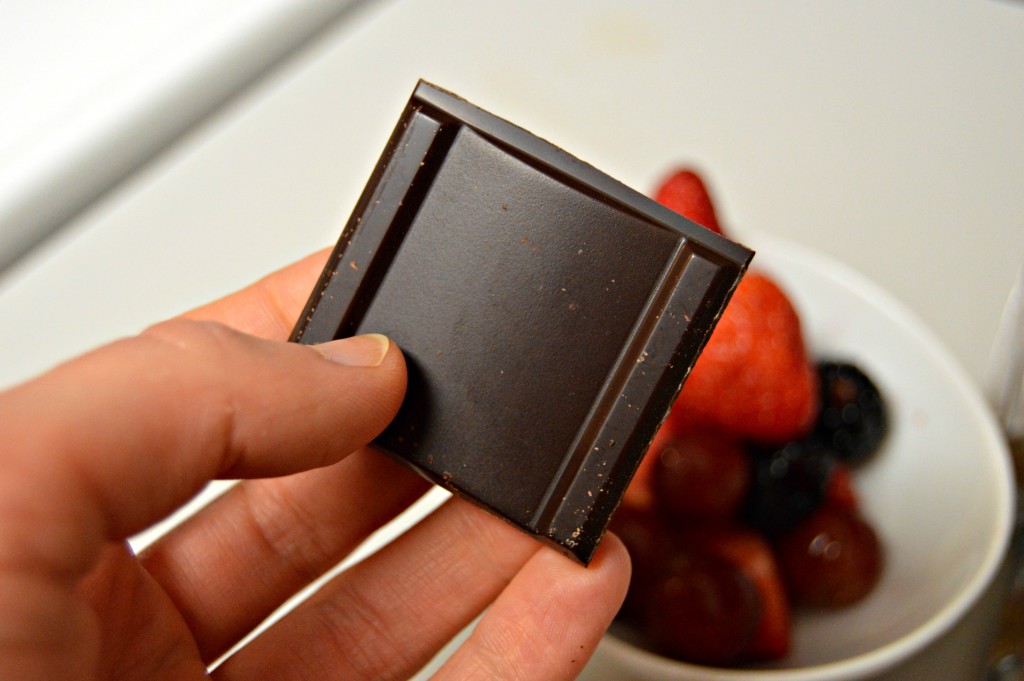 I also ate a square of dark chocolate.  The secret to savoring chocolate is to break it into bite-sized pieces and let it melt in your mouth.  It makes it last soooo much longer.  If I did not use this strategy, it'd be gone in about 2.5 seconds.  I ate the fruit and chocolate while watching Secrets and Lies (obsessed is an understatement).  I did try to make attempts to eat it during the commercials, though.  I have the hardest time eating without distractions when my favorite TV shows are on!
Intuitive eating is a positive, but challenging experience.  I am excited to continue challenging myself to eat without distractions and to stop when I'm full.  It is about progress not perfection, right?
Do you often eat when you are distracted?  What distracts you the most?