Happy Friday the 13th!  I feel like it was just yesterday that I was posting that same sentence.  I guess it was only a month ago.  Keeping with the tradition (I realize it's not really a tradition if this is only the second month) of sharing a Friday Foodie Favorites post on Friday the 13th, I have another one for you today!  Today's post features a whole 'lotta veggies, some new-to-me food ingredients, and a recipe that I have no idea how to pronounce.  I hope you enjoy all four… and please enlighten me on the correct pronunciation of Shakshuka.
Friday Foodie Favorites: March 13, 2015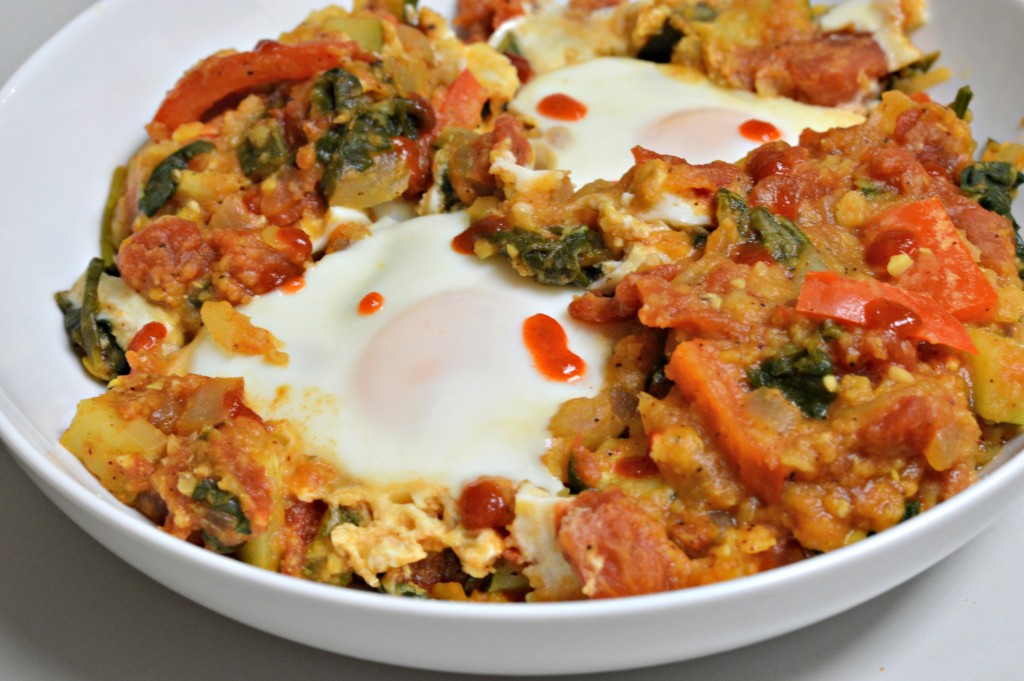 When I first saw Lexi's recipe for Shakshuka I thought, "what the heck is shakshuka?"  However, I saw that it contained several of my favorite veggies, turmeric (which I'm currently obsessed with), and eggs!  I think the eggs are really what got me.  Lexi's recipe also calls for chicken sausage, but since I do not eat any meat other than seafood, I threw in some leftover red lentils from my fridge.  They were the perfect trick to bulk it up a bit and add in some extra flavor and protein.  I imagine this would also be fantastic with vegan sausage if you are vegetarian.  For not having ever heard of shakshuka before, I can now say that I am a fan.  It is flavorful, super simple to make, filling, and healthy.  I may not know how to pronounce shakshuka, but I know that I like it!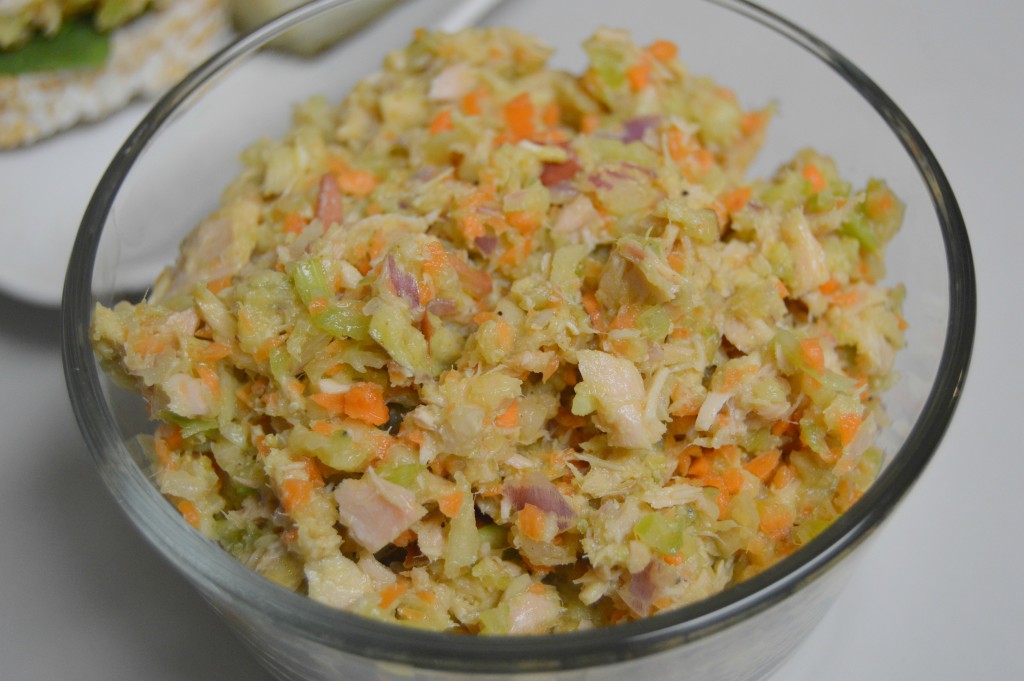 Some bloggers just always seem to post the most delicious recipes.  It is as if they create recipes with me in mind.  One of those bloggers is Alexis from Hummusapien.  Her recipes are always so spot on with what my taste buds love.  When I saw Alexis's recipe for a Loaded Veggie Avocado Tuna Salad, I knew I had to try it.  I am still fairly new to seafood, and while it is fun to create my own recipes, I love seeing how others cook with my favorites fishies: tuna, tilapia, and salmon.  I have made tuna salad before, but Alexis's version sounded even better since it was veggie packed.  You know I love my veggies!  I followed the recipe exactly, except I subbed in hummus in place of the avocado.  Don't you hate when avocados aren't ripe at the store?  Since Alexis is the "Hummusapien," I am sure she would approve of the substitution.  Keeping with my "salad style," I served this tuna salad on lightly salted brown rice cakes with a dill pickle on the side.  It met and surpassed all of my expectations.  I now have a new favorite way to incorporate seafood and veggies all into one meal.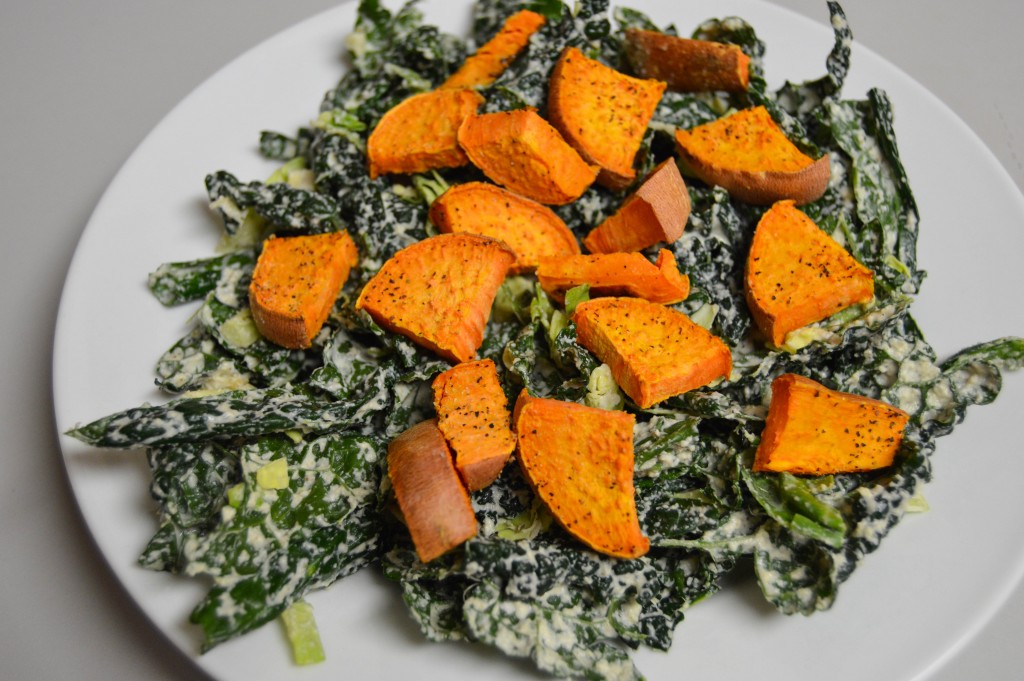 Kale, brussel sprouts, and sweet potatoes all in one dish?  Obviously this Shredded Brussels Sprout and Kale Salad with Garlic Dijon Roasted Sweet Potatoes from Katie was calling my name the moment I laid eyes on it.  The dressing is made with cashews, so it has a slightly nutty but smooth and creamy taste.  If you ask me, no kale salad should ever been made or eaten without cashews.  Just saying.  Unfortunately, I did not have any Dijon mustard on hand, so my sweet potatoes were roasted without it.  They were still a delicious salad topper (I like to think of them as healthier croutons), but I cannot wait to try this again with some Dijon.  I also really appreciated the addition of brussel sprouts.  I tend to get bored with the same greens after a while, so I enjoyed the mixture of the two!  If you think you don't like kale, kale salads, or salads in general, be sure to try this.  I have a feeling it will change your mind.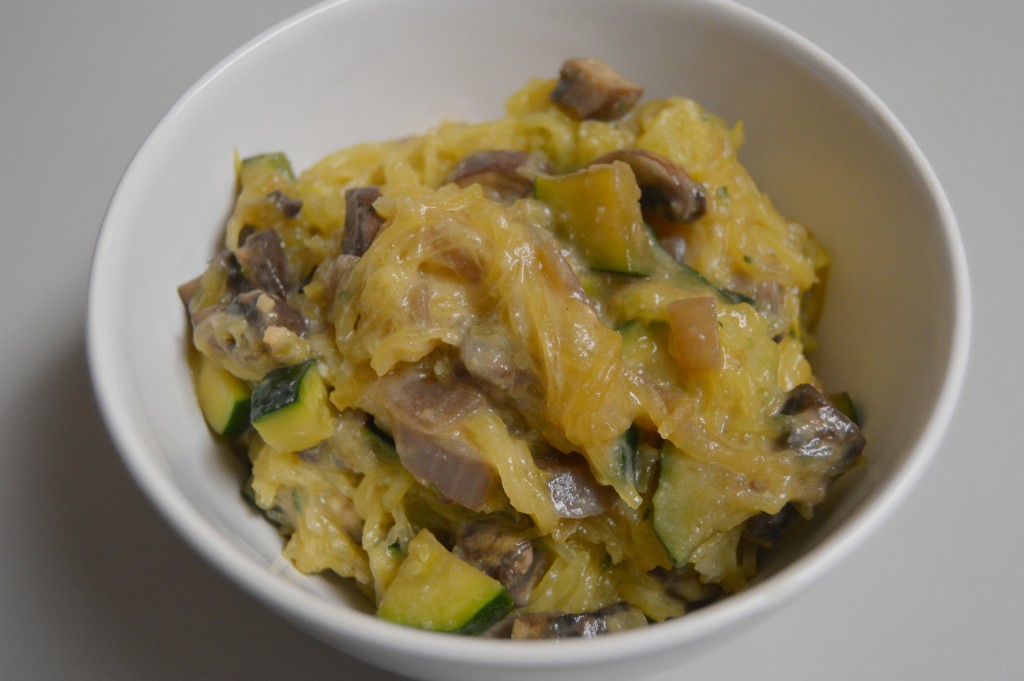 And finally, the best for last.  I know I shouldn't pick favorites, but this is too delicious not to call it the best!  Emily's Vegetable Pasta with Miso Tahini Sauce is crazy delicious!  This was actually my first time cooking with miso, but it will definitely not be the last.  I was obsessed with how creamy and savory the sauce was.  It definitely had the umami thing going on.  Apparently I am now a big-time umami flavor lover.  I followed Emily's recipe almost exactly, but decided to up the veggies by using spaghetti squash in place of the pasta.  I am sad that squash season is nearly over, so I have been wanting to get in as much of it as possible while I still can!  I was so, so pleased with this substitution and highly recommend it.  Since I did not have any pasta water for the sauce, I subbed in a mixture of water and coconut milk and used cornstarch to thicken it up a bit.  These swaps did the trick!  Should you try any new dish over the next couple of weeks, please make this one of them.  I can guarantee that it will become a regular on my weekly meal plans.
Have a wonderful Friday, all!  Don't be superstitious and instead embrace the fact that it is finally Friday, even if it is the 13th!