Happy Friday the 13th!  I'm not much for superstitions, so I actually find Friday the 13th to be fun!  I guess I have a thing for the number 13.
I also have a thing for food.  Good food, that is.  Every single week, I make new-to-me recipes from other bloggers just like me (and not like me, too, I guess).  Like I've said before, I can't possibly rely on just my own recipes to make it through the week.  Today I am going to share four of my absolute favorites that I made near the end of January and beginning of February.  Why?  Because I want you to experience the foodie goodness, too!  It is as if my only goal in life is to ensure that you are well fed.  I suppose that wouldn't be too terribly bad, now would it?
Friday Foodie Favorites: February 13, 2015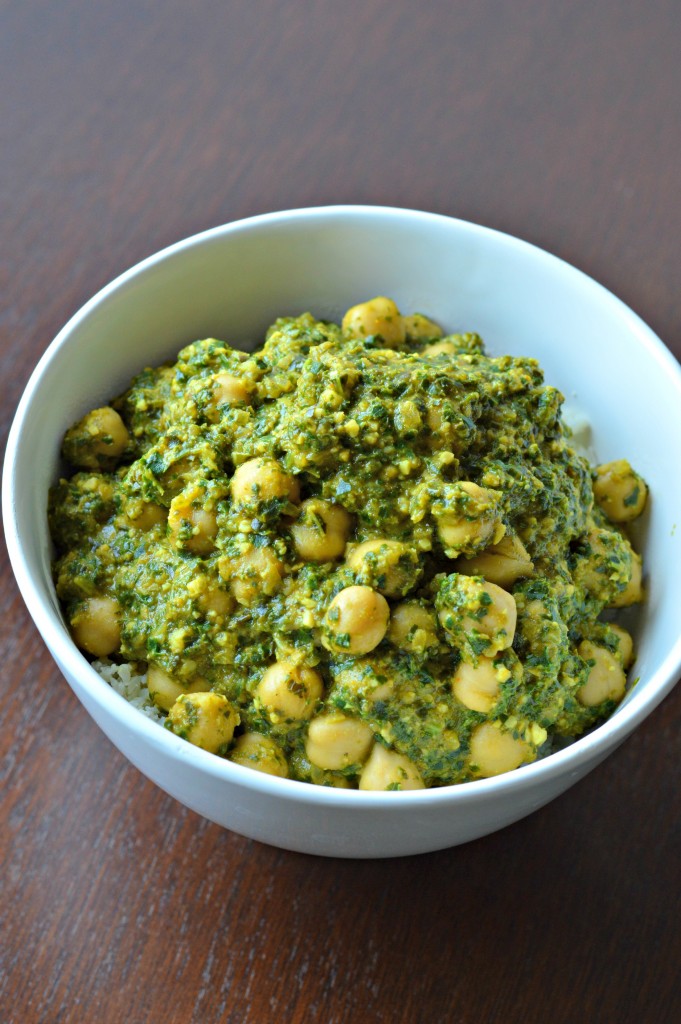 I admit, this one is definitely quite green.  It is also a great example of when looks can be deceiving!  Susan's Creamy Curried Kale and Chickpeas, which I originally heard about from Alexis's blog, is delicious!  Plus, it is the perfect way to sneak in some extra greens to your meal.  It may look like it contains kale, but it certainly doesn't taste like it thanks to the Indian spices that are used.  I don't know about you, but I am a big-time lover of garam masala and turmeric.  And any dish that uses cashews to add creaminess is totally my kind of dish!  I served my curried kale and chickpeas over a bed of cauliflower "rice," my favorite accompaniment to a good curry.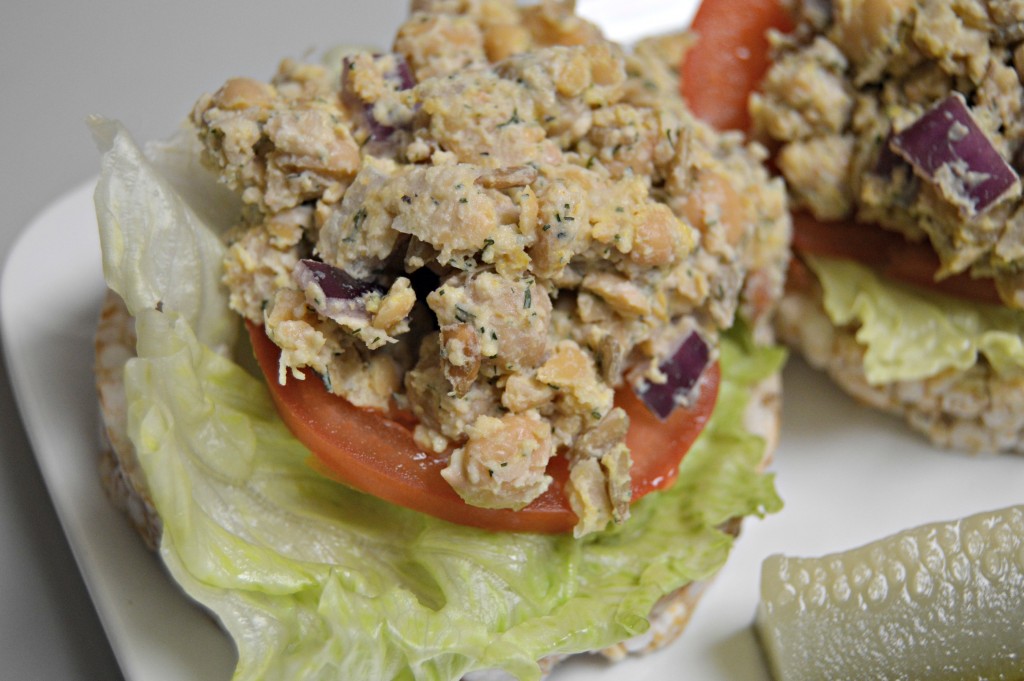 And the chickpea trend continues…  Since I am obsessed with chickpea salads, this Chickpea Sunflower Sandwich from the Minimalist Baker was calling my name the instant I saw it.  I made a slight change to it by using hummus in place of the vegan mayo (I was out), and I was so pleased with the result.  This was my first time adding sunflower seeds to a chickpea salad, and it definitely will not be the last.  I served mine on rice cakes with lettuce and tomato.  Next time, I am definitely going to make the accompanying Garlic Herb Sauce because it sounds beyond delicious.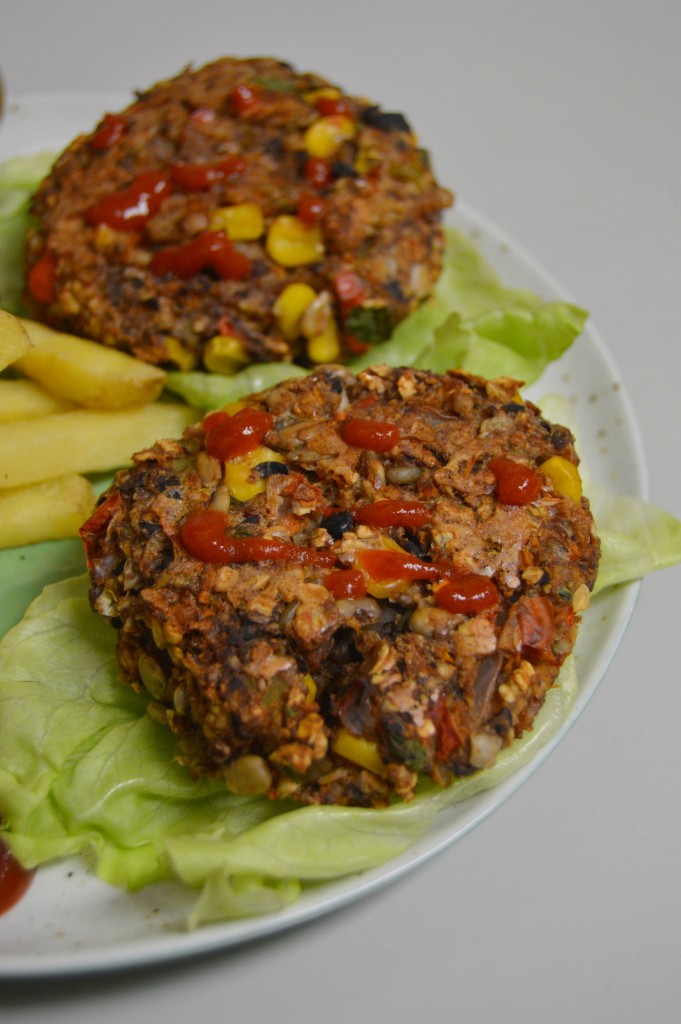 Ohhh these burgers!  I cannot say enough good things about them!  When I first saw Marisa's Freezer Green Chile Black Bean Burgers, I knew that I had to make them.  Not only did they sound easy and look super colorful and pretty (I eat with my eyes first), but I loved that the time I put into making them would result in me having several meals for one week AND several pre-made meals ready in my freezer.  Since eating them the first week, I have defrosted a couple from my freezer and reheated them in the oven.  I have to say that they tasted just as good defrosted as they did when they were first made.  That is a sign of a good freezer recipe!  I served mine on lettuce buns with a drizzle of sriracha on top.  They pair great with veggies and french fries, too!  Did I mention that they are packed with protein, whole grains, and veggies?  In other words, these are super healthy… oh yeah, and super delicious!  I promise you will be so happy to have a batch of these to pull from your freezer at any moment.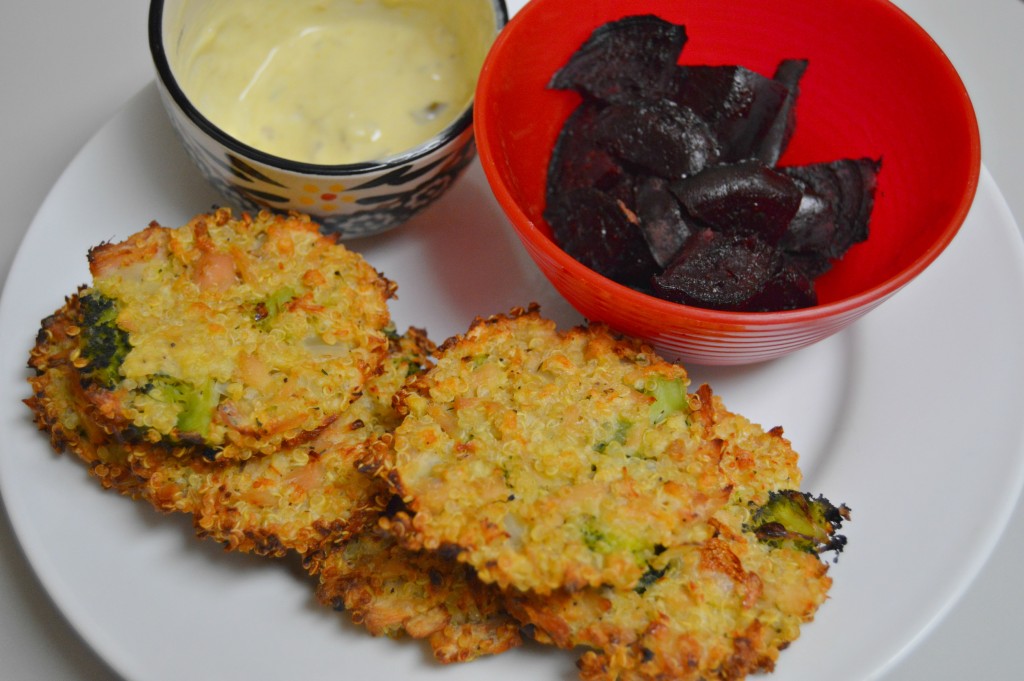 And now let's mix things up a bit.  The previous three recipes are all plant-based recipes.  This last one, however, is definitely not.  Since starting to eat fish, I have made these Tuna and Broccoli Quinoa Patties three times.  That is how much I love them!  In fact, this was the very first seafood recipe that I cooked by myself at home.  I knew that I like tuna.  Plus, I figured that with quinoa, broccoli, and bread crumbs thrown in, they really couldn't be bad.  I was right!  These always come out perfectly crispy, perfectly seasoned, and perfectly tasty when paired with my Homemade Dairy-Free Tartar Sauce.  They also reheat really well in the oven if you have leftovers.  In other words, what I am trying to tell you is that if you eat seafood, you need to make these!
That's a wrap for Friday Foodie Favorites this week!  Now if only the Friday workday was a wrap, too.  Soon enough, I suppose.  I hope you all have a great weekend.  And if you haven't already, make sure you ask your Valentine to make you this delicious Cinnamon Banana English Muffin French Toast tomorrow morning!
What recipes have you tried lately and loved?  Please share the links in the comments!