Yesterday I shared with you some of my favorite vegetarian-friendly restaurants.  It turns out that the post is already slightly outdated, because I need to add a new location to the list!  It is official.  My favorite vegetarian-friendly brunch location is Over Easy.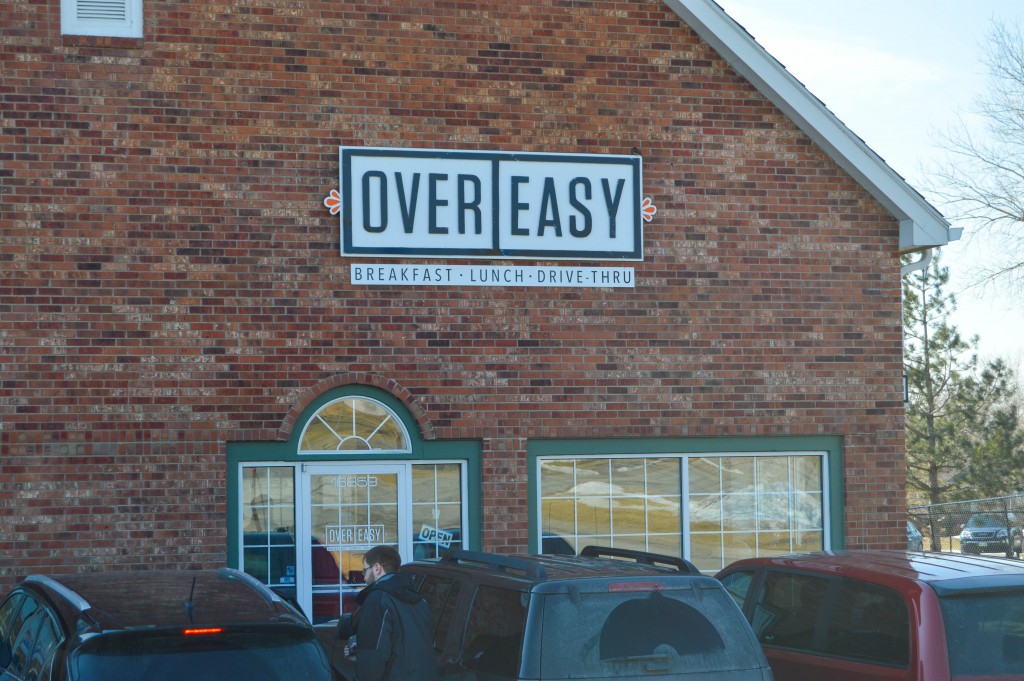 Omaha Eats: Over Easy
Erin ate at Over Easy for the first time a few weeks back.  After Joanna, Jordan, and I heard her raving about it, we knew a visit was in order… and stat!
The four of us met up yesterday for a brunch date.  I think we were all eager to see what the hype was about.  Erin did good.  Over Easy did not disappoint!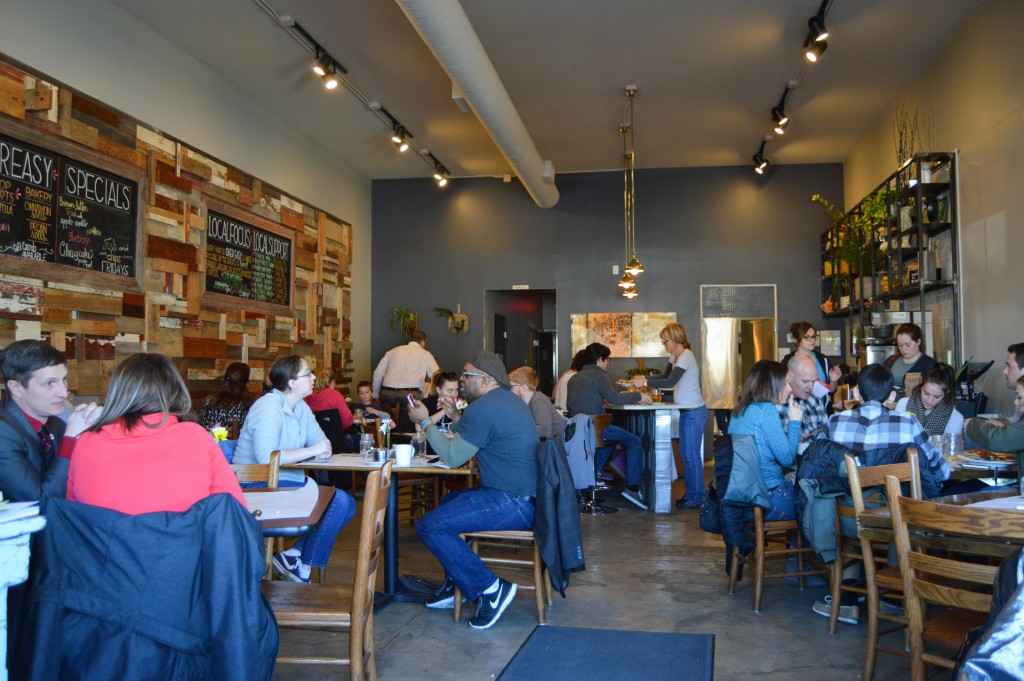 The place was hopping when we arrived.  I figured that had to be a good sign!  I did not mind the 20 minute wait because I was so in love with looking at how cute the decor was.  I decided that the decorative wooden wall needs to make it into a kitchen of mine at some point in my life.
After the brief wait, we were seated at a quaint little table.  I loved the touches of the simple flowers and the fact that the water was served in mason jars.  There is just something about mason jars that seems extra fancy.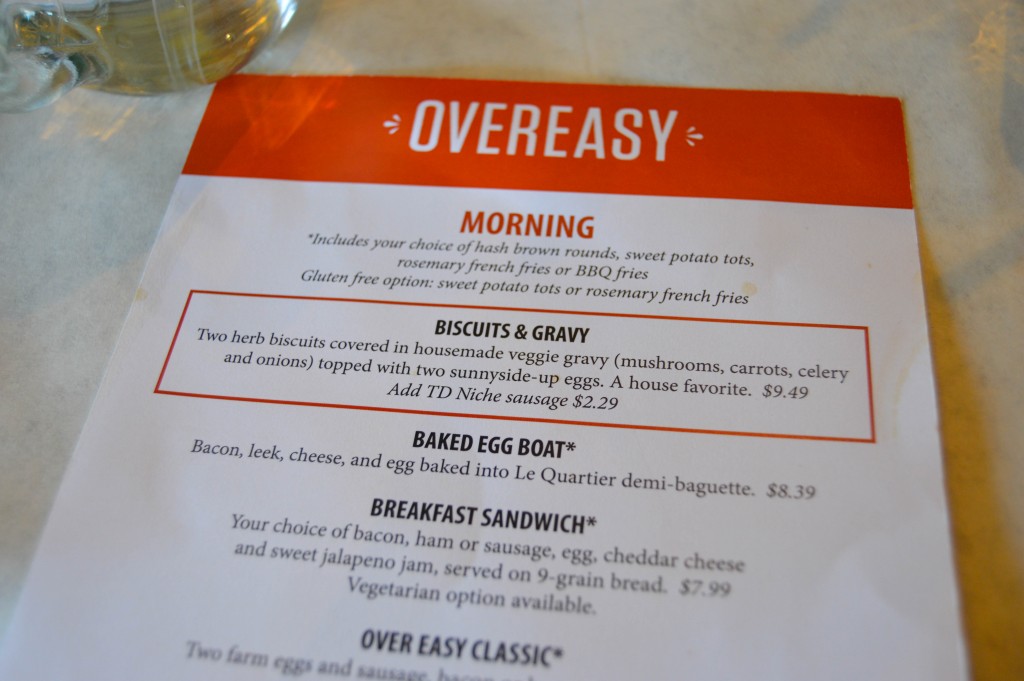 I had perused the menu a bit prior to arriving, so I was already set on exactly what I would order.  You know those vegetarian Biscuits and Gravy were calling my name.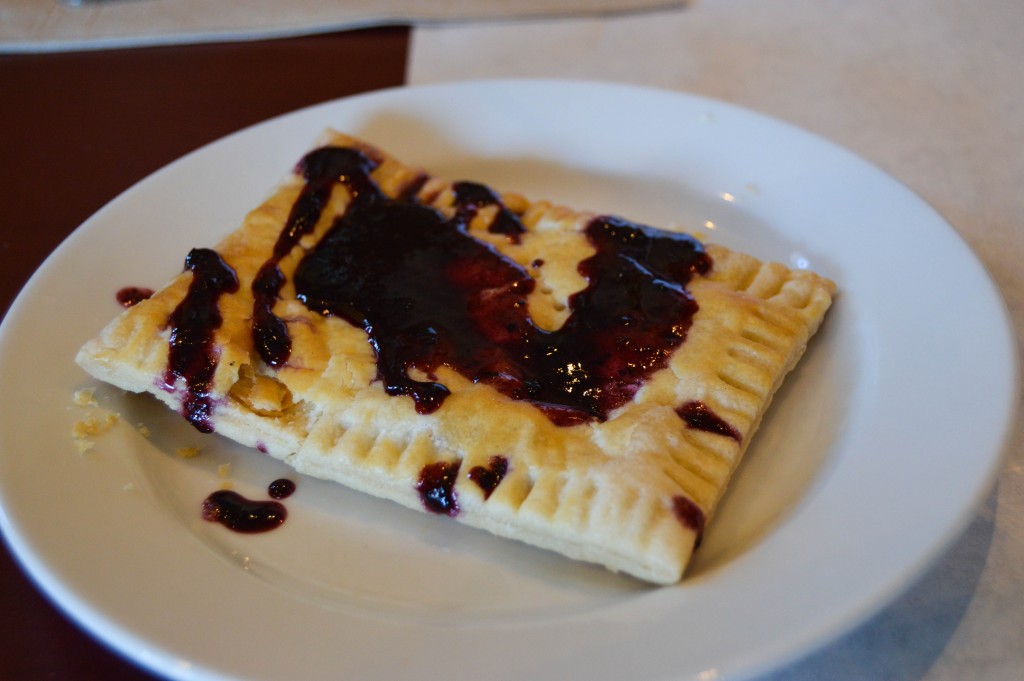 The girls graciously allowed me to photograph their food.  Jordan and Joanna both started out with a Homemade Blueberry Cheesecake Pop Tart, which they said was amazing.  They loved how it had just the right amount of sweetness without being overkill.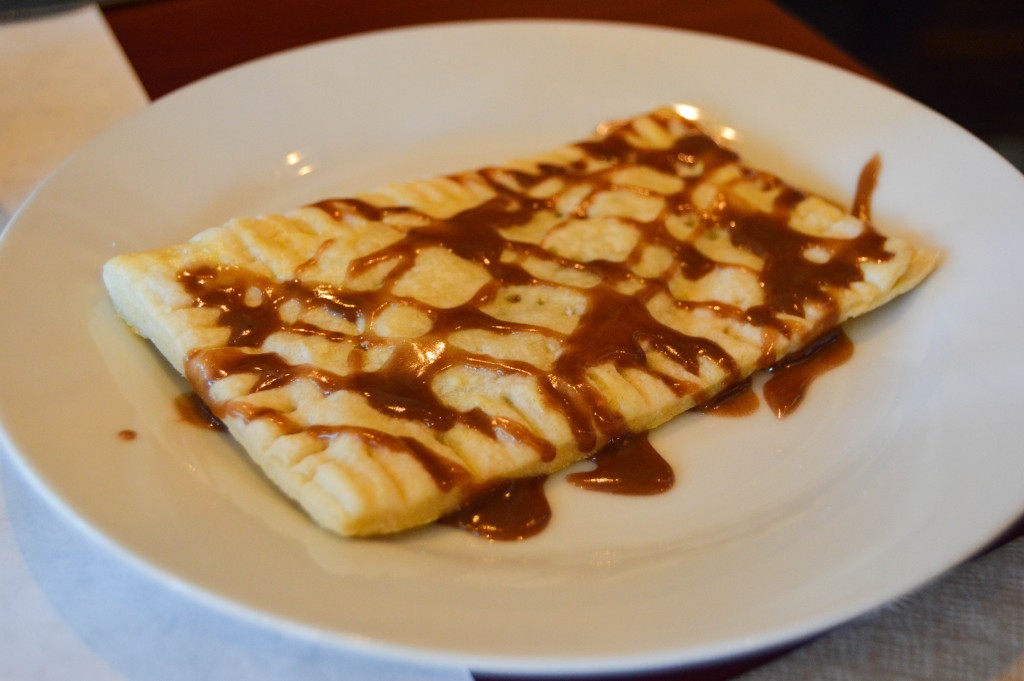 Erin was equally as thrilled with the Homemade Nutella Pop Tart.  I think they all have me convinced that I need to order one the next time I visit.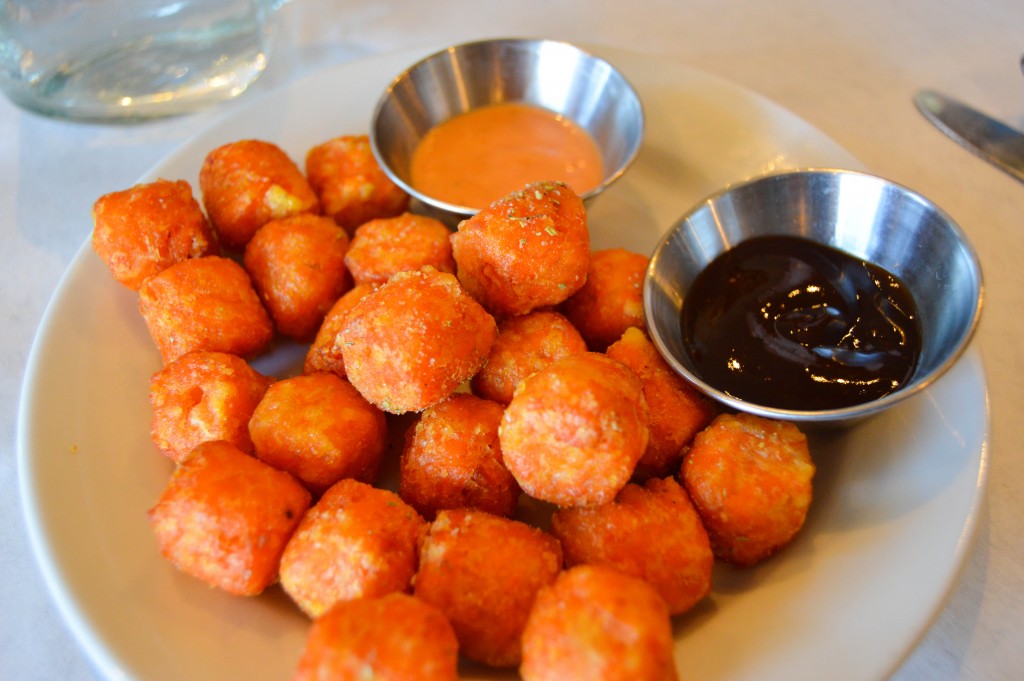 I appreciated the quick service we received.  Shortly after the Pop Tart plates were removed from the table, the rest of our order arrived.  My side of Sweet Potato Tots came first.  I requested both the spicy dipping sauce and the balsamic ketchup.  The tots were perfectly sweet, perfectly savory, and perfectly crispy.  I loved both of the sauces and refuse to pick a favorite.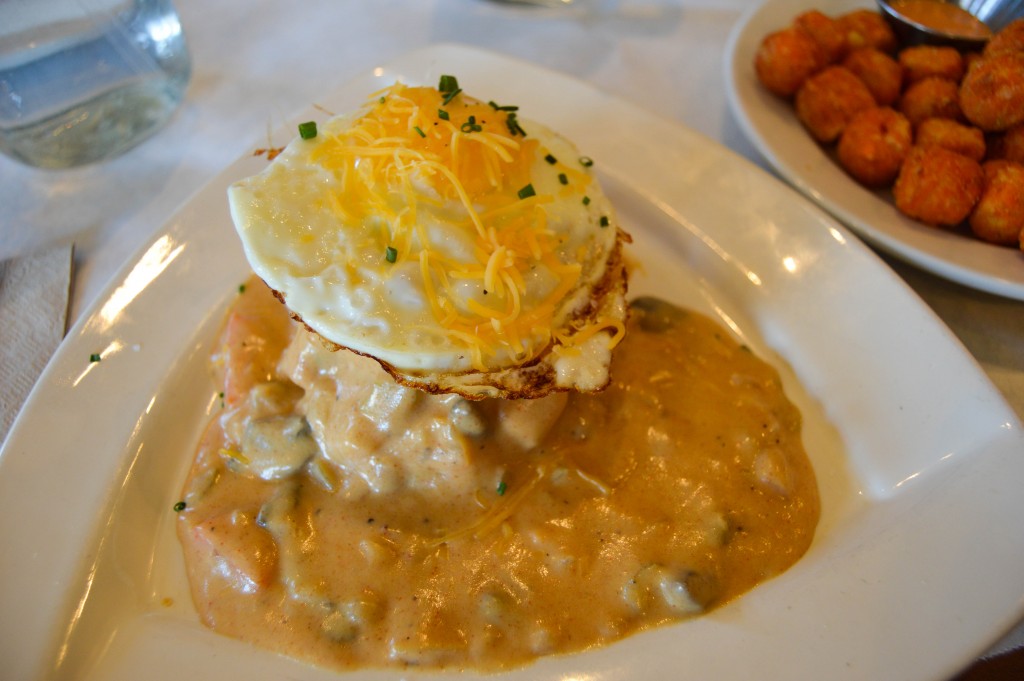 The Sweet Potato Tots were delicious, but the star of the show was the vegetarian Biscuits and Gravy.  It was out. of. this. world.  The biscuit was warm, thick, and perfectly flaky.  The sunny-side up egg was cooked just right.  And the fact that they made gravy with vegetables kind of made me think that it had to have been created with me in mind.  I was blown away.  Now if only I could recreate it at home!  I ordered a half order of the Biscuits and Gravy, which was a smart move.  It was big.  I actually ended up boxing up a small portion of the biscuit and my tots, both of which I ate later in the afternoon.
Both Jordan and Erin also ordered the Biscuits and Gravy and loved them.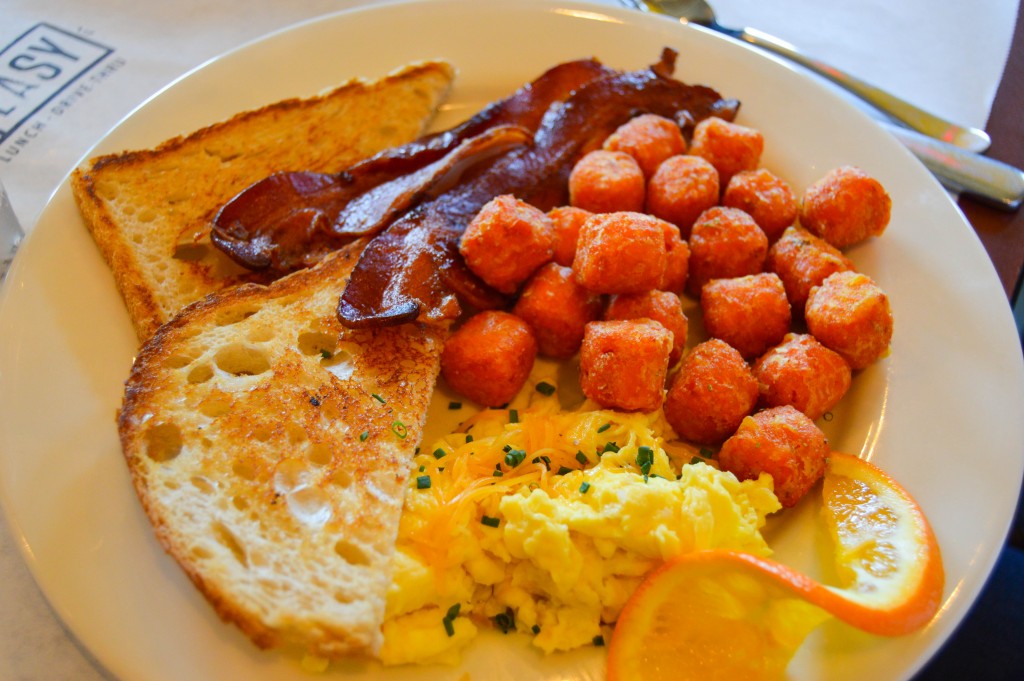 Joanna stepped outside of the box a bit and ordered something different.  She chose the Over Easy Classic, which came with eggs, choice of breakfast meat, toast, and choice of potatoes.  I'd say she made the right decision by going with the Sweet Potato Tots, but we all agreed that the Rosemary Garlic French Fries sounded terrific.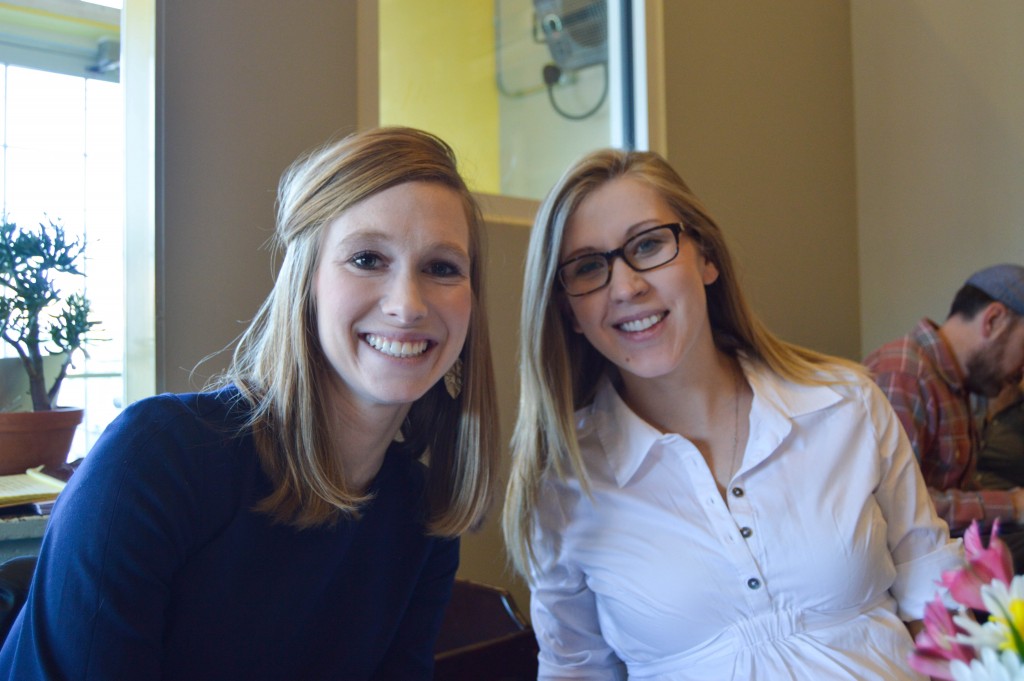 This picture is proof that Over Easy makes people happy!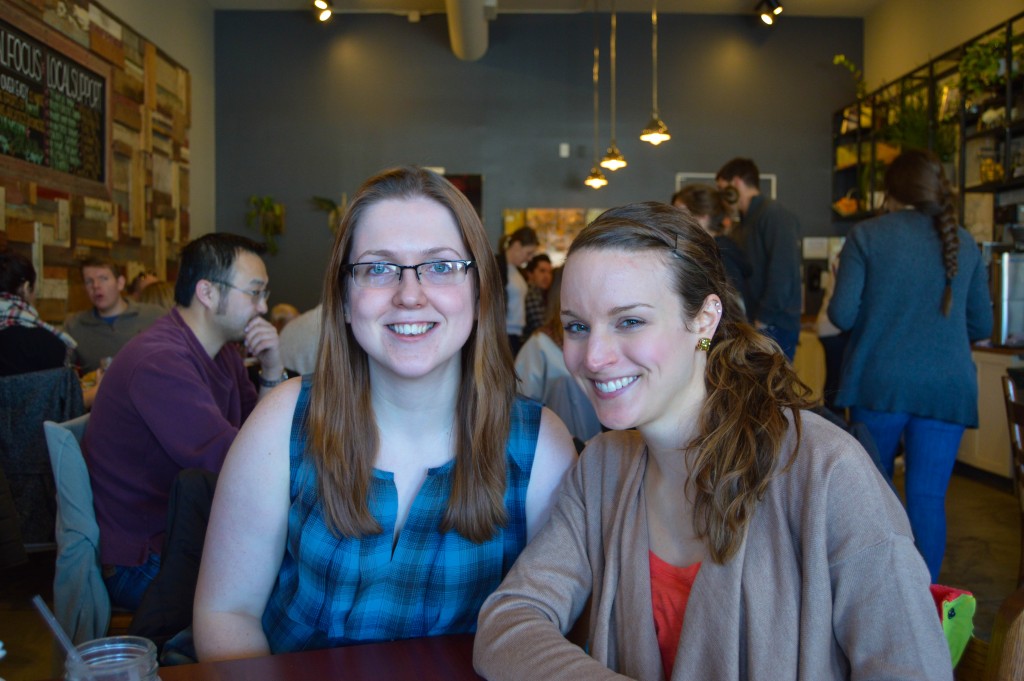 I am incredibly lucky to have friends who love food as much as I do.  My Sunday was so well spent.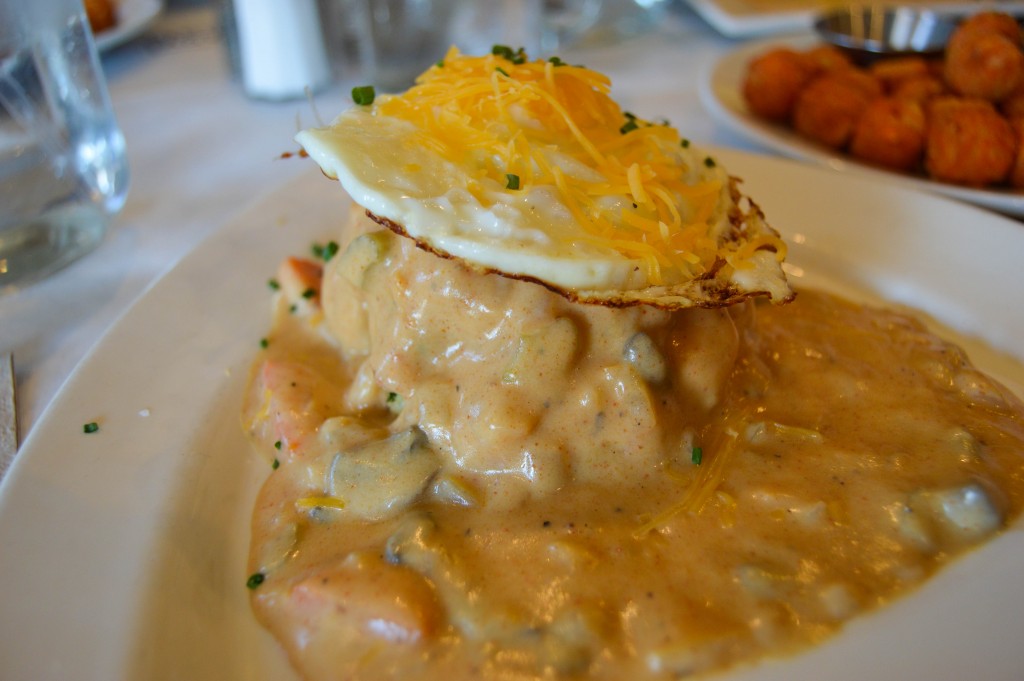 I know you want to eat at Over Easy now, don't you?  Be sure to let me know when you go so that I can join you!  I promise I will share my Pop Tart with you.
Omaha peeps: Have you eaten at Over Easy yet?
If you are not from Omaha, where is the best place for brunch in your city?