In my weekend wrap-up post on Monday, I mentioned that a little fondue-ing happened this past Saturday.  I also stated that it did not turn out quite how we had hoped.  In this month's Three Cooks One Kitchen post, I am going to share How to Throw a Fondue Party.  Or perhaps I should say, how to "theoretically" throw a fondue party.  We had great intentions that did not exactly pan out.

How to Throw a Fondue Party (Or Not)
Back in January when we were enjoying our Fish Fiesta, we thought of a few potential ideas for February's 3C1K post.  Ultimately, we decided that fondue would be perfect.  It is "romantic," which was fitting for February, it is delicious, and it sounded like the perfect eating event for a little pre-BeerFest lunch with friends.  We chose a cheese fondue and a chocolate fondue, along with numerous "dippers."  Both recipes sounded rather simple, so we figured "what could possibly go wrong?"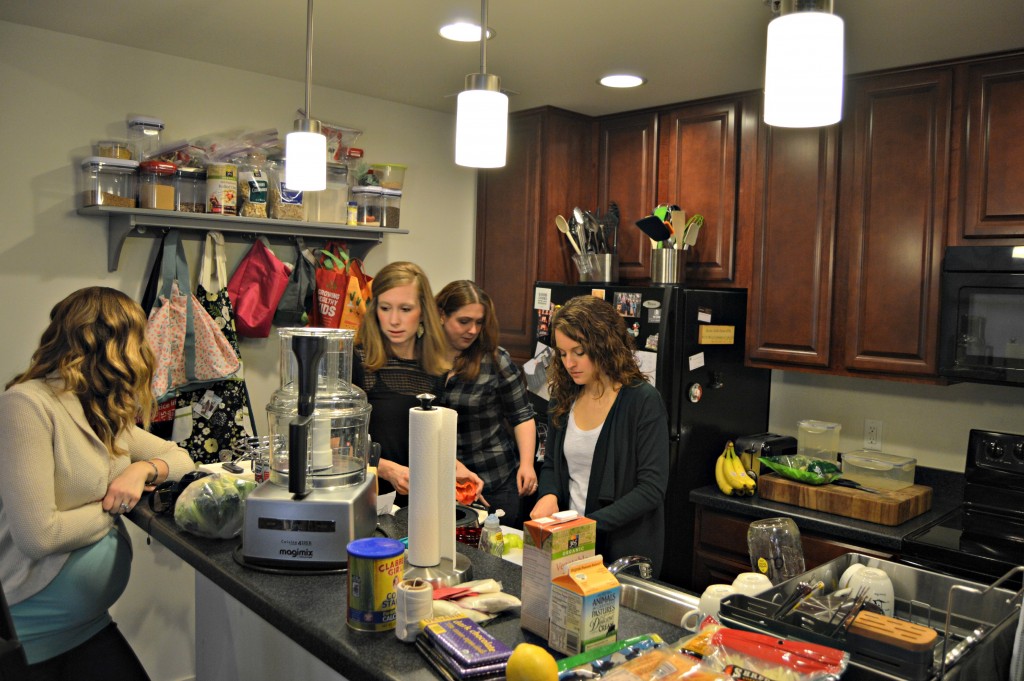 Everything started out great.  In fact, it was better than great!  Not only were the "three cooks" present, but we also had an honorary guest cook (and our significant others, who sat the cooking part out).  Our friend, Jordan, joined us in the kitchen, and we were so happy to have her!  It's a shame that her first 3C1K didn't turn out to be all that great.  Even still, we did have fun.
Now I am going to theoretically show you how to throw a fondue party.  Whether or not the fondue-ing is successful, however, is 100% up to you 😉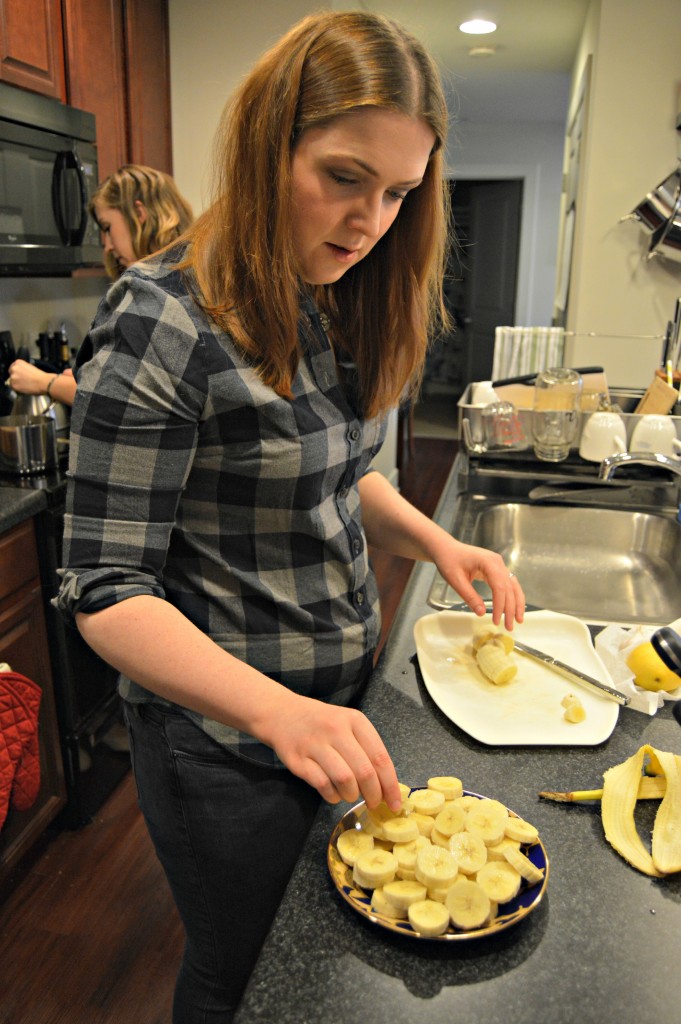 The first thing we did was tackle all of the dippers.  We cut fruit,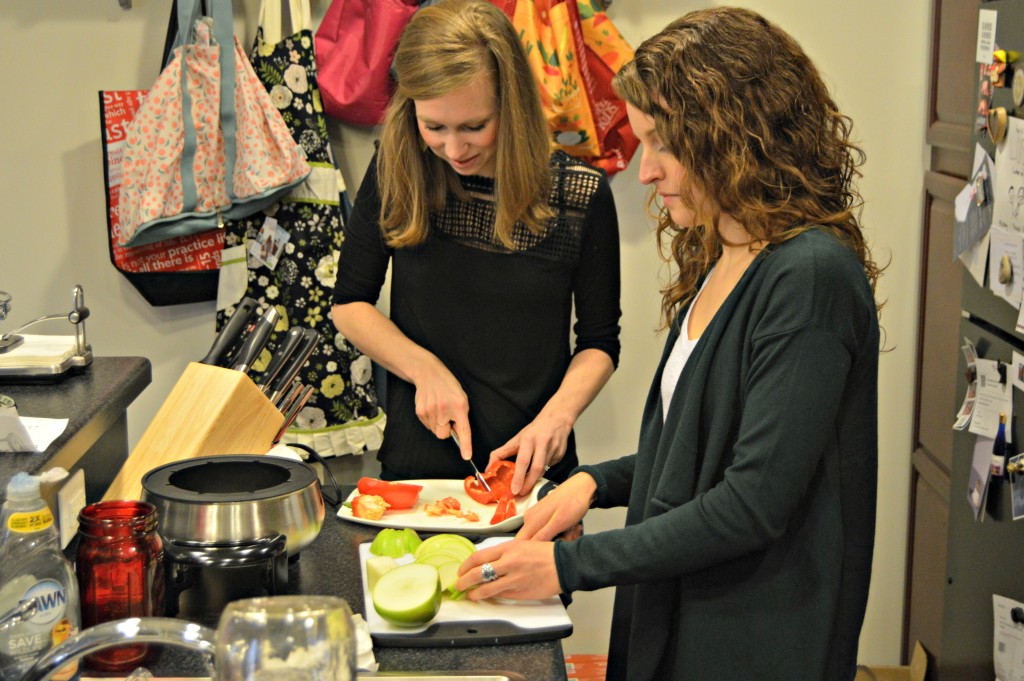 chopped veggies,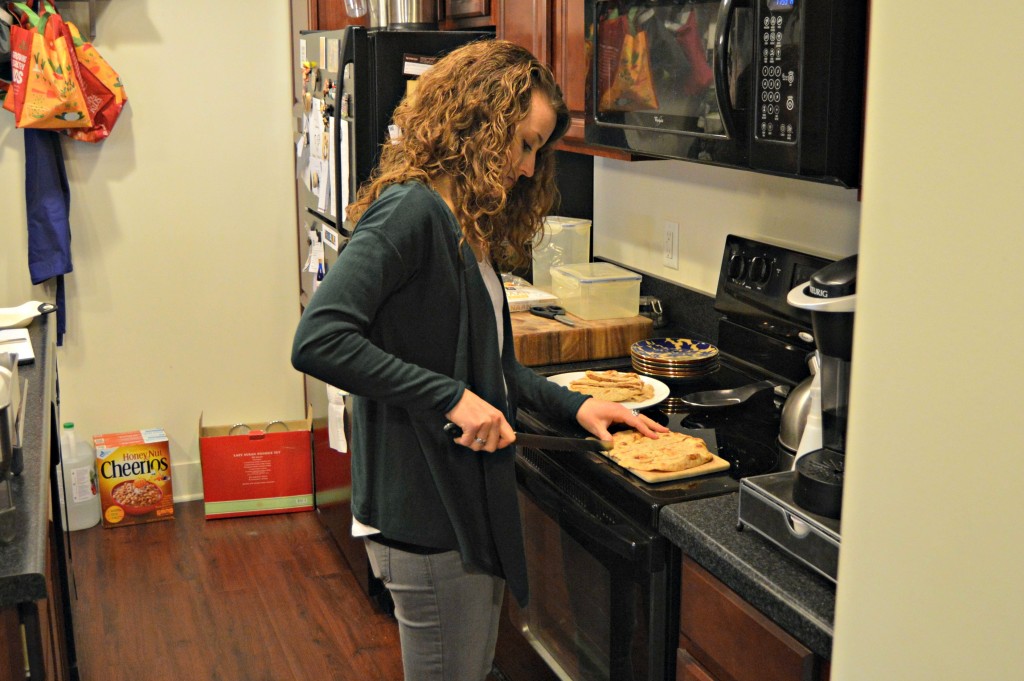 sliced bread, and presented everything on super cute plates and in adorable bowls.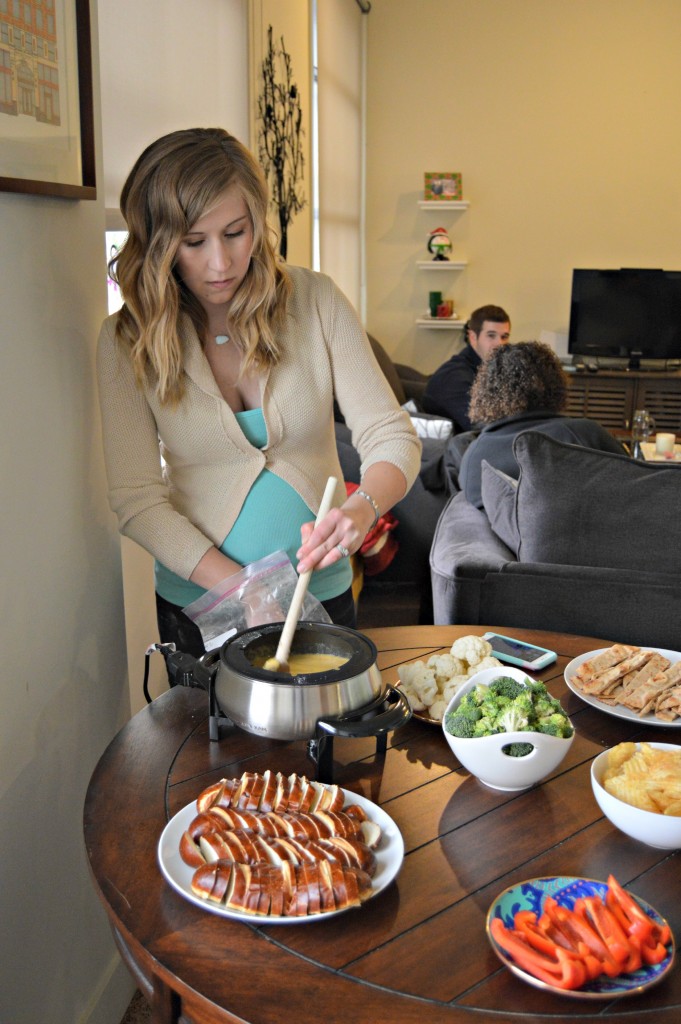 Joanna and Jordan took the reigns when it came to making the cheese fondue.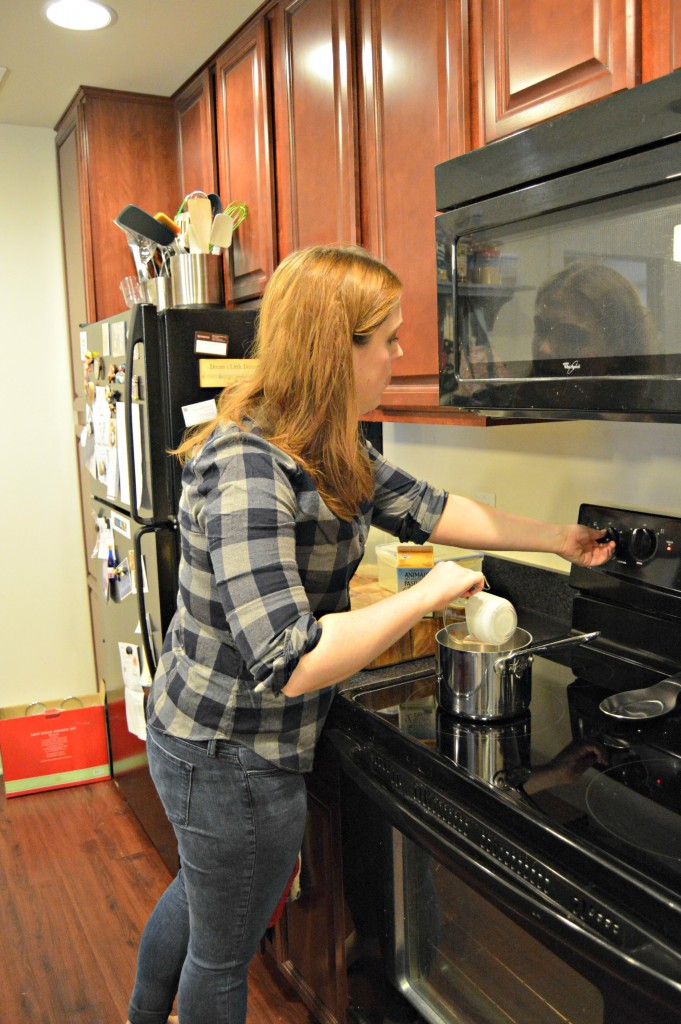 After the cheese was nearly ready, Erin, Joanna, and I tackled making the chocolate fondue.  I say "tackle" because it was quite the undertaking.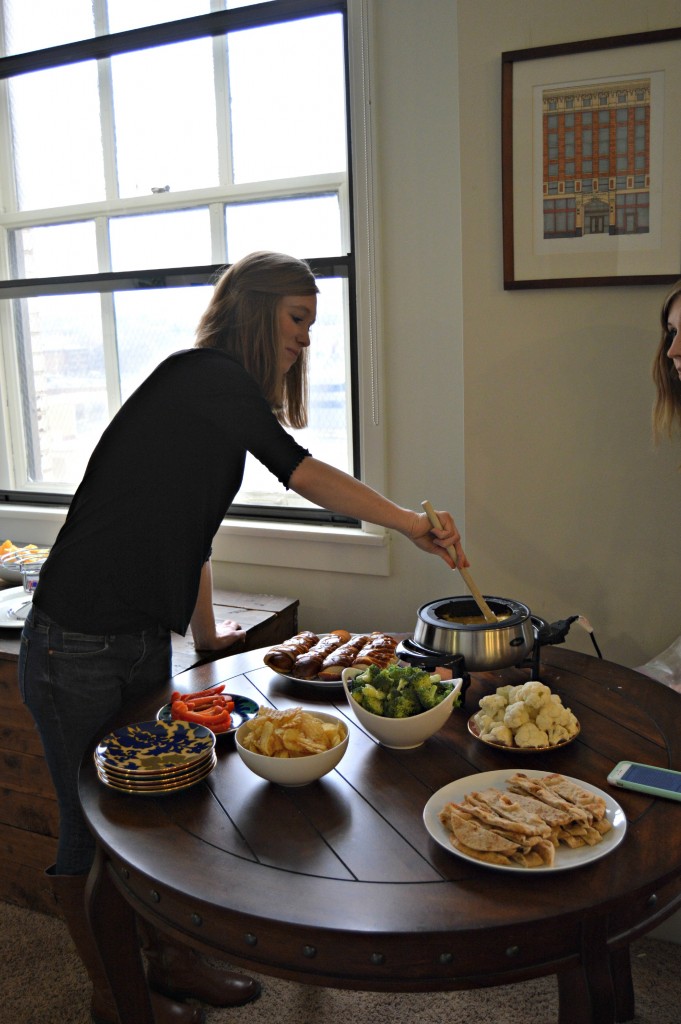 Thank goodness Jordan was there to help stir the cheese while anything and everything that could possibly go wrong with the chocolate went wrong.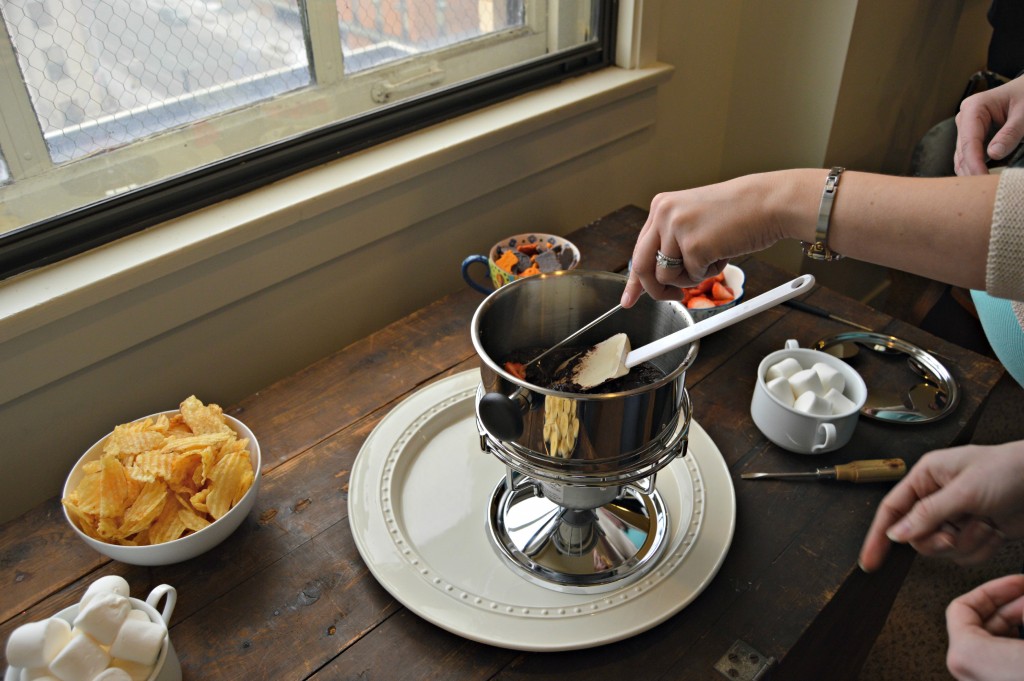 First, the chocolate was super thick and resembled brownie batter.  As a result, we decided to add a bit more cream.  Then the chocolate got both clumpy and liquified all at the same time.  It was an utter mess.  Jordan tried to salvage it by pouring out some of the liquid and melting in some marshmallows, but we all agreed that it was a lost cause.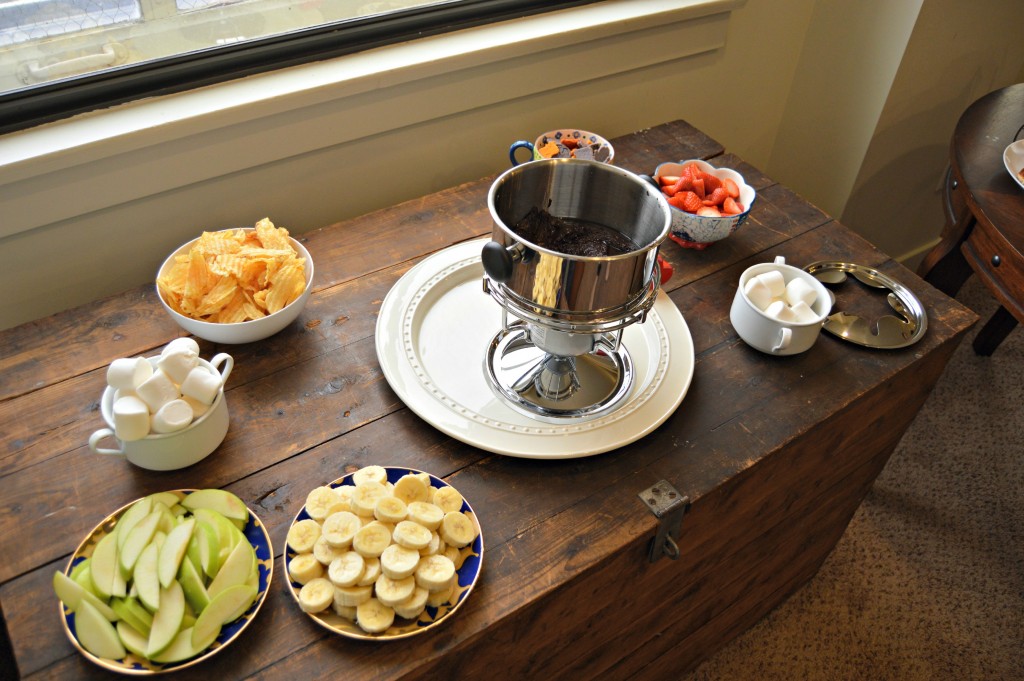 Thank goodness we at least had plenty of food to dip into the "chocolate!"  We served sliced Granny Smith apples (which also paired well with the cheese), sliced bananas, marshmallows, salted potato chips (perfect for sweet and salty cravings), animal cookies, and chopped strawberries.
The cheese fondue turned out better than the chocolate, but still wasn't quite spot on.  It was very thick, which I think may have been a result of not using an acidic wine.  We thought the acidity from the added lemon juice would be sufficient, but apparently that was not the case.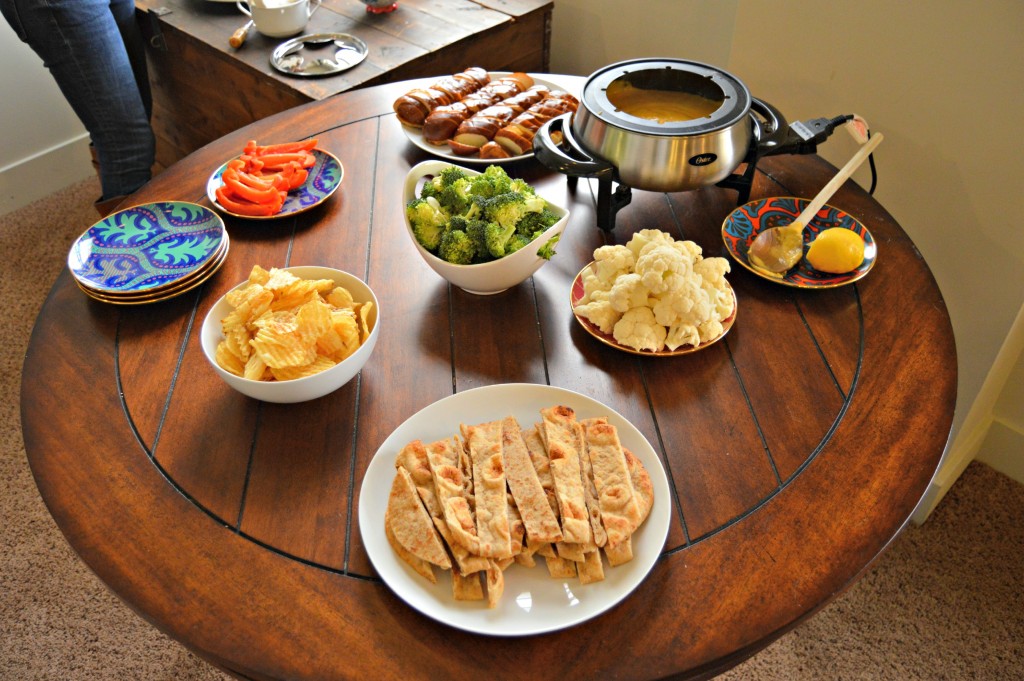 But again, we had plenty of delicious food to eat with (or without) the cheese.  We sliced up both pretzel bread and naan, and served potato chips, cauliflower, broccoli, and red pepper strips.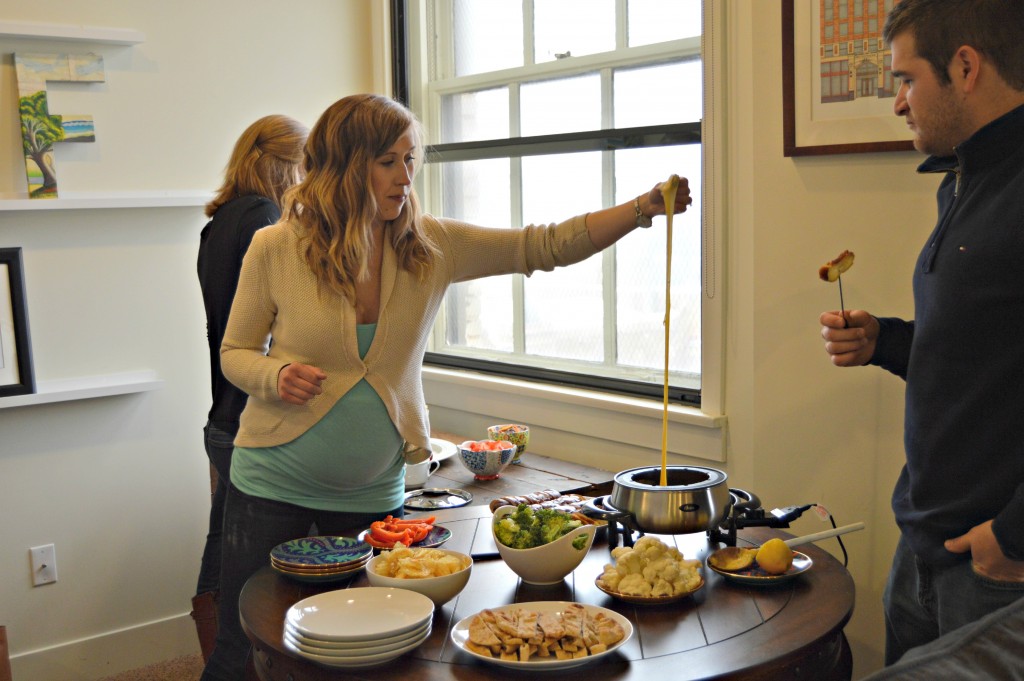 See what I mean about it being thick?  It was not very dippable or scoopable.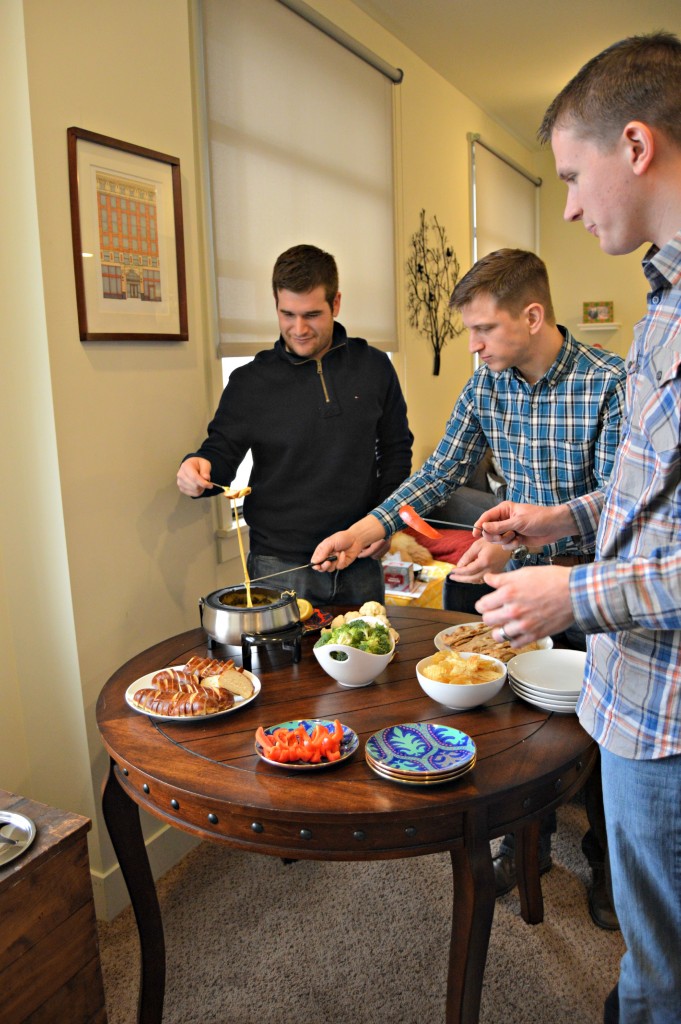 That certainly did not stop any of us from giving it a go, though.

It also led to plenty of laughs and entertainment.  Trust me when I say that you must have a good sense of humor when it comes to fondue.
I tried my best to get crafty and made a few of these mini sandwiches.  I scooped some cheese onto one piece of sliced pretzel bread and topped with it a potato chip, apple slice, red pepper strip, and a second slice of bread.  The salty, sweet, and savoriness of this really worked!  I suppose we can call this sandwich a mini success.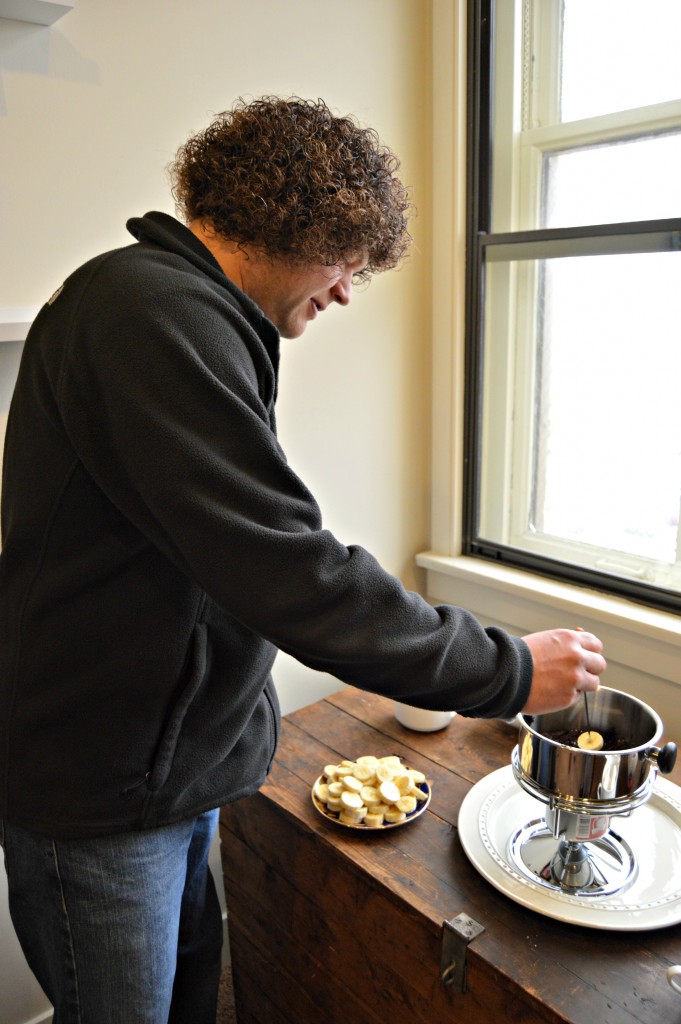 Even though the chocolate did not turn out how we had hoped, there were a few brave souls who gave it a try.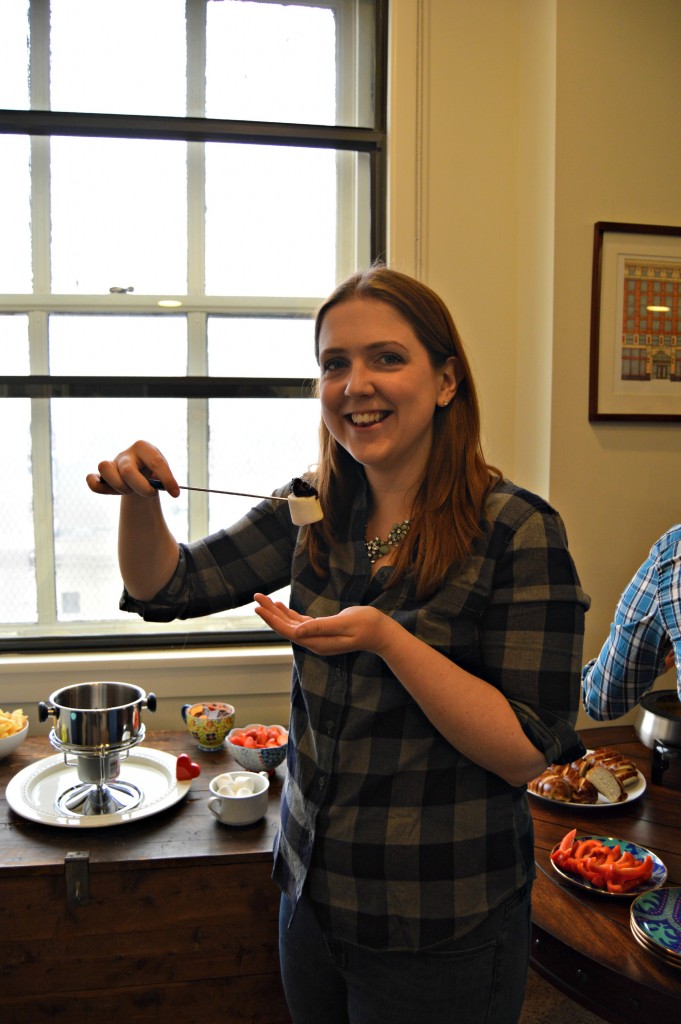 At least we all got a good laugh out of it, right?
I think it is safe to say that we probably won't be fondue-ing again anytime soon.  Both Erin and Joanna used their fondue pots for the first time, and I think both would agree that they may not be using them all that often 😉
If you are planning a fondue party in the near future, I highly recommend testing out your fondue recipes ahead of time.  It could save you a lot of hassle.  I also recommend serving up plenty of delicious dippers.  If worse comes to worse and the fondue doesn't turn out quite right, at least you'll have plenty of other food to snack on!
Check out the other two chefs' posts here:
Erin's Three Cooks One Kitchen Post
Joanna's Three Cooks One Kitchen Post
Have you ever made your own fondue?  If so, was it a success?
What are your favorite fondue dippers?