A rich, creamy, cashew cheezy bowl of potato and leek soup.  Oh, and it's vegan!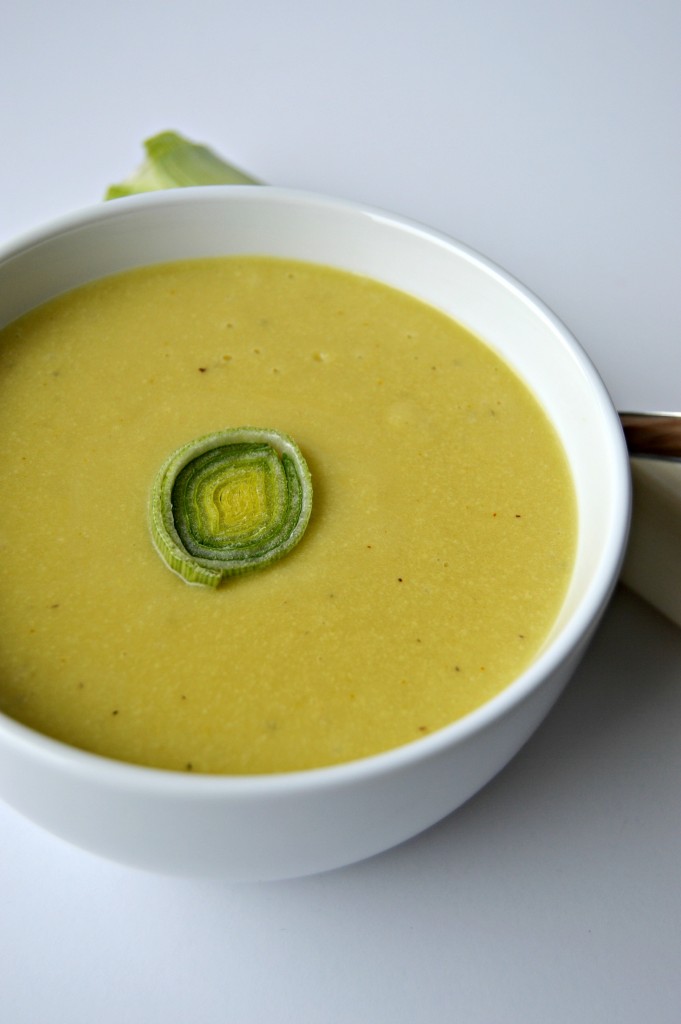 Cashews = "cheese."  No really, they do.  I swear I'm not nuts! (<– hah!) 😉
If you do not eat vegan food then this may seem like an incredibly foreign concept to you.  In fact, when I first started dipping my toes into the land of cheese-free cooking, I wondered how in the world cashews could ever resemble dairy-laden cheese.  And despite being baffled and incredibly curious about this all at the same time, it took me roughly two and a half years as a vegetarian to finally try cooking with cashews in a way that did not involve making nut butter or trail mix.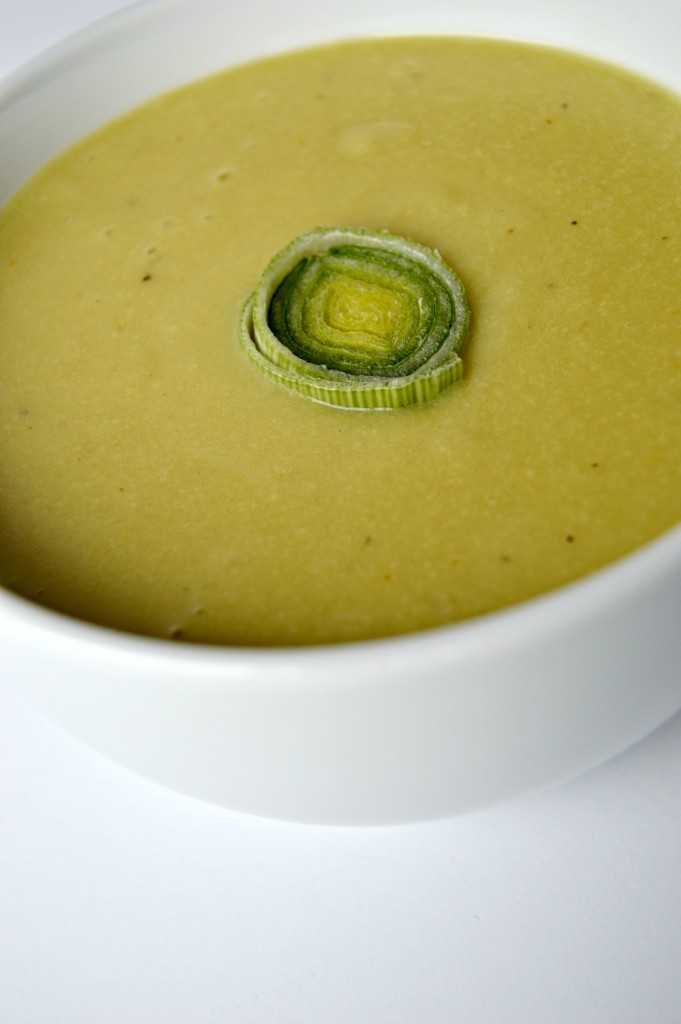 My first experience was in making Alexis's Pinto Bean and Swiss Chard Enchiladas <– these are killer, by the way.  I was truly amazed at the results.  Now of course cashews do not result in the same texture as cheese.  It does not take a rocket scientist to figure that one out.  But, when combined with other foods like nutritional yeast, the flavor is definitely there.
Since my enchilada experience, I have since come across several other recipes calling for cashews, including: nacho "cheese," ricotta "cheese" for lasagna, and cashew "cheese" grilled cheese sandwiches.  While all of these sound amazing and will surely be made soon, I could not shake the idea to veganize and healthify a former favorite of mine: cheesy potato soup.
And so… this Vegan Cheezy Potato and Leek Soup was born.
P.S. Leeks are amazing in soups, so do not leave them out!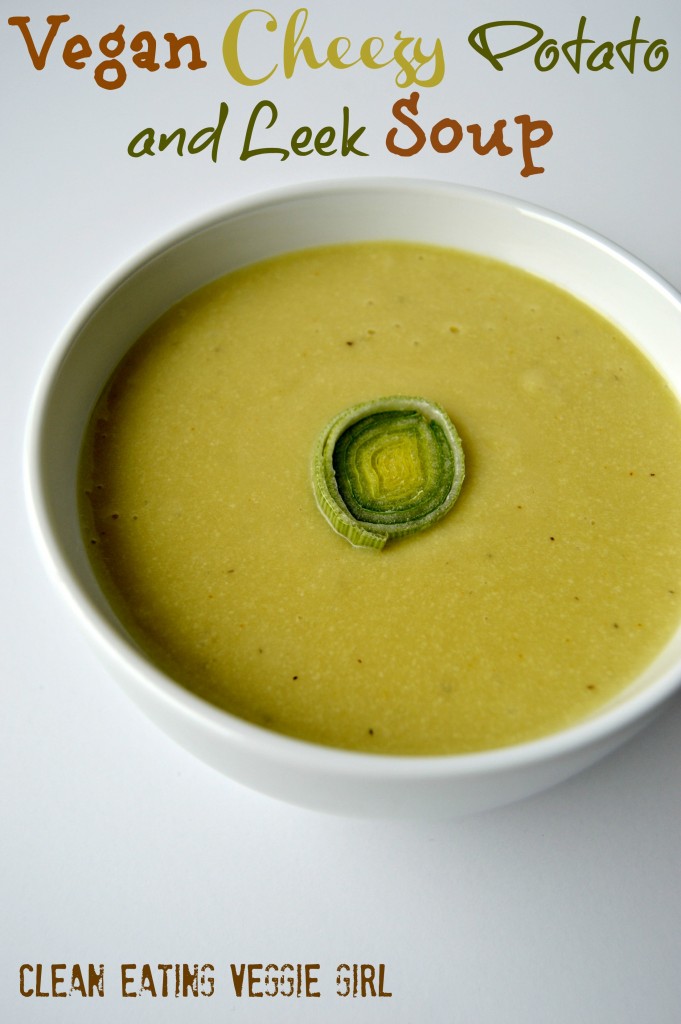 Vegan Cheesy Potato and Leek Soup
Serves 4 to 6
Ingredients
1 cup cashews (soaked overnight, or for at least 3 hours, and drained)
water, for cooking
one leek, cut into 1/2-inch thick slices
5 cups Yukon gold potatoes, peeled and chopped into 1-inch cubes
4 cups vegetable broth
1/2 cup plain unsweetened almond milk
1/4 cup nutritional yeast (not baking yeast)
1/2 tsp turmeric
fine sea salt, to taste
black pepper, to taste
Directions
1. Line a large soup pot or dutch oven with a thin layer of water.  Heat over medium-high heat.  Once hot, lower the heat to medium and add cut leeks to the pan.  Sautee for approximately 5 minutes, adding additional water as necessary.
2. Add potatoes and vegetable broth to the pot.  Turn the heat up to medium-high and bring to a boil.  Once boiling, lower the heat to medium-low, cover, and simmer for approximately 15 minutes.
3. While the leeks and potatoes are cooking, combine soaked cashews, almond milk, nutritional yeast, and turmeric in a food processor or blender.  Blend until smooth and creamy.  Add additional milk, if necessary.
4. Once the potatoes are cooked through, use an immersion blender to puree the leeks and potatoes until smooth.  You can also use a blender for this step.
5. Stir the cheezy cashew cream into the soup and mix well.  Season with salt and pepper.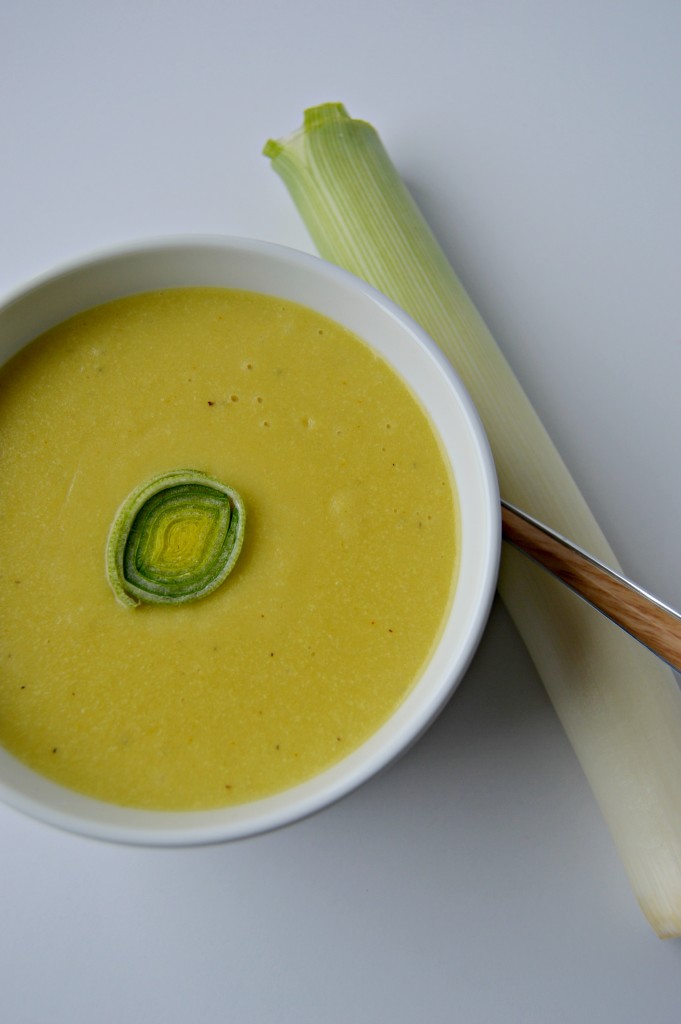 Talk about comfort food.
During the Winter months, there is nothing that I want more than a warm, creamy, and cheezy bowl of potato soup.  Add in some crackers, croutons, roasted chickpeas, and/or a slice of bread and I am even happier!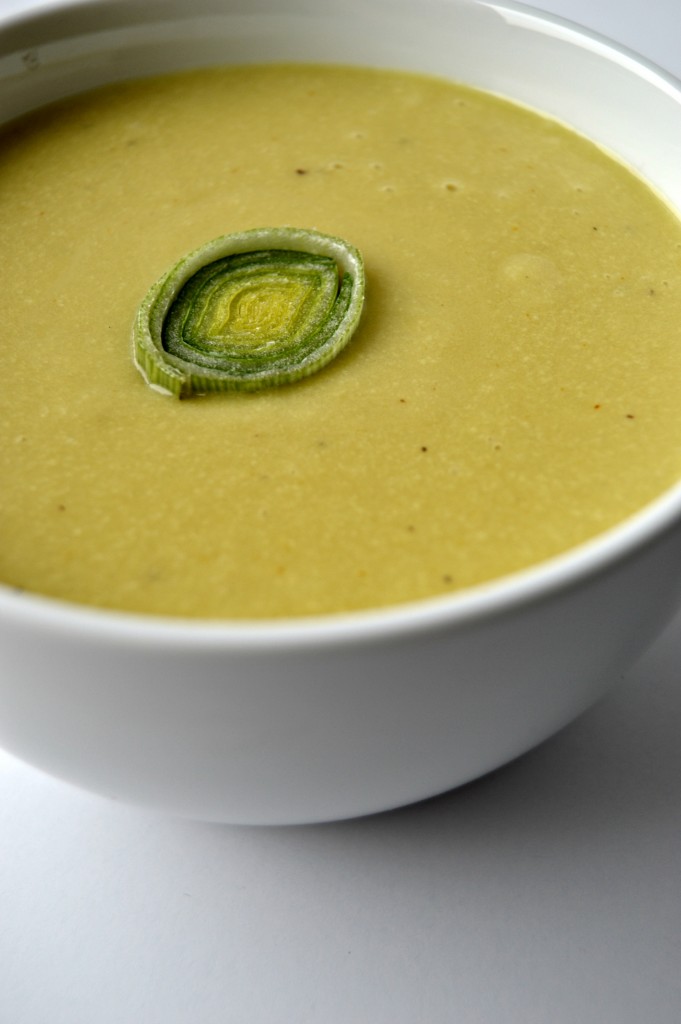 For the heads up, this soup freezes wonderfully.  I normally cook for one, so I love throwing a couple of containers in my freezer for easy week night meals.  When your body just craves comfort food (or when you are sick), this comes to the rescue in a pinch!
Please share the cashew cheese love by pinning this recipe and sharing it on Facebook and Twitter using the buttons below!
Have you tried cashew cheese yet?
If so, what is your favorite recipe?  Please share the recipe links in the comments!