A five-ingredient, 15-minute bowl of vegan Apple Spice Oatmeal that requires minimal effort for an easy and delicious breakfast.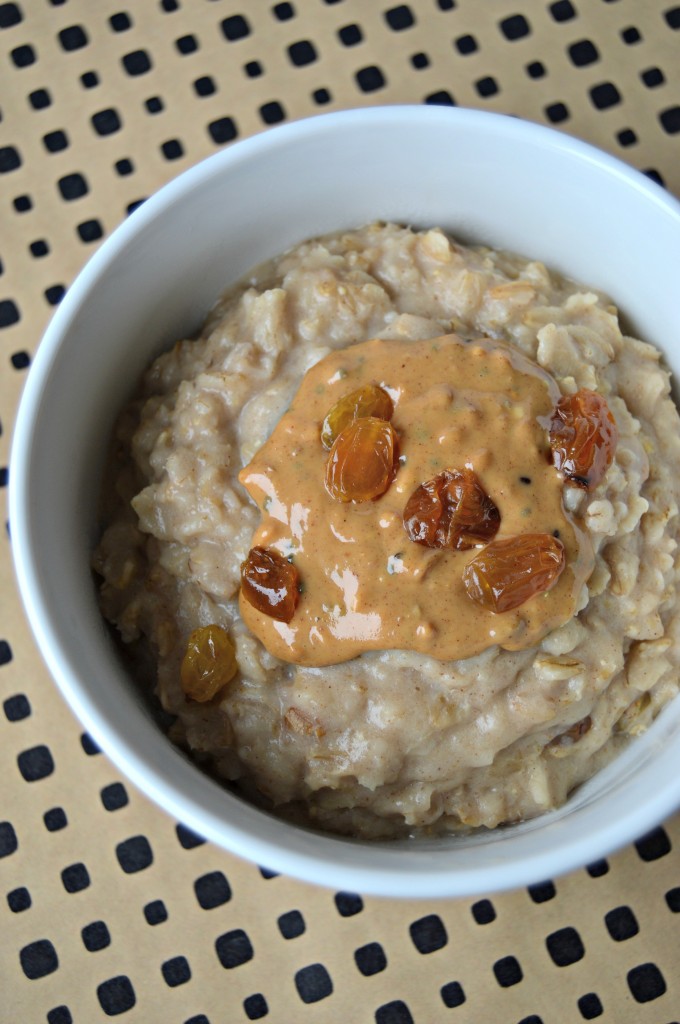 Now that I have finally become a hot oatmeal lover after 26 years, I cannot get enough of it!  I have been loving it with pumpkin, with chocolate, with bananas, and now… with apples!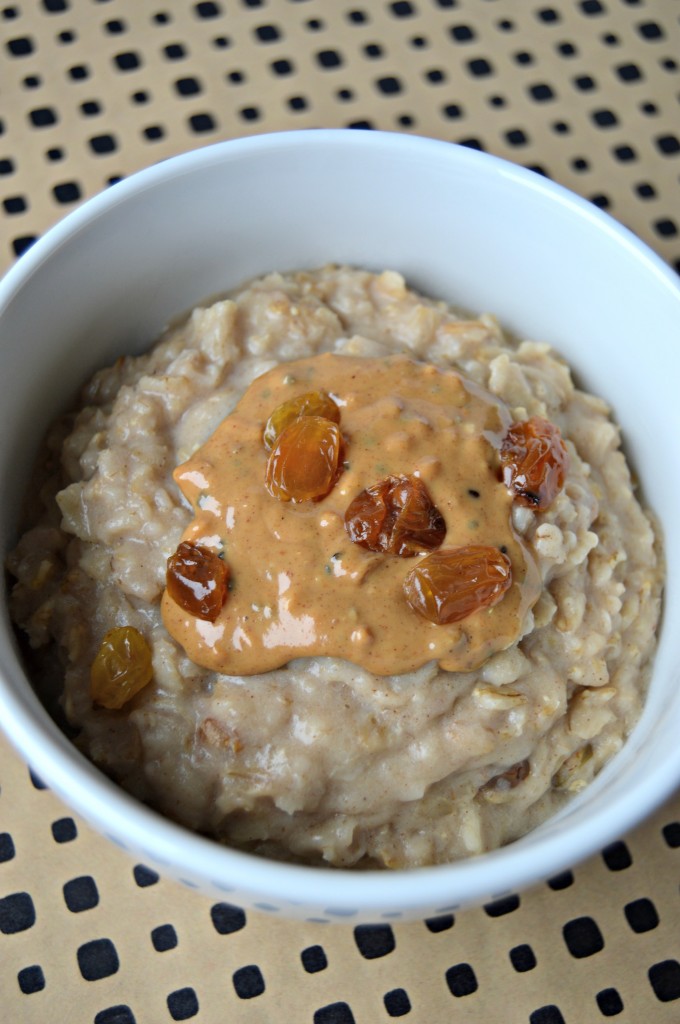 But if you think that I am taking the extra time to peel and dice apples (yeeeesh, I know it only takes a couple of minutes), you are wrong!  When my eyes are partly glazed over and I have barely made it out of bed, quick and simple is the only way to go.  Of course, it is not worth being quick and simple if it isn't delicious, too!  I've gotcha' covered on both of those requirements with this one.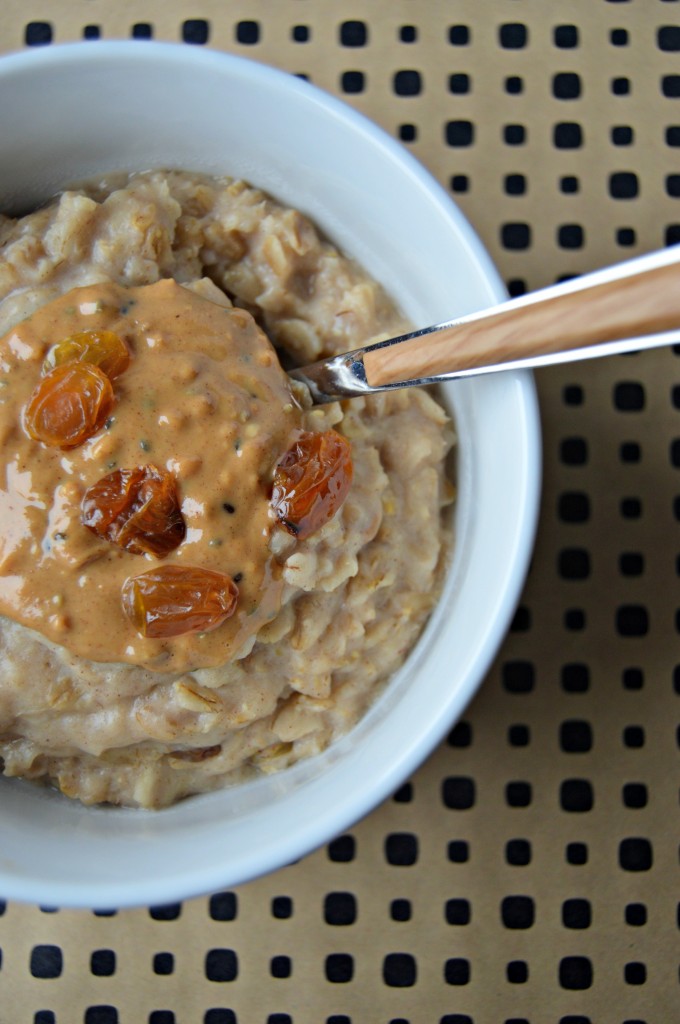 Instead of getting elaborate with our oats this morning, let's keep things simple.  Let's keep things to five required ingredients all while being healthy, warm, comforting, and beyond appetizing.  These aren't restaurant oats, or fancy oats, or complicated oats.  These are my Lazy Girl's oats.
In this case, lazy does not = bad.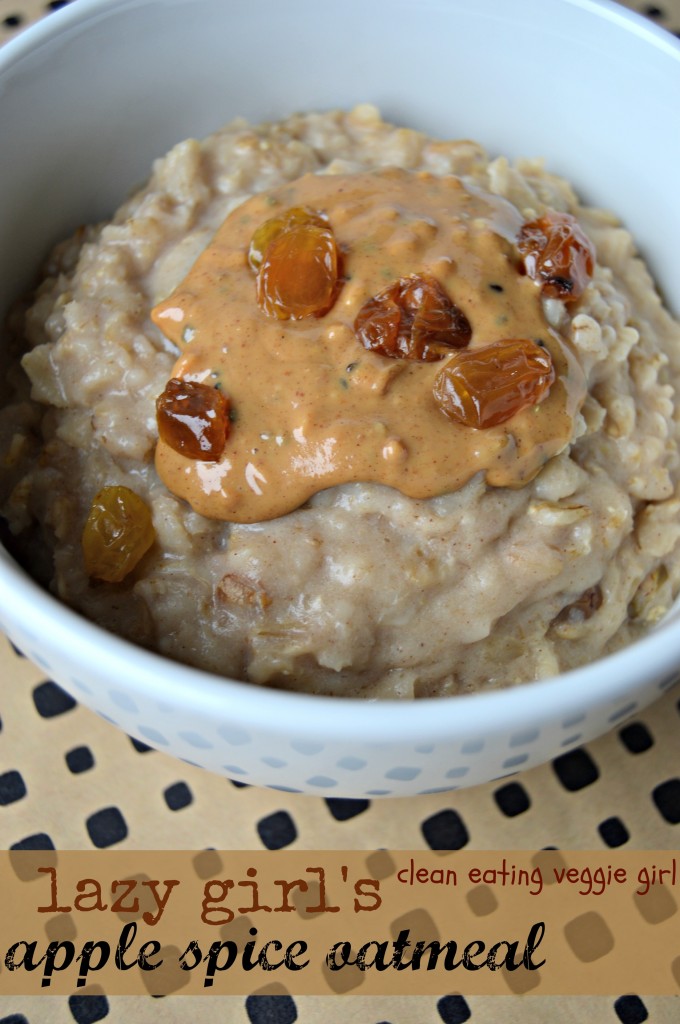 Lazy Girl's Apple Spice Oatmeal
Vegan
Serves 2
Ingredients
2 cups unsweetened vanilla almond milk
1/2 cup unsweetened natural or cinnamon applesauce (I use the individual 4 oz cups from Trader Joe's to avoid measuring)
1/2 to 1 tsp ground cinnamon, depending on your taste
1/4 cup golden raisins (regular raisins work, too)
1 cup quick oats (can use rolled oats but will require a longer cooking time)
nut butter, chopped apples, nuts, and/or additional raisins for topping, optional
Directions
1. In a medium sauce pan, whisk together milk, apple sauce, cinnamon, and raisins.  Heat over medium-high heat for approximately 8 to 10 minutes, or until it comes to a low boil.
2. Once boiling, lower the heat to medium-low.  Stir in oats.  Cook for approximately 5 minutes, or until desired consistency is reached.  Stir every couple of minutes to prevent sticking.
3. Serve oats hot in your favorite bowl.  Top with desired oatmeal toppings.
I ate my oats with Trader Joe's crunchy salted peanut butter with flax and chia seeds + golden raisins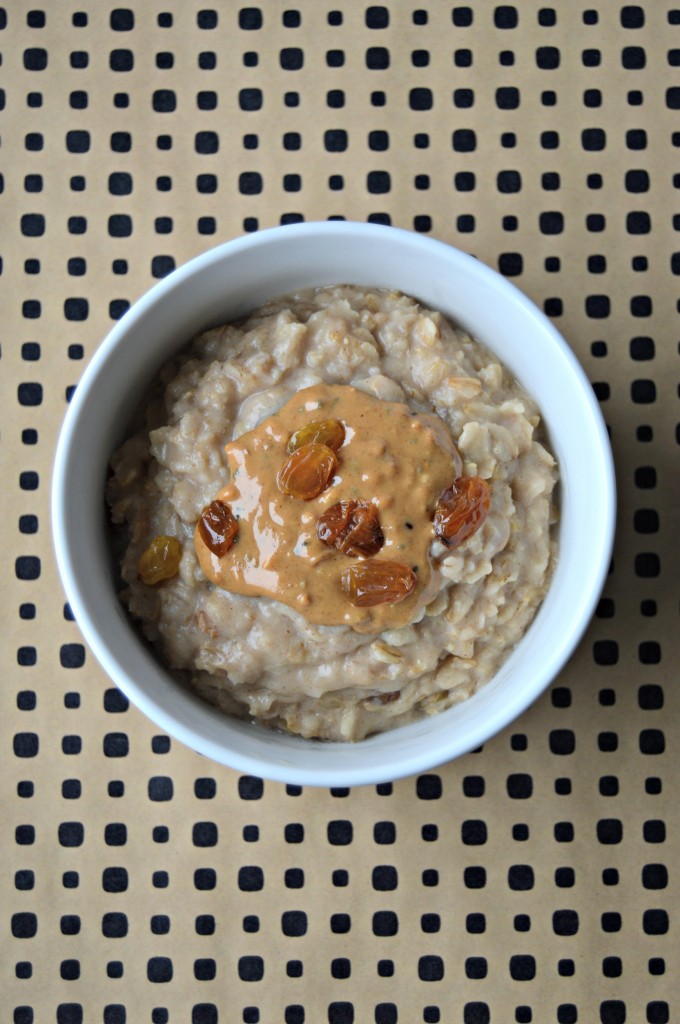 Sure, this oatmeal is delicious on its own.  But let's be real here.  The nut butter paired with a hint of sweetness (from apples, raisins, coconut, or chocolate) totally makes it.  I don't know about you, but I am a big fan of pretending like I am eating dessert for breakfast.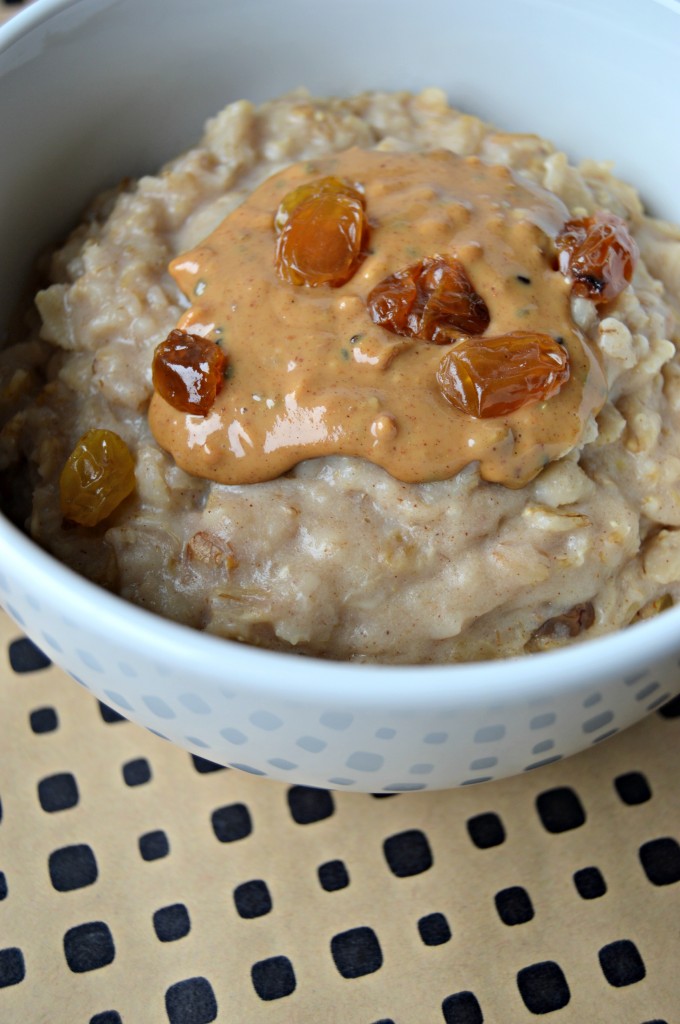 This oatmeal is:
Sweet
Warm
Savory
Comforting
Quick
Easy peasy
Filling
Spicey (in the cinnamon way)
Perfect with a warm blanket and a good book <– I wouldn't complain about a fire and/or candles, too!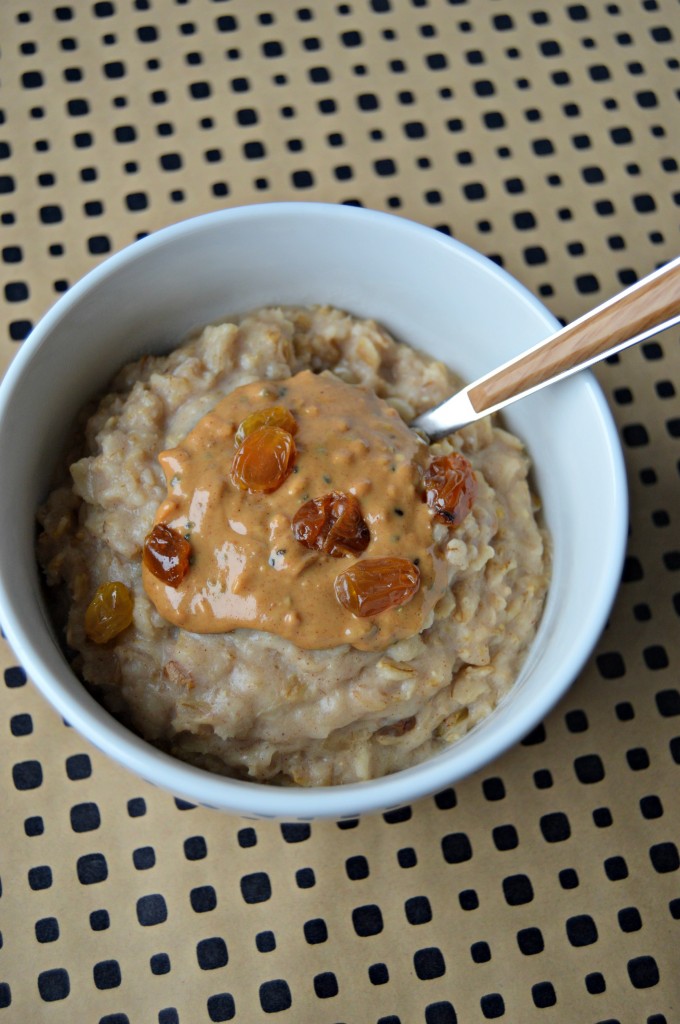 Go dig your spoon into a bowl of this.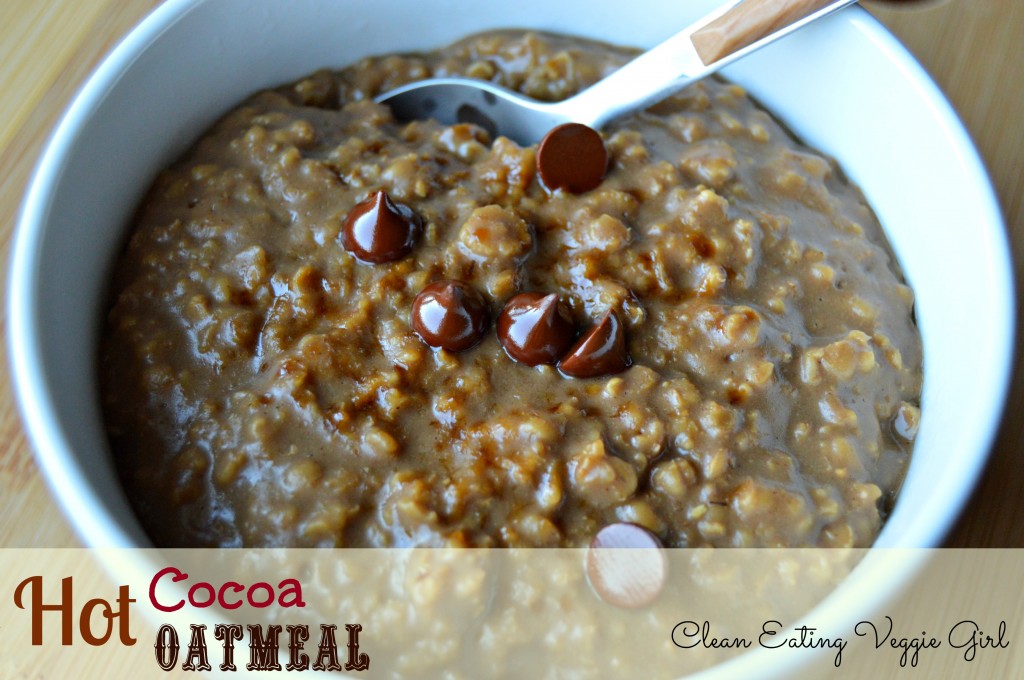 And in case Apple Spice Oatmeal isn't your thing… try my vegan Hot Cocoa Oatmeal!  Or both!  Just probably not at the same time.
Are you feeling lazy, but still want a delicious breakfast?  Pin this recipe and share it on Facebook and Twitter using the buttons below!