A four ingredient recipe for Sweet Chili Baked Tofu.  It's sweet.  It's spicy.  It makes tofu taste delicious.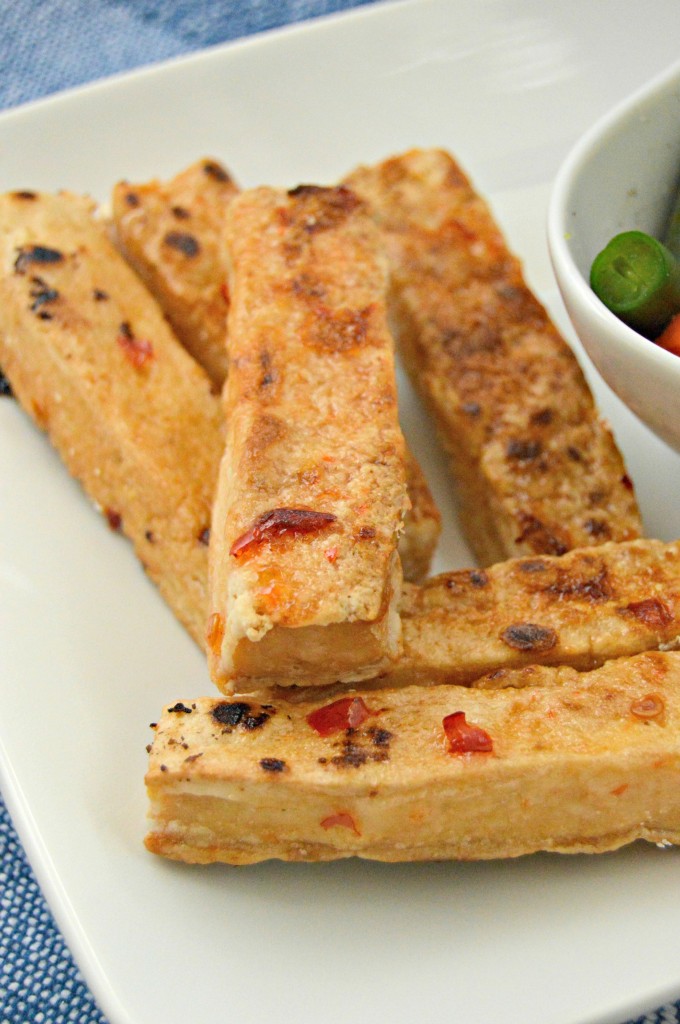 Raise your hand if you:
a) Have never tried tofu
b) Have tried tofu and didn't like it
c) Are weirded out by the texture of tofu
d) Are afraid of tofu
e) Love tofu!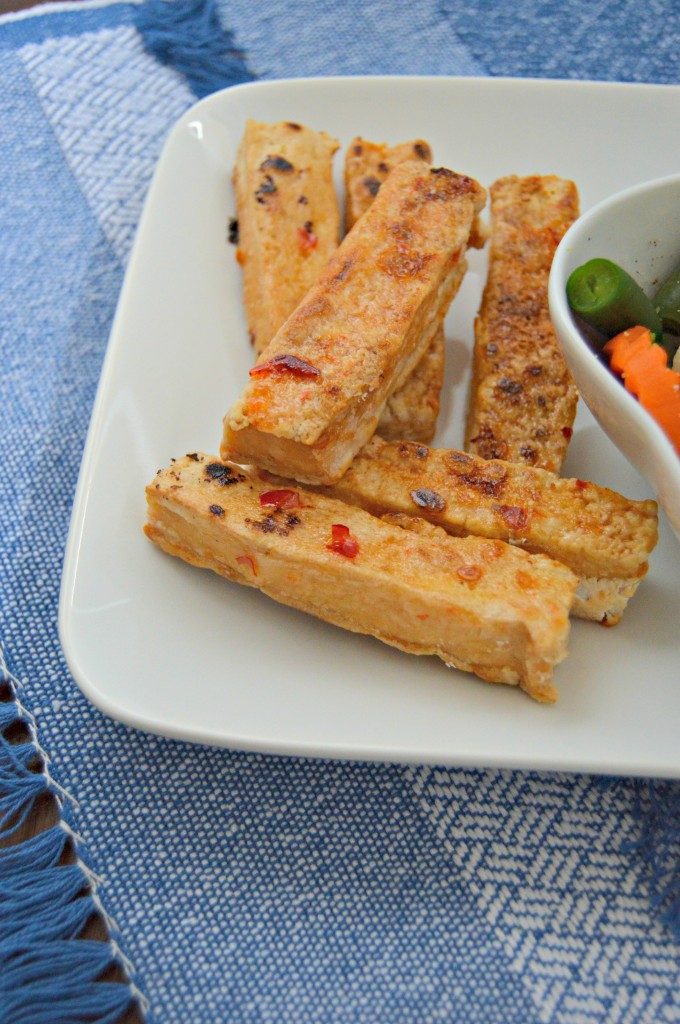 I happen to belong in group "E" for this one.  But that was not always the case.  I used to identify with "A, B, C, and D" at one time or another.  So what changed?
I sucked it up, faced my fears, and actually tried tofu multiple times.  It is true what they say about needing to try new foods several times before determining whether you like them or not.  I definitely tried my fair share of just "okay" tofu and tofu that I simply could not get on board with.  But I kept on tasting (hint: it helps to try tofu at restaurants first if you are a bit uncertain of the taste), trying new recipes, and experimenting with different tofu cooking methods.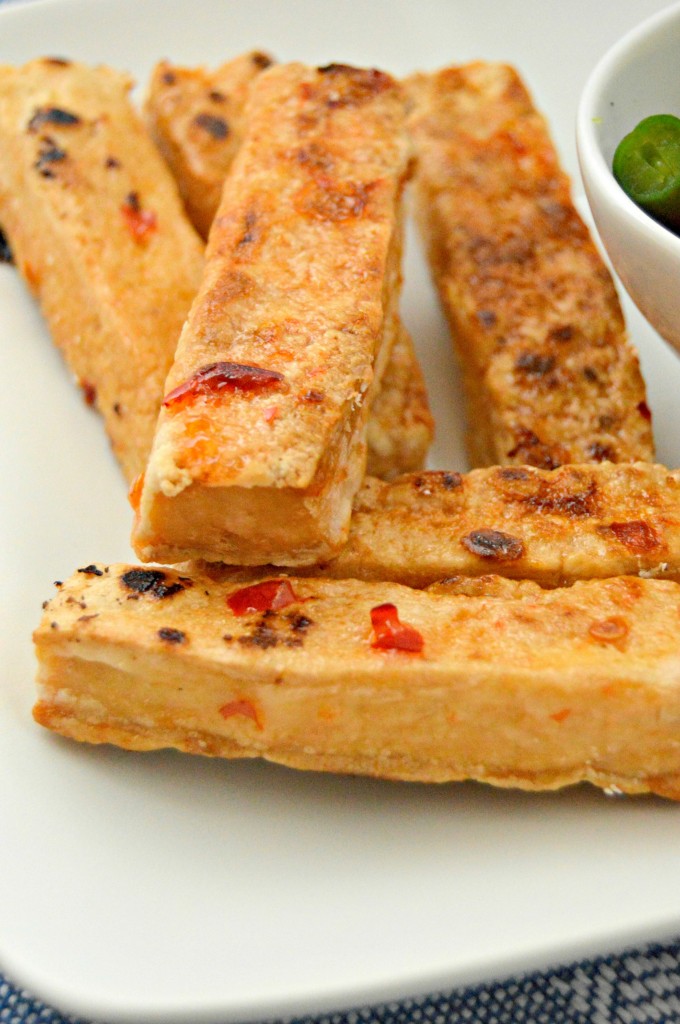 It may have taken me nearly three years to figure out the best way to prepare, cut, coat, saute, season, and bake tofu, but I have finally figured out exactly how to make tofu taste good.  Better late than never, right?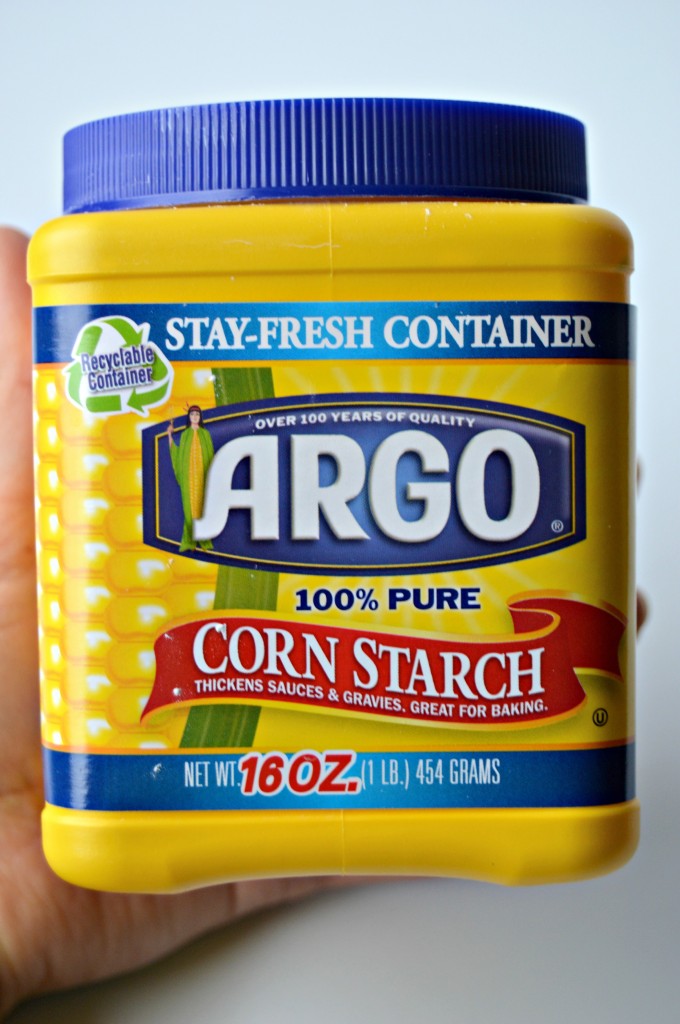 This right here is the best secret ingredient for how to take tofu from tasting weird and chewy to making tofu taste crispy and delicious!  Below I am going to share with you my tofu cooking method.  I have also thrown in a delicious Sweet Chili Baked Tofu recipe to go along with it.  It's like two gifts in one post.  Don't say I never do anything nice for ya 😉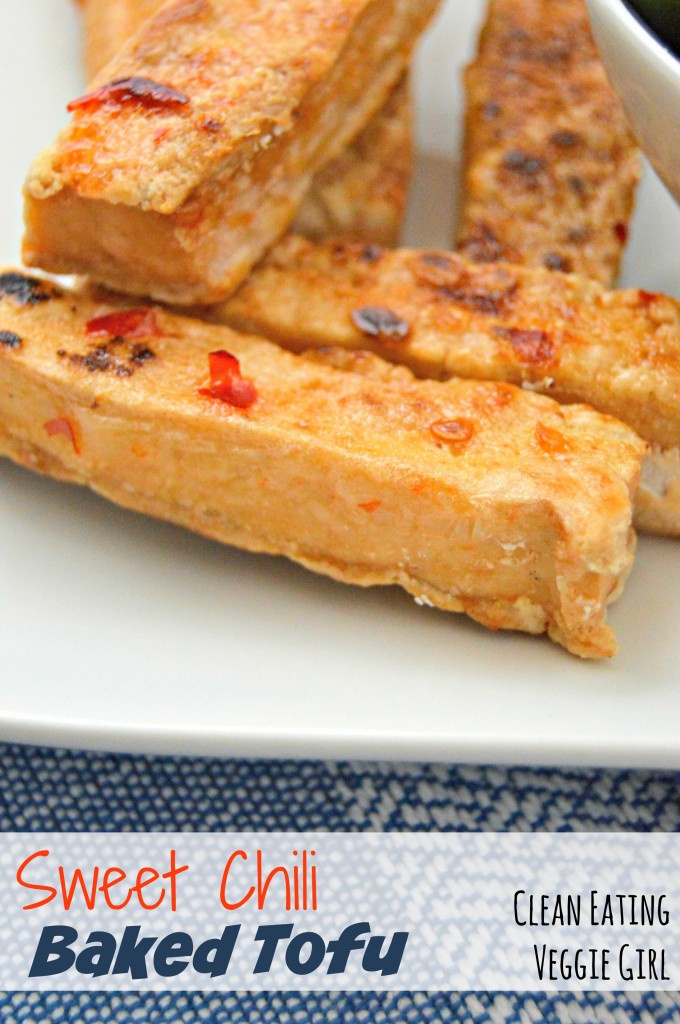 Sweet Chili Baked Tofu (Vegan)
Serves 2
Ingredients
14 oz block extra firm tofu
1/4 cup Bragg's Liquid Aminos, coconut aminos, or low-sodium soy sauce
1/4 cup cornstarch
1/4 to 1/3 cup sweet chili sauce
cooking spray, optional
Directions
Note: This cooking method does require some "waiting" time, so be sure to plan ahead!
1. Place the package of tofu into the freezer at least two days prior to when you want to cook it.  Allow it to freeze overnight.  Once frozen, move the tofu to the fridge and allow it to thaw for at least one day.  This freezing method is optional, but it tends to give the tofu a "meatier" texture.
2. Once the tofu is thawed, drain the tofu and press it for at least 30 minutes.  I use a tofu press, but back when I started I relied on placing a plate onto the tofu and topping the plate with books.  Whatever works, right?
3. After the tofu has been pressed, the majority of the liquid should be removed.  At this point you will cut the tofu into your desired shape.  You can cube it or cut it into strips like I did.
4. Place the liquid aminos into one shallow bowl and the cornstarch into another shallow bowl.
5. Heat a nonstick (use oil/spray if not nonstick) griddle or skillet over medium heat.  Dip each tofu piece into the liquid aminos until all sides are covered.  Then coat each piece of tofu with cornstarch.  Dust off any excess cornstarch.  Place the tofu pieces onto the griddle and saute for approximately 20 minutes, flipping once halfway through.
6. While the tofu is sautéing, preheat your oven to 375 degrees F.  Line a baking sheet with foil and spray with cooking spray.
7. After the tofu has been sautéed, place it onto the baking sheet.  Using a basting brush, coat the top and sides of the tofu with sweet chili sauce.  Book for 15 minutes.
8. Flip the tofu and baste the other side with the remaining sweet chili sauce.  Bake for an additional 10 minutes, or until desired crispness has been reached.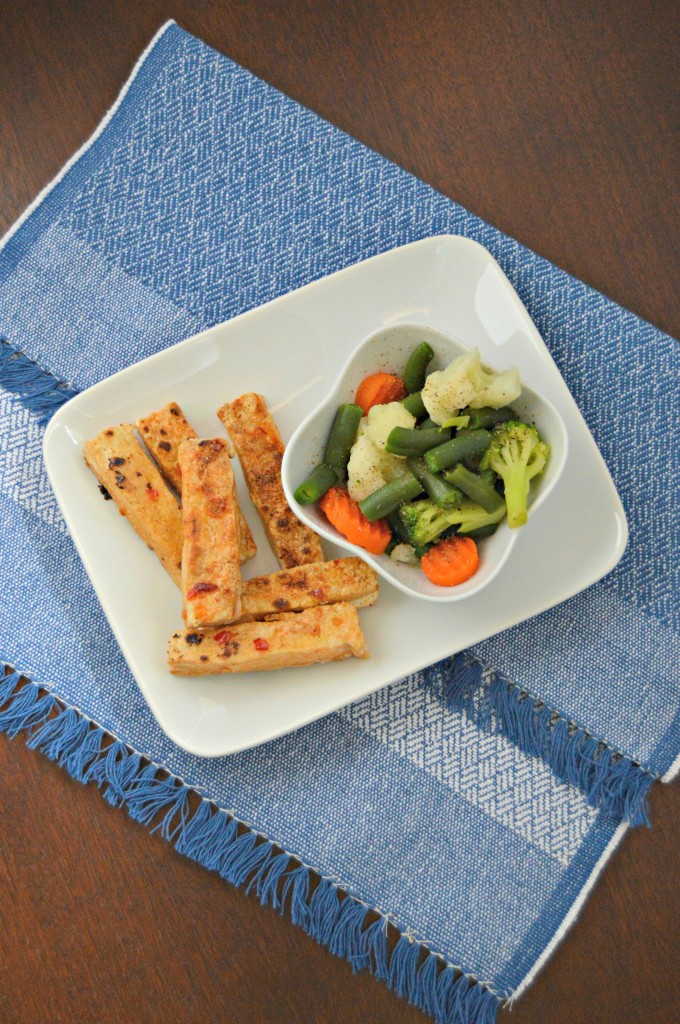 If you plan to eat your Sweet Chili Baked Tofu on its own, I highly recommend serving it alongside your favorite veggie or fruit.  I also poured myself a small bowl of extra sweet chili sauce on the side for dipping.  There is no such thing as too much sweet and spicy.  Another great way to serve this tofu would be to throw it into a vegetable and rice stir-fry for an extra pack of protein.
I'll be the first to admit that there are several steps involved in this tofu cooking process.  However, much of the waiting time is down time, and the steps are rather simplistic.  Plus, if it makes tofu taste good then it is 100% worth it, right?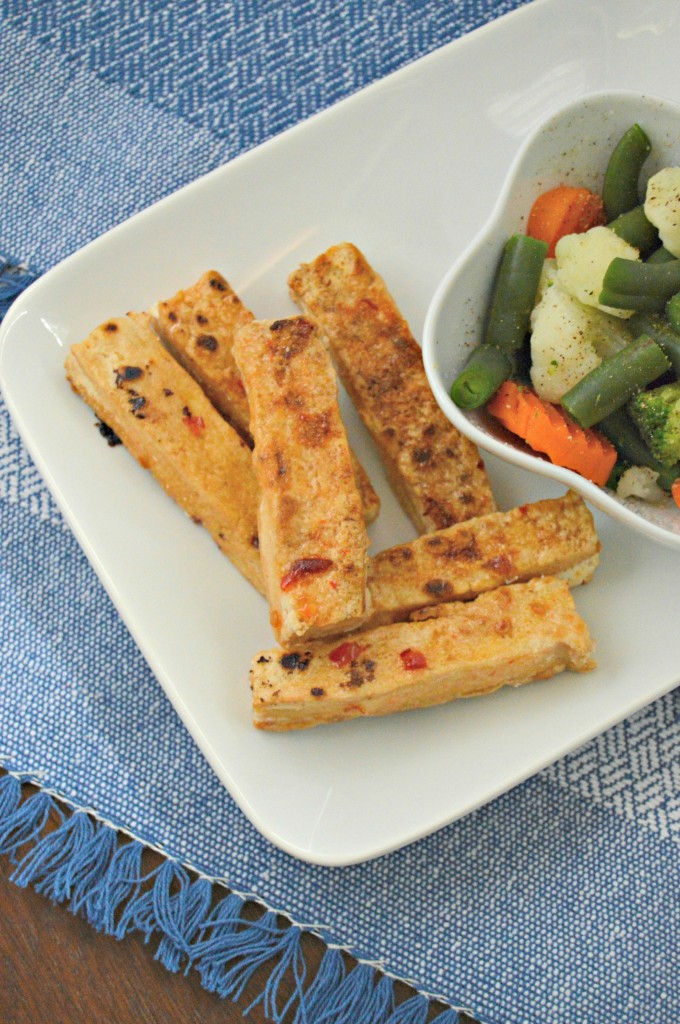 Are you a tofu lover?  Have you ever prepared it yourself?  If not, what are you waiting for?!
Please pin and share this recipe on Facebook and Twitter using the buttons below.  I appreciate your support!