Daddy/daughter weekends are some of my favorites.  And while I like to think that my dad loves visiting me (no really, I hope he does!), I also know that he secretly uses me as an excuse to come out to Omaha to run in races.  My dad ran the Omaha Marathon last year with a kick-butt time and he was back this past weekend to do it all over again.  The weekend was not all about running, though.  We made sure to throw some delicious eats/drinks, grocery shopping (you know, the fun stuff!), and quality time in between.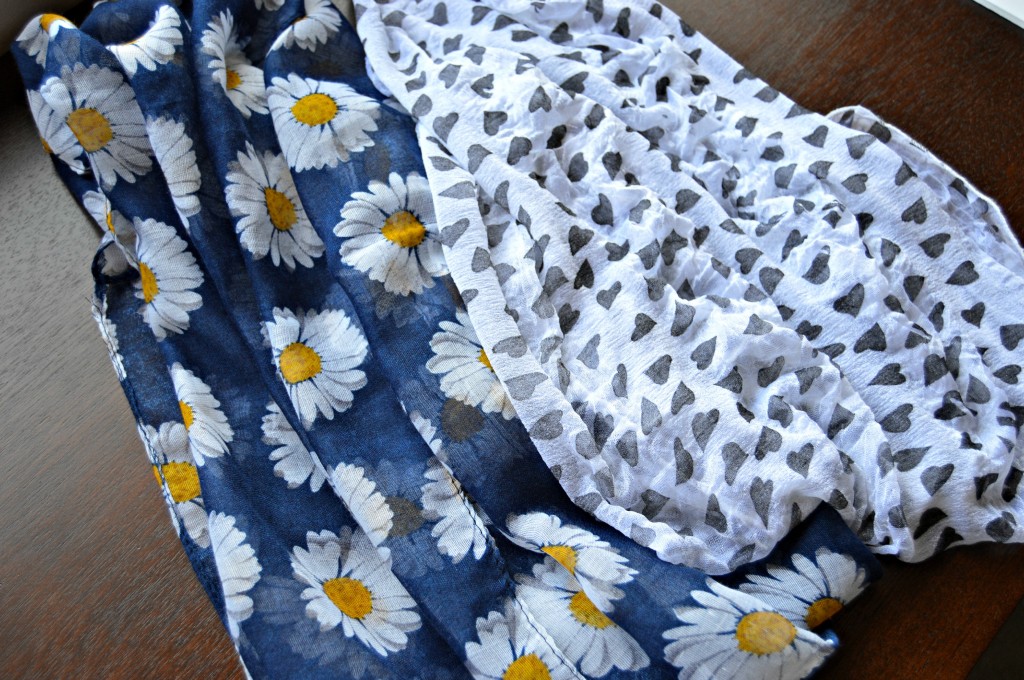 When my dad visits Omaha, he almost always comes bearing gifts courtesy of my mom.  She is incredibly generous and when she sees clothing or accessories that remind her of me, she kindly buys them.  How cute are these infinity scarves?  Now that the weather is beginning to cool off a bit, I am super excited to start wearing scarves more frequently.  Both of these will be super cute ways to spruce up my outfits!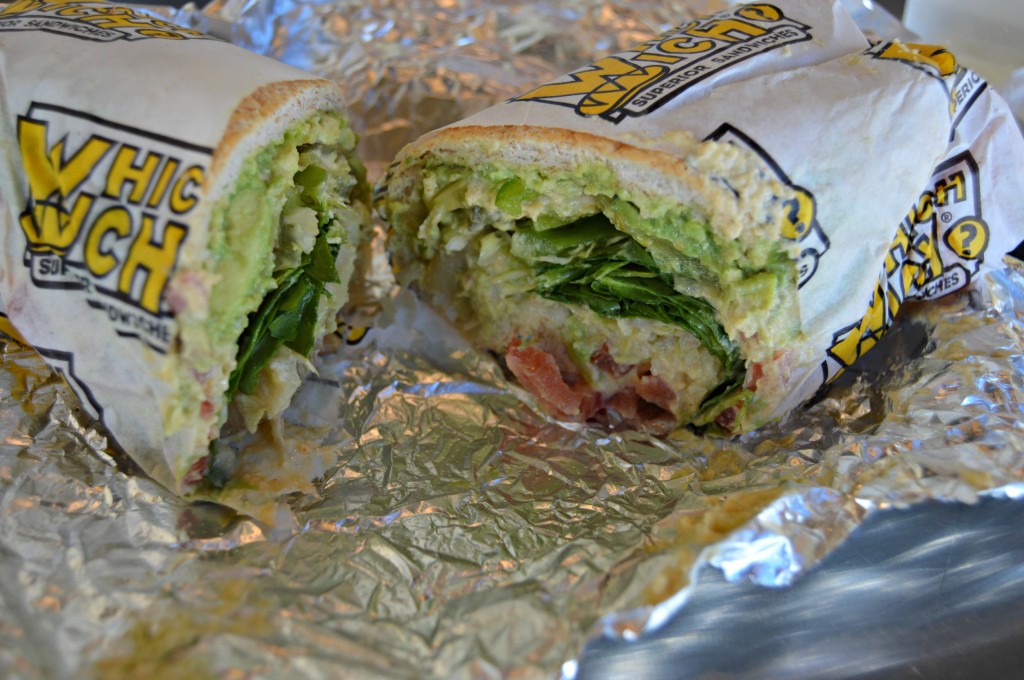 After settling in a bit, we started our Saturday with a lunch date to Which Wich.  This was my second time there and my dad's first.  I ordered the Tomato and Avocado sub on wheat to which I added hummus, lettuce, spinach, carmelized onions, bell peppers, pickles, sauerkraut, and Dijon mustard.  This sandwich was a mushy mess.  But it was also a very delicious mess!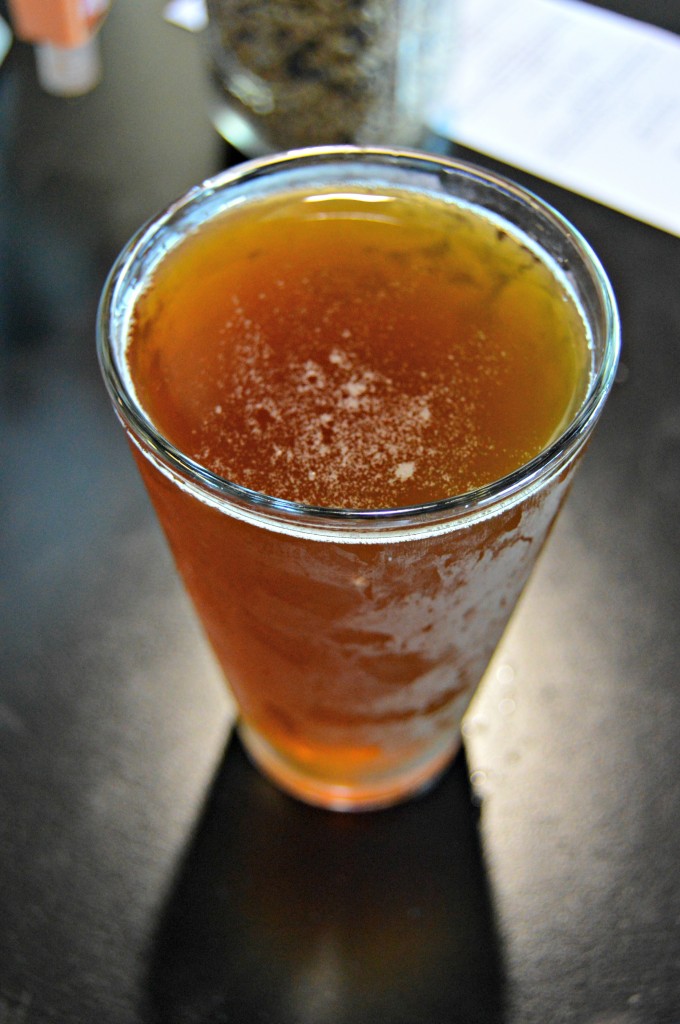 Following lunch and a quick stop into Wal-Mart (ack!), we headed to Lucky Bucket Brewing Company for a brewery tour and a beer.  I chose the Big Pimpkin (awesome name, right?) because I cannot say no to pumpkin right now.  I loved it and really wish they bottled it!
The rest of our afternoon was spent shopping and relaxing, followed up with a beautiful walk in the Old Market district to and from dinner.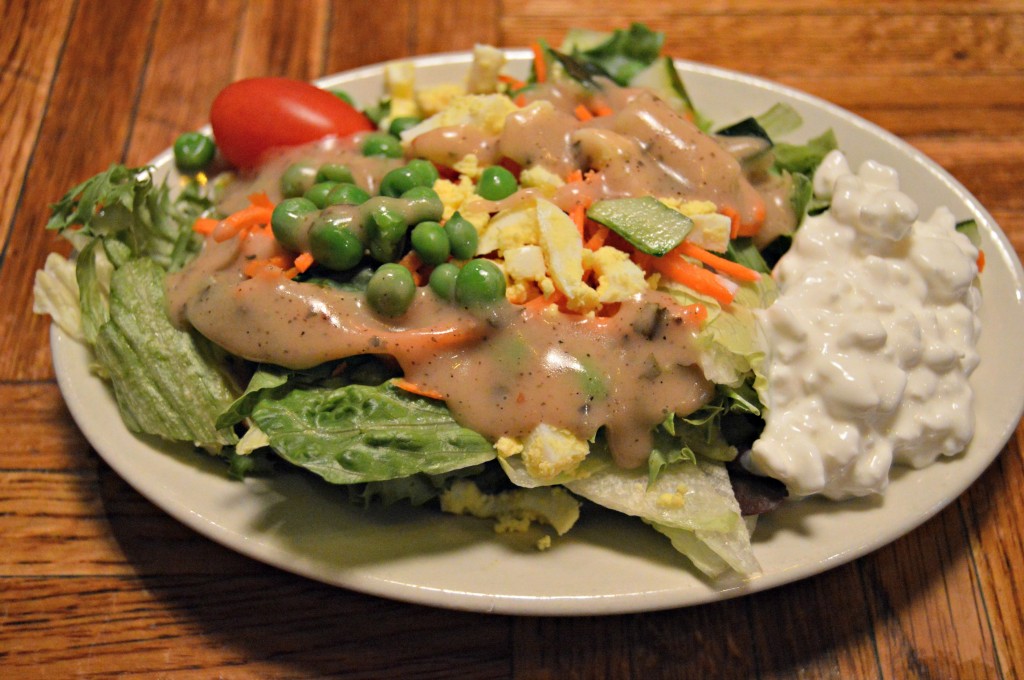 My dad generally likes to eat pasta before his races, so I chose Spaghetti Works for dinner.  I started my meal off with a trip to the salad bar.  Any salad bar that has peas and cottage cheese on it is instantly a winner in my book.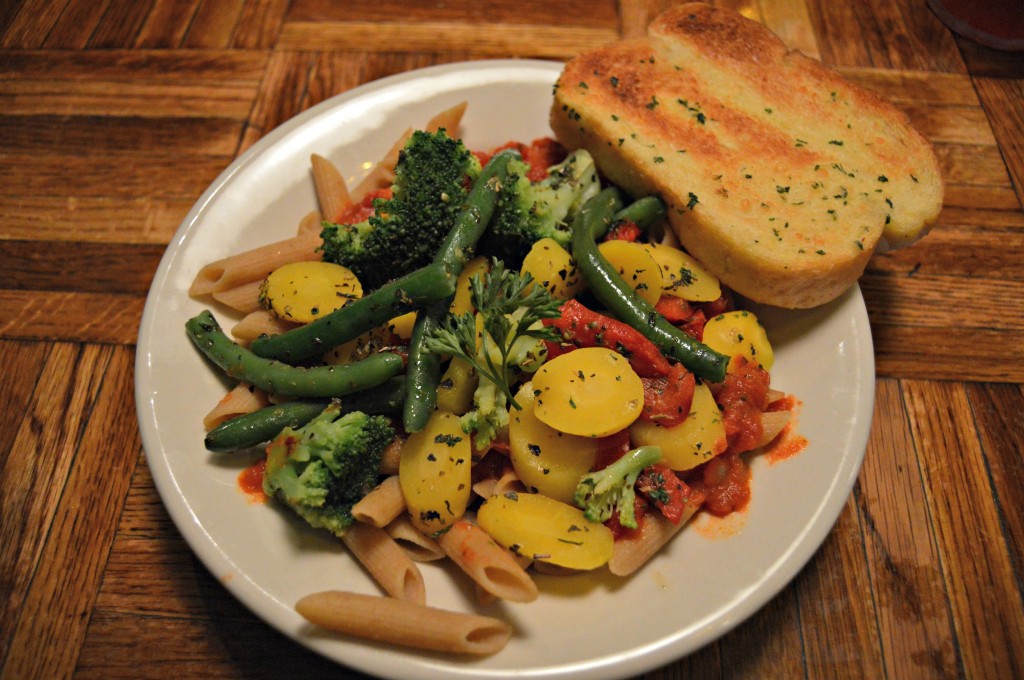 For the main course I built my own pasta with whole wheat penne, traditional marinara sauce, and a vegetable primavera medley.  Oh, and do you see that piece of garlic toast on the side?  Um, yeah… that was my favorite part.  It was amazing!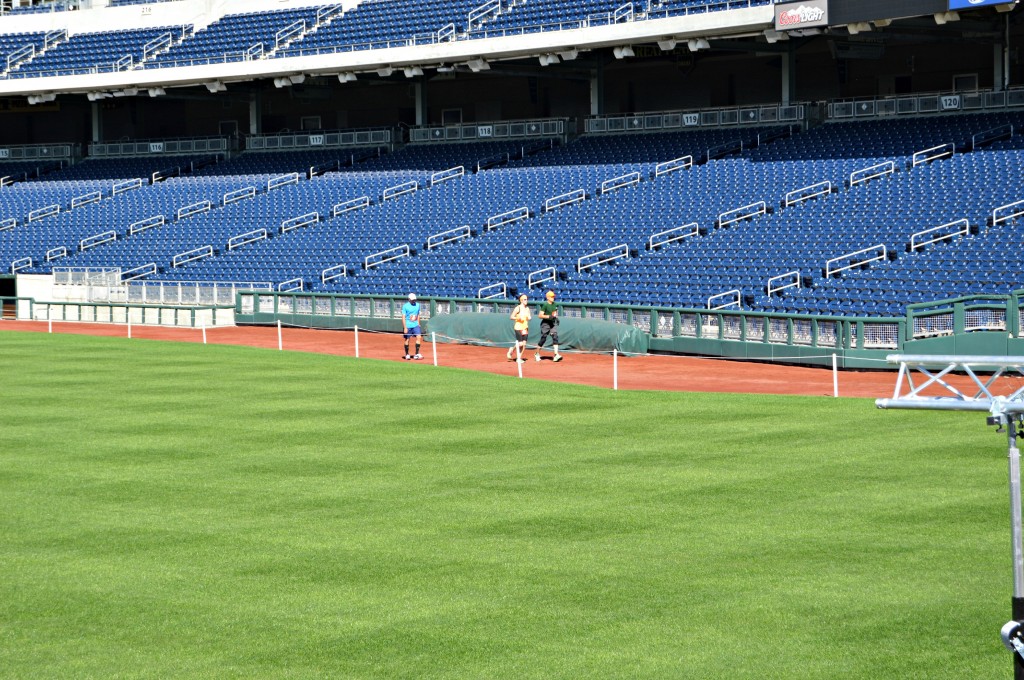 Sunday morning was my dad's big day.  It was an early morning for the both of us but the weather was great for running.  Last year my dad finished the Omaha Marathon in just a little over 3:40, so he had a similar goal this year.  I met up with him on mile 20 on the course where he ditched his radio and water bottle and basically said he "wasn't doing too good."  After he passed by, I headed to the finish line at TD Ameritrade Park.  I was attempting to track him on my phone but the system was not very reliable.  After more than 20 minutes had passed beyond the time when I was expecting him, I knew something probably was not quite right.  I assumed he had either cramped up and could not run and was walking, or that he had to stop altogether.  I was happy to see him walk in a little after the 4 hour mark.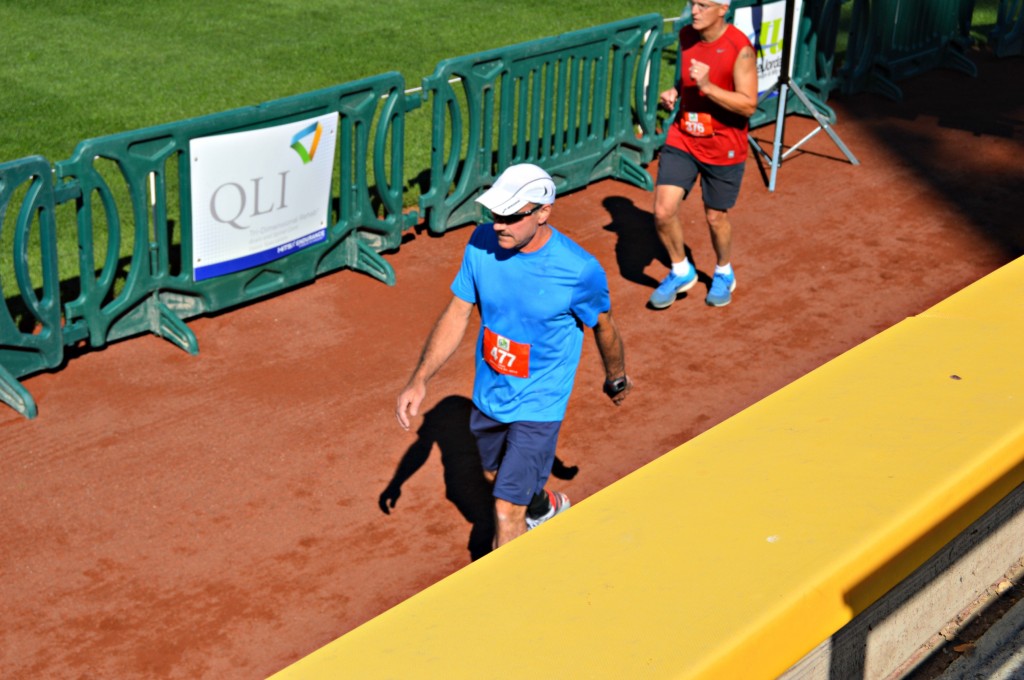 His body had in fact said "no more" and he had to walk the last couple of miles in.  But the way I look at it, anyone who can finish a marathon (running the majority of the time) has accomplished a lot.  Coming from someone who is physically unable to run, finishing a marathon is a huge accomplishment!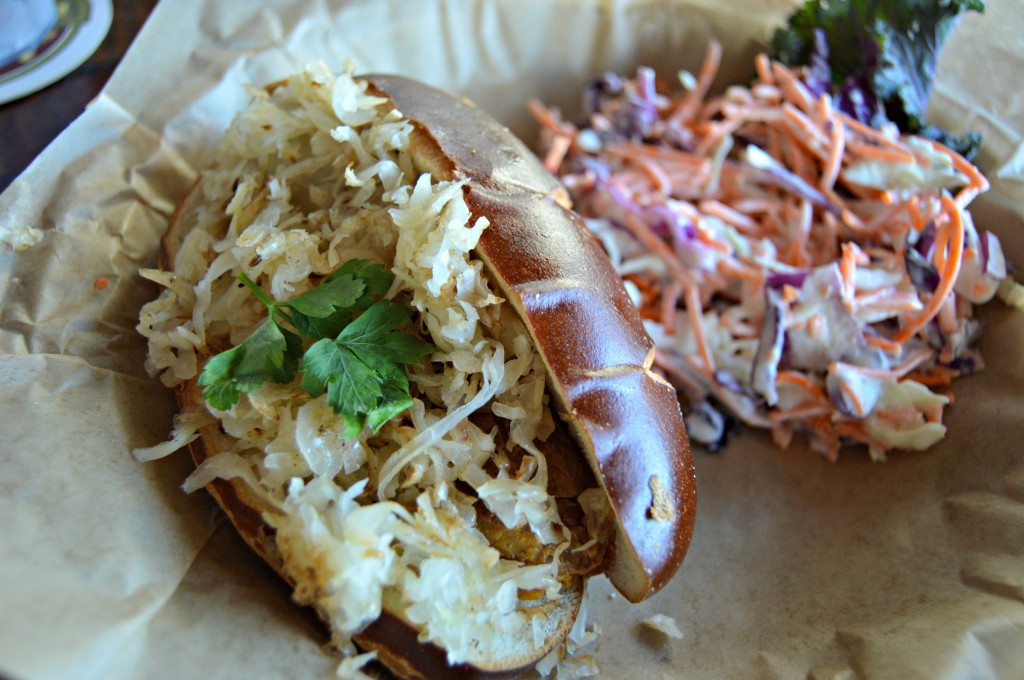 We did not do a whole lot after the Marathon except for some Trader Joe's/Whole Foods shopping and some relaxing.  But we made sure to head out for a delicious dinner Sunday evening.  I chose Blatt Beer & Table where I ordered one of my favorite things ever: the Vegetarian Currywurst (think veggie bratwurst) with coleslaw.  As always, it was amazing!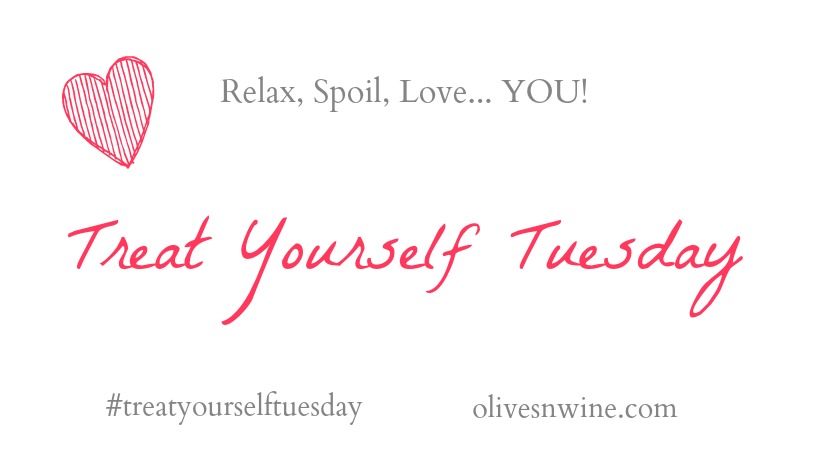 All in all it was a great weekend!  To celebrate this awesome weekend of treats, I am linking up with Becky for Treat Yourself Tuesday!
Lastly, I want to announce the winner of the Annie's Homegrown giveaway.  Congratulations Cynthia!  Enjoy your box of cheesy goodness!