I think we have already established that I love grocery shopping- especially at Whole Foods, Trader Joe's, and Hy-Vee.  There is nothing wrong with going to two to three grocery stores in a weekend, right?
I really enjoy taking a peak in other people's grocery carts and shopping bags (in a totally non-creepy way, I swear) and I get the feeling that some of you find it fun too!  Today I am sharing my purchases from a recent shopping trip to Whole Foods and Trader Joe's.  After checking out the goods, make sure you stick around for a seriously delicious recipe.  You'll thank me later!
What's in My Grocery Bags (#3)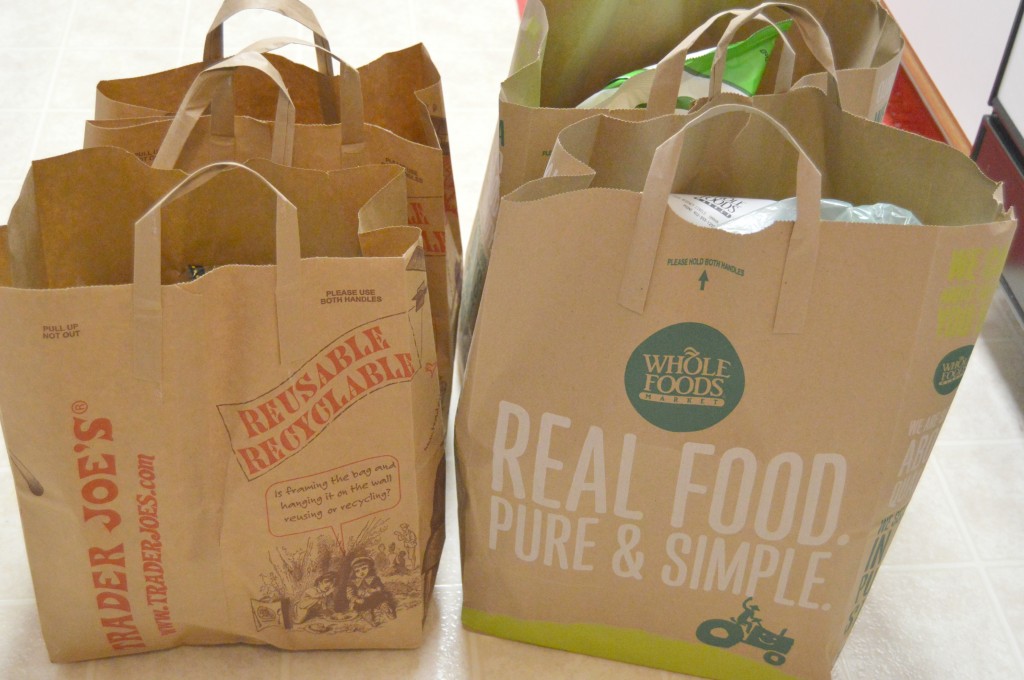 On this specific trip, I fit all of my purchases into four grocery bags.  I was pretty impressed by this.  I am, by no means, good at being thrifty when it comes to grocery shopping.  I need to work on that. #foodbloggerproblems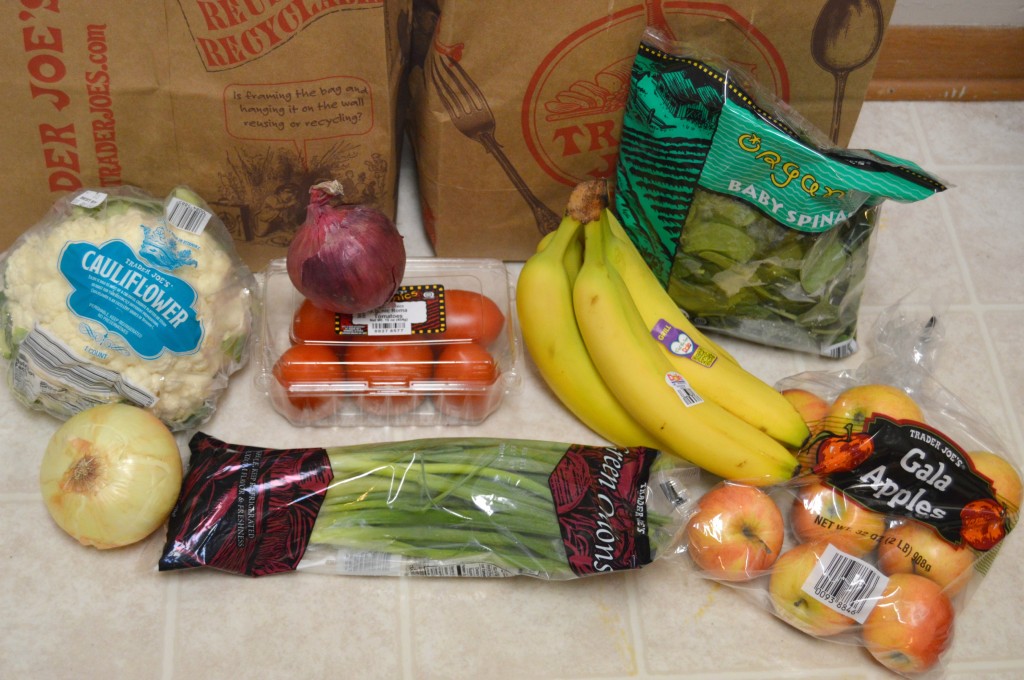 My Trader Joe's haul included 1 head of cauliflower, 1 yellow onion, 1 red onion, organic Roma tomatoes, green onions, bananas, organic spinach, and Gala apples.  I used to always buy individual apples because they are larger, but sometimes I just cannot say no to what a great deal the bagged apples are.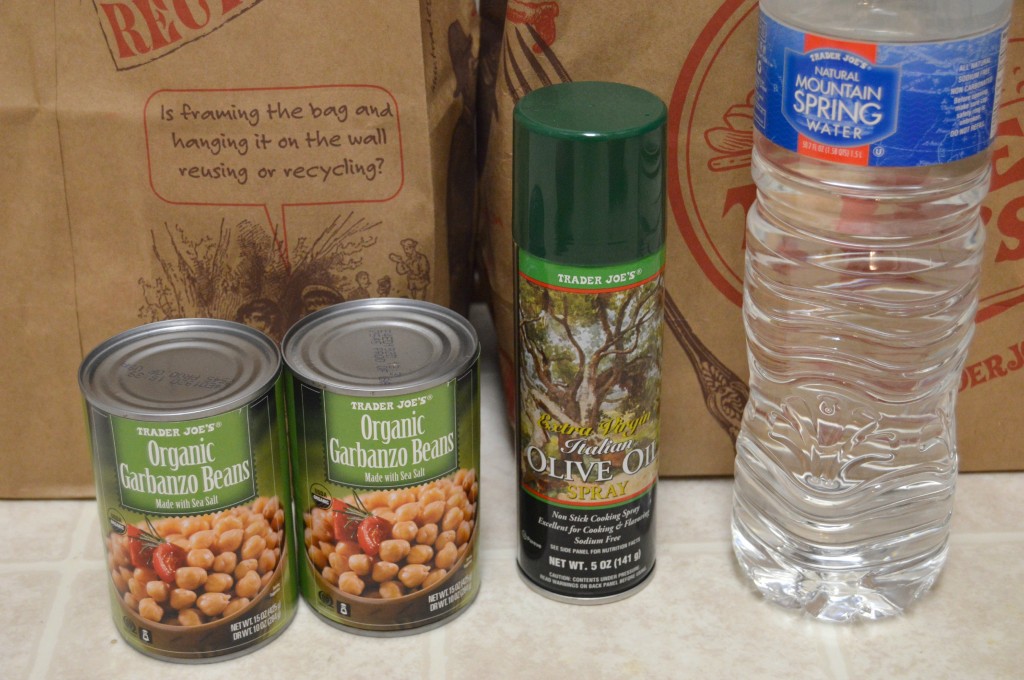 I also purchased organic chickpeas (I refuse to call them garbanzo beans), extra virgin olive oil spray, and a gigantic bottle of water to help me up my water intake.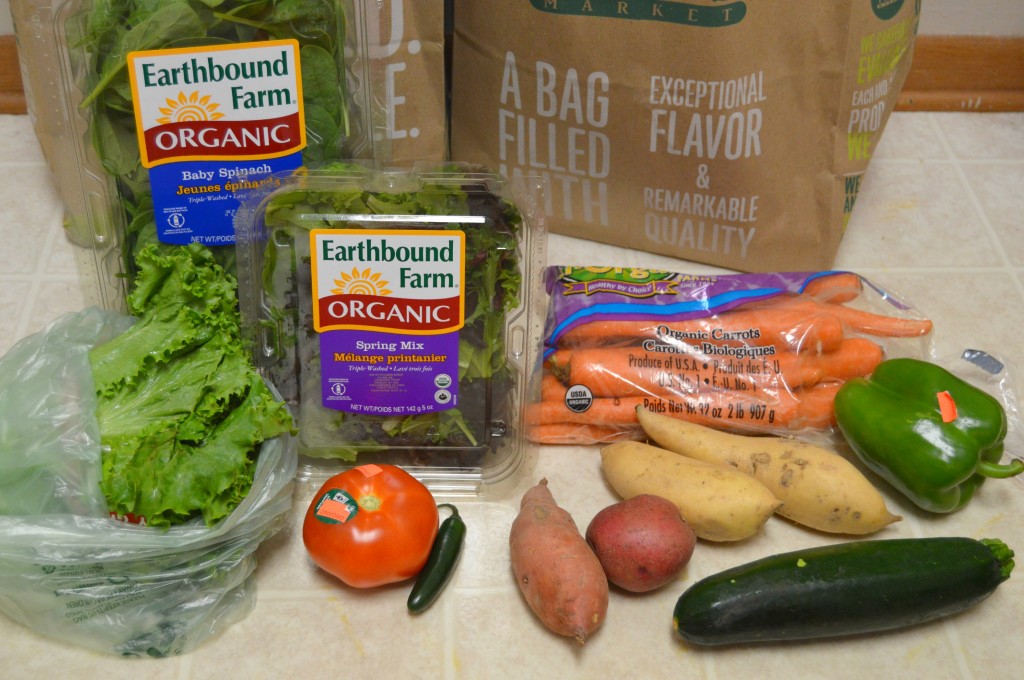 I generally get the bulk of my food from Whole Foods.  On this shopping trip I picked up organic Romaine lettuce, organic spinach (yes more… hello smoothies!), organic spring mix, an organic tomato, a serrano pepper, organic potatoes, organic carrots, an organic green pepper, and an organic zucchini squash.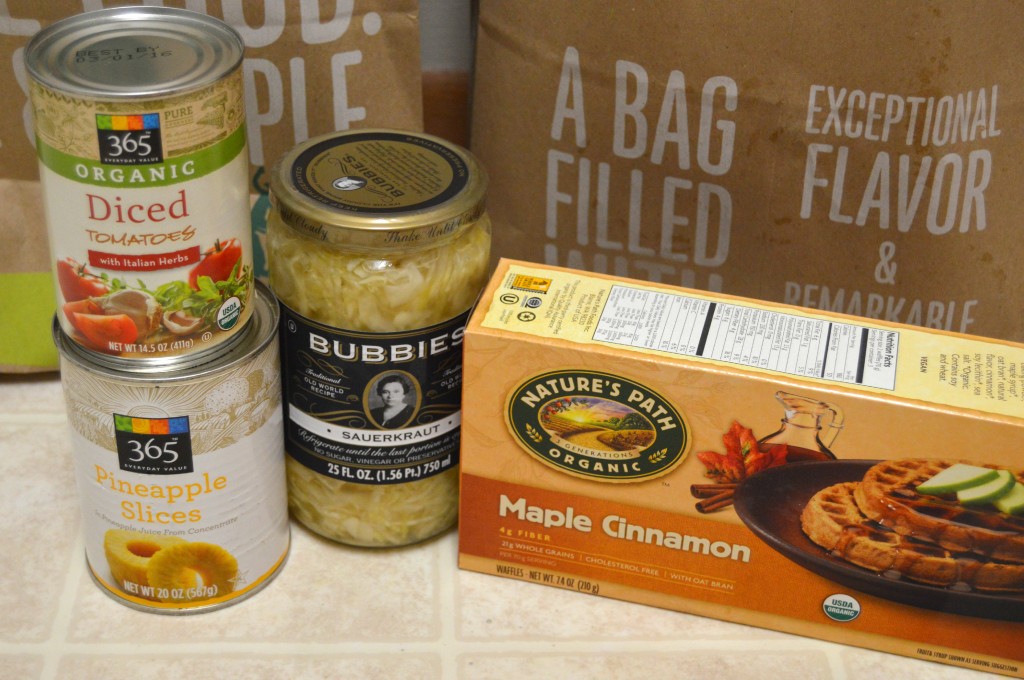 Some more staples of mine: waffles for breakfasts, sauerkraut (this brand is expensive, but SO good!), organic tomatoes, and pineapple (for pizza and salads).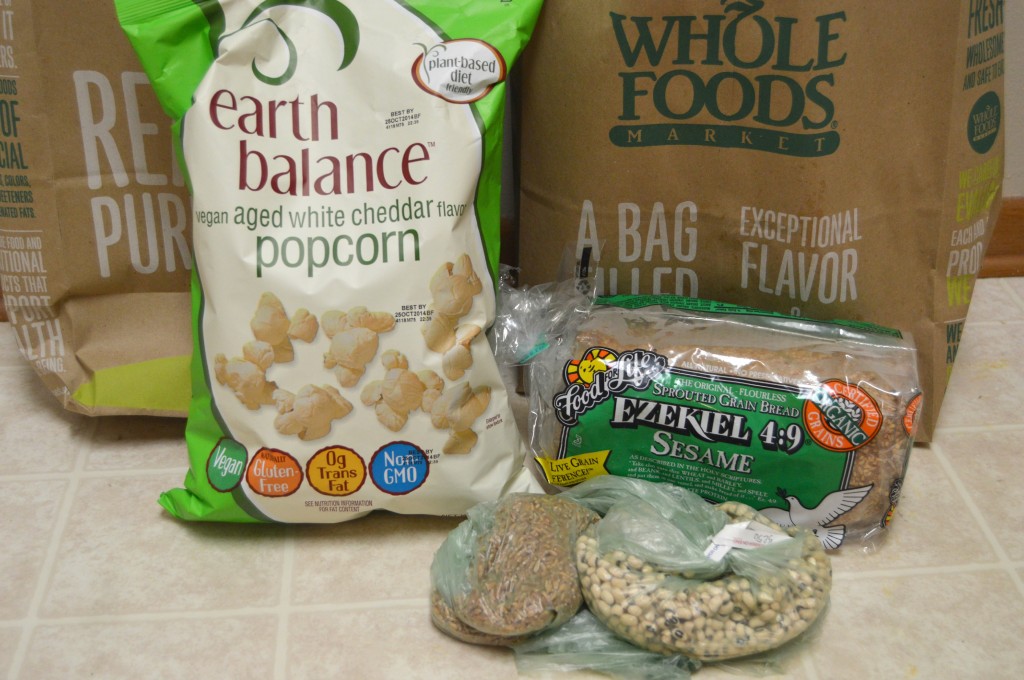 And lastly, my grains: Ezekiel bread, the best vegan "cheese" popcorn, and blackeyed peas and farro from the bulk bins.
I do not have a tally of how much my purchases cost (maybe I am trying not to think about it), but next time I will try to add it all up so that you have an idea about how much I spend in a week.  One of these days I am going to do a grocery budgeting series too.  Would that be of interest to any of you?
And now about that delicious recipe…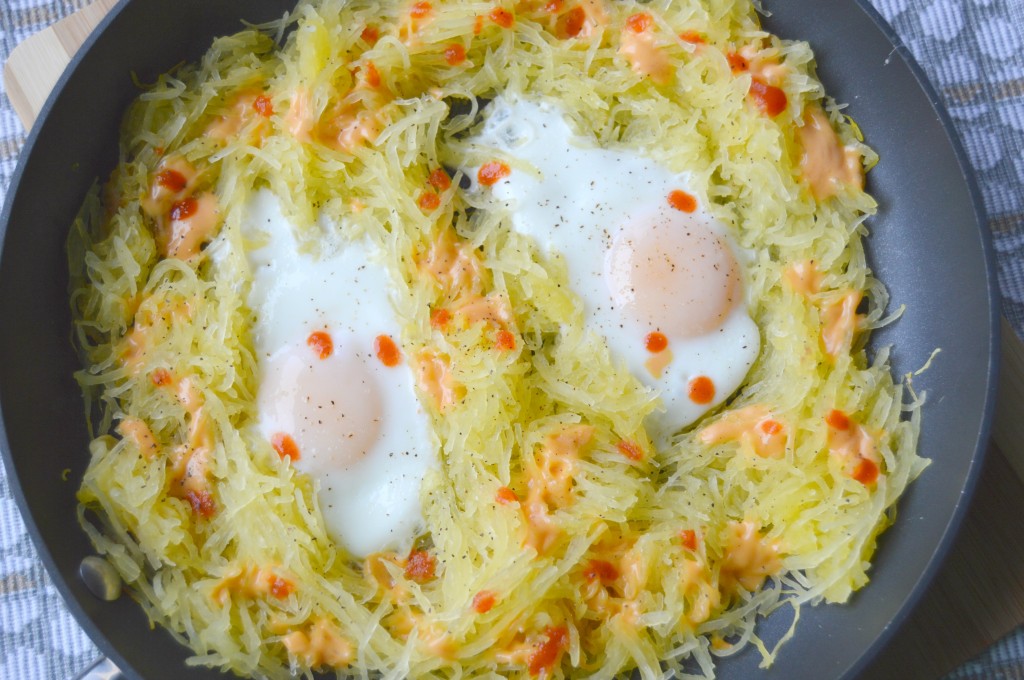 I mentioned my obsession with Kristina's Popped Quinoa and Cheesy Eggs awhile back and have been hooked ever since.  On one of the recent occasions when I was eating it, I got to thinking how delicious it would be with spaghetti squash now that it is squash season!  This was not the first time I had combined squash and eggs, but the cheesy addition made the combination even better.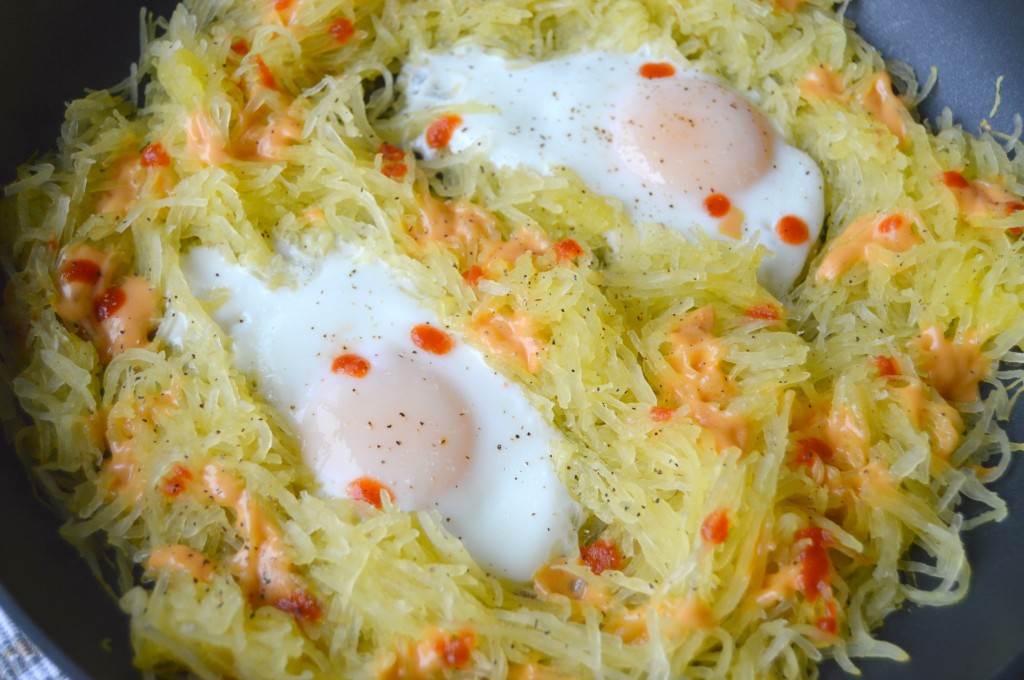 Spaghetti Squash and Eggs with Cheese
Serves 1-2 (1 for me)
Ingredients

olive oil cooking spray
1 small-medium spaghetti squash (depending on how hungry you are)
2 large eggs (organic and cage-free, if possible)
1 slice vegan Daiya cheddar cheese (or regular cheddar if not vegan)
black pepper, to taste
fine sea salt, to taste
sriracha sauce or ketchup
Directions
1. Preheat oven to 425 degrees F.  Line baking sheet with foil and spray with cooking spray.  Carefully cut the top off of the spaghetti squash, cut it in half, and scoop out the seeds.  Place the squash cut side down onto the baking sheet and roast for approximately 30 to 35 minutes.  Let cool.
2. After the squash is cool enough to be handled, use a fork to "shred" the squash into long strips resembling pasta.
3. Heat a large skillet over medium heat.  Spray with cooking spray.  Add the squash to the pan.  Cook for approximately 5 minutes or until slightly golden brown.
4. Move the squash around in the pan to make two "holes" for your eggs.  Spray these holes with cooking spray and crack an egg into each one.
5. Break the slice of cheese into small pieces and place throughout the squash.  Lower the heat to medium-low and cover with a lid.  You can also use shredded cheese for this part, but I find that the vegan slices melt better than the shreds.
6. Once the eggs are cooked to your liking, remove the pan from the heat.  Add pepper and salt to taste.  Top with sriracha sauce, ketchup, or both!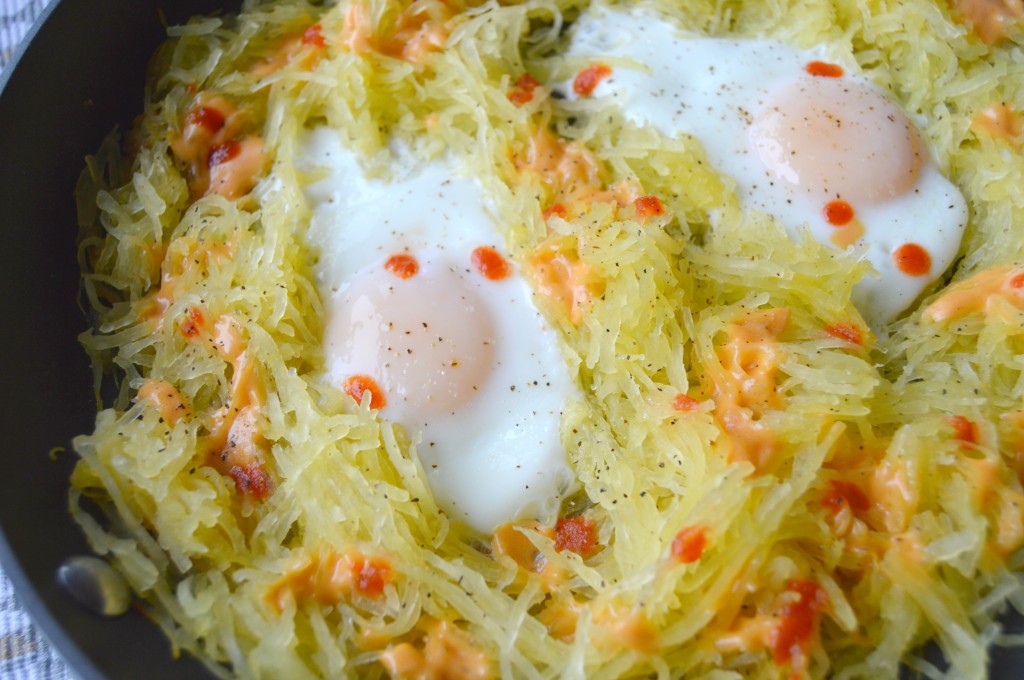 I am telling you right now that this makes for the perfect Fall breakfast or dinner.  It is also a wonderfully easy, healthy, and delicious way to use up leftover spaghetti squash that you might have sitting in your fridge.  We can't be letting that go to waste now can we?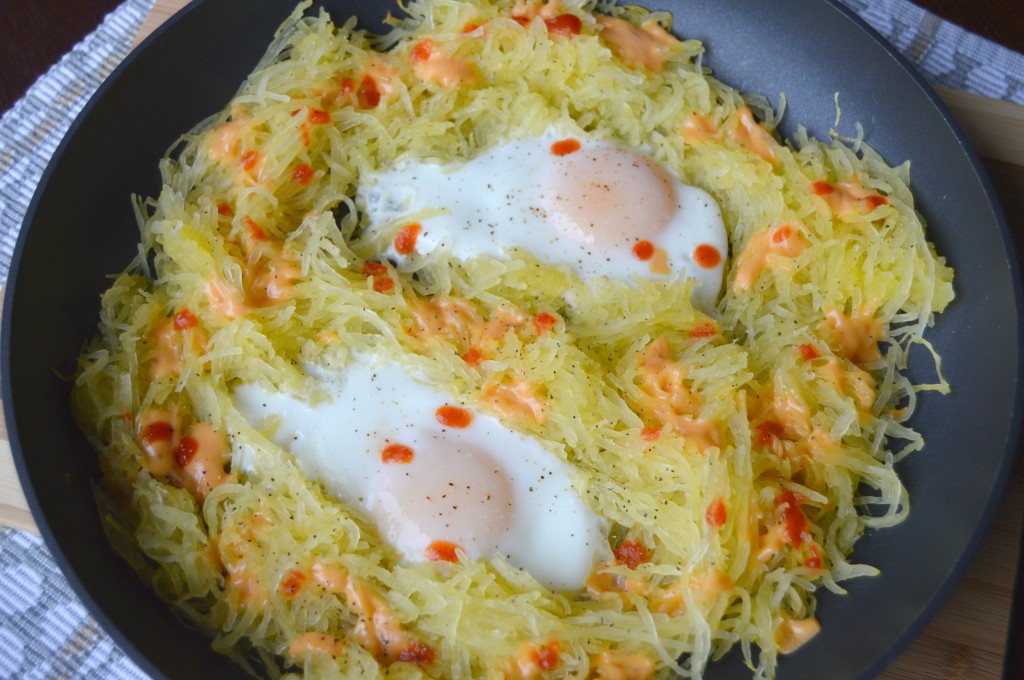 I did not actually eat this out of the pan but it sure looks pretty this way.  Instead, I sloppily attempted to slide it onto a plate.  I am sure you can understand why I am showing you these pictures and not the aftermath.  It is about how it tastes and not how it looks, or at least that is what I am telling myself!
What staples do you have in your grocery bags each week?
Are you a spaghetti squash lover?  I am!  Check out more recipes here, here, and here.