A delicious vegan buffalo sandwich that will leave you asking, "who needs chicken?"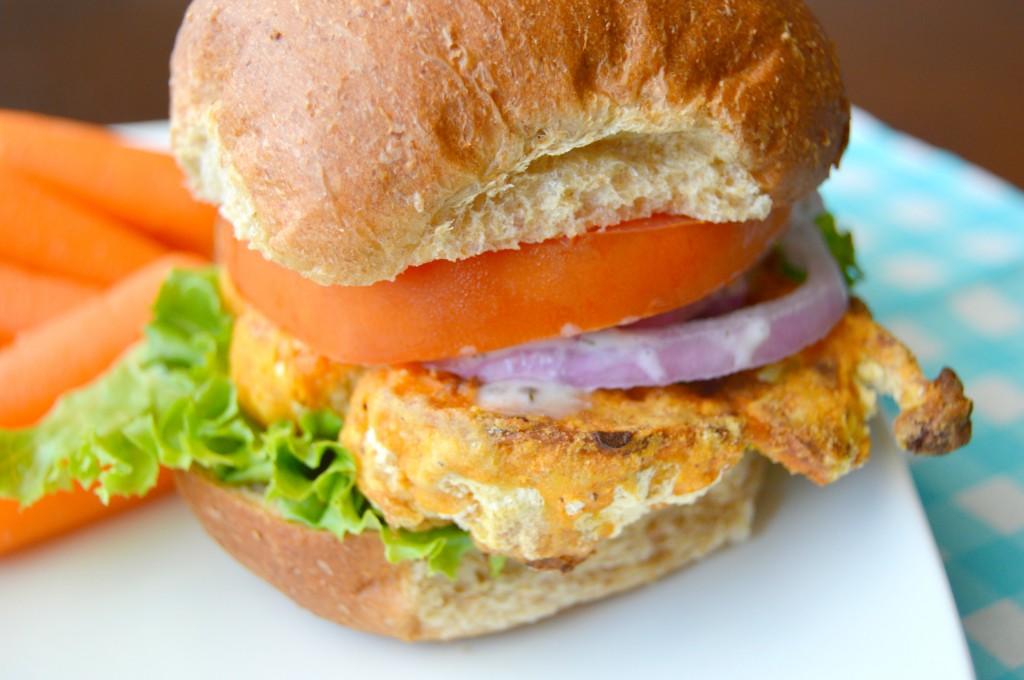 Not convinced?  Well, it sounds like I need to prove you wrong!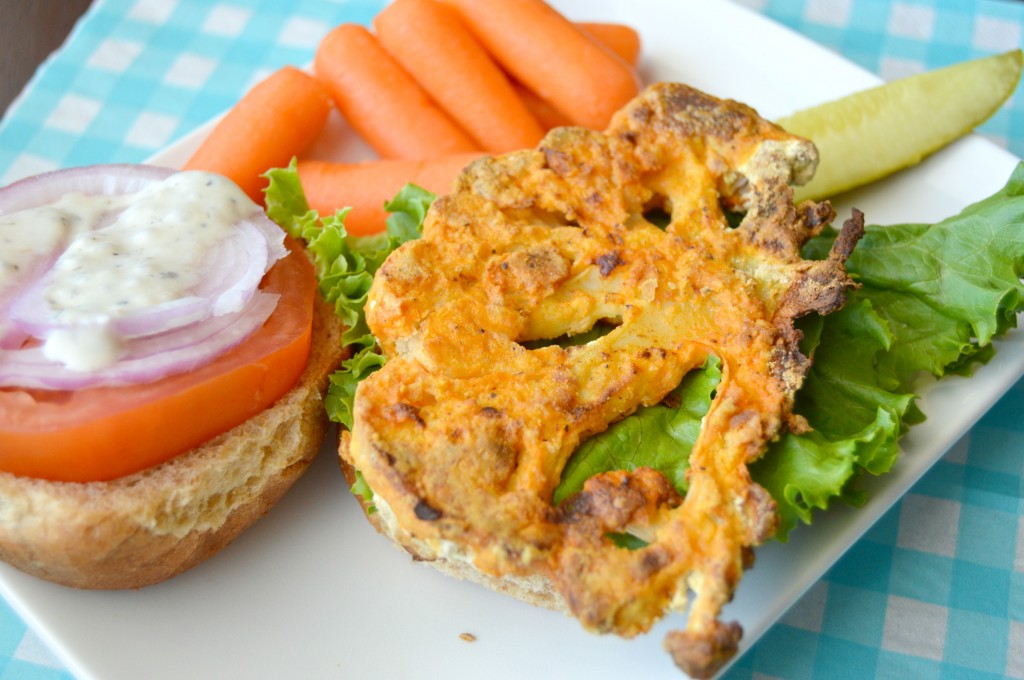 Since becoming a vegetarian about two and a half years ago, there are really only a few meaty foods that I really miss.  And guess what?  Chicken is not one of them.
But… after making vegan cauliflower buffalo wings a few months ago (and several times since), I have become hooked on all things buffalo and cauliflower "chicken."  While eating said wings a few weeks back, I decided that something similar would make for the perfect buffalo "chicken" sandwich.  Pretty much everything is ten times better in sandwich form.  Please tell me you at least agree with me on that part.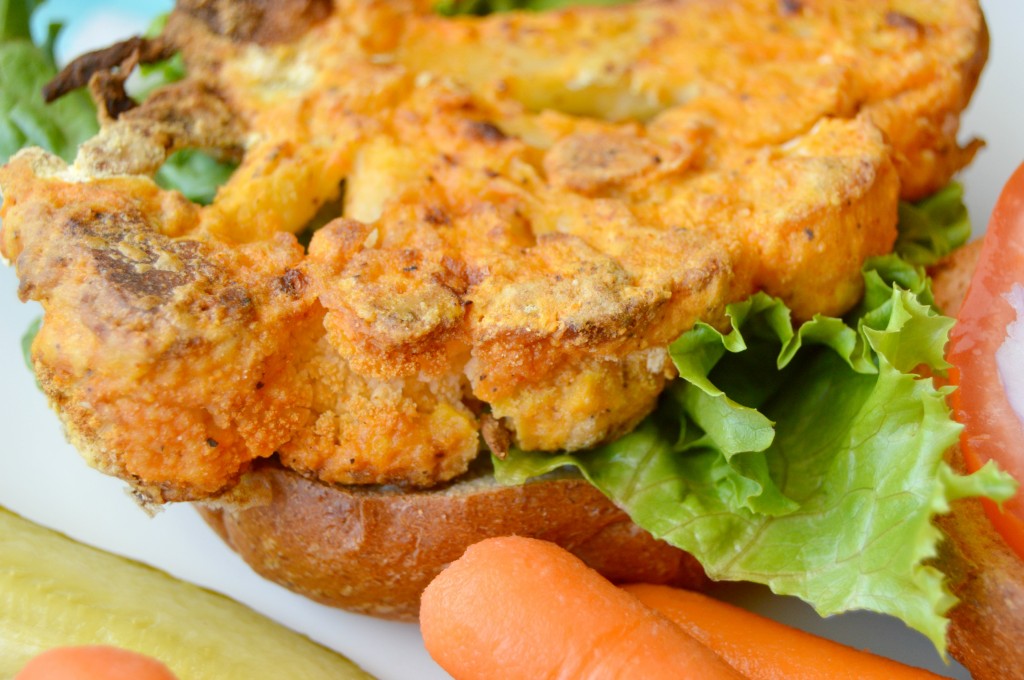 This sandwich could not be easier to make.  In fact, it is probably five times easier to make than the wings and requires a whole lot less cutting- which is a huge plus in my book because I am definitely not a veggie-cutting lover by any means.  Do those people even exist? 😉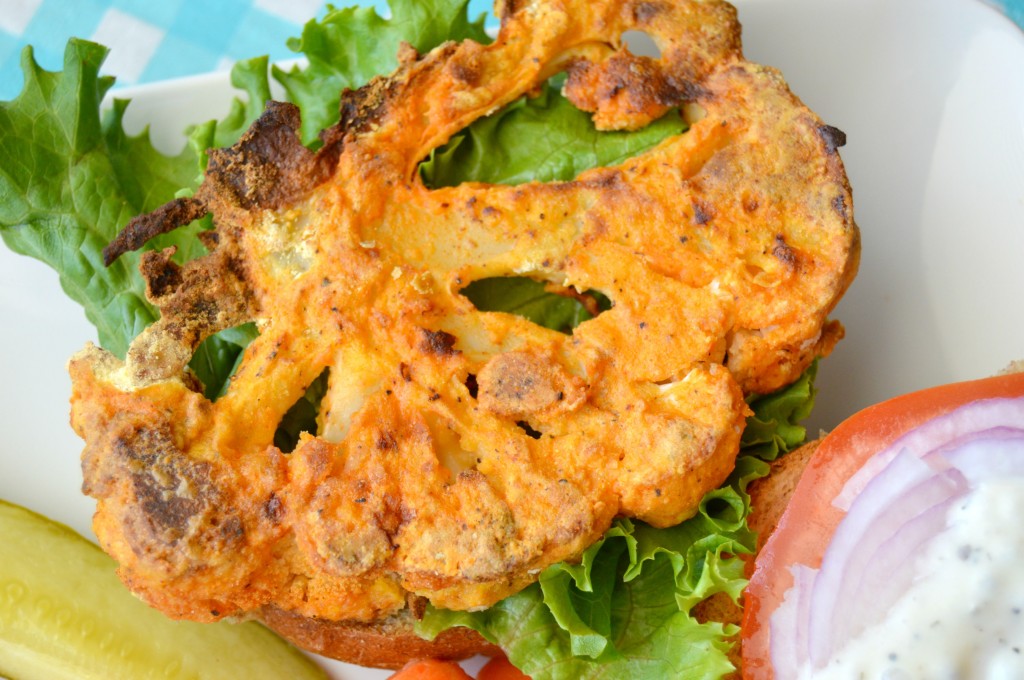 Making this sandwich is simple.  Just slice, dip, bread, and bake.  Sounds easy, right?  I bet it also sounds pretty healthy, too?  It is both.  Easy and healthy, but also so crispy, flavorful, and delicious.  Somebody please go make me one of these right now because I feel a craving coming on… for breakfast!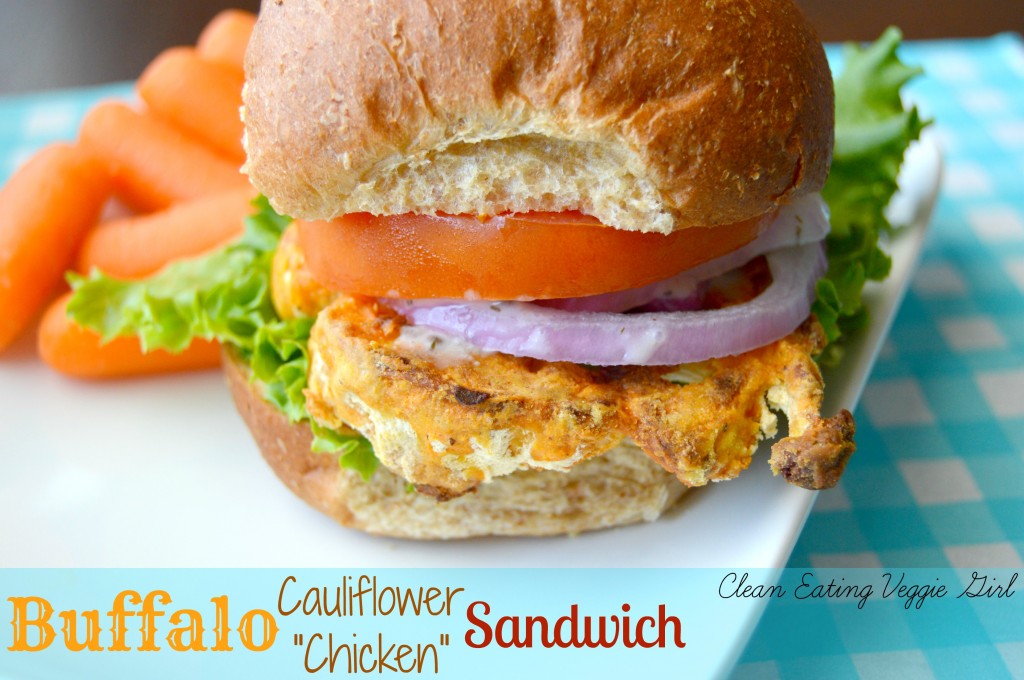 Buffalo Cauliflower "Chicken" Sandwich
Vegan
Adapted from this recipe for Cauliflower Buffalo Wings
Serves 2
Ingredients
1 medium head of cauliflower
1/2 cup unsweetened plain almond milk
2 to 3 TB buffalo sauce (depending on how spicy you want it)
1/2 cup chickpea/garbanzo flour
1/4 tsp black pepper
1/4 tsp garlic powder
1/4 tsp onion powder
1/8 tsp fine sea salt
dash cayenne pepper
2 whole wheat hamburger buns
sandwich fixings- lettuce, red onion, tomato, and vegan ranch for me!
Directions
1. Preheat oven to 400 degrees F.  Lightly spray a baking sheet with olive oil spray.  Set aside.
2. Cut the head of cauliflower in half, leaving the "stem" intact.  From each half of the head of cauliflower, cut 1-inch thick slices from the flouret part of the cauliflower down to the stem.  Continue to leave the stem intact.  You will likely end up with two sandwich-sized pieces of cauliflower, though I baked a few extra smaller pieces and ate them on the side- because they are so good!
3. In a shallow bowl, whisk together the almond milk and buffalo sauce until well-combined.  In a separate shallow bowl, combine the flour and spices.
4. Bread the cauliflower by dipping it into the buffalo sauce mixture (reserve leftovers) and then transferring it to the second bowl and coating it with the flour/spices mixture.
5. Place the cauliflower onto the baking sheet.  Repeat with remaining pieces of cauliflower.
6. Bake cauliflower for apprpoximately 20 minutes.  Flip and continue baking approximately 15 minutes, or until both sides are golden brown.
7. Using a basting brush, brush the cauliflower with the remaining buffalo sauce mixture.
8. Bake an additional 10 minutes, or until crispy.
This is a perfect weekday lunch.  This is a perfect weekend dinner.  This is perfect for Fall, perfect for football, perfect for tailgates.  In other words, I am kind of a BIG fan of this one.
I love everything that I post here on CEVG (otherwise I would not post it), but this is one that I am extra excited about sharing.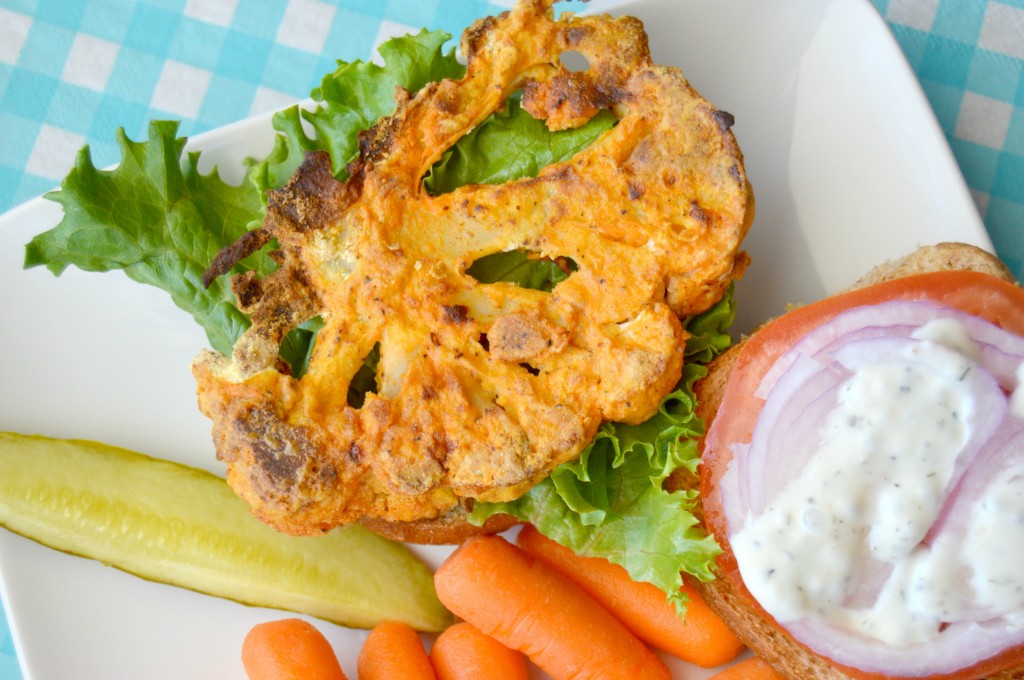 I served my buffalo cauliflower "chicken" on a whole wheat bun with lettuce, tomato, red onion, and vegan chia ranch dressing.  A dill pickle spear and veggies were a must too!  You cannot have buffalo "chicken" without either carrots or celery, right?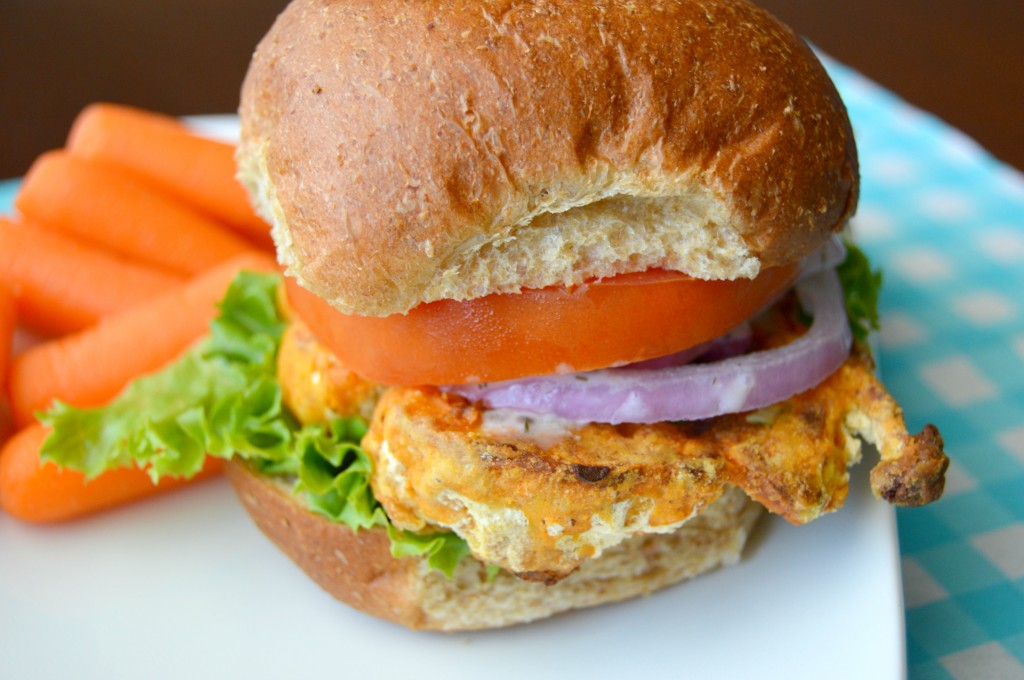 Looks like chicken, right?  Pretty cool, I know.  Turns out it doesn't taste just like chicken, but I happen to think it tastes even better (from what I remember chicken tasting like)!  This is definitely one of the best sandwiches I have ever eaten that is literally made out of a vegetable.  If I haven't convinced you yet, please tell me you agree that healthy is delicious!
Are you a fan of the buffalo cauliflower trend?
Like what you see?  Please pin on Pinterest and share on  Twitter using the buttons below!