This easy recipe for Chocolate Pretzels enables you to have a delicious and healthy snack in five minutes flat.
Remember yesterday when I got all crazy and mentioned the upcoming Christmas holiday?  I hope you don't hate me for that!  And to take it even further, I am going to come out and admit that I am actually a teensy bit excited about the fact that Christmas is less than six months away.  What can I say?  I am a Christmas lover through and through.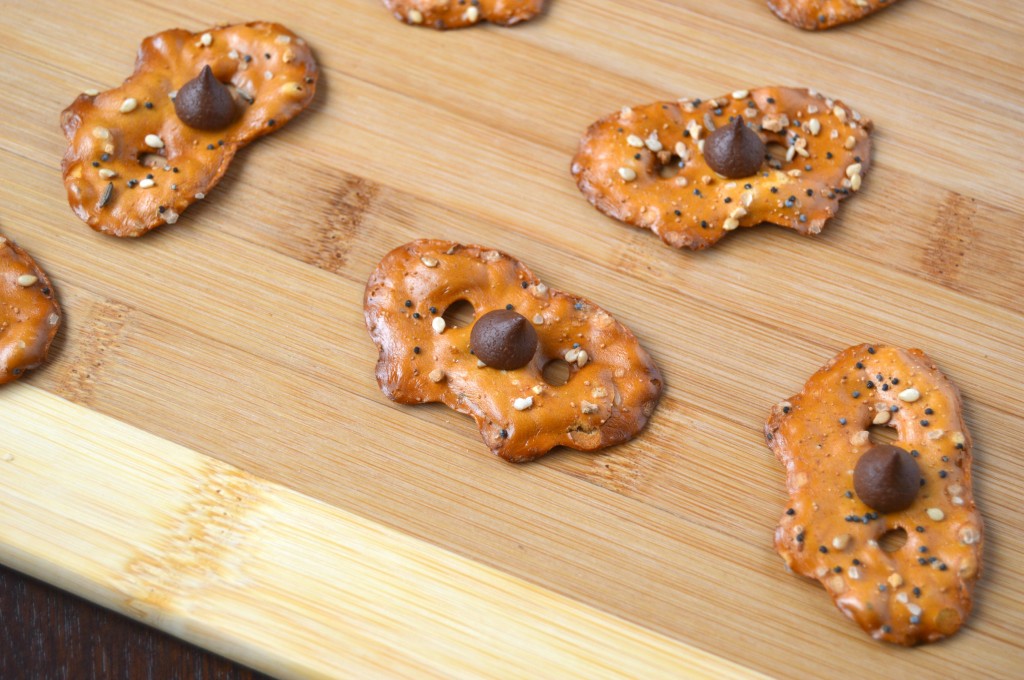 While Christmas is a wonderful holiday for spending time with family and friends, I must confess that one of the main things that gets me so excited about Christmas is the food.  I am a self-proclaimed "foodie" after all, right?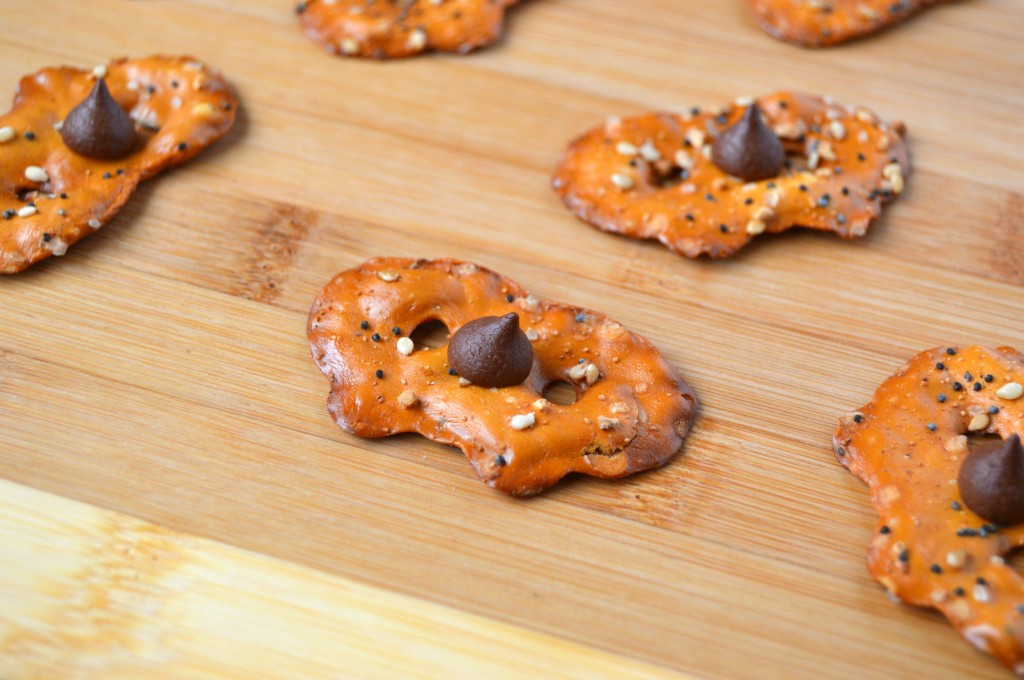 Of course the best foods are the sweet foods.  I love chocolate pie.  I love cake.  And I love a good sugar cookie.  I mean seriously, what is Christmas without sugar cookies?  But one of my all-time favorite desserts that I instantly associate with the holidays is chocolate covered pretzels.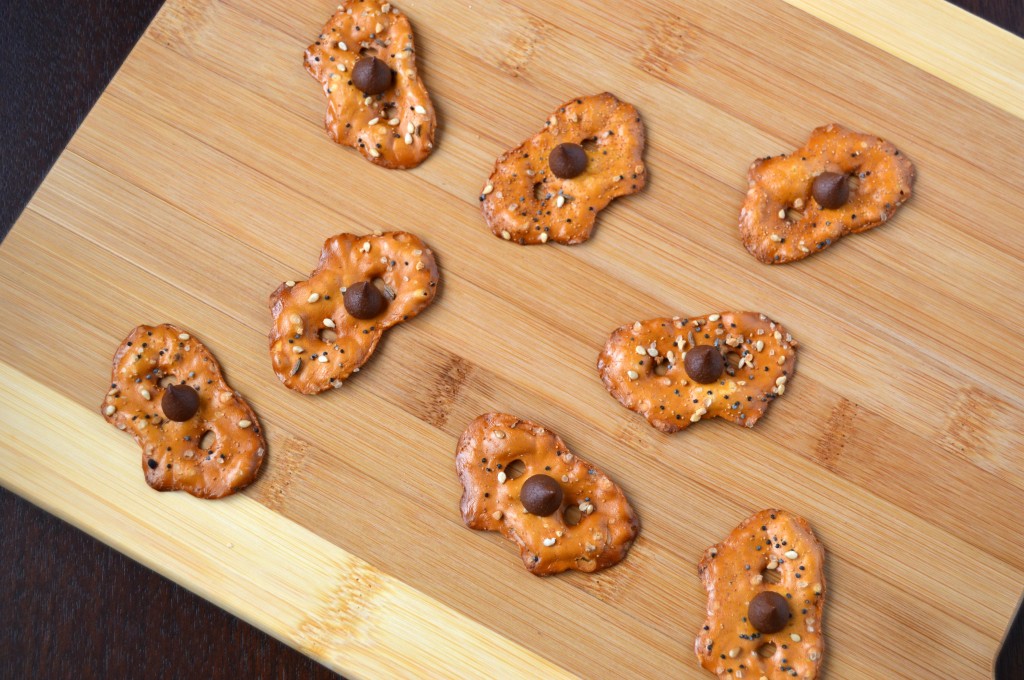 While I love to eat about a million chocolate covered pretzels around the holidays, I don't particularly enjoy making them.  No matter what I do, I almost always tend to make a giant mess on my counter, get dried chocolate in my sauce pan that is impossible to clean out, and take three times longer making the pretzels than I originally anticipate.  Naturally, I had to come up with a solution.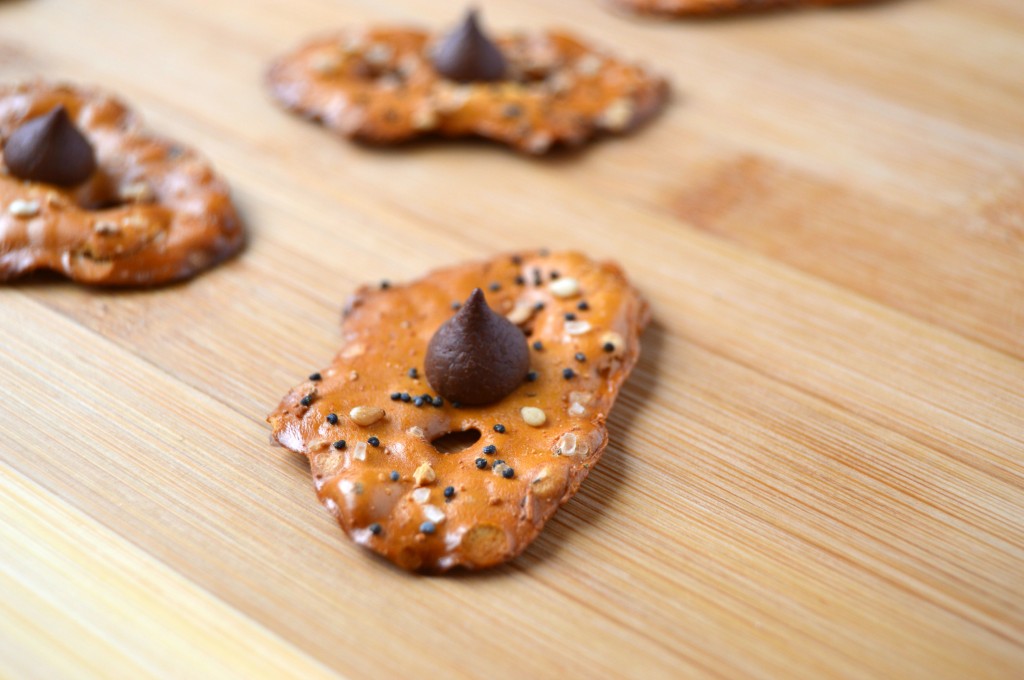 While I am in no way saying we should all replace our traditional chocolate covered pretzels- it is kind of obligatory to make them in the month of December- I am saying that we can and should make a much simpler version during the non-holiday months when the craving strikes!  These aren't exactly "covered" with chocolate, but trust me when I say that the sweet and salty chocolate/pretzel flavor is definitely there!
Oh, and I'm not sure I can really call this a "recipe," but let's go with it!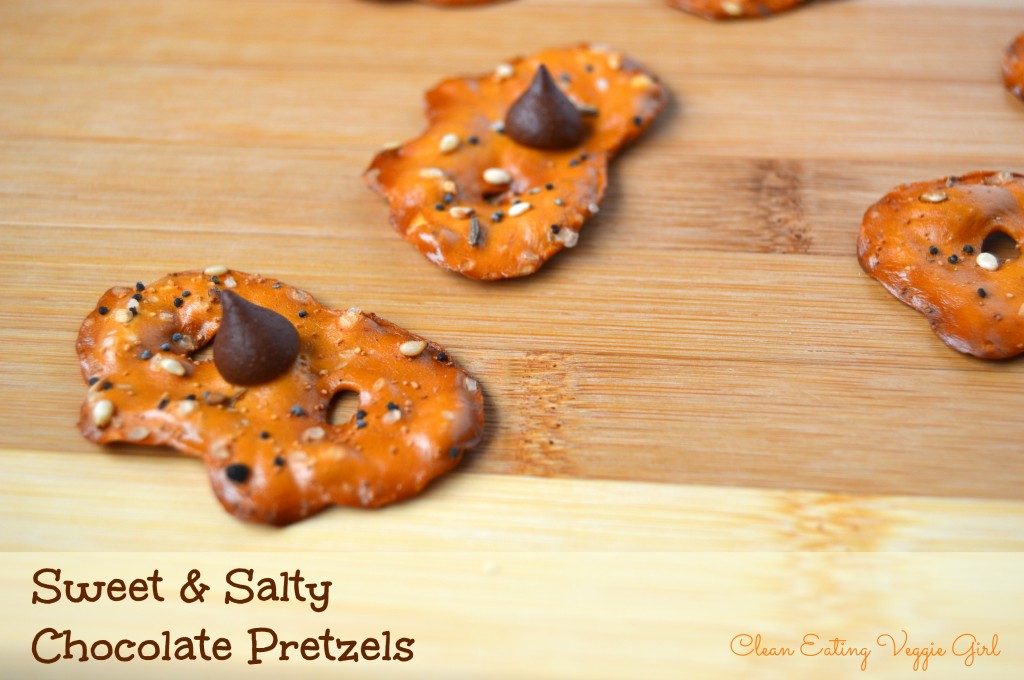 Healthy Sweet and Salty Chocolate Pretzels
Vegan
Servings: Makes 20 pretzels (snack for one)
Ingredients
20 pretzel slims (I used "Everything" pretzel slims from Trader Joe's)
20 dark chocolate or dairy-free chocolate chips or chunks
Directions
1. Preheat oven to 350 degrees F.
2. Place pretzel slims onto a baking sheet.
3. Top each pretzel slim with a chocolate chip or chunk.
4. Bake for approximately 5 minutes, or until the chocolate is warm.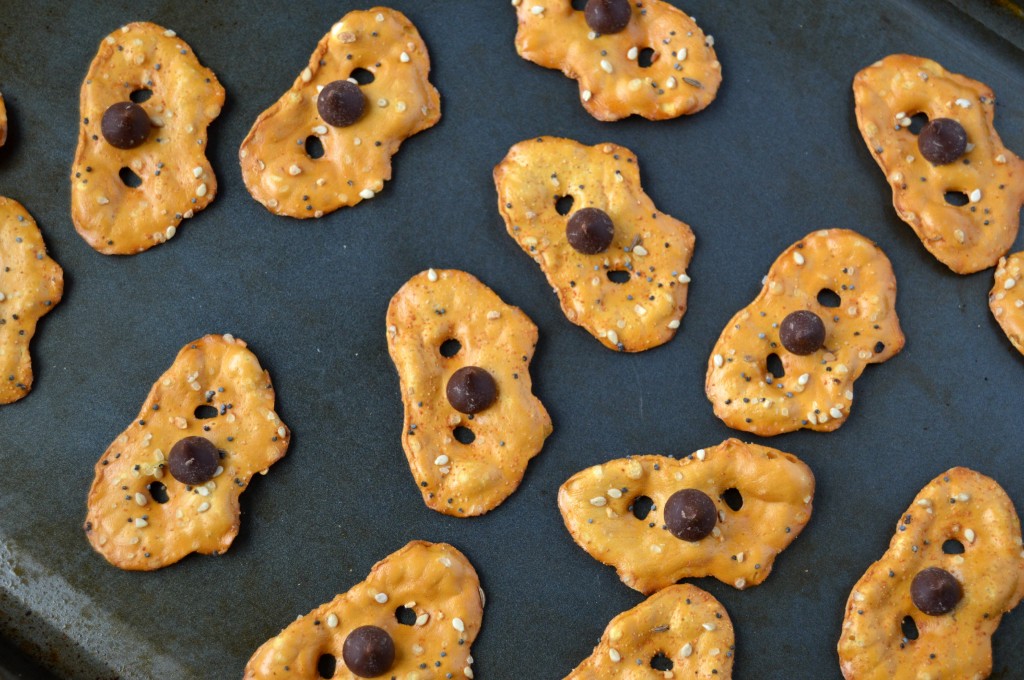 Depending upon the type of chocolate that you use, it may not be very melted coming out of the oven.  However, I can promise you that it will be warm and creamy when you bite into it.  That's what counts, right?
*Side note/suggestion: I found that the tastiest way to eat these are to flip them over (the chocolate will stick to the pretzel) so that the chocolate hits your tongue first.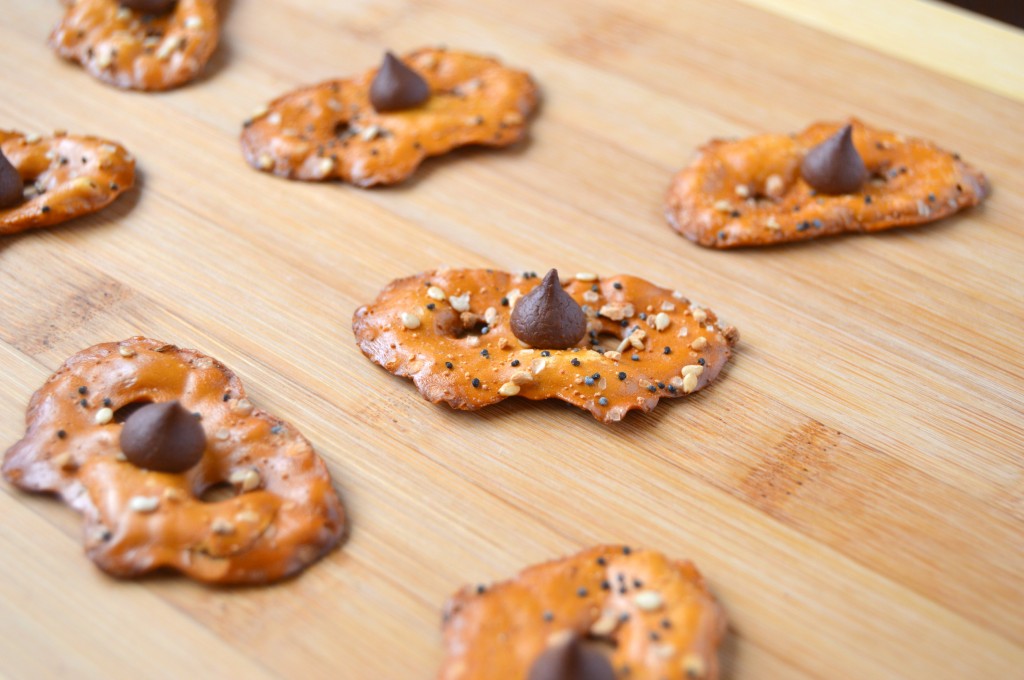 These pretzels have just the right balance of sweetness and saltiness but if you like things extra sweet (or are just a major chocolate lover), you just may want to add two chocolate chips per pretzel.  There is no harm in that!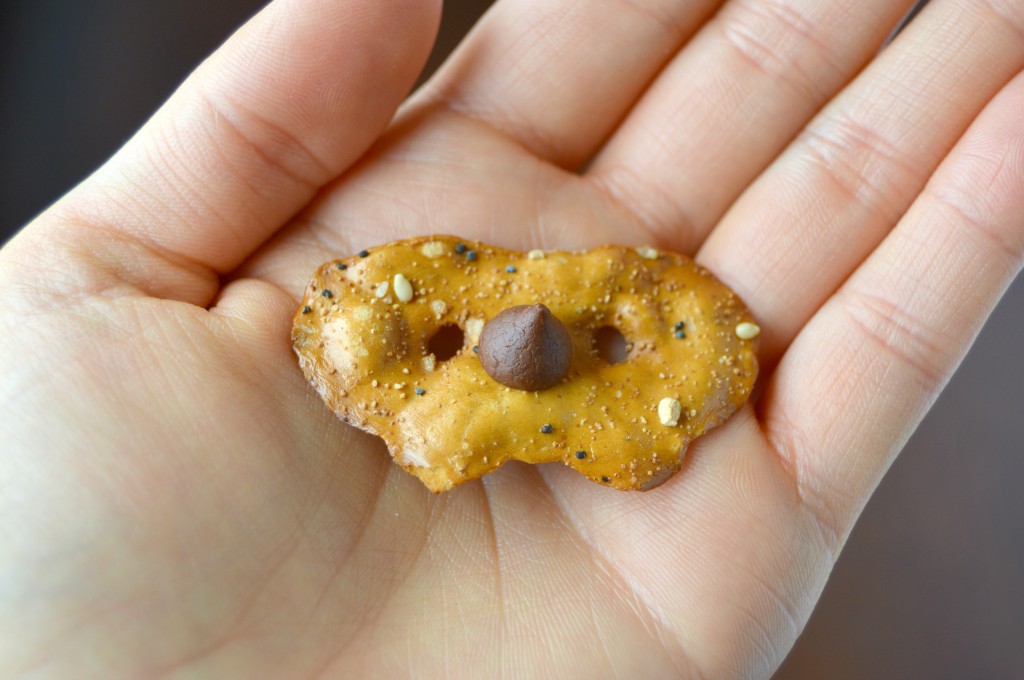 This x 20 = the perfect sweet and salty snack that you can feel great about eating.
And you might feel so great about eating these that you may need to make a double batch.
Are you a sweet and salty fan?