This waffle recipe features two of my favorite breakfast ingredients: blueberries and coconut.  This is the perfect weekend breakfast recipe for two.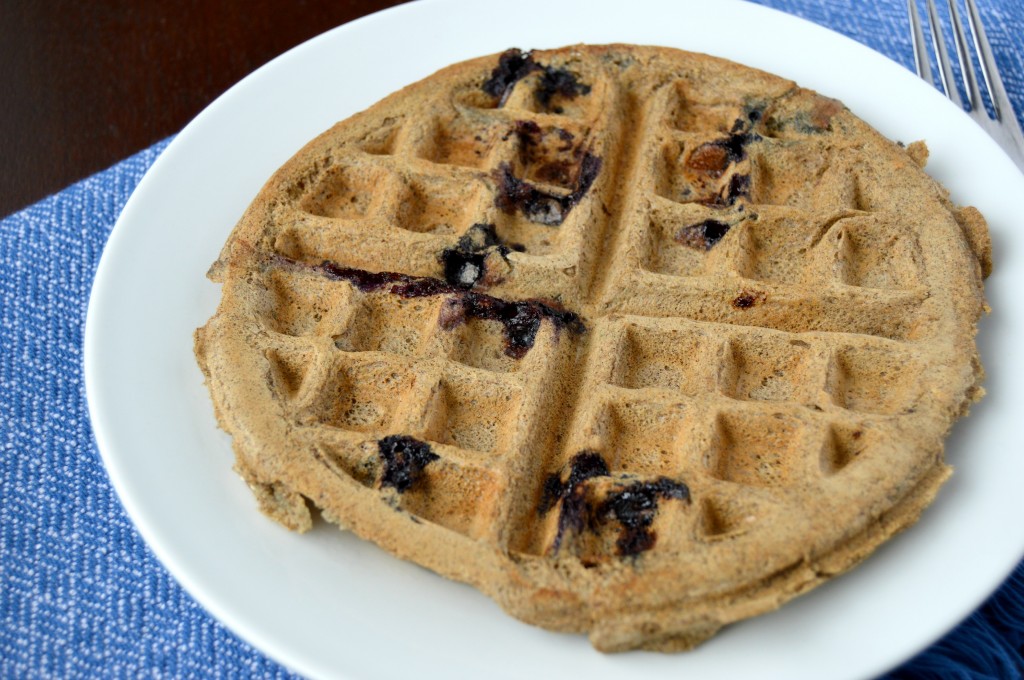 Breakfast deserves to be a little extra special on the weekends.  Don't get me wrong.  I love cereal, toast, and overnight oats for my first meal of the day, but on the weekends I like to put a little extra effort and time into what I am eating.  Not that waffles require a whole lot of extra effort, but you do need a little bit more time for the pre-heating, mixing, pouring, waiting, and topping process.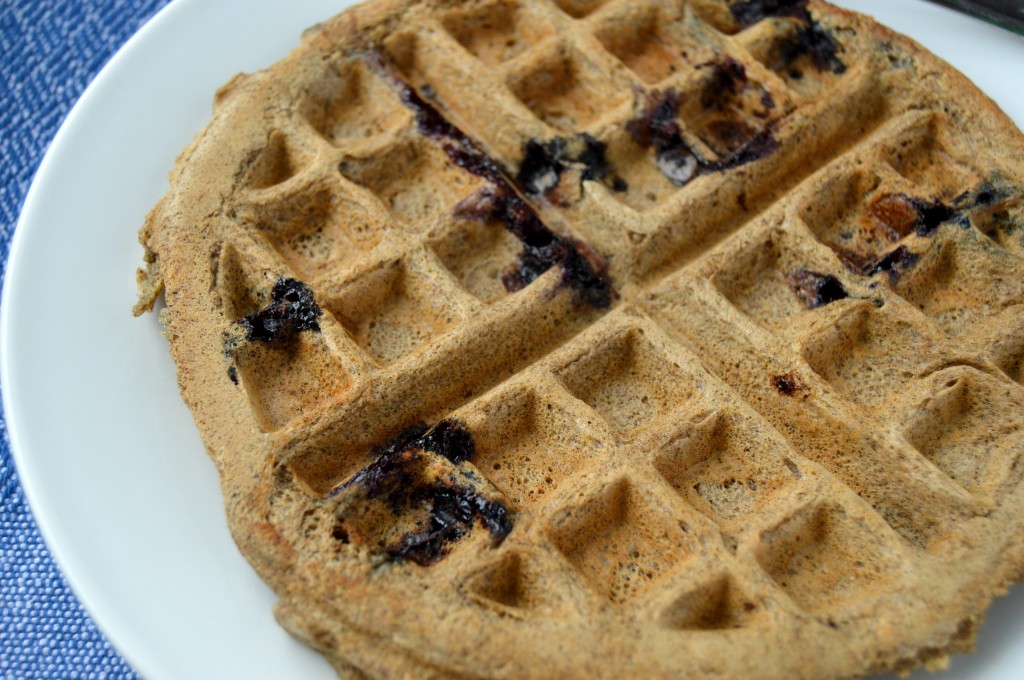 Luckily, waffles are so delicious (especially those with fruit and/or chocolate in them!) and totally worth that little bit of added time.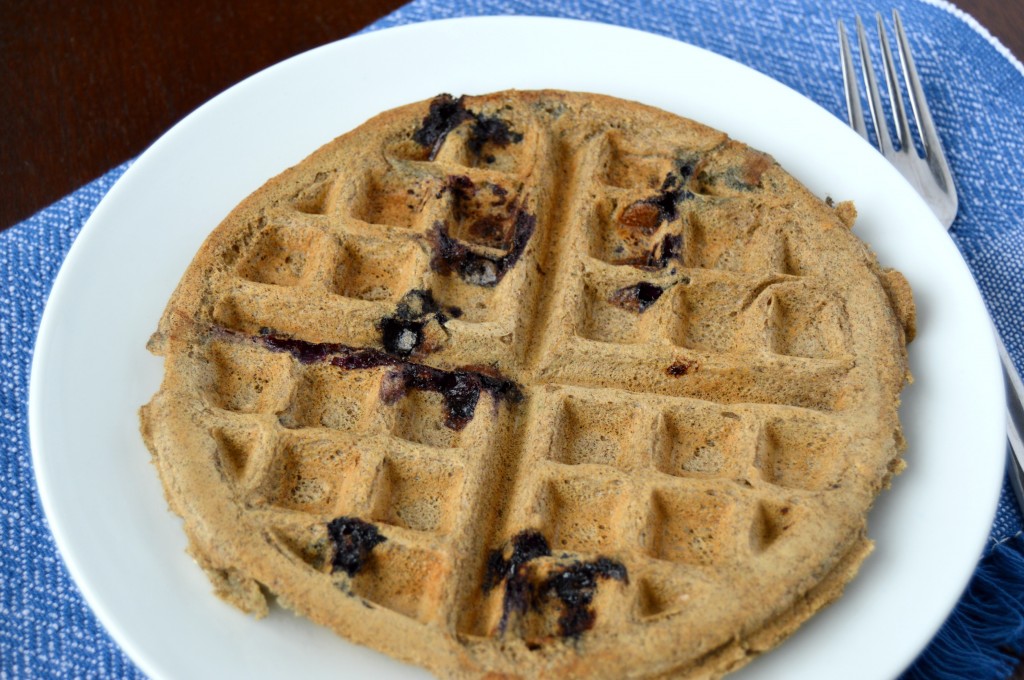 I used to never be much of a blueberry fan back in the day (silly me!), but luckily I have come around and my tastebuds have smartened up.  It is fun to actually crave blueberries not only as snacks but in baked goods and in my breakfasts.  And while I love a more traditional "plain" waffle, the added blueberries and coconut flavor in these waffles gives them a little something extra.  A little "oomph," shall we say?  I don't know about you, but I am always up for a little oomph, especially on the weekends!
(Now I just need to convert my blueberry-hating boyfriend into liking them!  I did get him to eat a blueberry on our vacation in Colorado.  That's a step in the right direction!)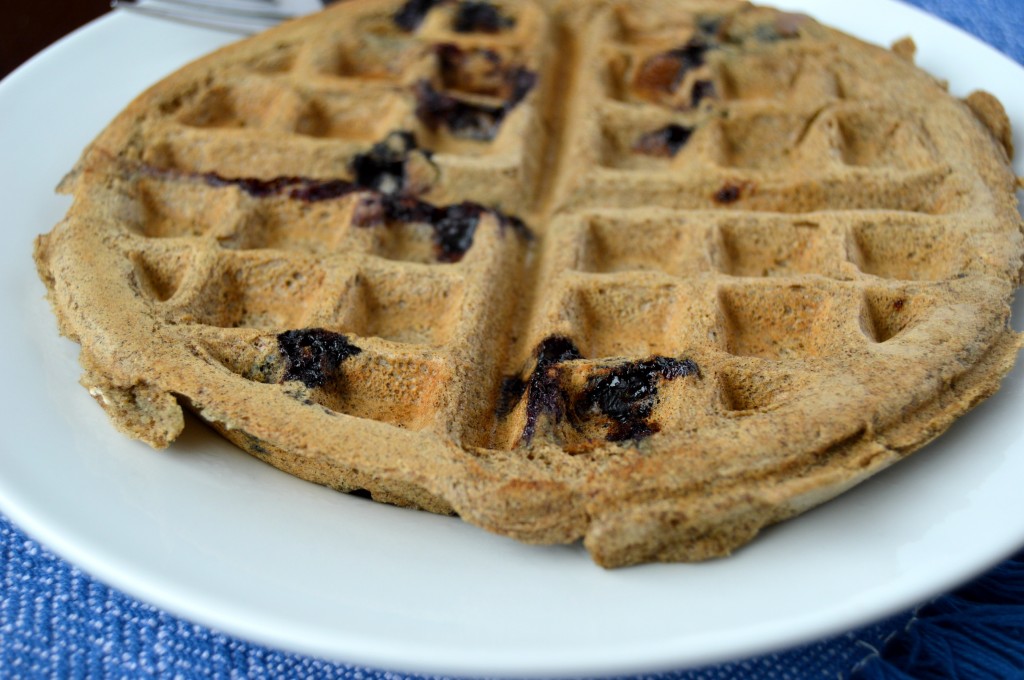 And since I normally cook for just myself, I love to make and develop recipes that are fit for one or two.  I will say, however, that these reheat beautifully!  I have not tried freezing them, but when I made these I ate one for my Sunday breakfast and ate the second one for breakfast the next day at work.  All you need to do is reheat it in the toaster to prevent it from getting soggy.  It works like a charm!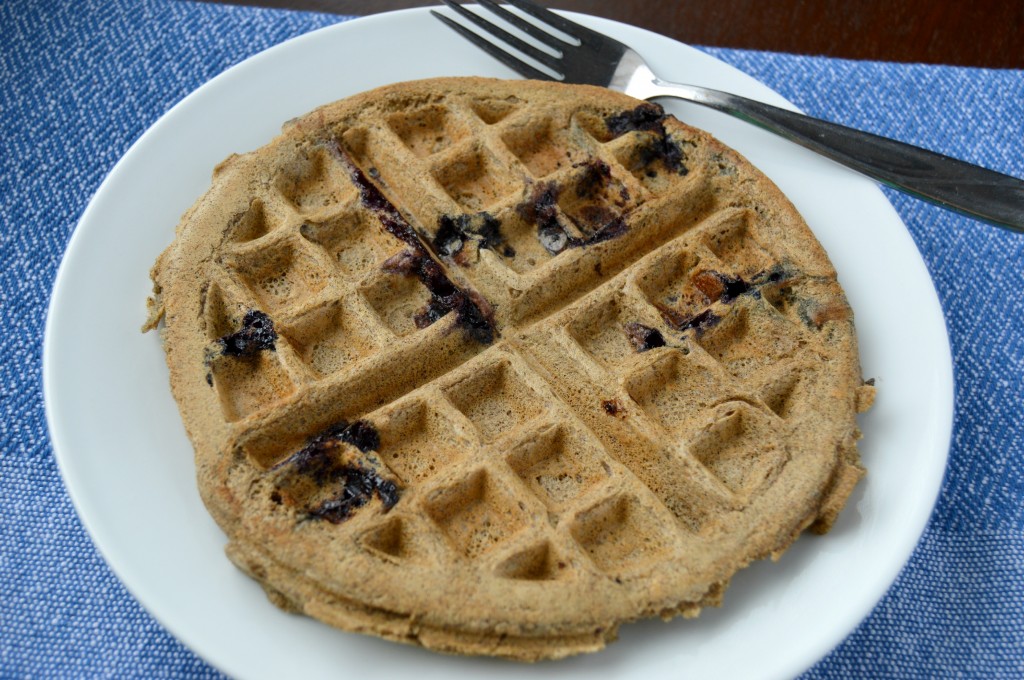 Blueberry Coconut Waffles for Two
Vegan
Adapted from this recipe.
Servings: Makes 2 waffles
Ingredients
1/2 cup whole wheat pastry flour
1/2 cup buckwheat flour
1 TB baking powder
1/2 tsp cinnamon
1/8 tsp fine sea salt
1 TB coconut sugar (or brown sugar)
1 cup unsweetened vanilla almond or coconut milk
1 1/2 TB coconut oil, melted
3 to 4 TB fresh or frozen blueberries
coconut oil cooking spray (regular works fine, too)
Directions
1.  Preheat waffle iron.
2. Mix all dry ingredients (flour, baking powder, cinnamon, salt, sugar) in a large bowl.
3.  Add milk and coconut oil to the bowl.  Stir until all ingredients are well-combined.
4. Gently stir in blueberries.
5. Before pouring waffle mixture onto waffle iron, spray the iron generously with coconut oil spray.
6. Pour specific amount of waffle mixture onto the waffle iron and cook according to your iron's instructions.  Make sure you do not lift the iron's lid until the "ready" light is illuminated, or the waffle will stick*
*I speak from experience on this one.  The result is not pretty!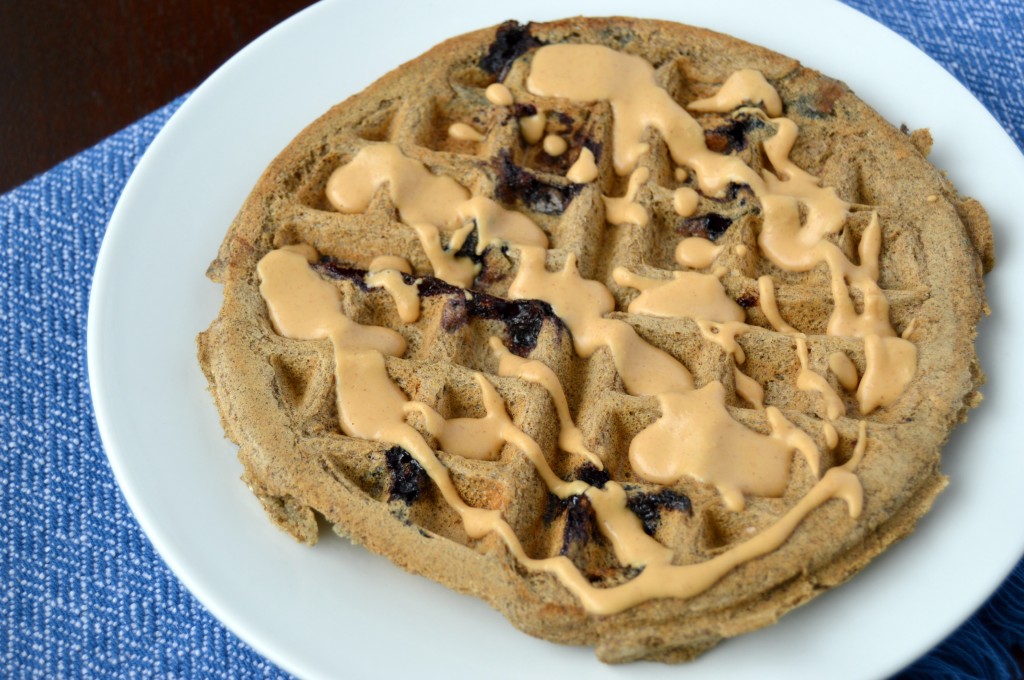 The topping options for these waffles are pretty much endless.  Maple syrup, nut butter, coconut flakes, blueberries, nuts, dried fruit…  the list goes on and on.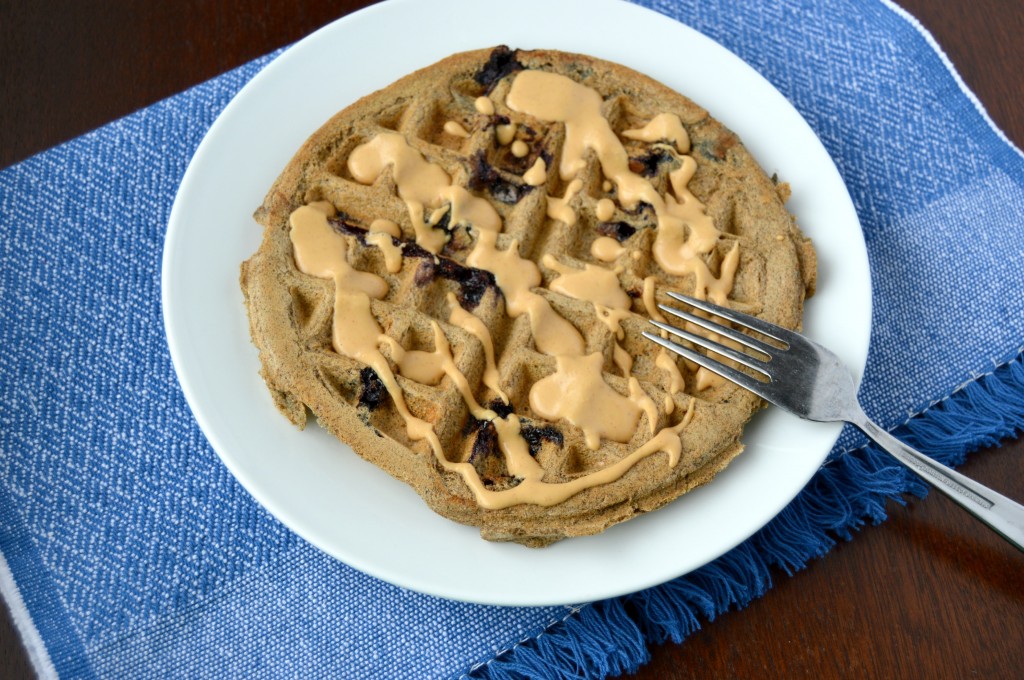 I chose peanut butter… or peanut "sauce," rather (peanut flour + almond milk).  I was really wishing that I had syrup and coconut flakes on hand too because those would have been scrumptious additions.  Scrumptious!  Hmm, I think I like that word!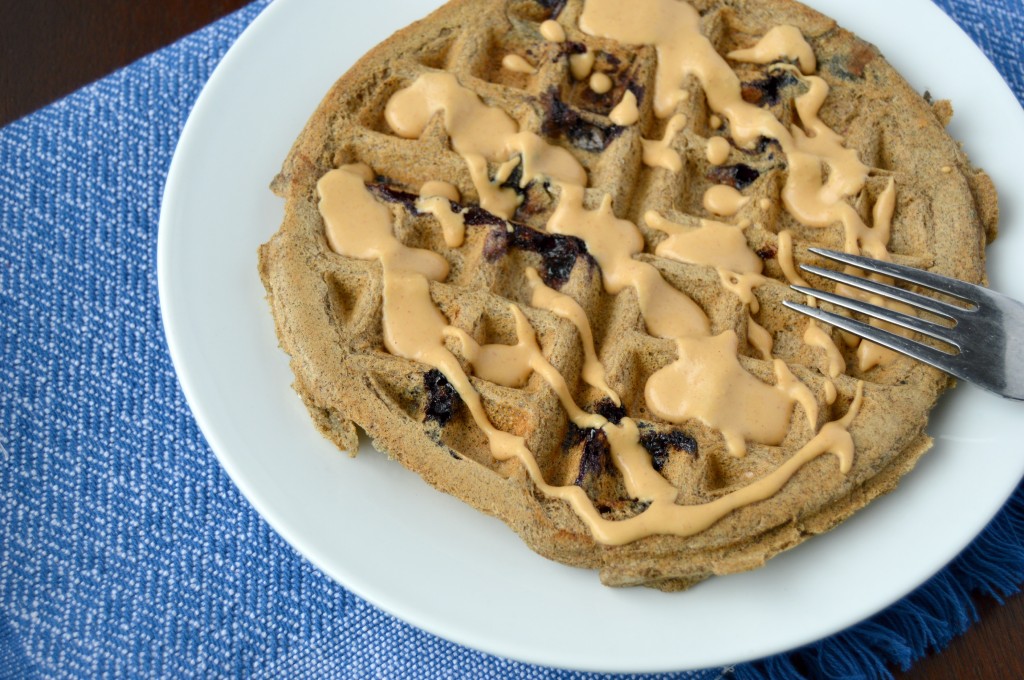 I also think these waffles would be wonderful with chocolate chips in place of the blueberries.  I don't know about you, but I love me some chocolate bright and early in the morning.  I will pretty much take any excuse to eat it!  But that is the beauty of these waffles, you can easily customize them to you and your family's likings when it comes to add-ins and toppings.
Let me know what fun creations you come up with!
What are you must have add-ins and toppings for waffles?