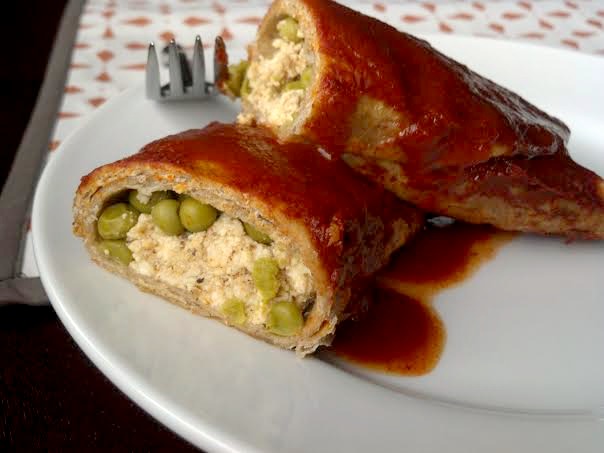 You are probably looking at this picture and thinking, "are those peas?"
And guess what?  Your eyes are not failing you.  These enchiladas do, in fact, contain peas.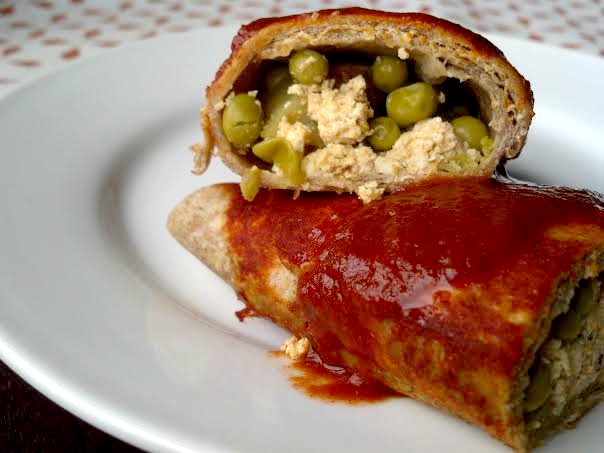 Now before you go thinking that I am crazy (or maybe you still will or already do…), hear me out.
My hometown is rather small and does not have a whole lot going on when it comes to the restaurant scene.  But one gem of a restaurant that is in existence (and has been for as long as I can remember) is a place called Vel's Amigos, or "Amigos" as most people refer to it.  Amigos serves absolutely fantastic Mexican food and they are quite known for their soft shell tacos and cheese enchiladas.  Their cheese enchiladas essentially include potatoes, peas, and a whooooole 'lotta cheese.  Basically, they are amazingly delicious.  Even the meat-eaters know that the cheese enchiladas are the way to go.  I grew up eating potatoes and peas in my cheese enchiladas and I am not going to stop now.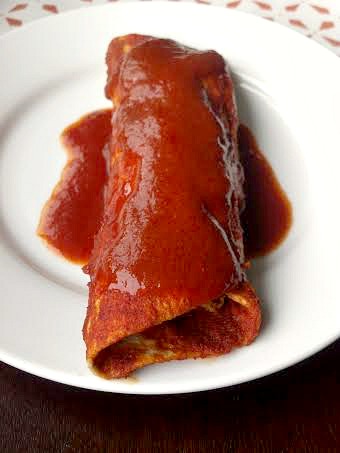 When I decided to develop a recipe for vegan "cheese" enchilada loosely based off of the ricotta "cheese" in my Vegan Vegetable Lasagana recipe, I knew that they would have to include potatoes and peas.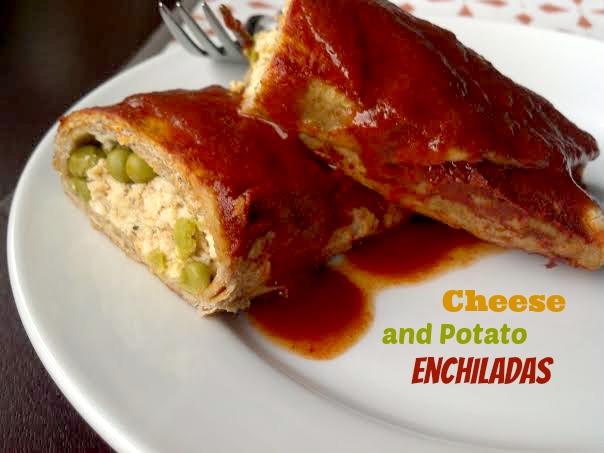 Cheese and Potato Enchiladas
Vegan
Makes four enchiladas
Ingredients
For the "cheese" filling:
1/3 of a 14 oz block of extra firm tofu, drained and pressed
1/4 cup red pepper hummus (or any "spicy" hummus)
1 TB nutritional yeast
1/4 tsp chili powder
1/8 tsp garlic powder
1/8 tsp onion powder
fine sea salt, to taste
black pepper, to taste
For the enchiladas:
1 medium russet or Yukin gold potato, diced
olive oil cooking spray
fine sea salt
black pepper
onion powder
garlic powder
1/3 cup canned sweet peas (I highly recommend canned and not frozen)
4 whole wheat tortillas
8 oz red enchilada sauce (I like this brand)
Directions
1. To prepare the potatoes, heat the oven to 425 degrees F.  Line a large baking sheet with foil and spray with cooking spray.  Place the diced potatoes onto the baking sheet.  Generously spray the potatoes with cooking spray and sprinkle with sea salt, black pepper, onion powder, and garlic powder.  Roast the potatoes for approximately 20 minutes, flipping once halfway through, or until golden brown.
2. While the potatoes are roasting, prepare the "cheese" filling.  Crumble the tofu into a medium bowl.  Stir in hummus, nutritional yeast, and seasonings until well-combined.  Gently fold in peas.
3. Once both the potatoes and the "cheese" filling are prepared, change the oven temperature to 350 degrees F.  Heat the torillas in the microwave for approximately 30 seconds to soften them.
4. Divide the "cheese" filling into four even portions and fill each tortilla with it.  Top the filling with the potatoes (one forth of the batch in each enchilada).
5. Roll the tortillas tightly and place into a baking dish that has been sprayed lightly with cooking spray.
6. Top the enchiladas with the enchilada sauce.
7. Bake the enchiladas for approximately 15 minutes.  Let cool for 5 to 10 minutes before serving.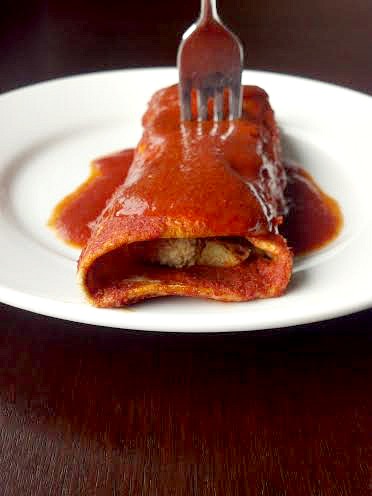 Put a fork in it  (and by "it" I mean "them" because you are going to want to eat more than one).
But don't just stop there.  Dig in and eat every. last. bite.  I also won't judge you for licking the plate.  Please tell me that I am not the only person who is guilty of doing so in the privacy of their own home.  Now if only I could do so at restaurants without being judged…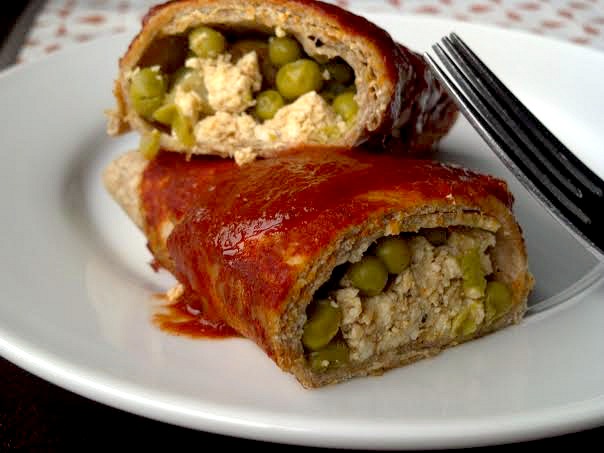 The "cheesy" filling combined with the sweet peas and the spicy enchilada sauce makes for the perfect balance of sweetness and spiciness.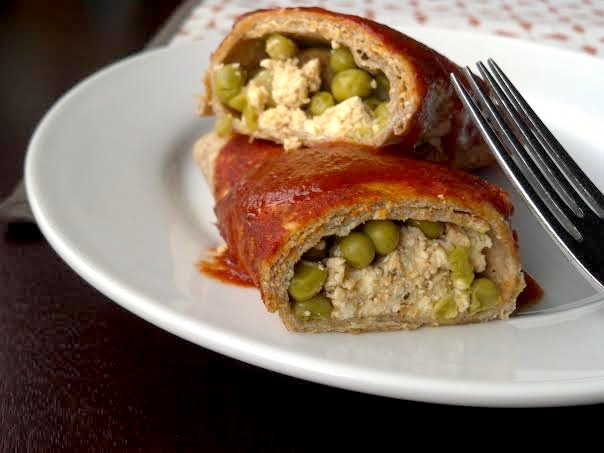 Have I turned you into a pea lover yet?  How about tofu?
If not, you know I am going to keep on trying!
P.S. To let you in on a fun little secret: I photographed these enchiladas the day after I made them and while they were still cold.  It made cutting into them and keeping the ingredients intact a lot easier.  Give this trick a try the next time you are photographing similar types of food.  No one will be the wiser.  This will also prevent you from having to eat cold food because you will be heating it up after your photography session.
What is one of your favorite foods or restaurants from your hometown?