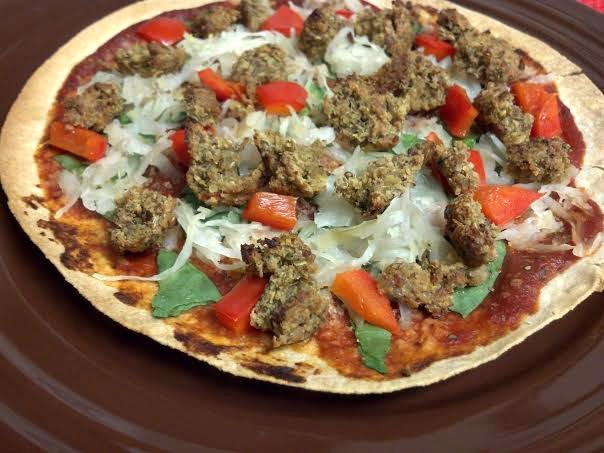 Looks meaty, eh?  But don't let the picture fool you.  This pizza is vegan all the way.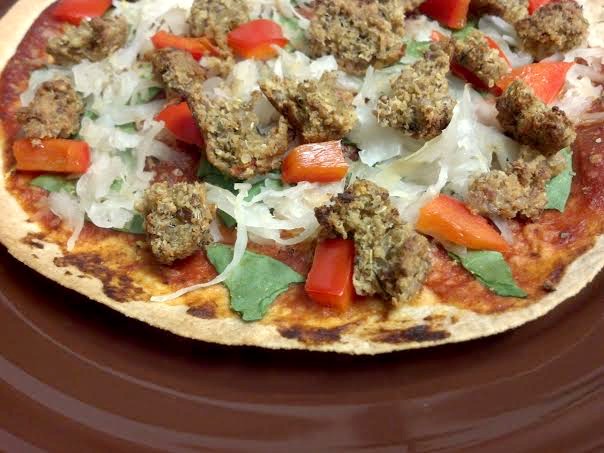 On occasion, the recipes that I share here on CEVG are rather elaborate.  This recipe?  Not so much.  I think you appreciate that now and then though, am I right?  If you can turn on your oven, chop some veggies, and throw everything onto a tortilla, then you can handle this one.  That's right.  Everyone can whip up a tasty and healthy vegetarian lunch or dinner with very little skill or effort.  This is vegetarian cooking for everyone at its finest.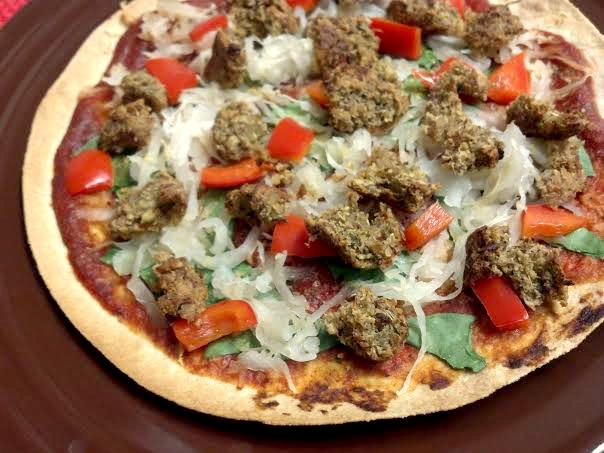 Tortilla Veggie "Meatball" Pizza for One
Vegan
Ingredients
1 tortilla (I used a brown rice tortilla)
1/3 to 1/2 cup pizza sauce
1/4 tsp pizza or Italian seasoning
1 small handful of fresh spinach
1/8 cup chopped red bell peppers
2 TB chopped yellow or white onion
2 TB sauerkraut
4 vegan "meatballs" (I used Amy's brand)
Directions
1. Preheat oven to 350 degrees F.
2. Place tortilla on a baking sheet and "toast" it a bit in the oven for approximately 3 to 5 minutes.
3. While the tortilla is toasting, cook the "meatballs" according to package directions.  I microwaved mine for 1 1/2 minutes.
4. Remove the tortilla from the oven, top it with the pizza sauce, and pile on the seasonings and toppings.  I separated each meatball into about four pieces so that they resembled pieces of sausage.
5. Bake the pizza for approximately 5 to 7 minutes.
6. Turn the broiler on low and broil for approximately 2 to 3 minutes, or until the tortilla is crispy.  Be sure to watch the pizza to ensure that it does not burn.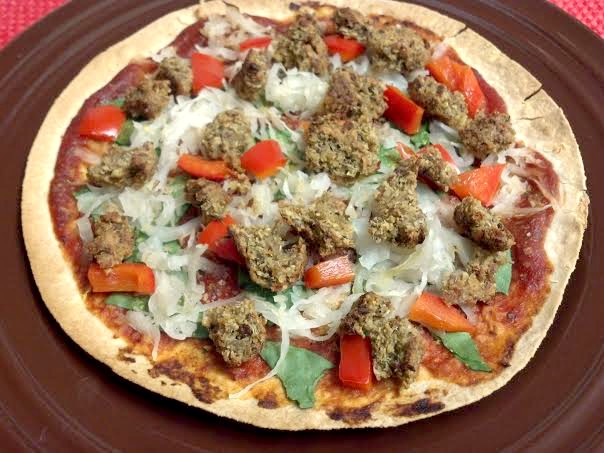 Dinner is ready in under 20 minutes.  You really can't beat that.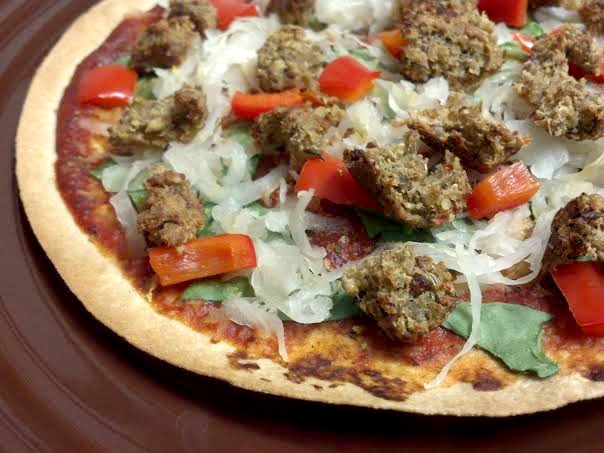 I like pizza as much as the next girl.  And I have also been known to polish off an entire medium-sized pizza on my own.  Hey, I like to eat.  But when I am just cooking for myself and do not want to eat so much that I feel like I am about to burst, the tortilla pizza is my go-to pie.  Feel free to change up the toppings (though I highly recommend keeping the "meatballs") and use a regular-sized crust if you are feeding a crowd (or just two).  That is the best thing about pizza.  It is so darn versatile…oh, and delicious! <– That is actually the best part.
Related articles