Is it Monday already?  The weekend sure flew by, didn't it?  But I guess they almost always do.  We do have a few great things to look forward to for the coming week, though.  And one of those things- delicious food!  I don't know about you, but a tasty meal plan for the week always gives me a little something fun and positive to get me through the work week.  This week's meal plan includes:
Meal Plan for the Week of March 31 to April 6, 2014
Lunches
Monday: Barbecue Lentil Sandwich (recipe coming soon)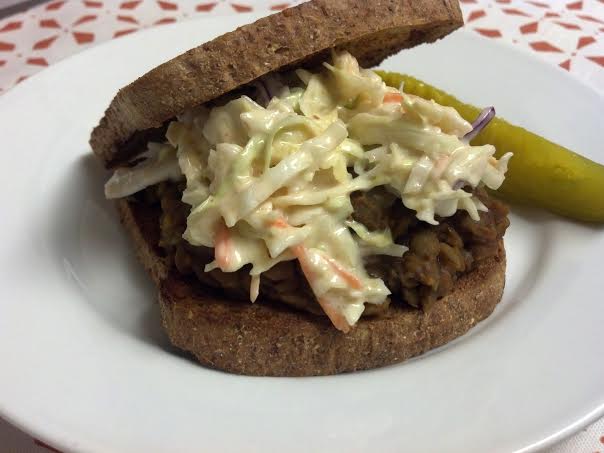 Tuesday: Lentil and Cabbage Casserole
Wednesday: Italian White Bean Loaf (recipe coming soon)
Thursday: Lentil and Cabbage Casserole
Friday: Veggie Wrap + Salad
Saturday: Baked Potato + Salad
Sunday: Peanut Butter and Kale Fried Rice (recipe in future Friday Foodie Favorites posts)
Dinners
Monday: Sweet and Sour Chickpea Pizza (recipe coming soon)
Tuesday: Italian White Bean Loaf
Wednesday: Tortilla Veggie "Meatball" Pizza (recipe coming soon)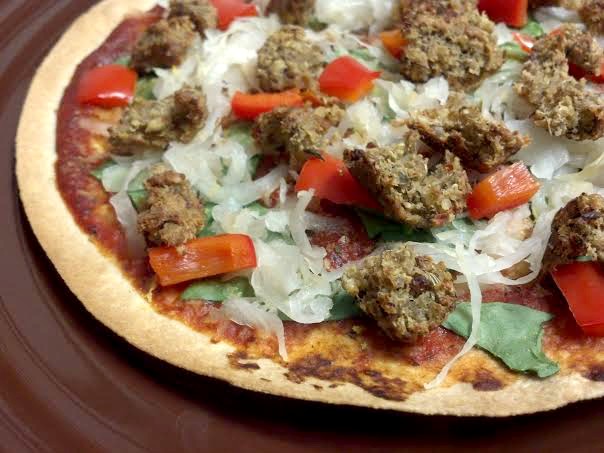 Thursday: leftover White Bean and Kale Veggie Stew from the freezer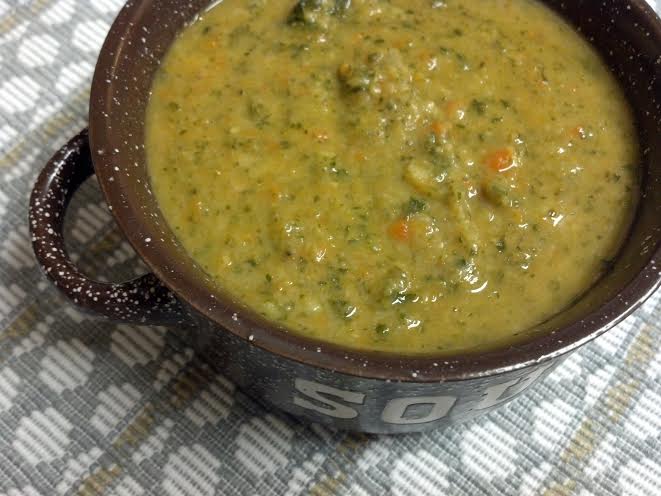 Friday: Out to dinner with friends
Saturday: Peanut Butter and Kale Fried Rice
Sunday: Lemony Ginger Red Lentils over Cauliflower "Rice"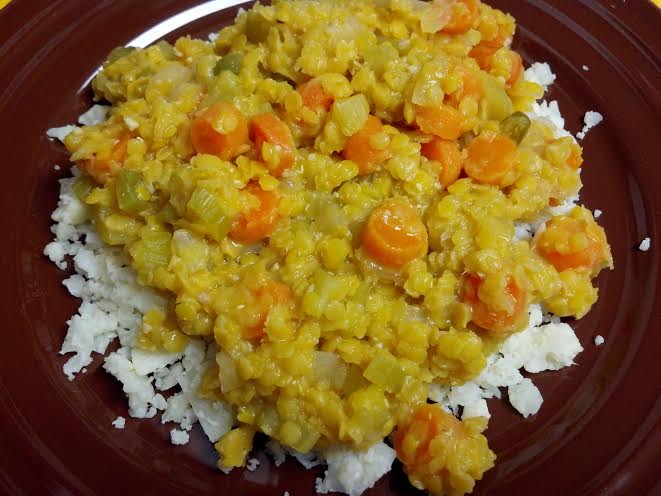 Yes, I have a thing for lentils.  And I also must apologize for teasing you with so many future recipes.  The best things come to those who wait, right?  But don't worry.  I will not leave you hanging with just a meal plan.  I also have to share one of my most recent unexpectedly delicious "clean out the fridge" meals.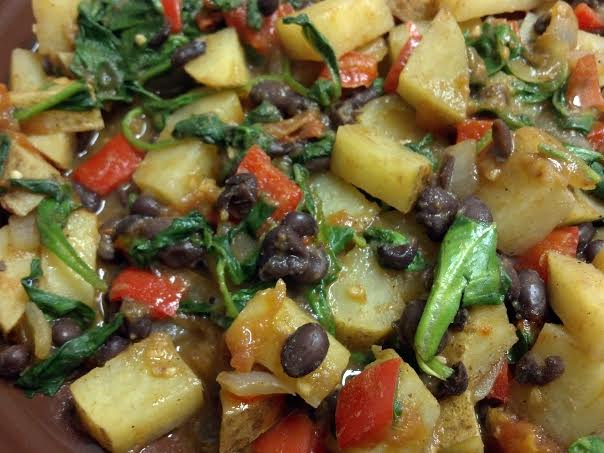 It may not be very pretty (poor thing), but it sure tastes delicious.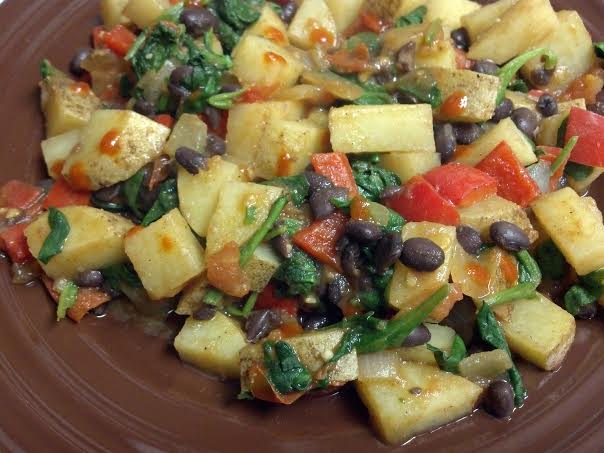 When I have hit the end of the week and there is not much going on in my pantry (and let's be honest- I have very little energy), I generally resort to throwing random ingredients into a pan and praying for the best.  Sometimes the results aren't great, but sometimes I surprise myself.  This was one of those times when I was pleasantly surprised.  I actually had zero intentions of photographing and sharing this dish (as if you could not already tell 😉 ), but after the first bite I figured it was an easy weeknight meal that you needed to make!
Mexican Hash

Serves 1
Ingredients
vegetable broth, for cooking, or cooking oil
1 clove garlic, minced
1/4 small yellow onion, diced
1/4 red bell pepper, diced
1 medium russet potato, chopped
1/4 tsp onion powder
1/4 tsp garlic powder
1/2 TB chili powder (more or less depending on your preference)
1 Roma tomato, chopped
1/2 cup cooked black beans
2 large handfuls spinach
black pepper, to taste
fine sea salt, to taste
sriracha sauce for topping, optional (but not really)
Directions
1. Line a large skillet with a thin layer of vegetable broth.  Heat over medium-high heat, or until very hot.  Once hot, lower the heat to medium and add the garlic, onions, peppers and potatoes to the pan.  Cook for about 10 minutes, or until softened.  Add additional  broth, as necessary.
2. Stir in onion powder, garlic powder, and chili powder.  Sautee for another 3 to 5 minutes, adding additional broth when needed.
3. Lower the heat to medium-low.  Add tomatoes, black beans, and spinach to the pan.  Cook for an additional 3 to 5 minutes, or until warm and the spinach as wilted.
4. Season with pepper and salt.  Top with sriracha sauce, if desired.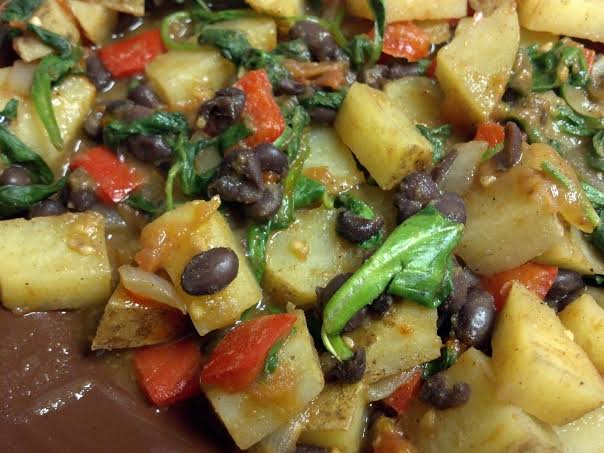 Cook this up for breakfast, lunch, or dinner.  It works for all three.  'Gotta love a good hash, right?
What is on your meal plan for the week?
What is your favorite "clean out the fridge" meal?