Before I begin this post, I just want to send all sorts of love and appreciation your way after hearing and reading your responses from my post on Friday.  I cannot thank you enough!
Another weekend has come and gone too quickly.  This past weekend I did a whole 'lotta relaxing, Lifetime movie watching, weight lifting, blogging, Spring cleaning (that will make Spring happen, right?), grocery shopping, and good eating!  My favorite part of the weekend was definitely Friday night when I went out for drinks, dinner, and dessert with Erin, Joanna, and our friend Molly (she does not have a blog, but she should totally start one!).  We ate dinner at Mark's Bistro– a new-to-me and very veg-friendly restaurant in Omaha- and finished the evening off with dessert at eCreamery.
I kept it classy 😉 by starting off with a Michelob Ultra.  Everyone else got wine or fancy drinks.  I am just not a wine person.  I am more of a beer girl.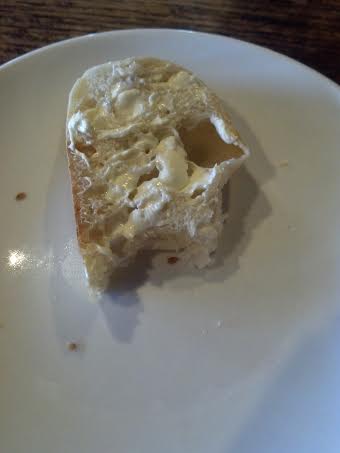 Pre-dinner included a seriously delicious slice of bread with butter.  And yes, I took this picture after several bites.  I was a bit eager, to say the least.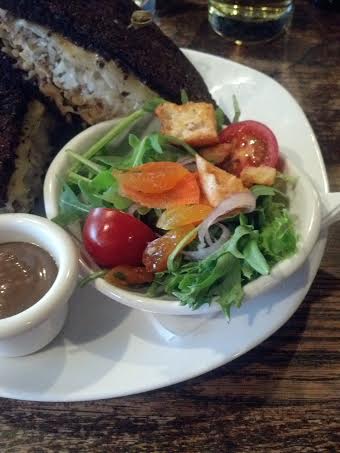 Dinner included a side salad with balsamic vinaigrette dressing…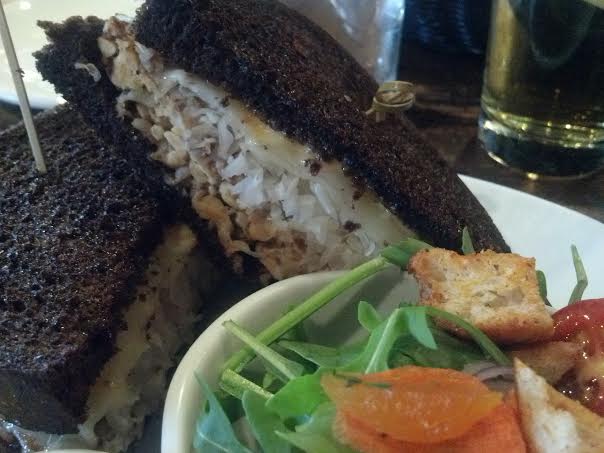 …and the star of the show: the Tempeh Reuben sandwich.  Dark pumpernickel bread, tempeh, cheese, sauerkraut, and thousand island dressing.  This was uhhhhmazing.  I ate every last bite.  Oh, and I cannot forget the giant dill pickle spear that came alongside it.  You know how I love my pickles!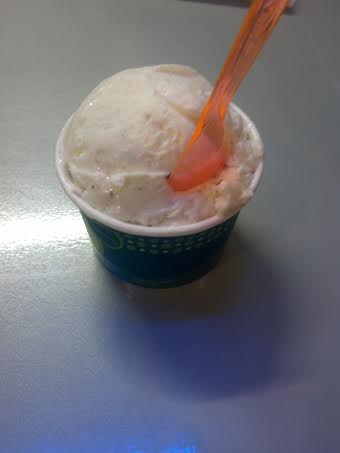 And there is that ice cream.  Well, gelato actually.  Whopper (the candy) gelato.  It was so, SO good.  Normally, after a big meal I would have foregone dessert.  But after last week's post and my determination to enjoy more and feel less guilt, I went for it.  No regrets here.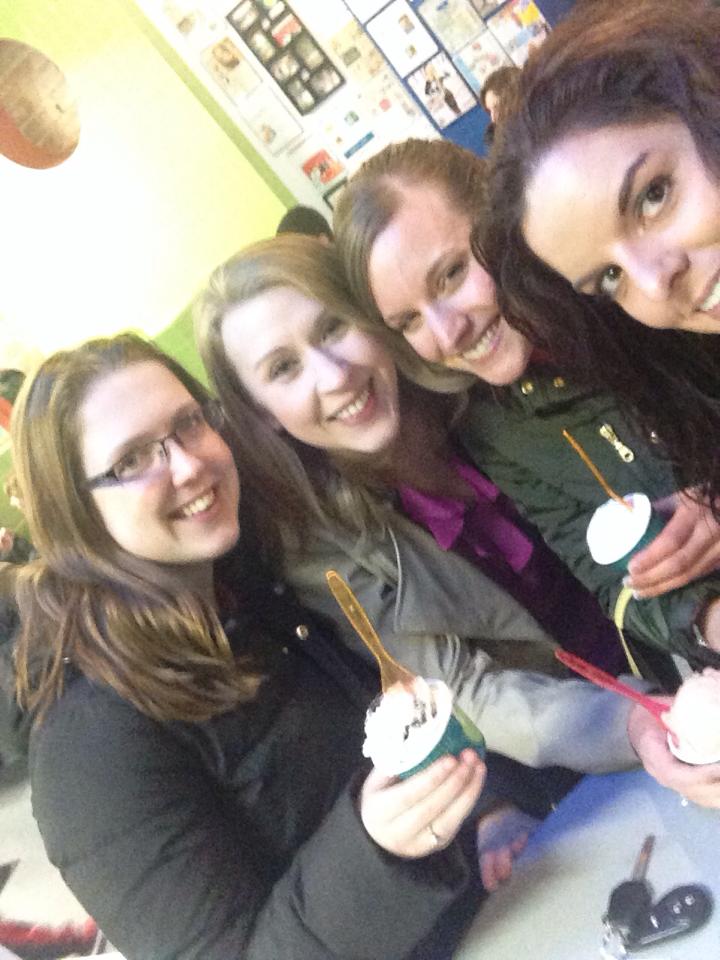 Thanks to Molly for her photography skills and to Erin for the picture!
While a great weekend comes to an end, a new week is beginning.  Let's take a look at my planned eats for the week:
Weekly Meal Plan: April 7 to April 13, 2014
Lunches
Monday: Lemony Ginger Red Lentils over Cauliflower "Rice"
Tuesday: Lemony Ginger Red Lentils over Cauliflower "Rice"
Wednesday: leftover Minestrone Soup from the freezer
Thursday: Salad with veggies + veggie wrap
Friday: Salad with veggies + veggie wrap
Saturday: Curry Egg Salad sandwich
Sunday: Tofu Ricotta Cheese and Vegetable Enchiladas (recipe coming soon)
Dinners
Monday: Chickpea Tostadas (recipe coming soon)
Tuesday: leftover White Bean and Kale Veggie Stew from the freezer
Wednesday: Leftover Italian White Bean Loaf from the freezer (recipe coming soon)
Thursday: German Nachos (recipe coming soon)
Friday: Whole Foods salad bar with friends
Saturday: Tofu Ricotta Cheese and Vegetable Enchiladas
Sunday: a Carrot "Hot Dog" and a Parsnip "Hot Dog" (recipe coming soon)
So, back to the weekend part.  If we keep talking about it then it won't be over.  That's how it works, right?
What's in My Grocery Bags (Whole Foods)
The Whole Foods in Omaha is a good 15 to 20 minute drive from where I live, so I generally only make it there on the weekends.  This is probably a good thing, otherwise I have a feeling I would be there multiple times a week and would be spending a whole lot more moolah.  What can I say?  Whole Foods is my jam.
I get asked somewhat frequently where I shop for my groceries and what I buy.  After seeing Carly's post about what is in her Trader Joe's shopping bag, I thought it would be fun to do my own post- with a focus on Whole Foods instead of Trader Joe's (don't worry, I also love TJ's).  Let's dive right in!  Well, not literally.  That sounds dangerous 😉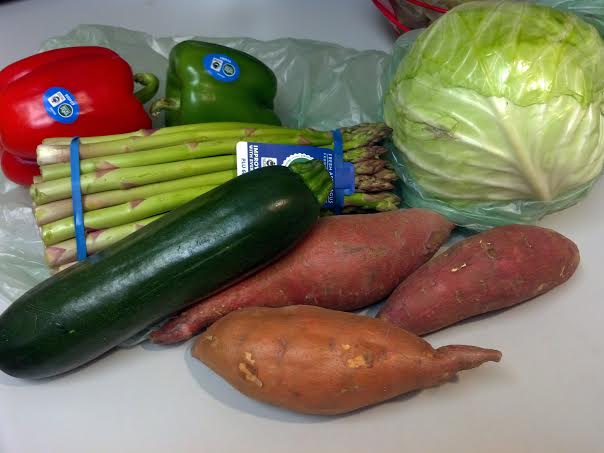 Let's start out with the produce.  Whenever I find produce on sale at Whole Foods, I always buy it.  Their produce is very fresh and sometimes I can even find the organic versions very reasonably and comparably priced.  This haul included sweet potatoes, a zucchini, peppers, green cabbage, and asparagus.  I am so excited that it is asparagus season again!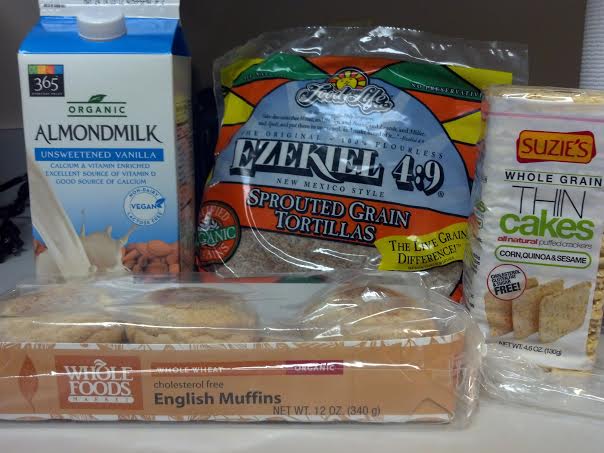 Next up: weekly staples!  Almond milk, Ezekiel sprouted tortillas (love these!), corn/quinoa/sesame cakes (I always have either these or rice cakes on hand), and whole wheat English muffins.  I have been on a major muffin kick lately.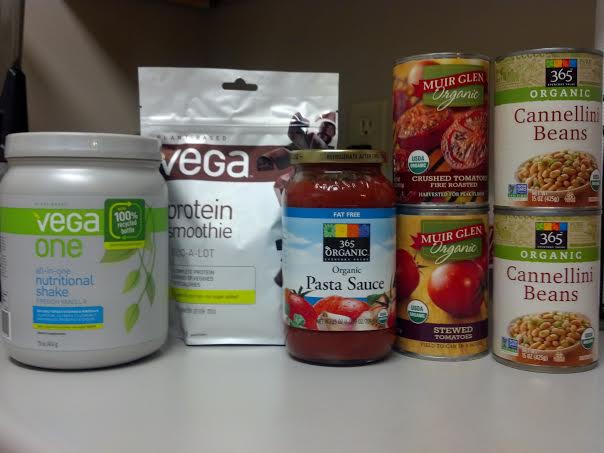 Ahh, Vega One.  How I love thee!  And oh, how my credit card does not.  I bought both the original nutritional shake in french vanilla and the smoothie protein powder in choc-a-lot.  It is seriously depressing to see how high my bill is when I buy it, but right now it is the only brand that I truly love (for its ingredient list and its taste).  I also bought tomatoes (I had 2 coupons for these so I was able to get organic!), beans, and pasta sauce.  The 365 brand is fantastic and even the organic versions are priced in a way that is very comparable to other grocery stores.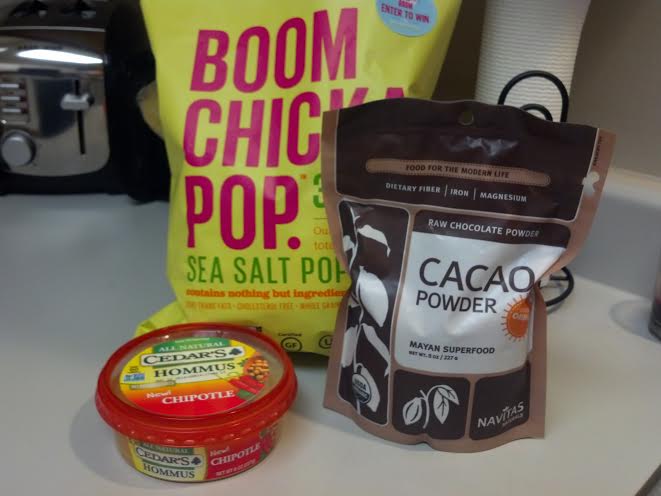 And finally, a few randoms: Boom Chicka Pop (my favorite popcorn), cacao powder (for overnight oats, baking, hot cocoa, etc.), and hummus.  The chipotle flavor is new and I am very excited to try it!
There you have it.  A little look into my Whole Foods shopping bag.  I do not buy all of my groceries at Whole Foods- both Trader Joe's and Hy-Vee have my heart, too- but I shop there whenever I can, especially when I am in need of products that I can only find there and when the coupons/sales are good.
Do you like the "What's in My Grocery Bag" posts?  Should I include more in the future?
What are your Whole Foods staples?