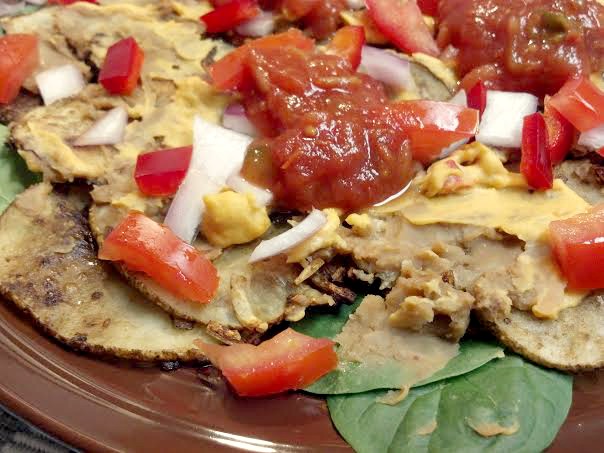 There are some foods that you can just never go wrong with.  Nachos are definitely one of those foods.
However, when I first started following a mostly plant-based diet, I figured that there were certain foods that I would no longer eat anymore- nachos being one of them.  I mean, let's be honest…  when you think of nachos you normally think of a mound of chips that has been drenched in cheese.  Don't get me wrong, those are plenty delicious and I still indulge in them from time to time.  But when I am looking for a dairy-free option for a snack, lunch, or dinner, those nachos normally do not come to mind.
Lucky for me (and you!), nachos are incredibly versatile.  And since the seasoning and topping choices for this tasty treat are pretty much endless, cheese really is not even necessary.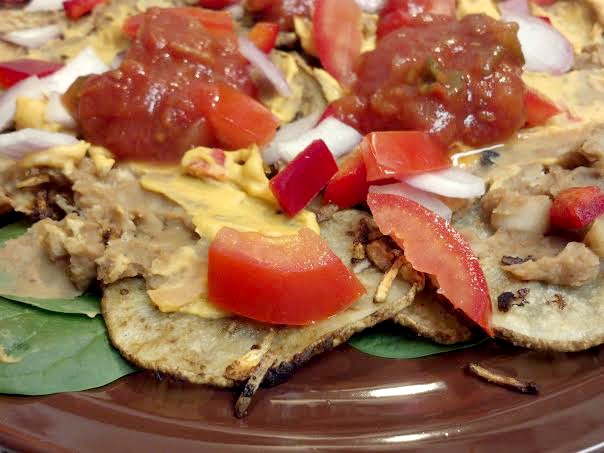 Do you remember when I made Roasted French Onion Potatoes?  After the first time I made them I was pretty much hooked.  As a result, I have roasted those babies up maaany 'a times since my initial go at them.  One of the times when I was eating them, an idea suddenly popped into my head.  What would happen if I made roasted french onion potato CHIPS?  Um, hellllo.  Fantastic idea, right?  Granted, I could have made these chips and ate them alone or with my favorite chip dip or ketchup (anyone else dip potato chips in ketchup?), but I decided to go a different route.  I made nachos.
French Onion Potato Nachos
Vegan
Ingredients
olive oil cooking spray
1 medium russet potato, thinly sliced into "chips"
1/2 to 1 TB extra virgin olive oil
1 packet onion soup mix- be sure it is vegetarian/vegan, if desired
1 handful of fresh spinach or shredded lettuce
1/2 cup vegetarian refried beans
1 TB hummus (I used roasted red pepper) + 1 tsp plain unsweetened almond or coconut milk (or use your favorite vegan "cheese" sauce)
1 TB diced red onion
1 TB diced red bell pepper
1 Roma tomato, chopped
salsa, for topping
Directions
1. Preheat oven to 425 degrees F.  Line a large baking sheet with foil and spray with olive oil cooking spray.
2. While the oven is pre-heating cut the potato into even chips (I used a mandoline) and soak in cold water for 30 minutes.  Drain the water and pat the potatoes dry.
3. Combine the potato chips, olive oil, and onion soup mix in a large bowl.  Toss to coat.  Spread the potatoes in an even layer on the baking sheet.  Roast for approximately 15 minutes, flipping halfway through.
4. While the potatoes are roasting, prepare your toppings- Cut the spinach or lettuce, heat the refried beans, combine and heat the hummus + milk, diced the onion and bell pepper, and chop the tomato.
5. Before compiling the nachos, broil the potato chips on low for approximately 3 to 5 minutes to crisp them up a bit more.  Watch them carefully so that they do not burn.
6. Compile the nachos in the following order: spinach/lettuce, potatoes, refried beans, hummus "cheese," onions, peppers, tomatoes, and salsa.
And now that I think about it, I am sure that the addition of avocado would be amazing, too.  Avocado is amazing on everything.  True story.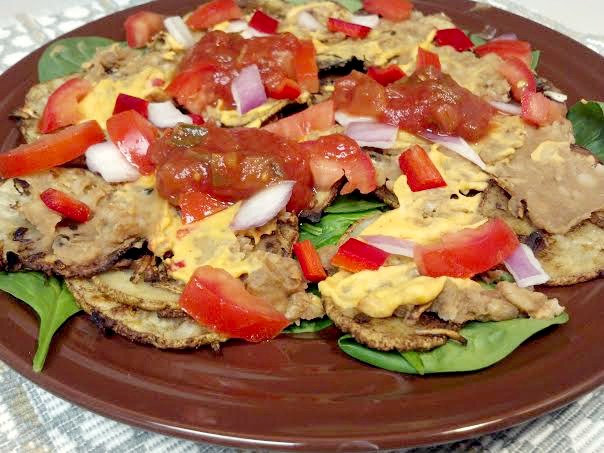 Nachos.  Nachos with roasted french onion potatoes.  Nachos without cheese.  Nachos with all of my favorite toppings.  Can you really go wrong?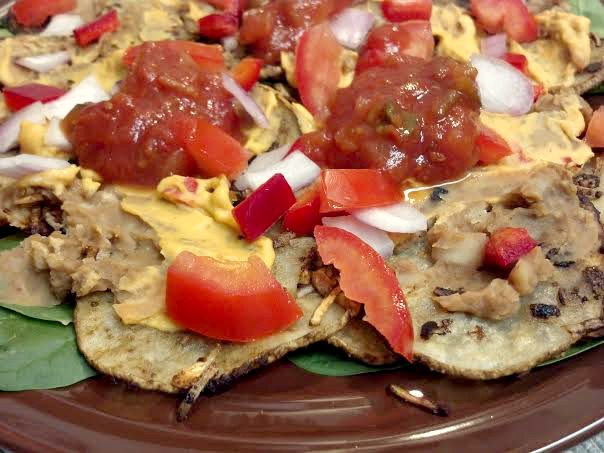 What are your go-to "must have" nacho toppings?