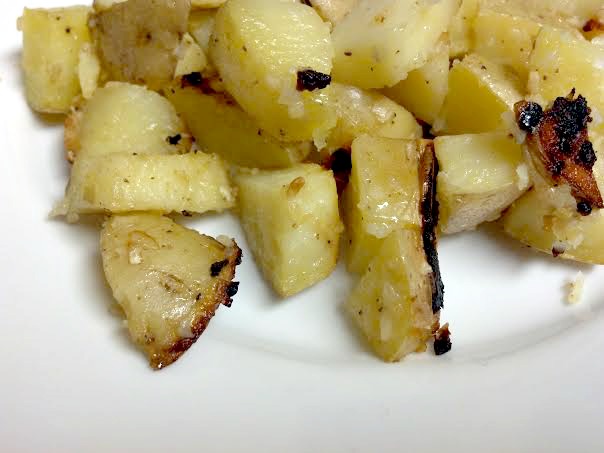 Potatoes are easily one of my favorite foods.  I love them for breakfast (think hashbrowns, sweet potatoes, and hashes), lunch (think stuffed baked potatoes), and for dinner (think french fries, mashed, and roasted).  I even eat sweet potatoes topped with nut butters as a snack.  Basically, if you put some form of potato in front of me then I will most likely eat it and love it!
Back in December, I thought that I had pretty much seen and tasted it all when it came to delicious potatoes.  Then my dad proved me wrong.  While I was home over the holiday break, my dad roasted up some of the most delicious potatoes that I have ever eaten…seriously.  He prepared them for my mom and him.  While they were eating, I walked by and saw them staring back at me from the stove-top looking all crispy and delicious.  I double-checked with him to make sure they were vegan and then I snagged one.  And then another.  And then another.  They were good.
Then I found out how insanely easy they are to make, so I knew I had to roast some up for myself at home.  I also knew that, with my dad's approval, I had to share the recipe with you.  Lucky for you, he was a-okay with that!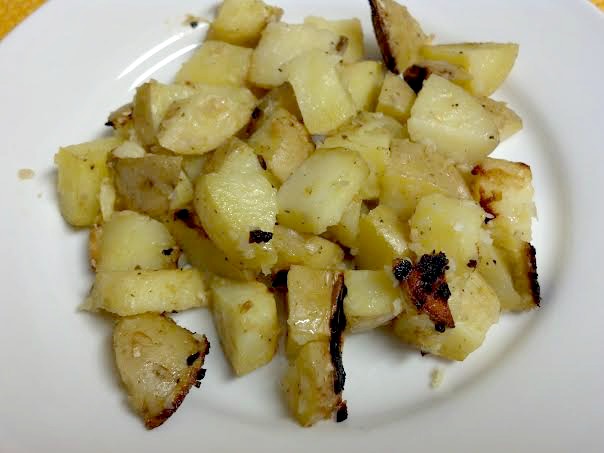 Roasted French Onion Potatoes
Serves 2-3 as a side
Ingredients
5 medium Yukon gold potatoes, chopped into 1/2-inch pieces (I left the skins on, but feel free to peel them)
1 TB extra virgin olive oil
1 1/2 TB French Onion Soup/Dip Mix*
cooking spray
*I used an organic packet with minimal ingredients, but you could also make your own.  This recipe sounds delicious!
Directions
1. Preheat oven to 400 degrees F.
2. Combine potatoes, olive oil, and onion soup mix in a large bowl.  Stir until all of the potatoes are evenly coated with the oil and soup mix.
3. Pour the potatoes onto a sheet of foil that has been sprayed generously with cooking spray.  Fold the sides of the foil up into a "foil packet."  It should look similar to this:
4. Place the foil packet onto a baking sheet.
5. Roast the potatoes for approximately 35-45 minutes, or until golden brown.  I kept my potatoes somewhat soft, but you can roast them for longer to make crispier potatoes.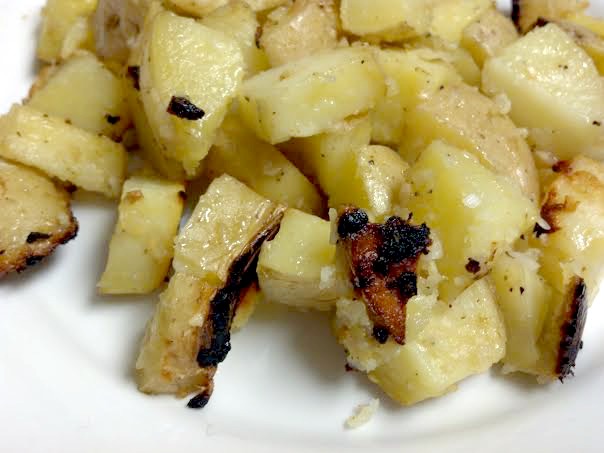 These are the perfect side to accompany any sandwich or entree.  Oh, and did I mention that they are made from whole ingredients and are vegan?  So let's think this through…
Easy to make?  Check!
Versatile?  Check!
A side made with whole ingredients?  Check!
Vegan?  Check!
And most importantly…delicious?  Check!
In other words, these are a winner of a side dish.
I enjoyed these potatoes so much that the week after I made them I had to make them again.  The second time I made them, I mixed things up a bit and "healthified" my dad's idea.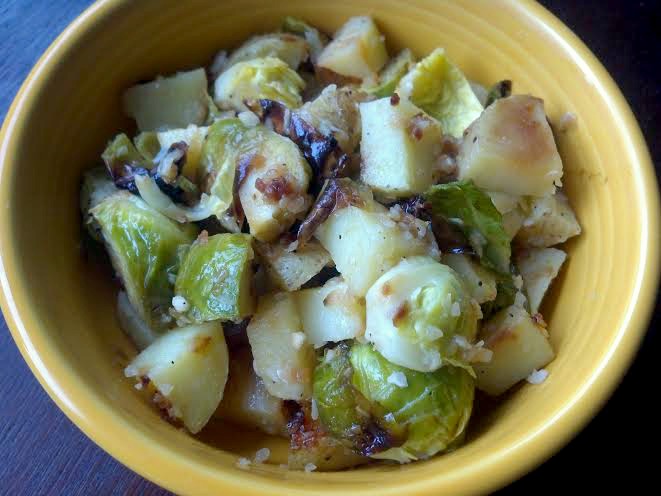 I followed the recipe exactly, but used half of the amount of potatoes and replaced them with halved brussel sprouts.  It turns out french onion sprouts are absolutely scrumptious, too!  At this point, I am pretty convinced that seasoning any and all vegetables with onion soup mix is a fantastic idea.  I cannot wait to try sweet potatoes and french fries next!
Now everyone give my dad a big shout out and thank him for this awesome idea!
What is your favorite way to prepare/eat potatoes?