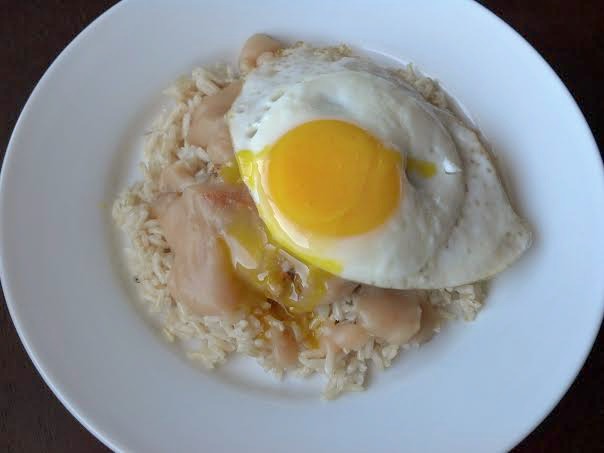 Have you ever heard of a loco moco?  No?  Okay, good because neither had I until about two months ago.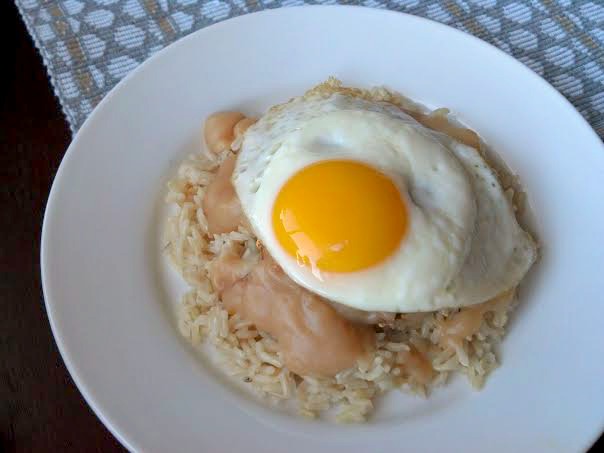 My parents traveled to Hawaii in January while I stayed back in the freezing cold Midwest.  Since both of my parents know how much I love food (obviously), my mom sent me quite a few pictures of the food that they ate while out at local restaurants.  One of the pictures that she sent me was this: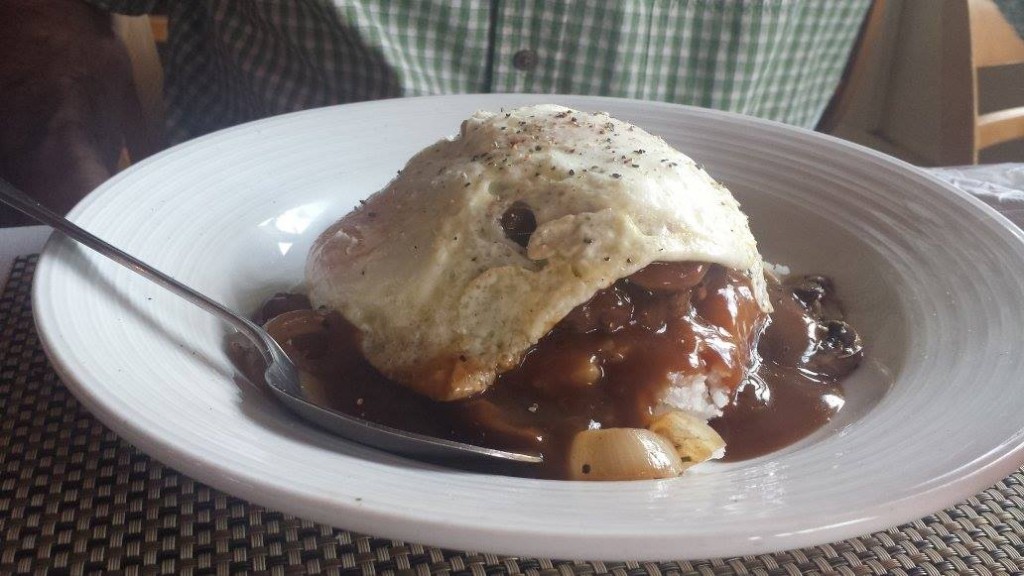 My dad ordered a loco moco one evening.  Loco mocos are apparently quite well-known in Hawaii.  The loco moco starts with a base of white rice, is topped with a burger patty that is covered in gravy, and then is finished off with a fried egg.  When I first saw it I thought, "wow, that looks like a pretty killer combination."  And then within about two seconds I found myself wondering, "hmm…how can I make this vegetarian-friendly?"  There is nothing that I love more than a good vegetarian challenge, and I took this one full on.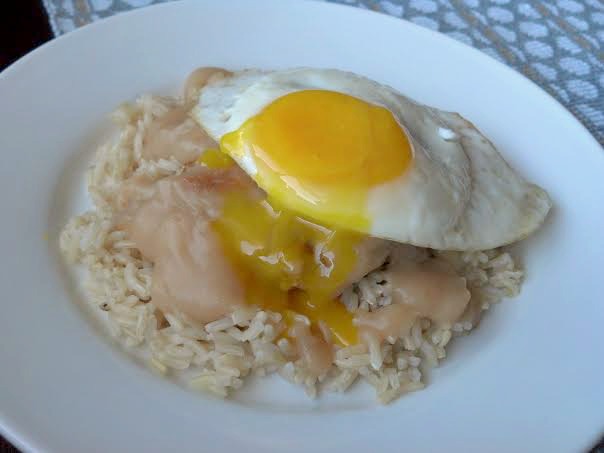 Loco Moco
Serves 4
Ingredients
For the burgers (slightly adapted from Robyn's recipe):
1 15 oz can pinto beans, drained and rinsed
1/2 medium white onion, roughly chopped
1/2 cup rolled oats
1/4 cup nutritional yeast
1/2 TB Italian seasoning
a sprinkle of onion powder
a sprinkle of garlic powder
black pepper, to taste
fine sea salt, to taste
olive oil cooking spray
For assembly:
3 cups brown or white rice, cooked
2 packages vegan gravy (or your favorite recipe for vegan gravy)
4 large eggs
Directions
1. Place all burger ingredients in food processor.  Pulse until well-combined and until the beans are blended, but some whole pieces remain.  Place in refrigerator for 15 to 30 minutes to firm up a bit.
2. Preheat oven to 400 degrees F.  Line a baking sheet with foil and spray with cooking spray.
3. Remove the burger mixture from the fridge and form into four equal patties.  Place the burgers onto the baking sheet and bake for approximately 20 minutes.  Remove the burgers from the oven, flip, and cook an additional 10-15 minutes, or until both sides are golden brown.
4. While the burgers are baking, prepare your rice if it is not already cooked, prepare the gravy according to the package directions, and fry four eggs sunny-side up.
5. Assemble the burgers in the following order: rice, burger, gravy, and one fried egg.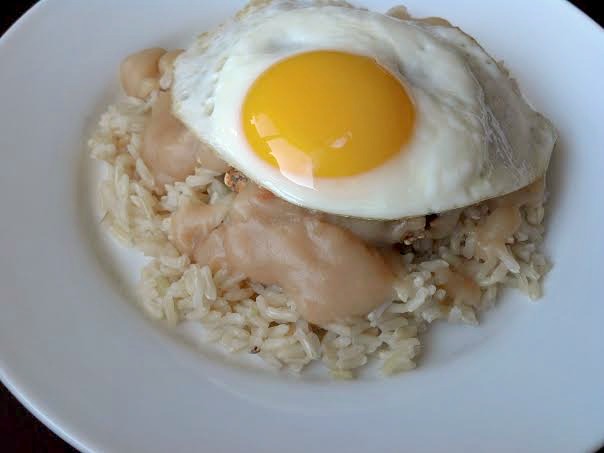 And of course, you must break the yolk.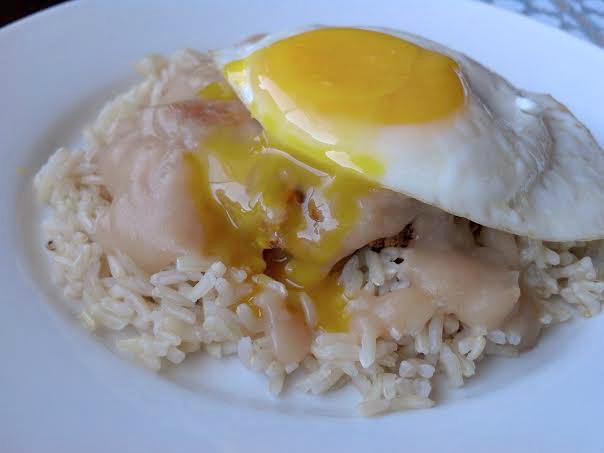 Combining rice, veggie burgers, gravy, and dippy eggs may sound like a strange combination at first, but give it about two seconds of thought and one bite and your mind will be changed.  I was loving this at first bite.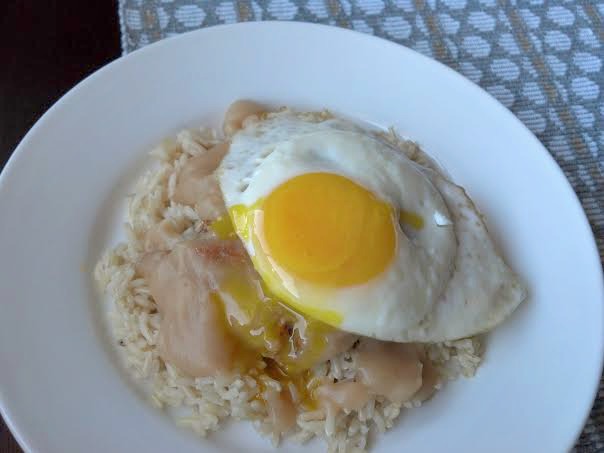 Can you really go wrong with anything topped with gravy and a runny egg yolk?  I think not!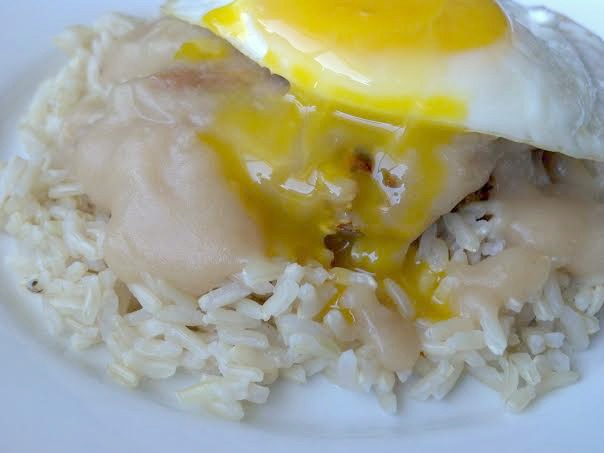 Carbs
Protein
Gravy
Runny yolks
And a whole lot of deliciousness.
Have you ever tried a loco moco?