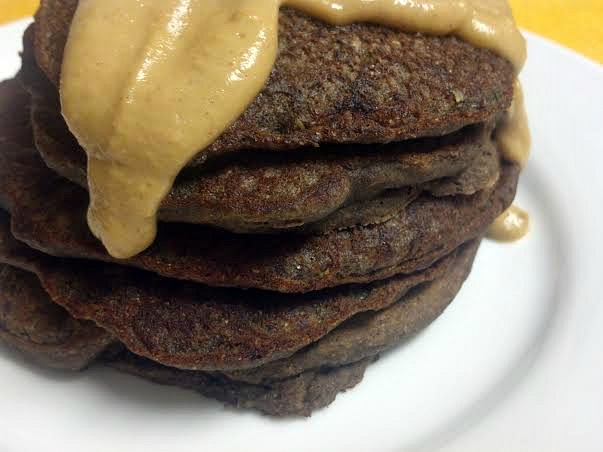 If you follow me on Instagram then you probably saw that I teased you with a photo of these pancakes last Wednesday.  They looked and tasted so delicious that I just could not resist sharing a picture.  I also promised you that  I would be sharing the recipe this week.  I know I know, I made you wait almost an entire week for the goods.  But for some reason, I seem to be really good (or bad?) about teasing you with recipe pictures and then holding off on posting the recipe for days and days.  I am simply trying to help you improve your patience. ..yeah, that's what I'm doing…;)  Or, maybe I am just not very good at writing up posts right after I cook.  That is actually quite funny to think about considering when I first started blogging over a year ago I would create, photograph, and post recipes all in the same day.  Boy, how things have changed.
The suspense of it all makes seeing, making, and eating a recipe even better though, am I right?
That's definitely right.
Isn't it?
Or, is it?
Okay, okay.  Now I am just being mean.  I'll be quiet and get to what you really care about: the recipe!  And for those of you who are actually still reading this and haven't skipped to the recipe…oh wait, my guess is that nobody is still reading ;).  Heck, I probably wouldn't be either after reading the title of this post and seeing the first picture.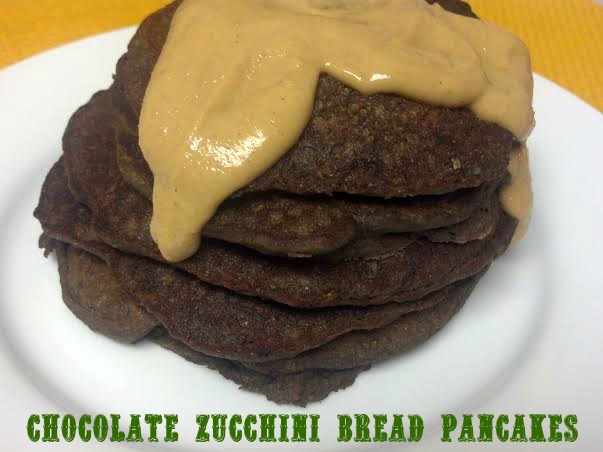 Chocolate Zucchini Bread Pancakes for One
Makes 4 to 5 medium pancakes
Ingredients
1 TB flax seeds (I used milled) + 2-3 TB water (or 1 egg)
Dry
1/4 cup whole wheat flour
1/4 cup buckwheat flour*
1/2 TB brown sugar
1 TB unsweetened cocoa powder
1/2 tsp baking powder
1/4 tsp baking soda
pinch of fine sea salt
1/4 tsp cinnamon
Wet
medium ripe banana, mashed
1/4 cup shredded zucchini
1/2 cup + 1 TB unsweetened vanilla almond milk
1/4 tsp vanilla extract
*You can use all whole wheat flour if you do not have buckwheat flour
Directions
1. Combine flax seeds and water in small bowl.  Stir until well-combined.  Refrigerate for at least 15 to 30 minutes, or until it has thickened.
2. Combine all dry ingredients in large bowl.  Mix well.
3. Combine all wet ingredients in medium bowl.  Stir until well-combined.
4. Stir wet ingredients into the large bowl of dry ingredients until combined.  Do not over stir the batter.
5. Heat a large griddle over medium heat and spray with coconut oil spray.  Pour the pancake batter 1/4 cup to 1/3 cup at a time onto the griddle.  Cook the pancakes for approximately 5 minutes, or until bubbles begin to form on the top and the bottoms become golden brown.
6. Flip the pancakes and cook an additional 4 to 6 minutes.
7. Stack 'em.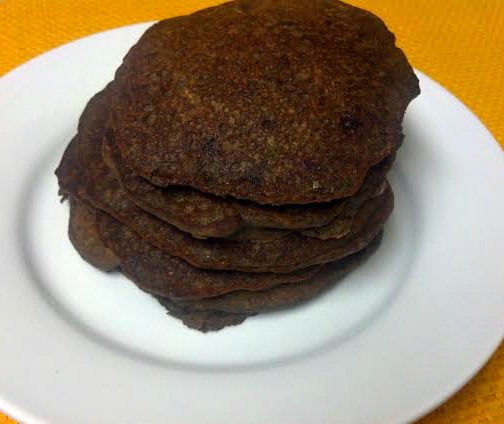 8. Top them with your favorite topping.  I chose peanut butter, but pure maple syrup would be fantastic too.  And in all honesty, these are sweet and tasty enough to eat all by themselves!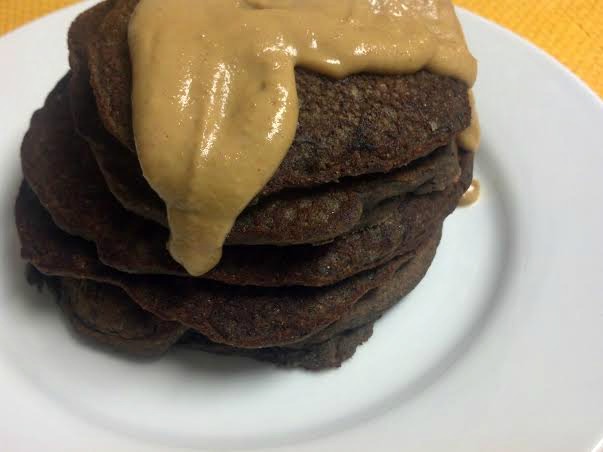 9. Cut and eat.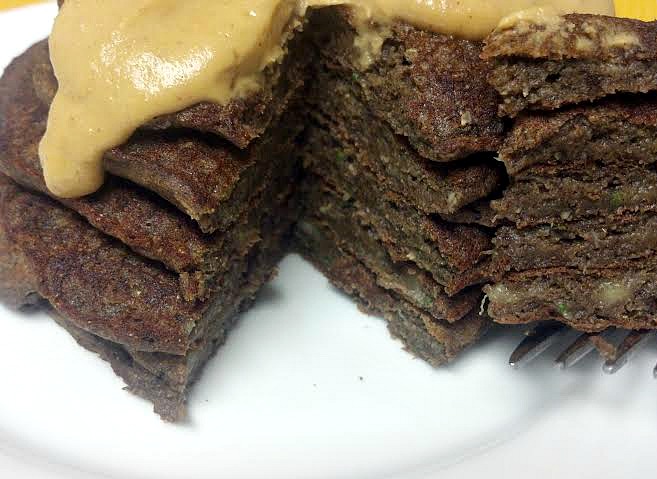 I realize that I titled this post Chocolate Zucchini Bread Pancakes for One.  And for me, this is one serving.  What can I say, I have quite the appetite!  But for the rest of you who are not quite as haaangry as I usually am, feel free to share with others!  Or, refrigerate them and reheat them for breakfast the next day.  I recently learned how delicious reheated microwave pancakes actually are, especially when topped with lots of melty nut butter!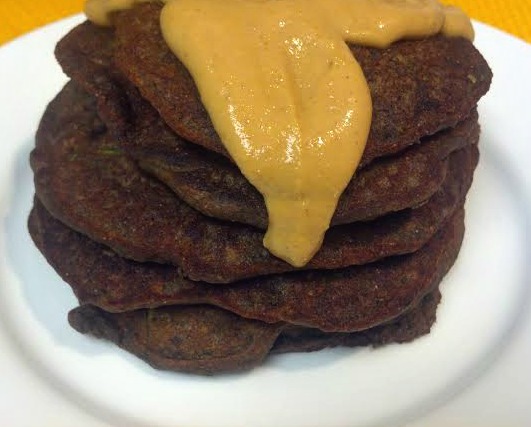 When it comes to my favorite sweet bread, it is tough for me to choose between zucchini and banana.  Good thing this recipe contains both and chocolate.  Being able to eat a healthy breakfast (or brinner in my case) that tastes like dessert is pretty much the best thing ever.  And that, my friends, is a fact!