A hearty Summertime pasta salad that is chocked full of veggies and is big on flavor.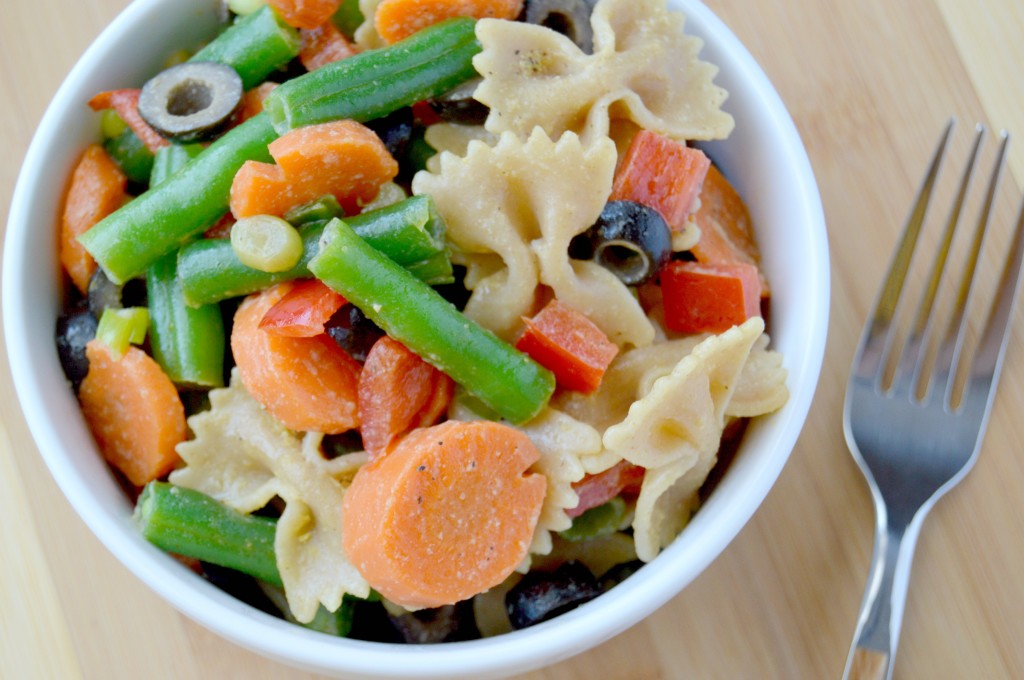 I was a picky child.  I was picky about my hair.  I was picky about my clothing (apparently I hated when my socks were twisted?).  And I was most definitely extremely picky about my food.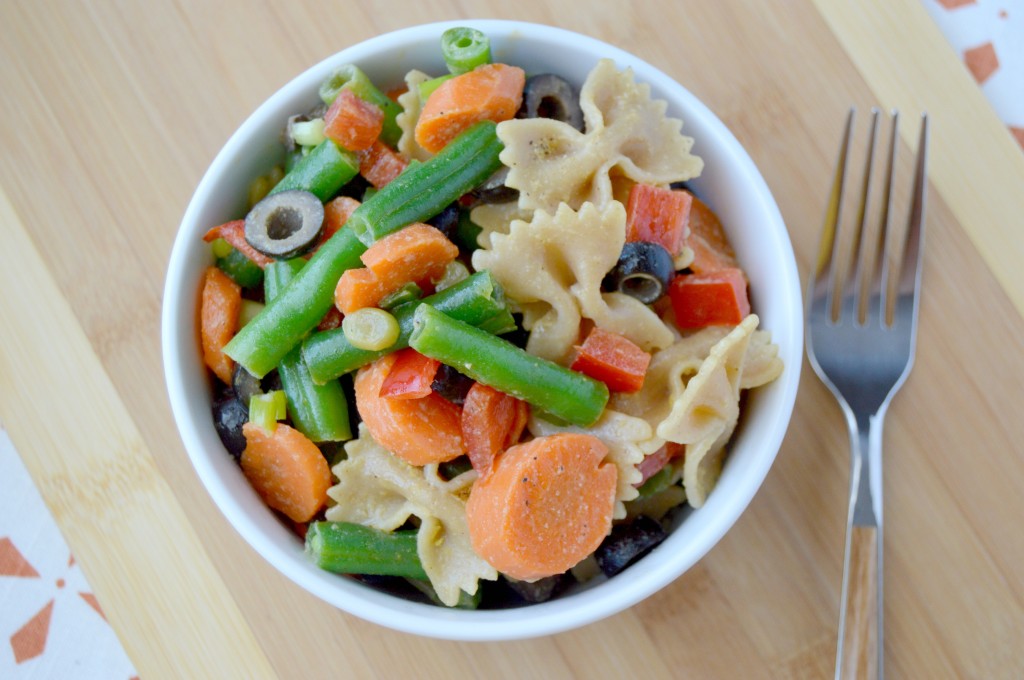 As a result, the fact that I now love and crave most veggies and foods like tempeh, tofu, vegan mayo, mustard, pickles, wheat bread, etc. continues to amaze me.  I think both of my parents are slightly baffled by this as well.  How does someone go from eating mostly grilled cheese sandwiches, french fries, carrots (I have always loved those), pizza, and Spaghettios to eating all of the goodness that I eat now?
I do not have anything specific that I can pinpoint other than finally wanting to be healthy and understanding that our tastebuds take time to adjust to new foods.  I am very happy to say that my tastebuds have adjusted for the better.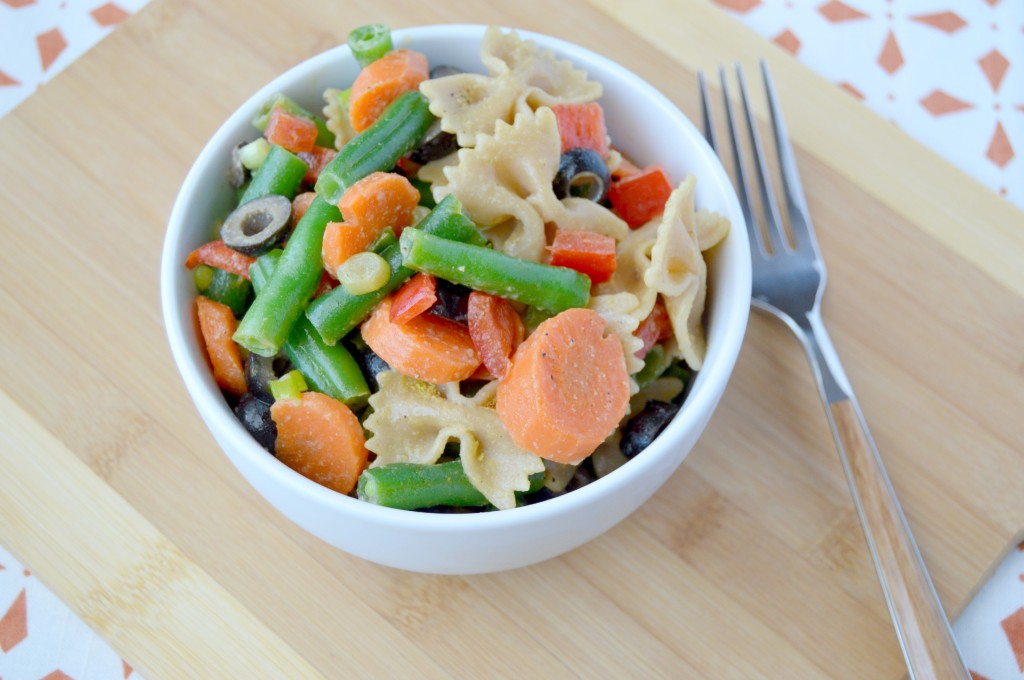 So what does my pickiness have to do with the deliciousness in this bowl?  You guessed it.  I used to hate cold pasta (unless we are talking cold mac and cheese), which meant that I wanted nothing to do with pastsa salads.   And I absolutely refused to go anywhere near black olives (olives are still not something that I love, but I definitely like them now).
This past Summer, I branched out and decided to give pasta salad a try again.  What do you know?  I loved it.  So what is a girl to do about a newfound food love?  Healthify it a bit and make it vegan.  Duh.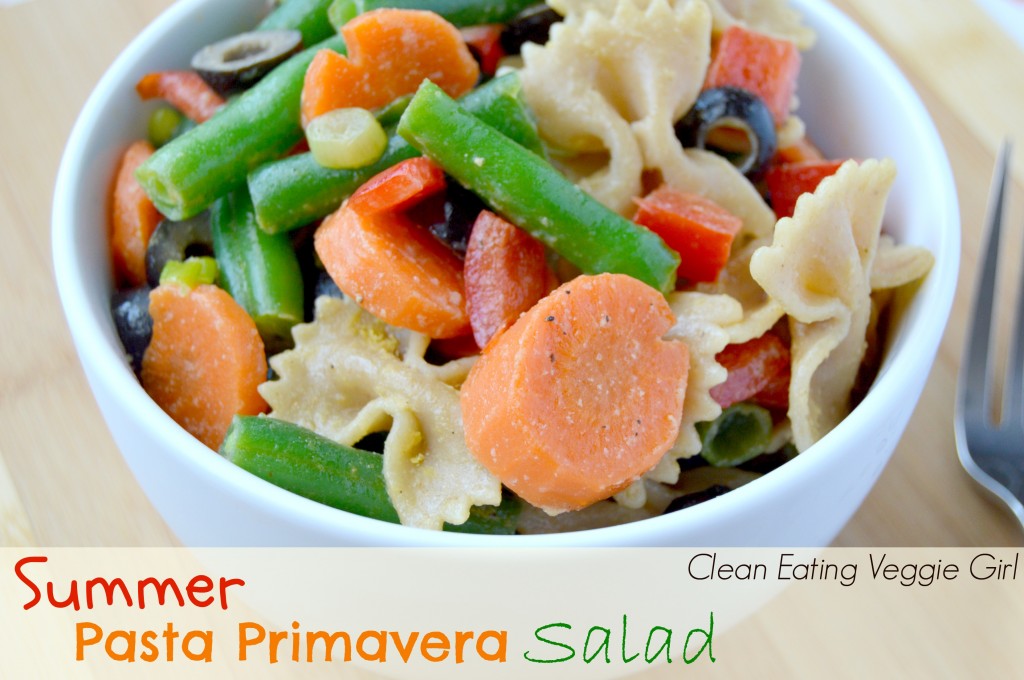 Summer Pasta Primavera Salad
Vegan + Mayo-Free

Servings: 3 to 4 (as a meal) or 6 to 8 (as a side)
Ingredients
6 oz whole wheat farfalle pasta (or other favorite pasta)
2 whole carrots, peeled and cut into rounds
16 oz fresh green beans, ends trimmed and cut into 1-inch pieces
1/2 red bell pepper, diced
1/4 cup diced green onions
1/2 cup sliced black olives
1 TB apple cider vinegar
2 1/2 TB good quality extra virgin olive oil
1 TB pure maple syrup (not pancake syrup)
1 1/2 TB Dijon mustard
1/4 tsp garlic powder
1/4 tsp onion powder
fine sea salt, to taste
black pepper, to taste
1 TB nutritional yeast, optional
Directions
1. Cook pasta according to package directions.  Drain, do not rinse, and set aside to cool.
2. Add carrots to a large pot of boiling water.  Boil for approximately 3 minutes.
3. Add the green beans to the pot and continue boiling for an additional 4 to 5 minutes, or until cooked but not mushy.  Drain and rinse with cold water.  Set aside to cool.
4. Once cooled, add pasta, carrots, green beans, peppers, onions, and olives to a large bowl.  Stir to combine.
5. In a small bowl, wisk together vinegar, oil, maple syrup, mustard, garlic powder, and onion powder.
6. Pour the sauce into the bowl of pasta and veggies.  Mix well.
7. Season with salt and pepper.  Stir in nutritional yeast, if using.
8. Refrigerate any leftovers.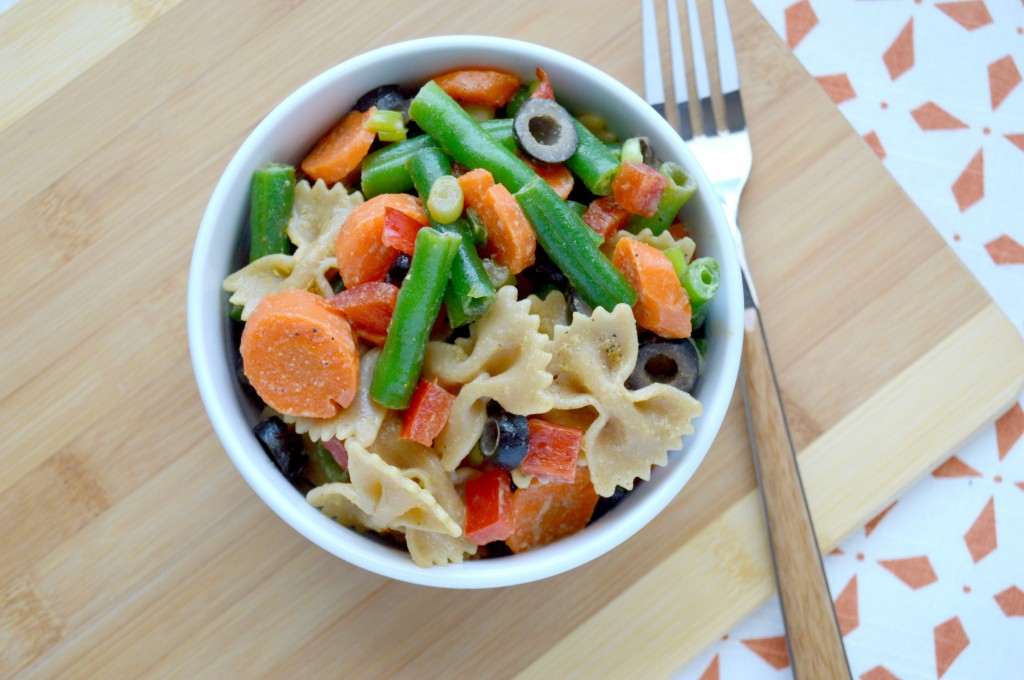 I love vegan mayo as much as the next person (seriously, Vegenaise is amazing), but trust me when I say that you won't even miss it in this dish.  The savoriness of the EVOO combines wonderfully with the bitterness of the vinegar and mustard, and the sweetness of the maple syrup leaves your tasetbuds very happy.  And if it gets you,your family, and your guests to eat tons of veggies and whole wheat pasta, then why not?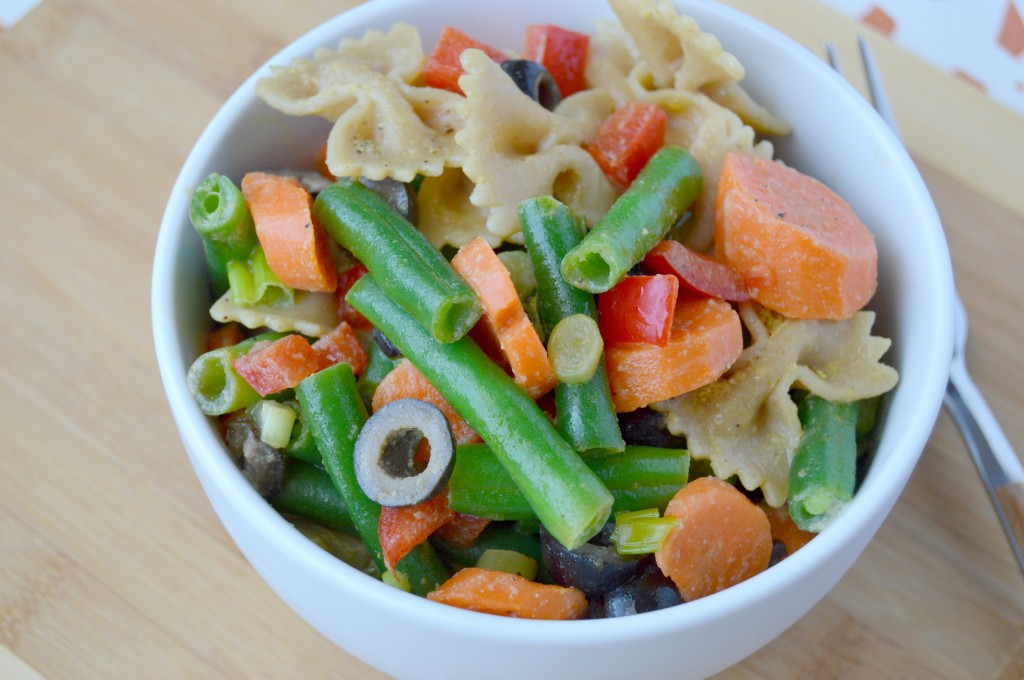 Pasta salads are great to make ahead for work weeks (I ate mine for lunches) or to prep ahead as sides for gatherings.  Basically, this is a recipe for numerous occasions, even if that occasion is just your lunch hour at work.  I don't know about you, but I like to be able to really look forward to lunch on a Monday.  It helps make the day a teensy bit better!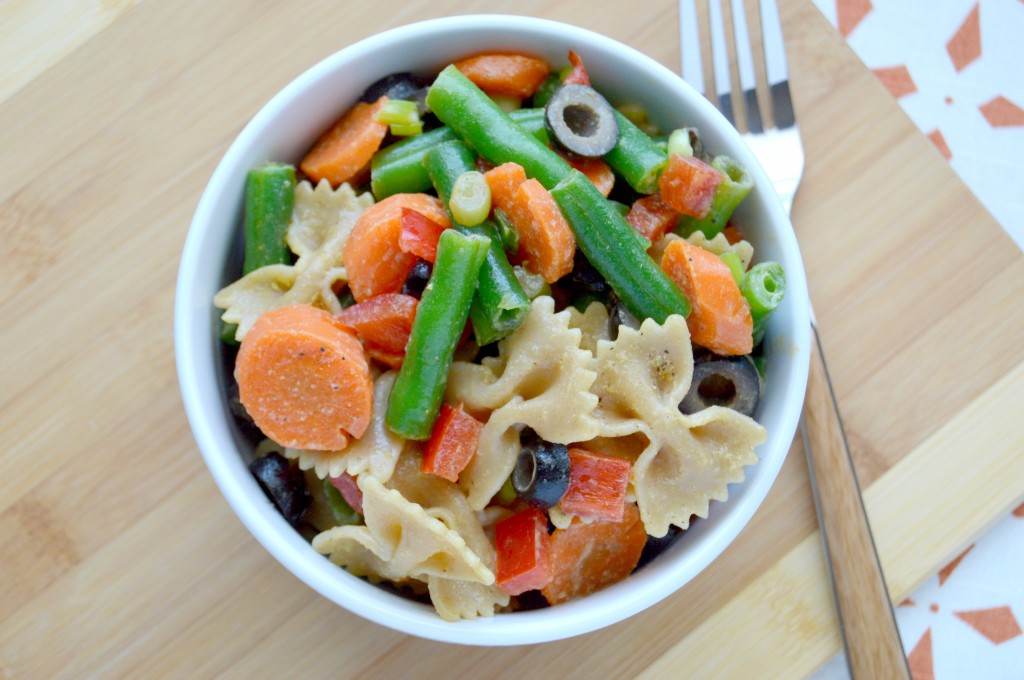 It's Summertime in a bowl.  And despite Summer almost being over, I'll definitely still be eating this into the Fall and Winter months.
What is one food that you used to hate but now love?