These Loaded Taco French Fries with Roasted Chickpeas are gluten-free, vegan, and make for the perfect snacky lunch or dinner.  Or, you know, as an appetizer!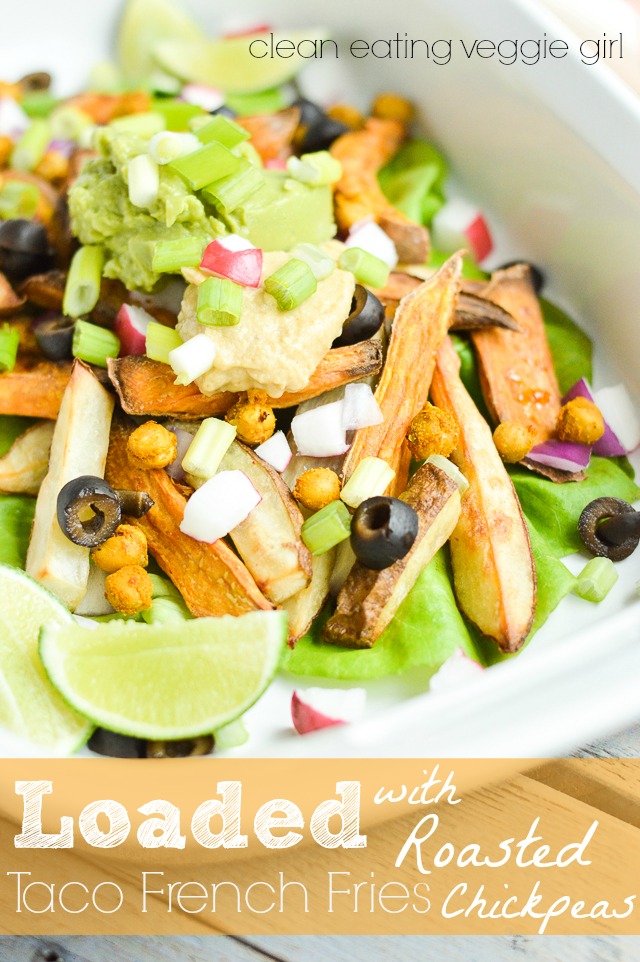 Today is the most perfect day.  I'm writing up this post on Sunday and today is the epitome of what a Sunday should be like.  In fact, I've been feeling this way all weekend.
Jeremy and I have been spending all of our waking hours working on a few house projects, cooking, eating, and binge watching episodes of One Tree Hill.  I was a major OTH fan in high school (we are talking recording all of the shows on VHS tapes), so this completely takes me back.  I have the first couple of seasons on DVD, and once we make it through those, we're planning to catch the rest on Netflix.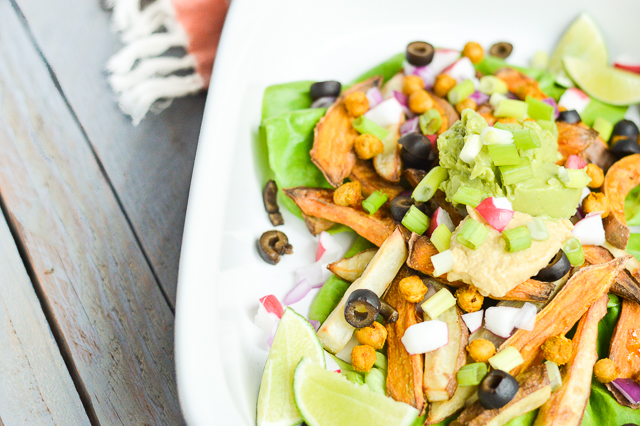 And since we don't want to be complete bums for all 48 hours of the weekend, I've been doing a little blog work, working on my laundry that has been building up for the past three weeks, and we even plan to put together our grill… indoors!  It's about to storm (again, perfect Sunday), so what better thing to do than put 'er together inside where it's cool and dry?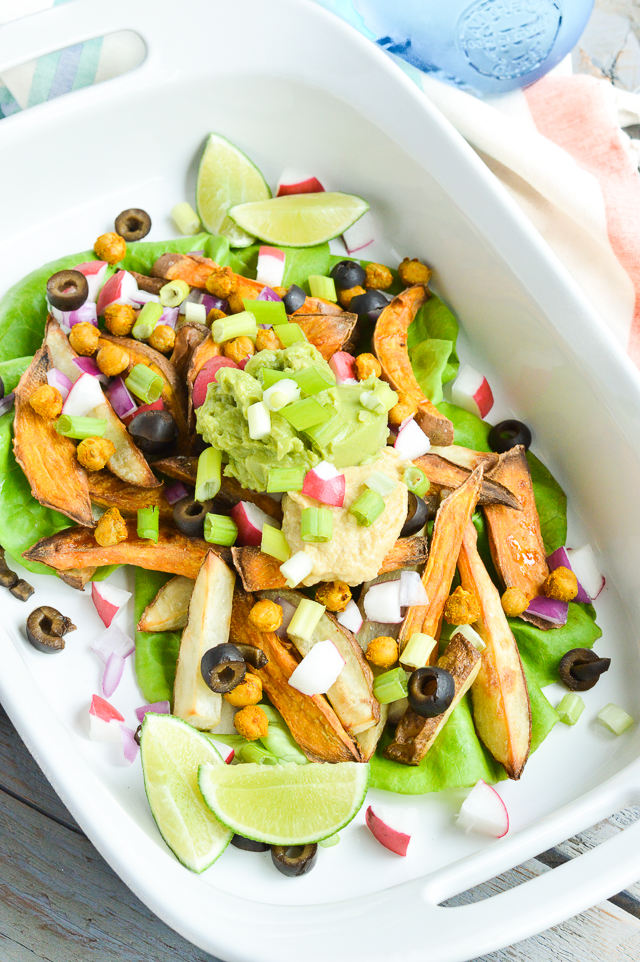 One Tree Hill episodes aren't the only thing taking me back in time today.  In fact, writing this post sort of feels like something I would have been doing two years ago when I was a vegetarian eating a mostly vegan diet.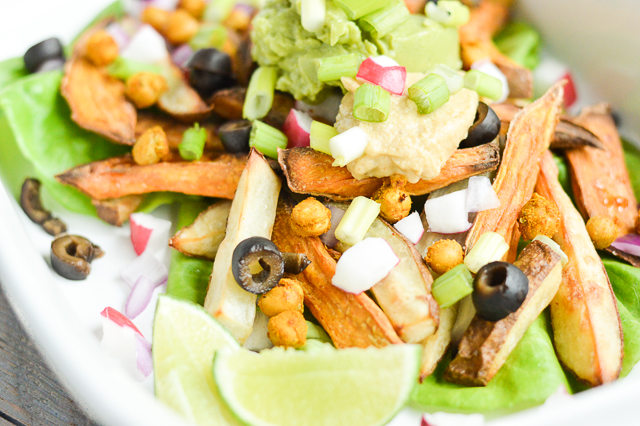 If you hadn't noticed, for the past year things around here have been a lot more about chicken and beef than chickpeas and tofu.  But these last three weeks I have been doing a detox elimination diet as prescribed by my functional medicine practitioner, and things have been looking all wonky.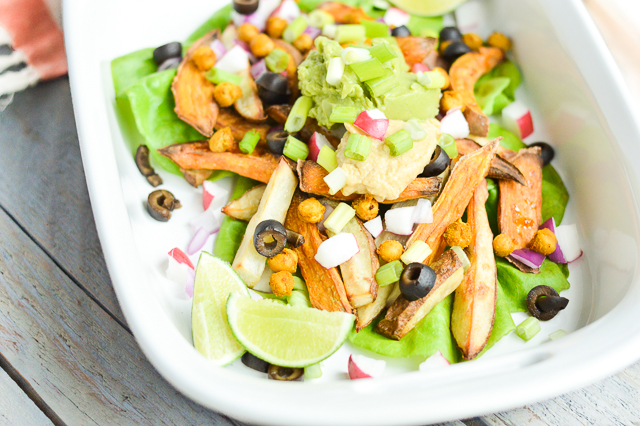 I haven't been eating gluten, dairy, eggs, red meat, corn, tomatoes, soy, sugar, etc.  AKA things are pretty similar to my Paleo eating ways.  But, I've added in a few things, too!  Gluten-free oats and legumes have been happening quite often.  I've been loving overnight oats, frozen peas, and hummus.  And while I'm not entirely sure if it is affecting my health in a positive or negative way, I'm rolling with it.
Besides, can I really say no to having an excuse to make roasted chickpeas for the first time in over a year?  I think not.
Loaded Taco French Fries with Roasted Chickpeas
Gluten-Free, Grain-Free, Dairy-Free, Egg-Free, Soy-Free, Vegetarian, Vegan
Serves 3 to 4
Ingredients
1 15 ounce can of organic chickpeas, drained and rinsed
2 TB of your favorite taco seasoning (I used this nightshade-free version)
2 medium russet potatoes
2 medium sweet potatoes
2 TB of avocado oil
1 TB of fine sea salt
1 head of iceburg, butter, or Romaine lettuce, roughly chopped
1 bunch of radishes, chopped
1/4 cup of sliced black olives
1/2 cup of homemade guacamole
1/2 cup of spicy avocado hummus
1/4 of a red onion, diced
4 green onions, chopped
Directions
1. Preheat oven to 400 degrees F.  Line a baking sheet with a silicone baking sheet or parchment paper.  In a small bowl, combine chickpeas and taco seasoning.  Stir until well-coated.  Spread into a single layer on the baking sheet and roast for approximately 15 minutes, flip, and roast an additional 10 to 15 minutes.  Set aside.
2. Decrease heat to 375 degrees F.  Line two baking sheets with foil or parchment paper.  Place cooling racks onto each baking sheet.  Cut potatoes into "fries."  In a large bowl, combine fries and avocado oil.  Stir until coated.  Spread fries onto the cooling racks making sure they do not touch.  Sprinkle with salt.  Bake for approximately one hour, or until golden brown and crispy.
3. Compile loaded fries in the following order: lettuce, french fries, roasted chickpeas, radishes, black olives, guacamole, hummus, and red and green onions.
I totally have intentions of making these fries with chicken, pork, and beef in the future, but for now, I'm kind of loving on the chickpeas.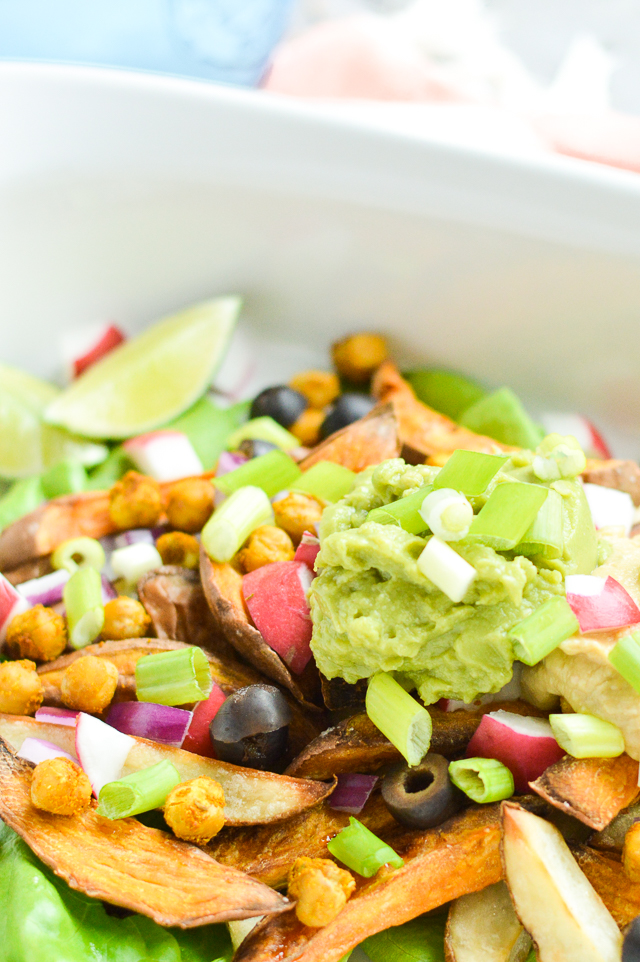 #Vegan Loaded Taco French Fries with Roasted Chickpeas AKA #TacoTuesday Click To Tweet
This post contains affiliate links.  Thank you for supporting CEVG and enabling me to continue working towards better health!