What a weekend!  I met my boyfriend in Des Moines for some quality time together.  Being in a long-distance relationship is by no means easy.  So whenever we get the chance to spend even two days together, we take it!  As per usual, we ate delicious food, drank delicious beer, and had a grand time together.  It is so nice spending time with someone who has interests that are so similar to your own.  We very rarely have to compromise on where we will eat or what we will do when we are together.  Things seem to be working out pretty nicely for the both of us 😉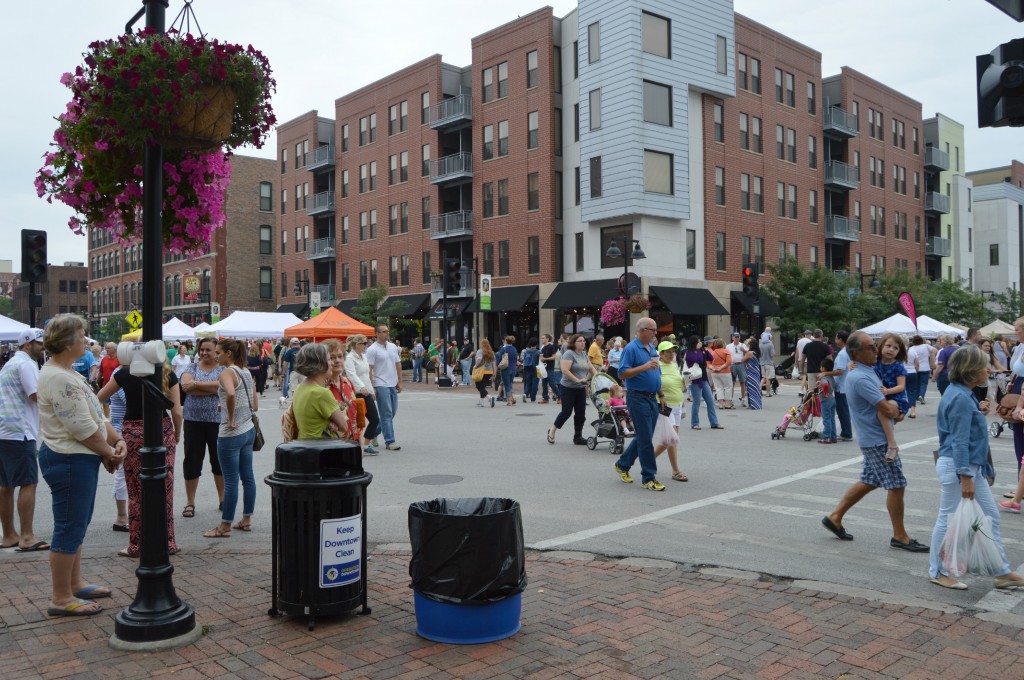 Both Jeremy and I woke up super early on Saturday morning so that we could make it to Des Moines by 9 to hit up the Farmers Market.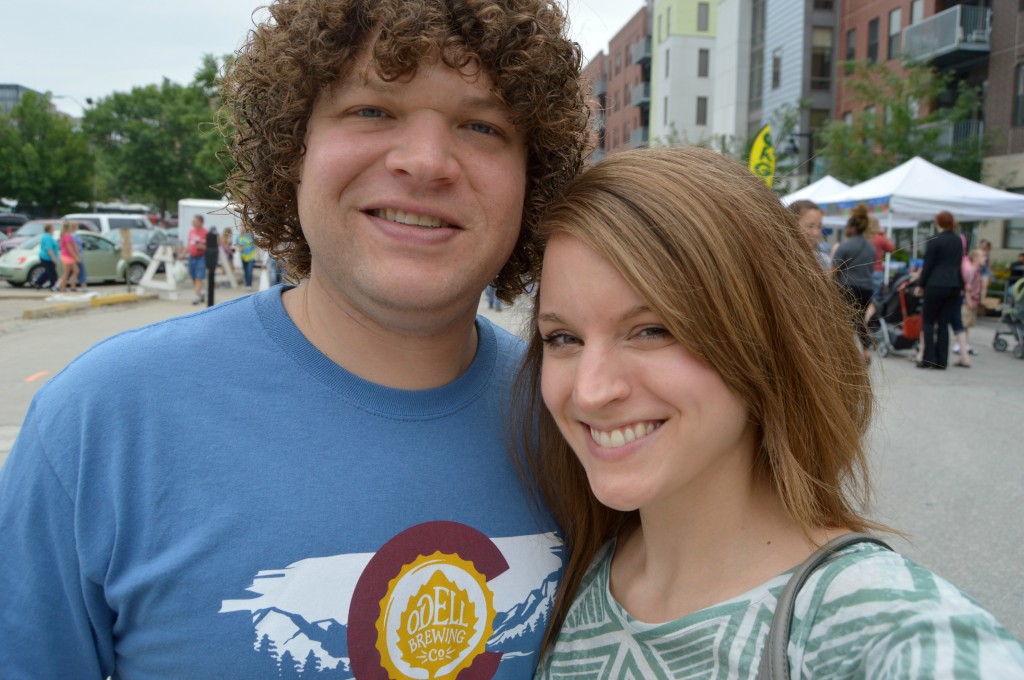 The Des Moines Farmers Market was recently ranked #2 in the country and I totally understand why (Omaha was #6!).  We had a blast walking around, checking out all of the vendors, and sampling delicious food.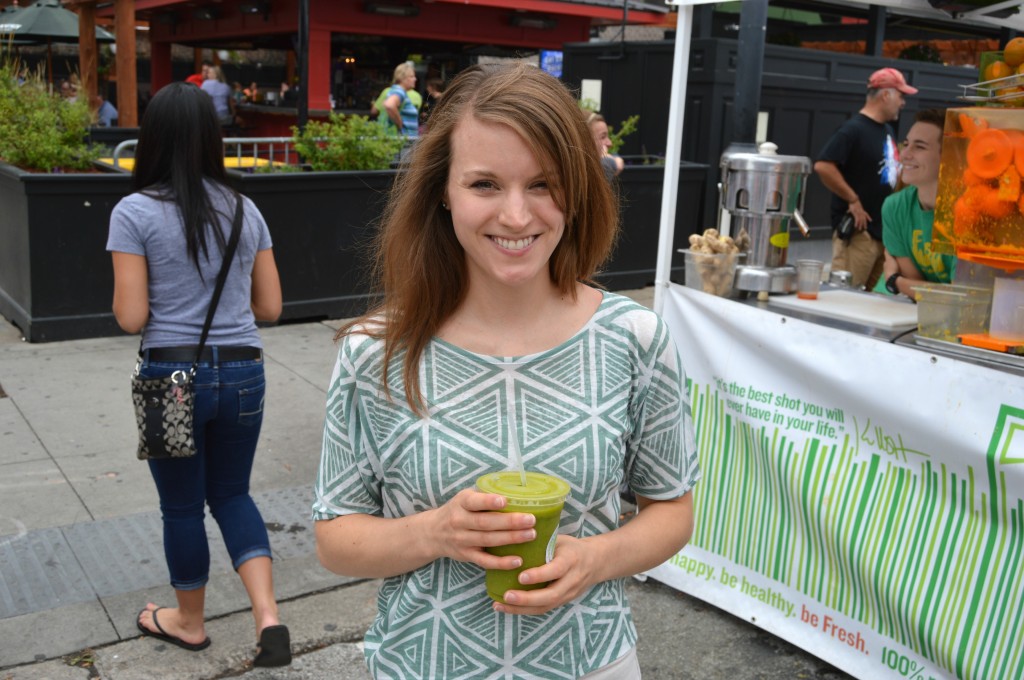 I was not able to buy any produce since I was not going home until the next day, but I made sure to buy a green smoothie.  It was deeeelicious!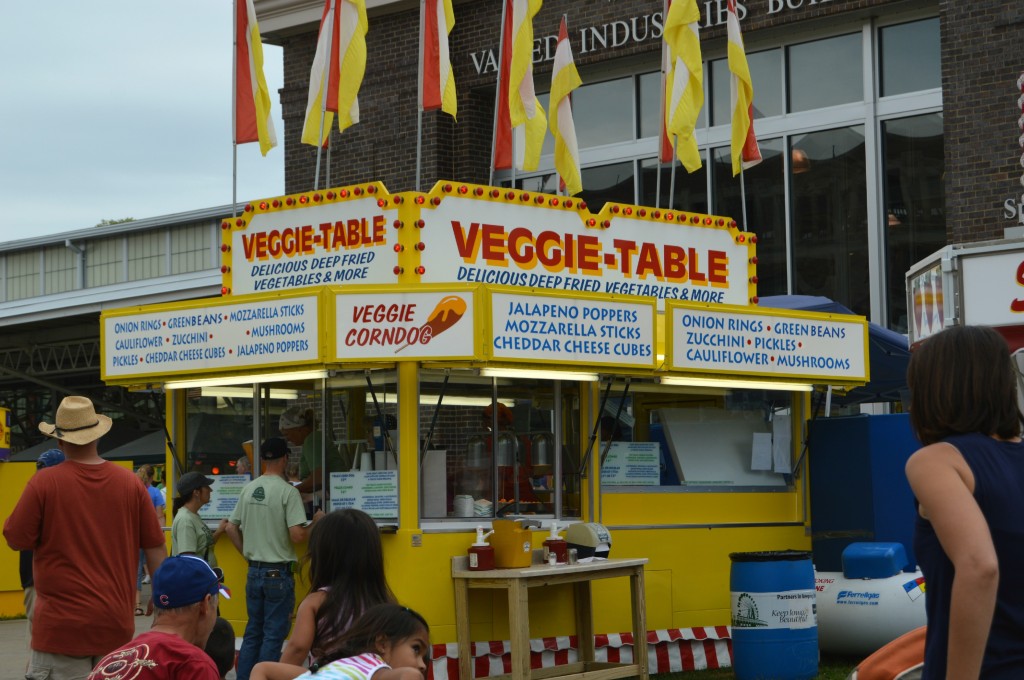 After our adventure at the Farmers Market, we headed to a Midwestern staple: the Iowa State Fair.  Jeremy had never been and the last time I went was years ago, so we figured it was a must-see.  We arrived around lunch time and went straight towards the food.  I found a vendor called Veggie-Table that was totally right up my alley.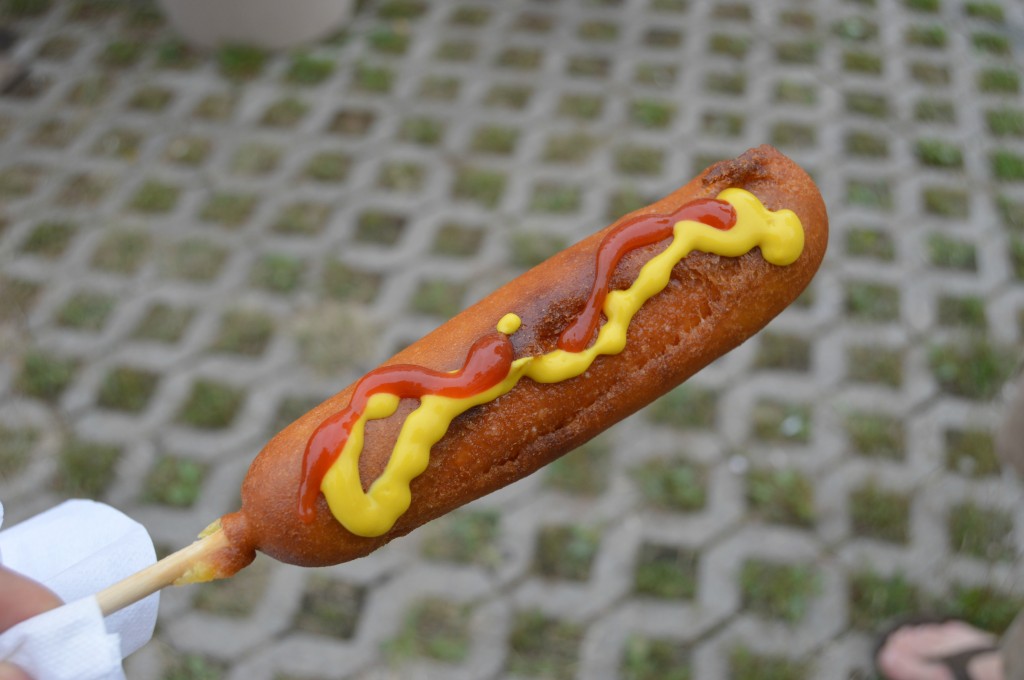 I ordered a veggie corndog (which I was SO excited about!) and Jeremy ate a foot-long regular corndog.  My veggie corndog was delicious and it honestly tasted exactly like what I remember regular corndogs tasting like… or maybe better!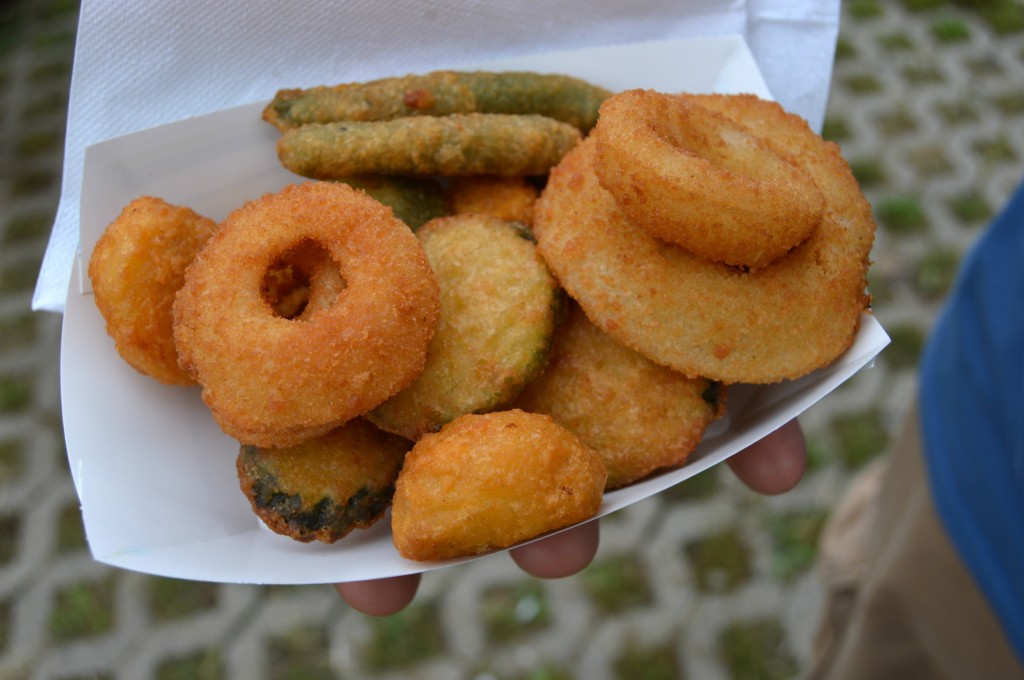 We also split an order of fried vegetables.  In the mix were onions, mushrooms, cauliflower, zucchini, and green beans.  We both agreed that the fried green beans were the best.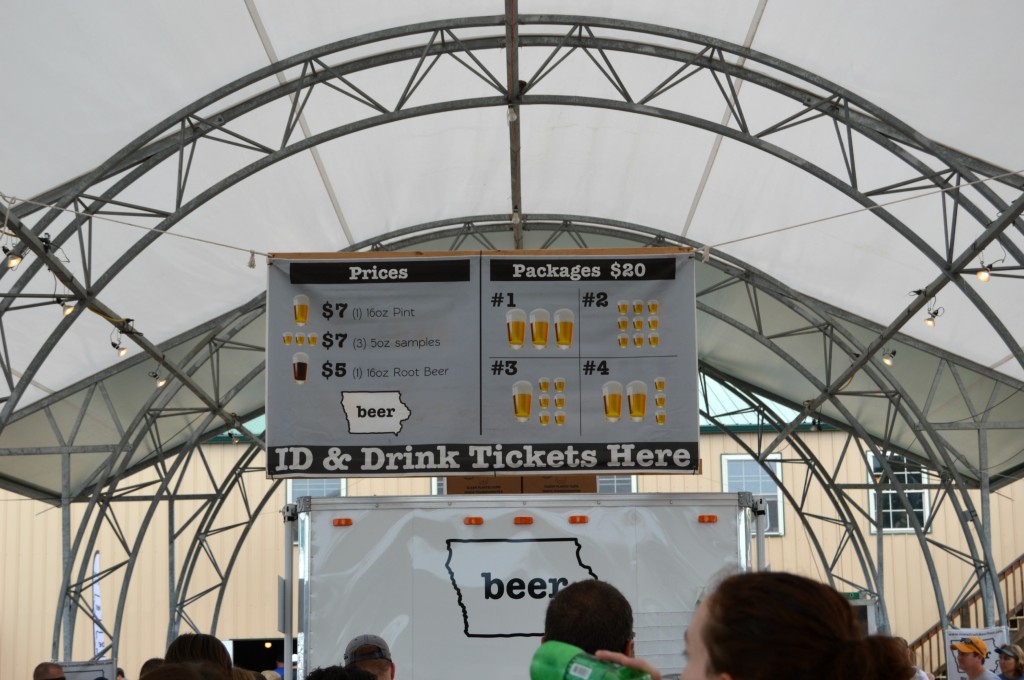 After lunch, Jeremy and I hunted down the Iowa Craft Beer Tent.  We stayed here for a couple of hours.  No surprise there, right?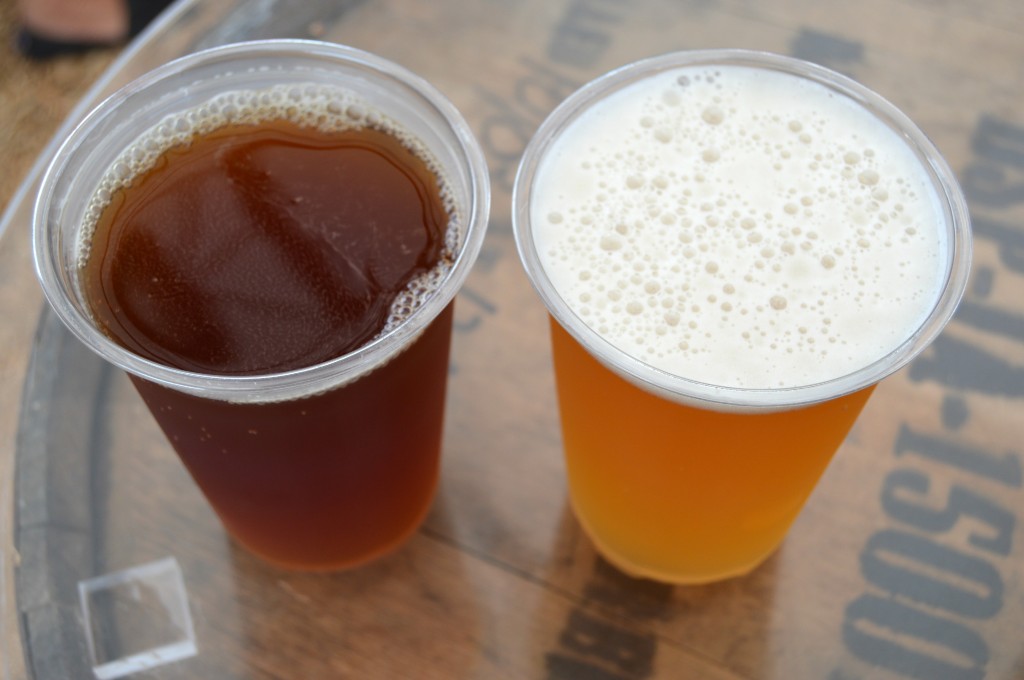 One of the beers that I drank was called Farmer Johns.  I made sure to choose it since my dad's name is John and he is a farmer.  I figured it was rather fitting.  It was also delicious!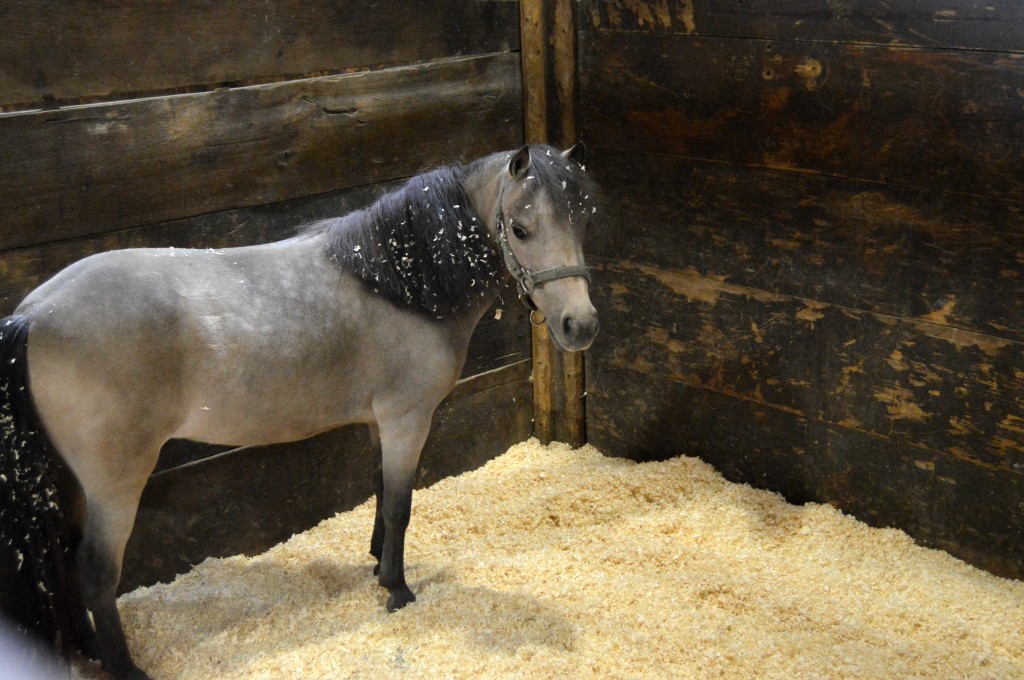 After our drinking adventure, we went to check out some of the adorable animals at the fair.  I fell in love with several of the horses, including this beauty.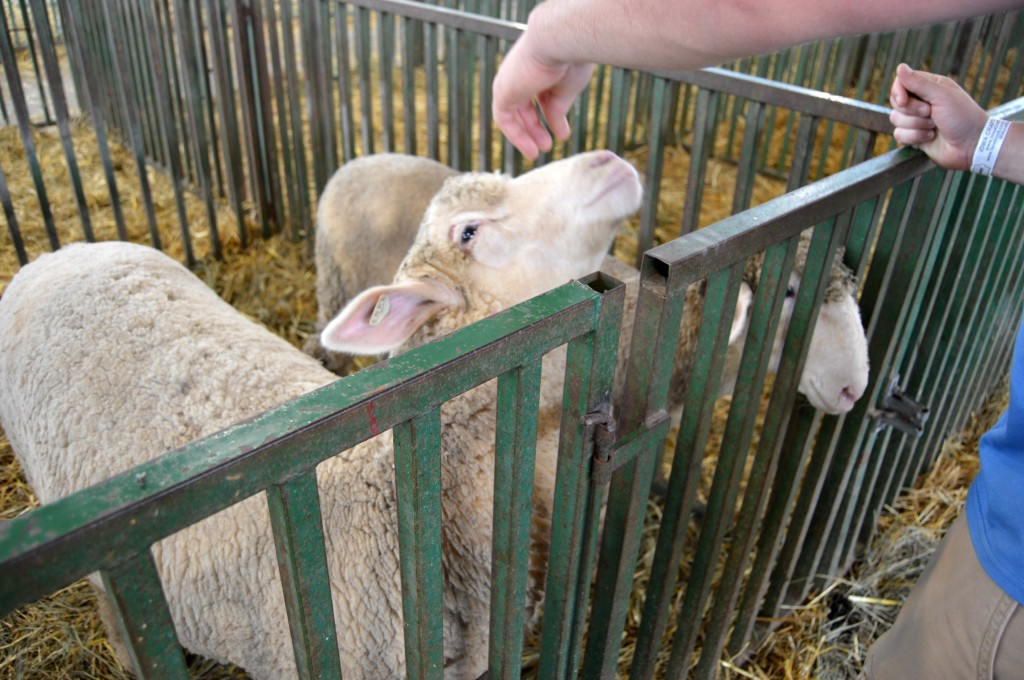 We also really enjoyed petting, loving on, and talking with the sheep and pigs.
No trip to the Iowa State Fair would be complete without a visit to the Butter Cow.  Pretty amazing, right?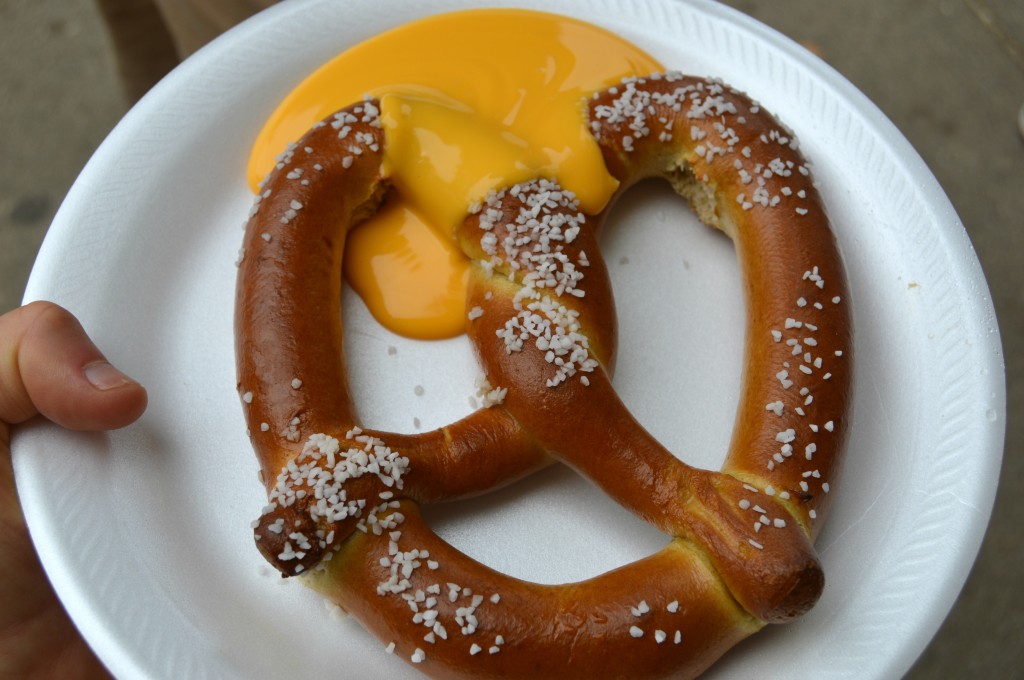 Before heading out, we shared a salted pretzel with cheese.  We needed something to soak up the beer, right? 😉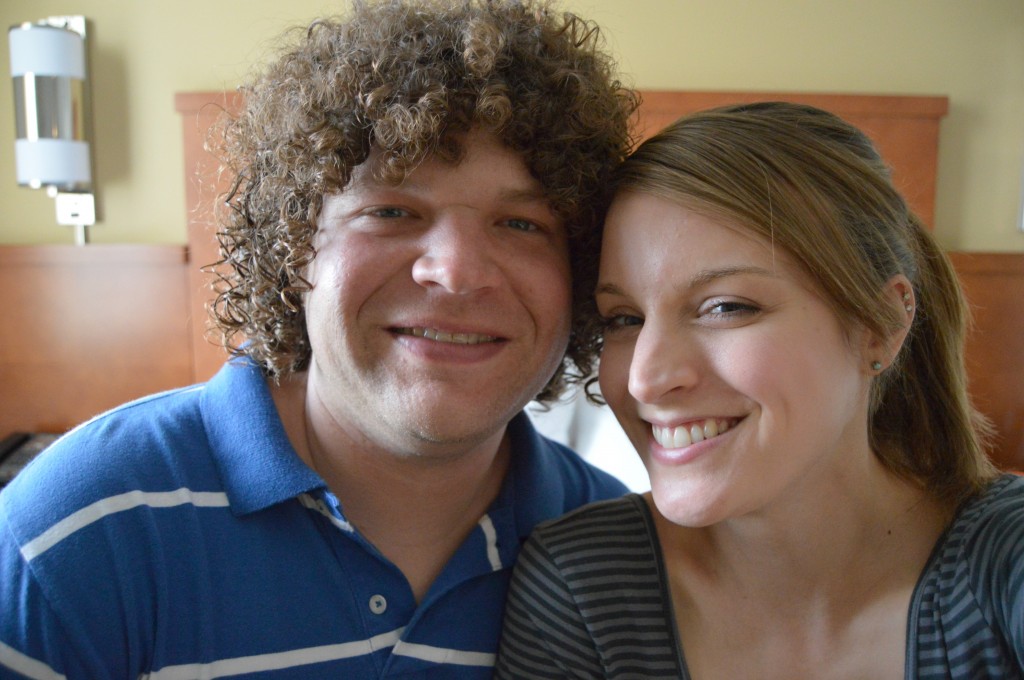 Once we checked into our hotel after the fair, we quickly got ready for our dinner reservation.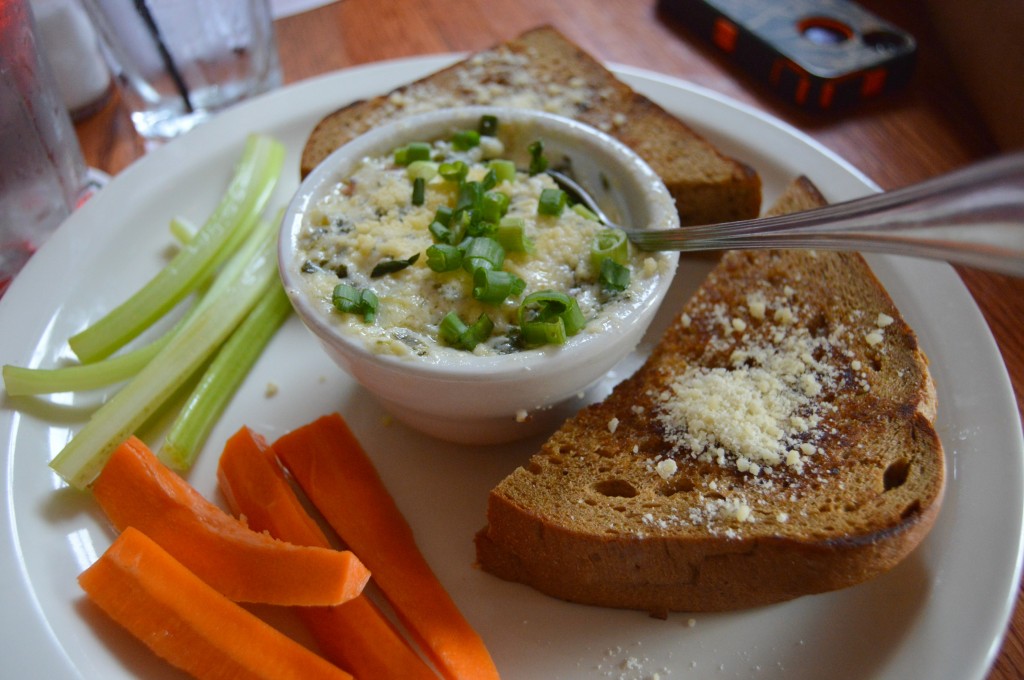 We ate dinner at Raccoon River Brewing Company.  We started with an appetizer plate of artichoke and asiago cheese dip, bread, and veggies.  This was seriously delicious.
For my entree I ordered the Sir Paul McCartney veggie burger.  This was probably the biggest veggie burger I have ever eaten.  It was also super delicious.  I ate every single bite and was slightly stuffed at the end.  I ate a side of hand cut slaw on the side which was just okay.  I did not end up finishing it since the burger was so huge.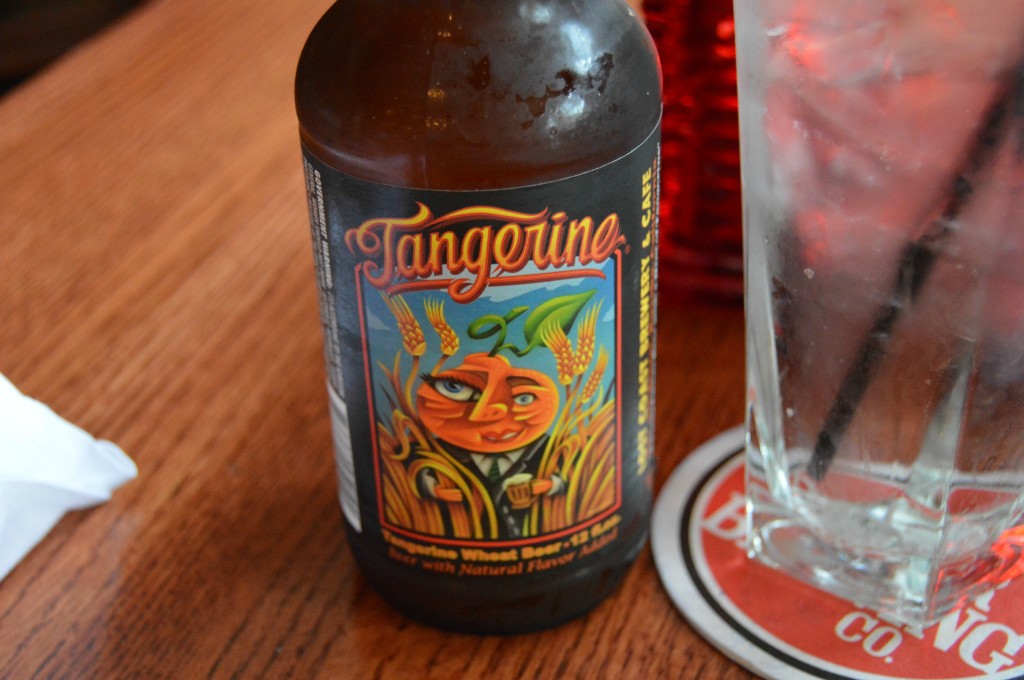 I washed everything down with a tangerine wheat beer.  I liked it but I did not love it.  It was slightly too sweet for my taste.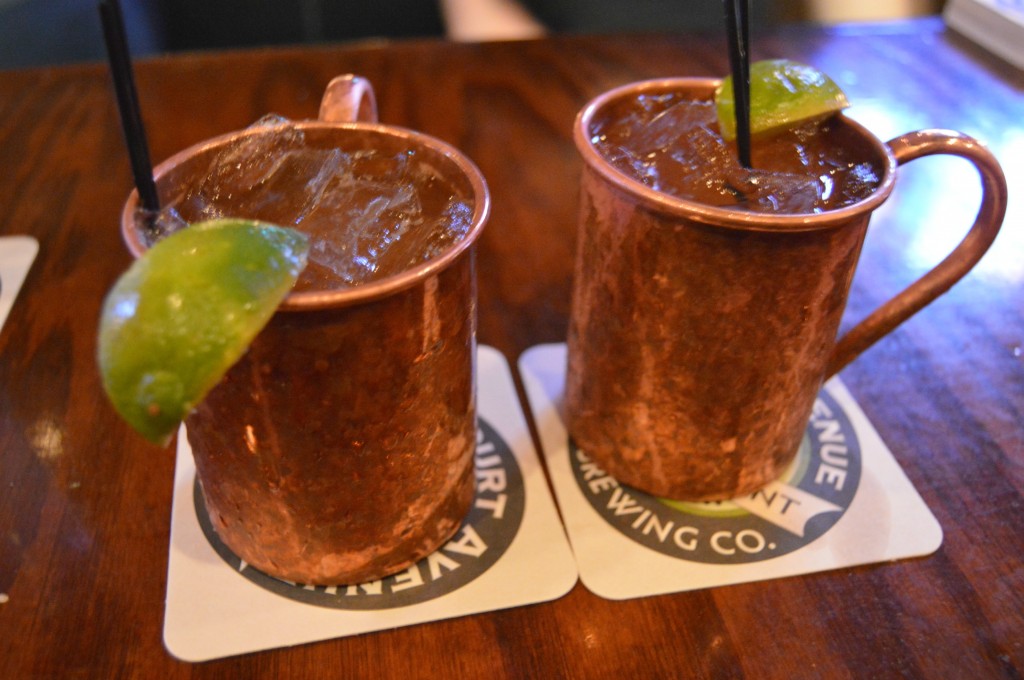 When Jeremy and I go to Des Moines, we always stay at a hotel downtown so that we can go out for drinks, walk back to the hotel, and not have to worry about driving.  Before we hit up el Bait Shop for beers, we stopped at Court Avenue Brewing Company and tried something new to us: Moscow Mules!  I got a pineapple version and he ordered a peach version.  We both really liked them, but I think we decided that we will mostly be sticking with beer in the future.  My tastebuds just cannot handle the sweetness as much as they used to be able to.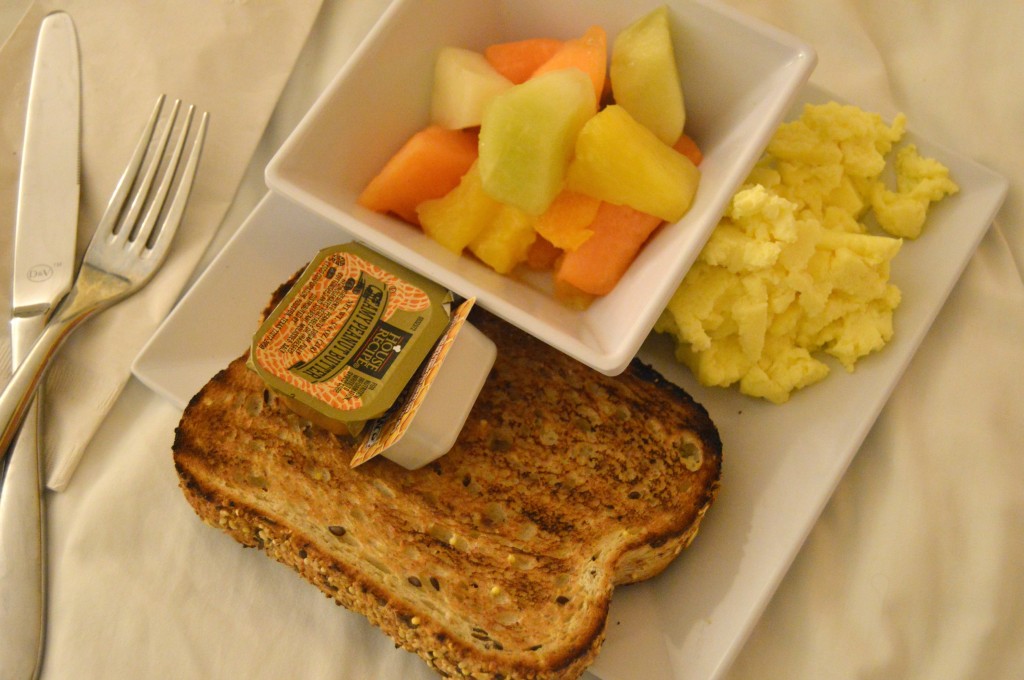 Despite staying out until about 2 a.m. Saturday night, we still made it up in time for the continental breakfast.  I was pretty impressed with what the Hyatt had to offer for their breakfast.  I had a piece of whole grain toast with peanut butter and honey, scrambled eggs, and fresh fruit.  It was the perfect breakfast after a night of drinking.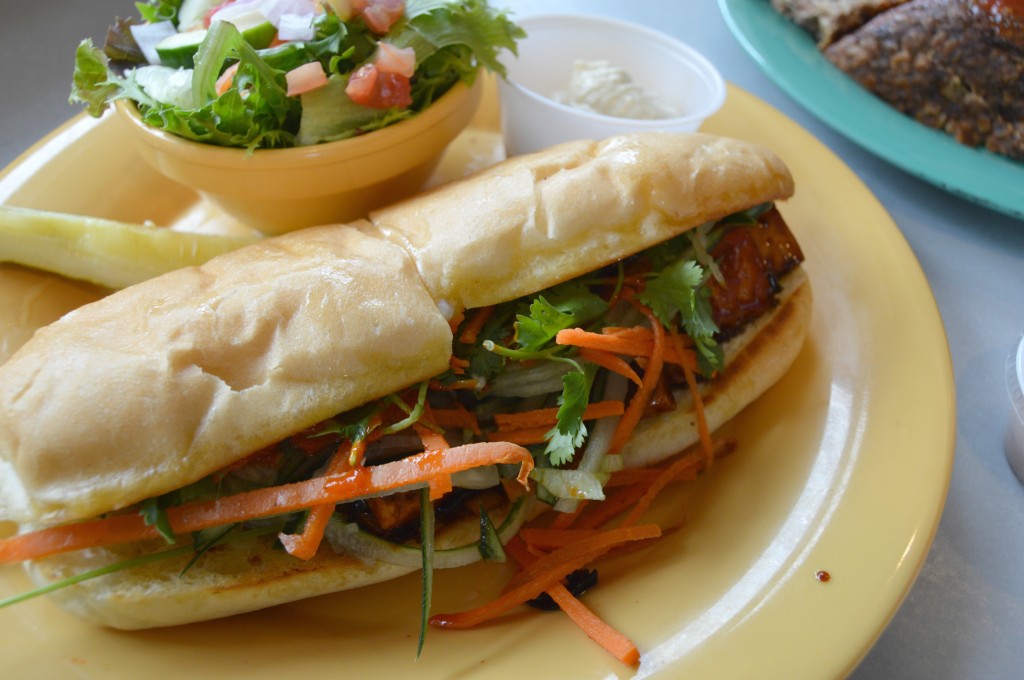 We finished out our weekend together with lunch and a movie.  We ate at one of my favorite Des Moines restaurants, Gateway Market.  I ordered my usual, the vegan Bahn Mi sandwich with a side salad.  We saw the movie, Into the Storm, and I really enjoyed it.  I am pretty fascinated with weather so it was definitely my kind of movie.
I had a great weekend in the best state around, Iowa.  I hated when it was over.  Hopefully I will be back in Iowa very, very soon!
Do you do anything fun this past weekend?