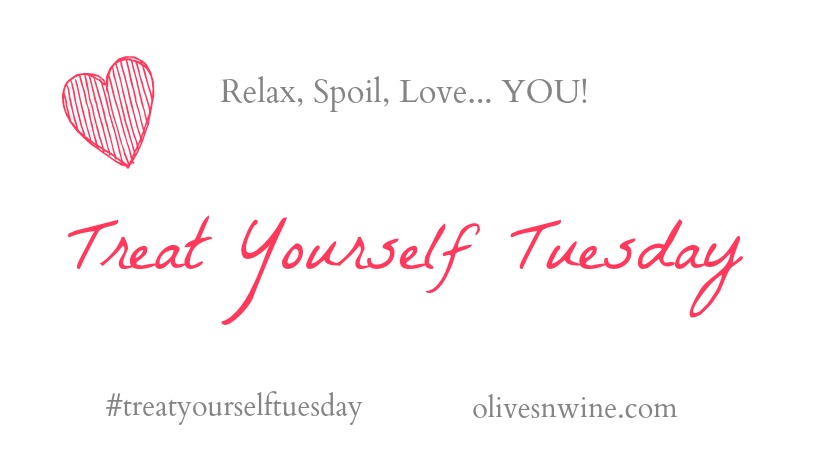 It has been awhile since I have linked up with Becky for Treat Yourself Tuesday.  I thought it was rather fitting today though since I did a whole lot of treating the past three days with my boyfriend- who is still here until Wednesday and I am super excited about that!  Good eats and drinks, time with friends, and a few purchases here and there are definitely great treats if you ask me!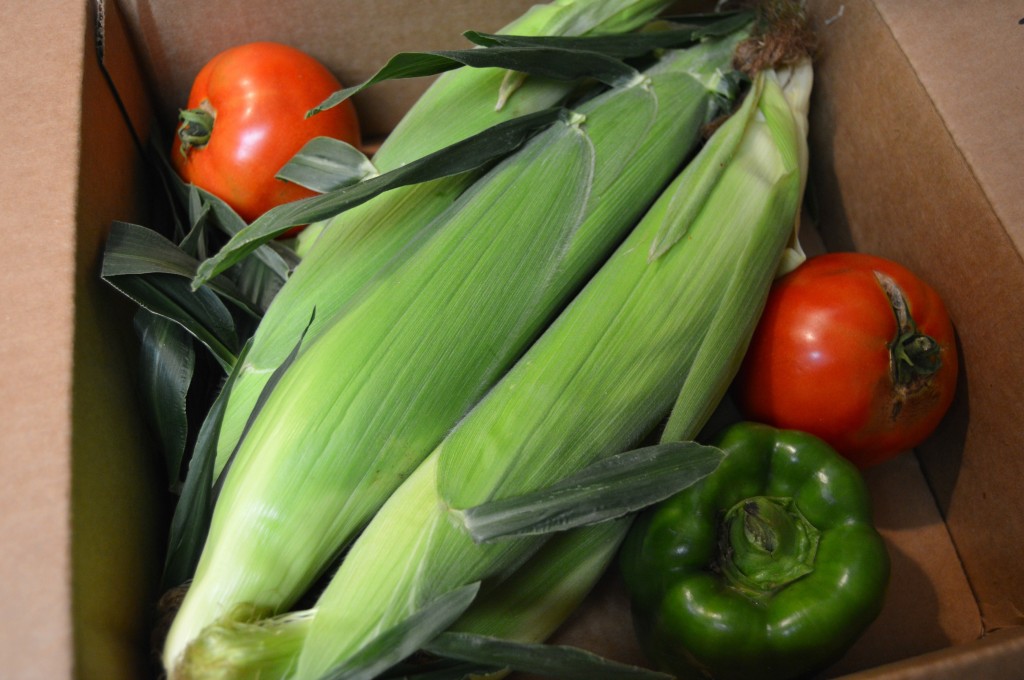 My daddy treated me to fresh produce from his garden!  Jeremy delivered a box of Iowa sweet corn <– there is nothing better, a green pepper, and tomatoes to me when he arrived on Friday night.  To say that I was excited about this would be a bit of a understatement.  I also have to give a shoutout to my mom who sent a long a shirt for me.  I sure have great parents!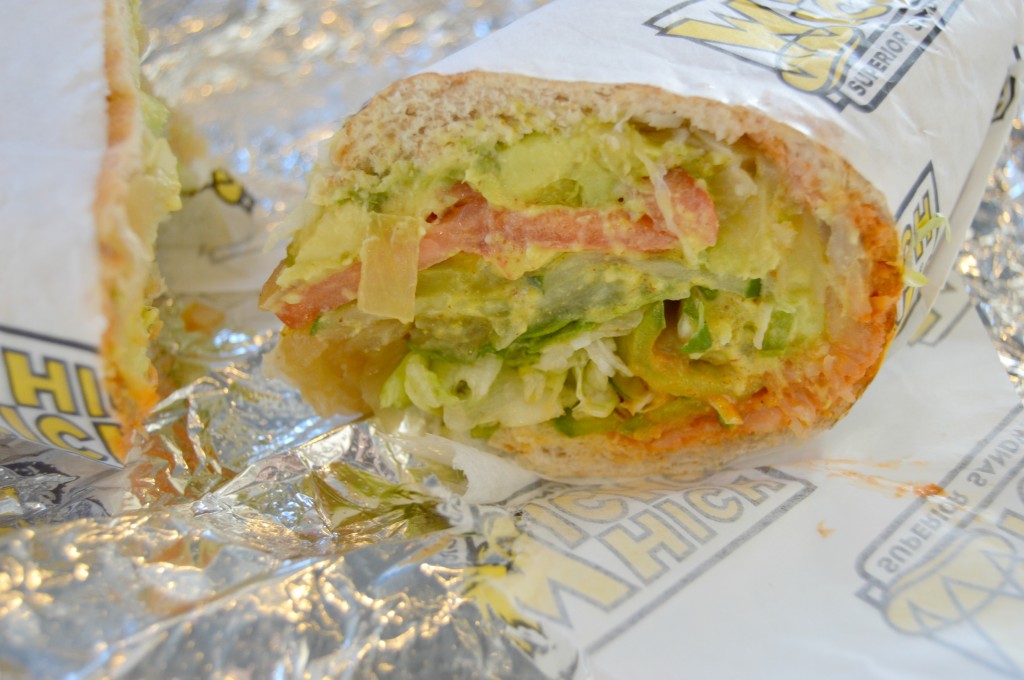 On Saturday morning, Jeremy and I headed to Which Wich for an early lunch.  I had heard great things about this sandwich shop for well over a year and finally made my first trip there.  I ordered the tomato and avocado vegetarian sandwich on wheat bread and topped it off with tons of veggies, sriracha, and Deli mustard.  It was super delish and I loved the insane amount of toppings and condiments that they offered.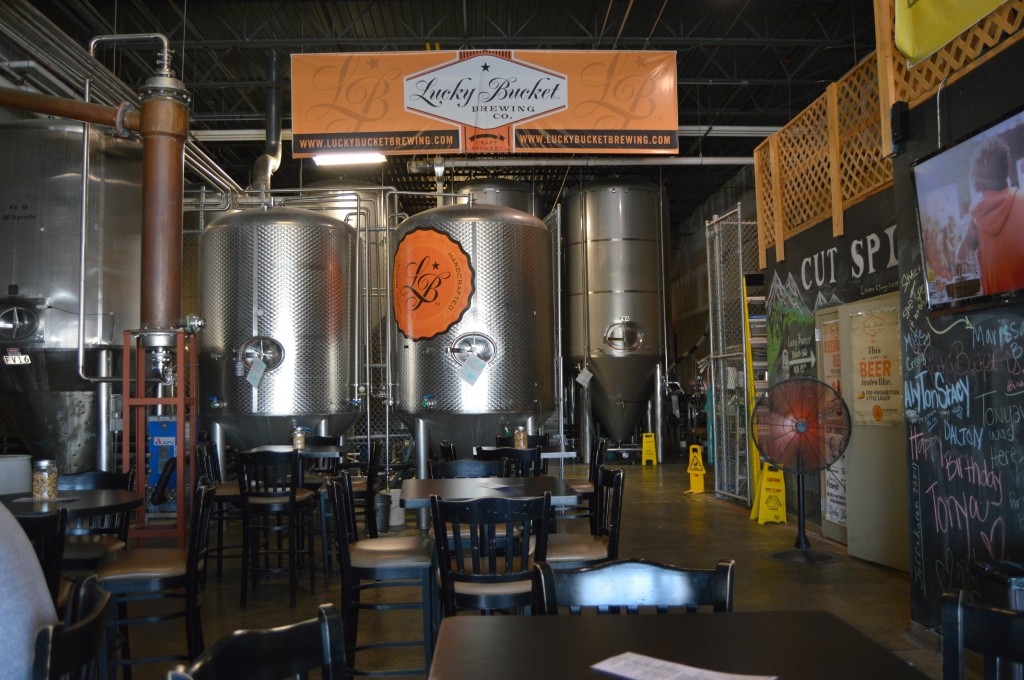 We ate an early lunch because we had a date with a local brewery at noon.  I bought a Groupon for Lucky Bucket Brewery several months ago and we needed to get it used up before September.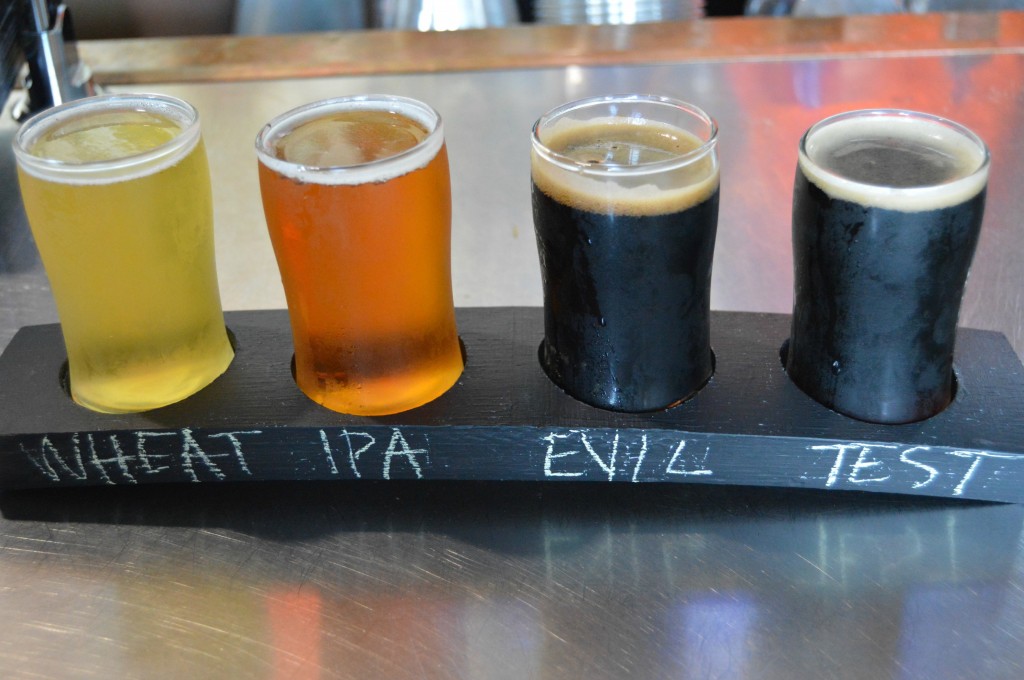 We went on a tour with a beer each, shared a flight afterwards, and left with three six packs of beer (free with the Groupon).  Beer is always a good treat, right?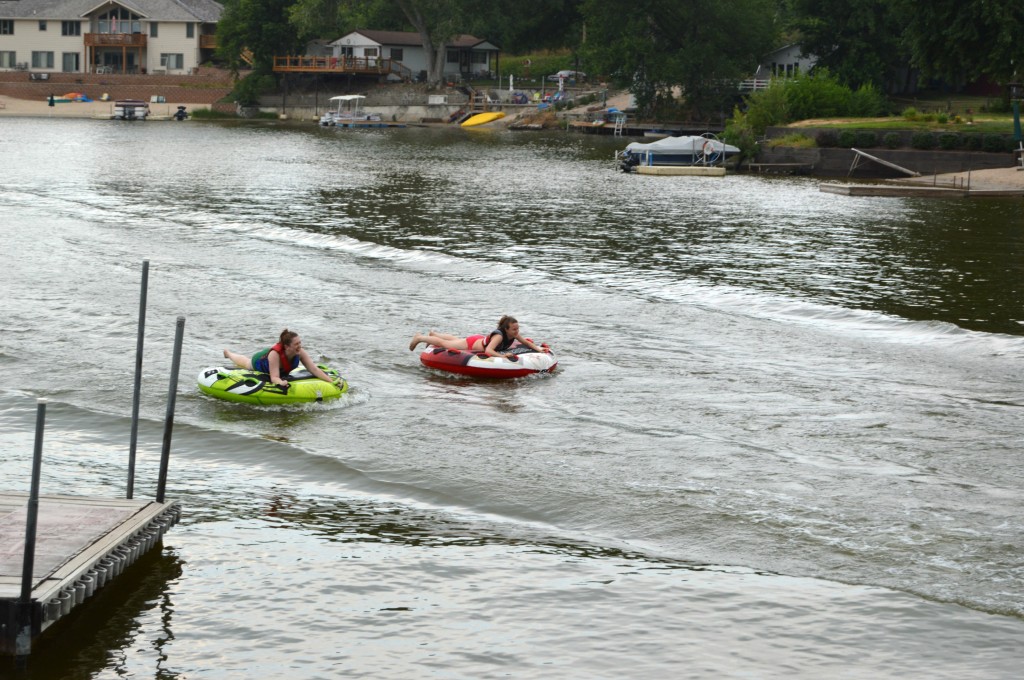 After a quick trip to the grocery store, we went to Hanson Lake where Joanna and her husband Jeff's family have a cabin.  We went tubing, swam, played yard games, ate, and drank.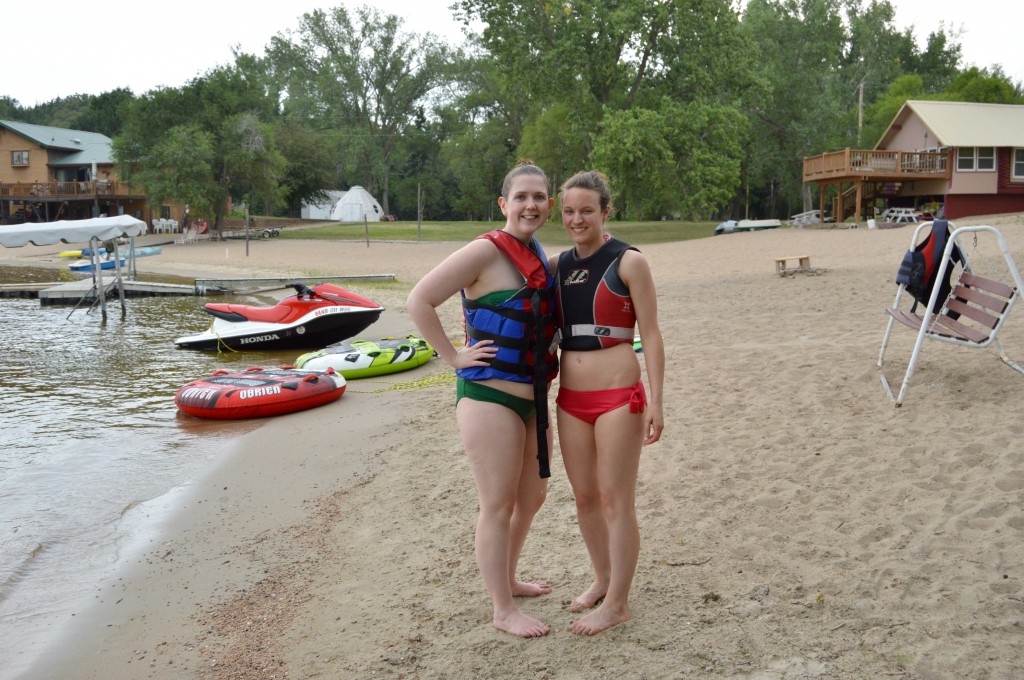 Erin and I survived our tubing experience without falling off!  It had been forever since I had been tubing, but I had a blast.  I was also quickly reminded of how much of an arm workout it is!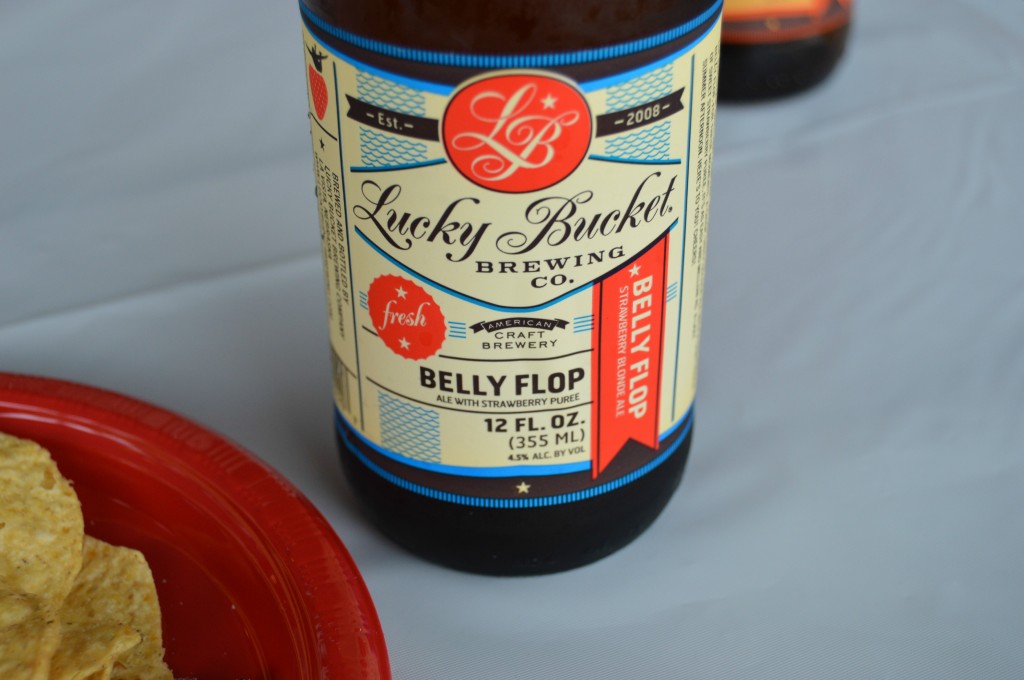 I brought along a couple of Coors Lights and a couple of the new beers that I had tried earlier that day.  This was the Summer beer from Lucky Bucket that is made with organic strawberries.  I love it because the fruit flavor is not too sweet.  I am not a fan of super sweet beers.  I also ate quite a few plates of chips with guac, Blue Diamond Rosemary and Black Pepper almonds (these were a huge hit), fruit, Scotcharoos, and Twizzlers.  It may have been snack overload 😉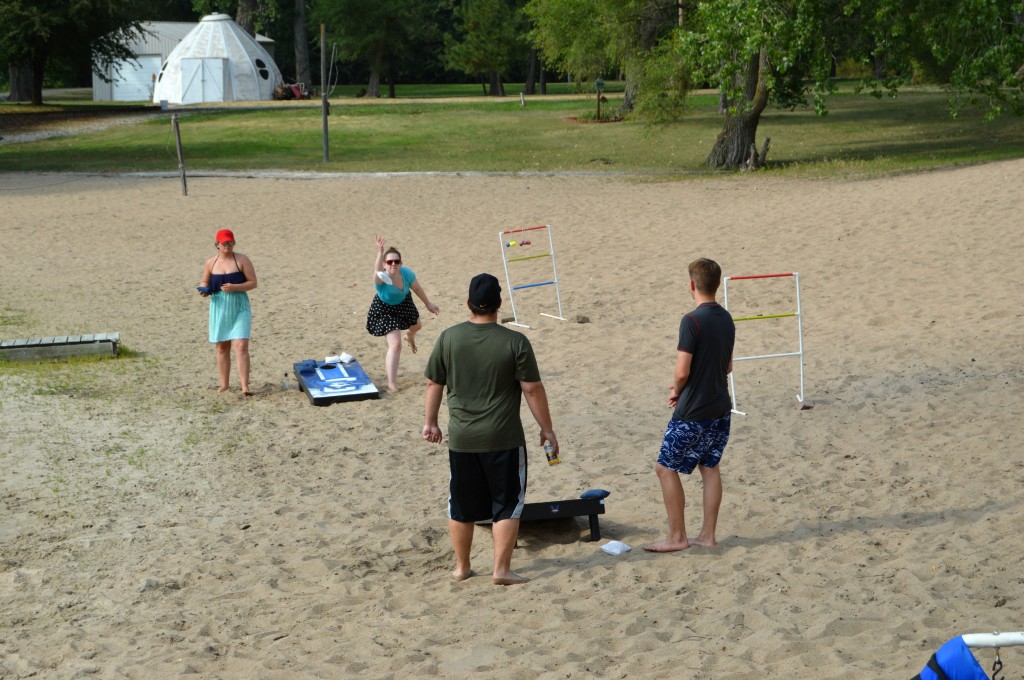 Bags and ladder golf are always a good time.  I felt like I was back in college for a little while!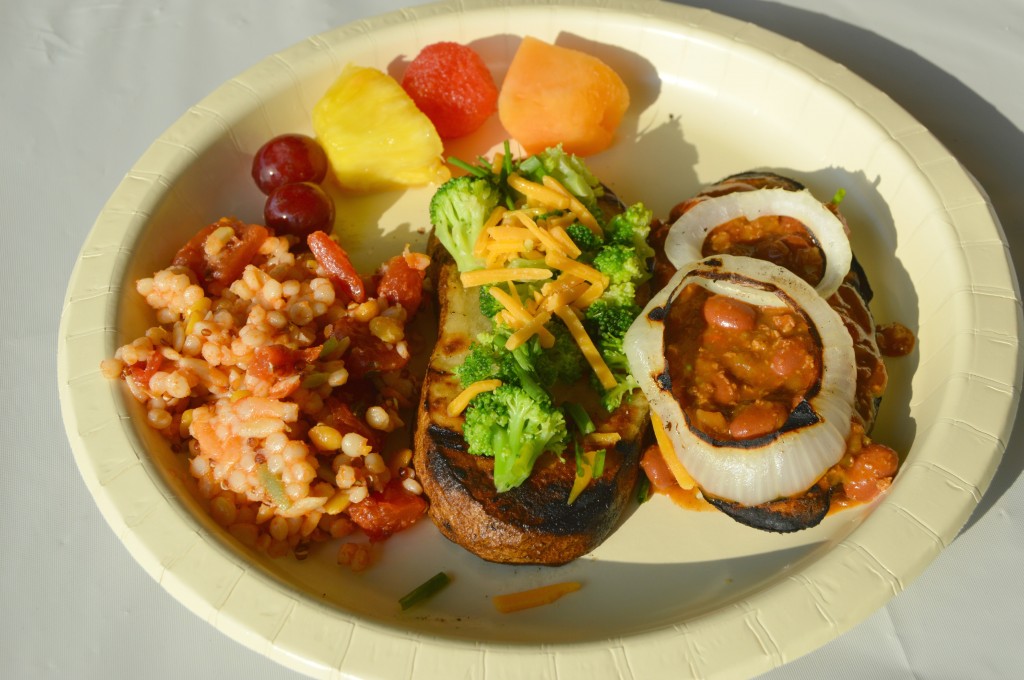 Dinner was loaded grilled potato slabs (more on these later), a delicious couscous salad that Erin and Josh brought, and more fruit.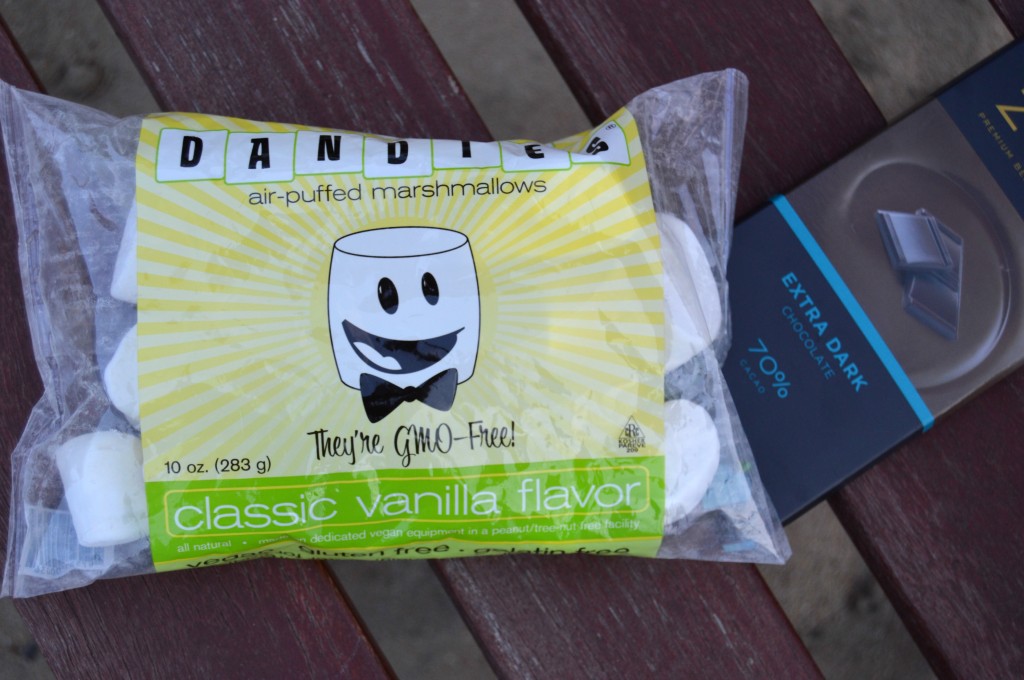 And as if that was not enough food for the evening, we had to roast marshmallows and make S'mores!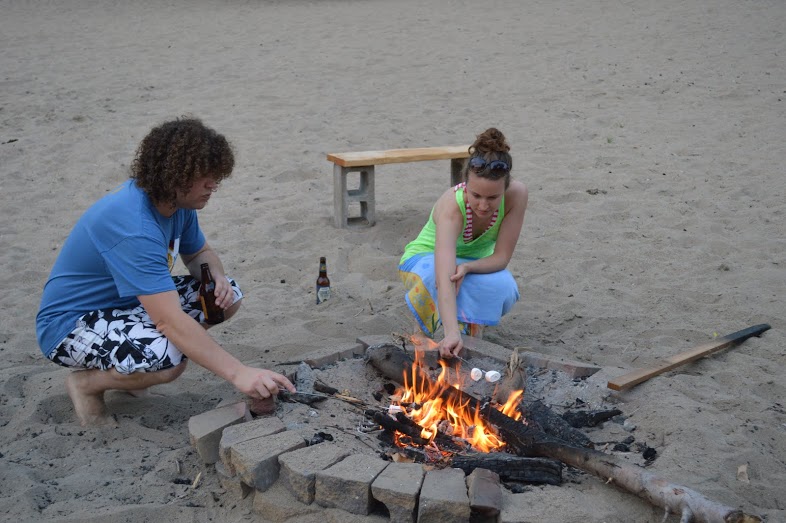 I was extra excited about this because it was the first time that I had eaten S'mores in over two years.  As a vegetarian, I do not eat traditional marshmallows because they contain gelatin.  Lucky for me, Erin and Josh brought vegan marshmallows so that we could all partake in the S'mores fun.  Can I just say that while they did not "roast" or melt quite as well as traditional marshmallows, they honestly tasted exactly like what I remembered marshmallows tasting like.  I was pretty darn excited about that and I am happy that I now know which vegan marshmallow brand to buy (according to Josh, some are not so good).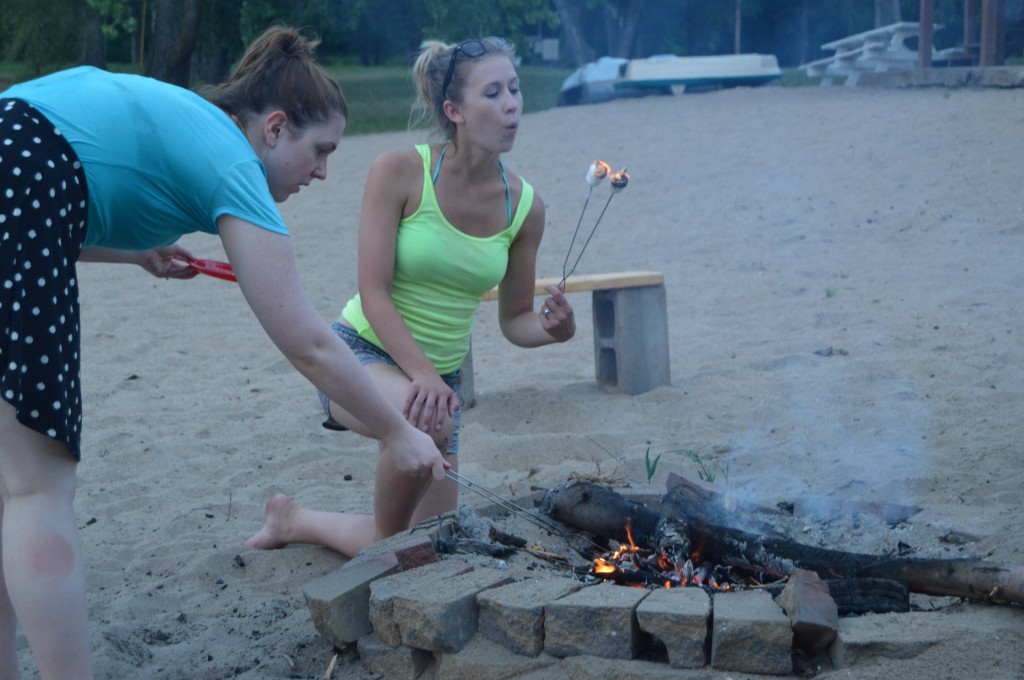 I did not mind the fact that my marshmallows did not get burnt to a crisp.  I am totally not one of those people who likes to set fire to their marshmallows until they are nearly burnt to a crisp.  Anytime that has ever happened to me in the past, I have given up my burnt ones to someone else!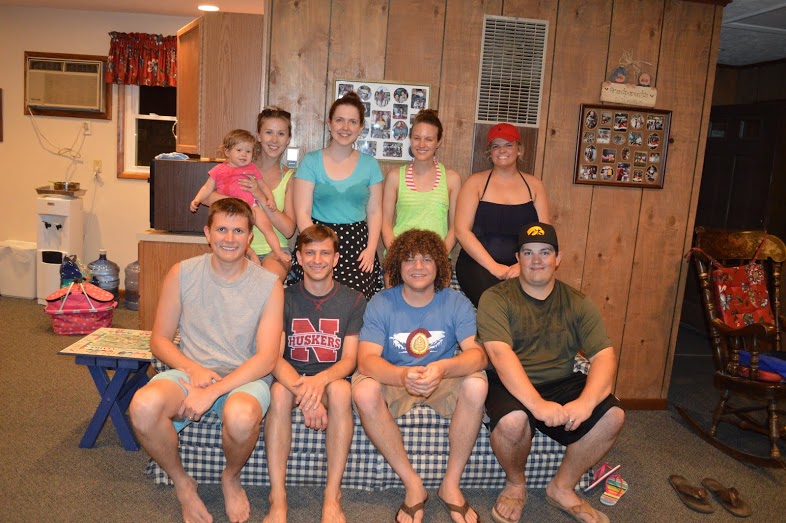 The gang at the end of the night.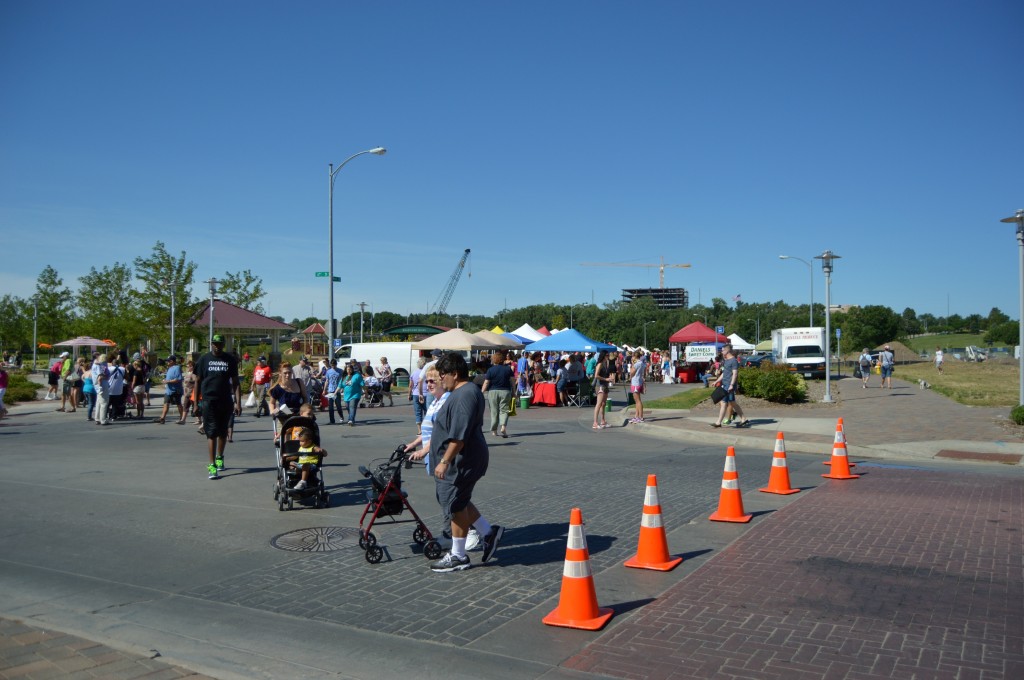 After sleeping in on Sunday morning, Jeremy and I headed to one of Omaha's Farmers Markets at Aksarben Village.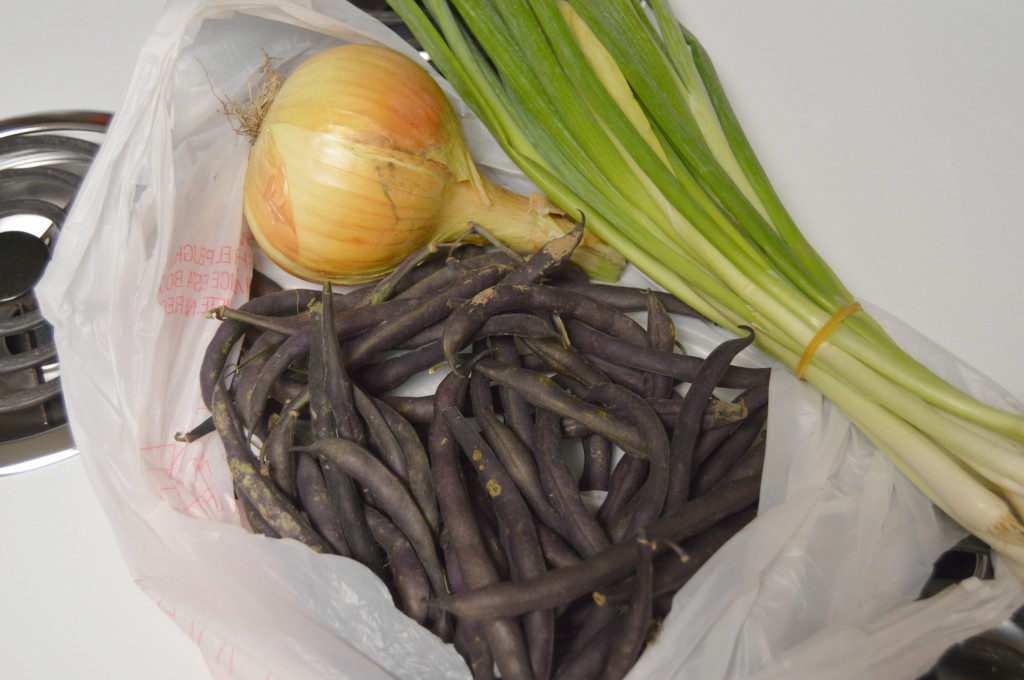 It was a little warm outside, but I ended up crossing some produce off of my grocery list at the market.  I bought green onions, a yellow onion, and purple green beans.  By the way, purple green beans turn green when you boil them and taste exactly like regular green beans.  I have to admit, I was a bit disappointed about that because I was excited to try something new.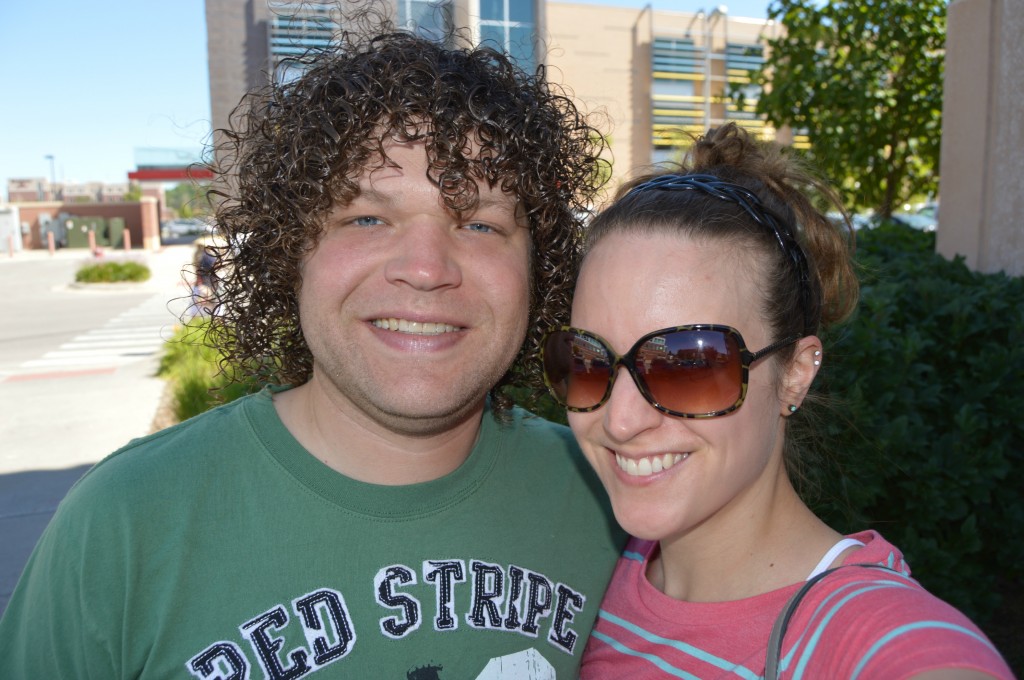 On our way back to the car after the market… with our crazy hair.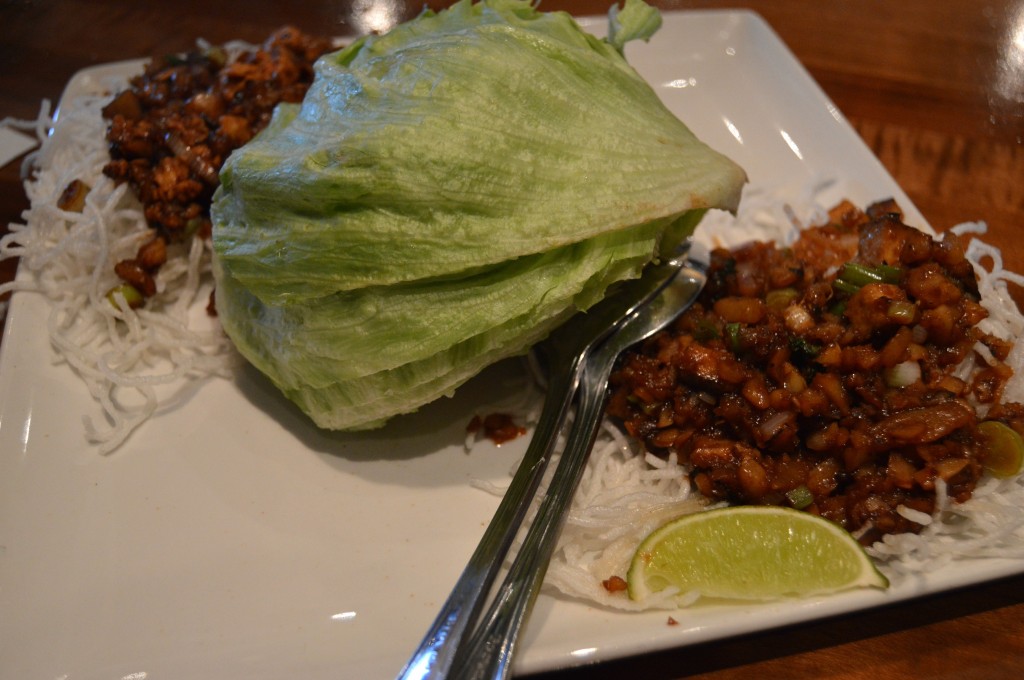 For lunch on Sunday we decided to do something pretty out of the norm for us.  We ate lunch at a chain restaurant.  Both Jeremy and I have several giftcards that have been sitting in our wallets for months and months (and some for years) simply because we really like to eat at local restaurants and tend to shy away from chains.  But since giftcards are free money and I was really craving Chinese food, we decided to treat ourselves to some P.F. Changs.  This was Jeremy's first time eating at P.F. Changs, so naturally we had to order the lettuce wraps!  For the heads up, they are totally willing to split the appetizer and do half chicken and half tofu.  I loved that.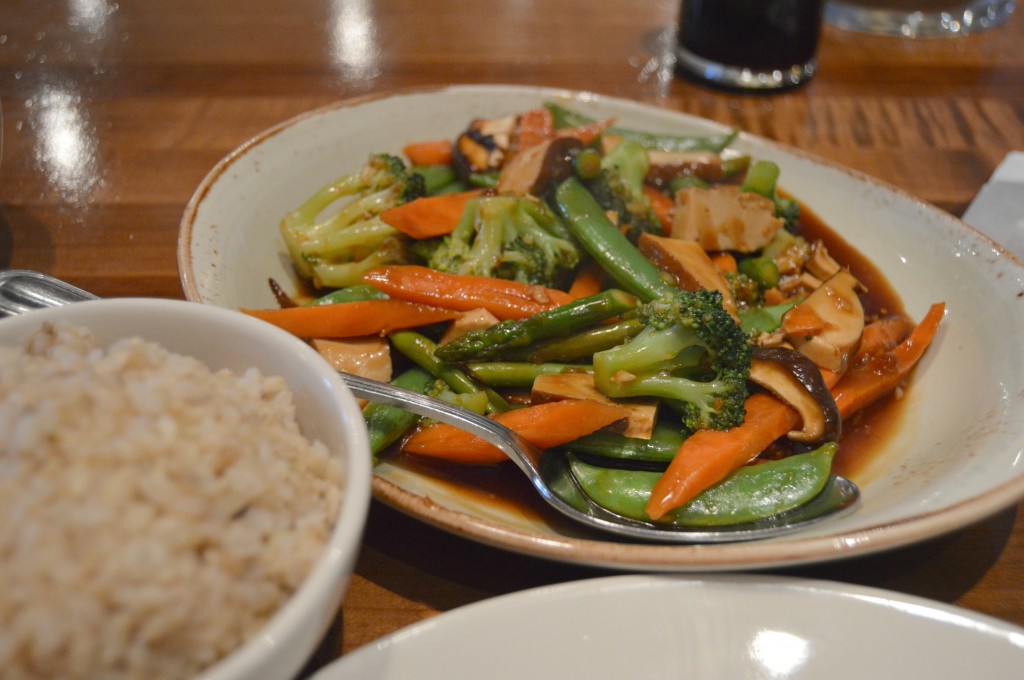 For my main dish I ordered the stir-fried Buddha's Feast with brown rice.  It may be majorly high in sodium, but I was loving all of the veggies!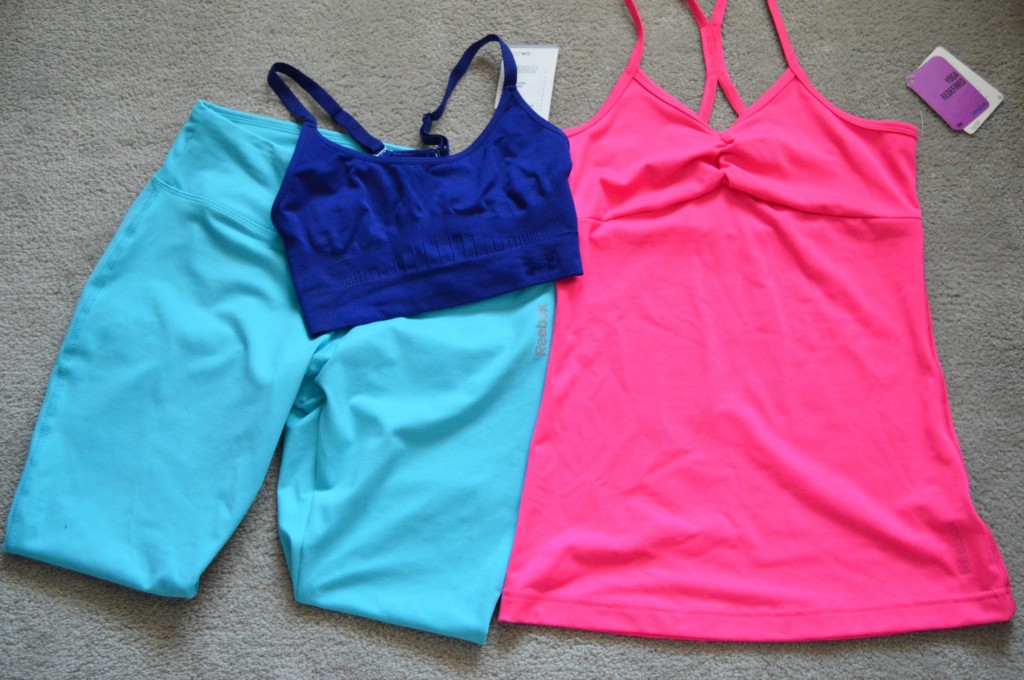 We had plans to go see 22 Jumpstreet after lunch, but made a quick pit-stop to Dick's Sporting Goods to kill a bit of time before the movie started.  For the heads up, they have some awesome clearance sales going on right now.  I bought an Under Armour sports bra, Reebok yoga capris, and a Reebok yoga tank for $30.  If I had paid full price, all three would have cost me over $100.  I love a good deal.  Also, how did they know that I needed new yoga clothes to fuel my hot yoga obsession?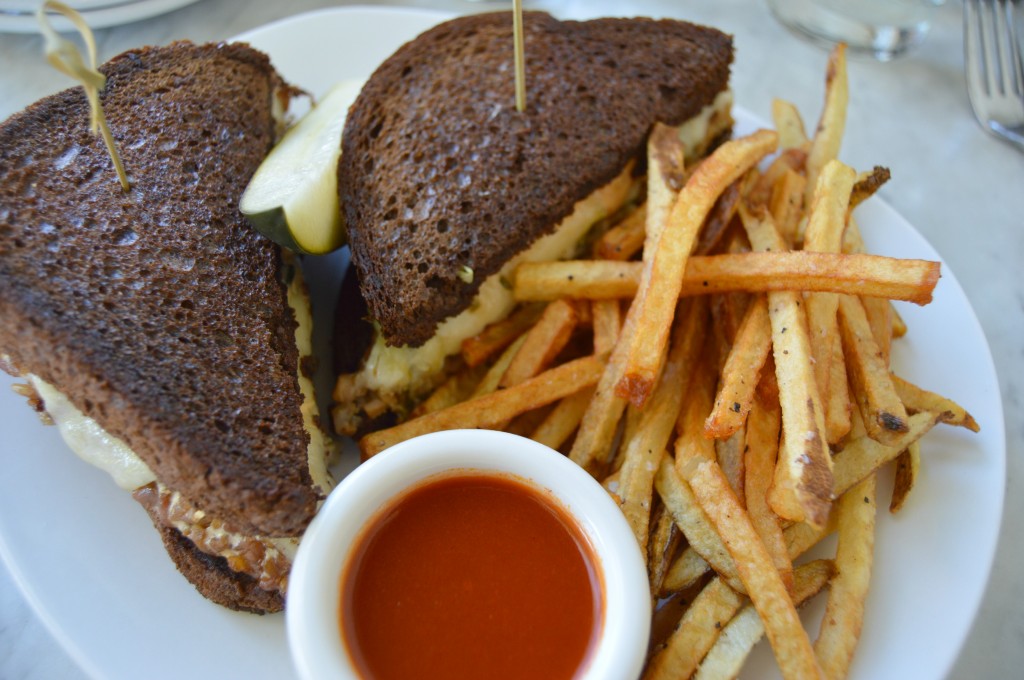 We finished off our treating with a delicious dinner last night at one of my favorite Omaha restaurants: Mark's.  I ordered the Tempeh Reuben (again) because it is one of the best things… ever!  I splurged a bit and chose fries for my side.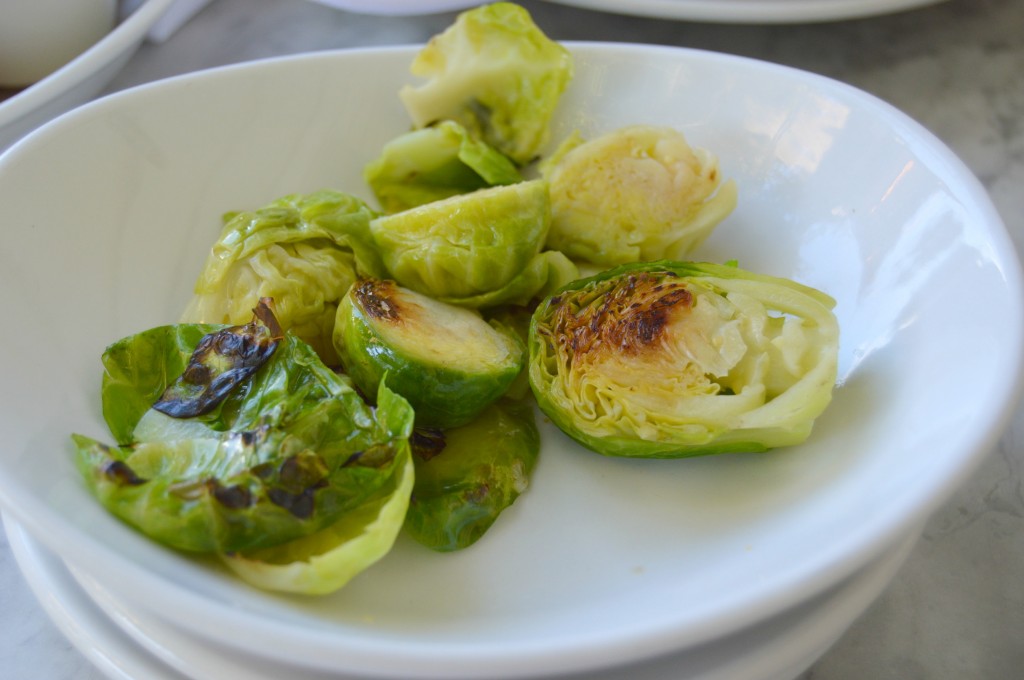 We also split a side order of brussel sprouts (minus the bacon).
I'd say I took Treat Yourself Tuesday pretty seriously this past weekend.
*Thanks to Joanna for a couple of the lake photos!
And finally… the winner of the $45 Swanson Vitamins giveaway is Tiffany!  Congratulations!