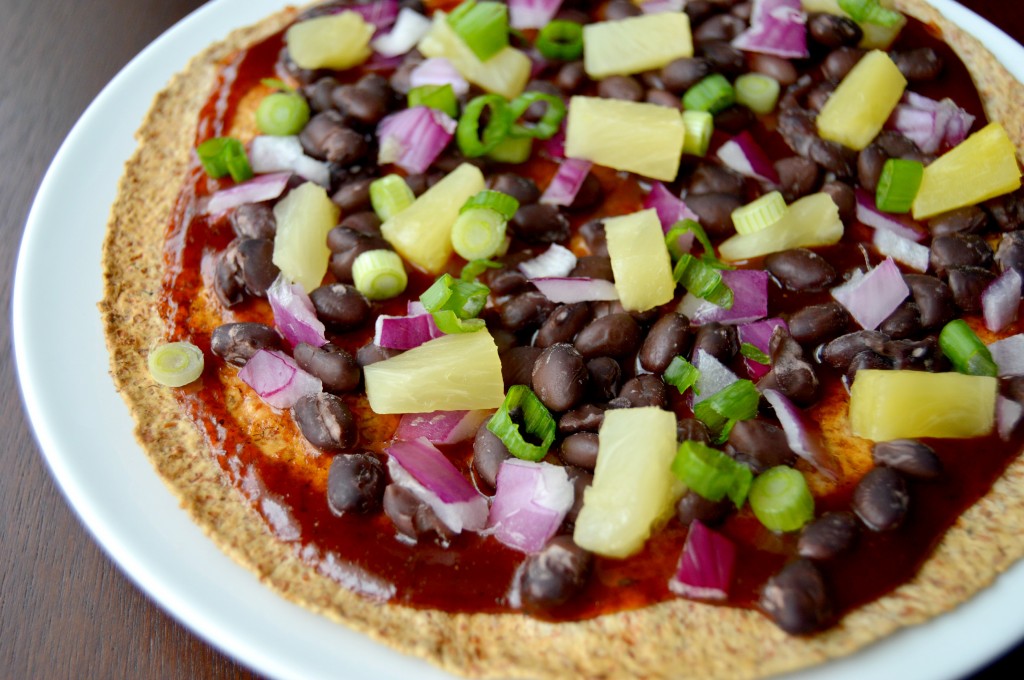 Some people like sausage on their pizza.
Some people like black olives.
Some people will only eat pizza if it is topped with pepperoni.
And some people keep it simple with plain cheese. <– I love a good cheese pizza!
While I am a cheese pizza lover and definitely eat my share of veggie pizza, my heart  belongs to a more nontraditional topping:
Pineapple.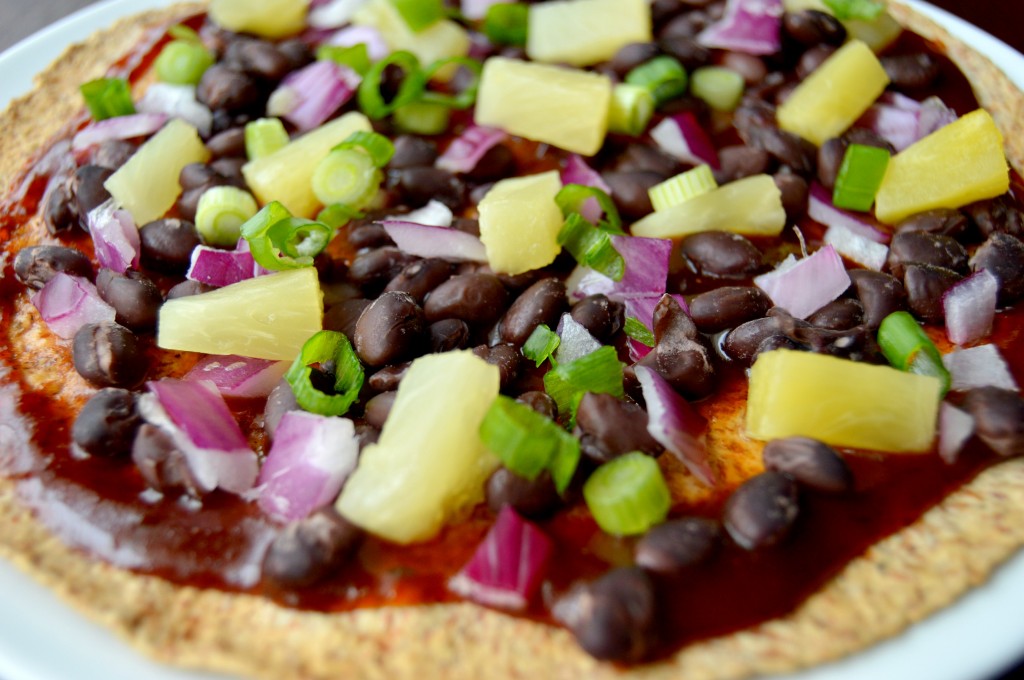 While pineapple is fantastic on more traditional pizzas like Hawaiian or vegetarian, I have been having a lot of fun lately coming up with less traditional pizza recipes using this sweet, tropical fruit.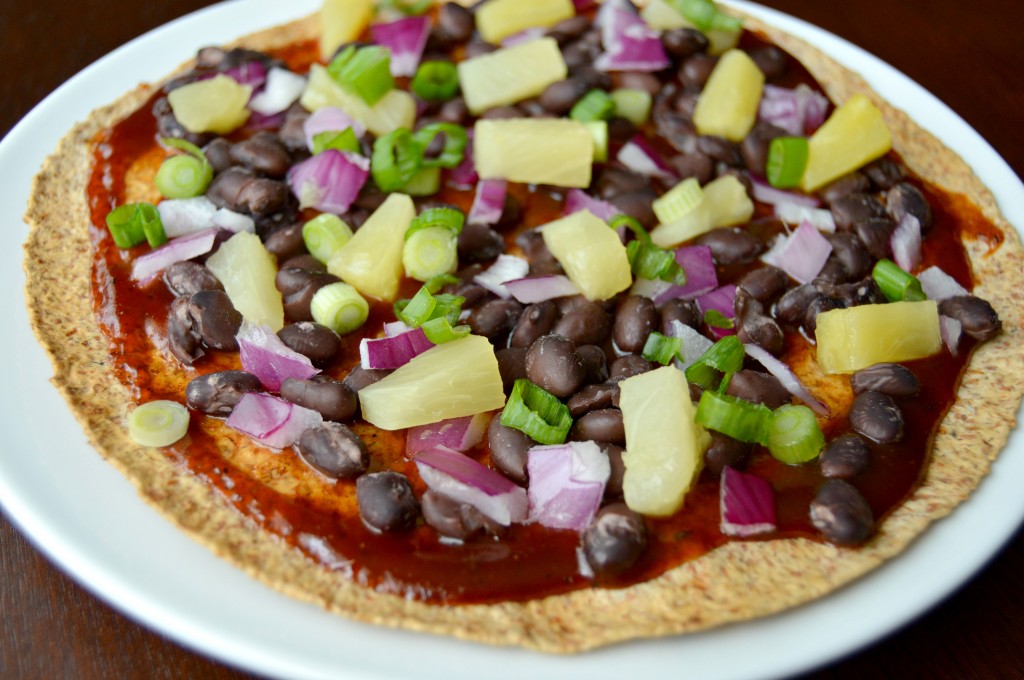 Barbecue sauce anyone?  It is no secret that I cannot get enough of it, so why not add it to my pizza?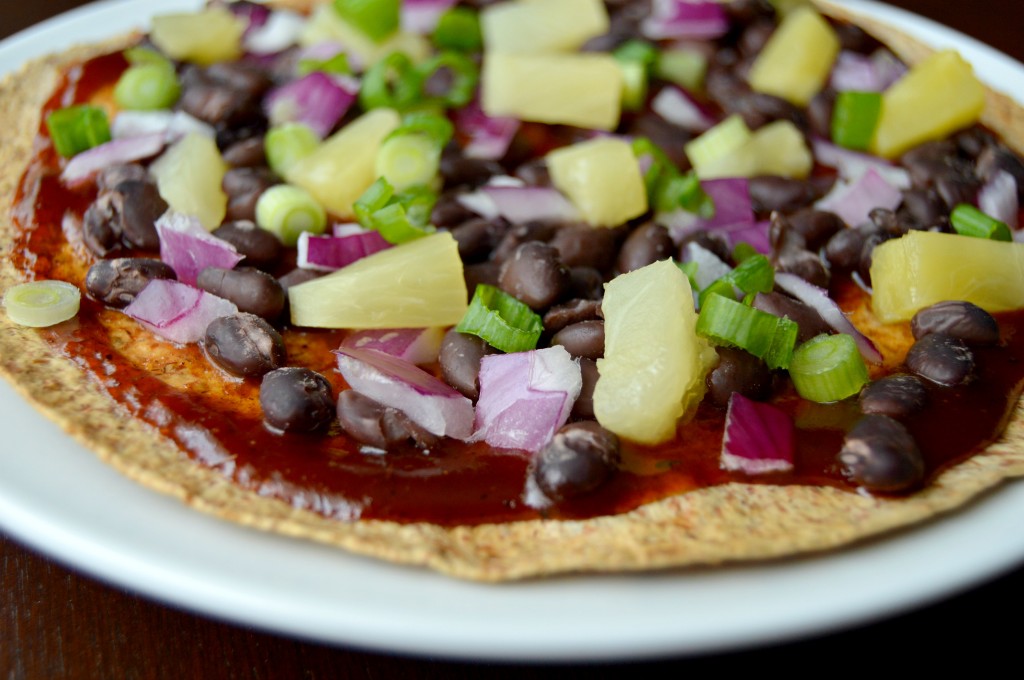 This is a sweet and savory pizza at its best.  Sweet barbecue sauce and pineapple chunks paired with savory black beans and onions all on a crispy tortilla pizza crust.  Yyyeah… it tastes like heaven, too.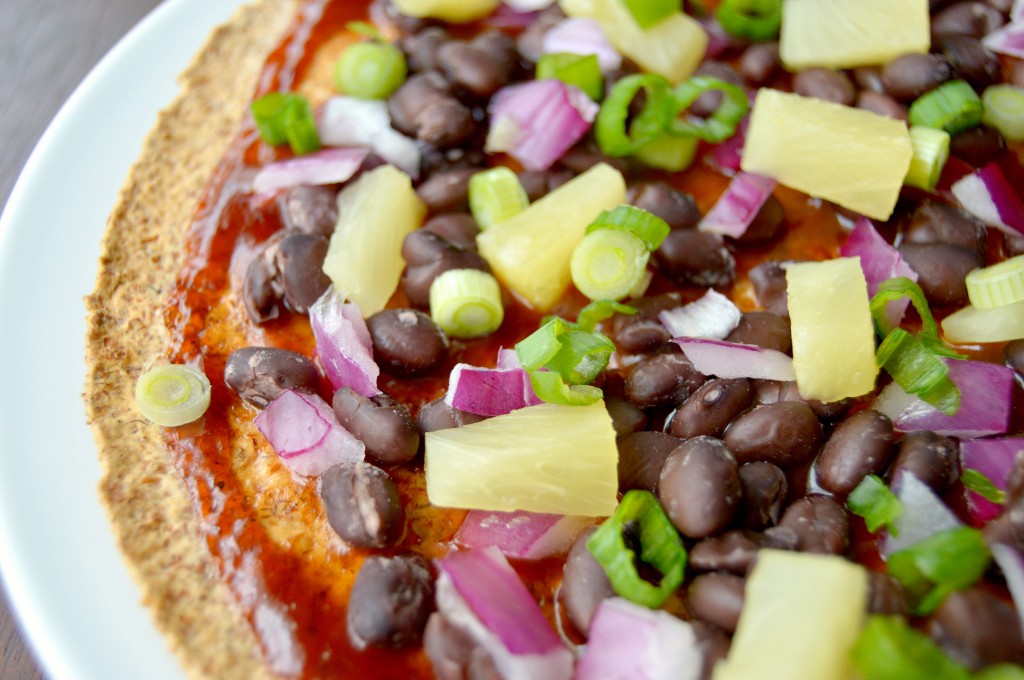 Barbecue Black Bean and Pineapple Pizza for One
Vegan
Ingredients
1 whole wheat tortilla
1/4 cup barbecue sauce
2 TB red onions, diced
1/2 cup black beans, cooked
1/4 cup pineapple tidbits or chunks
2 TB green onions, chopped
Directions
1. Preheat oven to 350 degrees F.  Spray a pizza pan or baking sheet with olive oil cooking spray.
2. Place tortilla onto the baking sheeting and bake for approximately 3 to 5 minutes, or until the crust becomes golden brown.
3. Remove the tortilla from the oven.  Top the tortilla with barbecue sauce, red onions, black beans, pineapple, and green onions.
4. Return pizza to the oven and cook for approximately 5 minutes.
5. Turn the broiler on low and broil for approximately 2 to 3 minutes, or until the crust is crispy, but not burnt.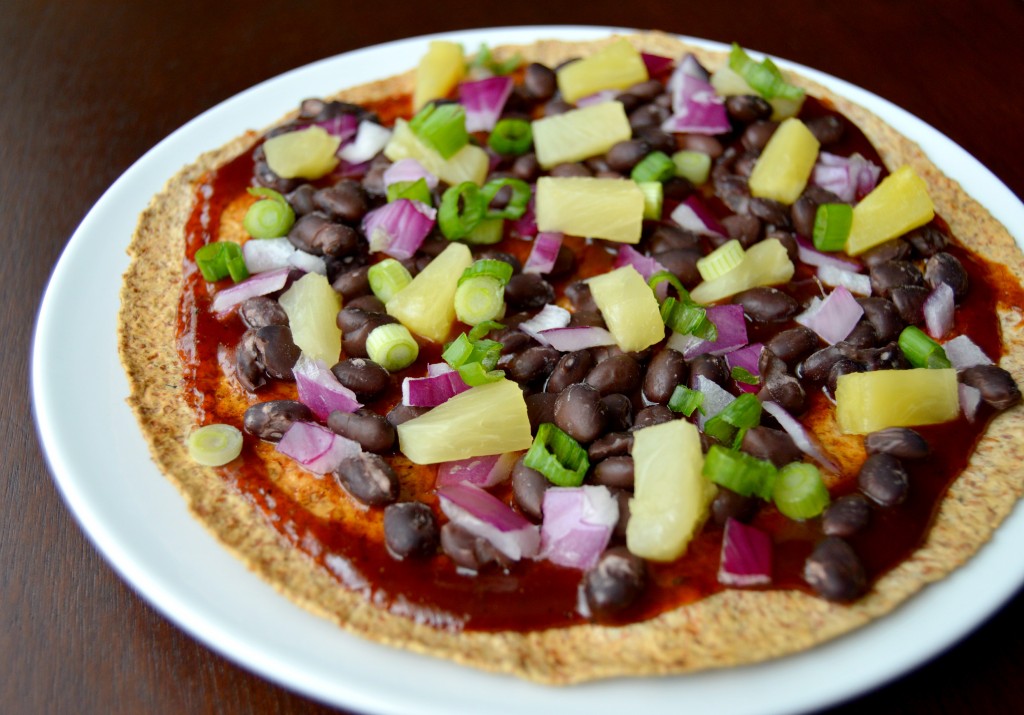 Barbecue sauce may not be your traditional pizza sauce.  Pineapple and black beans may not be your go-to pizza toppings.  But once you taste this, I think you just may change your mind on which pizza toppings you will reach for in the future.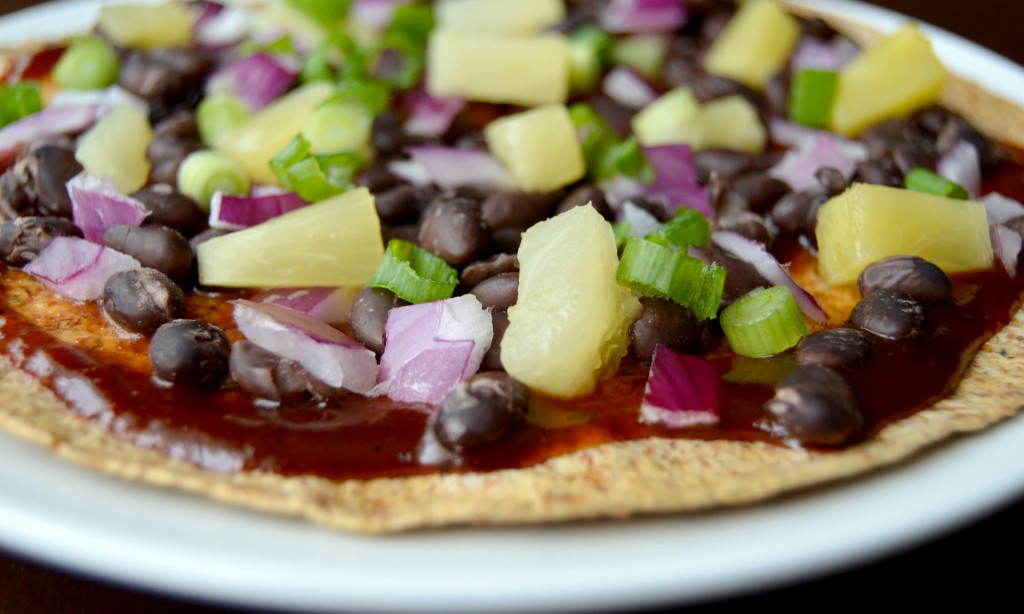 I could eat pizza every. single. day and never tire of it.  And I have a feeling that I am not the only one.
With simple and easy pizzas like this one, that is totally doable.  Or, if I am being more practical, they at least make it possible to eat pizza on a weekly basis.  Because let's face it.  There are not that many people out there who actually eat pizza on a daily basis- even if they want to.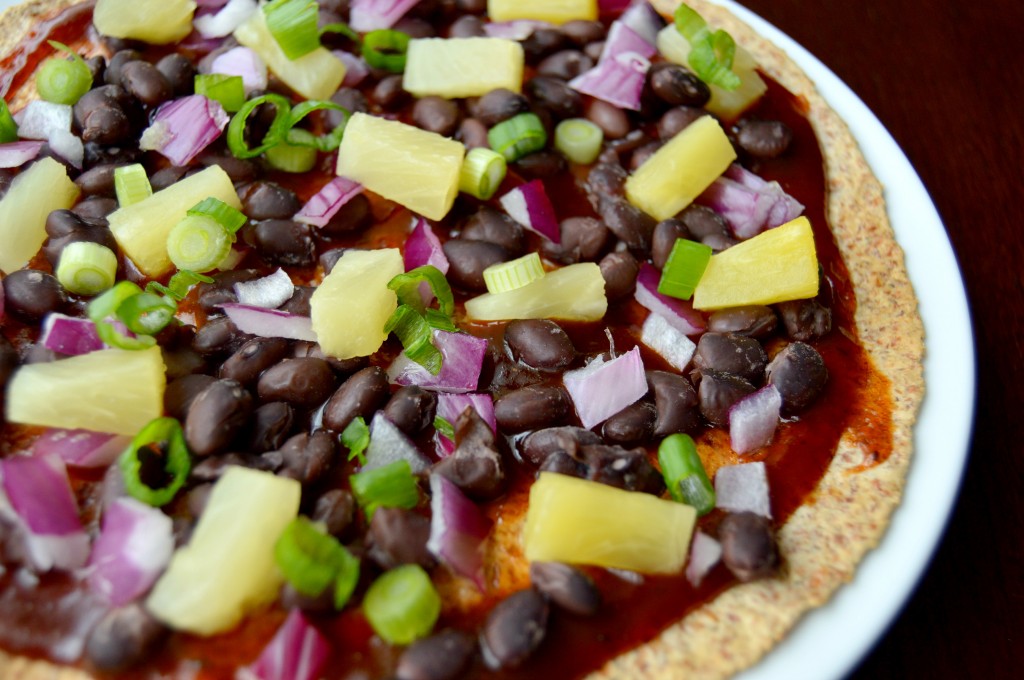 What is your must-have pizza topping?