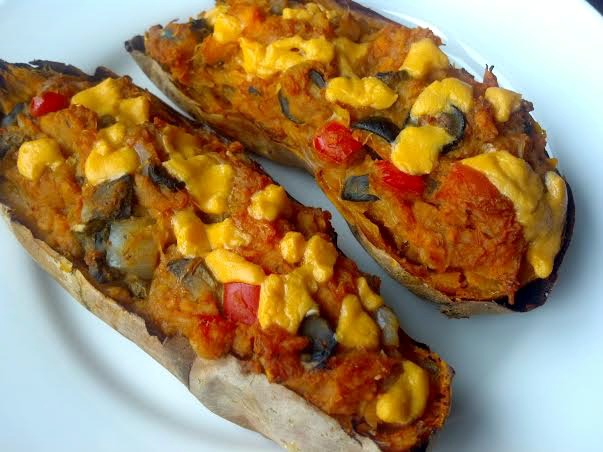 A lot of my creative (or some may think "weird") recipes come about when I am lying in bed at night and cannot sleep.  This is great and all, but it is also a little bit inconvenient since it a) interrupts my sleep and b) causes me to have to get out of bed to go write my ideas down in my little notebook for fear that I will forget them by the time the morning rolls around.  Despite these negative side effects of being a recipe developer by night, I would not trade in the loss of a little sleep because some of my most delicious creations have come about at 11:00 p.m. (yes, that is considered late for me- I'm old).
One of my most recent creative (er…weird?) recipes is my Twice-Baked Pizza Sweet Potatoes.  You see, I happen to love both pizza and sweet potatoes.   Let's be honest, who doesn't love pizza and sweet potatoes?  But pizza and sweet potatoes combined?  Yes, I went there.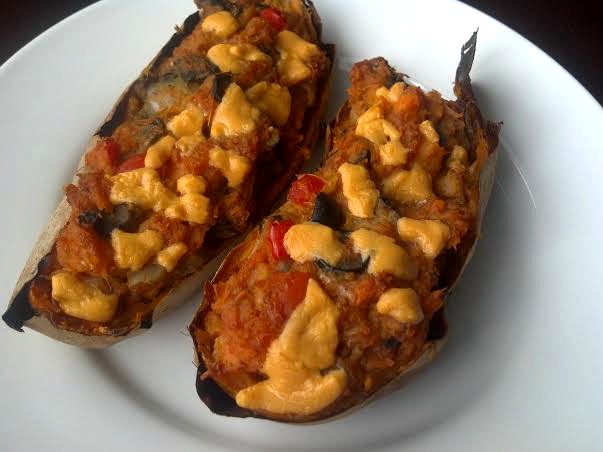 Twice-Baked Pizza Sweet Potatoes
Servings: 2 as a meal or 4 as an appetizer
Ingredients
2 medium sweet potatoes, scrubbed clean and pierced with a fork
1/4 yellow onion, diced
1/4 large red bell pepper, diced
5 baby bella mushrooms, sliced
3 TB sauerkraut
2 TB sliced black olives
1/3 cup pizza sauce
1/8 cup unsweetened plain almond or soy milk
1/4 tsp pizza seasoning
1 slice of vegan cheddar "cheese" (I used Daiya brand), torn into small pieces*
*You can used the shredded variety, but I find that the slices melt the best.
Directions
1. Preheat oven to 425 degrees F.
2. Place potatoes directly on oven rack and bake for approximately 50 to 60 minutes.  Remove from oven and cut in half.  Allow the potatoes to cool a bit.
3. While the potatoes are cooling, line a skillet with a thin layer of water.  Heat the water over medium-high heat until very hot.  Once hot, lower the heat to medium and add onions, peppers, and mushrooms.  Cook for approximately 8 to 10 minutes, or until softened.
4. Place the cooked vegetables in a medium bowl.  Stir in sauerkraut, olives, pizza sauce, milk, and seasoning.
5.  Scoop the majority of the sweet potato from the skins, leaving 1/4-inch of the potato in the skins.
6. Add the scooped sweet potato into the vegetable mixture.  Stir until well-combined.
7. Scoop the potato and vegetable mixture back into the potato skins.  Top the potatoes with vegan "cheese."
8. Lower the heat of the oven to 350 degrees F and bake for approximately 5 to 10 minutes, or until the "cheese" has melted.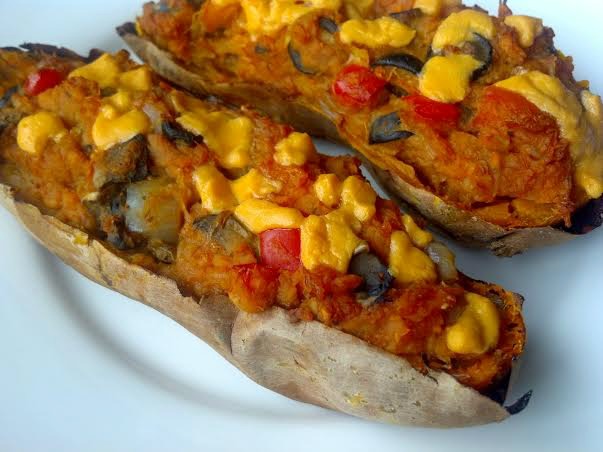 My potatoes were fairly large in size, so eating two halves was filling enough for a meal.  These are perfect for lunch or dinner (they reheat well!), and would also make a great appetizer for a get-together.  Because like I said, who doesn't love anything pizza and/or sweet potato-related?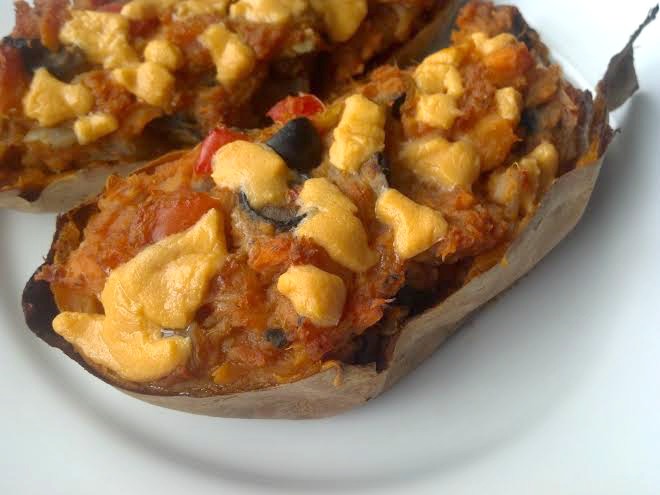 I ate my Twice-Baked Pizza Sweet Potatoes with the skin and all, but feel free to just scoop out the insides of the potato if the skin isn't your thing.  Am I the only one who thinks that it is one of the best parts?
Oh, and don't forget to get creative with these.  You can really use whatever type of pizza toppings that you like (I know for some people sauerkraut and olives may not be your thing), and these would also be fantastic with regular russet potatoes.  And for those of you not following a vegan diet, feel free to swap in some regular cheese.
Let me know if you give these potatoes a try and what your favorite topping combinations are!
Lastly, don't forget to enter my giveaway for the Better Than Vegan cookbook!  You only have until this Sunday, so do not miss out!