In case you missed it, on Tuesday I shared that Jeremy and I are expecting our first little babe.  To say we are excited would be an understatement!
In an effort to get everyone all caught up to speed, I'm sharing a recap of the first trimester through a question and answer format.  Some of these questions are from a recent survey Heather shared, while others are ones I've received from family and friends.  Now let's get to recapping those first fourteen weeks!
Pregnancy Q & A through the First Trimester
1. How long did you try before getting pregnant?
Normally I would look at this as a bit of a "personal" question, but I feel like it is important to share given my history with chronic, undiagnosed illness.  Since some of the health issues I have experienced have been hormone and thyroid-related, I fully went into the trying phase with the mentality that it might take some time to get pregnant.  I'm sure you can imagine that both Jeremy and I were quite surprised when things turned out to be a lot easier than anticipated.  I largely credit this to getting my hormones and thyroid levels back on track with the help of my functional medicine practitioner prior to even trying.
2. What was your first reaction to the pregnancy?  How far along were you when you found out?
As I mentioned above, both Jeremy and I were pretty darn surprised that we got pregnant so quickly.  Obviously we were quite excited, too!  I also remember being somewhat paranoid and fearful that the pregnancy tests (yes, I took three) might be wrong.  Looking back, I think this was pretty normal.
We received our first positive pregnancy test on Sunday, November 6th after arriving home from a weekend in Kansas City for a friend's wedding, which would have been at about four and a half weeks.  I chose to test on this day because it was the last day that I foresaw as being realistic for when I should have started my period.  This was a bit of a guess since my cycle has been somewhat irregular since going off of the pill in October of 2013.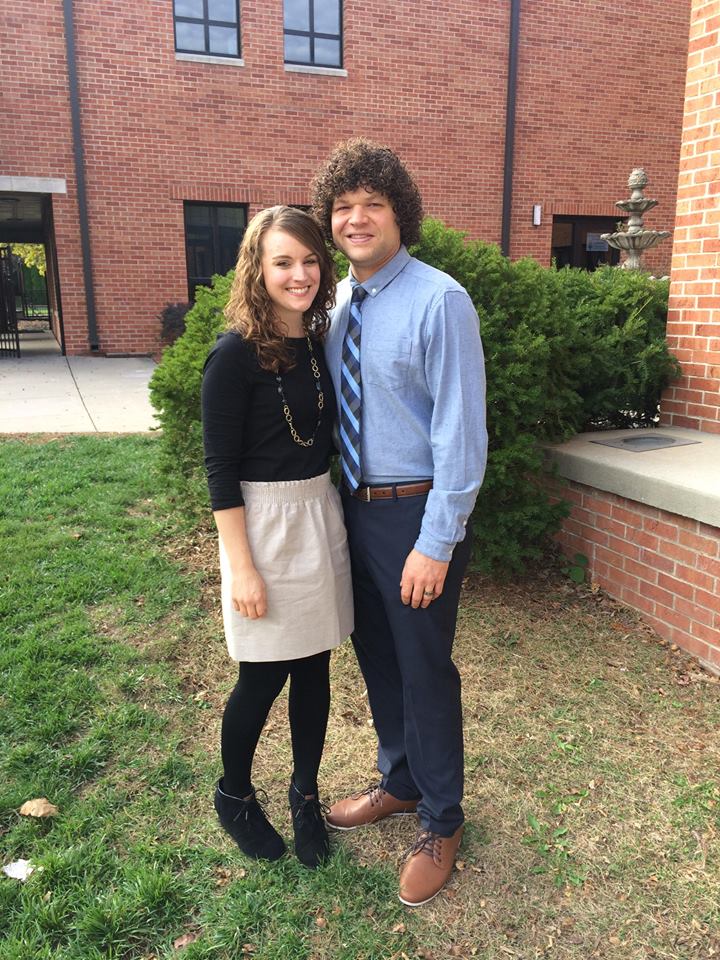 baby's first picture at the wedding.
3. What were your first pregnancy symptoms?
I honestly really didn't have many symptoms other than what can be considered "normal" signs of your period starting soon.  It was not until five weeks and two days that I really felt pregnant.  Or more like hungover.  The all day nausea of "morning" sickness had begun and lasted through about 13 to 14 weeks.  I thank my lucky stars that I did not have an issue with vomiting, but at the time, even just being nauseous all day long felt pretty terrible.  Luckily, I'm starting to feel slightly back to "normal."  Lately the mornings and mid-day are generally pretty good for me.  I often feel the worst in the evening, which is probably why I tend to be in bed by 8:00!
4. How have you been feeling?
As I mentioned above, I have definitely not been feeling the greatest.  From weeks five to eleven I pretty much felt nauseous all day long.  I was also extremely tired and irritable.  By around twelve weeks, things slowly started to ease up enough to make my mornings/days somewhat bearable.  It's those darn evenings that have been the most challenging (another great example of why it should not be referred to as "morning" sickness).  Now the nausea tends to only hit me now and then, but has also been replaced with frequent headaches.  I imagine these are both hormone and dehydration related.  I have found it so difficult to get in a lot of water throughout my day!
I am still feeling pretty tired.  I generally get anywhere from ten to twelve hours of sleep per night, and on my days off from work I tend to take a nap.  Sometimes I sleep because I am truly exhausted.  Other times I sleep just to try to get my nausea and/or headaches to go away.
Oh, and I have been very moody and emotional.  I definitely experienced a whole lot of crying, mostly induced from feeling crappy.
Despite all of this, I constantly remind myself of how lucky I am to experience these things and to be pregnant, since so many people are not fortunate enough to have that in life.  I am definitely not taking that for granted!
5. How did you tell your parents?
We were originally planning to wait to surprise everyone closer to Christmas, but since I was feeling so crappy, we ended up telling them much earlier.  Trying to hide feeling like you have the stomach flu for weeks and weeks from your mom, especially around the holidays, is pretty darn near impossible.
We surprised my parents the weekend of Thanksgiving and told Jeremy's mom the next weekend.  I'd say everyone was equally as excited as we were!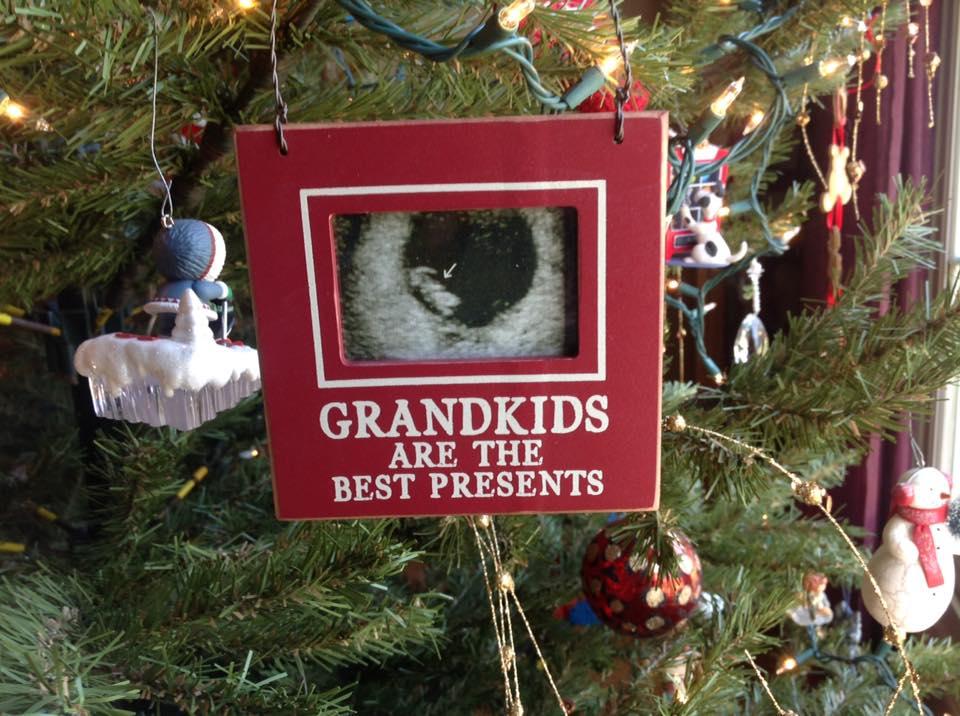 6. When/how did you make it Facebook official?
We announced our exciting news at twelve and a half weeks on New Year's Day.  We just could not wait any longer!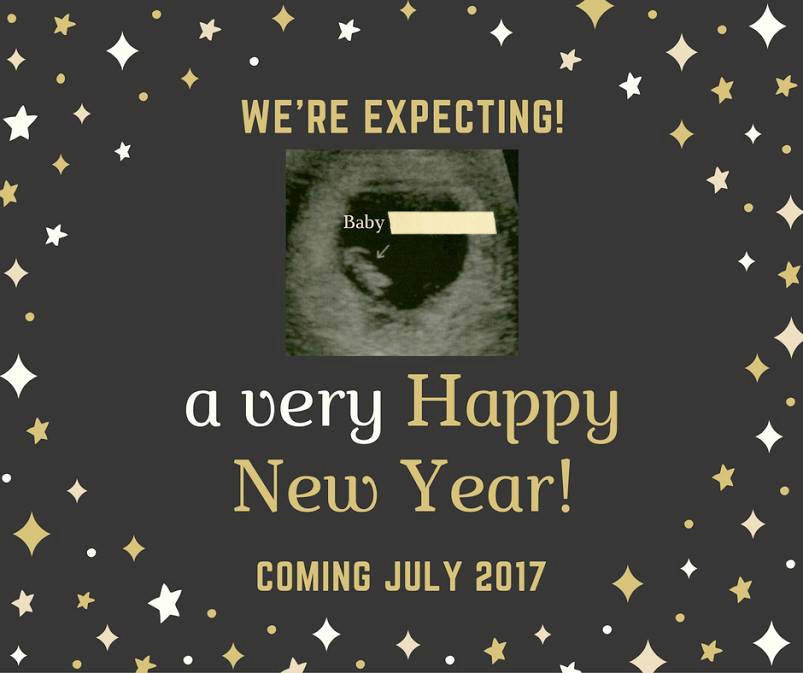 last name removed for privacy reasons.
7. When is baby's due date?
We had our first ultrasound at what I had estimated to be seven weeks and one day using the last period calculation.  Instead, baby was dated at six weeks and six days <–I vividly remember feeling disappointed about this during the thick of morning sickness because I felt like two days had been stolen from me!
Baby is expected to arrive around July 13, 2017.

8. How far along does that make you today?
Today I am exactly 15 weeks along.  It's crazy to think we are already in the second trimester!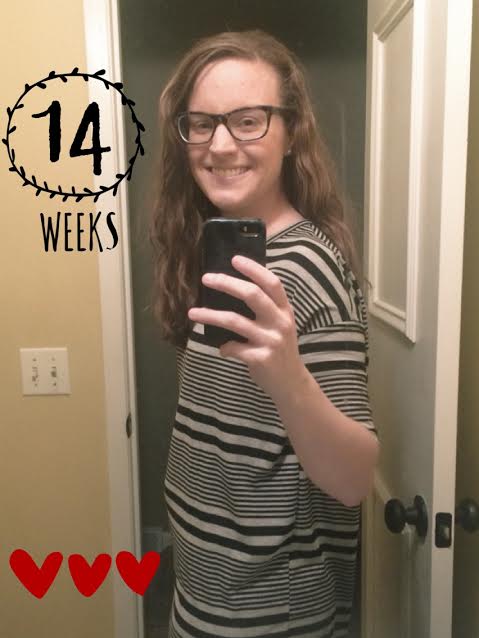 the "bump" picture from last week, though it's still that awkward stage where you can't decipher between bloat and bump!
9. Will you find out the sex ahead of time?
Jeremy and I have chosen to wait to find out the sex until the baby is born.  We are going old-fashioned on this one, and I think it will be totally worth the wait.
10. Do you have any feelings about whether you are having a boy or a girl?
Since we found out we were expecting, I have been thinking boy while Jeremy has been thinking girl.  My gut instinct in predicting others' pregnancies is usually pretty terrible, so I'm not placing too much reliability on my gut 😉
11. Do you have any names picked out?
We very easily decided on a girl's first name before the first trimester was even over.  Boy names are another story.  We have a middle name, but can't seem to agree on much when it comes to boys!
12. Have you felt the baby move?
Not yet, but that is the thing I am looking forward to the most these days!
13. Have you  maintained a Paleo diet through the first trimester?
Haha!  I have to laugh at this one because while I honestly thought I would follow a super healthy diet throughout my pregnancy, that completely changed the second the constant nausea hit.  I stayed gluten-free and dairy-free for a mere four days before I could not shake the dairy cravings any longer.  I am pleased to say that I have kept things completely gluten-free.  But other than that, pretty much anything has been game.  At first I felt guilty about it, but when you constantly feel terrible every second of the day, you realize that eating something is better than nothing!
Now that I have entered the second trimester, I am hoping to slowly transition back to Paleo over time.  It really is what makes me feel best, I just have to shake some of these food aversions first!
14. What cravings/aversions have you experienced?
Speaking of, I have definitely experienced a lot of aversions.  At the start it pretty much involved anything healthy including all veggies and mostly all fruits.  I had cravings for pizza, gluten-free pretzels with lunch meat and cheese, Sour Patch Kids, Wendy's, KFC mashed potatoes and coleslaw, gluten-free toaster pastries, Annie's gluten-free mac and cheese, and cereal, to name a few.  Now that the nausea has slowly weened a bit, the majority of those things no longer sound good and actually make me scrunch my nose and say, "ew."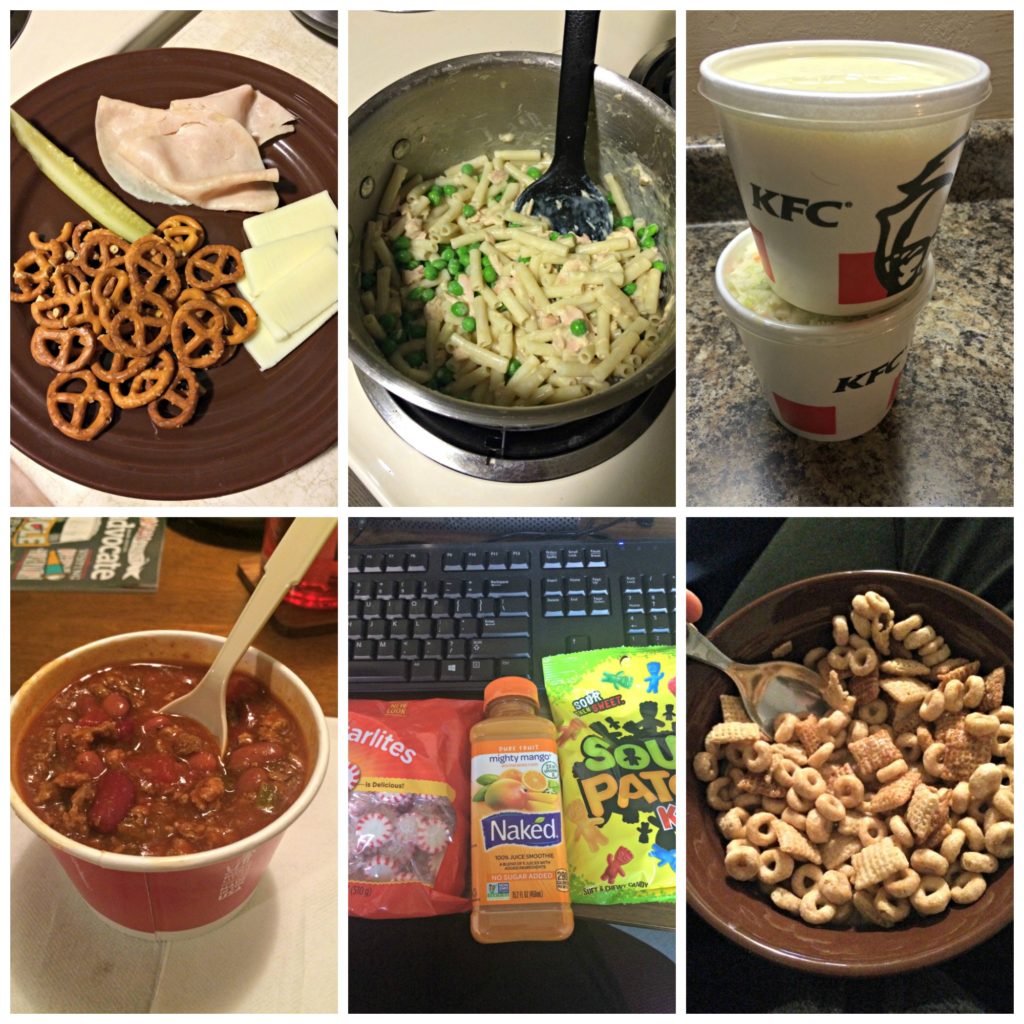 I still have pretty strong aversions to most vegetables.  I mean, sweet potatoes even sound terrible right now!  But one of my biggest cravings over the past couple of weeks that totally surprised me was Caesar salads.  I was shocked to actually want to eat lettuce, but I am rolling with it.  My other current cravings are gluten-free waffles with butter (which I eat every morning for breakfast), yogurt, and Jimmy John's unwiches (particularly the #16 with no mayo + cucumbers + avocado).  Christmas also was not completely ruined since I was craving ham and cheesy potato casserole, which I continued to eat the leftovers of for nearly a week.  I also felt super happy about making and being able to stomach pulled pork again just the other night.  I'm hoping my palette will increase more and more as time goes on!  I'm definitely ready to get more veggies back into my life.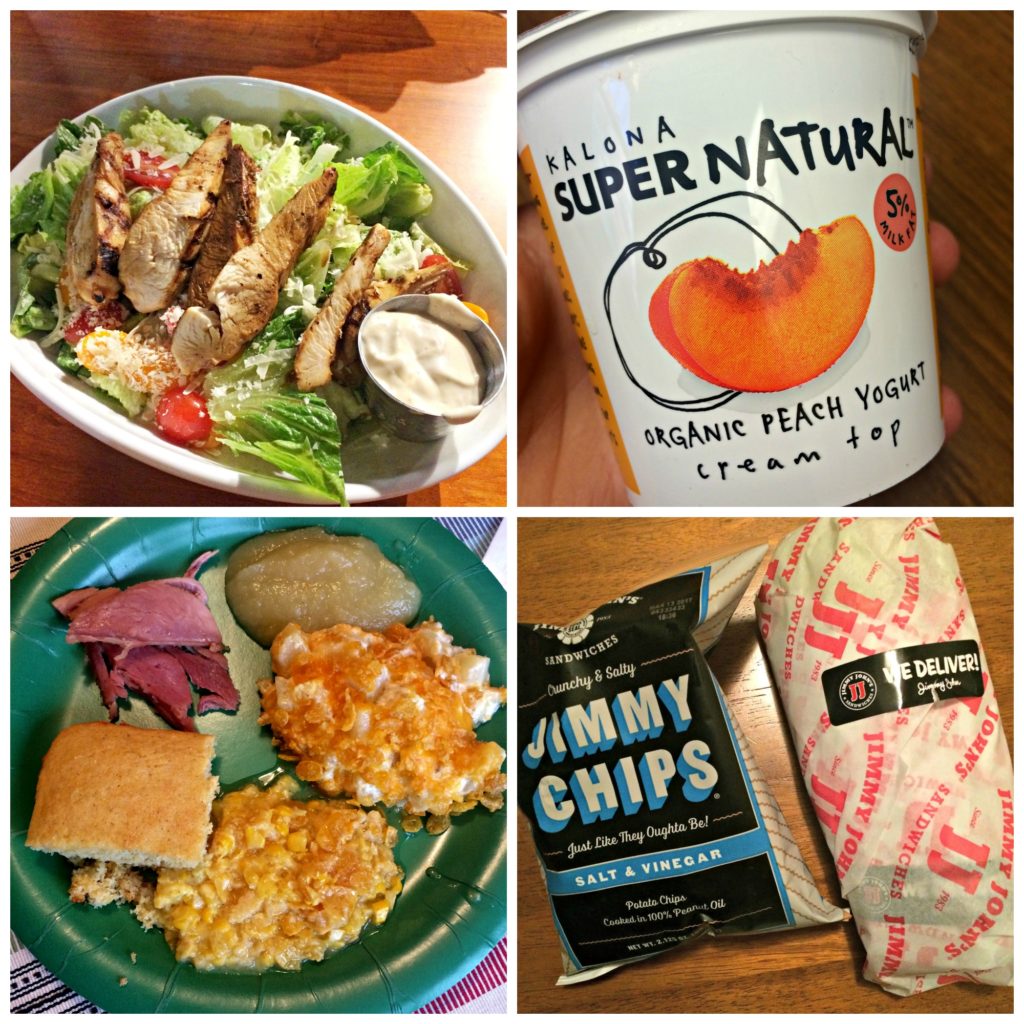 15. Will you blog about the pregnancy?
Even though this is predominantly a food blog, I will blog about the pregnancy as a fun way to keep memories of the experience.  I have not decided for sure, but I'll likely post updates every four weeks or so.
16. Will baby be on the blog?
I feel lucky to have the focus of my blog be on food and health, as opposed to lifestyle and family.  That's because Jeremy and I have made the personal decision to not post much (if anything) on here or social media about the baby after he or she is born for privacy purposes.  I'm sure I'll talk about the birth and may even share the name, but we feel it's best for our family to keep baby's life pretty private.
Do you have any burning questions for me?
A Look at the First Trimester Through Q&A #pregnancy #baby
Click To Tweet