A super simple Greek-inspired chickpea salad that is chock full of veggies.  It is a delicious spring/summer side dish and the perfect make-ahead lunch.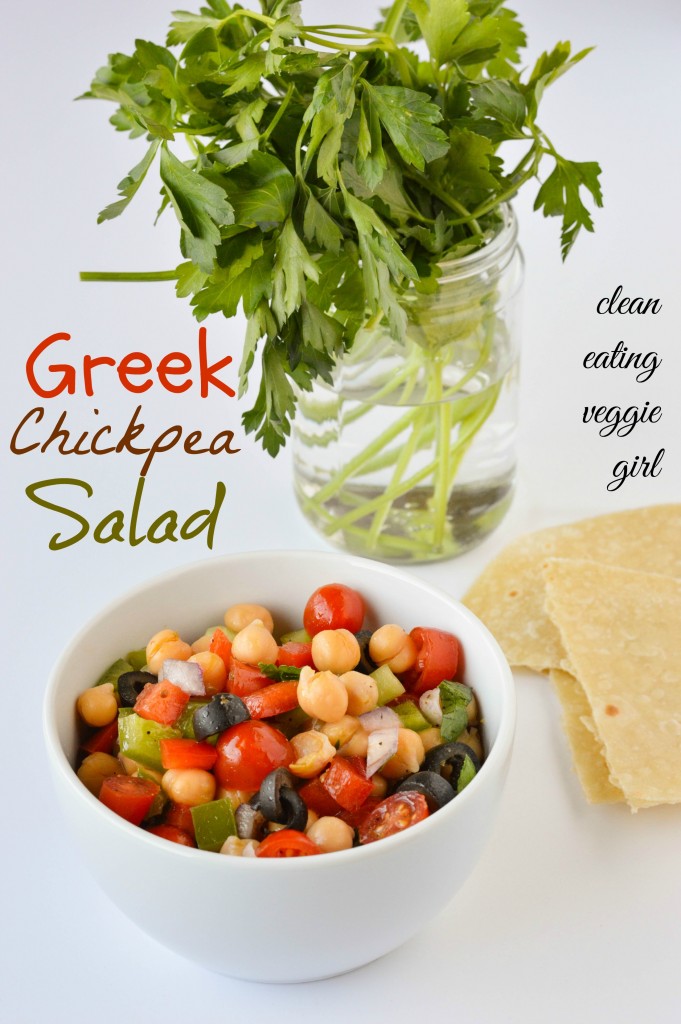 I am craving salads like mad right now.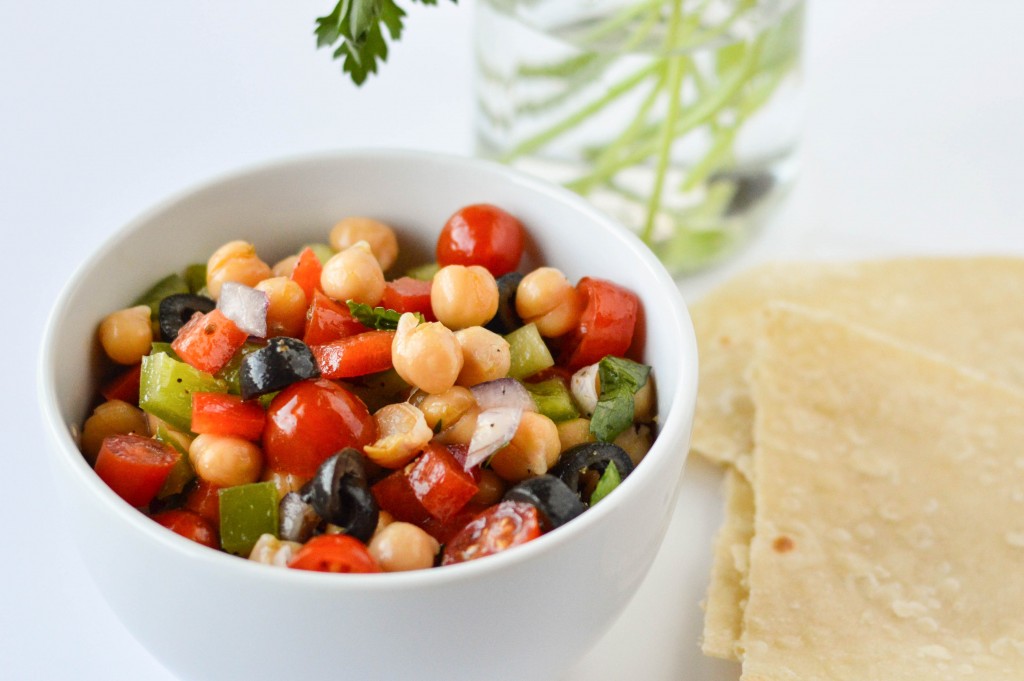 Salads with lettuce, salads with pasta (GF now), and of course one of my favorites, chickpea salads.
At this point I am not discriminating.  If you put one of the above salads in front of me, there is a pretty darn good chance that I am going to eat it and love it.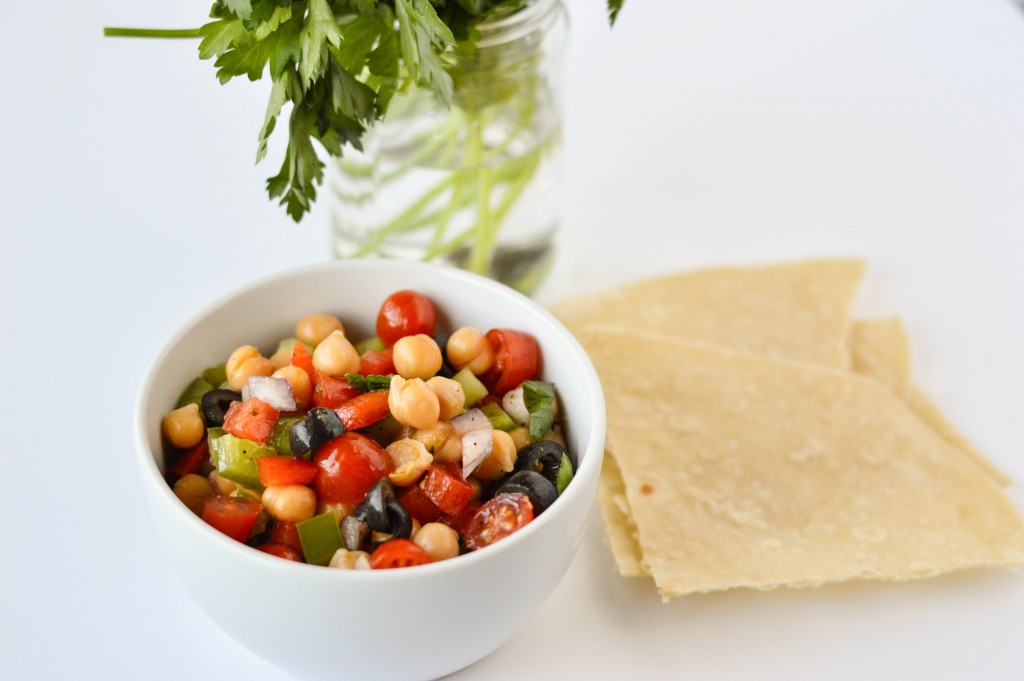 This past weekend I ate lettuce-based salads twice, and prepped this Greek Chickpea Salad for several of my lunches for the week.  It turns out that when you start with beans, add tons of raw veggies, mix in some herbs, and coat everything is a super-simple dressing, deliciousness happens in a matter of about 15 minutes.
This salad is:
protein-packed
savory
crunchy
flavorful
perfectly tangy
simple
and refreshing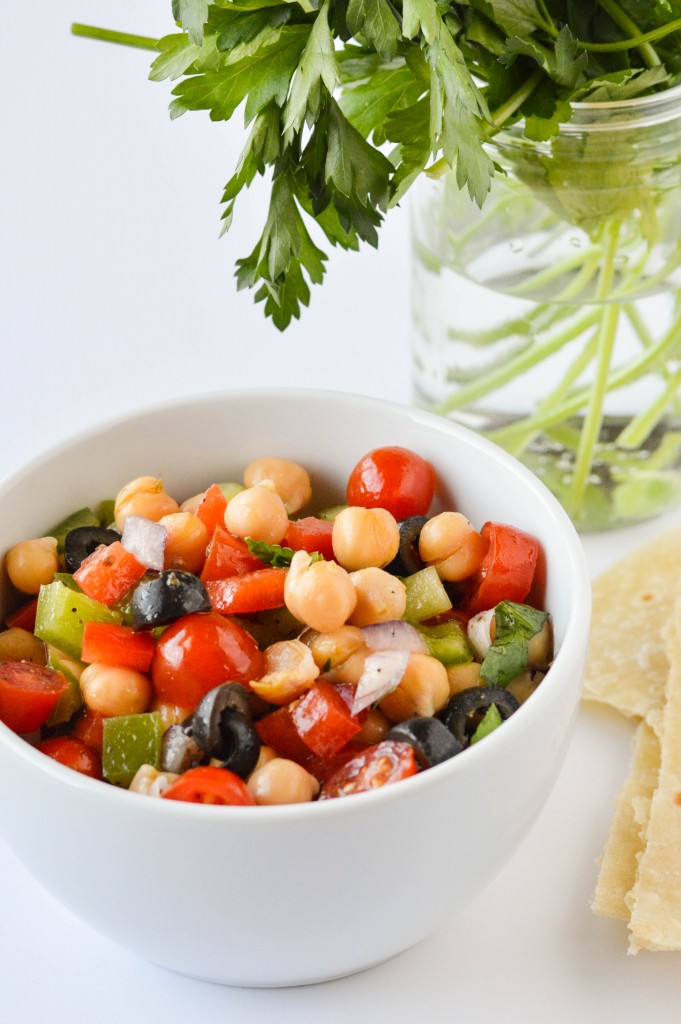 Greek Chickpea Salad
Vegan + Gluten-Free
Adapted from this recipe and this recipe.
Serves 4
Ingredients
15 oz can of chickpeas, drained and rinsed
1/2 English cucumber, peeled, de-seeded, and chopped
1/2 small red onion, diced
1 red bell pepper, diced
1 green bell pepper, diced
20 grape tomatoes, halved
1/2 cup sliced black olives
1/2 cup fresh parsley, chopped
3 TB extra virgin olive oil
1 TB red wine vinegar
juice of half a small lemon
1 tsp dried oregano
sea salt + black pepper, to taste
Directions
1. Combine chickpeas, cucumber, onion, peppers, tomatoes, olives, and parsley in a large bowl.
2. In a small bowl, whisk together olive oil, vinegar, lemon juice, and spices until well-combined.
3. Pour the dressing over the chickpeas and veggies, and stir to combine.
4. Refrigerate for at least an hour prior to serving.
This salad is best when eaten within two to three days of preparation.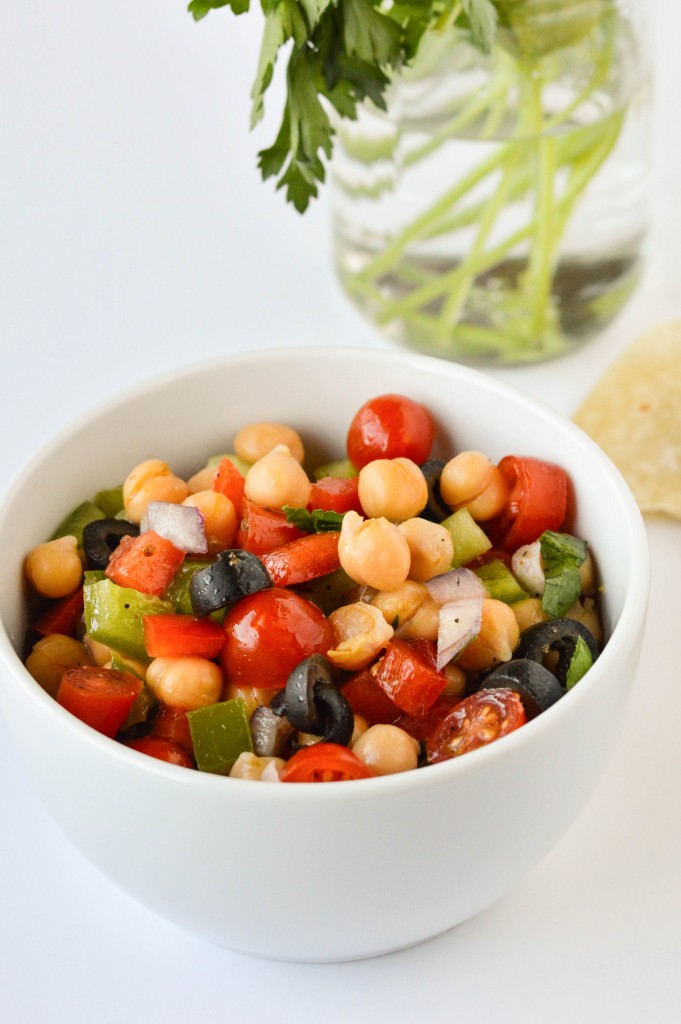 I chose to serve my Greek Chickpea Salad with several triangles of brown rice tortillas.  If you are not gluten-free, this would be amazing with pita chips or stuffed in pita bread.  And if you want to keep things low-carb, throw it on top of a bed of fresh greens.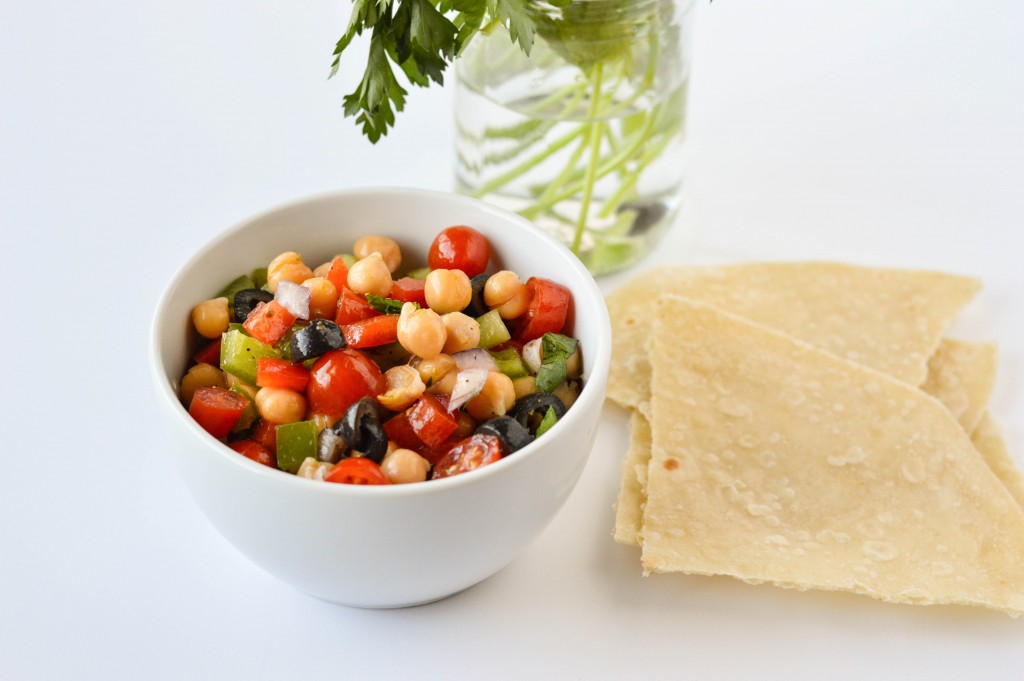 I have made and tried about a million chickpea salads, but this time I knew the one I made just had to scream Greek.  Why, you ask?  Well, I've had Greek food on the brain ever since I learned I have been given the opportunity to see Mamma Mia! here in Omaha in just a couple of weeks!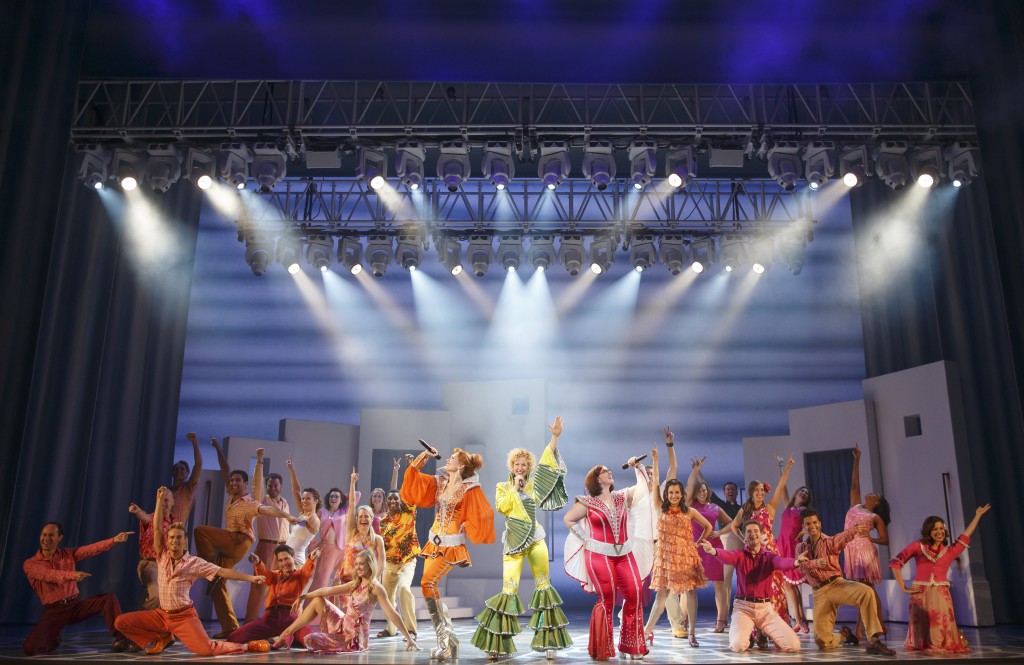 Omaha Performing Arts is featuring Mamma Mia! at the Orpheum Theatre on the following nights and times:
Friday, April 24th at 8:00 p.m.
Saturday, April 25th at 2:00 p.m. and 8:00 p.m.
Sunday, April 26th at 1:30 p.m. and 7:00 p.m.
You can purchase your own tickets for the show here.
I feel so lucky to have the ability to experience so many Broadway shows right here in Omaha.  I loved Beauty and the Beast last December, and I have no doubt that Mamma Mia! will be just as good.  Omaha Performing Arts also just announced the following shows in their Broadway Series for the coming year, so get excited if you will be in the area!
Kinky Boots from October 20-25, 2015; Dirty Dancing from November 17-22, 2015; The Wizard of Oz from December 8-13, 2015; Disney's Newsies from February 16-21, 2016; Rodgers + Hammerstein's Cinderella from March 15-20, 2016; The Phantom of the Opera from April 20 through May 1, 2016; and The Book of Mormon from  May 31 through June 5, 2016.
I am definitely most excited about Dirty Dancing and The Wizard of Oz!
I'll be attending Mamma Mia! with Erin during the opening night performance, and I could not be more excited.  I hope to see you there!
I was provided with complimentary tickets to the Mamma Mia! show, but was not compensated in any other way.  As always, I appreciate your continued support of Clean Eating Veggie Girl.
When you think of Greek food, what do you think of?
What movie would you love to see on Broadway?