Winner, winner, brinner for dinner!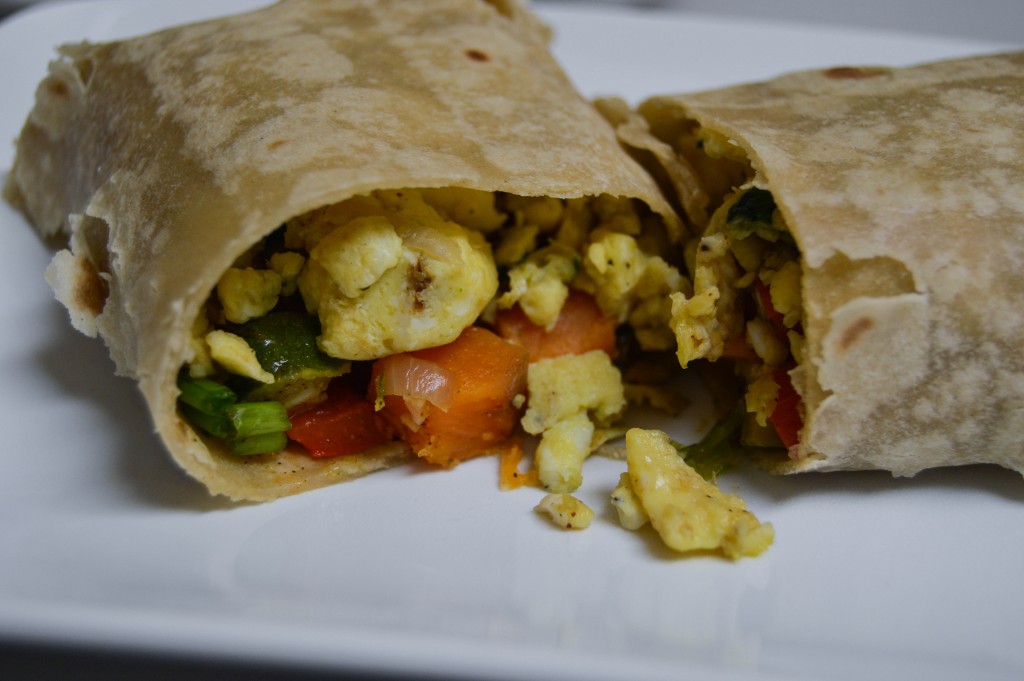 I have always wanted to say that.  And lucky for me, these breakfast burritos finally gave me the opportunity to do so!

This month's Three Cooks One Kitchen was a bit different than normal.  You may have noticed that I titled the post, "Three Cooks Three Kitchens."  This is because it did, in fact, involve three cooks in three separate kitchens!
Erin, Joanna, and I were all set to meet last Wednesday evening to prep, cook, and eat brinner (breakfast for dinner) together for our March edition.  Unfortunately, poor Joanna caught a bug that her sweet little girl had over the weekend.  Of course the last thing you want to be doing when you are not feeling well is cooking.  Erin and I thought about trying out Two Cooks One Kitchen, but ultimately decided that it might be kind of fun to each cook the same recipe (with our own unique twists) on our own in three separate kitchens.  I ended up with a truly delicious dinner, but as I shared on Instagram, it was not nearly as fun without my two cooking amigas!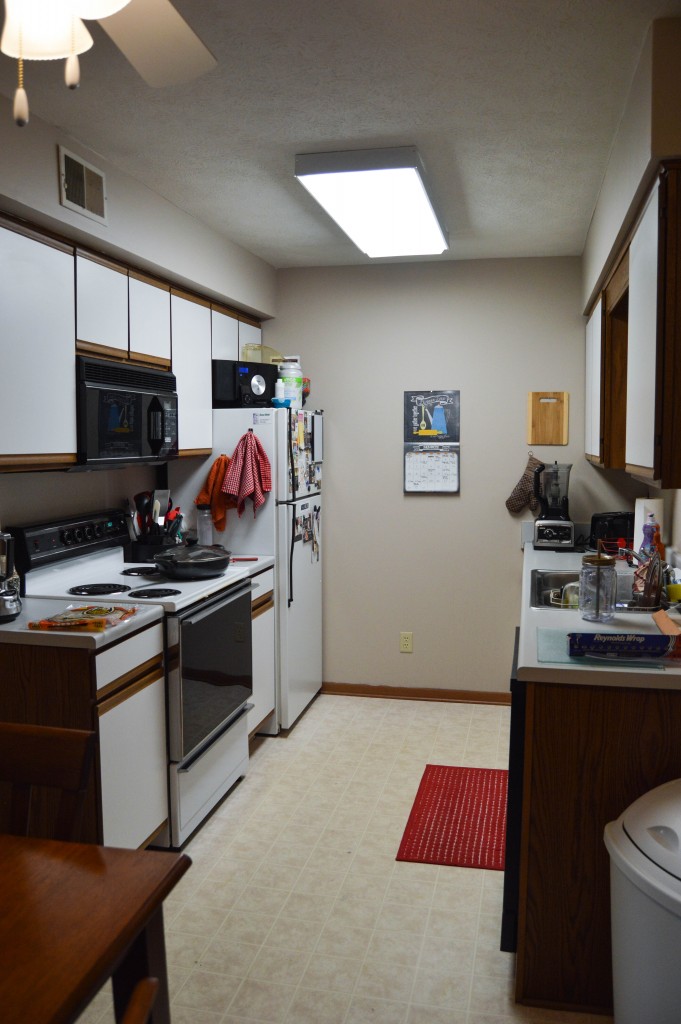 The kitchen was empty.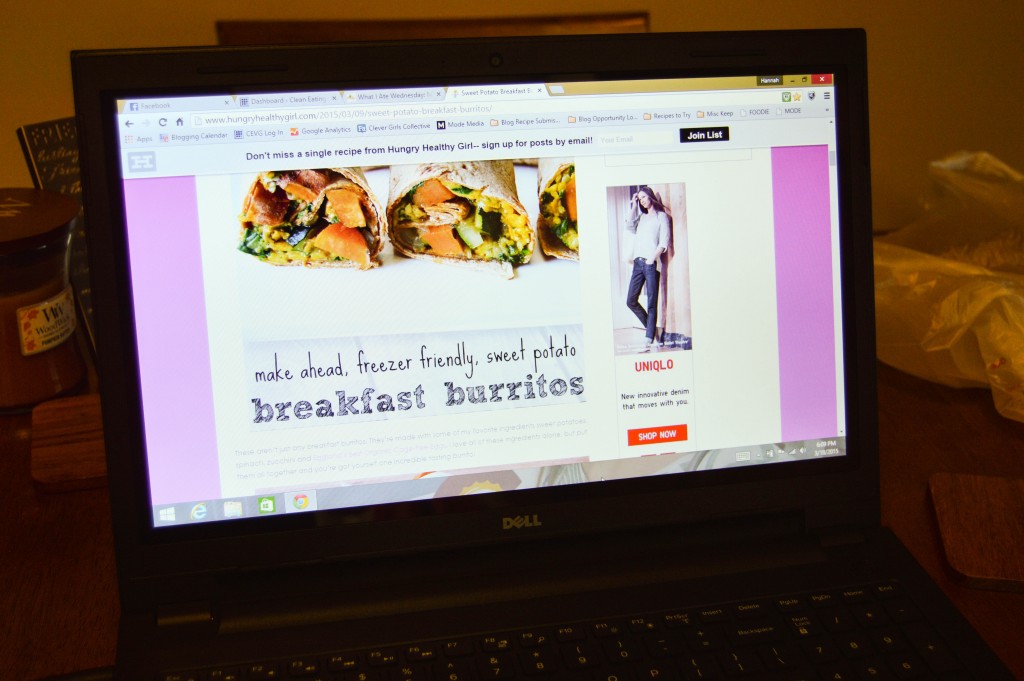 I had to read the recipe all by myself.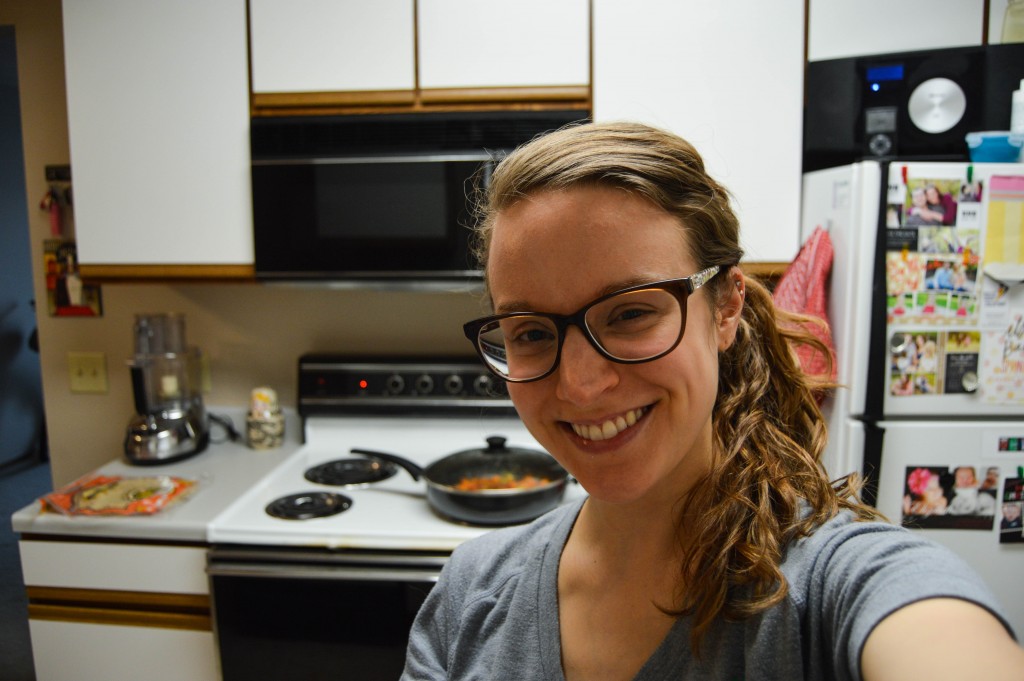 It was just me, myself, and I.  No Erin.  No Joanna.  Just me.  I had to remind myself that I cook alone all the time.  Somehow I managed.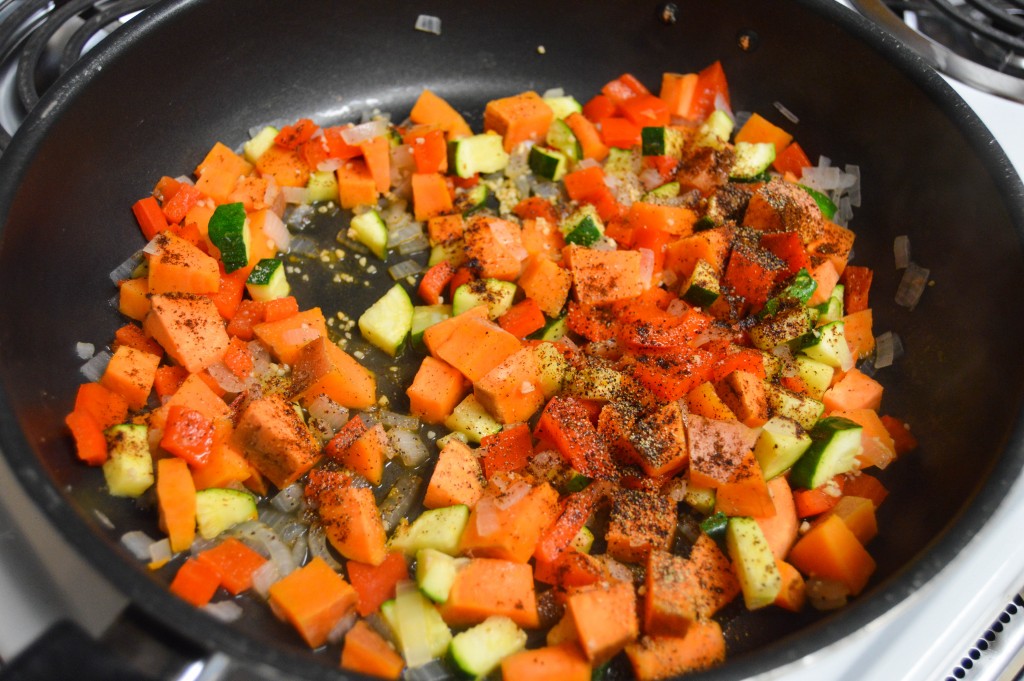 The three of us decided to make Kim's Sweet Potato Breakfast Burritos for our brinner meal.  I used all of the fillings that Kim recommended, but decided to use both zucchini and red peppers.  I started by sauteing all of the veggies and spices until they were tender.  I then set them aside to cool.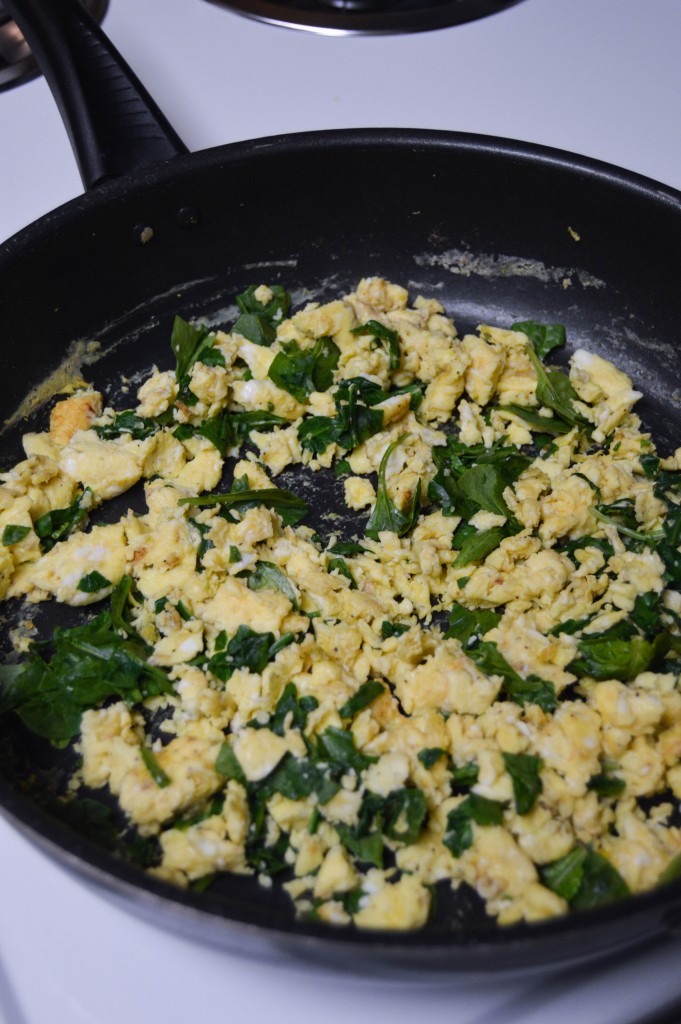 I used the same pan to scramble the eggs and spinach.  I also allowed these to cool prior to stuffing my burritos.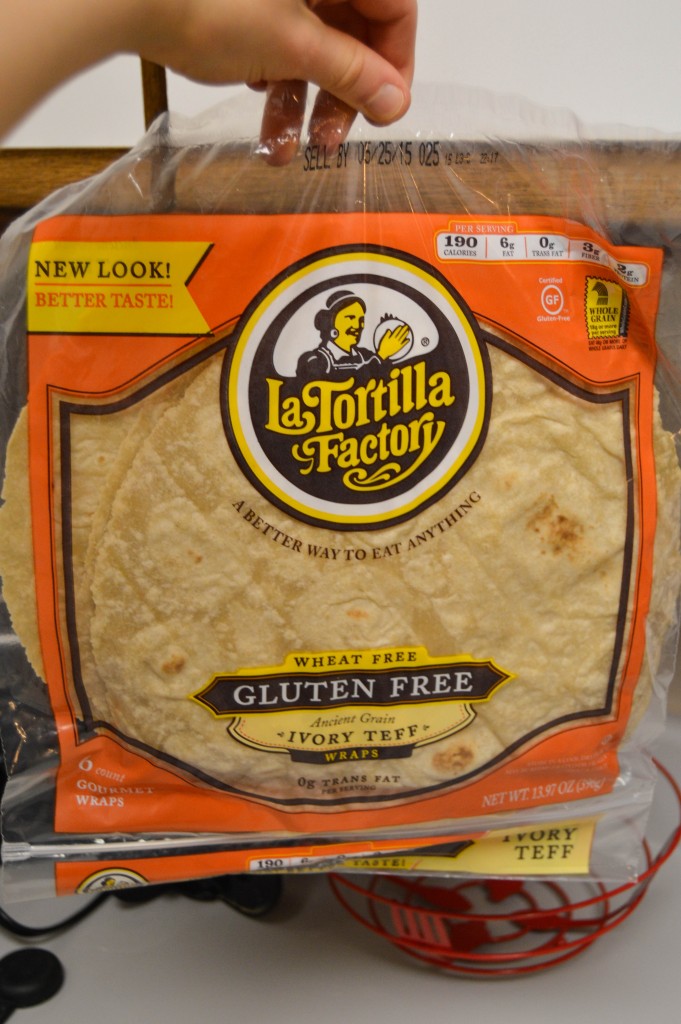 I very recently began trying out a gluten-free diet (more on this next week), so I chose these gluten-free tortillas made with ivory teff.  They were a bit more flexible than brown rice tortillas, so I thought they would roll and fold better.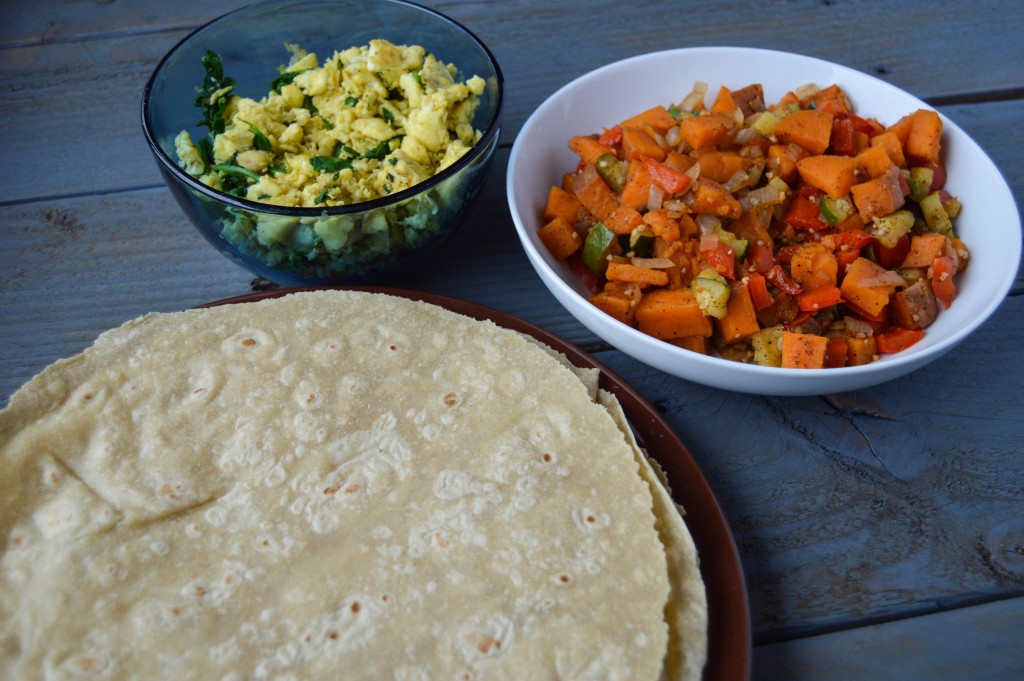 Once my fillings were cool, I set up a burrito stuffing station.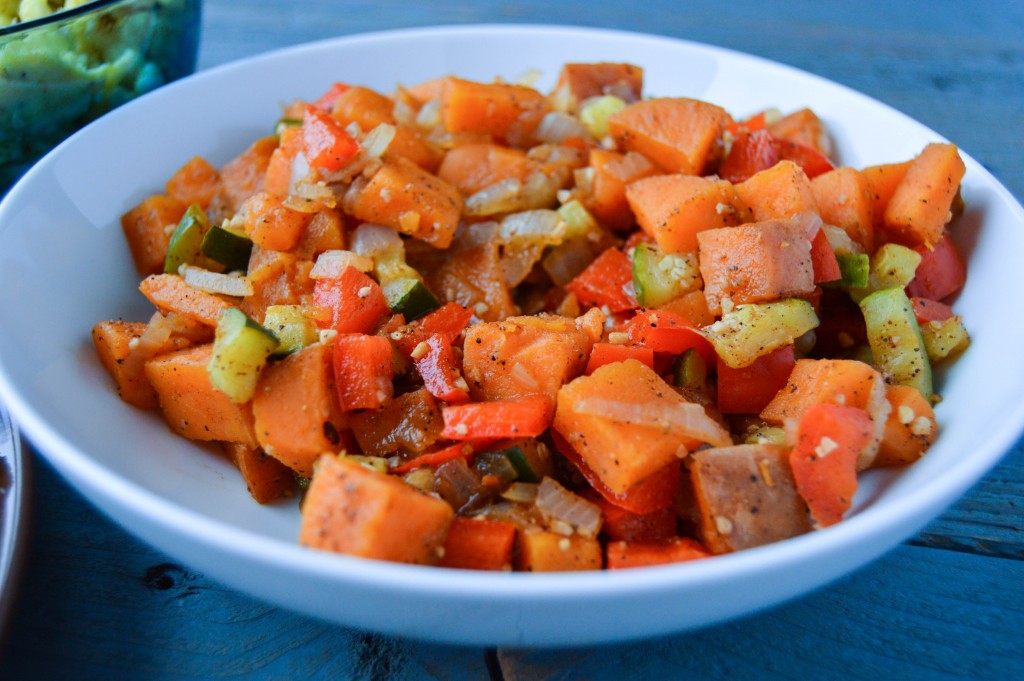 How gorgeous did the veggies turn out?  I love when my meals are colorful and pretty!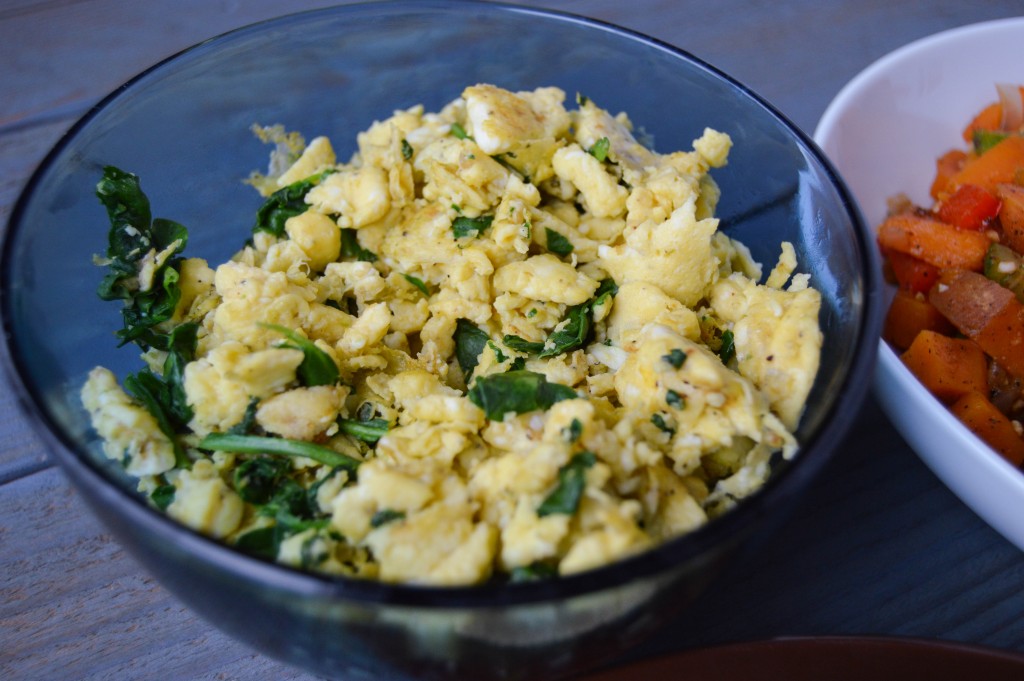 The scrambled eggs with spinach were the perfect protein source.  I am normally used to adding beans to my burritos, but I loved this change of pace.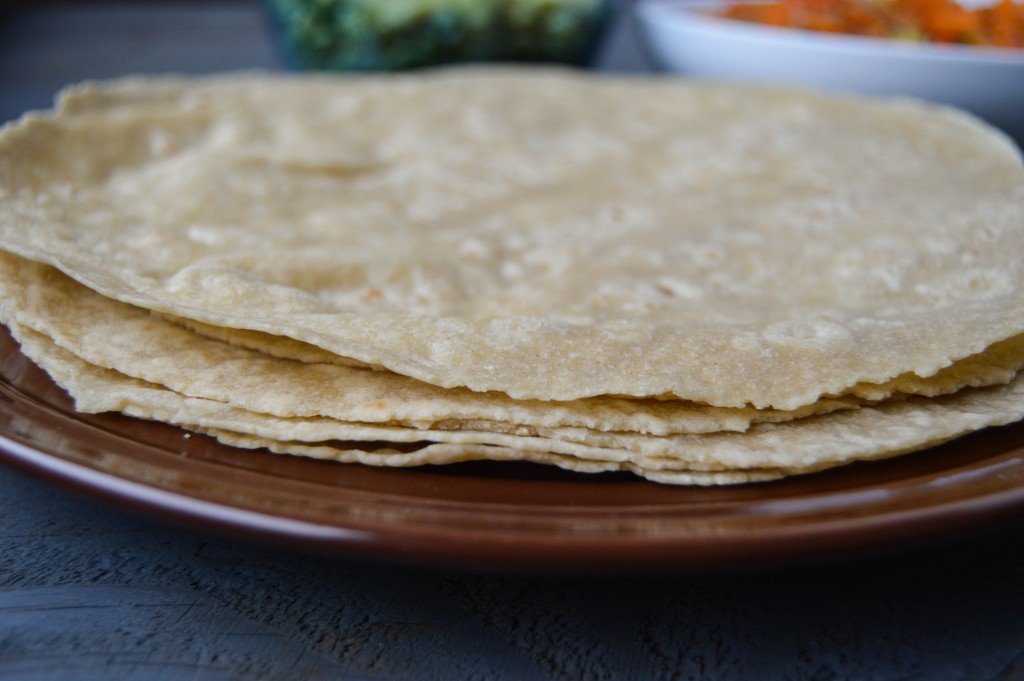 Prior to filling each burrito, I microwaved the tortillas for approximately 30 seconds to soften them up.  This helped them to roll a bit more easily.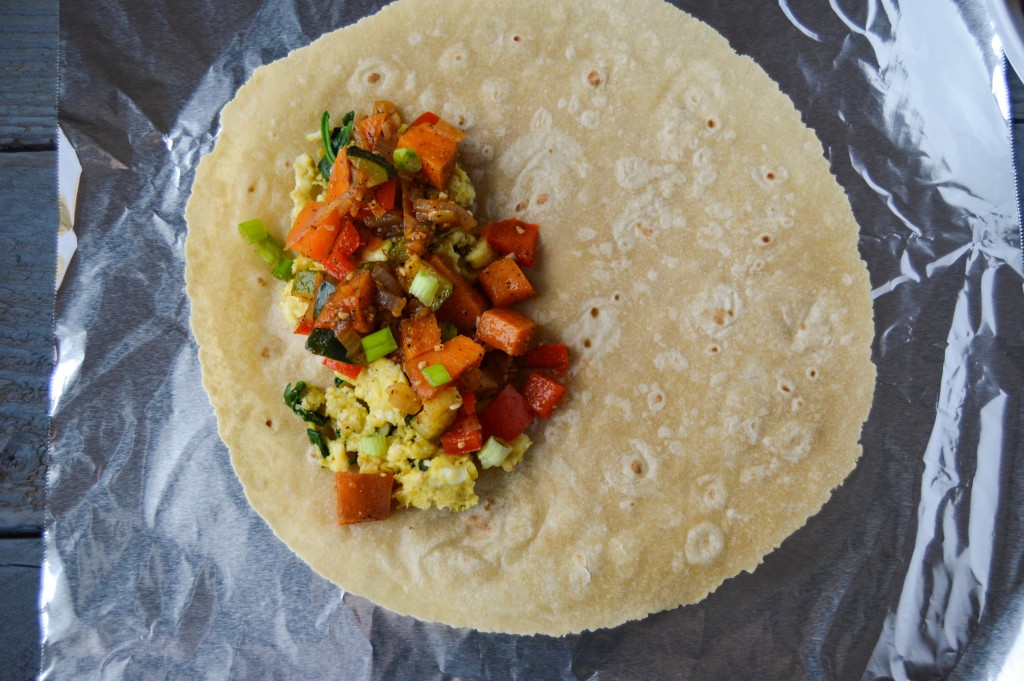 Once the tortillas were warm, I split the two mixtures evenly between each of the tortillas.  I spread the egg and spinach mixture first.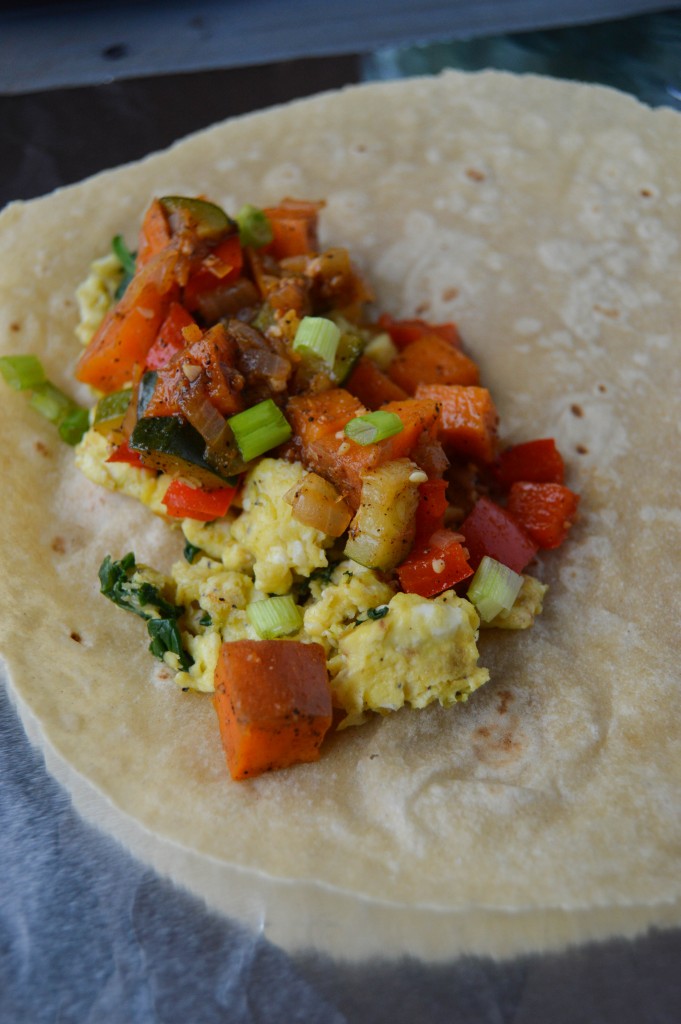 Next, I topped the scrambled eggs and spinach with the seasoned vegetable mixture.  I was careful not to fill them too full, and followed Kim's instructions for rolling the burritos.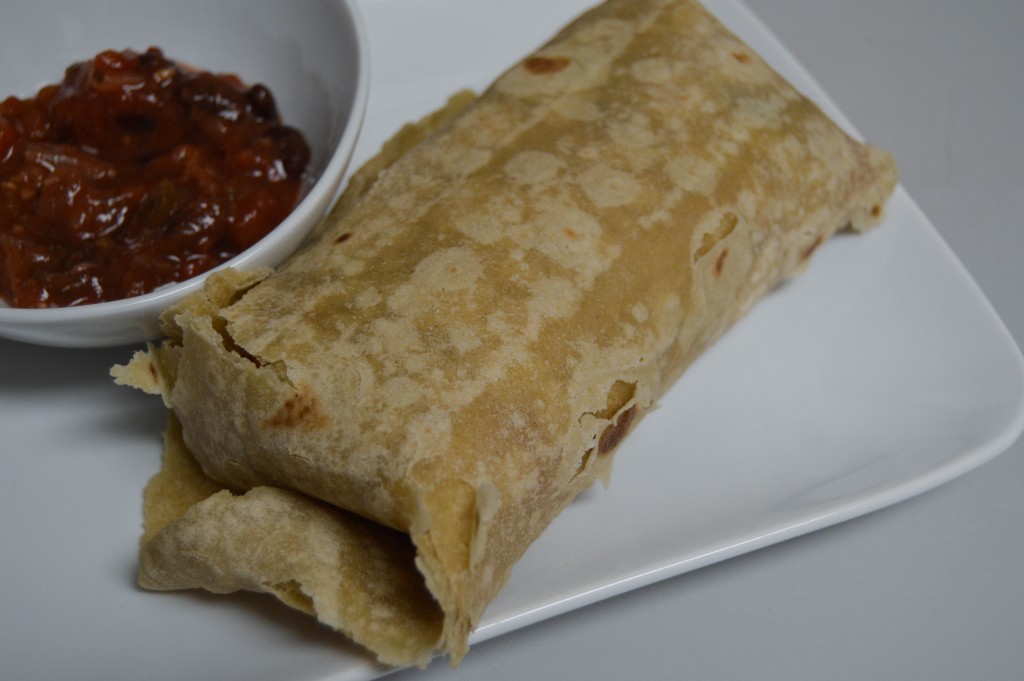 As you can see, gluten-free tortillas are a bit of a challenge to work with.  They do not stay together as well as wheat or corn tortillas, and they tend to flake as you roll them.  I did the best I could and worked with what I had.  They may not have been the prettiest burritos ever…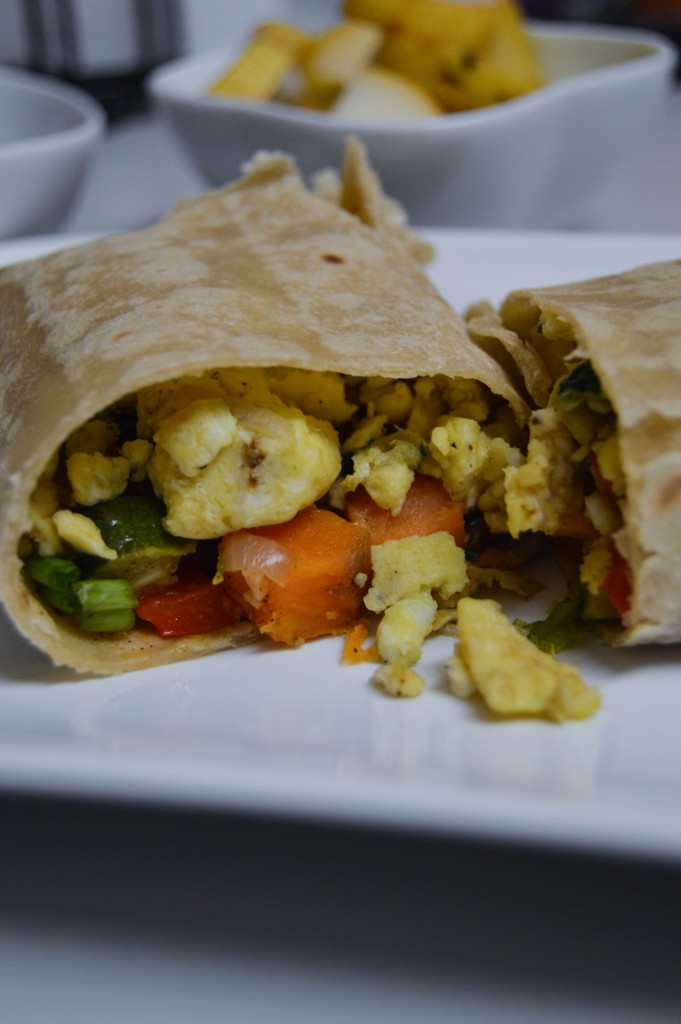 … but they sure were delicious!  That is what matters, right?  I dipped mine in a spicy black bean salsa and went to town.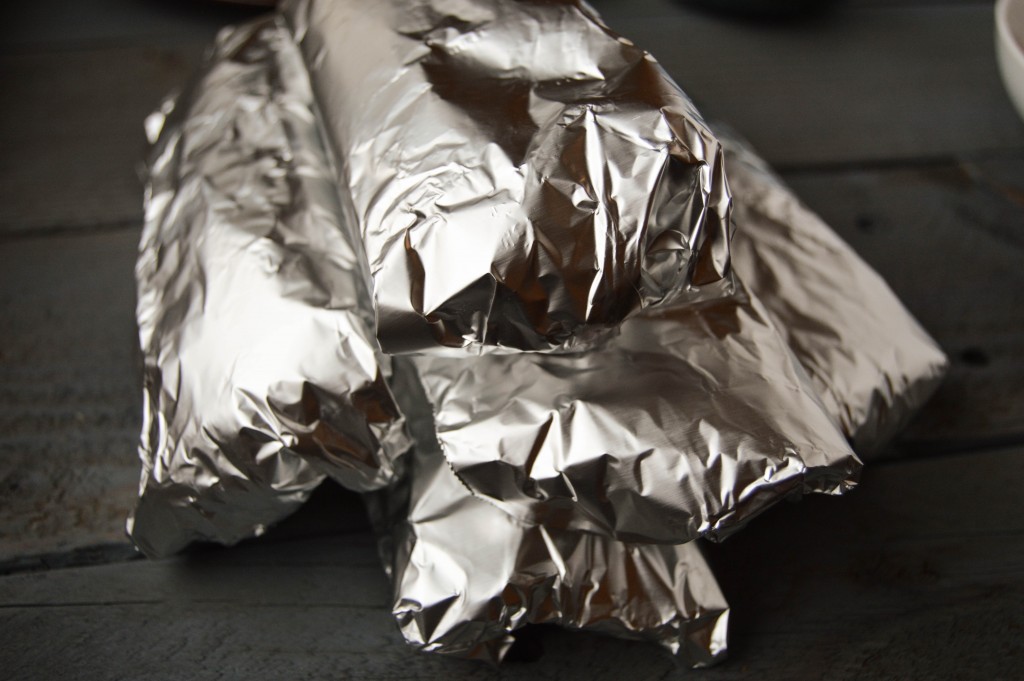 Quite possibly the best part about the evening was that I was able to stick five burritos into my fridge and freezer for breakfasts on the go.  Being able to cook once and eat six times is one of the greatest things ever!  I loved these burritos so much, and have already made my way through half of the batch.  I imagine that I will be adding these to a Sunday meal prepping day sometime over the next month.  My freezer is dying to be restocked again!
Since I was not able to cook with Erin and Joanna for this Three Cooks One Kitchen, I am just as excited as you are to read about their cooking experiences.  I cannot wait to see what twists they put on their burritos.  I already snuck a peek at Erin's on Instagram, and I know that guacamole was involved!  Let's check 'em out:
Erin's Three Cooks One Kitchen post
Joanna's Three Cooks One Kitchen post
What is your favorite thing to eat for "brinner?"  Please share recipe links in the comments!