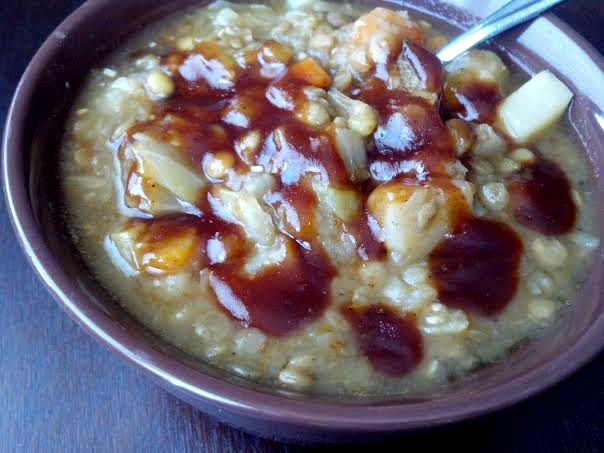 Not very pretty, eh?  I am going to be honest with you.  I had zero intentions of sharing this recipe with all of you after I attempted to take pictures of it.  I have said it before and I'll say it again.  Soup and I are not friends.  Now don't get me wrong.  I love making and eating soup.  It is quick and easy.  It is delicious.  It is warm and comforting.  But do you know what it is not (well, for me anyways)?  It is not photogenic.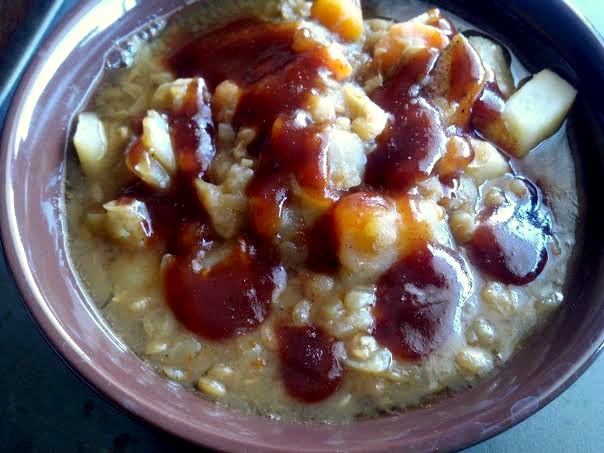 No matter how hard I tried to get a somewhat presentable picture of this soup, it was just not happening.  Despite how much I truly enjoyed eating this soup, I was (and still am) actually a bit embarrassed to share my oh-so ugly creation.  But then y'all had to go and tell me how delicious it sounded when I posted about it in my What I Ate Wednesday Post.  Several of you even went so far as to ask for the recipe.  And since I love you all and I aim to please, your wish is my command!
Barbecue Vegetable and Lentil Stew
Serves 4
*Adapted from Chelsey's recipe and inspired by Kelly's mention/request for a barbecue soup!
Ingredients
water, for cooking
4 cloves garlic, minced
1/2 medium yellow or white onion, diced
2 whole carrots, peeled and chopped
1 stalk celery, diced
1 russet potato, chopped
1 cup green lentils
4 cups vegetable broth
2 cups water
1/2 large head green cabbage, chopped
1 tsp dried oregano
2 TB of your favorite barbecue seasoning (I used this)- you may need more or less depending on the brand you use
1/4 cup barbecue sauce + more for topping
black pepper, to taste
fine sea salt, to taste
Directions
1. Heat a thin layer of water over medium-high heat in a large dutch oven or soup pot.  Once hot, lower to medium and stir in garlic, onion, carrots, celery, and potatoes.  Cook for approximately 8 to 10 minutes, or until softened.  Add additional water, as necessary to prevent sticking.
2. Add lentils, vegetable broth, water, and cabbage to the pot.  Raise the heat to medium-high and bring the soup to a boil.
3. Once boiling, lower the heat to medium-low.  Stir in spices and barbecue sauce.
4. Cover the pot and simmer for 45 to 60 minutes, or until the lentils are cooked through but not mushy.
5. Dish the stew into bowls and top with additional barbecue sauce.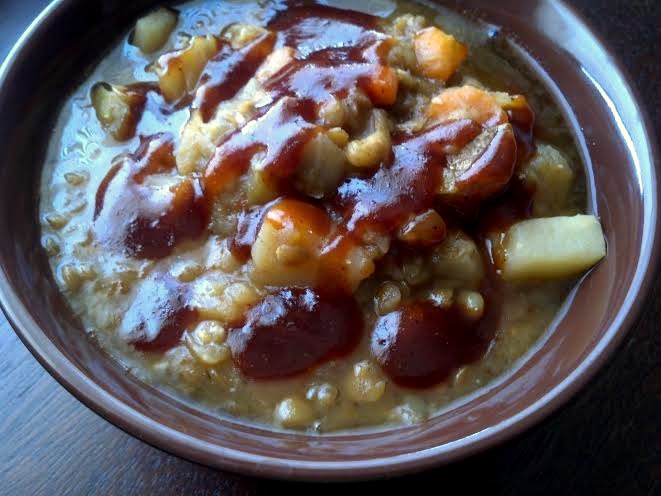 There you have it, kids.  An unattractive but delicious soup.  Now do not say I never do anything nice for you 😉
Any tips on how to photograph soup and make it look good- without having a fancy camera?