A sweet and savory Chocolate Chili Almond Butter Toast combination that is perfect for breakfast, brinner, or an in-between snack!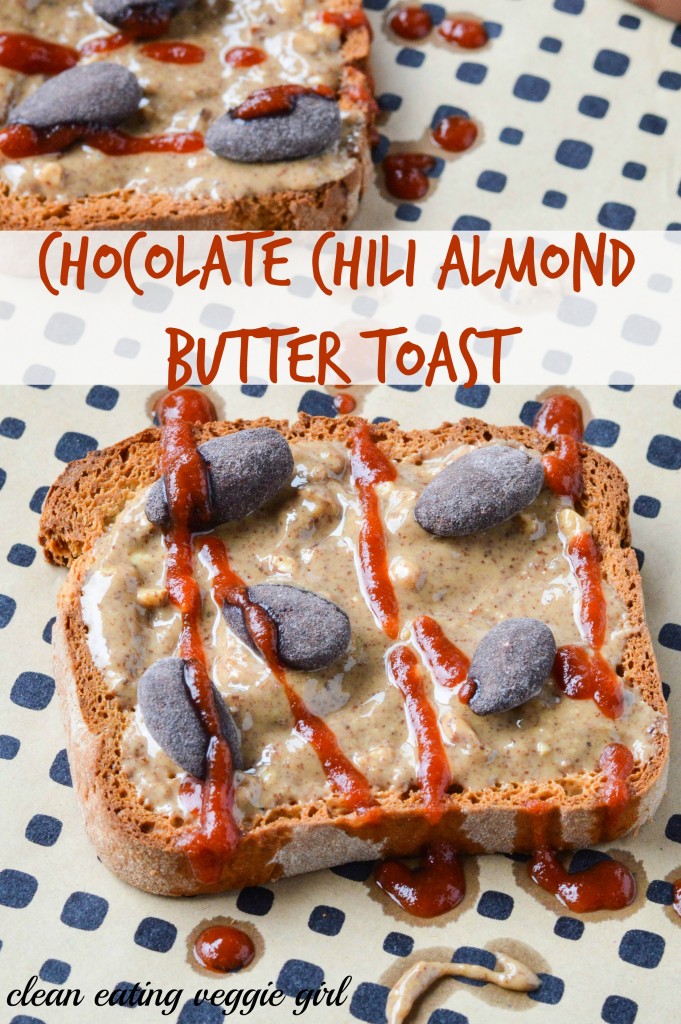 Whoa, whoa, whoa!  Chocolate, chili, and almond butter all in one recipe post title?  Things are getting pretty cray cray up in here, now aren't they?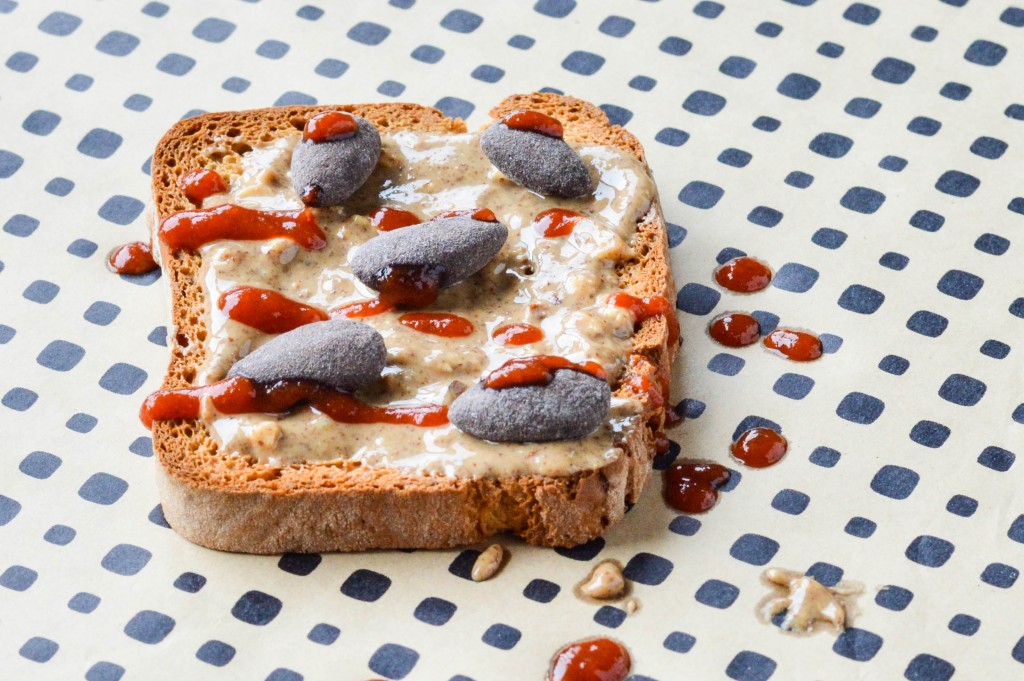 But before you think I am a total nut (pun intended), hear me out.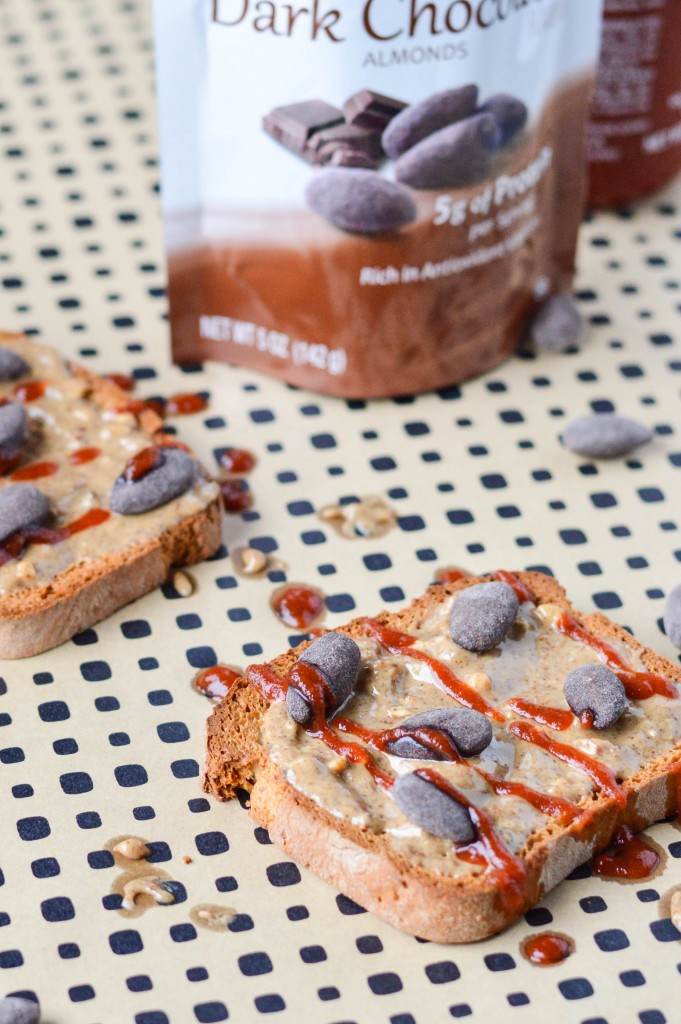 I cannot quite put my finger on when and where I first happened upon the chili pepper sauce and nut butter combo, but it is a thing.  And it is kind of a big thing these days.   I have seen it in countless magazines and on Instagram.
Naturally, since I love both sriracha sauce and nut butters, I have been quite intrigued with the idea ever since I first stumbled across it.  I am not afraid to try crazy food combinations, so the idea did not scare me off.  In fact, it instantly shot up to the top of my list of foods I needed to try.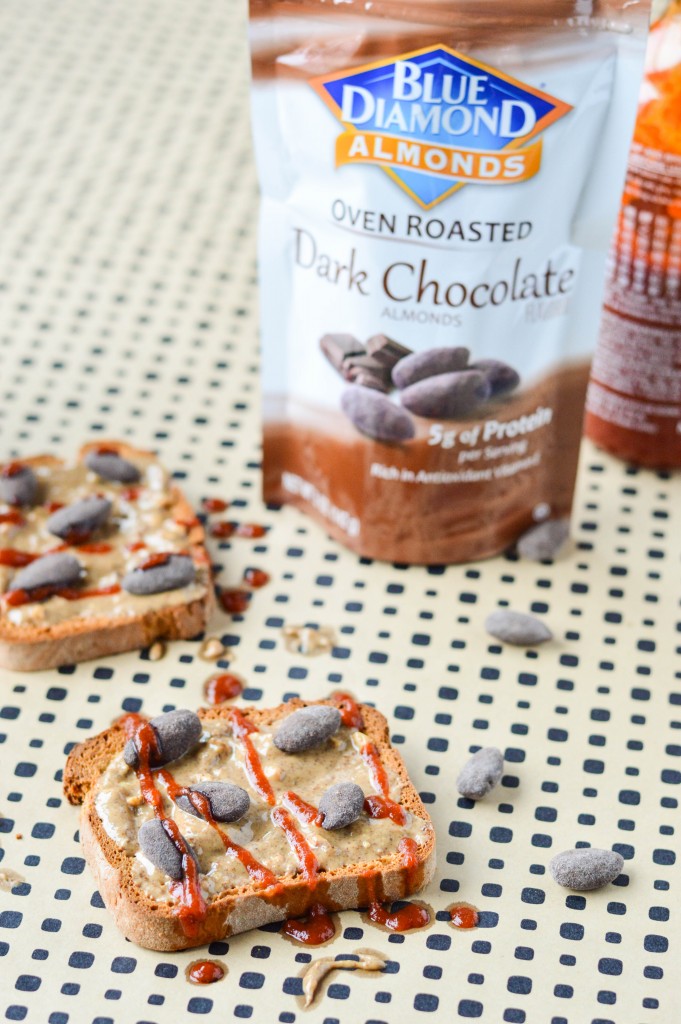 Right around the time that sriracha sauce and nut butter became BFFs, Blue Diamond sent me a package of their Dark Chocolate Oven-Roasted Almonds.  We all know that almond butter and chocolate pair well together, and cocoa has been known to make an appearance or two in chili soup recipes, so I decided that combining chocolate, chili pepper sauce, and almond butter could be a damn good thing.  Sometimes I really like the way my brain thinks.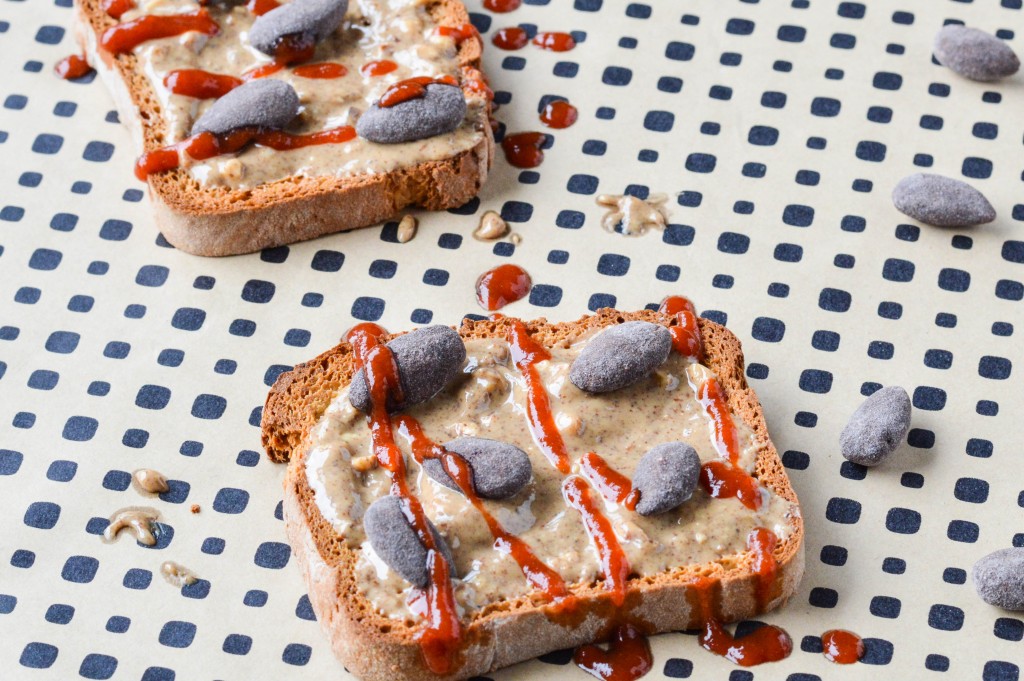 I could not just mix the three together in a bowl and eat it (though thinking about it still sounds delicious to me), so I went out and splurged on a nearly $11 loaf of grain-free coconut flour bread.  Ridiculous?  Not if it had tasted good.  But guess what?  I didn't love it. Or even like it!  Thank goodness for Whole Foods' return policy and my stockpile of gluten-free bread in my freezer that I am working my way through.  This toast had to happen one way or another.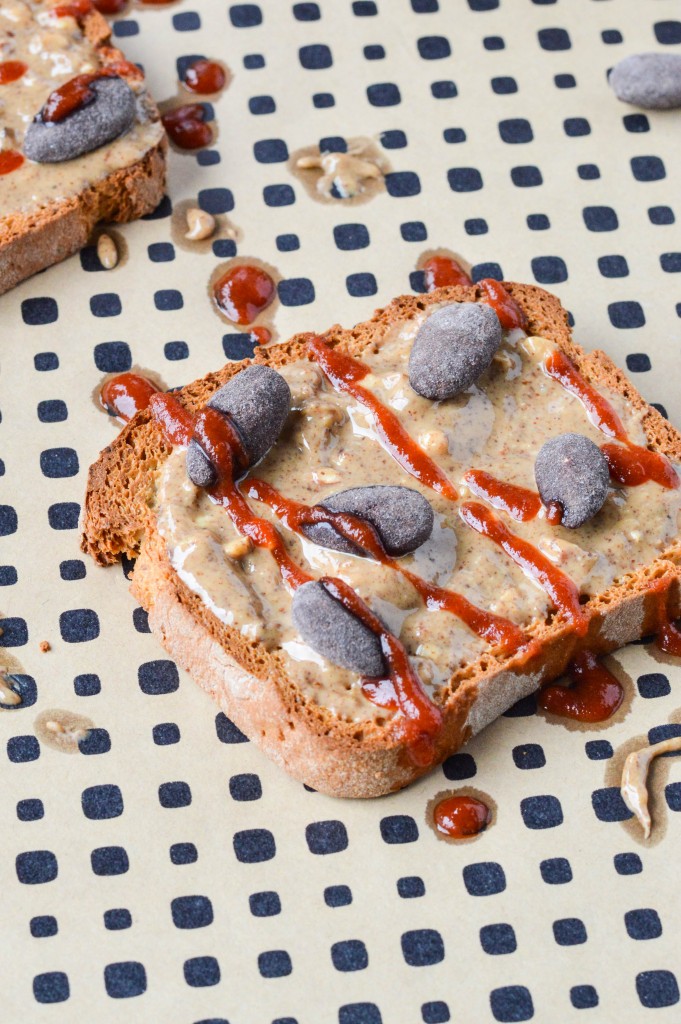 Chocolate Chili Almond Butter Toast
Vegan + Gluten-Free Option
Serves 1
Ingredients
2 slices of your favorite bread (gluten-free or grain-free, if desired)
2 TB almond butter (crunchy and creamy both work)
1/4 cup Blue Diamond Dark Chocolate Oven-Roasted Almonds
1 to 2 TB Sriracha chili pepper sauce
Directions
1. Toast bread to desired crispness.  I like my toast golden-brown and slightly crispy.
2. Spread both slices of toast with almond butter.
3. Top almond butter with dark chocolate almonds.
4. Drizzle Sriracha chili pepper sauce on top.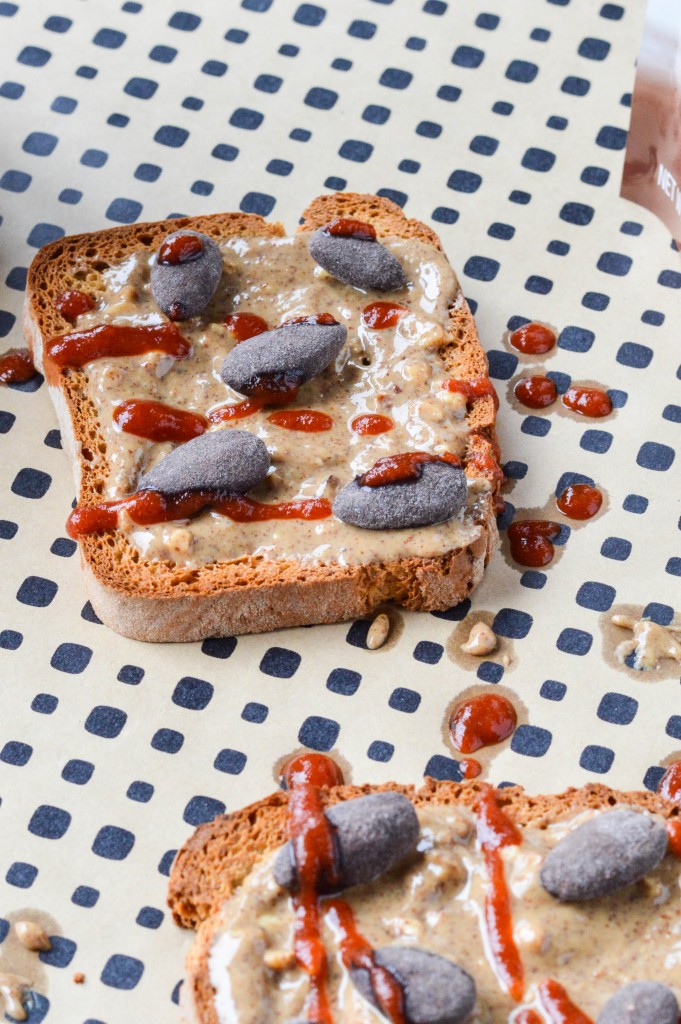 I ate my toast for breakfast alongside crispy fried eggs, but a slice of this Chocolate Chili Almond Butter Toast would also be perfect for brinner, or an afternoon or evening snack.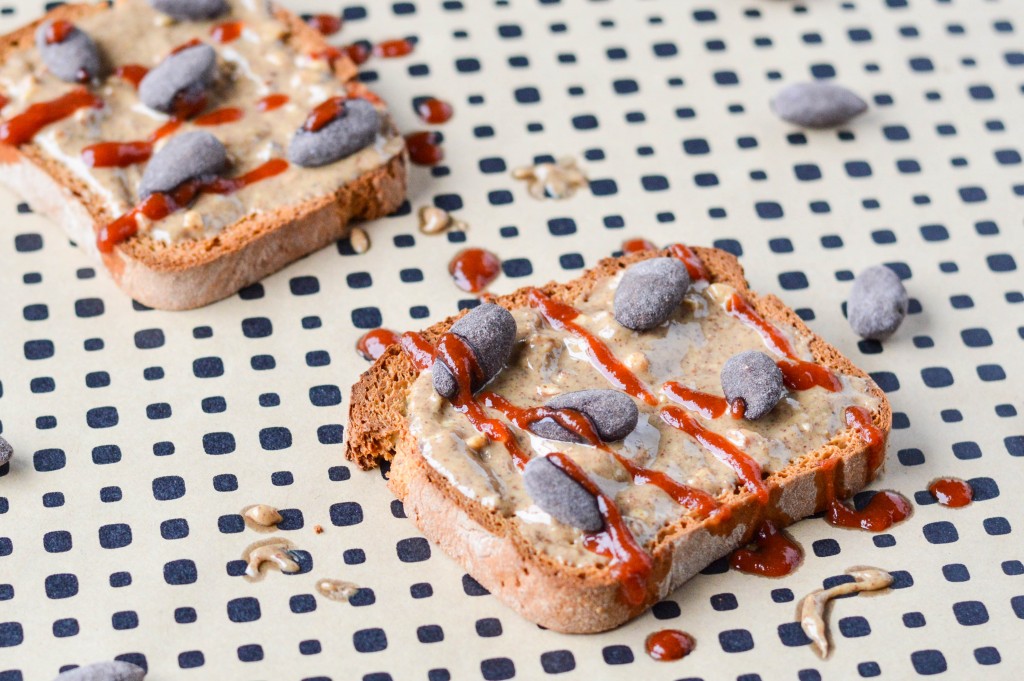 Does it sound a bit strange?  Absolutely.  I am not going to deny that.  But good things do not normally come to those who do not take risks.  And this toast combination, my friends, was a bit of a risk.  Luckily for all of us, it was a risk that paid off.  This Chocolate Chili Almond Butter Toast is nutty, savory, sweet, spicy, crispy, filling, and just downright delicious.  If you take one risk today, it should be making this.
Sweet and savory Chocolate Chili Almond Butter Toast #vegan #glutenfree
Click To Tweet
What is the craziest toast combination you have ever come up with?
Have you tried the Sriracha and nut butter combo?
This post is sponsored by Blue Diamond Almonds.  Thank you for supporting the brands that make Clean Eating Veggie Girl possible!