Remember a couple of weeks back when I posted about my weekend back home to celebrate my dad's birthday and my birthday?  I'm doing the same thing again, but this time we are talking about my birthday and Jeremy's birthday!  Somehow I got lucky and was able to celebrate my birthday twice.  I'm not quite sure how that worked out, but I rolled with it.
My birthday was on March 24th and Jeremy's is coming up this Friday.  It is pretty fun having birthdays so close together so that we can make a whole weekend out of celebrating.  This past weekend was extra fun because Jeremy took Friday off of work so he was here for two and a half days instead of the usual one and a half days.  More days = more good food, drinks, and quality time… which also = more fun!
Weekend Wrap-Up: Birthdays in Omaha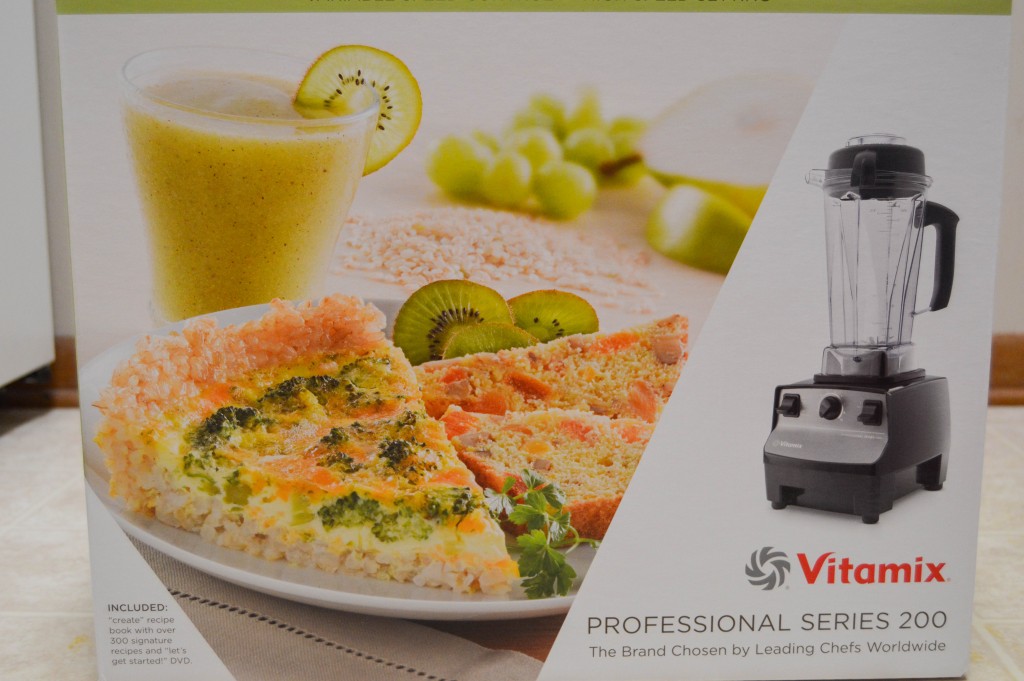 My second birthday celebration actually started off early on Wednesday evening when my brand new Vitamix arrived to my doorstep.  I pooled some of my money, birthday money from my parents, and birthday money from Jeremy to purchase it.  You know it's an expensive item when it becomes a group gift.  I cannot wait to hopefully use this for years and years to come!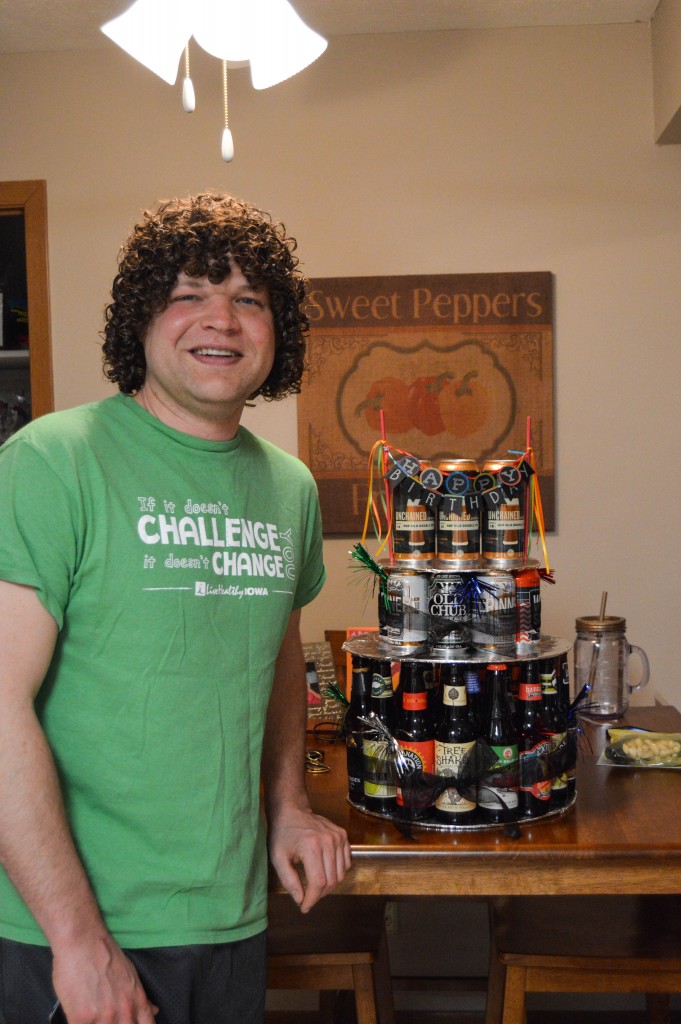 Thursday night involved lots of cleaning my apartment and a little bit of craftiness.  Jeremy did not tell me anything specific that he wanted for his birthday, so I thought it would be fun to center his present around one of his favorite things: craft beer!  I wanted to do a bit more than simply give him beer, so I made him a cake out of beer bottles and cans!  I'll be sharing more about this on Friday.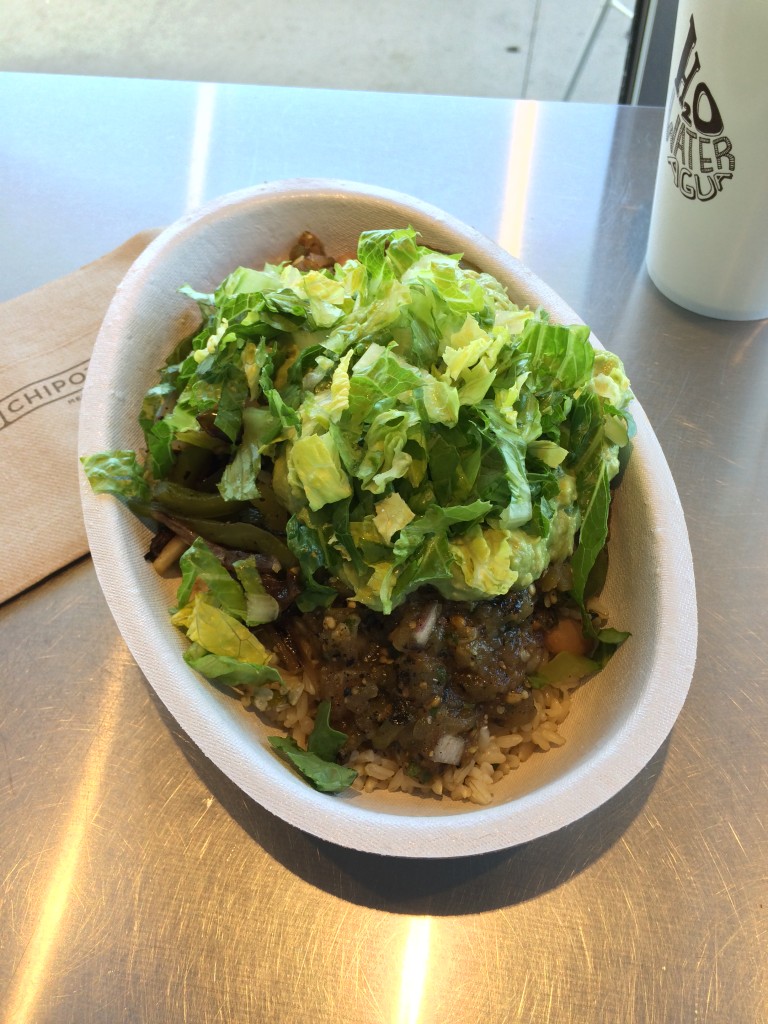 I went to work for four hours on Friday morning.  After I left at noon, I took Jeremy to Chipotle so that he could experience the goodness for the first time… I know, so wrong.  I ordered a vegetarian burrito bowl with brown rice, pinto beans, veggies, lettuce, salsa, and lots of guac.  It was delicious!  Jeremy really enjoyed his burrito.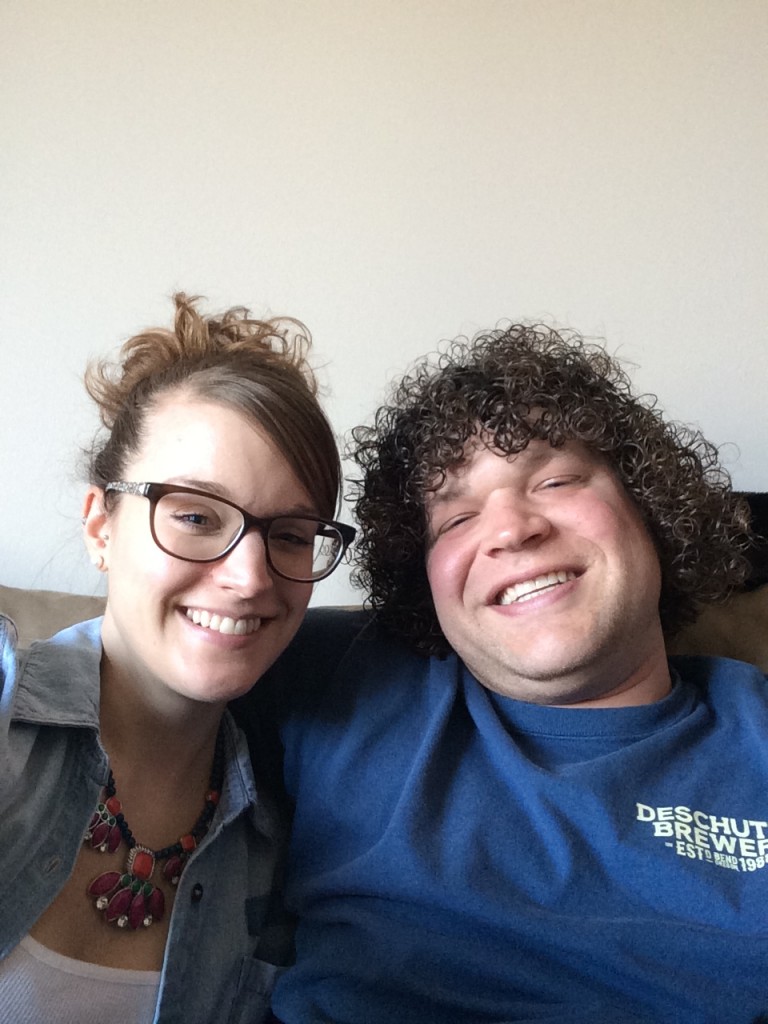 After Chipotle, Jeremy and I ran some errands to Target, Whole Foods, and Trader Joe's for groceries and the essentials.  We also may or may not have taken some selfies.
Then it was time for my birthday dinner at Modern Love.  We each chose a nice restaurant in Omaha to eat out at, and I instantly knew Modern Love was going to be it!  It was Jeremy's first time there, but he loved it as much as I do.  It is also proof that a meat-eater can 100% enjoy eating at an all vegan restaurant!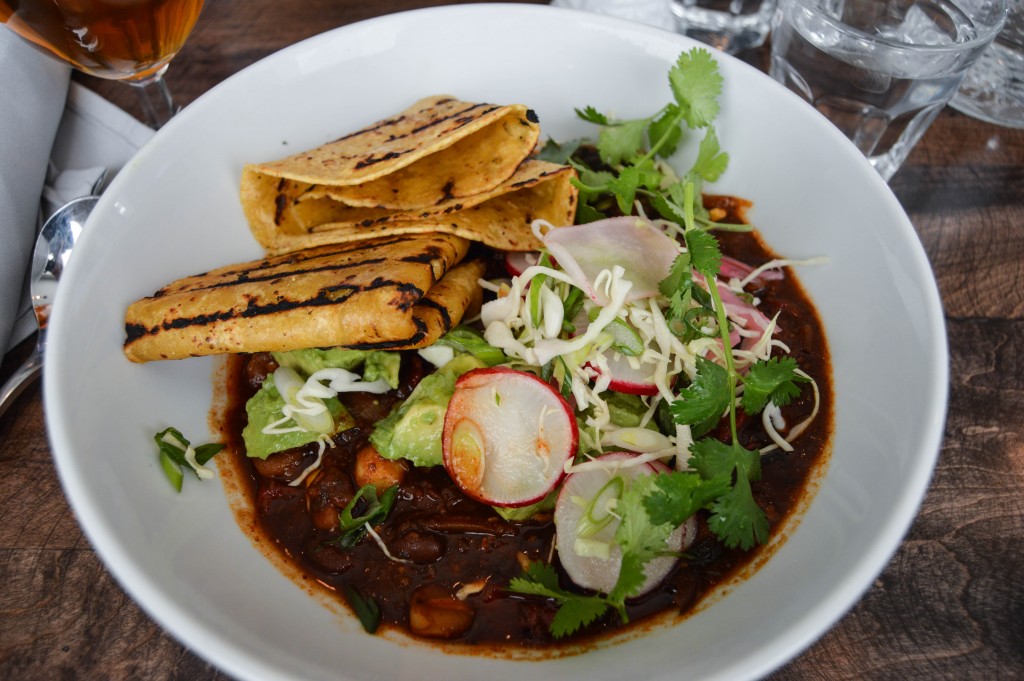 Not only is Modern Love all vegan, but they have several gluten-free options, which was great for me!  Jeremy and I decided to split two main dishes so that we could enjoy two different things.  And they were very different, at that!
I chose the Jackfruit Posole, which was made with jackfruit, hominy, black beans, New Mexico chiles, white corn tortillas, radishes, and an avocado salad.  It was so delicious, so flavorful, and perfectly spicy.  This was our first time eating jackfruit, and now I really want to cook with it myself!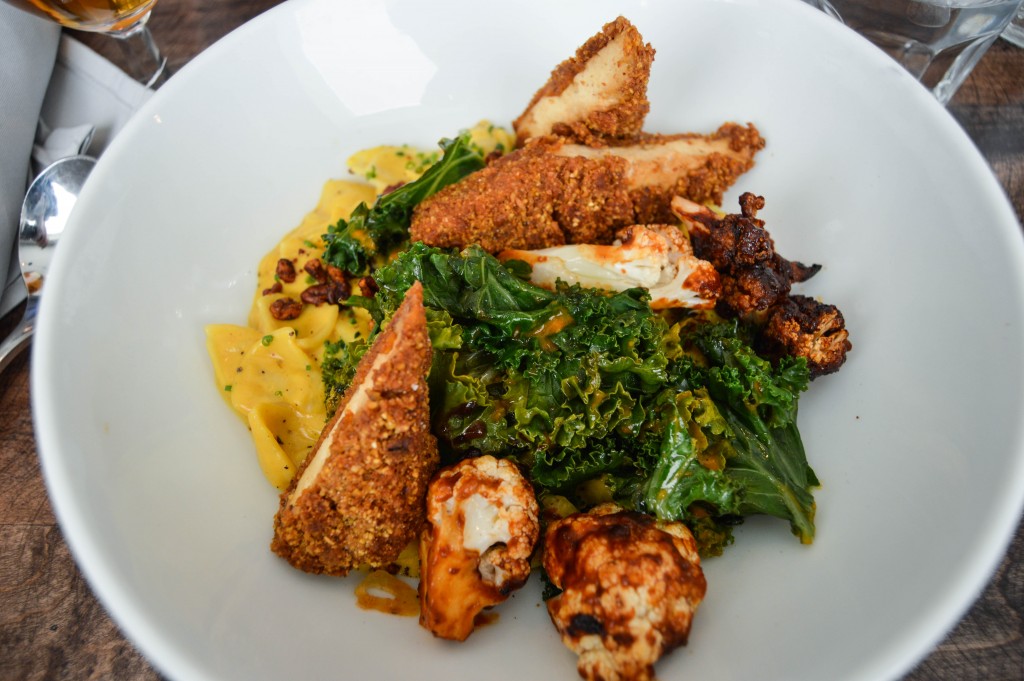 Jeremy selected the Mac & Shews as our second entrée.  This dish consisted of macaroni and cheese made with brown rice pasta and a creamy cashew cheese sauce.  It was served alongside pecan crusted tofu, barbecue cauliflower, and braised kale.  We loved every aspect of this dish, and both agreed that the tofu was perfectly cooked.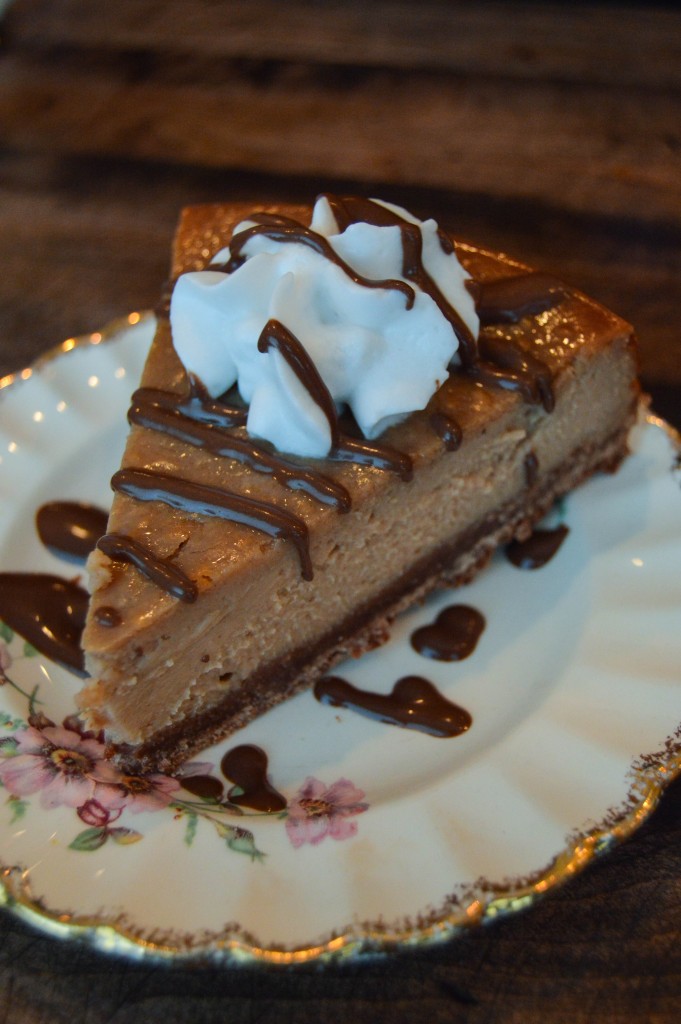 We could not leave Modern Love without indulging in one of their desserts.  It was a special occasion, after all.  We selected the Peanut Butter Cheesecake, which had a chocolate cookie crust, chocolate sauce, maple roasted pecans, and a coconut whipped topping.  Did I mention this was vegan and gluten-free?  Pretty cool, right?  It also tasted like the biggest slice of heaven I have ever tasted.  I hope this one sticks around for a while.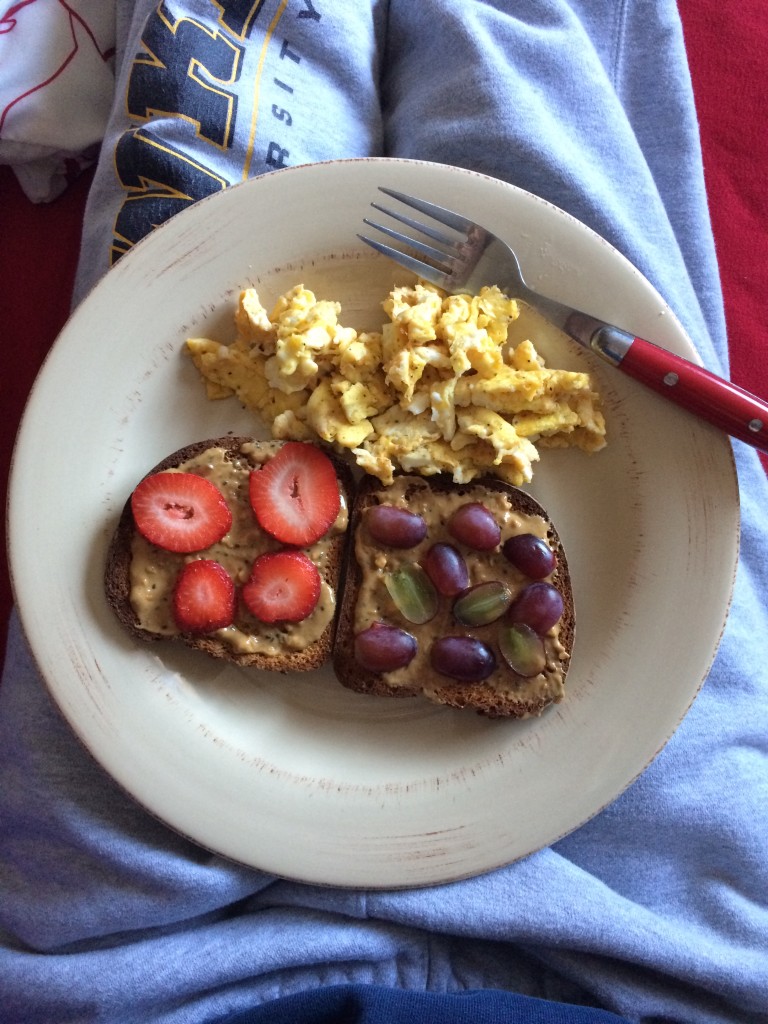 We were exhausted by the time we got home from dinner, so we ended up in bed before 10:00.  That is how you know you are old.  Since we were early to bed, we were also early to rise.  We woke up at 7:00 and ate breakfast in bed.  I cooked up gluten-free toast topped with nut butter and fruit + a side of scrambled eggs.  It completely satisfied all of my weekend breakfast cravings.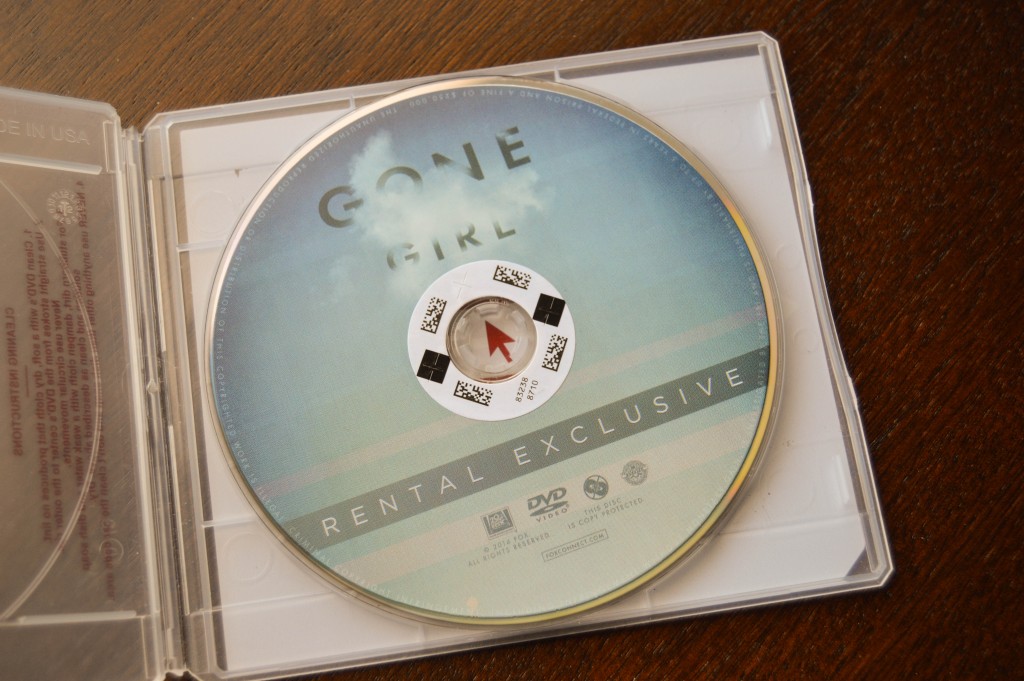 While eating breakfast in bed, we finally got to watch Gone Girl.  I had read the book, so I knew what to expect, but it was fun to see Jeremy's reactions throughout the movie.  He agreed that the ending was certainly not anything to be thrilled about.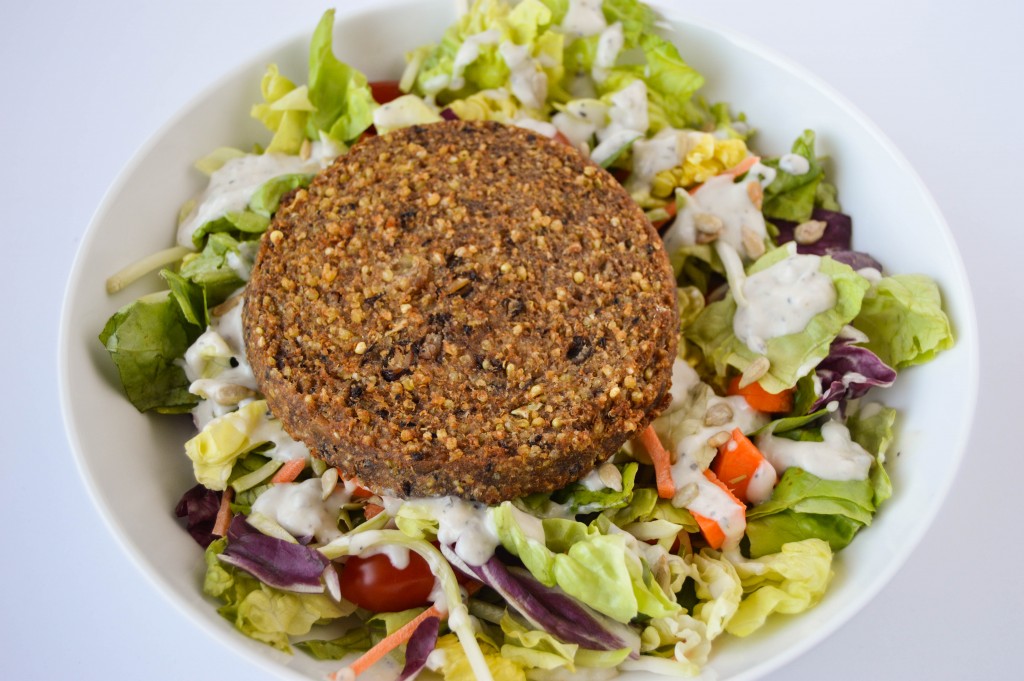 After we got ready for the day, I made us salads for lunch.  With the warmer weather around, I have been craving salads more and more.  Our's consisted of butter lettuce, broccoli slaw, onions, carrots, grape tomatoes, sunflower seeds, vegan ranch dressing, and Hilary's Eat Well veggie burgers.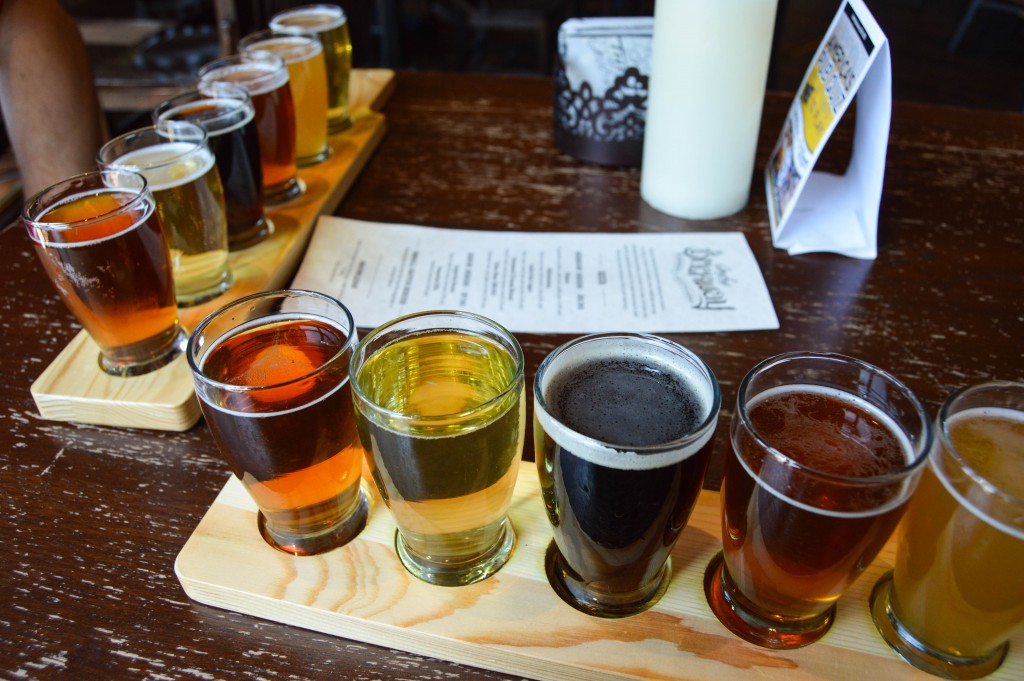 After lunch, we made our way downtown to Brickway Brewery & Distillery.  I had purchased a Living Social deal for the two of us at the end of last year, and it was set to expire within a couple of weeks.  Our visit didn't exactly go how I had originally planned.  Since I am trying out a gluten-free diet, I was not able to partake in the beer goodness.  Instead,  Jeremy enjoyed two flights of beer all on his own!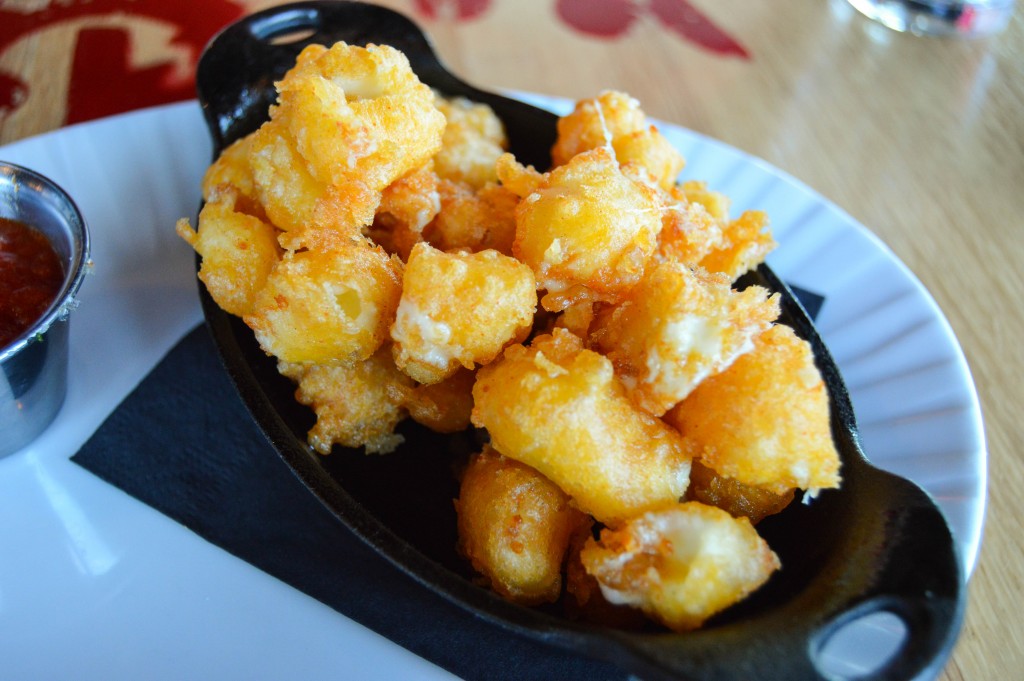 After the beer tasting, a much-needed nap was in order.  Then we got ready for dinner at Louie's Wine Dive.  This was my first visit to Louie's, but once I found out how gluten-free-friendly they are (they have a separate GF frier), Jeremy and I knew it would be perfect for his birthday dinner.  We started with gluten-free cheese curds dipped in marinara sauce.  They were unreal!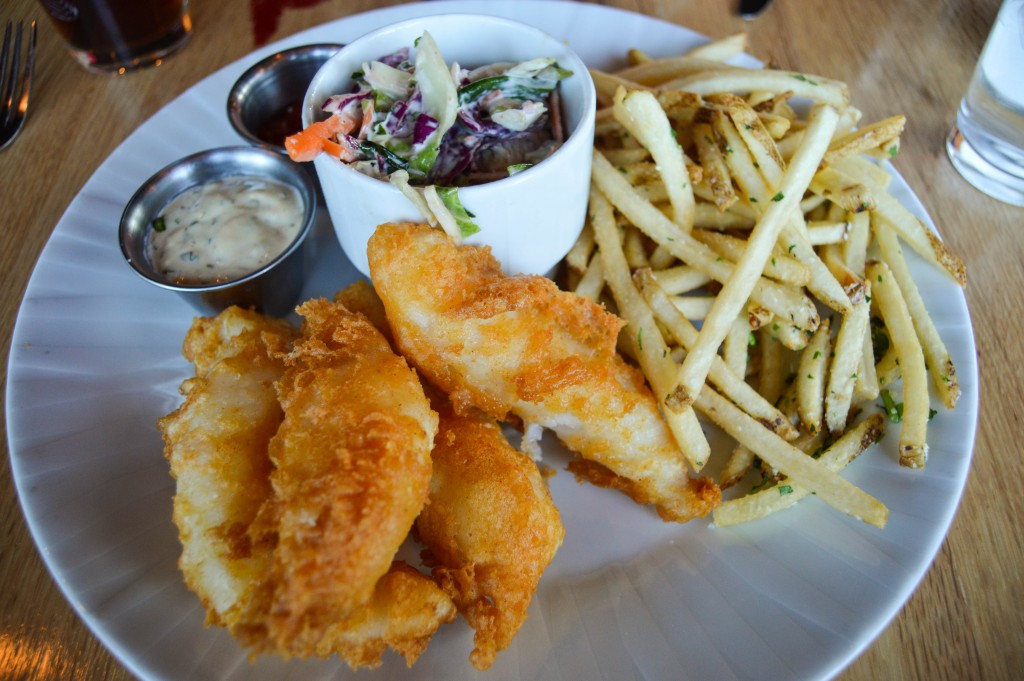 Jeremy chose a truffle mac & cheese with steak, while I selected the fish and chips.  The fish was American cod that was breaded in brown rice flour.  It was delicious, especially dipped in the housemade tartar sauce.  I also thoroughly enjoyed both the coleslaw and the fries.  The coleslaw had the perfect amount of sweetness and creaminess, and the fries were well-seasoned and crispy.  Because it can be so difficult to find restaurants with a specified gluten-free frier, I will definitely be back to Louie's.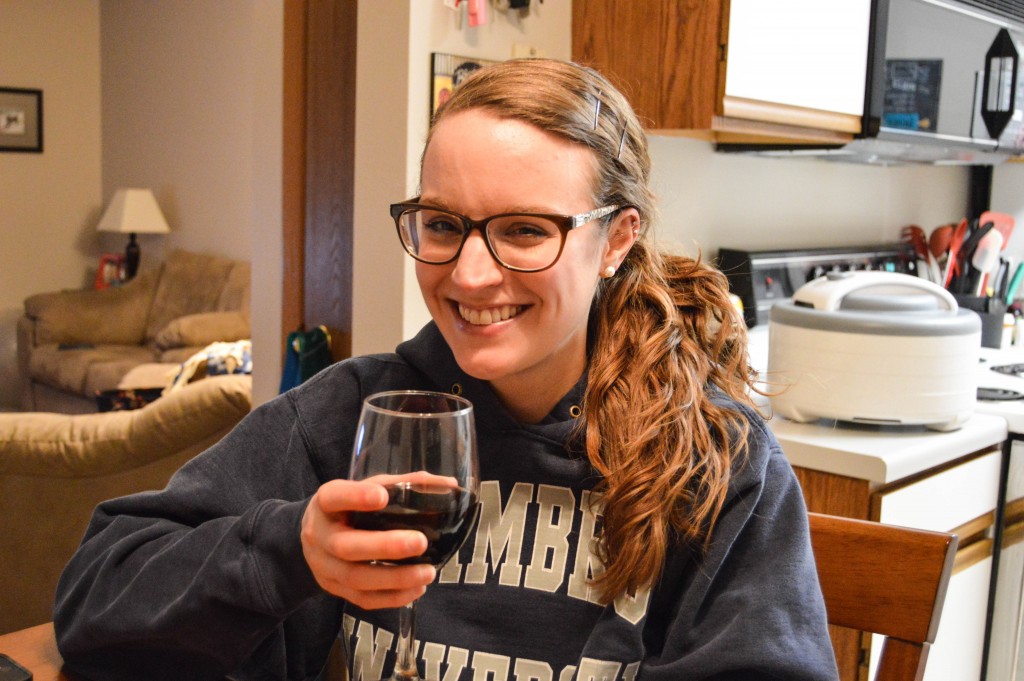 After dinner, I had high hopes of finding us gluten-free cupcakes to cap off our second birthday dinner.  Unfortunately, Jones Bros. Cupcakes was all out (they tend to sell out early), so we headed home empty-handed.  We did, however, enjoy a couple of glasses of red wine, some popcorn, and a few card games of war and crazy eights.  Now that I cannot drink most beers, I have made it my mission to learn to become a wine drinker!  I have to say that it wasn't half bad.  I can do this!
Sunday consisted of another lazy morning, eating leftovers for lunch, and a sad goodbye between the two of us.  Whenever Jeremy heads back home, it is never a fun time.  It is not easy, but we make it work.
This past weekend was pretty close to perfect.  I sure as heck am sad that Monday is here, but that means I'm that much closer to seeing Jeremy again.  I hope your weekend was great too, and that your week is off to a good start!
Have you ever eaten at an all vegan restaurant?
What are your favorite semi-sweet red wines?