Welcome to the first Friday Foodie Favorites of 2015!  With the busyness of the holidays, I have not made a whole lot of new recipes.  As a result, I have been relying on your recipes to get me through.  I came across a few favorites along the way, and today I am going to share them with you.
Friday Foodie Favorites: January 16, 2015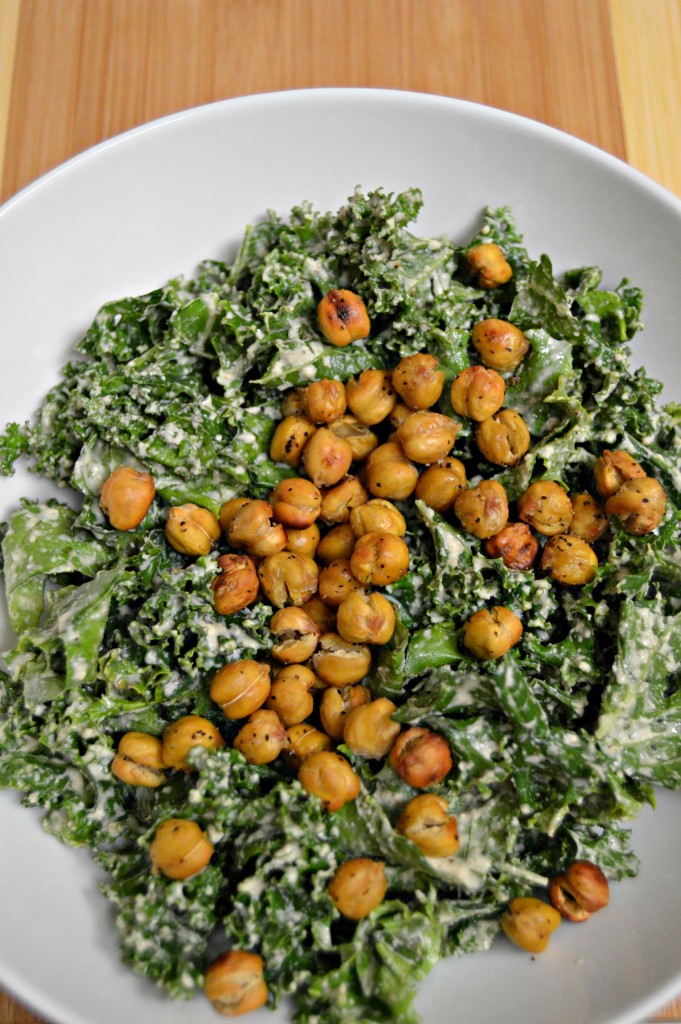 When I become a vegetarian three years ago, I worked to become diligent at avoiding foods with "hidden" animal products in them.  One of those foods was Caesar dressing since most versions contain anchovies.  As a result, it had been quite some time since I had eaten my favorite Caesar salad.  When I came across Angela's Crowd-Pleasing Vegan Caesar Salad recipe back in November, I bookmarked it on my computer for a day when a salad craving hit.  Since then, I have made this salad three times.  If that is not a sign of how good this salad is, I do not know what is.  Kale and Romaine lettuce salads are great.  Roasted chickpeas make for perfect "croutons" on salads.  But what really sets this salad apart is the dressing.  It is made with cashews, it is vegan, and it is insanely delicious.  I would not be surprised if I never found a better Caesar dressing in my life.  Now that I am incorporating some seafood into my diet, I still have zero plans to eat any other Caesar dressing.  It is that good!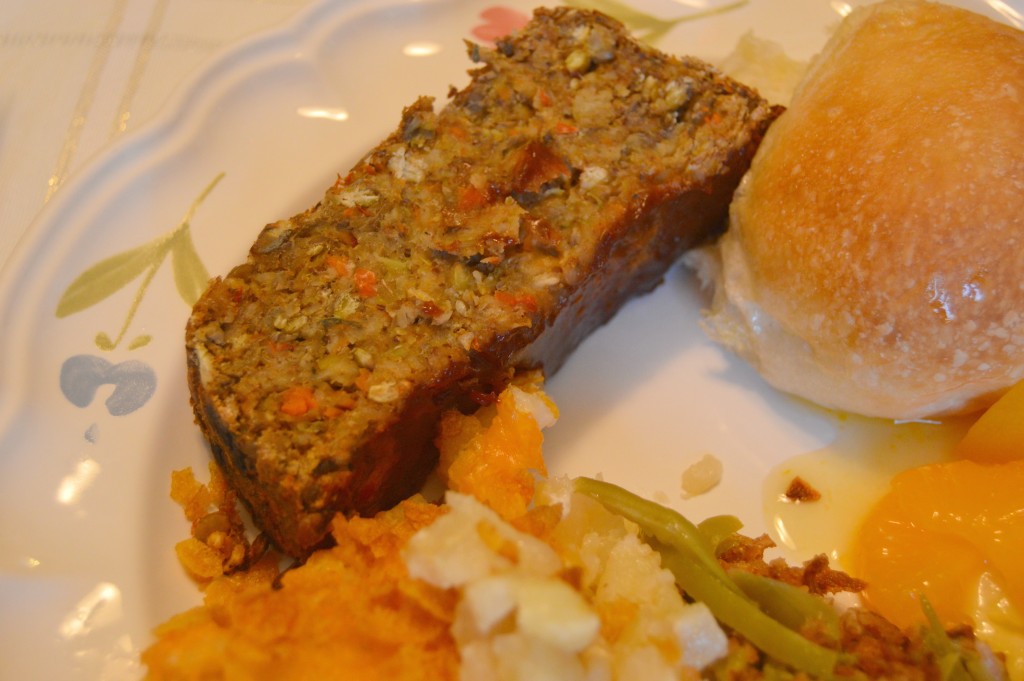 When it comes to holiday cooking (or really any time, for that matter), there is nothing better than a vegan lentil loaf.  While I love my tried and true Butternut Squash Lentil Loaf, I decided to step outside of the box on Christmas and tried Julie's Ultimate Vegetable Lentil Loaf.  Like other lentil loaves, it was quite simple to make.  I love using lentils as a base, and the additional vegetables in this version were delicious.  The two things that I loved the most about this particular lentil loaf was the firmness in texture (some tend to be too mushy), and the sweet glaze on top.  The glaze reminded me a lot of the my dad's meatloaf that I miss from time to time.  This is a great vegan substitute to his version.
You had to know there would be more chickpeas coming! That is because I have a serious love for these beans.  I have also been loving Alex's recipes since I came across her blog a couple of months ago, so a few weeks back I dug around to find more delicious recipes that I had not tried yet.  Her Barbecue Chickpea Sandwiches instantly caught my eye.  I did, however, cheat a little bit on this one.  What can I say?  I was feeling lazy.  Instead of following her recipe exactly, I used it as inspiration.  I made my own vegan coleslaw to which I added sriracha sauce.  If you have not tried sriracha coleslaw yet, you need to!  I then added bottled barbecue sauce to canned chickpeas and microwaved them to heat them up (I told you I was feeling lazy).  I slapped both on a whole wheat bun, cooked up some sides, and dinner was served.  While I did not follow Alex's recipe exactly, my quick version tasted delicious!  Next time I am in the cooking mood, I am going all in and making her from-scratch version.  I can only imagine how amazing it tastes.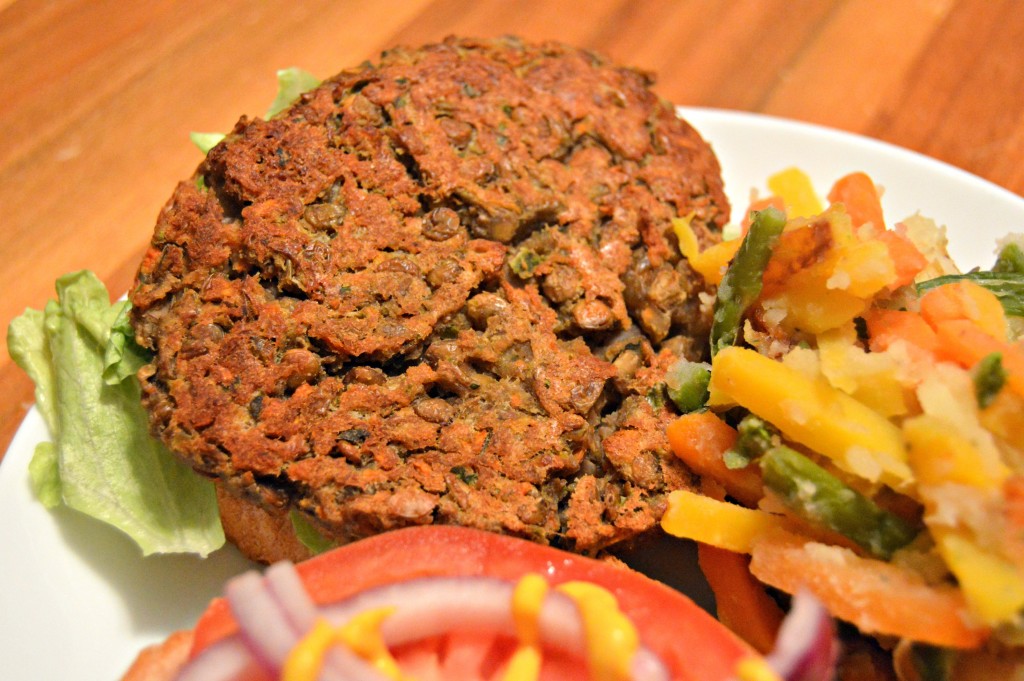 I saved the best for last, folks!  I know that I probably shouldn't pick favorites.  But if I were ranking the four recipes I am sharing today, these Ginger Peanut Lentil Burgers from Alexis would take the top spot.  They are so good (just like all of Alexis's recipes are).  I made a double-batch so that I would have plenty of leftovers, and I was incredibly happy that I did.  I see a lot of veggie burgers made with beans, oats, and veggies (which I love), but it was nice to discover a veggie burger recipe that was a bit different.  These burgers are made with lentils, bread crumbs, veggies, and… peanut butter.  I think Alexis had me with the peanut butter part.  While not vegan, I am sure these could be made with flax or chia eggs instead of the real deal.  The taste of these burgers is spot on.  Now I just need to work on the form.  It's a good thing I don't care if my veggie burgers are whole or in a million pieces 😉
I hope you have a lovely Friday!  I sure am excited it is here.  This weekend I have plans to meet Jeremy halfway in Des Moines for a little mini getaway.  I am super excited to see him, eat delicious food, try some new beer, and just relax.  I'll catch you on Monday with a recap.