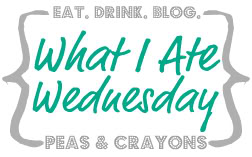 It is Wednesday, friends.  But let me let you in on a little secret.  Today is actually sort of my Friday!  This afternoon I am leaving for a conference I am presenting at (wish me luck!) for work in Des Moines through Friday and then I'll be home for Memorial Day weekend.  In other words, I will not be back in the office until Tuesday.  Having almost a week away is going to be really nice.  Let's just hope that I am not super behind when I return.
But let's not think about work.  Instead, let's talk about food.  So far, all of my What I Ate Wednesday posts have been centered around a single day.  Today I am going to mix things up a bit and feature several of my recent eats.  Oh, and if you make it all the way to the bottom, then you can enter into a taaaasty giveaway.  Everyone likes a giveaway, right?
What I Ate Wednesday: Recent Eats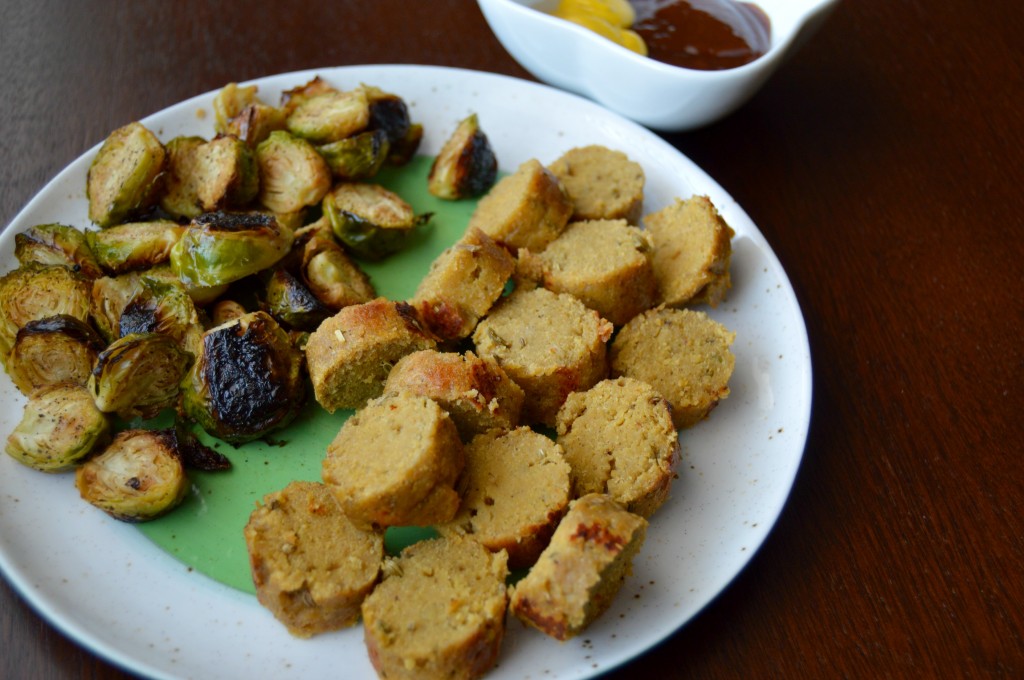 Homemade seitan (more on this next Friday) and roasted brussel sprouts- both of which I dipped in mustard and barbecue sauce.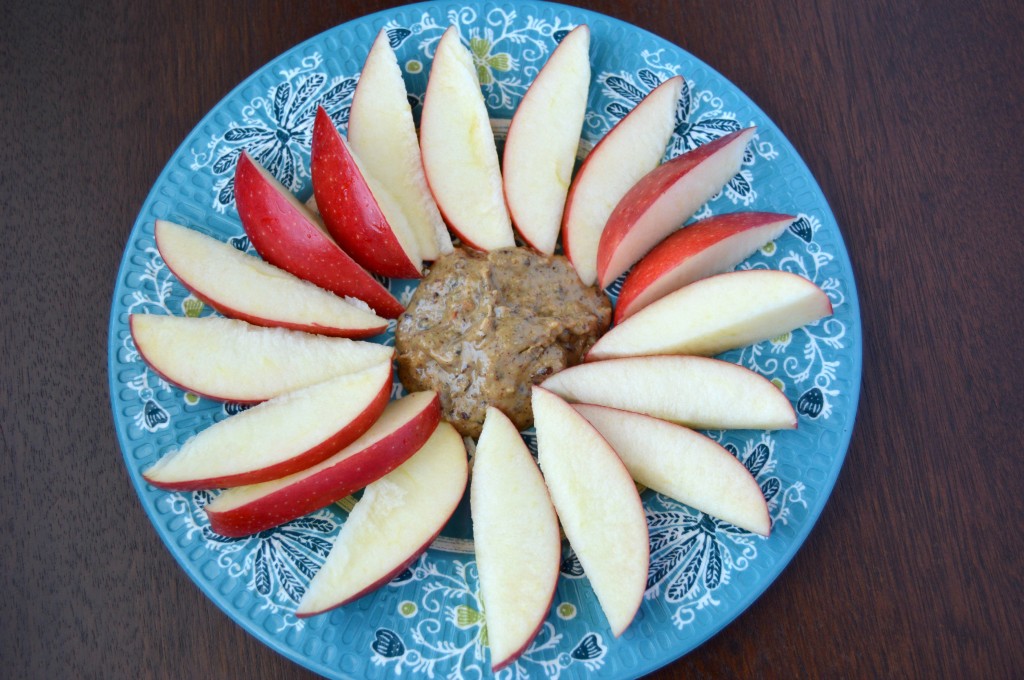 I have been eating tons of apples with nut butter lately.  On this particular plate is a Gala apple with Nuttzo.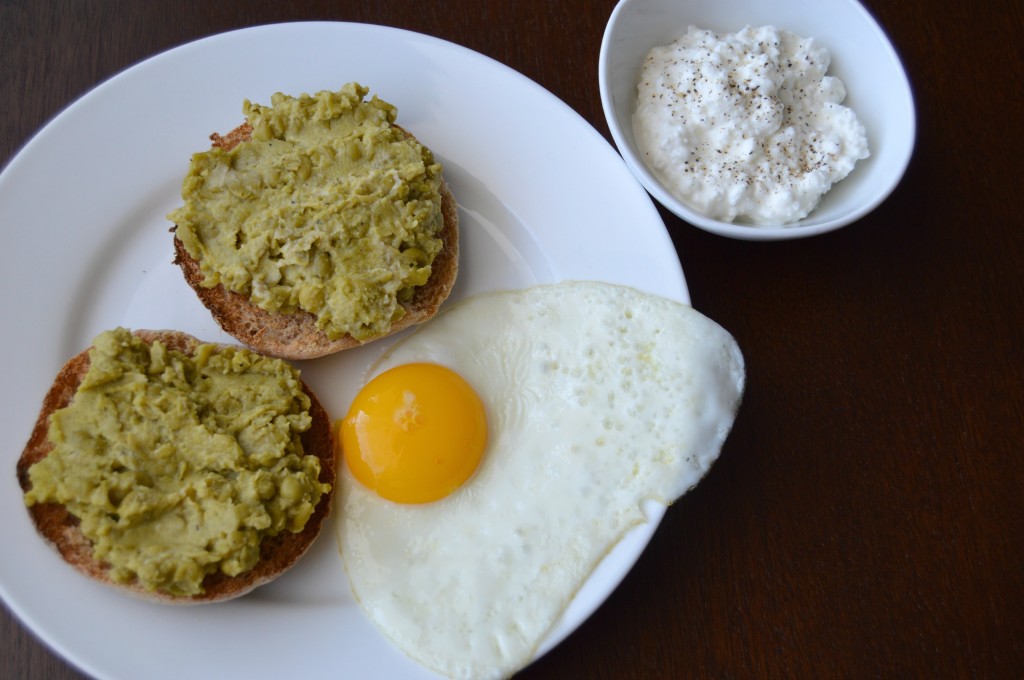 This is definitely one of my current favorite breakfasts: a toasted English muffin topped with my Horseradish and Garlic Pea Spread, a dippy egg, and cottage cheese.  I buy the no-salt-added cottage cheese and add in black pepper and a bit of sea salt so that I can control the amount of salt that goes into it.  If you did not already know, most brands of cottage cheese contain a TON of sodium.
Mexican black bean and sweet potato soup + blue corn tortilla chips <– A current obsession of mine.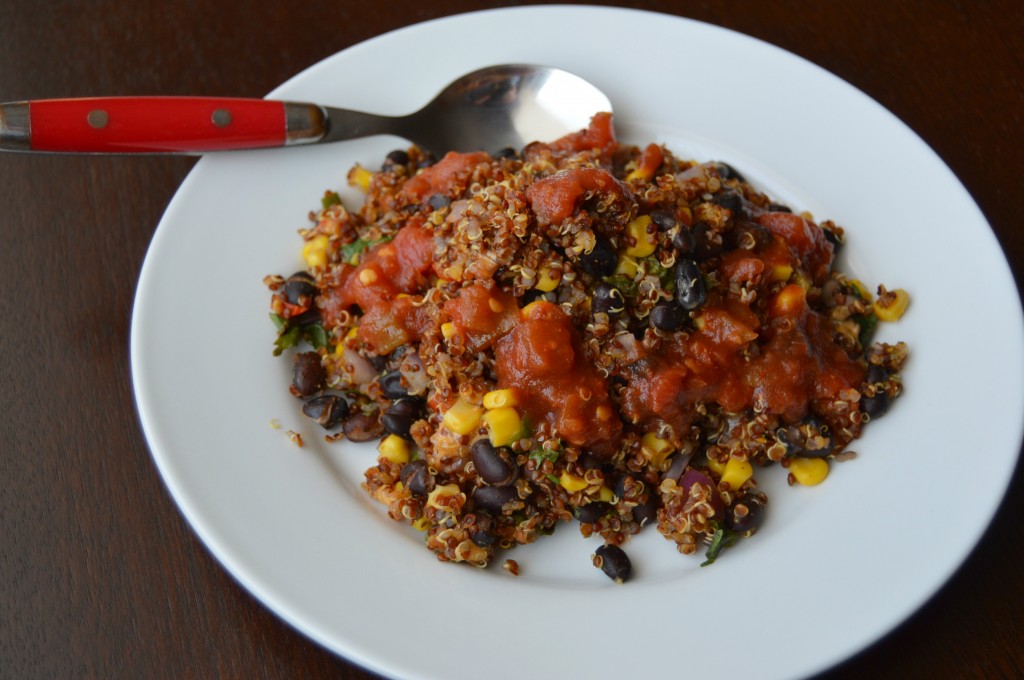 A super tasty and just spicy enough Mexican quinoa bake.  More on this one next Friday, too!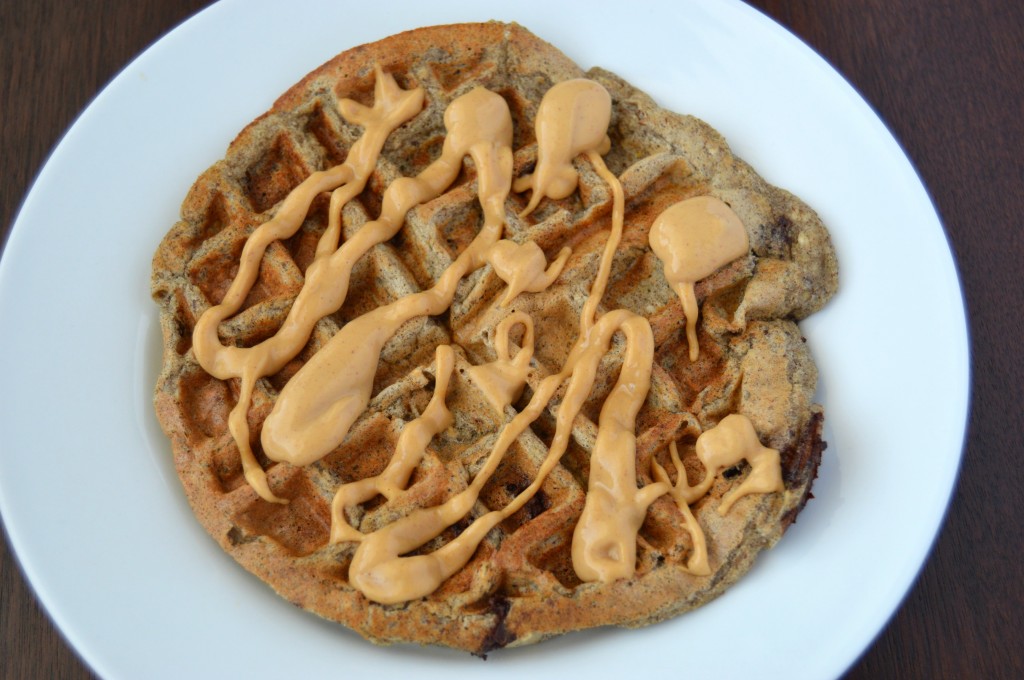 Chocolate chip banana bread waffle topped with peanut butter for Sunday's breakfast.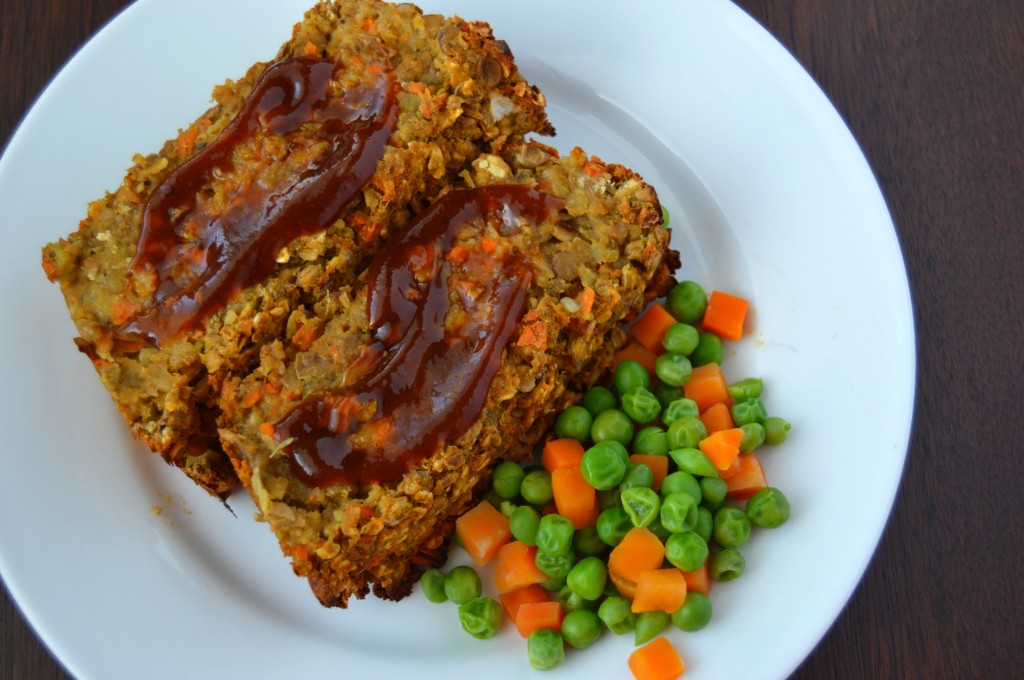 My Butternut Squash Lentil Loaf with barbecue sauce and a side of veggies.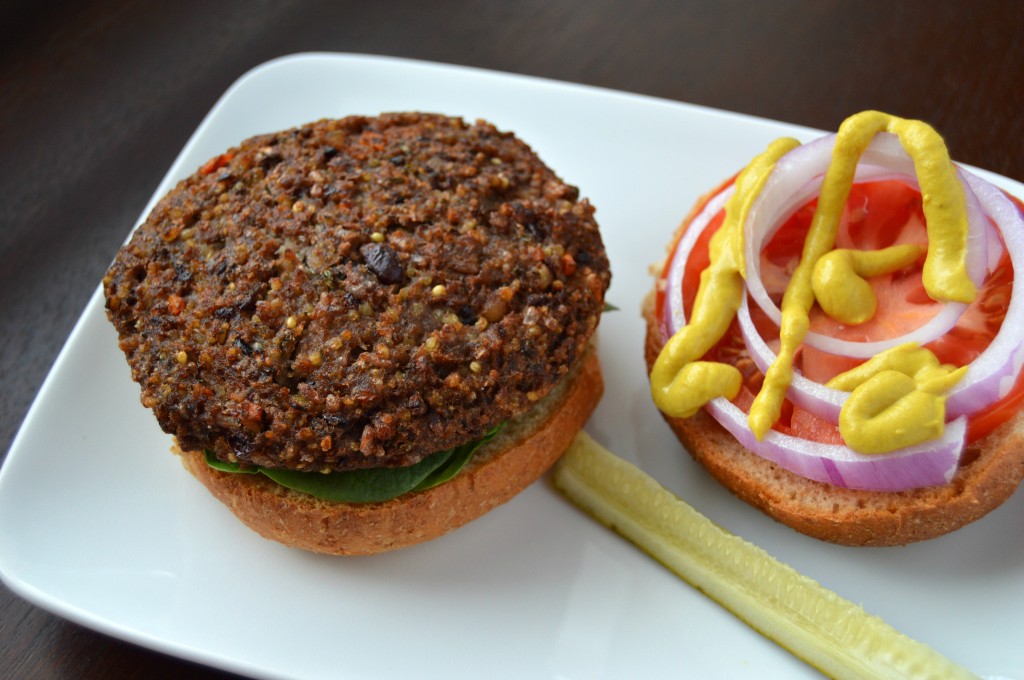 And a vegan burger on a whole wheat bun with spinach, tomato, red onions, and mustard.  A pickle on the side, too, of course!
Last night I cooked up one of the new Black Rice Burgers from Hilary's Eat Well for a quick, easy, and delicious dinner because I had a lot to accomplish and very little time for cooking anything elaborate.  Lucky for me, this definitely tasted like it took longer than 10 minutes to make.  I tried Hilary's Eat Well burgers for the first time a few months ago and have been in love since.  I am in love with the fact that they only contain real ingredients that I can actually pronounce.  I am in love with the fact that they are vegan.  I am in love with the fact that they are soy-free, gluten-free, and non-GMO.  I am in love with the fact that these are made with Lotus Foods Rice, which is a company that uses a sustainable process when growing their rice.  And if those reasons have not convinced you yet, how about the fact that you can make them in the toaster?! <– That alone is reason enough to buy these.  Oh, and I cannot forget to mention that they taste good, which is obviously a must for me!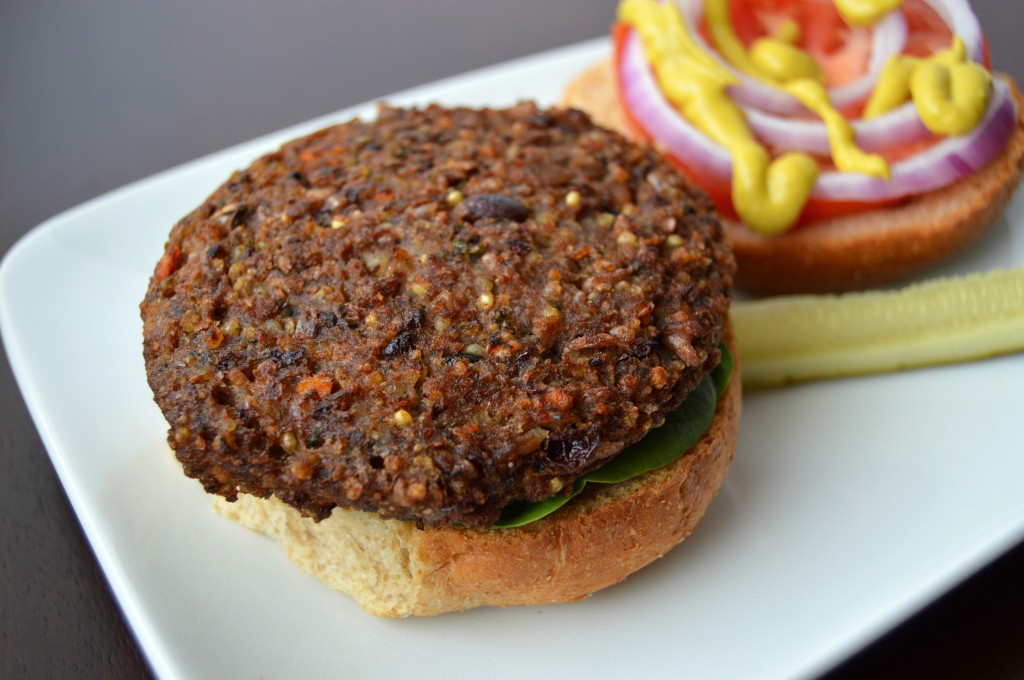 How awesome that you can actually see the beans, veggies, and rice!  I love that.
So I realize that essentially this post was just one giant tease.  And since I cannot be that mean to you, I am going to soften things up by sharing a giveaway with all of you!  Sounds fair, right?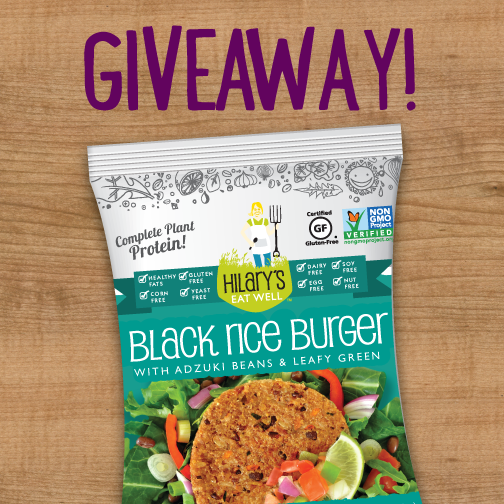 I hope you thought that the Hilary's Eat Well veggie burger up there looked good because you are going to get the chance to win some of your own!  In honor of their One-A-Day in May Giveaway and the release of the new Black Rice Burger, Hilary's Eat Well is going to send THREE of you a coupon for a free package of veggie burgers.  Sounds pretty legit, right?  All that you need to do to enter is perform one (or all) of the following actions.  Please leave a separate comment for each entry:
1. Follow Hilary's Eat Well on Twitter
2. Follow me on Twitter
3. Follow Hilary's Eat Well on Instagram
4. Follow me on Instagram
5. Leave a comment letting me know which variety of the veggie burgers you would most like to try
*You must be a resident of the United States in order to enter.  The giveaway will be open until Sunday, May 25th at 11:59 p.m. CST, at which point all winners will be notified.  Good luck!
For more chances to win burgers from Hilary's Eat Well, check out their Facebook page and their "Instant Win" Game.
I was provided with coupons for free products from Hilary's Eat Well, but was not compensated for my time.  As always, all opinions are 100% my own.