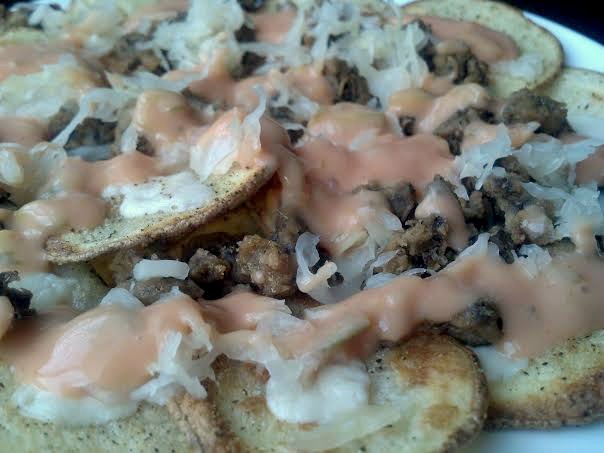 I am somewhat obsessed with nachos.  Scratch that.  I am really obsessed with nachos.  As if you could not already tell.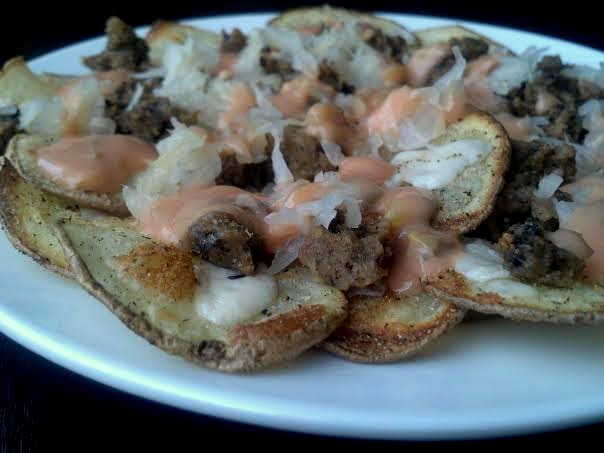 I have been posting a whole 'lotta nacho recipes lately.  And, I hate to say it, but I almost forgot all about this one.  Not because these nachos did not taste amazing.  No.  Mostly just because I have been cooking up a storm in my kitchen and developing, photographing, and (of course) eating a lot of new dishes lately.  You know what that means.  You can expect quite a few recipes to come your way over the next month or so.  I hope that is okay with you 😉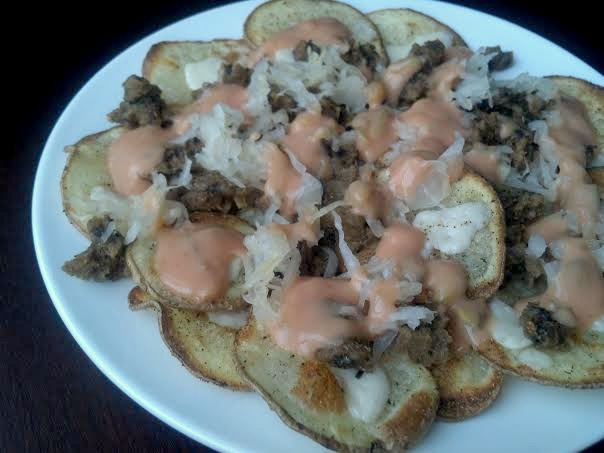 I made these nachos about a month ago before I got my new baby DSLR and at about 7:00 at night.  As if you could not tell by the not so fabulous pictures…  But in all honestly, you really do not need professional photos in order to be enticed by the sound of these nachos.  Just think of a Reuben sandwich and turn it into the form of nachos.  How could you possibly go wrong?
Serves 1
Ingredients
For the potatoes:
olive oil cooking spray
1 medium Yukon gold or russet potato
fine sea salt
black pepper
garlic powder
onion powder
For the Thousand Island dressing:
1 TB vegan mayonnaise
1 TB unsweetened plain almond milk
1 TB ketchup
1 tsp sweet relish
For the nachos:
1 slice vegan cheese, crumbled or vegan shredded cheese (I like Daiya brand)
1/2 cup ground seitan
2 to 3 TB sauerkraut
Directions
1. Preheat oven to 400 degrees F.  Line a baking sheet with foil and spray with cooking spray.
2. Thinly slice the potato.  Place the potato "chips" in a single layer on the baking sheet.  Spray with cooking spray and sprinkle with seasonings.  Bake for approximately 15 to 20 minutes, flipping halfway through.  When you flip the potatoes, spray them again with the cooking spray and sprinkle with additional seasonings.
3. While the potatoes are roasting, combine the dressing ingredients and keep it cold in the fridge until you are ready to compile the nachos.
4. Heat the seitan according to the package directions.
5. Once the potatoes are finished roasting, turn the broiler on low.  Top the potatoes with cheese and broil for approximately 3 to 5 minutes.  Watch the potatoes carefully to ensure that they do not burn.
6. Compile the nachos in the following order: roasted potato "chips" with cheese, seitan, sauerkraut, and Thousand Island dressing.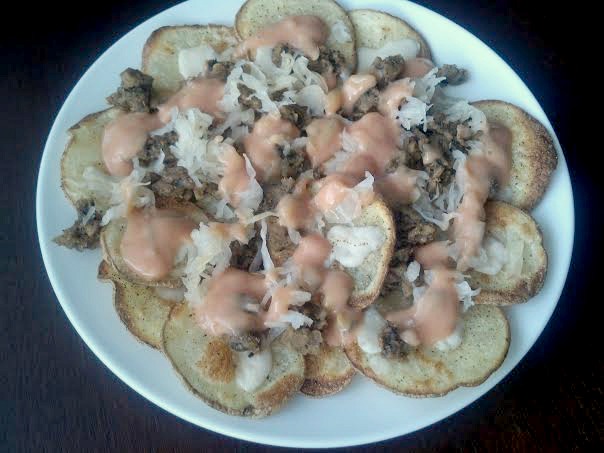 Crispy potatoes
Perfectly seasoned seitan
Creamy vegan cheese
Sour cabbage
Sweet dressing
One killer combination.
It is funny because I actually used to hate Reuben sandwiches back when I ate meat.  I did not like Thousand Island dressing and I could not stand the taste of sauerkraut.  Now I love both and have even been known to eat sauerkraut straight out of the jar.  Funny how things change.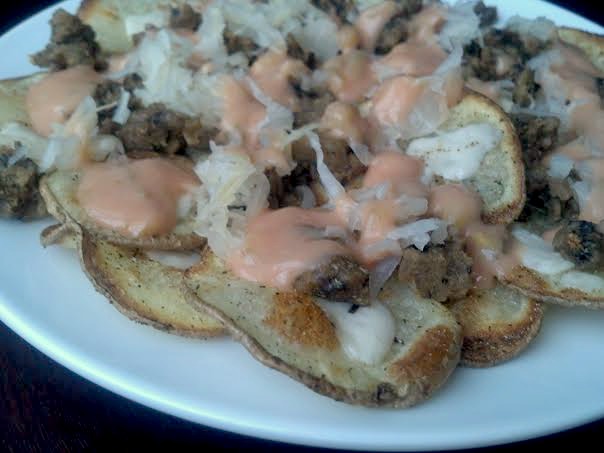 Have you ever turned a sandwich into something else?
I am thinking that a BLT (with vegan "bacon") turned into nachos, a potato, and/or pizza would be fantastic!