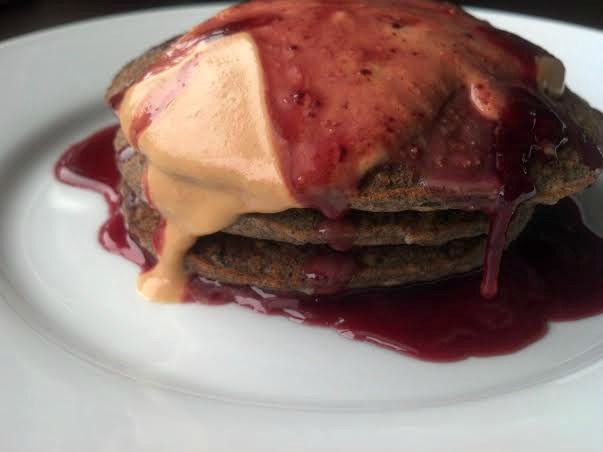 It's here.  Finally, Monday is here!  I can pretty much guarantee that you will never see me type those words again because on most occasions I am usually pretty sad when Monday rolls around.  But not this Monday.  This Monday I am going to see my family, puppy dogs, and some great friends, and I will be back in my hometown.  This Monday will truly be a great one.  I am in the Christmas spirit even more now than I have ever been.  In the past, Christmas was a lot about time away from school, lots of delicious food, and presents.  This year, Christmas is still a little bit about time away from the daily grind and it is definitely about food, but most importantly it is about being with the ones I love and in the place where I truly feel at home.  Sure presents are nice, but they are not what is making me happy this holiday season.  It's the little things that matter the most this year :).
Now that I have gone and gotten all sappy on you, I am going to leave you with a quick recipe that I teased you with a little while back.  After that, I am going to check out for the majority of my holiday break (don't worry, I have a couple of pre-written posts all ready to go for you!) so that I can truly enjoy my time at home.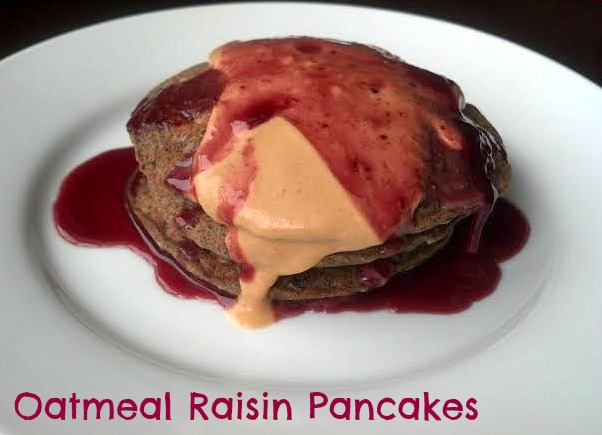 Oatmeal Raisin Pancakes
Servings: 2
Ingredients
1/2 cup buckwheat flour
1/2 cup oat flour*
1/4 tsp baking soda
1/2 TB baking powder
2 TB light brown sugar
1 packet Stevia
1/2 tsp cinnamon
1/2 TB pure vanilla extract
1 flax egg (1 TB flax seed + 2-3 TB water, mixed and refrigerated for 15-30 minutes)
~1 cup unsweetened vanilla almond milk
1/8 cup whole rolled oats
1/8 cup raisins
*Grind oats in food processor until they resemble the texture of flour
Optional toppings:
nut butter (I used peanut butter)
melted jelly/jam (I used blackberry jam)
maple syrup
fresh fruit
nuts
Directions
1. Mix flours, baking soda, baking powder, brown sugar, Stevia, and cinnamon in large mixing bowl.
2. Stir in vanilla, flax egg, and almond milk.
3. Add rolled oats and raisins.
4. Heat a pancake griddle over medium heat.
5. Once hot, spray the griddle with cooking spray (I used coconut oil spray).  Scoop the pancake batter 1/4 cup at a time onto the griddle.  Cook pancakes for 5-7 minutes, or until bubbles form on the top and the bottoms become golden brown.
6. Carefully flip the pancakes and cook an additional 3-5 minutes.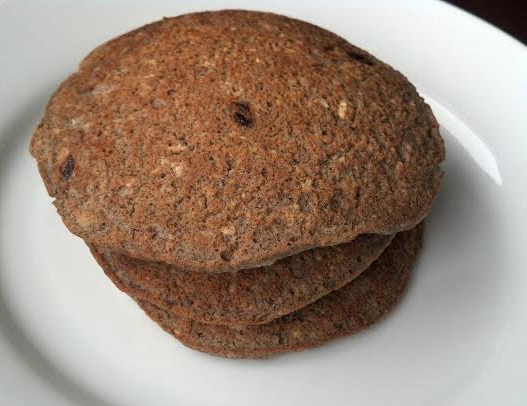 7. Add desired toppings.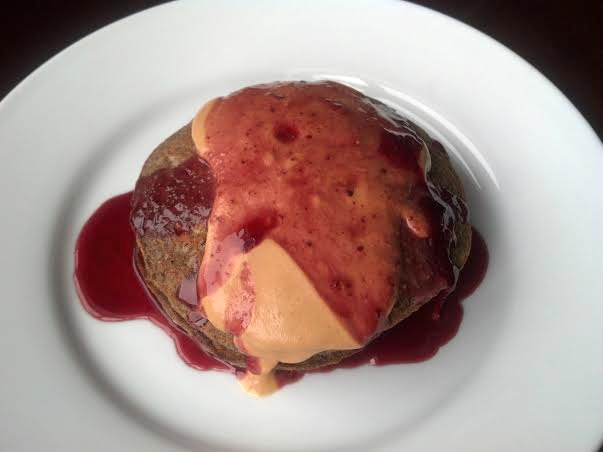 Yes, I said the toppings were optional.  But who am I kidding?  You are definitely going to at least want to add some nut butter.  Oh, and the drippier the better.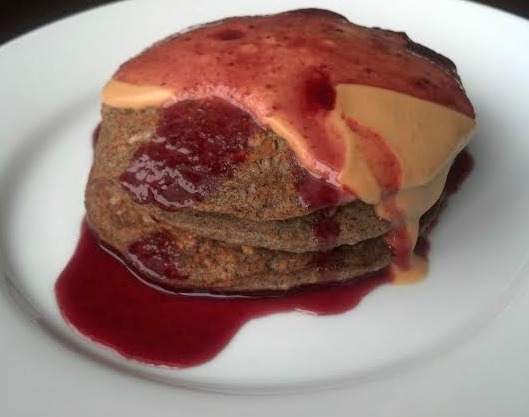 I think I devoured these pancakes in about 5 minutes flat.  Luckily I had just enough self control to leave the other half of the batch to take to work the next day.  I'm not kidding when I say that reheated pancakes really do taste good.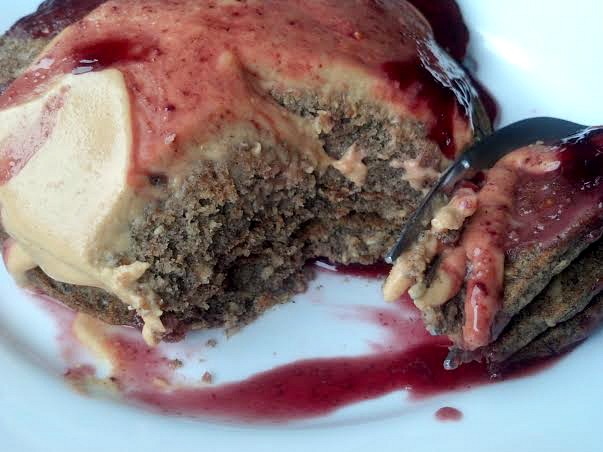 I am pretty sure you are definitely going to want to make these…ASAP.
Now go have yourself a fabulous Christmas!