Guess what?  Thanksgiving, Hanukkah, Christmas, and New Years Eve are right around the corner.  Seriously, they will be both here before we know it!  When I think of the holidays I think of a lot of things, including family, friends, shopping, snow, decorations, and quite possibly and most importantly…food!  Let's face it.  The holidays in America revolve around food.  Whether this is a "good" thing or a "bad" thing, it is what it is.  And honestly, I don't see that changing anytime soon.  But, since I am a foodie, I am certainly not complaining.
As many of you know, I am a vegetarian who eats a mostly plant-based diet.  So when it comes to celebrating Thanksgiving (helllo turkey!) and Christmas (ham anyone?) it tends to be a little more difficult to plan out a dinner menu that is vegan-friendly.  While I have a couple years of experience with vegan cooking, most people hosting a holiday dinner likely do not have the slightest idea of where to begin when it comes to serving plant-based foods.  But, lucky for you, you don't even have to think about designing a vegan-friendly meal plan or cooking up new-to-you dishes.  Instead, you can let Whole Foods do all of the work for you!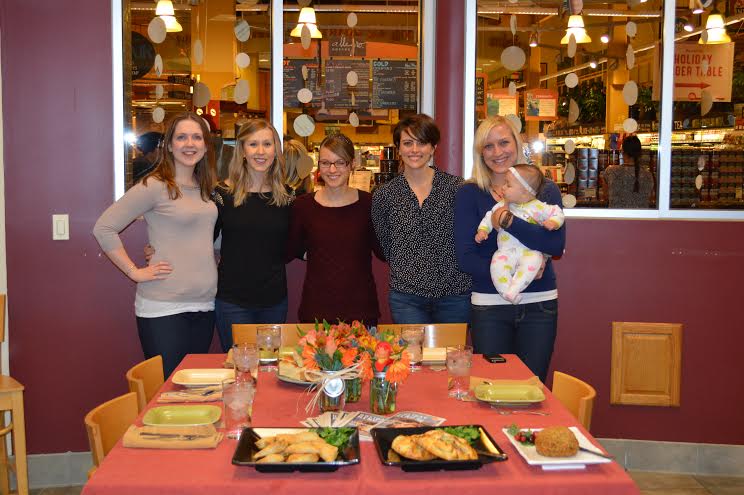 Erin, Joanna, Trisha, Jess (and baby Jada!), and I were lucky enough to experience the greatness of Whole Foods catering for the holidays firsthand at our "blogsgiving" celebration.  We met up at the Omaha, NE location last night, and boy were we in for a real treat (okay, lots of treats!).  We sat down to a full Thanksgiving meal and experienced all that Whole Foods has to offer for holiday gatherings- including appetizers, main courses, sides, desserts, and drinks.  The Whole Foods catering department definitely has everything you need in order to make your holiday feast as memorable as it can be.
I know what you're probably thinking.  Wasn't there a lot of meat there?  Well, yes, there was- a humongous turkey, in fact.  But do you know what else there was?  A full vegan meal!  Trust me when I say that I did not leave hungry.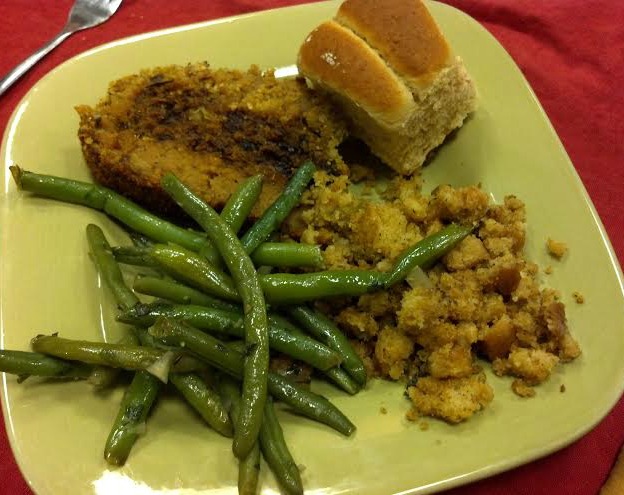 My plate, loaded up with all of the goodness.
For my main entree I enjoyed Whole Foods' wild rice quinoa cranberry roast with a hazelnut crust.  Fancy, right?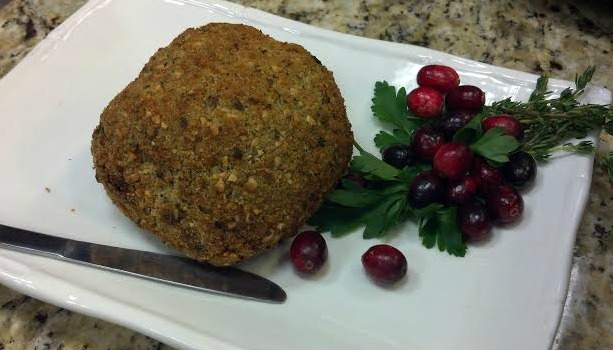 It was so delicious.  Who needs turkey when you can eat that?  I might be slightly biased, though ;).
There were also several vegan sides that I enjoyed, including their traditional herb stuffing and green beans with shallots.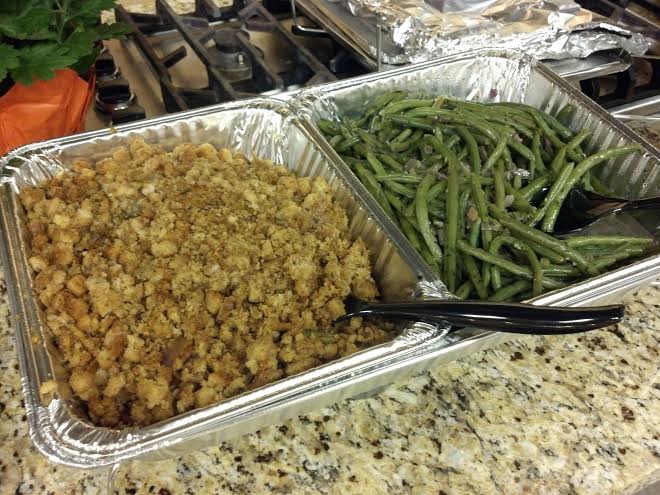 I think we were all in agreement that the stuffing was to die for.
I finished up my plate with a wheat roll.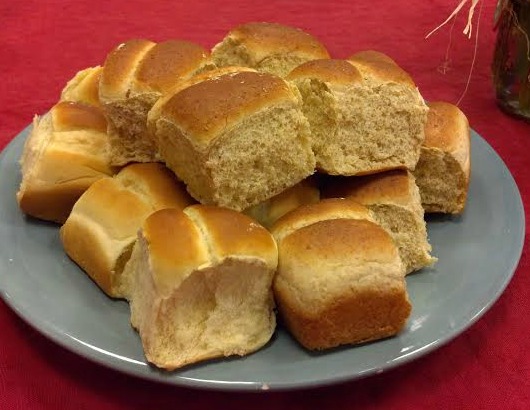 These weren't vegan because they contain honey, but I generally don't follow the "no honey" rule very strictly.  Plus, we all need some bread with our holiday meal, right?
And last, but certainly not least, a heavenly slice of vegan pumpkin pie.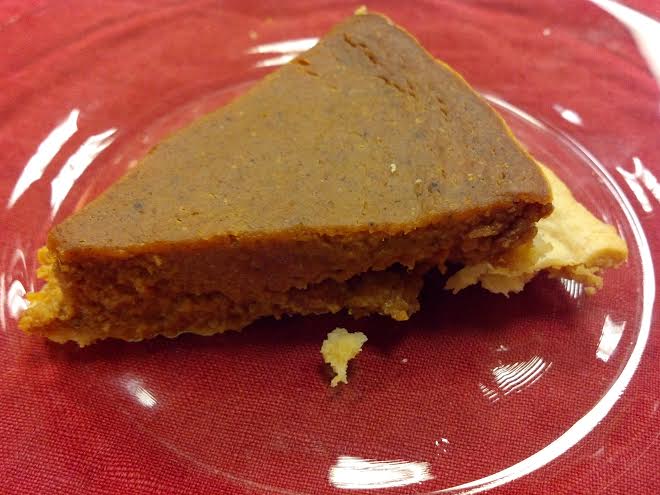 I kid you not.  You would never guess that this pie was vegan.  Trust me when I say that meat-eaters, vegetarians, and vegans will all appreciate finishing up their holiday meal with a slice of this.  I snagged a few extra pieces for the road because this definitely deserves to be eaten again and again.
And you can't have dessert without something delicious to wash it down with.  I tried the vegan almond milk-based egg nog and the local apple cider made with honeycrisp apples.  I probably could have downed the entire half-gallon of that cider.  It was fantastic and I am one cider-loving girl.
While I know that you would probably love to try these vegan options and would be completely satisfied with a vegan meal, I also know that meat is a staple on many of your holiday tables.  Whole Foods as numerous meat offerings for you, too, and here are just a few:
Erin, Joanna, Jess, and Trisha all seemed to really enjoy the appetizers (both vegetarian), which included: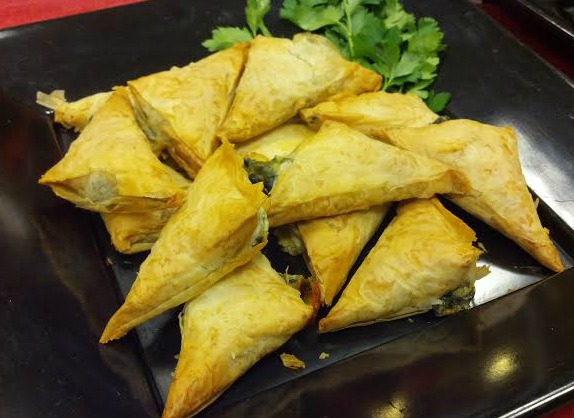 Spanakopita triangles (Erin had to teach us how to properly pronounce this one ;))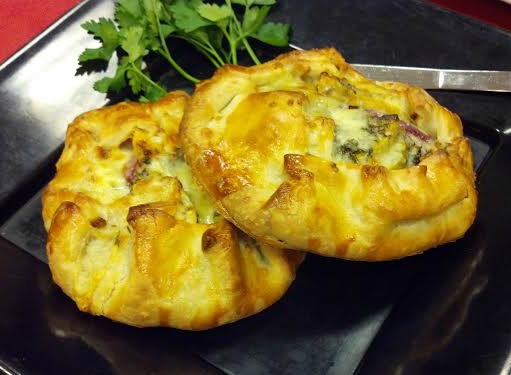 and butternut squash and apple galettes.
And of course the star of the show for many of you, a Midwest-raised whole roasted turkey: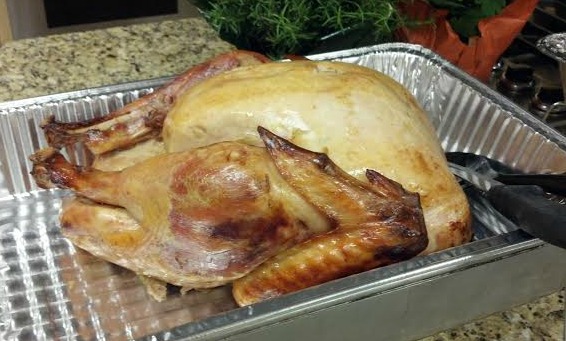 Though I obviously didn't try this, the other ladies really seemed to enjoy this one.  They commented on how incredibly moist (sorry, I know some people really hate that word) it was.
The non-vegan portion was finished out with their classic mashed potatoes and gravy.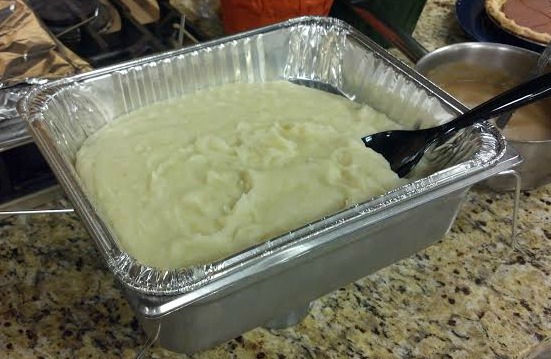 I definitely missed not being able to enjoy these.  I am a big-time mashed potatoes and gravy fan.  It's a good thing that Whole Foods also caters vegan mashed potatoes and mushroom gravy!
Hungry, yet?  Me too!
Now that we have established that the food is delicious, I also want to mention another fantastic reason to choose Whole Foods for your holiday catering needs.  All of the catering options always meet Whole Foods strict quality standards.  As a result, you can feel good about the food that you are selecting and serving during your holiday gatherings.
But possibly best of all, Whole Foods catering is convenient.  With Whole Foods, you do not have to worry about planning a huge holiday meal (vegan-friendly or not, this is time-consuming!), wrestling with the crowds in the grocery stores, or spending hours in the kitchen away from your family and friends in order to serve your next holiday meal.  Just let Whole Foods do the work for you so that you can relax and enjoy your holiday experience.  All you need to do is decide which delicious dishes you want, pre-order them, and then pick them up at your desired time.  You can even buy them precooked so that they simply need to be reheated.  They'll even provide you with printed instructions on how to properly heat and serve your dishes.  It doesn't get much easier than that!  Choose from whole meal packages- such as the traditional family dinner, the classic ham dinner, or the vegan holiday dinner- purchase appetizers, sides, or entrees a la carte, and do this all while catering to special diets (gluten-free included!).  It is easy to feed and please every single one of your guests.
Are you ready to order up your meal?  Or, maybe you just need an appetizer, side, or dessert to take along to a gathering?  Here's how:
1. Order online at shop.wholefoodsmarket.com
2. Order at the Holiday Order Table in the store:
Whole Foods Omaha
10020 Regency Circle (at Dodge Street and Regency Parkway)
or
3. Order by calling (402) 393-1200 (Omaha location)
In order to make sure you place your order in time, please keep these important dates in mind:
*Thanksgiving orders are being taken through this Monday, November 25th
*Hanukkah orders should be placed 48 hours prior to your desired pick-up time
*Christmas orders are being taken through Sunday, December 22nd at 5:00 p.m.
*New Years orders should be placed 48 hours prior to your desired pick-up time
For those of you not in the Omaha area, I definitely recommend checking out your local Whole Foods and all that they have to offer.  Make Whole Foods your easy, healthy, and convenient holiday go-to store and caterer this year.  Now if only my parents' house was located closer than three hours to the nearest Whole Foods ;)!  I sure am wishing that I could eat that vegan meal all over again..and again…and again this Thanksgiving.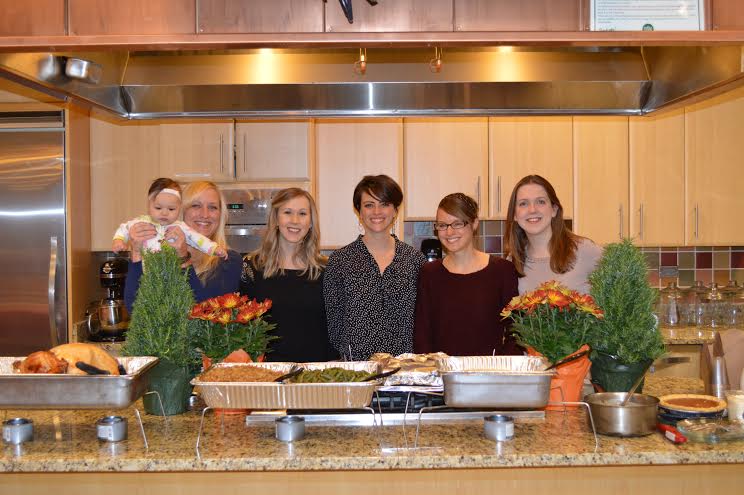 A huge thanks goes out to Whole Foods Omaha for offering such a fabulous event for some of the area's bloggers.  We all had a fantastic time and left with happy and full bellies.
What is your favorite part of your holiday meals?
Would you ever try vegan alternatives to the "traditional" holiday dishes?
Disclaimer: Whole Foods Omaha sponsored and compensated me for this post, but as always, all thoughts and opinions are my own.  Trust me, I seriously LOVE Whole Foods and all that they are about! 🙂