Hi everyone!  Kelly here from Hidden Fruits and Veggies.  I guest posted here last time Hannah took a blogcation and am super excited she asked me here again today.  Hannah and I have pretty similar tastes when it comes to food, which basically means that we both have impeccable taste, right?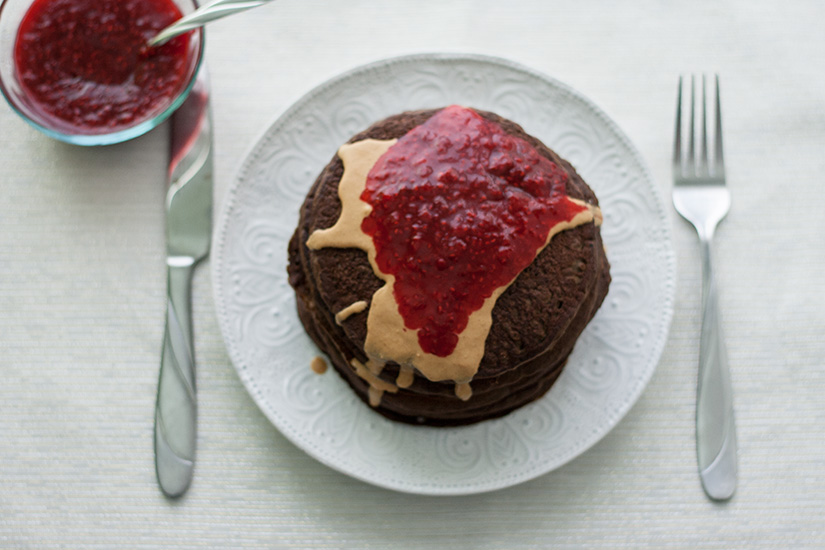 One thing we share a love for is pancakes (especially for dinner!).  Normally when making pancakes, I use chia seeds, though I have ventured into flax.   But what if you have a hankering for vegan pancakes and don't have access to these specialty (and admittedly a little weird) ingredients?  Vinegar + baking soda to the rescue.  This is actually a trick dating back to the Depression when eggs were scarce.  Think of it like the volcano you made in elementary school.  The vinegar and baking soda will react to help the pancakes rise and be a little fluffy but without a creepy vinegar taste in your pancakes.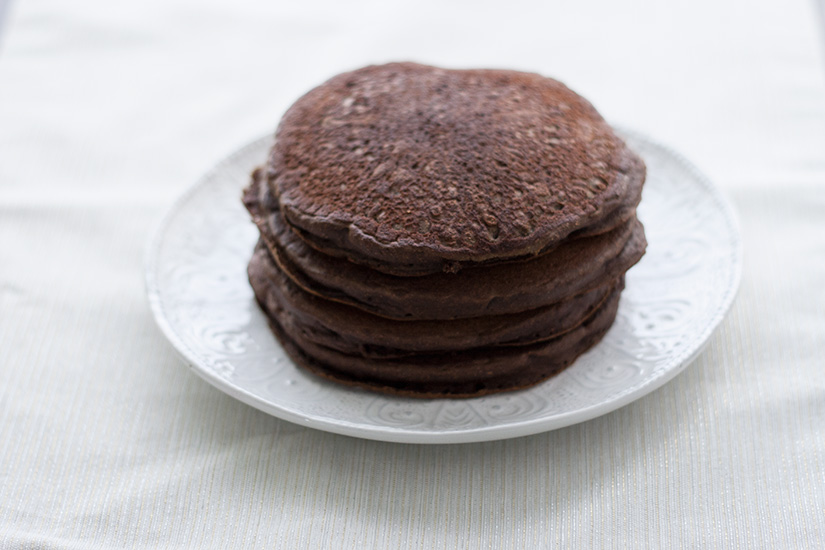 Whole Wheat Chocolate Pancakes with Raspberry Sauce
Ingredients
 1 1/2 c white whole wheat flour
4 tbsp. cocoa powder
1 tsp baking soda
1/4 tsp salt
3 tbsp. agave nectar, honey, or maple syrup
1 tsp vanilla extract
1/2 tbsp. vinegar (white or apple cider vinegar is fine)
2 c unsweetened almond milk or your preferred milk
1 c raspberries (frozen or fresh)
2 tbsp. agave nectar, honey, or maple syrup
1 tbsp. lemon juice
Optional: PB2 mixed with water to form a sauce or natural peanut butter microwaved until liquidy
Instructions
1. Warm a griddle or nonstick pan to 325 degrees F (medium or medium/low heat) and spritz with nonstick spray.
2. Whisk together flour, cocoa powder, baking soda, and salt.  Add 3 tbsp liquid sweetener, vanilla, vinegar, and milk, then mix until just combined.
3. Pour pancake batter onto griddle, making 8 normal or 6 large pancakes (large pancakes pictured).  Flip after a few minutes, when bubbles have formed and popped on the surface.  Be careful flipping so as not to make a mess of your griddle pan.
4. Meanwhile, combine raspberries, remaining sweetener, and lemon juice.  Heat over medium in a saucepan, mashing lightly, until a sauce is formed.  If you prefer a thicker sauce, you can add 1/2 tbsp. cornstarch to a splash of water and stir into the sauce, cooking until thick.
5. Serve pancakes with raspberry sauce and optional peanut butter sauce.
Nutritional Estimate
Serving size: 1/4 recipe including raspberry sauce (not including optional PB sauce):
Calories 270, fat 3, carb 59, fiber 9, protein 8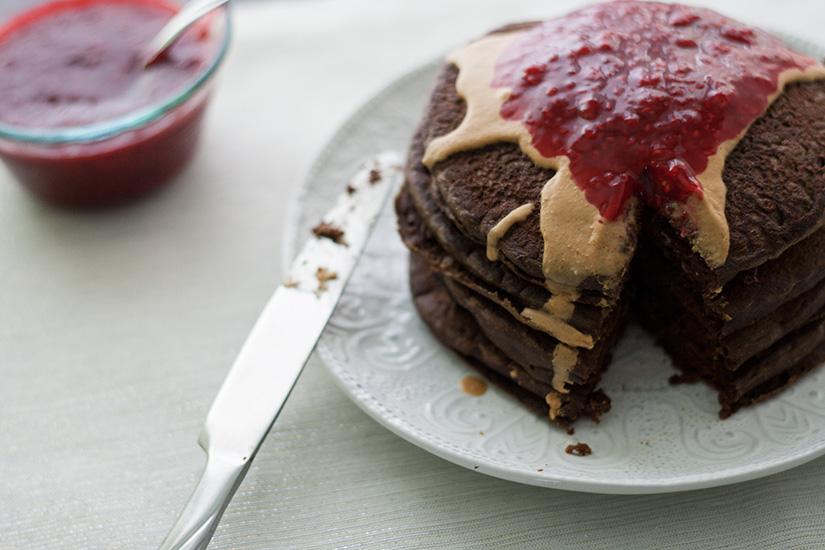 These are perfect for a lazy Saturday breakfast or dinner on a weeknight – they come together pretty fast and I have to say they're pretty good for you, too 🙂
**************************************************************
A huge thank you goes out to Kelly (and her boyfriend, Josh!) for this fantastic recipe and amazing pictures.  Am I the only one who totally wants to dig into a big plate of these pancakes?  I'm guessing I am probably not ;).  I will be making these babies ASAP because everyone knows I like a little bit of chocolate with my breakfast…or brinner!  Thanks for the heads up on the vinegar + baking soda trick, too, Kelly!  That was new to me.  Oh, and peanut butter is definitely not optional for me! 😉
Make sure you check out Kelly's blog if you have not already.  She is right.  We have very similar (yes, impeccable!) tastes when it comes to food, so you are bound to find many great vegetarian and vegan recipes on her blog.
Related articles