A sweet and spicy vegetable quinoa bowl that tastes like it took a whole lot longer than fifteen minutes to make.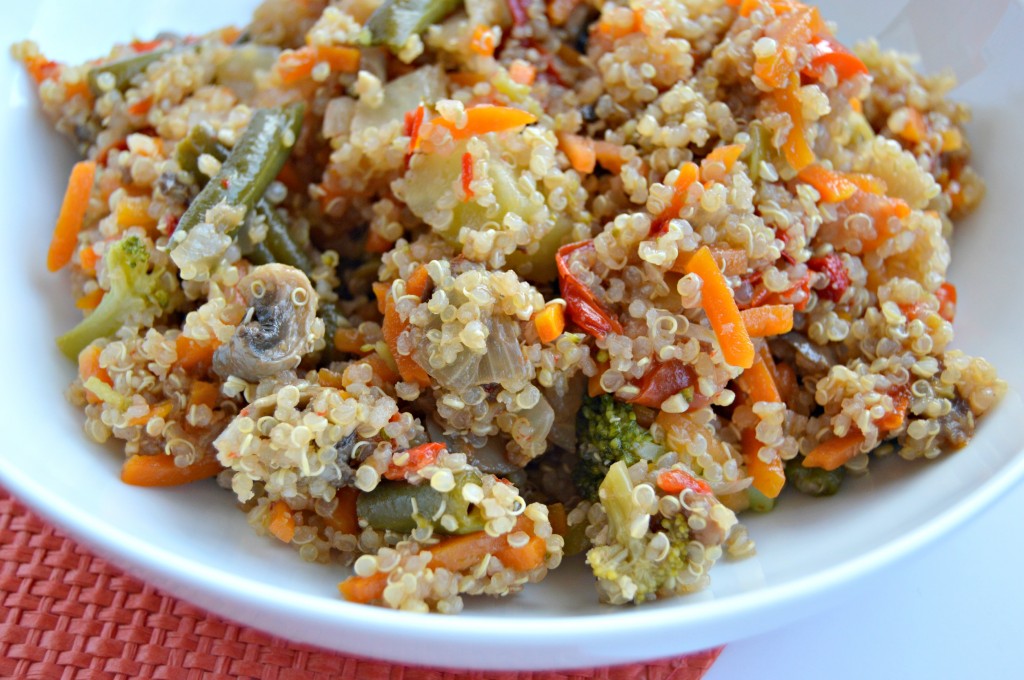 One of the main reasons why I started and continue to write for Clean Eating Veggie Girl is because I have a love for healthy vegetarian foods, a passion for cooking, and a strong desire to share my creations with others.  Through this blog, it is my hope that I can show others just how easy, healthy, and delicious vegetarian food can be.  And while the basis of this blog is for me to share my recipes with you, from time to time I am fortunate enough to be on the receiving end of your wonderfully creative and delicious ideas.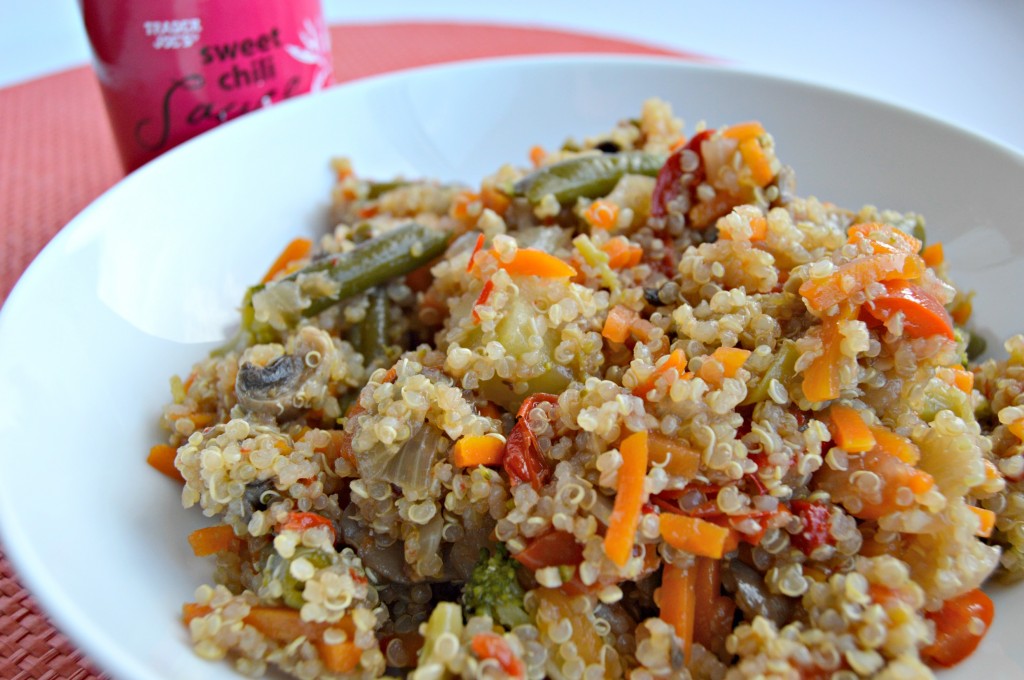 A few weeks back in one of my What I Ate Wednesday posts, my friend Molly left a comment describing her recent favorite dinner.  She said that lately she has been making quinoa bowls with frozen stir-fry vegetables, sriracha sauce, sweet chili sauce, ginger, and garlic.  She then tops everything off with a fried egg.  Obviously the instant that I read this, I knew this quinoa bowl had to happen… and soon!  What could be better than veggies, quinoa, a delicious sauce, and an egg?  Probably not much, except maybe some peanut butter and chocolate.  But since we are talking lunch/dinner, let's go with the quinoa bowl!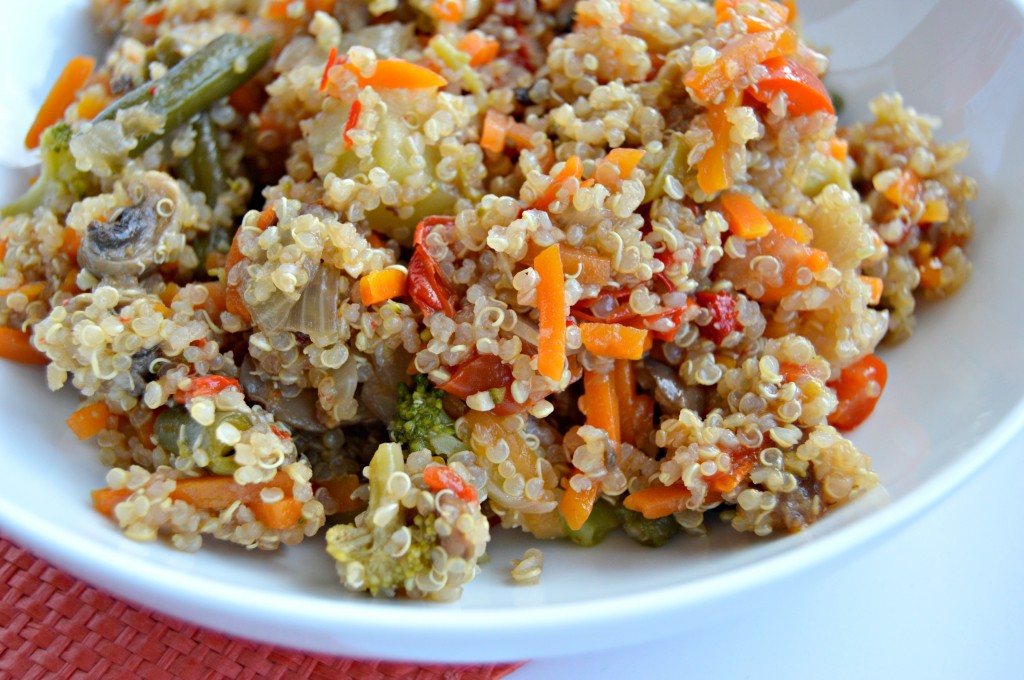 Using Molly's inspiration, I threw together (seriously, it is that easy) a sweet and spicy quinoa bowl packed full of so many of my favorite veggies.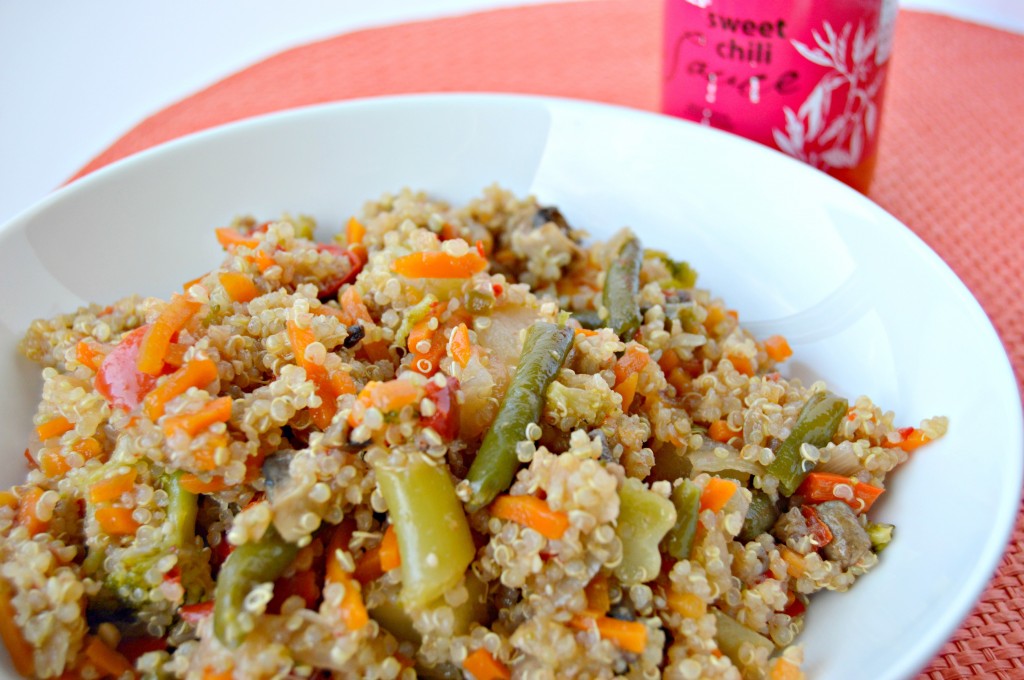 Sure, I have made quinoa bowls in the past.  But this bowl is different.  It has a little something extra, bolder, and tastier.  I also love the fact that it tastes complex without actually being complicated to make.  The little bit of spiciness paired with the sweet chili sauce makes your taste buds extra happy, especially if you are a sweet/spicy lover like I am.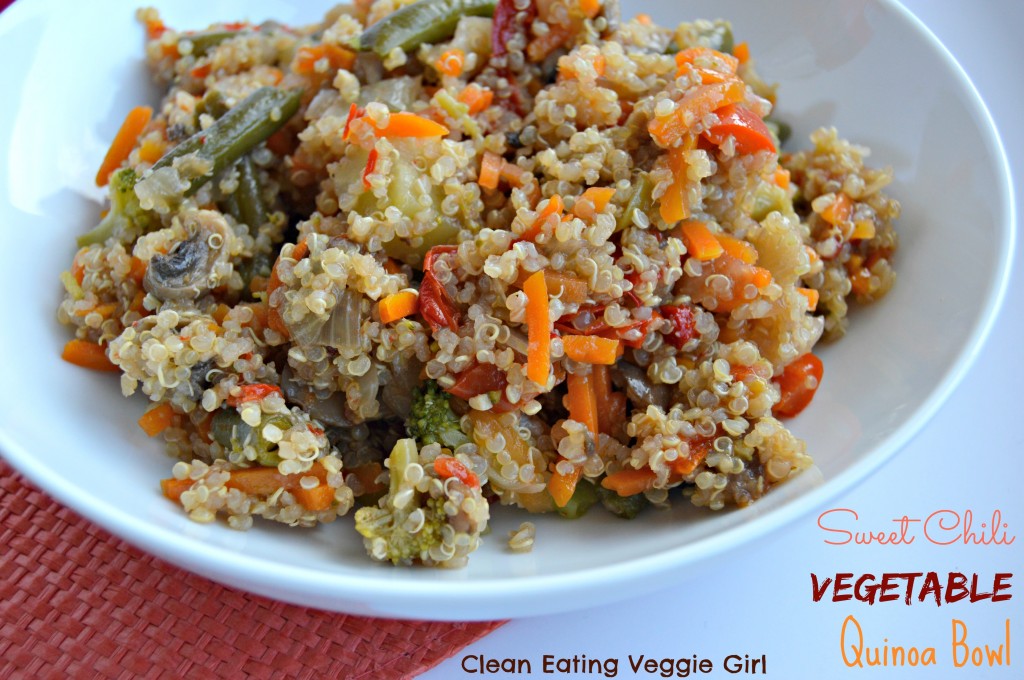 Molly's Sweet Chili Vegetable Quinoa Bowl
Vegetarian w/ Vegan Option
Serves 2 to 3
Ingredients
2 cups cooked quinoa (1/2 cup dry + 1 cup water)
2 cloves garlic, minced
1 TB fresh ginger, minced
1/4 medium yellow onion, chopped
16 oz bag frozen stir-fry vegetables
1/8 cup Bragg's liquid aminos (low sodium soy sauce works here too)
1/4 to 1/3 cup sweet chili sauce
sriracha sauce, optional
2 to 3 large eggs, optional*
*Recipe is vegan without the eggs
Directions
1. If you do not already have the quinoa cooked, prepare according to package directions.
2. Line a large skillet with a thin layer of water.  Heat over medium-high heat until very hot.  Once hot, lower the heat to medium and add garlic, ginger, and onions to the pan.  Cook for approximately 5 minutes, adding additional water as necessary.
3. Add frozen stir-fry vegetables to the skillet.  Cover with a lid and cook for approximately 5 minutes.
4. Once the vegetables are cooked through, turn the heat to low and stir in cooked quinoa.
5. Add liquid aminos/soy sauce and sweet chili sauce to the skillet.  Stir until well-combined.  Cook an additional 3 to 5 minutes, or until your vegetable and quinoa mixture is hot.
6. If you are adding an egg to the bowls, cook each one to your liking during the last 3 to 5 minutes of cooking time.  I prefer fried, runny eggs, but stirring in scrambled eggs would also be delicious.
7. Scoop the vegetable and quinoa mixture into bowls and, if desired, drizzle with sriracha sauce and top with an egg.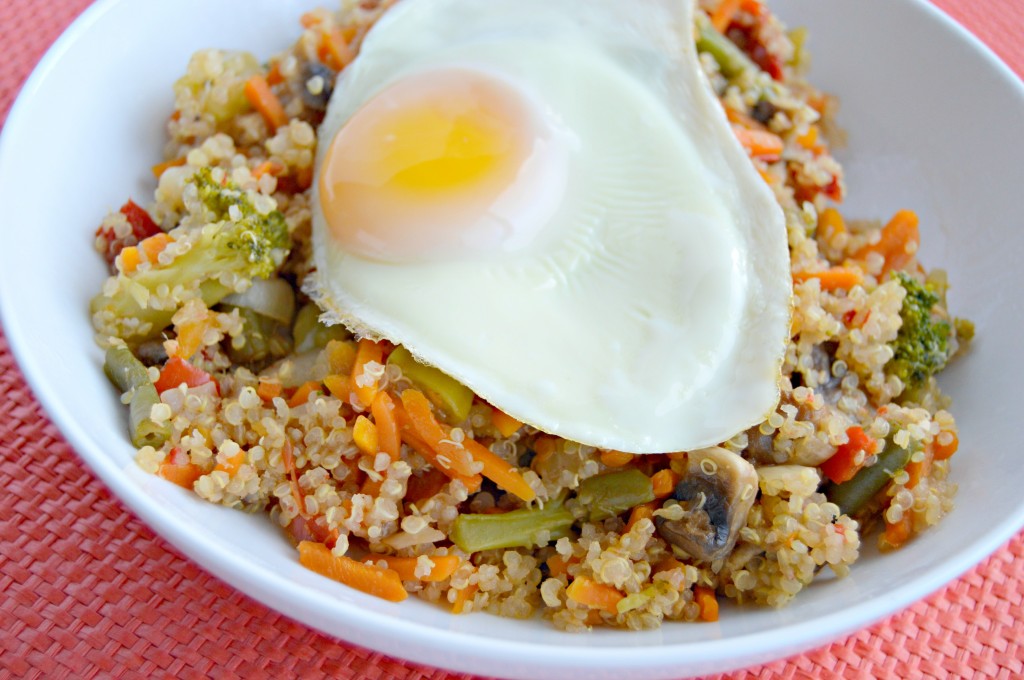 This bowl is entirely vegan without the egg, but I think that both Molly and I would agree that the egg really gives it something… extra.  Something savory.  Something complex (without being difficult to make).  Something protein-packed.  And something ooey gooey (in a good way).  Egg or not, this quinoa bowl is delicious.  But if you are not a vegan, I say go for the egg!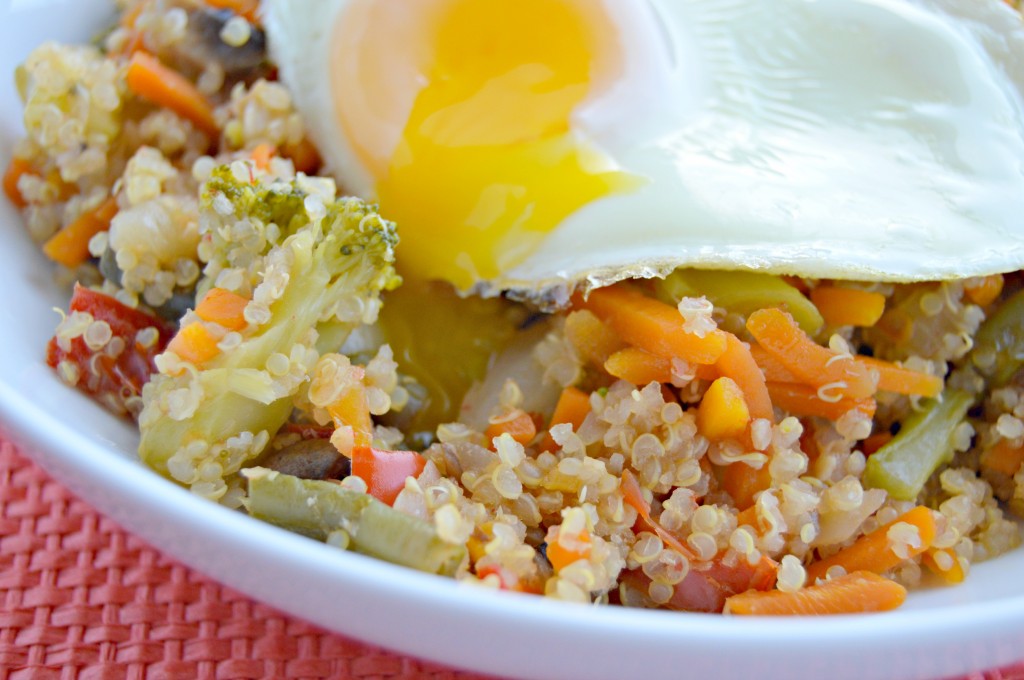 Note: If you prepare your quinoa ahead of time, it will literally take 15 minutes to throw together.  Who said dinner cannot be quick, healthy, and delicious?
Are you ready to get your sweet and spiciness on?  Keep track of this recipe by Pinning it, and share it on Facebook and Twitter.
Clearly, my friends and readers are full of great recipe ideas!  Tell me… what have you been eating lately?  Maybe I'll turn it into a post!