A restaurant review of Omaha's first vegan restaurant, Modern Love.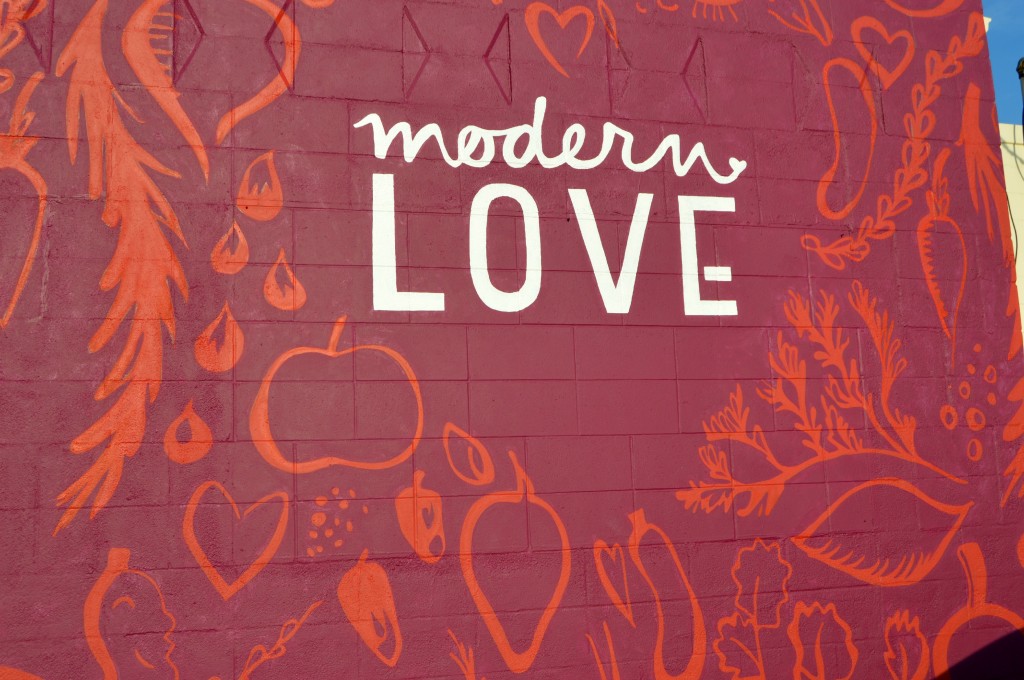 I have never been so eager to write a restaurant review in the almost two years that I have been blogging!  When I first found out that an all vegan restaurant was opening in Omaha, I was so excited.  When I found out that it was Isa Chandra Moskowitz who was opening it, I was ecstatic!  I knew the food would be delicious and I could not have been more thrilled about the fact that vegan-friendly restaurants have begun making a statement here in the Midwest.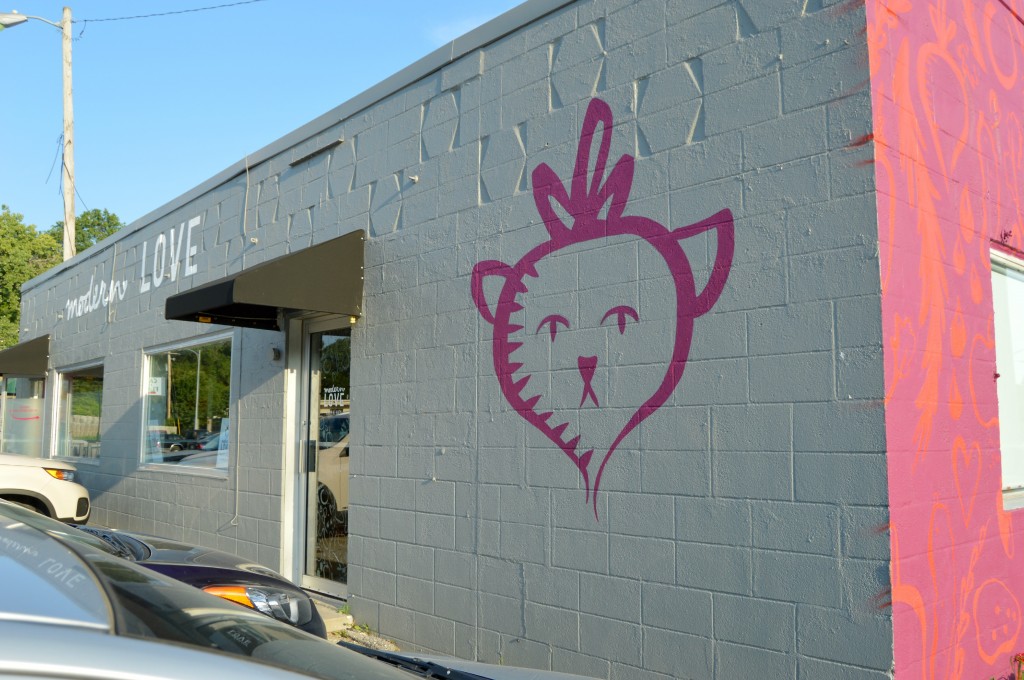 Modern Love opened on August 5th.  Their reservations were booked pretty solid for the first week or so and I was thrilled to be able to snag a table for four during their second week in business.  Erin, Joanna, Jordan and I met in Midtown for a girls night out filled with delicious food in the perfect atmosphere.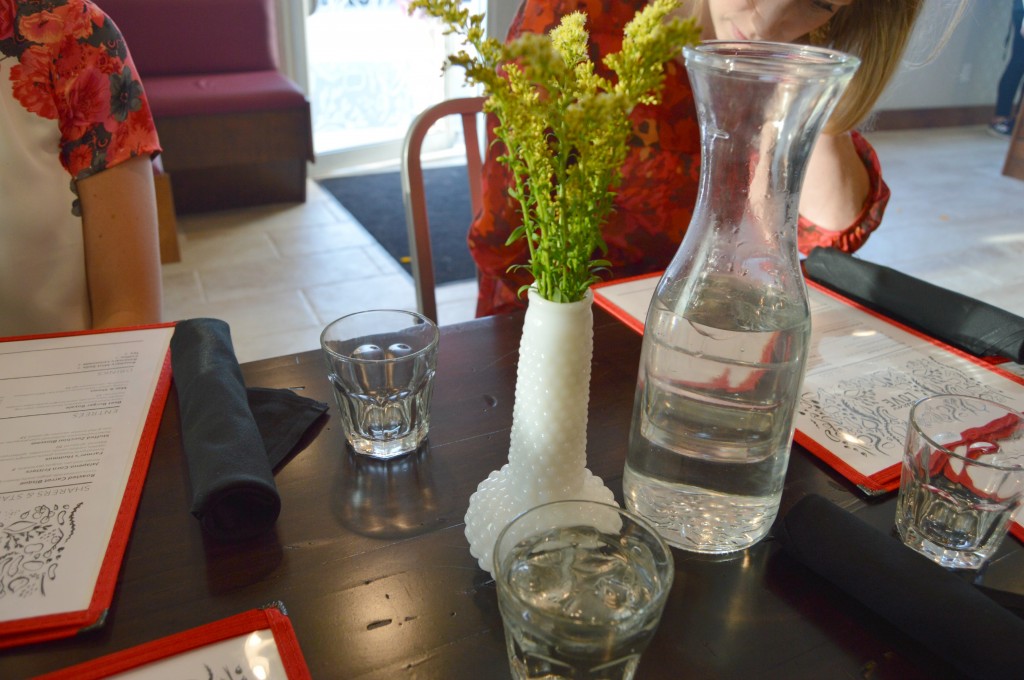 Isn't the decor the cutest?
One thing that I do have to point out in this picture that we didn't love was how small the water glasses were.  They do provide you with a pitcher of water, but we all agreed it would be nice not to have to refill it after just a couple of sips.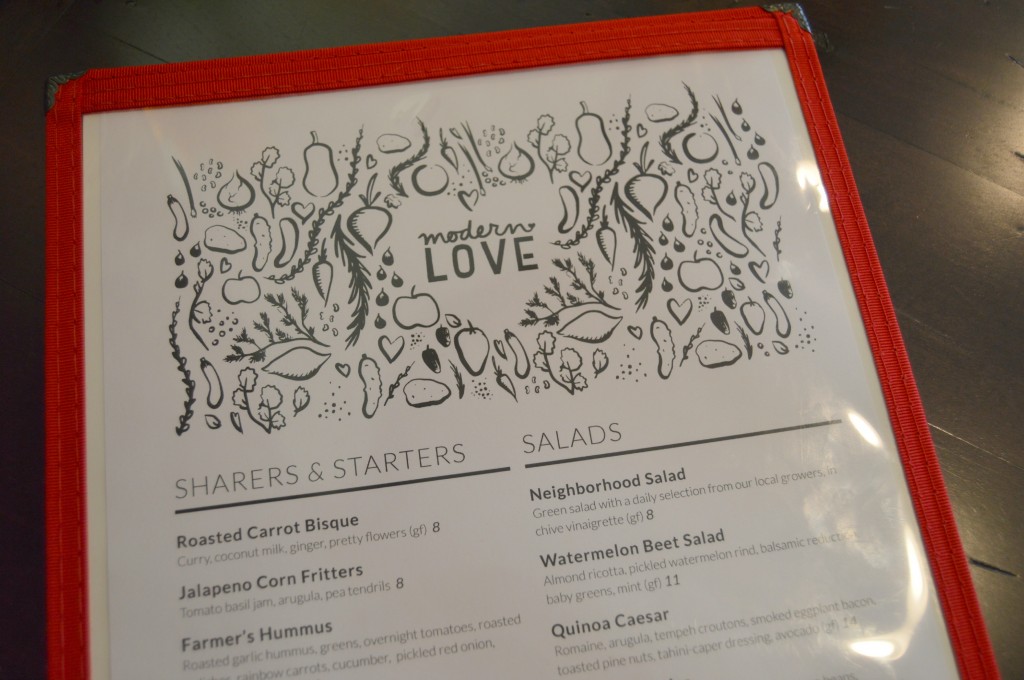 I was very overwhelmed when I first saw the menu.  As a vegetarian who eats mostly plant-based, I am used to going to restaurants that only have one or two choices on the menu that are veg-friendly (if I'm lucky).  So to have a menu where I could literally choose anything that I wanted was pretty much unheard of for me.  The girls can attest to the fact that I went back and forth several times when deciding what to select for my entree.
Despite some indecision, I think we were all very happy with everything that we ordered.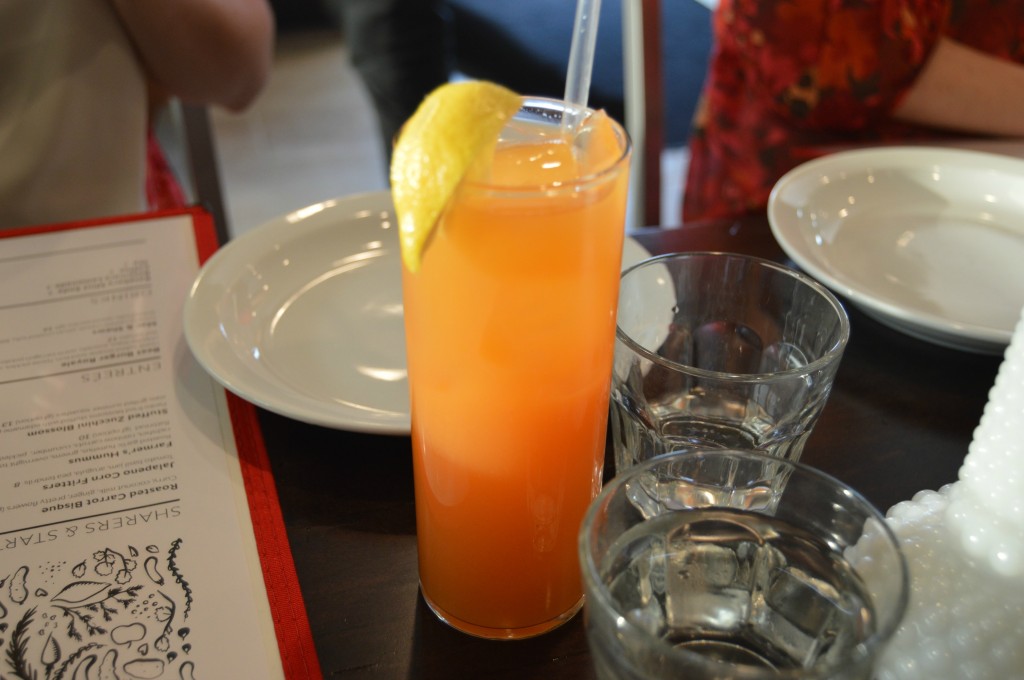 Joanna ordered a peach lemonade which she graciously allowed me to try.  It was delicious and not too sweet or fake tasting.  We definitely enjoyed it.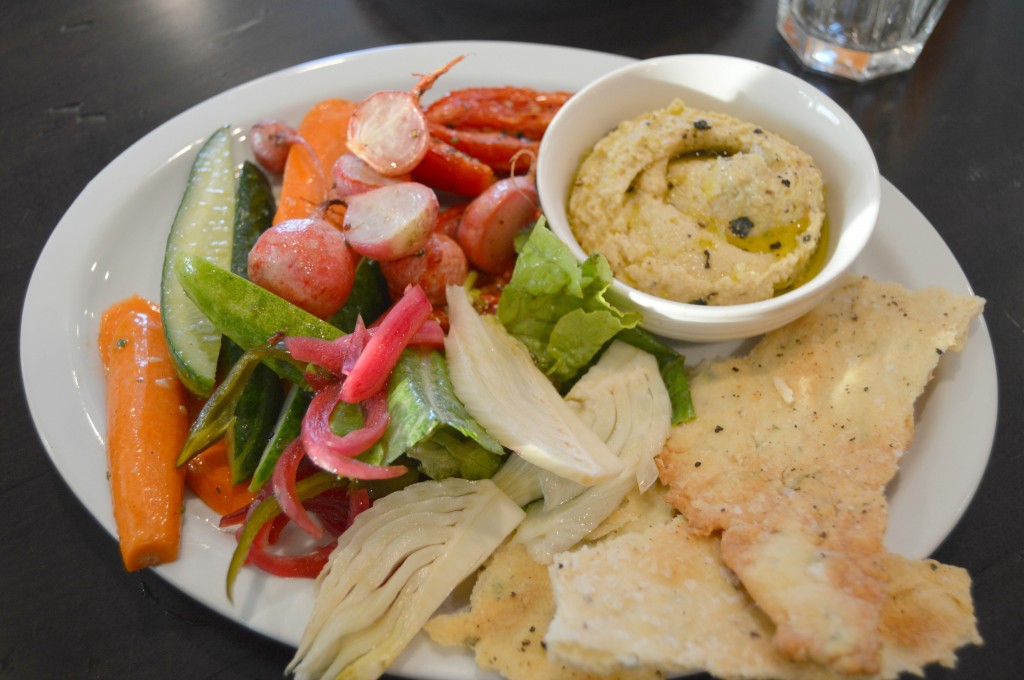 Joanna also ordered the Farmer's Hummus for an appetizer.  The roasted garlic hummus was paired with a crispy flatbread and fresh vegetables including carrots, cucumbers, radishes, artichokes,and tomatoes.  It had a bit of a kick to it, but in such a good way.  We all really enjoyed it.  And while I love vegetables, I have to say that the flatbread was my favorite part.
Erin also ordered the Stuffed Zucchini Blossom appetizer, but more on that one later.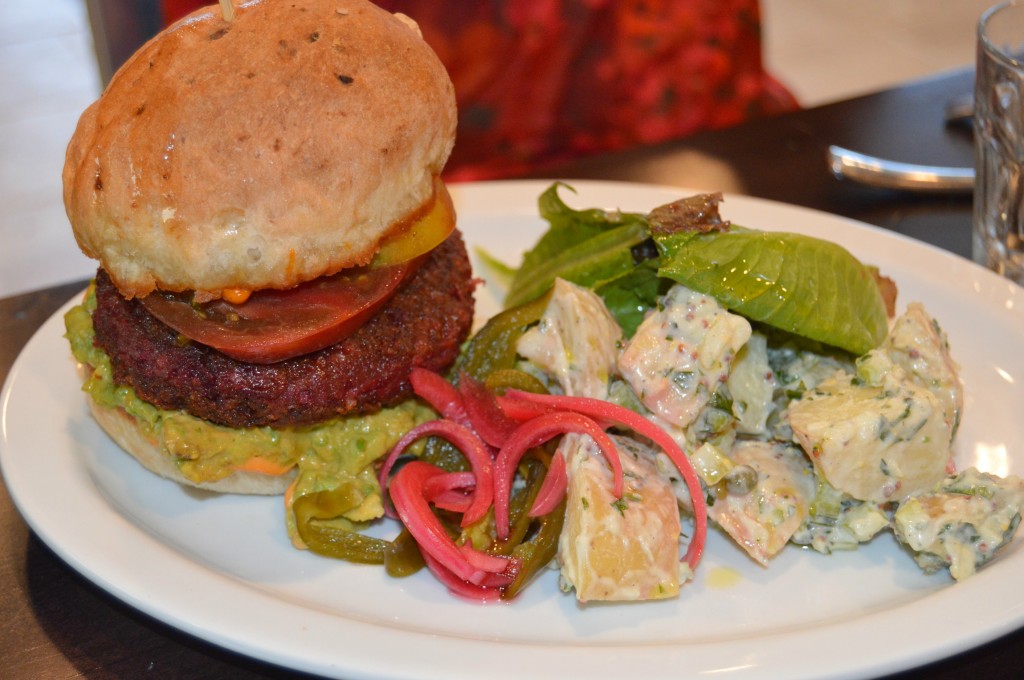 Our entrees came out a short time after our appetizer plate was cleared.  Jordan ordered the Beet Burger Royale which came on a homemade bun that was paired with a side of potato salad.  As soon as I saw her plate I was slightly envious.  I am a major beet burger lover so it is definitely right up my alley.  Jordan really enjoyed it and I cannot wait to try it soon.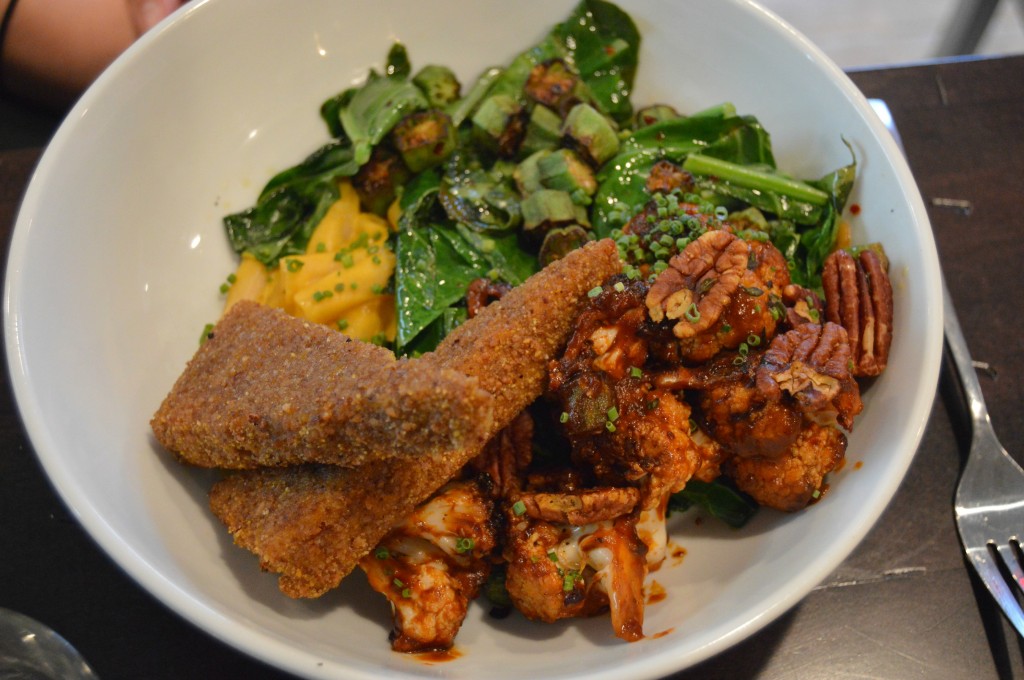 Joanna ordered one of their more popular dishes, the Mac & Shews.  This dish contained a mac and cheese made with cashew cheese sauce, pecan crusted tofu, kale, and barbecue cauliflower.  I love that they paired cheese and barbecue- two of my favorite sauces!  Joanna let us all try the tofu and I must say that it was perfectly cooked.  Tofu can either be so good or so bad depending on how it is prepared.  Modern Love definitely knows how to make tofu the right way, and honestly I would expect nothing less from them.  I am excited to order this dish in the future.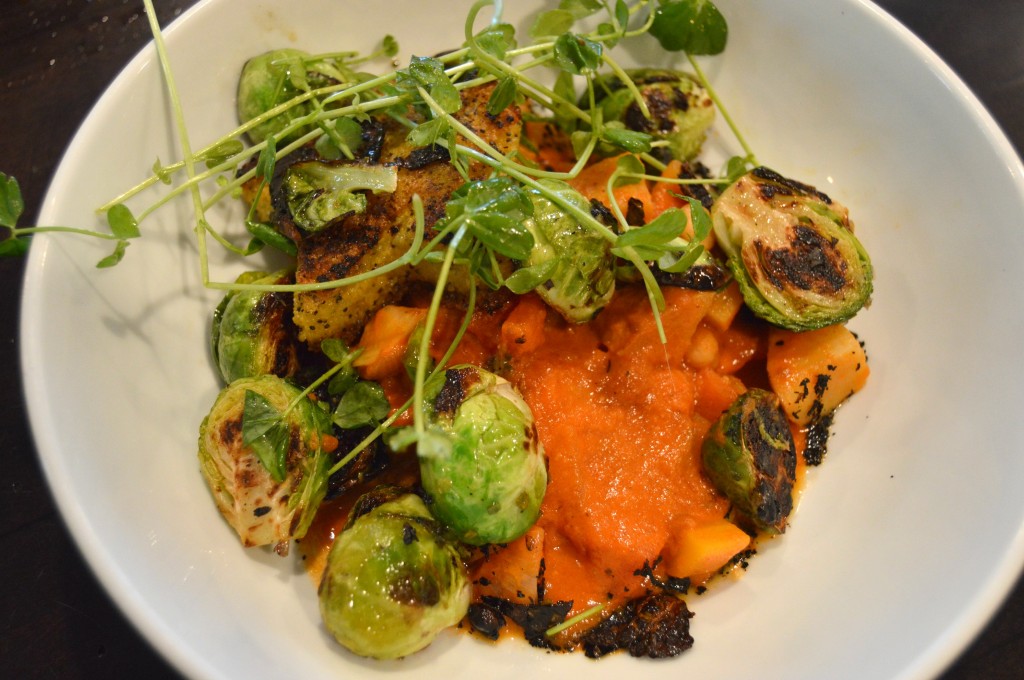 Both Erin and I ordered the Polenta Romesco.  Our gorgeous big white bowls came out with grilled poppyseed polenta, chickpeas, potatoes, and kale in a red pepper almond sauce.  Everything was topped off with roasted brussel sprouts- one of my favorite veggies right now.  All of the veggies were delicious and hearty and the sauce was spot on.  Erin and I ate until our bowls were clean!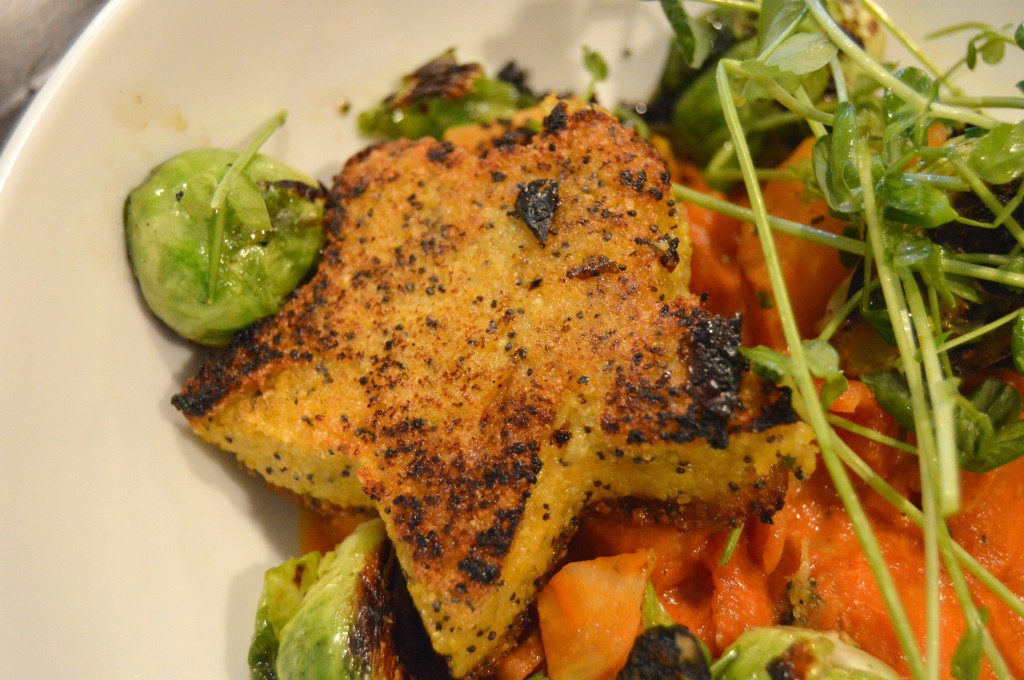 And can I just say, how cute is it that the polenta was served in the shape of a star?  Those little extra touches really make a dish go from good to great.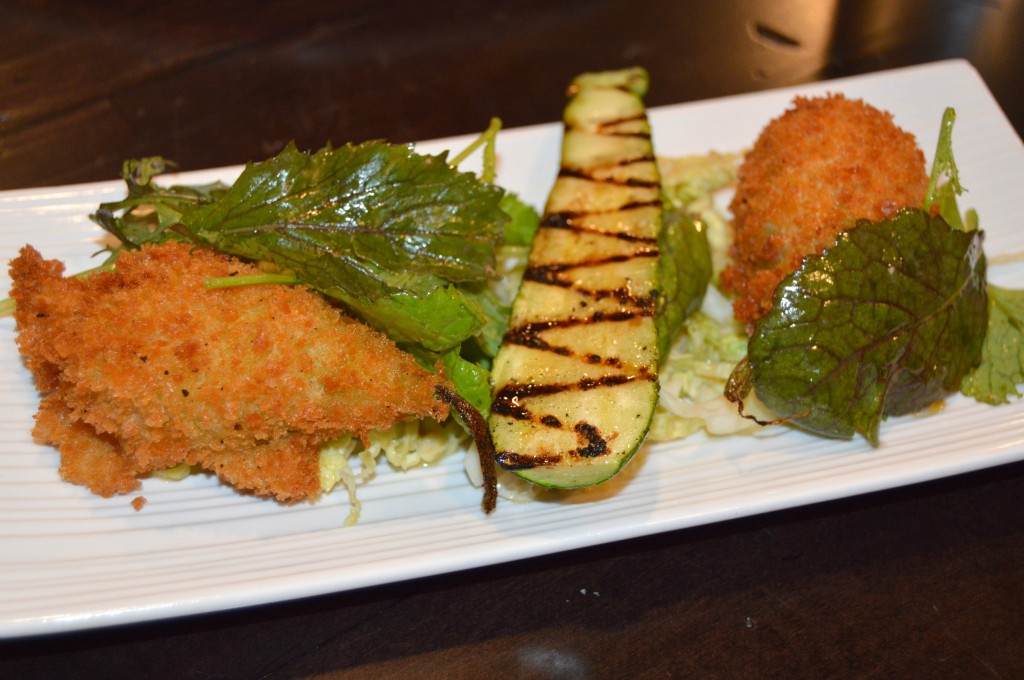 I mentioned earlier that Erin had also ordered a second appetizer for our table.  She ordered it when we ordered our entrees.  Unfortunately, they seemed to have a little bit of an issue with the timing on this appetizer.  We received our entrees and finished eating the majority of them before the second appetizer arrived to the table.  Our waitress was incredibly good about the situation and luckily we were in no hurry.  We were understanding about the fact that this was only the second week that the restaurant was open and that they likely had a few kinks to work out.  Most of us were stuffed so we did not have room for this one, but Erin tried it and said it was delicious.
Modern Love also offers several dessert options depending on what has been freshly baked in house that day.  Most of us did not have a single ounce of room left for dessert (so wrong, I know!).  But Erin ordered a slice of berry and peach pie to go.  I, of course, was loving the star details on this one too!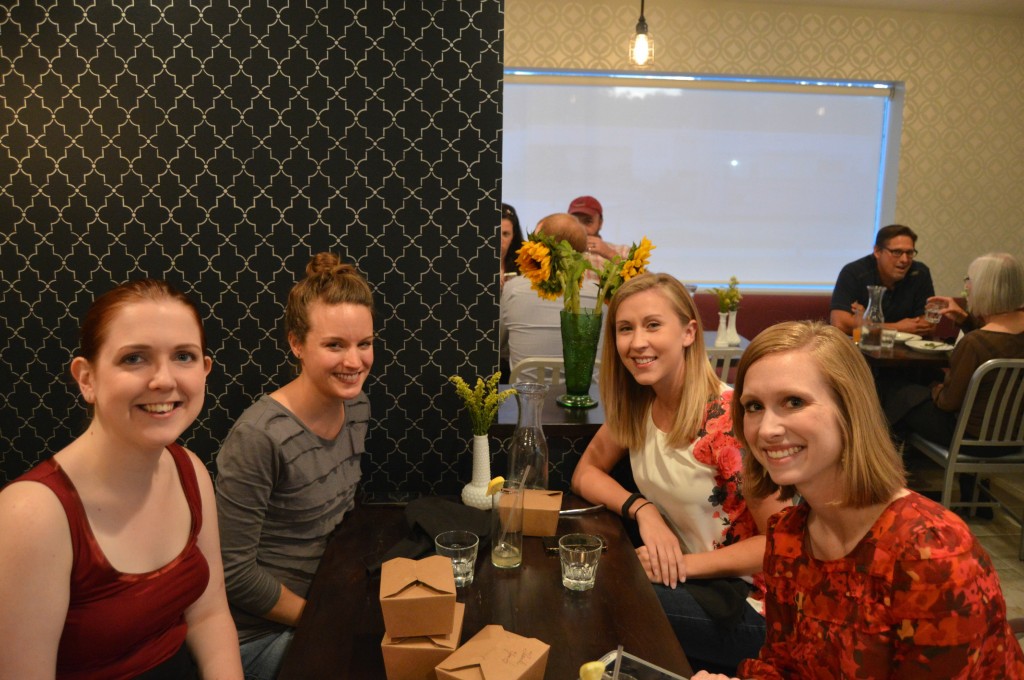 After two hours at Modern love, we left with full bellies and happy hearts.  This was the perfect place to come with girlfriends and I cannot wait to take Jeremy next time he is in town.  I was the only vegetarian in our group, but every one of us loved our meal.  It is so fun to share with others how delicious, hearty, and satisfying vegan food really is.  It turns out that we don't just eat salads!  Despite the timing issue with the appetizer, we were so happy with our first experience at Modern Love.  The food, the atmosphere, and the people were so right on.
Modern Love changes up their menu based on what is in season.  I am so excited to see what will be available the next time I go.  I have a feeling it will be much sooner rather than later.  We are also very excited for the Fall and Winter seasons because we know that one of our favorite vegetables- squash- will be in season and will hopefully be making an appearance.  I mean really, could there be anything better?
Omaha folks: Have you eaten at Modern Love yet?  If not, you need to!
Have you ever eaten at an all vegan restaurant?