This Healthy Anti-Inflammatory Vegan Smoothies collection is sponsored by Foodie.com through Mode Media.  All thoughts are 100% my own.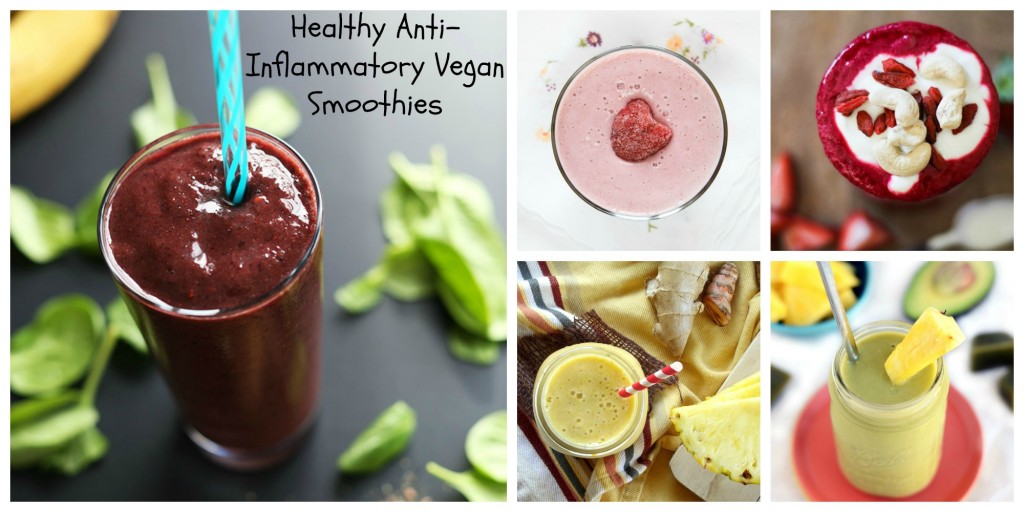 Sources: Minimalist Baker| Eat, Love and Be Healthy| The Roasted Root| Connoisseurus Veg| Fit Foodie Finds
Last Thursday I shared a more personal post talking about some of my recent diet changes.  I mentioned that I am continuing to follow a mostly plant-based diet (roughly 85-90% of the time), but that I am working to adjust my diet in ways to hopefully address the chronic joint and music pain I have been facing over the past year.  I took the advice of many of you and have scheduled an appointment with a rheumatologist.  I am hoping that my doctor's visit will help shed some light on this unexplained pain.  But until then, I am being especially diligent regarding what I am eating and drinking.
One step that I am taking is working to incorporate more anti-inflammatory foods into my diet.  I already mentioned last week that I am eating seafood a couple of times per week, but it turns out that there are a lot of plant-based foods with anti-inflammatory properties as well!
Did you know that all of the following foods can help decrease inflammation in the body (source)?
whole grains
dark leafy greens
nuts (especially almonds and walnuts)
soy milk
flax seeds
beets
ginger and turmeric
berries
tart cherries
Now do you know what is even better?  All of these foods can be thrown into a delicious and refreshing smoothie for breakfast, lunch, dinner, or dessert.  It is time to fight inflammation any time of day with healthy plant-based smoothies.  And lucky for you, I have created a Foodie.com collection with all of my favorites!  Enjoy 🙂
Check out Healthy Vegan Smoothies to Fight Inflammation

by Hannah at Foodie.com