It is Day Two of my Four Days of Giveaways celebrating my blogiversary!  I am so excited for whoever will win today's prize!
It is no secret that I have been a lover of the Field Roast brand since becoming a vegetarian.  I talk about and incorporate their vegan sausages into my recipes on an almost weekly basis.  Basically, I am obsessed!  So when I found out that they were coming out with a burger, I was super excited.  I love the flavors and ingredients in their sausages, so I knew I would be a fan of their burgers too!  Turns out I was right.  These burgers are hand-formed, vegan, and are made with barley, onions, carrots, celery, and mushrooms.  I don't know about you, but I like seeing real ingredients in my veggie burgers!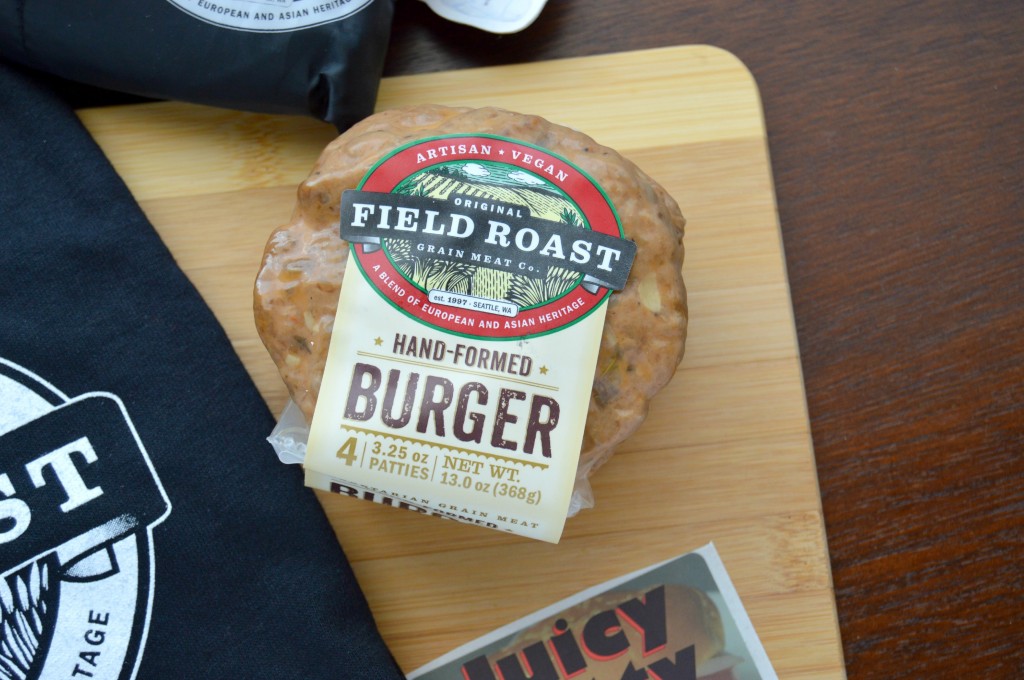 The burgers come in a package of four and are refrigerated.  You can also freeze them if you want them to last longer, though I am not sure why you would since you will most definitely want to be eating them right away.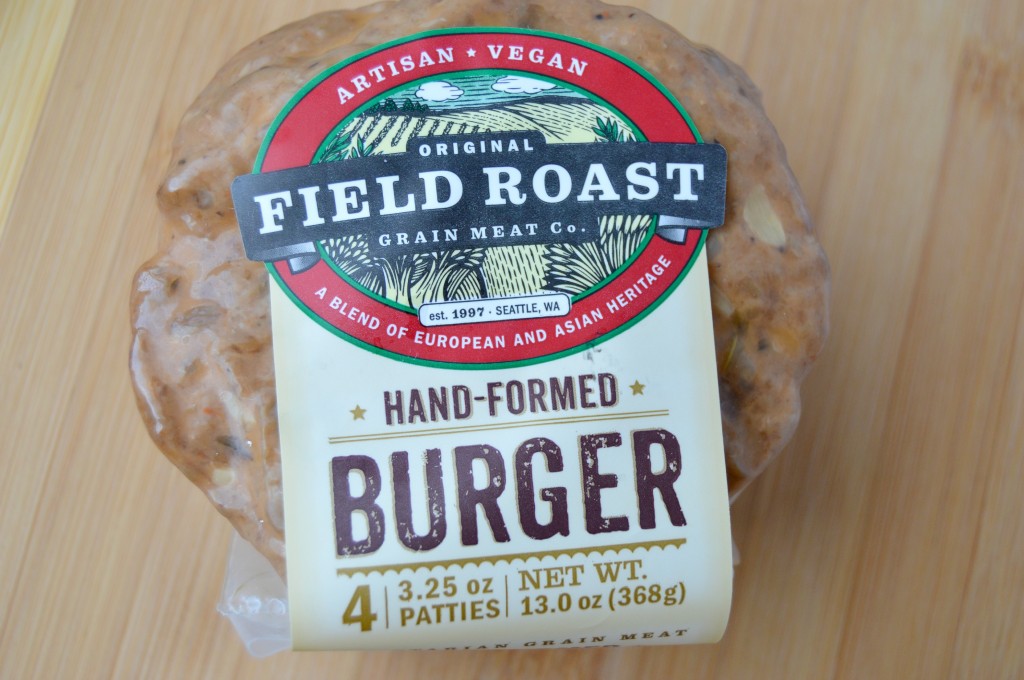 Being the nice person that I am and all, I decided to take four the of burger patties home with me a few weekends ago.  My boyfriend had already seen them in my fridge and had his eye on them, so I thought I might as well share!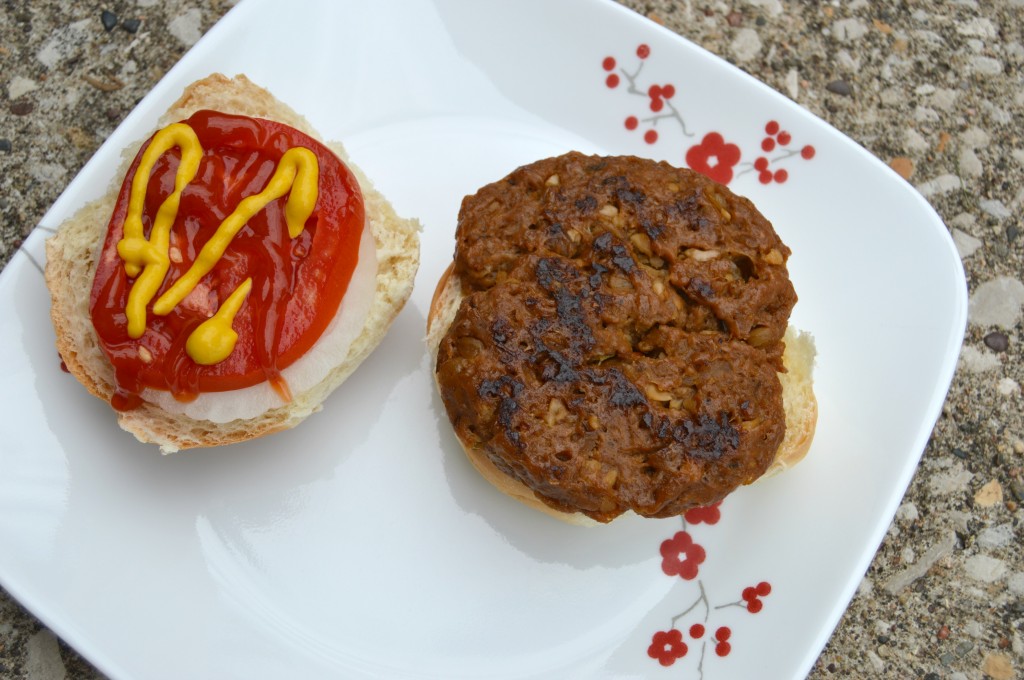 I prepared the four patties on the stovetop (originally I wanted to grill them, but it was raining out) and prepared all of the burger fixings.  I served mine on a bun with onion, tomato, ketchup, and mustard- my burger staples.  I am kicking myself now for not adding avocado too!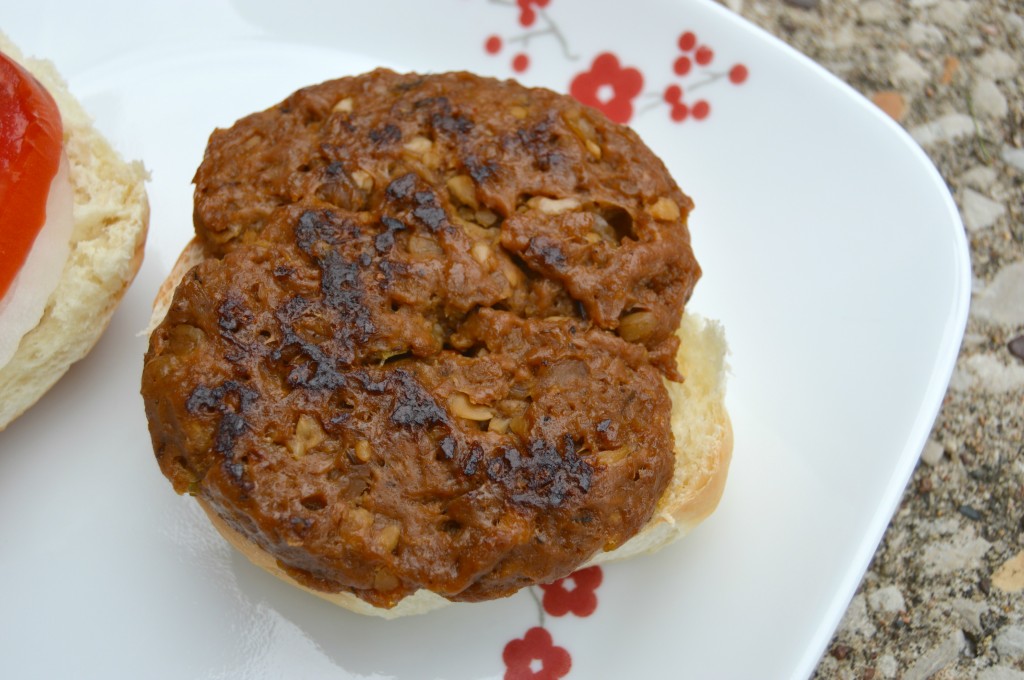 Three things that I instantly loved before I had even taken my first bite was how easy they were to prepare, how much they looked like the real deal, and the fact that I could actually see the grains and veggies in the burgers.  It's not a real veggie burger unless you can actually see vegetables.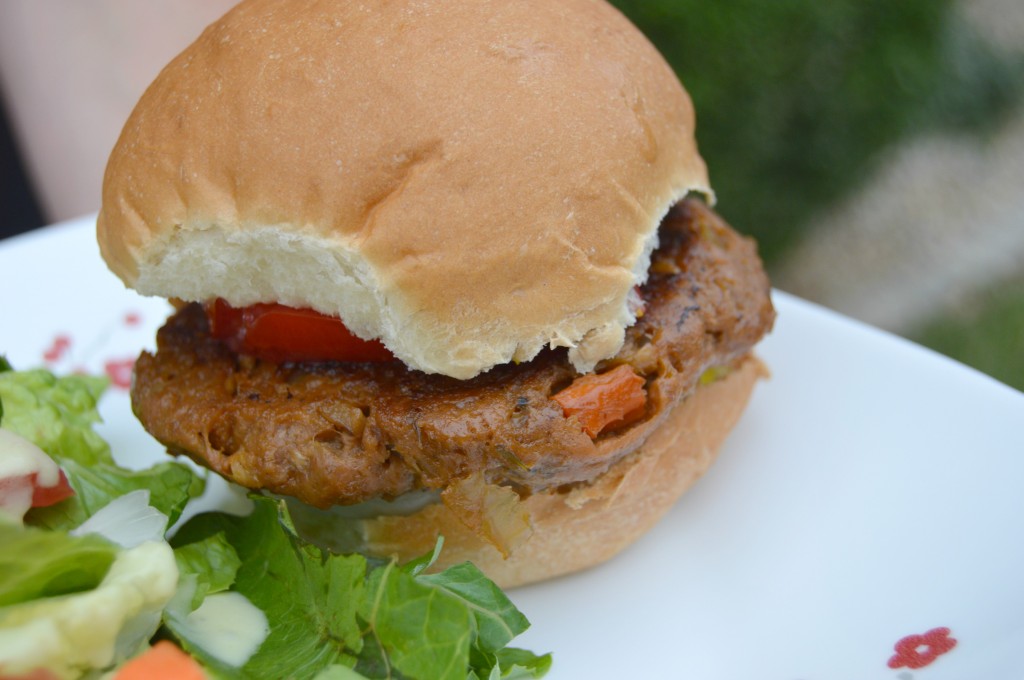 I paired the burgers with side salads and dinner was on the table in literally ten minutes.  I could not have been more thrilled about that!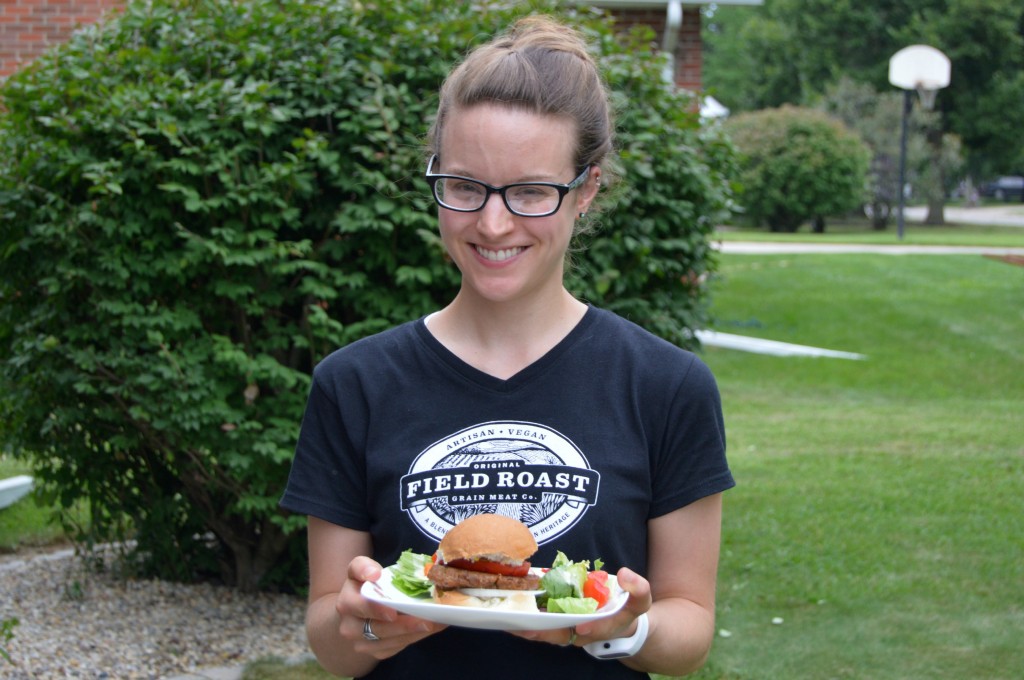 Me in my Field Roast t-shirt with my burger (and side salad).  And yes, I intentionally wore the shirt knowing I was planning to make the burgers that evening.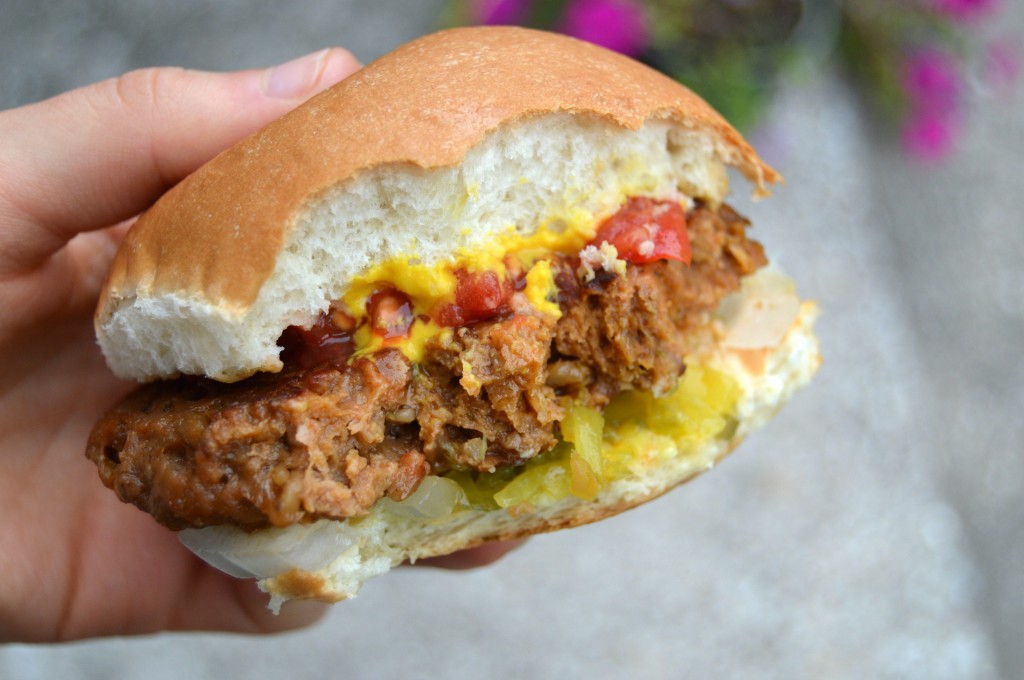 My parents, boyfriend, and I all really liked these burgers.  I especially loved how similar the texture was to a real burger and how much they genuinely looked like real meat (but much tastier and healthier, of course!).  I am telling you, I do not miss the real deal when I have something as delicious as these to cook up instead.  I am so excited to try them on the grill the next time that I make them.  I also have plans to try adding them to salads and to chili now that Fall is right around the corner.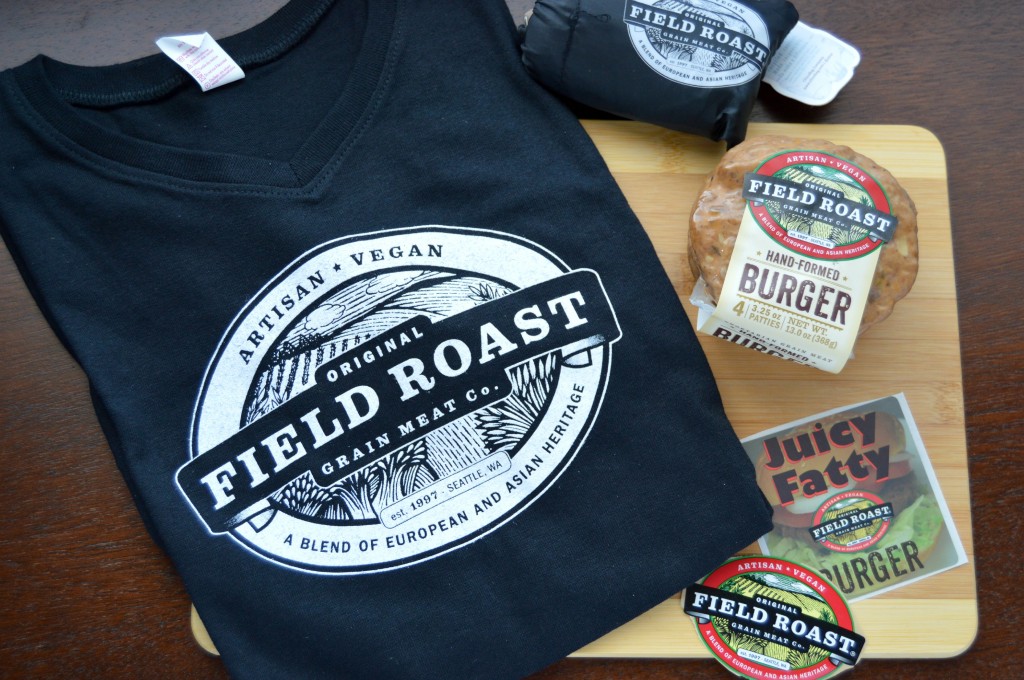 And since I am so passionate about the Field Roast brand, they have graciously offered up an awesome prize package to one of you!  One lucky winner will receive a Field Roast t-shirt (which is super cute and comfy!), a reusable bag, a coupon for a free package of the new hand-formed burgers, and a coupon for their frankfurters.  To enter the giveaway, please perform one or all of the following options (leaving a separate comment for each entry):
1. Leave a comment telling me which Field Roast product you would most like to try
2. Follow me on Instragram
3. Follow Field Roast on Instagram
4. Follow me on Pinterest
5. Follow Field Roast on Pinterest
The giveaway is open to residents of the United States.  Entries will be accepted until 11:59 p.m. CST on Sunday, August 31st.  Good luck my fellow burger and dog lovers!
Don't forget to enter yesterday's giveaway for a Ninja Ultima blender!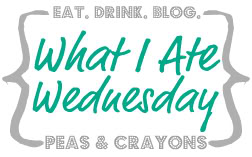 And finally, I am linking up with Jenn from Peas and Crayons for this yummy dinner of eats!
This is not a sponsored post.  I received free product from Field Roast but was not compensated in any way.